Butternut Beer Cheese Soup
Warm and cheesy with a hint of smoke, this Butternut Beer Cheese Soup is like grown up comfort food! Plus a little extra nutrition!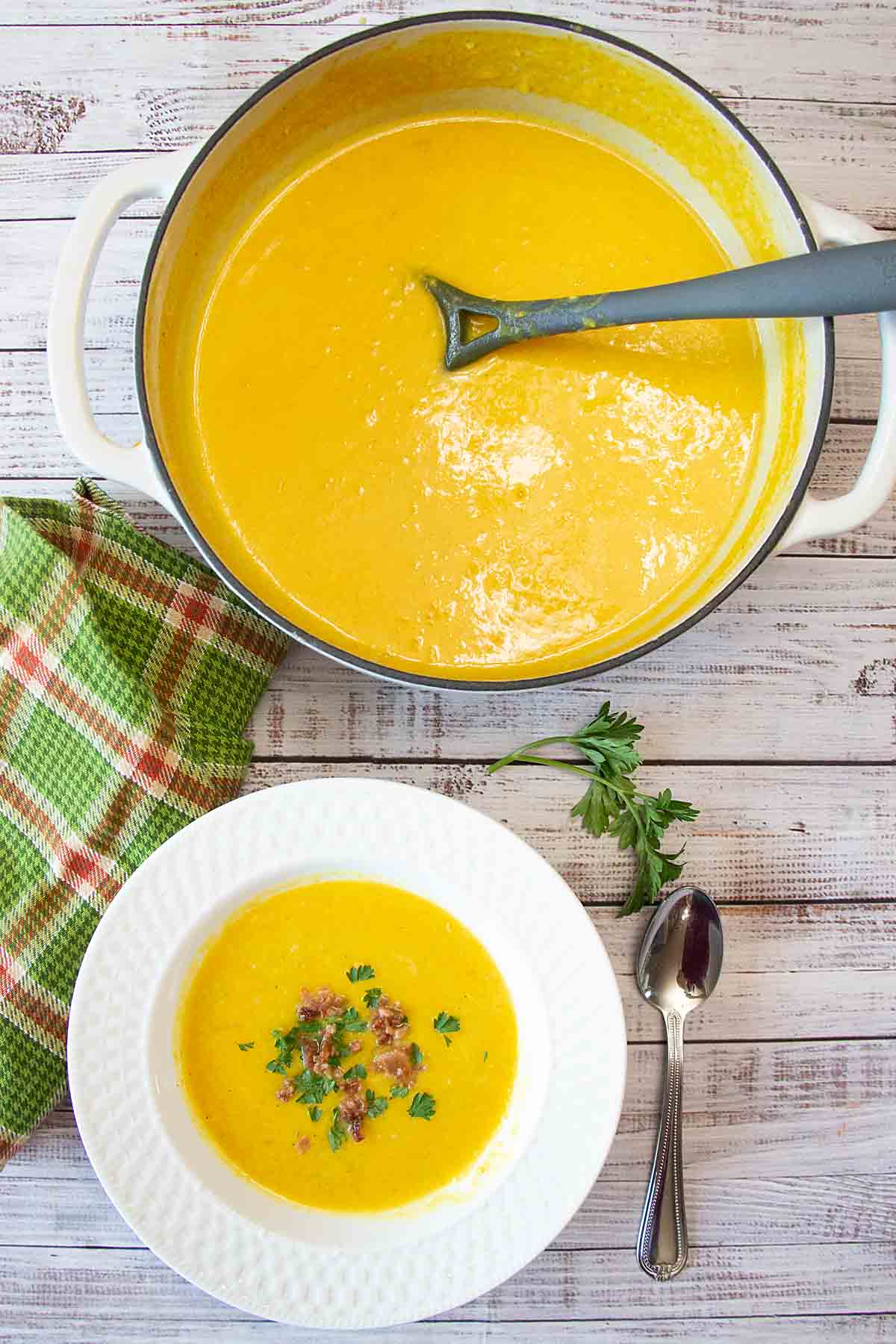 Years ago, I ate a lot of beer cheese soup. Back then, I worked for an IT consulting firm and sometimes traveled out of town. In a nearby city, we'd stop for lunch at a local microbrewery. My favorite dish there was a delicious Beer Cheese Soup –can you say Wisconsin?
I planned to try to recreate the soup for years and finally did in mo/yr… Then this fall, since I was craving it again, I updated the recipe with more information and better pictures!
I wanted to stay very close to the spirit of the original and still make this a good meal soup. The butternut was an addition based on recipes I'd seen circulating at the time. Plus it was true to my add-a-veggie philosophy!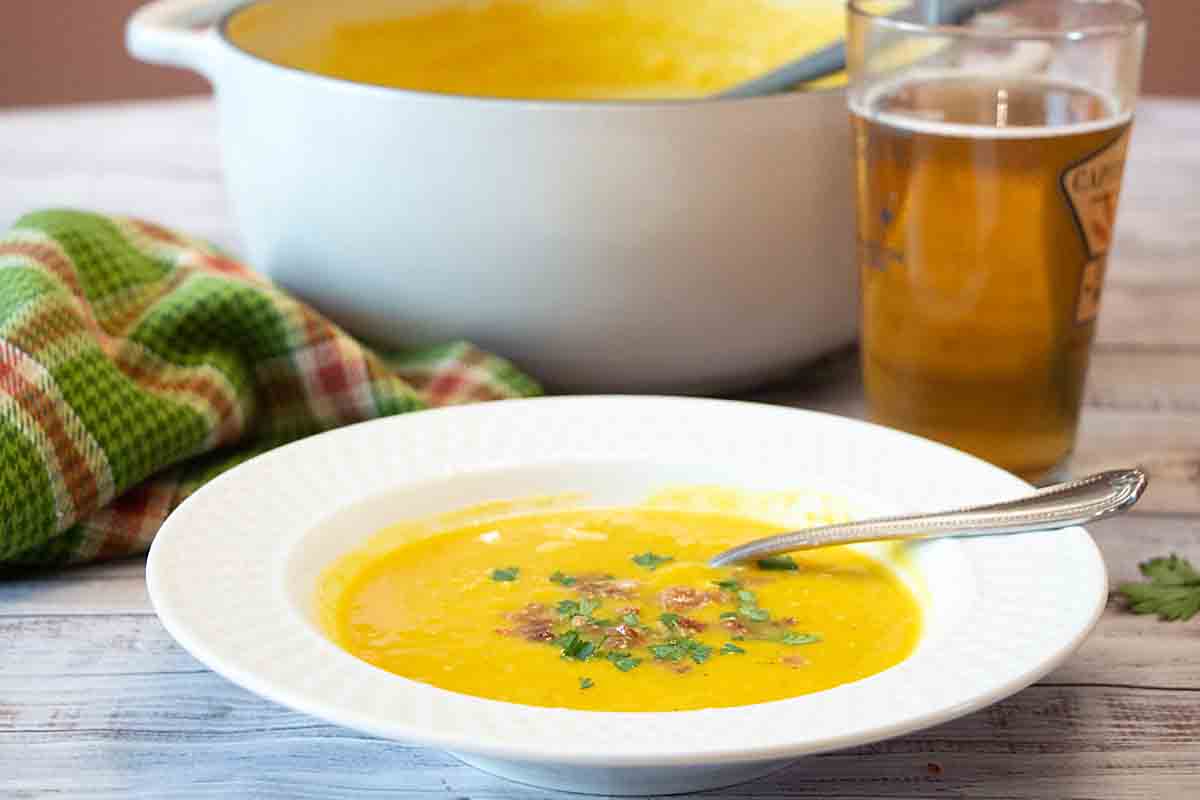 The original soup had a nice hint of crunch from what seemed to be bits of carrots. Since this now an orange vegetable already, I add broccoli slaw or finely chopped broccoli stems for the crunch.
And the best thing? It seems that around the holidays, there are always people arriving at my house—sometimes to chat, sometimes to stay from out of town. I love having a charcuterie tray in the refrigerator and couple pots of warm soup on the stove for an ongoing buffet.
Then I can be hostess and visit all at the same time!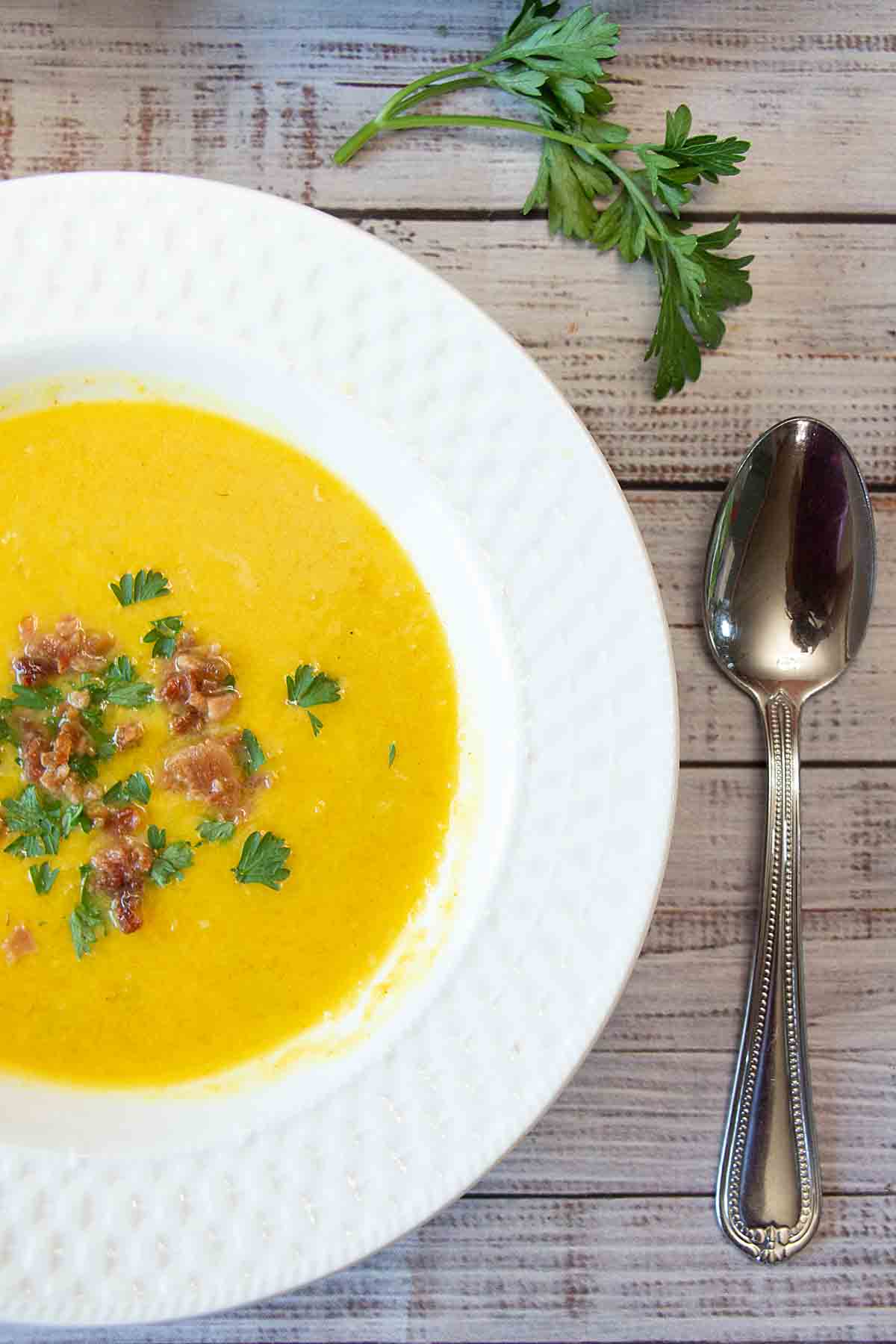 What Makes This a Winner
Fun Fall Food – Butternut Beer Cheese Soup is a tasty and warming comfort food for fall and winter. It's even at home on Game Day with a (sneaky) bonus nutrition boost (shhh).
Unique Butternut Soup – I love pumpkin soups, but sometimes they can start to seem alike. But the beer and cheese make this unique. Yes, this has all the nutrition of a butternut soup, but the character is that of regular beer cheese soup.
Nutrition Bonanza – not only is the there a half cup of squash per serving, there is also a some broccoli in this and almost 1 ½ servings of dairy. Go bone health!
Locavore's Delight – Butternut and Broccoli are out in abundance now and if you live in a cheese producing state, a local cheese is easy. And don't forget the local beer! You can even make your own vegetable broth or chicken scrap broth. Or not—your choice!
Step by Step Directions
Cook broccoli and onions in oil until tender.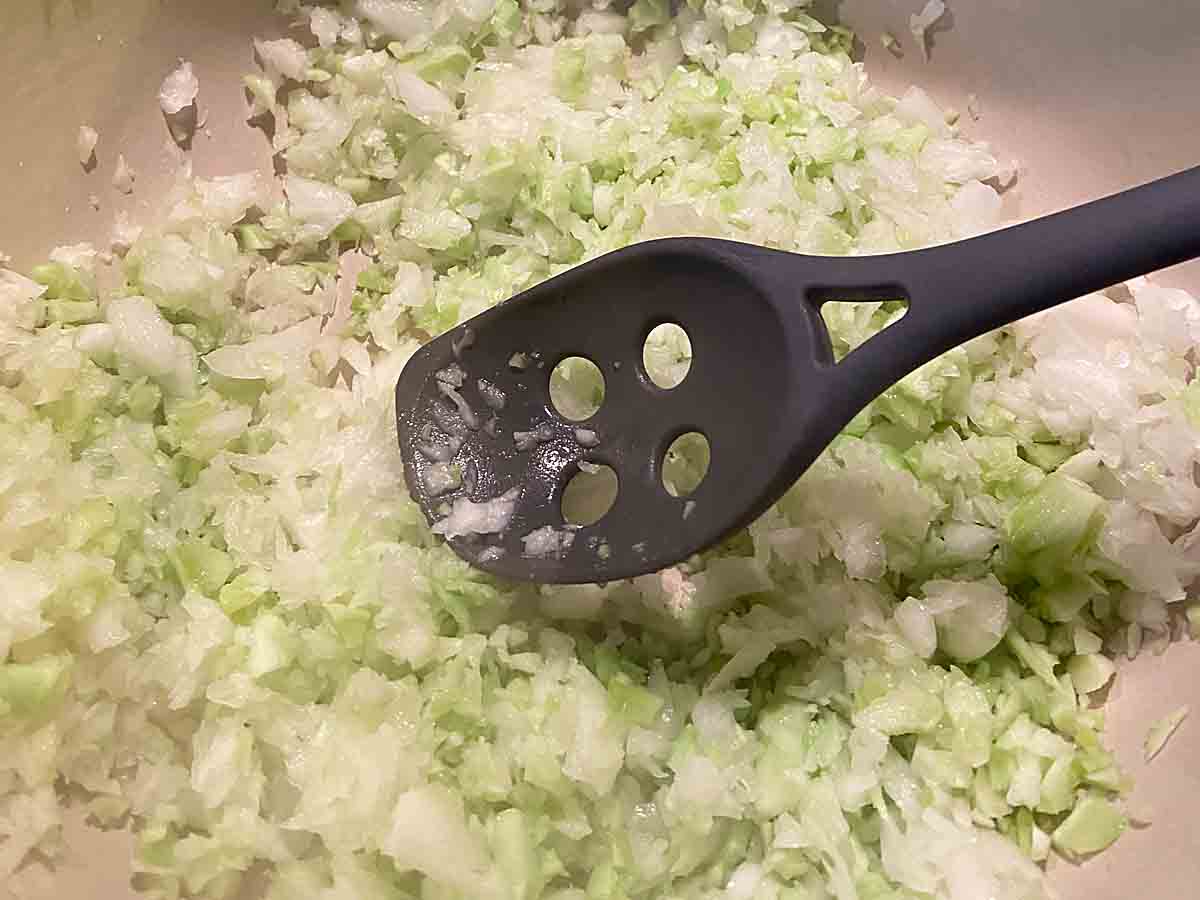 Add seasonings and beer, then continue cooking 3-5 minutes until reduced.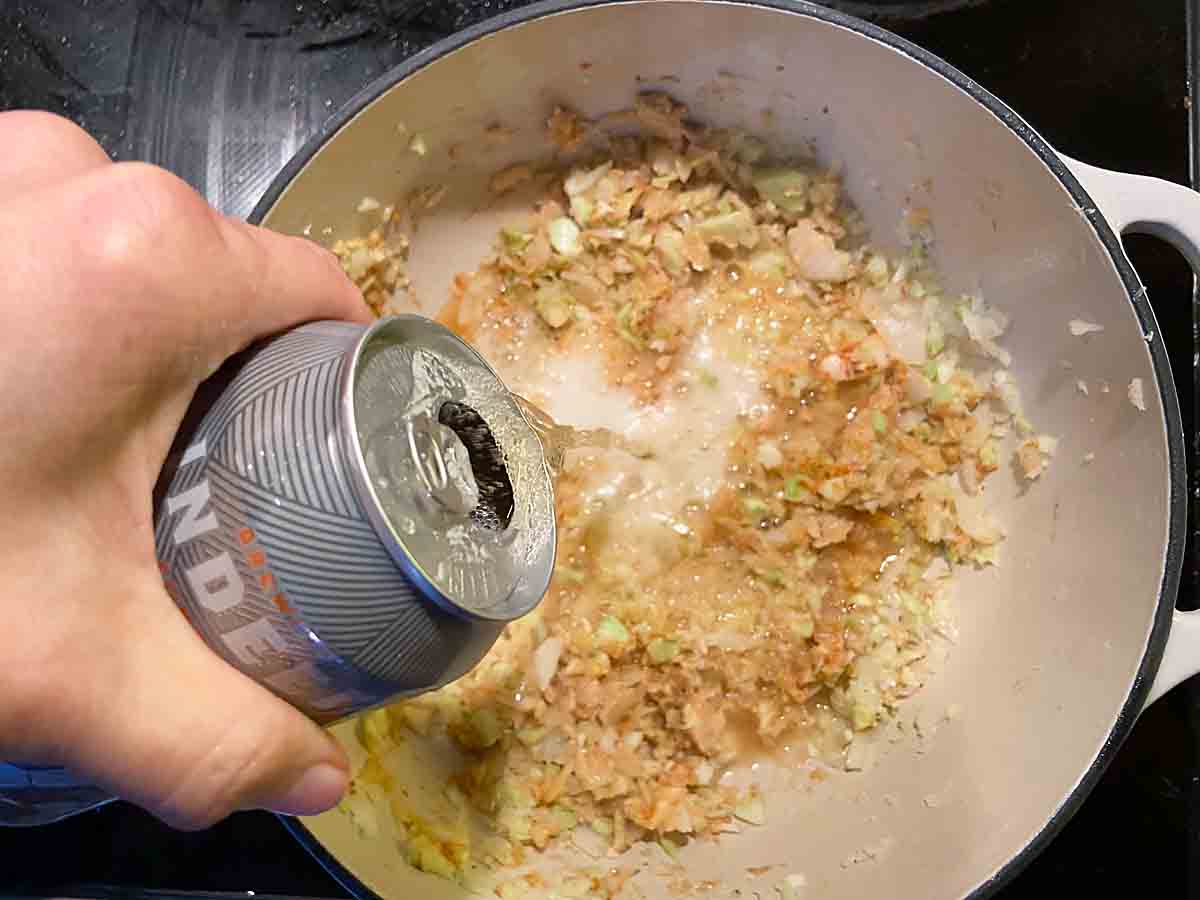 Puree squash with broth. Add to soup pot and bring back to a boil.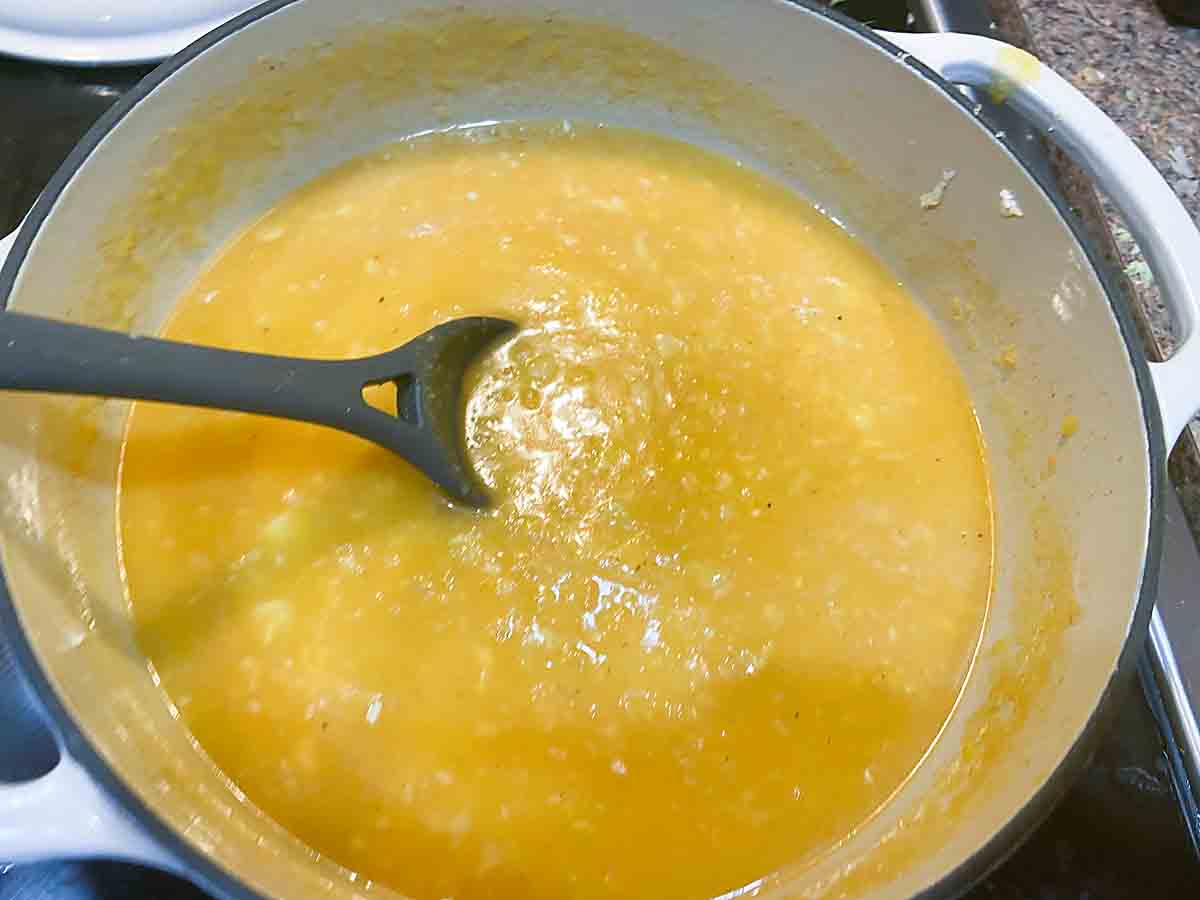 Mix cheese with cornstarch, then add with milk and stir on low heat until cheese melts.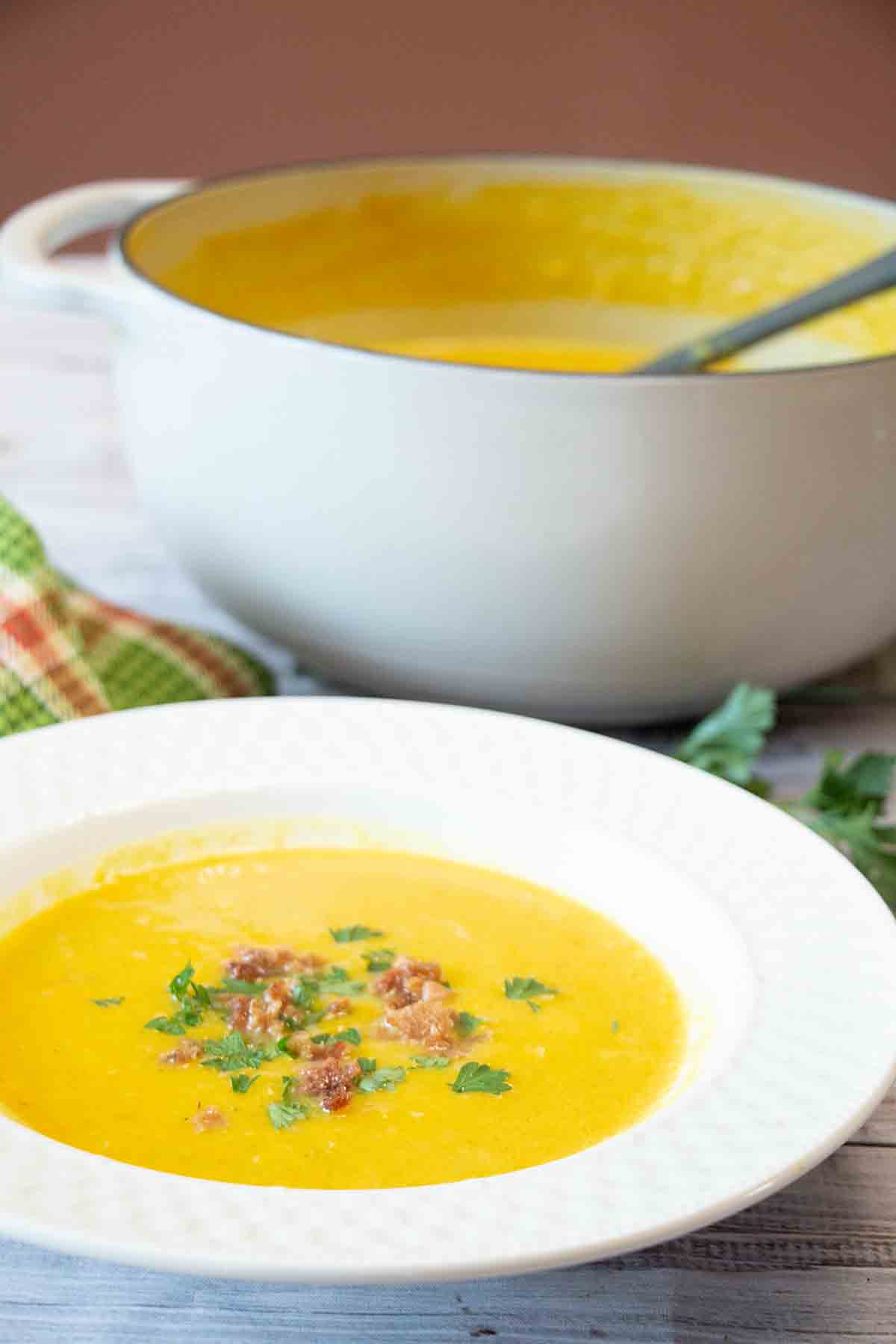 What type of beer
I poured in a Pilsner this time but would use any pale lager, as well as a wheat beer or ale. Go local if you can!
I'm a big fan of stouts and porters, but I'm hesitant to try one in this soup, given the intense flavors they would add. But if you do, let me know what you think.
Finally, while much (but not always all) of the alcohol cooks out when used in recipes, you can even use a better NA beer. When I pick an NA, I often go with imports like Krombacher or Clausthaler for more robust flavor.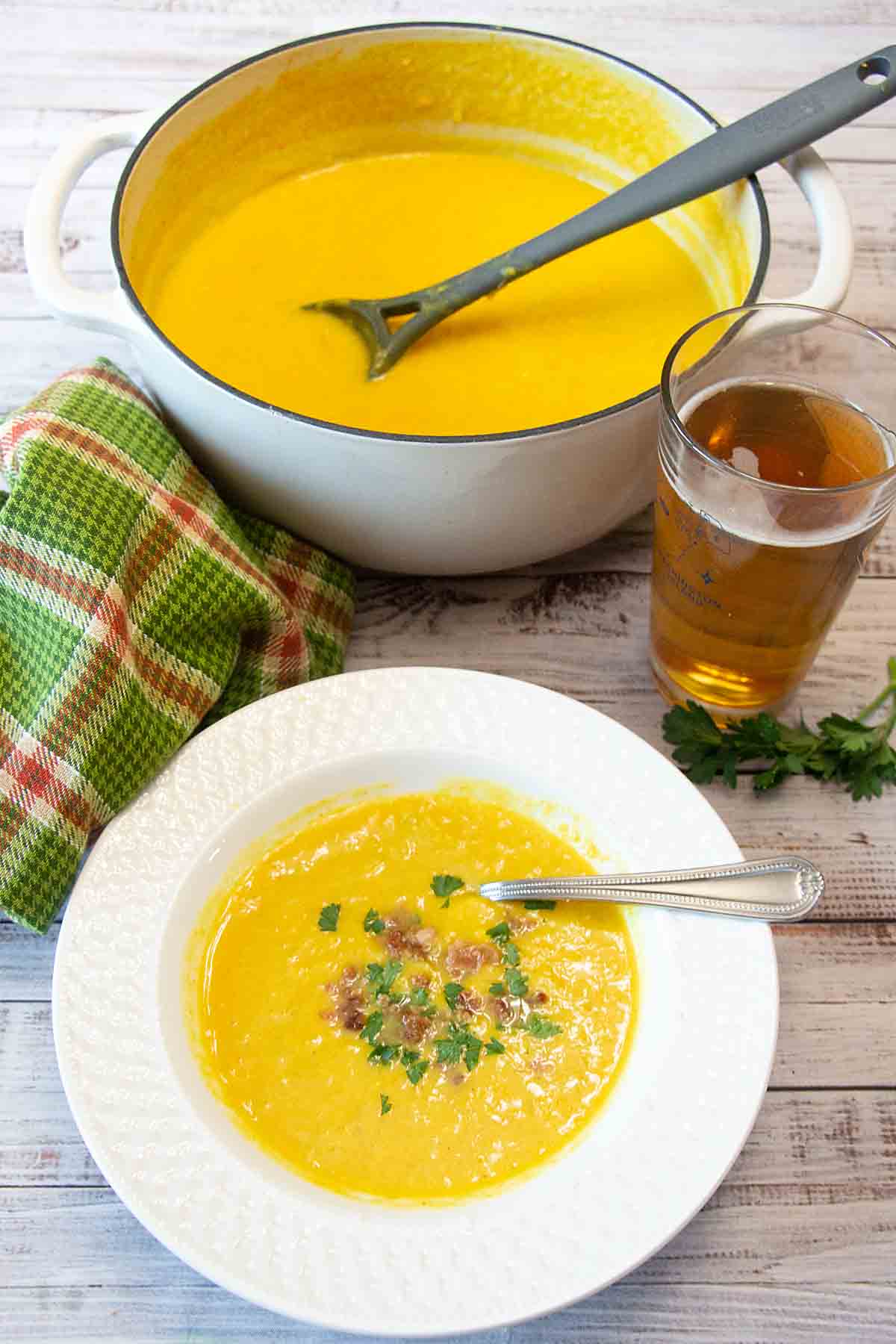 What to Serve With This
If you are looking for a light lunch or supper, Butternut Beer Cheese Soup is hardy and complete enough to serve on its own. Perhaps with a slice of buttered rye bread. Or, add a salad for even more nutrition! (Regular readers may have figured out… I'll add a side salad to almost anything!)
For a heartier offering, a sandwich is a great accompaniment. Or for football games, add a tray of deli meats, pickles, bread and crackers. We've also served this with cheese quesadilla slices to really gave our bones a calcium boost!
From a beverage standpoint a beer can be a great option! Or how about a flavored fizzy water for a lighter option.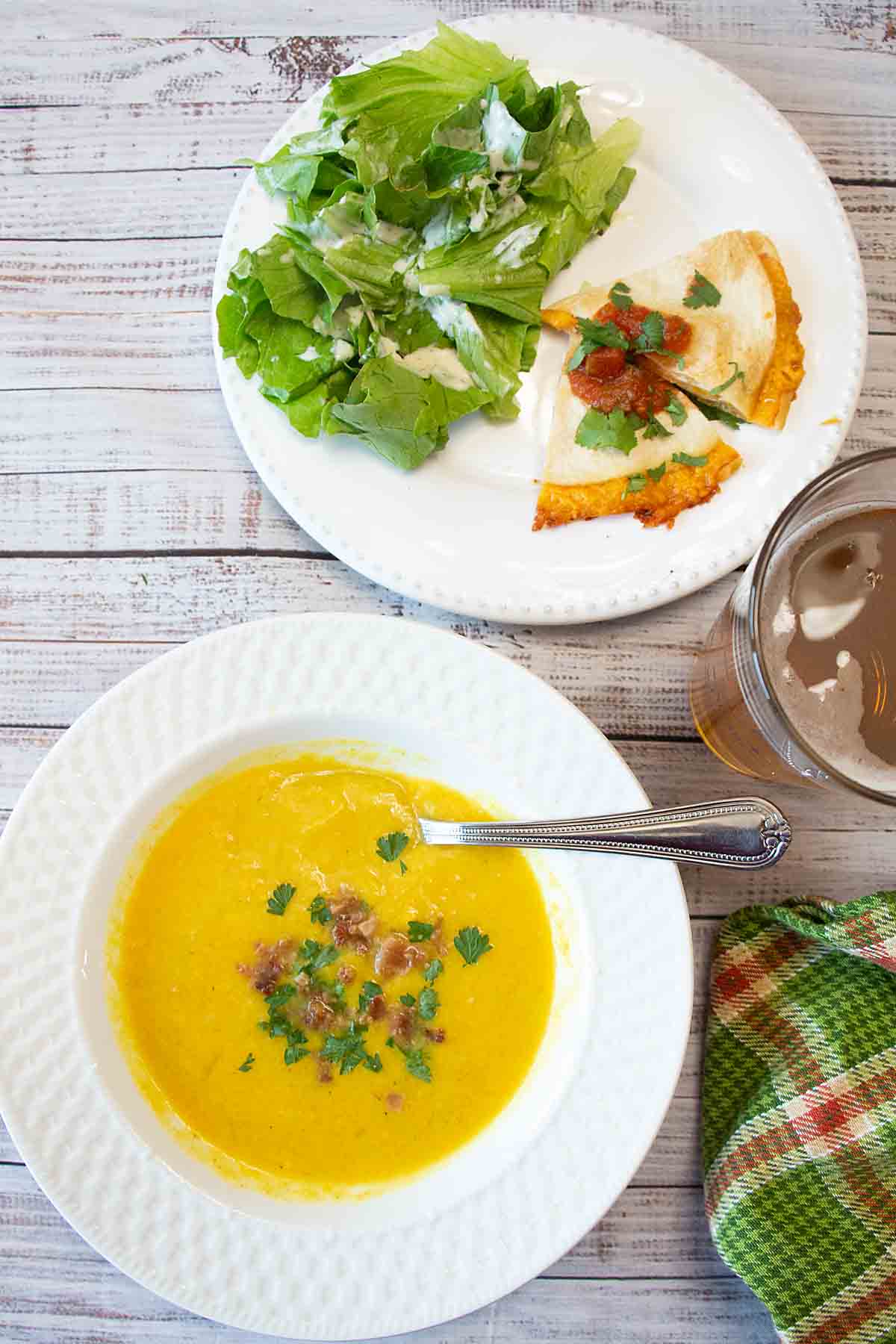 Cheese Selection
I recommend a medium to sharp cheddar for this since the cheese provides a lot of character. I'd go with medium if you are a milder cheese lover and up to about a 2 year aged cheddar for more intensity.
White vs Yellow Cheddar
The color of the soup will change slightly depending on the color of your cheese. But the butternut squash adds a little color and I add some turmeric for a color boost too.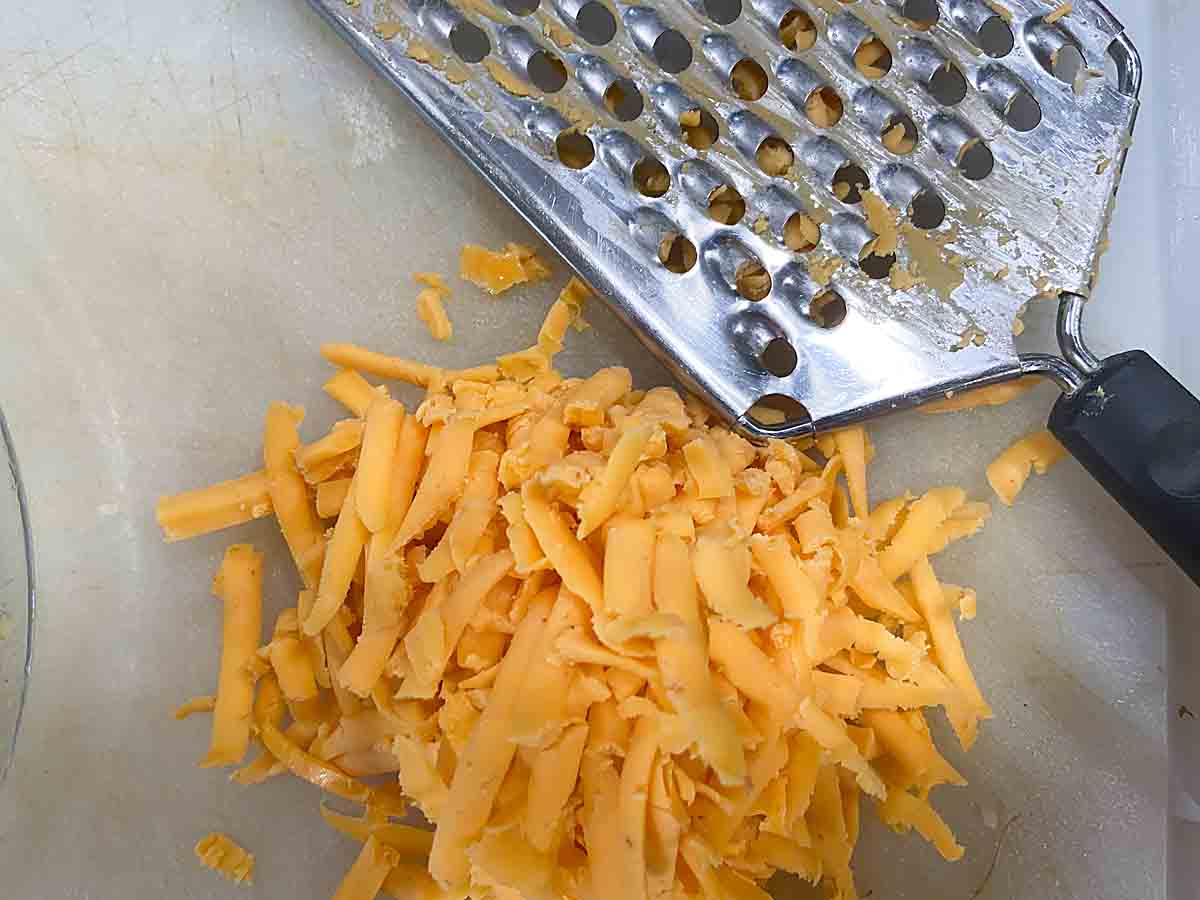 Did you know that the choice of white versus yellow cheddar is a regional distinction and not a marker of quality or fat content? The rumors about color having more significance may have originated in historical practices. Per NPR, 17th century cheesemakers sometimes skimmed off part of the valuable cream and disguised the change with additional yellow coloring.
Today however, you will find excellent (or mediocre) cheeses in both colors. The deep yellow color that some prefer, is (usually) derived from a seed called annatto that's been used as a natural coloring for ages. So unless I need one or the other color for looks, I tend pick my cheese based on flavor.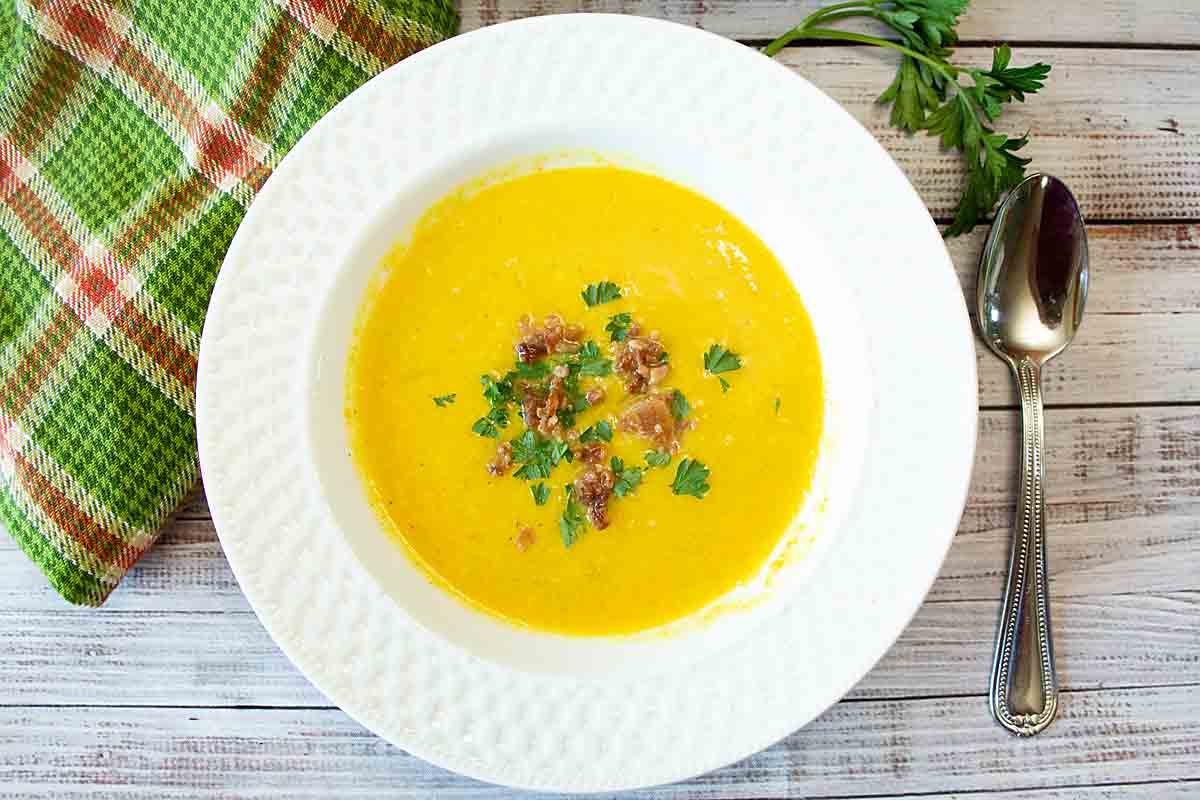 Tips, Substitutions & FAQs
If you are including the broccoli slaw/chopped broccoli stems, be sure they get nice tender in the initial cooking step. The rest of the cooking is more to blend flavors and they won't change texture much.
One of my favorite garnishes for this is bacon bits. I always keep a bag of the pro-cooked, pre-chopped bacon bits in my freezer (or cupboard if unopened). Discovering was a huge efficiency trick and makes adding a quick flavor boost super easy.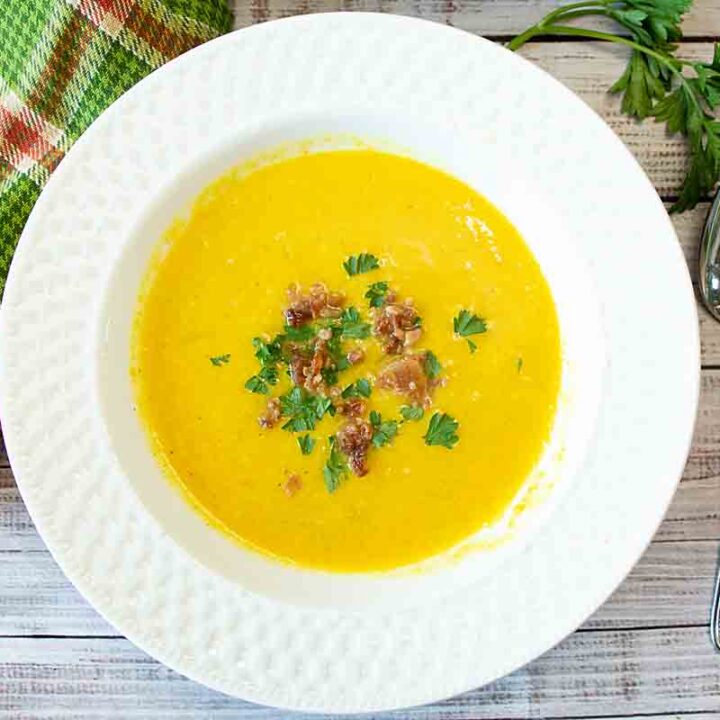 Butternut Beer Cheese Soup
Warm and cheesy with a hint of smoke, this Butternut Beer Cheese Soup adds a little nutrition to a winter classic.  Kind of like grown up comfort food!  
Ingredients
1

tablespoon

butter or oil

1

large onion

chopped

1

cup

broccoli slaw

finely chopped or chopped broccoli stem - optional

2

garlic cloves

finely chopped

¼

cup

nutritional yeast

optional

1

tablespoon

Dijon mustard

1

teaspoon

salt

1/4

teaspoon

freshly ground black pepper

½

teaspoon

smoked paprika

¼

teaspoon

cayenne

1/4

teaspoon

turmeric

1 12-

ounce

bottle beer

1

large butternut squash

roasted, (about 3 cups)

1 1/2

cups

vegetable or chicken broth

1

cup

skim milk

8

ounces

sharp cheddar cheese

shredded (about 2 cups)

1

Tablespoon

cornstarch

optional
Instructions
Cook onion and chopped broccoli, if using, in butter or oil until tender. Add garlic, yeast, seasonings and beer. Boil vigorously for 3-5 minutes until reduced.

Puree the squash with the broth in a blender on high until smooth. Add to the soup and bring back to a boil. Remove from the heat and stir in the milk. Toss the shredded cheese with cornstarch, if using, then add to the soup. Stir until melted and serve.

Notes
If you reheat leftovers, cook until hot, but do not boil, or the soup may curdle.
There are a number of optional ingredients. These are things you may not have on hand -- it's happened to me and I skipped them and the soup still worked. Don't you love a flexible recipe!
Nutrition
I am not a health professional and nutrition data is calculated programatically. Accuracy may vary with product selection, calculator accuracy, etc. Consult a professional for the best information.