Making Pre-Baked Pizza Crust is super easy at home. And it makes pizza night a snap, even with lots of different top-your-own pizzas.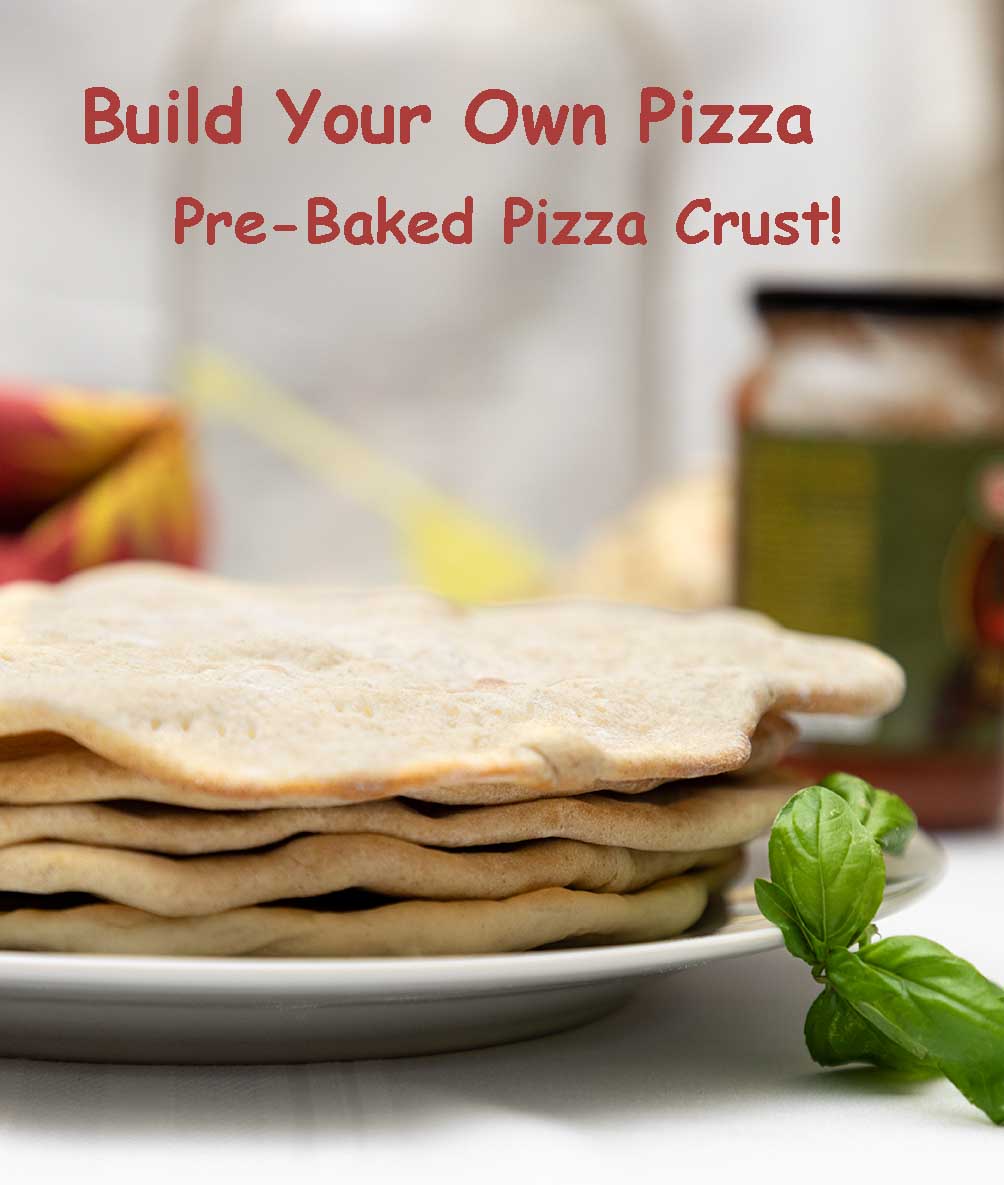 I've wanted to make my own pre-baked pizza crusts for… well, practically forever. We used to buy frozen commercial crusts, back when they were easy to find. That little step made homemade pizzas so much easier.
And now, beside harder to find, they're also more expensive. And not exactly what I want (which for me is cracker thin, but this recipe can go regular too).
Of course, today's small wood-fired pizza craze provides even more motivation. How do you not love something that comes in a million mouth-watering varieties! Everyone can have their favorite—or people can have a little taste of everything!
Yes, I know, I can hear your whispering. I could bake the crust the same time I bake the pizza. But rolling out crust(s) takes just enough extra energy that I can't seem to make it happen. Yes, I'm weak.
It may all stem back to my 8th grade graduation slumber party. We made our own pizzas that night, but not from Chef Boyardee mix and hamburger "sausage". Instead my mom went to Pizza Hut for all the ingredients (including pre-baked crust). That was way cooler. And a big hit.
So "pre-baked pizza crust" was already on my list when my Sunday blogging group (see below) provided the final push. But would the family think I was crazy?
What to Add for Build Your Own Pizza Night
Once you have the crusts, you just need a few extras to turn it into dinner! Minimum requirements would be pizza sauce and mozzarella cheese (Parmesan is a great second cheese). After that it's up to personal taste. Popular toppings include Italian sausage, pepperoni, olives and mushrooms. You can even do white pizza with Alfredo sauce or cream cheese. The sky's the limit!
Just top and pop back into a 400F oven until golden!
Yes, Hawaiian pizza is something my youngest has been asking for every time we go out, so she was good with that. And Pesto with Fresh Mozzarella is a fave of daughter #1. My husband is a classic Sausage & Pepperoni kinda' guy and that was easy too.
Do you think I'll make Mom of the Day if everyone feels catered to?
When dinner was over, everyone was talking excitedly about making pizzas again tomorrow. I have the crust already pre-baked so anything they decide will be a snap. Yes, my youngest even stayed and helped with the dishes.
I did feel like Mom of the Day!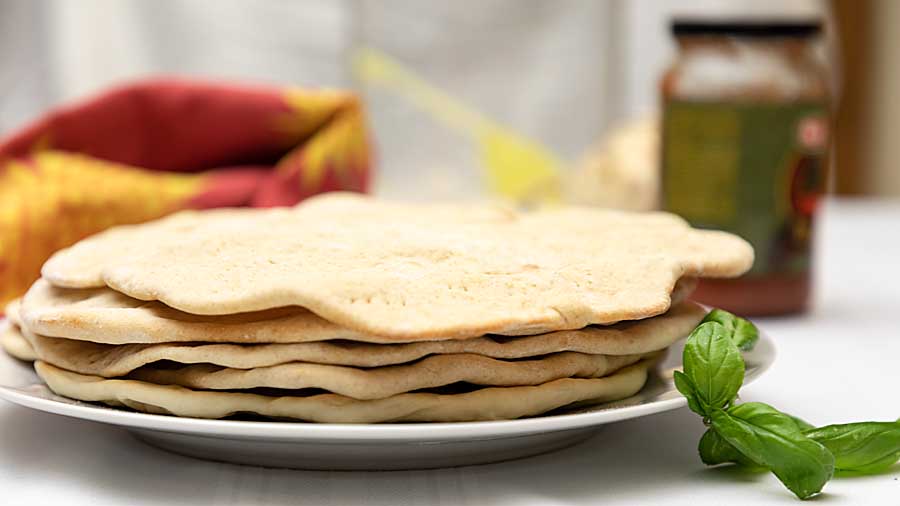 For More Pizza Fun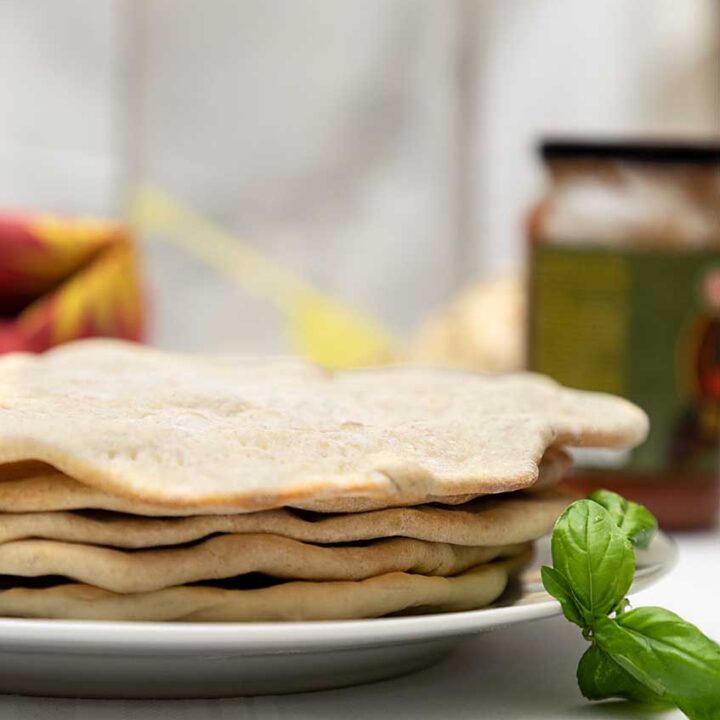 Pre-Baked Pizza Crust
Making Pre-Baked Pizza Crust is super easy at home. And it makes pizza night a snap, even making lots of different top-your-own pizzas.
Ingredients
1 envelope or a scant Tablespoon Active Dry Yeast
1 teaspoon Granulated Sugar
1 Cup Warm Water, about 110 F
1 Teaspoon Salt
1 Tablespoon Olive Oil
2 1/2 Cups All Purpose Flour, or part whole wheat flour
Instructions
Preheat oven to 425 degrees.
In a large bowl or bowl of stand mixer, mix together the olive oil, yeast, sugar, and warm water and allow to sit until foamy.
Add salt and 1/2 cup flour to yeast mixture and begin mixing (using stand mixer or by hand). Continue adding ½ cup at a time until all of the flour has been used and the dough has started to pull away from the sides of the bowl. Adjust flour to water ratio if needed, adding a little more flour if dough is very damp or a little more water if very dry.
Continue mixing on medium speed, or hand knead, for 3-5 minutes until the dough is smooth (hand kneading will take longer).
Shape the dough into a ball and cut in half. If you want two regular 12-inch pizzas, you can skip ahead to the next step. For individual sized pizzas (8-10 inch) cut each dough half into two pieces for normal thickness pizzas (total of 4) or into three pieces (total of six) for cracker thin individually sized crusts.
On floured parchment paper, roll out the first crust to the desired size and thickness. Prick all over with a fork to prevent large bubbles. Transfer crust to the oven rack on the parchment paper using a pizza peel or using a thin cookie sheet like a pizza peel. Bake for 5 minutes or until just getting crispy. Repeat with remaining dough pieces (see note)
Remove from oven and cool on wire rack.
When cool, cover and use within a few days or freeze. If freezing in a stack (like in my Rubbermaid container), freeze each crust individually before stacking or separate with a couple layers of wax paper.
Notes
. Note: You can freeze the extra dough if you aren't able to pre-bake the whole batch.
This will make 2 12-inch crusts or 4-6 individual-sized crusts depending on how thin you like your crust. My images show made into 6 thin crusts.

Nutrition Information:
Yield:

6
Amount Per Serving:
Calories:

287
Total Fat:

3g
Saturated Fat:

1g
Trans Fat:

0g
Unsaturated Fat:

3g
Cholesterol:

0mg
Sodium:

357mg
Carbohydrates:

56g
Fiber:

4g
Sugar:

1g
Protein:

9g
Nutrition data accuracy may vary with product selection, calculator accuracy, etc. Consult a professional for the best information.
Quick and Easy Pizza Recipes
We share Recipes From Our Dinner Table! Join our group and share your recipes, too! While you're at it, join our Pinterest board, too!