Chicago Deep Dish Pizza Recipe
With a deep soft crust, creamy cheese and flavorful seasoned tomatoes, this Chicago Deep Dish Pizza Recipe is worth staying home for!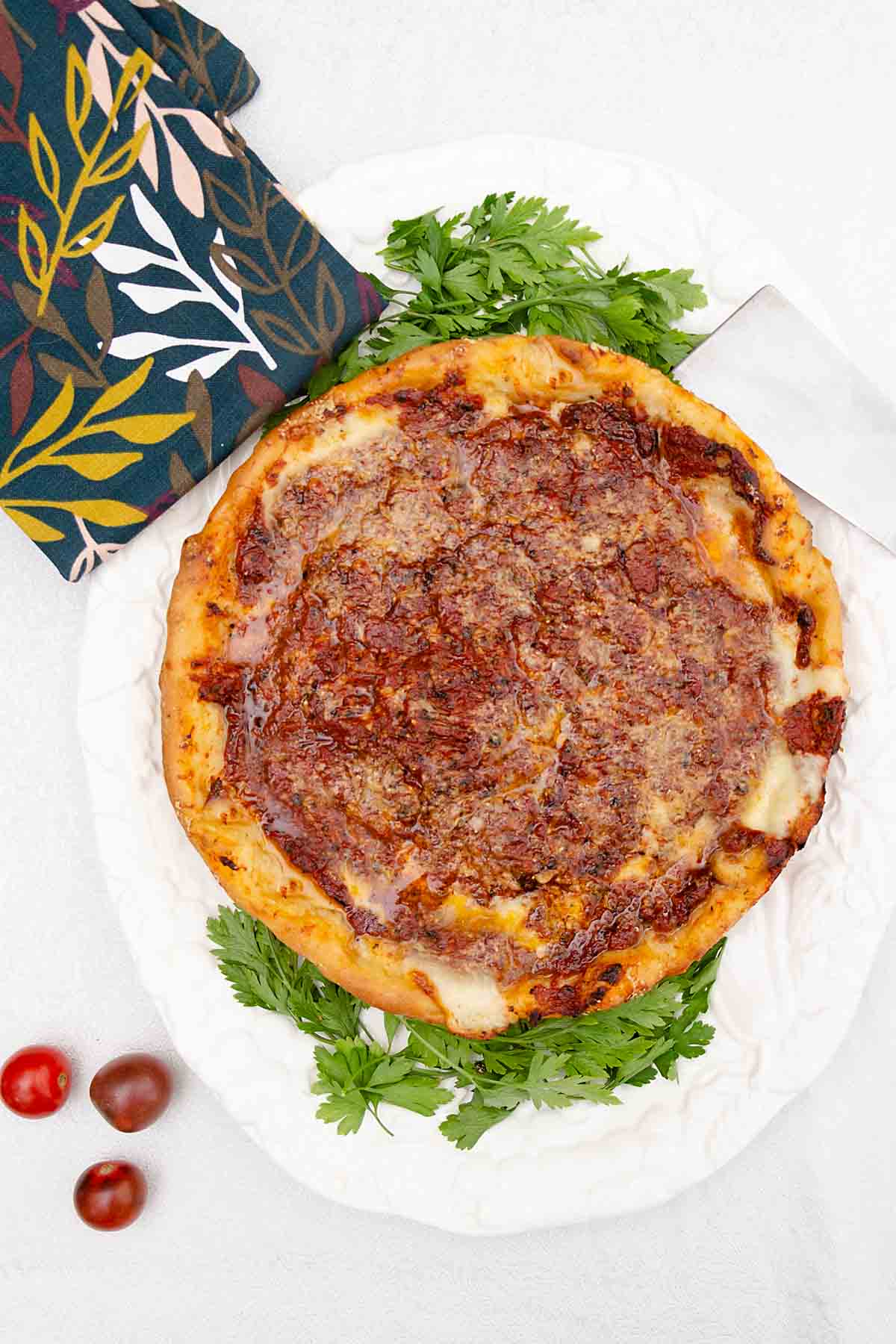 Pizza is a staple in many homes–especially those with kids. It's perfect for sleepovers, a lifesaver during study sessions, and an everyone-pleaser for family dinners.
Of course the same dish can get old quickly… So what about shaking things up with this Chicago Deep Dish Pizza Recipe!
What is Chicago Deep Dish Pizza?
Chicago Style Deep Dish Pizza has a lot of similarities with regular pizza but there are enough differences to almost feel like a new dish. First, the ingredients are layered in a different order, with the tomato layer on the top. And instead of a smear of pureed sauce, it's a thick layer of seasoned chopped tomatoes.
The crust is thick and bready, while in between, there is a dense layer of cheese. Additional toppings, if you decide to use them, sit over the cheese and under the sauce.
What makes this pizza a winner?
This is my favorite homemade pizza and I think it's just as tasty as one made by a good pizzeria. And because it's basically just a big slab, making Chicago Deep Dish Pizza is super easy. Kind of like the pizza equivalent of bar cookies!
Highlights include:
Easy press-in crust. No rolling, no tossing. And to make things even easier, I use store bought pizza dough from Trader Jos's or a local Italian bakery. Now some deep dish pizza has a crust with cornmeal, but I'm okay giving up the extra work.
Of course, feel free to go with your favorite homemade! Or use my pre-baked pizza crust recipe and just press it in here instead of baking crusts for later.
Super flavorful sauce. One of the hallmarks of the Chicago Style Deep Dish Pizza is a sauce that is more like beautifully seasoned crushed tomatoes than a smooth puree. Mine is adapted from an Emeril recipe and the flavor is really over the top. While homemade is a little harder than opening a can, it's still very easy. Just toss canned tomatoes and seasoning in a pan, and simmer, stirring occasionally, until thickened.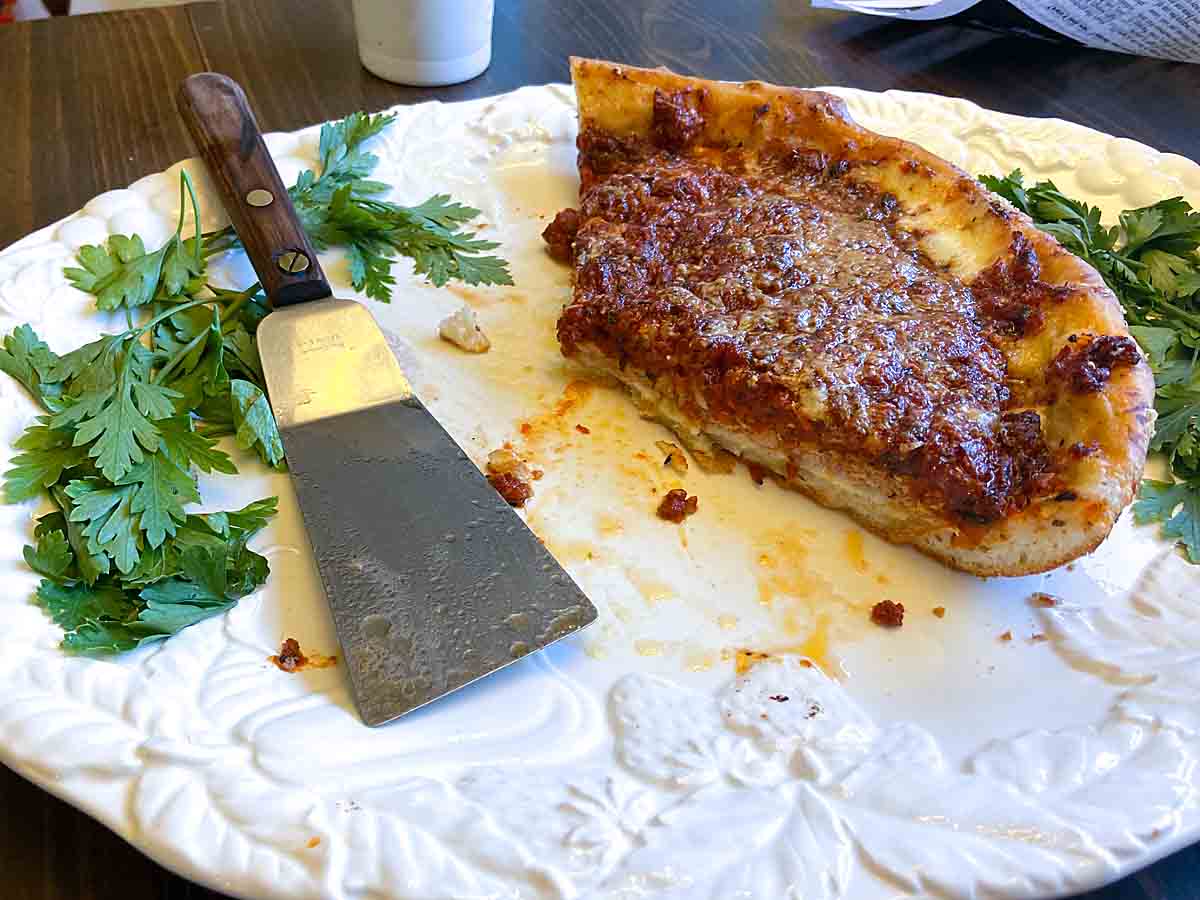 • Family pleaser. I can't explain why pizza night is always such a hit, but I get just as excited! And you can pick and chose your toppings or even go halfsies to give everyone their favorite!
Step by Step Overview
You start by making the sauce. Sautee the garlic briefly, add seasonings, then the remaining sauce ingredients. Simmer until thickened.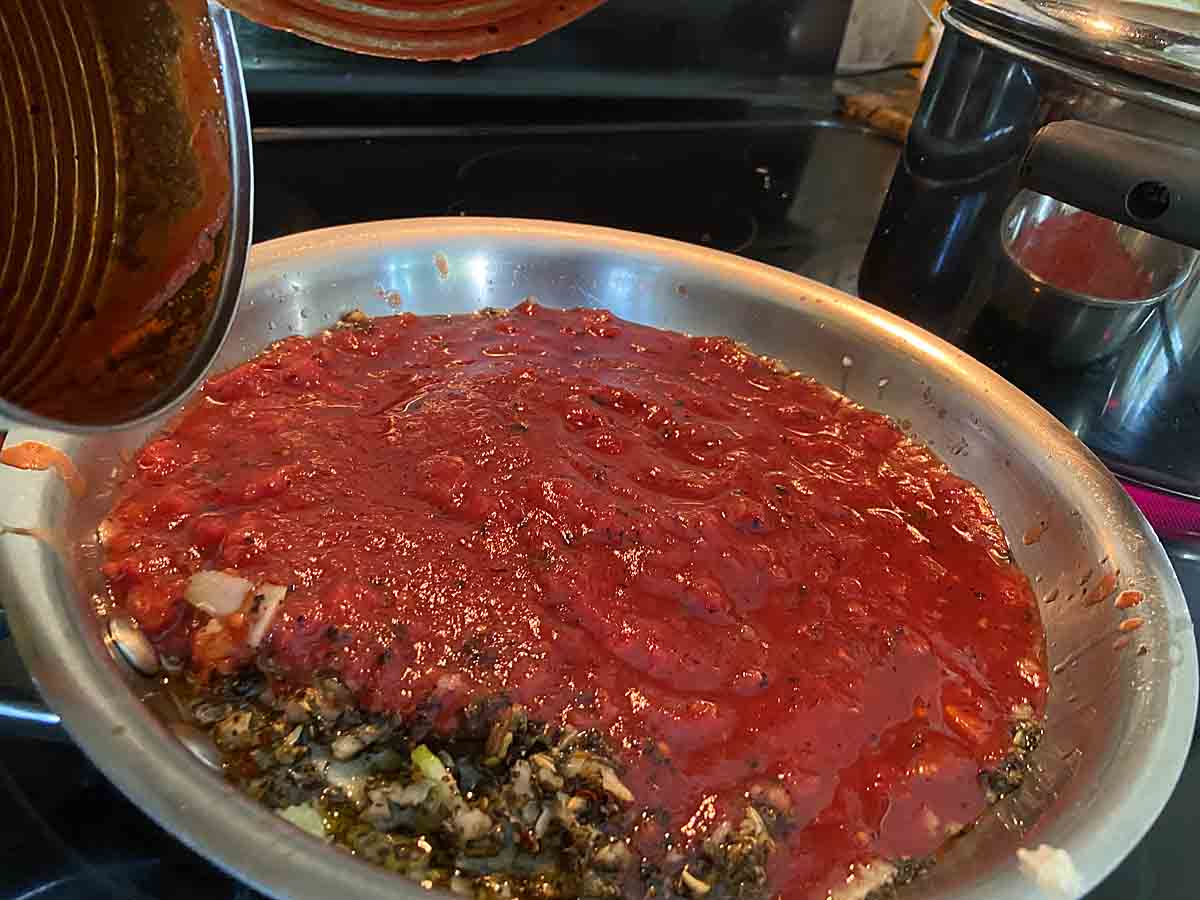 Spray your pan with non-stick spray and press in the pizza crust.
Top with sliced cheese
Add sausage or other toppings (optional)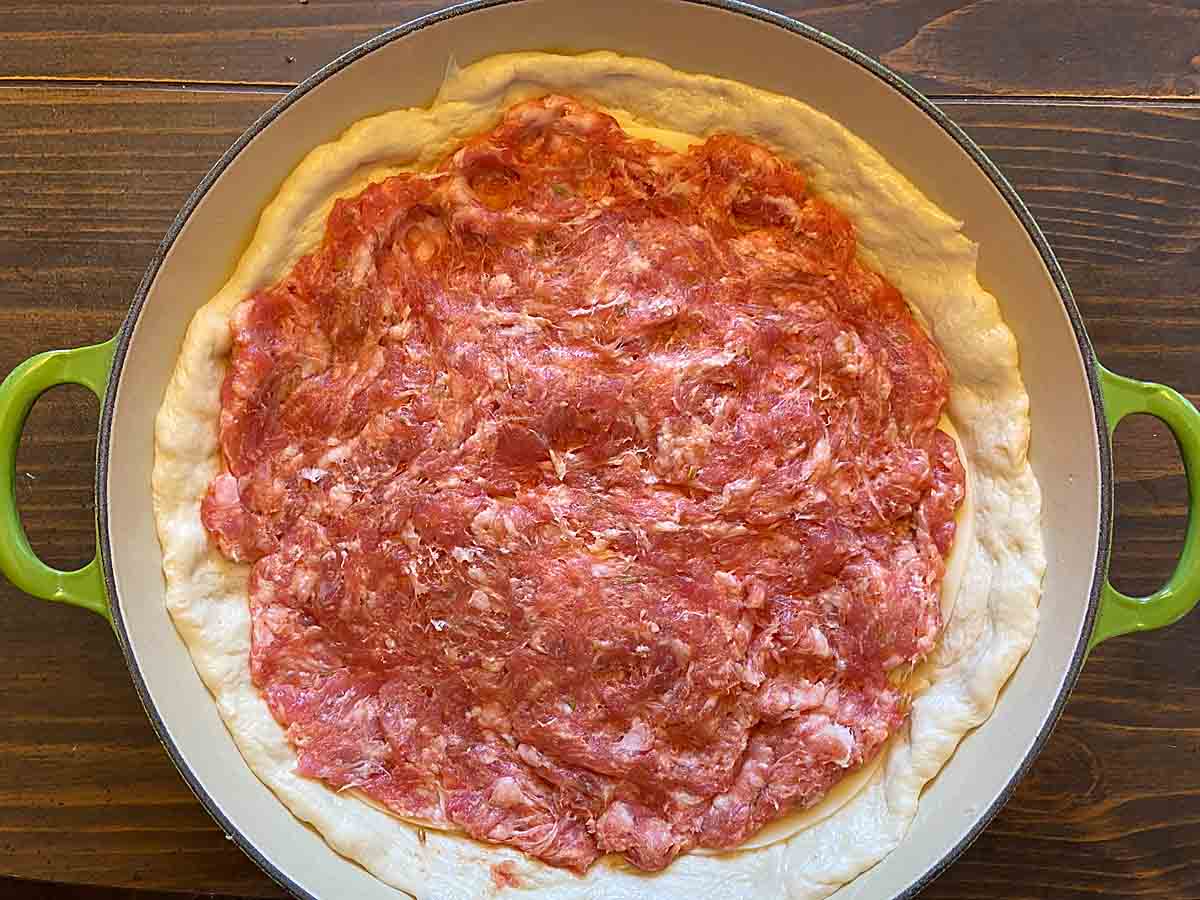 Spread seasoned tomatoes over top.
Top with grated Parmesan.
Bake for about 30 minutes until crust is golden and sausage is cooked through. Let rest for a few minutes, then serve warm.
What kind of pan do I need
The classic pan for a homemade deep dish pizza is either a special, high-sided pizza pan or a large cast iron skillet.
I use a 3 ½ quart Le Creuset braiser, which I like since it's so pretty and has good non-stick properties (without the chemicals)! At just under 12 inches it's just the right size!
If you use an enamel cast iron pan like this, be sure not to cut inside the pan with metal utensils. I usually remove it first by sliding some silicon pancake turners underneath then lifting/sliding it out. Then I cut on a cutting board or the serving plate.
In the absence of these pan options, I have seen people online using springform pans, rectangular pans, cake pans, and more!
Now is you look at other recpes, you'll see that olive oil is standard for coating the pan. I use PAM, however, because I love its non-stick properties (and I don't use non-stick pans unless that's the only option).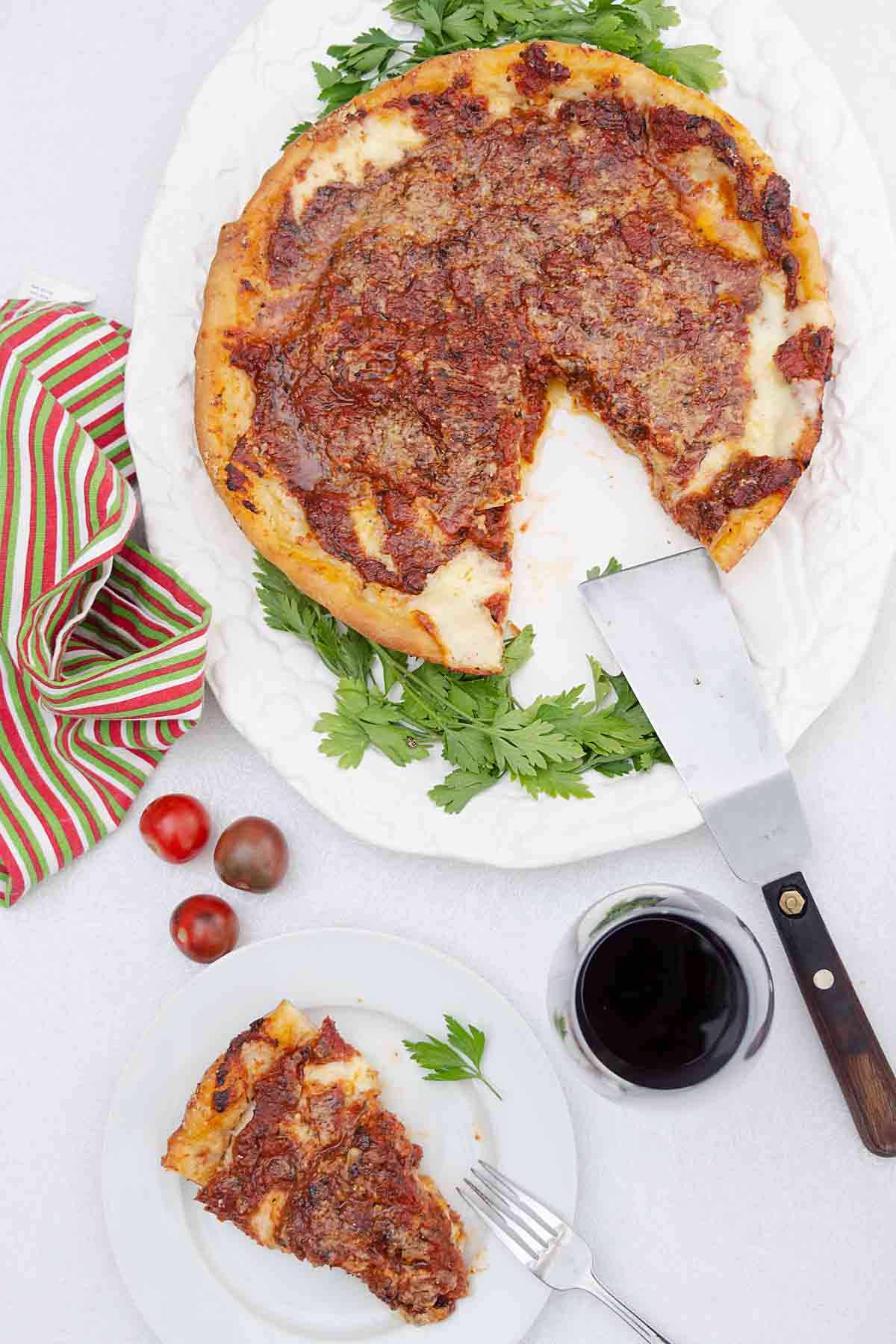 Tips and Notes
One thing I like about this pizza is not having to form a perfect round when you make your crust! But sometimes the dough may still "fight you" as you try to spread it out. If that happens, cover it and give it some resting time to "relax". But also be aware that when you set the cheese on top, this helps to "anchor" the crust and that helps too.
Did you know that you can freeze pizza dough balls? That makes it easy to be ready for spontaneous deep dish pizza any time! How fun is that!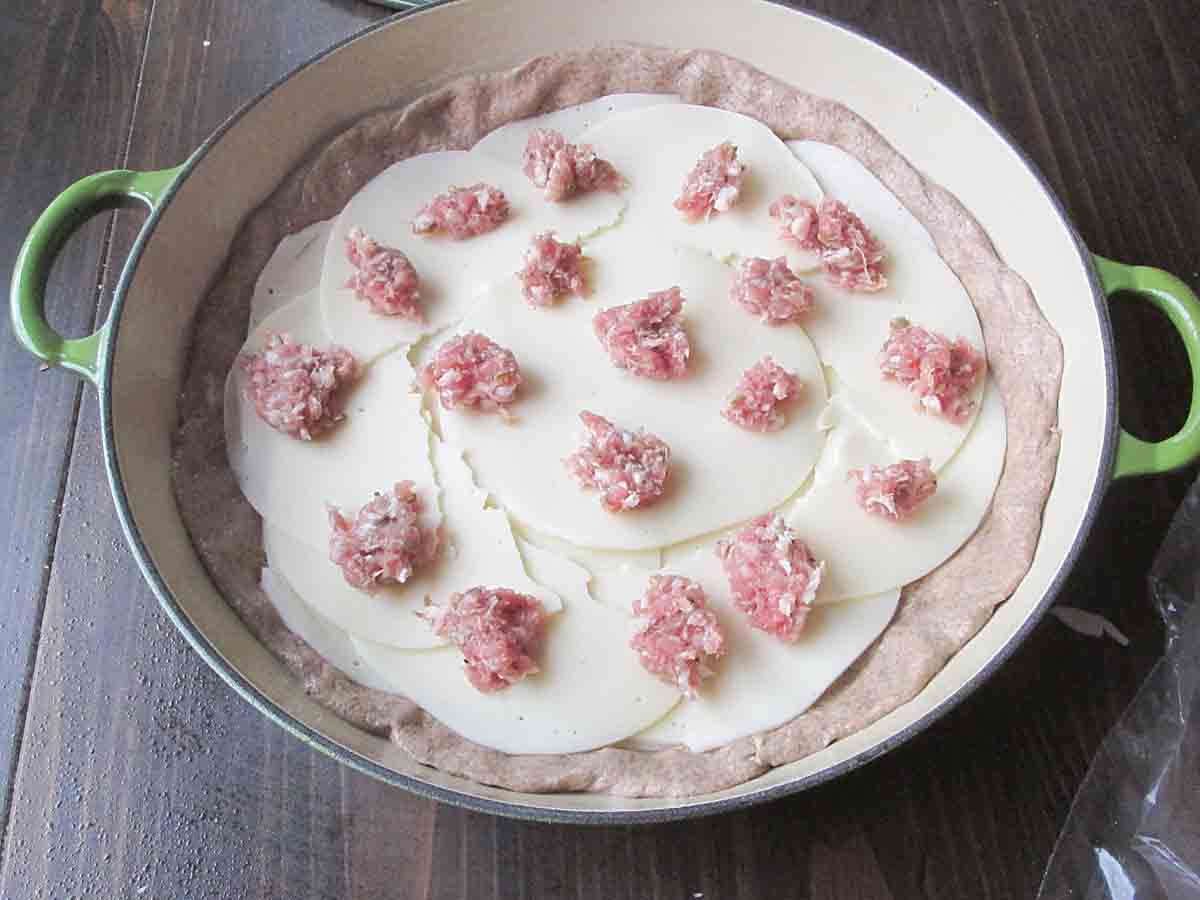 You can, of course, use any topping or toppings of your choice in pizza! But sausage is a favorite and in traditional pizza the sausage is usually set out as small "dabs" of sausage.
For deep dish pizza however, traditional means forming it into a big round disk that covers the whole pizza (though it will shrink as it cooks). I formed my sausage disk on a piece of wax paper, then inverted it onto the cheese. But go with whatever style you like!
As for the selection of sausage, I usually buy mild Italian sausages and remove the casing. Your butcher may also have bulk Italian sausage available.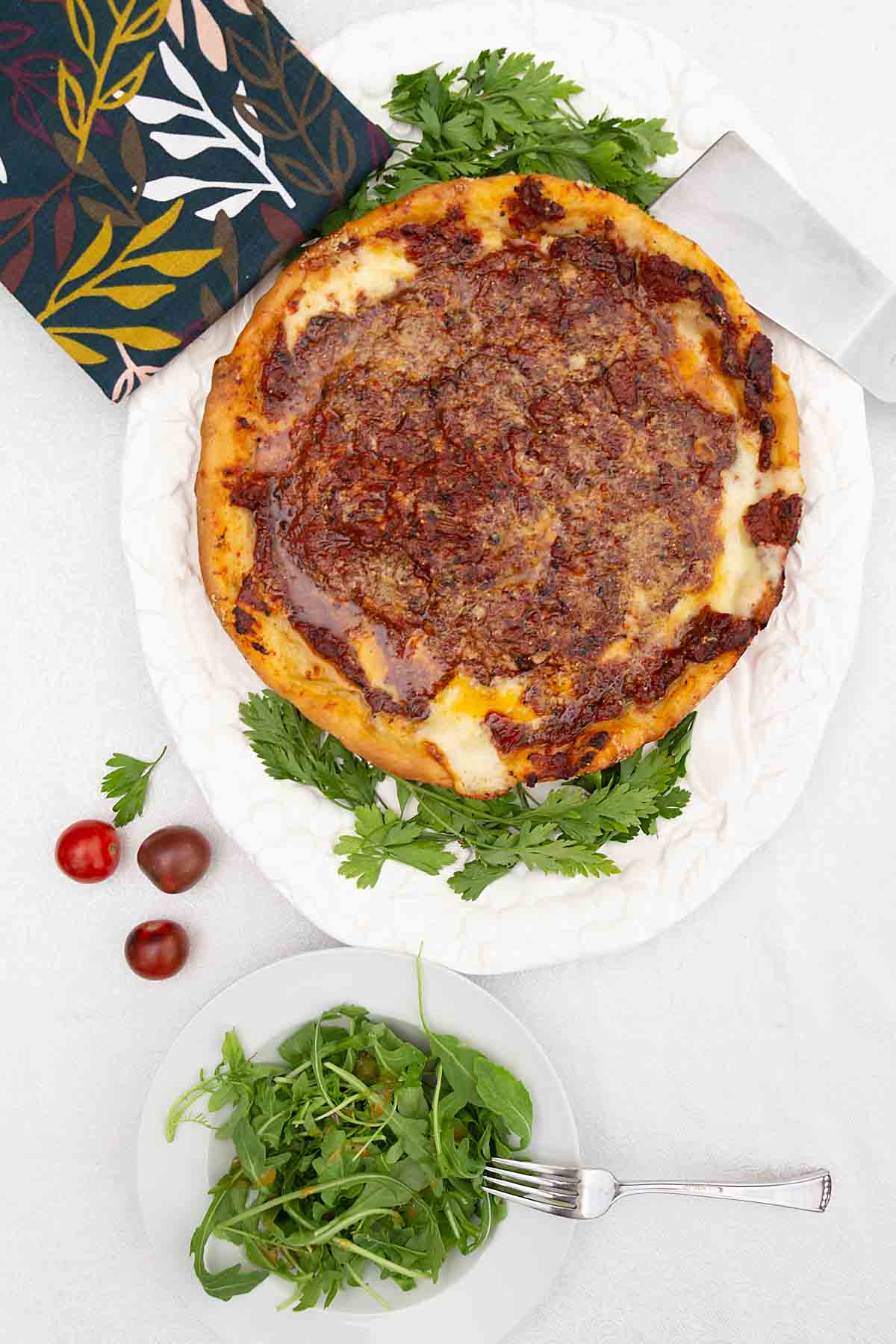 What Else to Serve
While garlic bread is a classic pizza side, I am less inclined to serve it with this given the thickness of the crust,. But a nice green salad is a wonderful addition! And between the salad and the tomatoes, you are probably getting two servings of vegetables! Eat a rainbow!
For More Pizza Fun
Chicago Deep Dish Pizza Recipe
Yield: 4

Prep Time: 10 minutes

Cook Time: 50 minutes

Total Time: 1 hour

With a deep soft crust, creamy cheese and flavorful seasoned tomatoes, this Chicago Deep Dish Pizza Recipe is worth staying home for!
Ingredients
Seasoned Tomato Topping: 
2 Tablespoons olive oil
1 Tablespoon chopped fresh garlic
2 teaspoons basil
1 teaspoon oregano
1/4 teaspoon fennel seeds
1/2 teaspoon salt
1/4 teaspoon freshly ground black pepper
1/8 teaspoon red pepper flakes
1 (28-ounce) can diced or crushed tomatoes
1 tablespoon dry red wine
1 teaspoon sugar
Remaining Ingredients: 
1 pound Pizza Dough (pre-made or your favorite recipe--see note)
PAM non-stick spray
3/4 pound provolone or mozzarella cheese, sliced
1 pound Italian sausage  (omit for vegetarian)
1/2 cup finely grated Parmesan
Instructions
In a medium sautee pan, heat the oil. Add the garlic and seasonings then stir for 30 seconds. Add the tomatoes, wine and sugar, then bring to a simmer. Lower the heat and cook, stirring occasionally for 20 to 30 minutes until thickened. Set aside.

While the sauce is cooking, preheat the oven to 400 degrees F. Spray the sides of a 12 inch pan with Pam non-stick spray. Press the pizza dough into the pan, pushing about 1 1/2 inches up the sides.

Layer the provolone cheese on top of the dough. Top with toppings of your choice (optional). Spread the sauce evenly on top and sprinkle with grated Parmesan.

Bake until the crust is golden brown and sausage is cooked through, about 30 minutes. Remove from the oven, let cool for a few minutes, then slice and serve hot. (If you use an enameled pan, remember not to use metal cutting tools in the pan--I find the pizza usually slips out intact with just a little loosening if I have used Pam)
Notes
No favorite pizza crust recipe? Try my pre-baked pizza crust recipe--just press it in instead of baking crusts for later.

Updated from 7/18/13