100% Natural Cranberry Nut Granola
Sweet, tart and nutty, Cranberry Nut Granola is sweetened with honey & 100% natural. Boil cranberries in honey for a few minutes, then bake until dry–Mmm!
Did you know I started eating local this year (with a few exceptions–and yes, this means no sugar)? Well, it has presented some interesting challenges–and also, some great opportunities.
Like mixing up my standard homemade granola into a new, holiday-spirited version, Cranberry Nut Granola! Mmm!
The ingredients were surprisingly easy to acquire — which is not always the case eating local. I found local oatmeal and hickory nuts at the Winter Farmers Market. My big (5 gallons!) tub of local/regional honey came from a friend. And of course, Wisconsin cranberries are a snap–which meant honey sweetened, preservative-free, dried fruit in the mix!
Did you know that dried fruit can have additives you might not want in your diet? These include sulfites and sugar or artificial sweeteners (source One Green Planet). Mine is sweetened with organic honey, which many (though not all) special diets allow.
This granola is actually quite easy because the cranberries dry right with the rest of the granola. No special step to make dried fruit!
You just boil them in honey until they "pop", then mix everything together (right in the saucepan). Spread on a rimmed baking sheet and bake on low for an hour or so (stirring occasionally) and you are done. Easy Peasy!
I mixed some yogurt with leftover cranberry sauce (a byproduct of my homemade cranberry juice) and topped it with the granola. It's a perfect simple breakfast or snack.
Yes, winter might not feel so long after all!
And if you are curious, pop on over to A Year of Eating Locally to read more about my local eating adventure!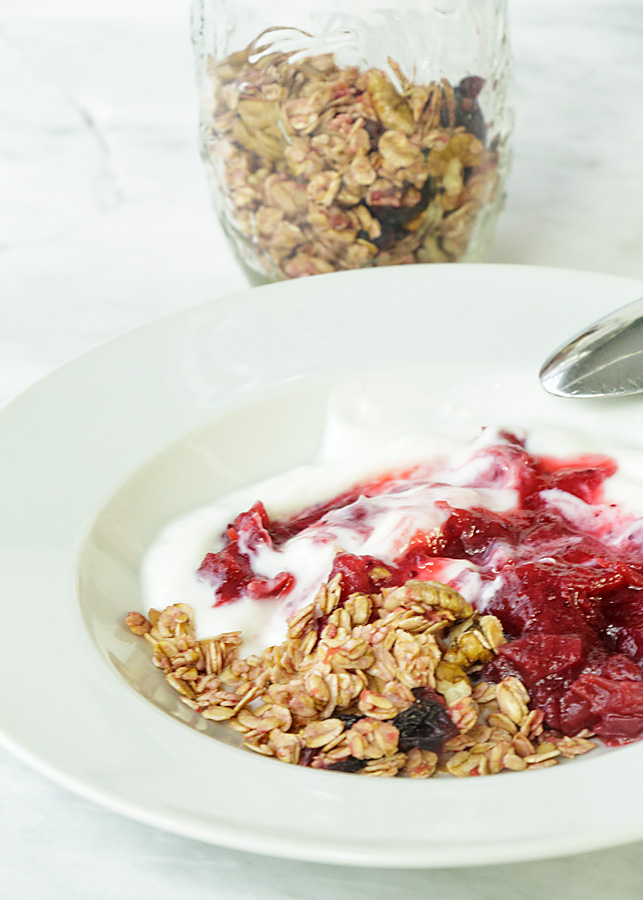 100% Natural Cranberry Nut Granola
2017-12-13 15:17:34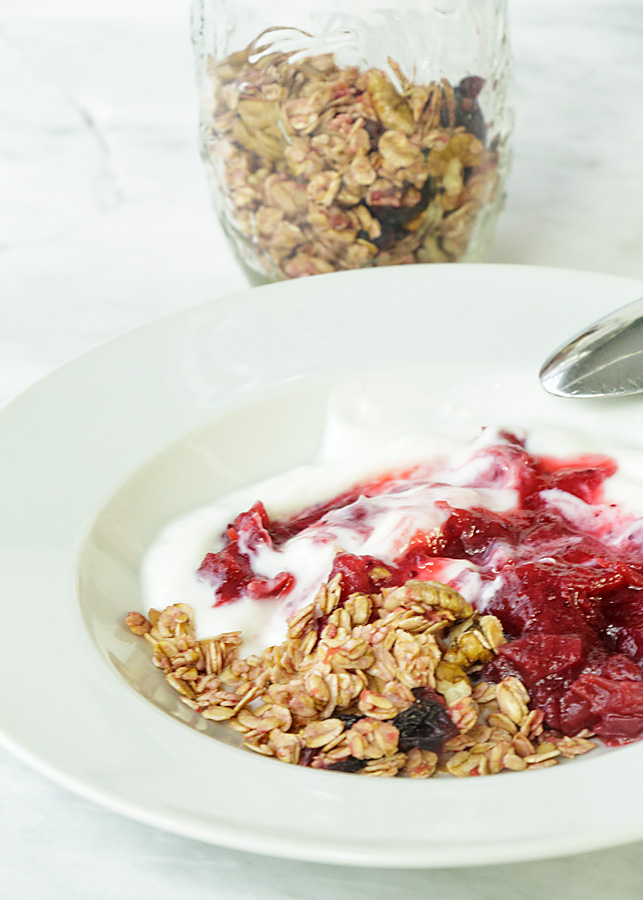 Serves 8
Sweet, Tart & Nutty, Cranberry Nut Granola is sweetened with honey & 100% natural.  Boil cranberries in honey for a few minutes, then bake until dry--Mmm!  
Nutrition Facts
Amount Per Serving
* Percent Daily Values are based on a 2,000 calorie diet. Your Daily Values may be higher or lower depending on your calorie needs.
Ingredients
½ - 2/3 cup honey
1 cup cranberries (fresh or frozen, unthawed)
2 cups oatmeal
1/2 cup hickory (or other) nuts
pinch salt
2 Tablespoons butter or oil
Instructions
Pour (melt if needed) honey into a medium saucepan. Add cranberries and bring to a boil. Cook until the cranberries "pop"
Remove from heat then stir the remaining ingredients into the honey/cranberry mixture.
Spray a baking sheet with nonstick spray, then spread out granola mixture. Bake at 225 for 1 1/2 hours, stirring a couple times. Mixture will be sticky until cooled. Let cool completely then store in airtight container.
Notes
If you prefer a more toasted flavor bake at 300 until golden brown, for approximately 30 minutes, stirring occasionally.
Serving size is approximately 1/3 cup (a light serving of cereal but more than you'd use to top yogurt)
Art of Natural Living https://artofnaturalliving.com/