Easy Mini Cheesecake Bites
Mini cheesecake bites are small and tasty, topped with your favorite toppings. Easy and crowd-pleasing, they're perfect for many different occasions.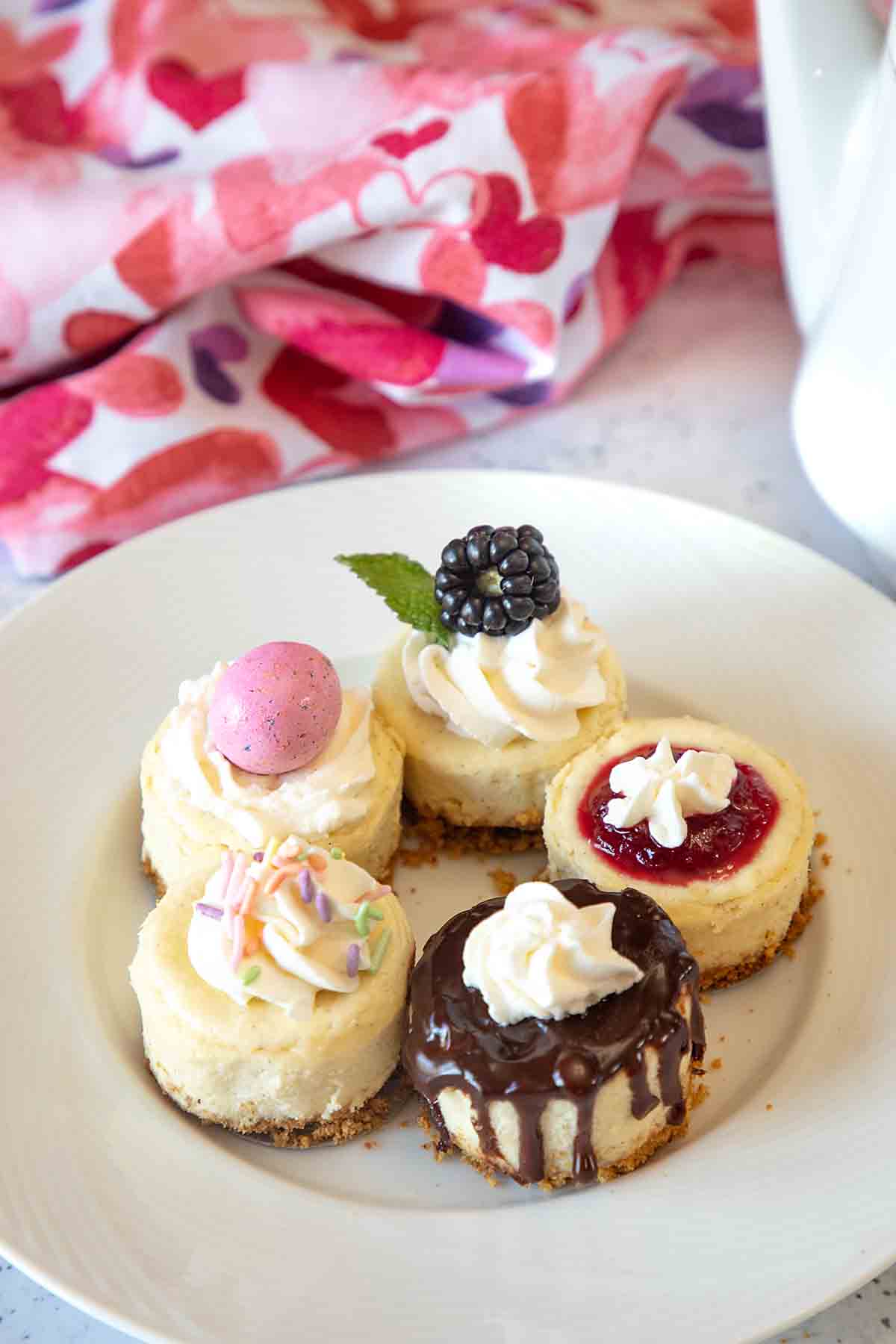 This post is sponsored in conjunction with #SpringSweetsWeek. I received product samples from sponsor companies to help in the creation of the #SpringSweetsWeek recipes. All opinions are mine alone.
I'm totally obsessed with small desserts–from mini cheesecakes to bite-sized brownies. Maybe it's because you get to have multiples. Isn't variety the spice of life?
Then there's their ability to right-size—so everyone from Great Grandma to the school track star can get just what they want.
And mini cheesecakes can be the star of any small dessert show. Flavorful, varied, and crowd-pleasing, they'll rock your next dessert tray.
Bite-sized cheesecake? I'll take 3 or 4 (shhh)!
Why You'll Love This!
Tasty. Come on, who doesn't love cheesecake! And I think the minis are even better since there's no worry about a richness overload. Just yum!
Fun. What's more fun than popping a bite-sized cheesecake into your mouth and getting a burst of joy! Well, maybe popping two?
Easy to Make Ahead. These freeze beautifully right down to the dollop of whipped cream on top (with a few caveats–lots more on freezing below).
Versatile. A vanilla cheesecake is a great base for any flavor or design of cheesecake you want to make. Top with strawberries or cherries in syrup for and easy, classic treat. Or consider some of the designs I have here.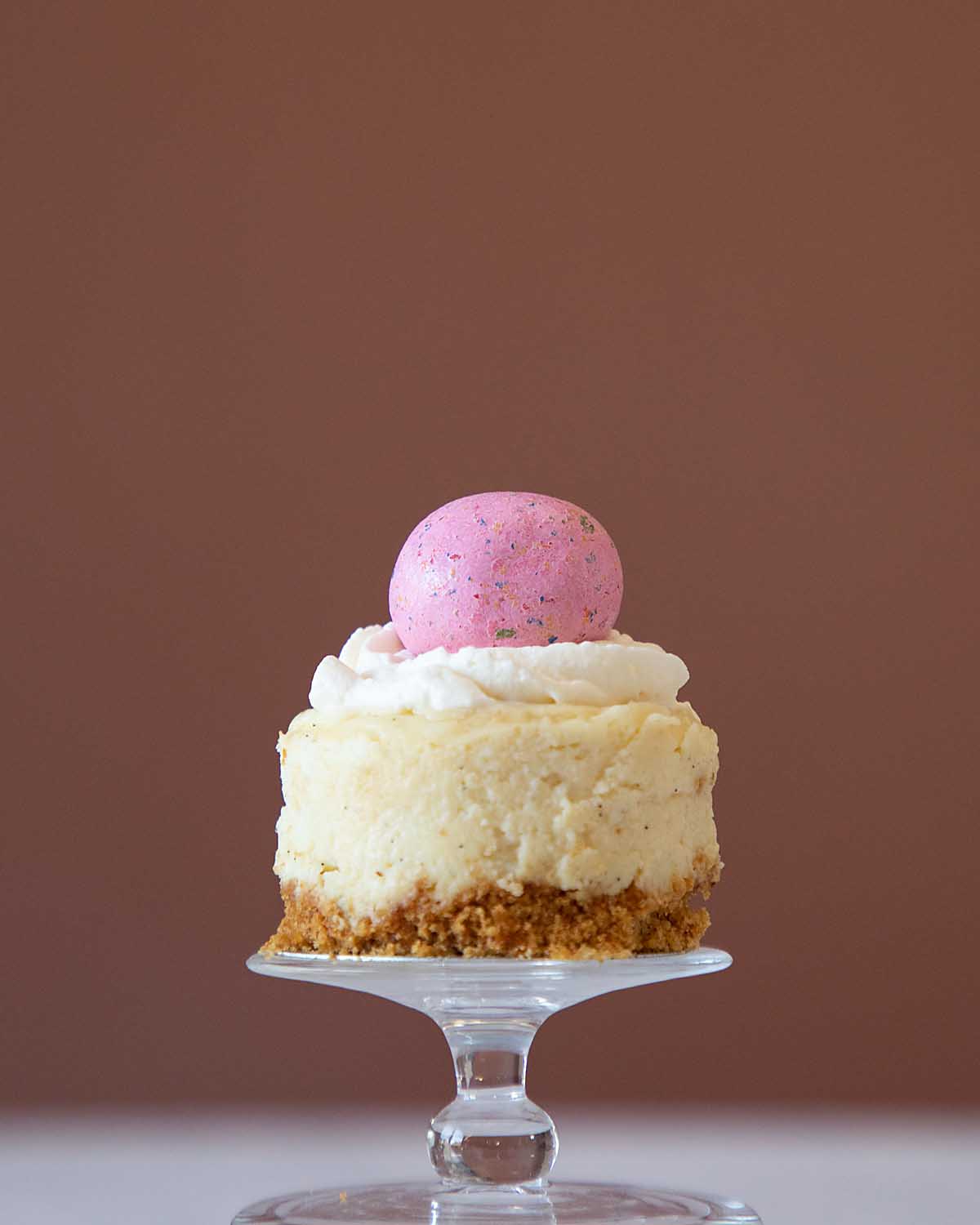 What You'll Need
Ingredient Notes
Graham cracker crumbs. This forms the cheesecake crust. They'll be gluten free if you use Nairn's Gluten Free Oat Grahams.
Butter. This helps hold together the cheesecake crust.
Cream cheese. This adds creaminess and cheesecake flavor.
Granulated sugar. This is used in both the crust and filling. It adds sweetness and body.
Eggs. These add richness and help the cheesecake set.
Vanilla paste. This flavors the cheesecake filling. You can also use vanilla extract
Toppings. These are your choice but whipped cream, fruit and jam are all good
Special Tools
While it's not absolutely required, I like using a special mini cheesecake pan for this.
Step by Step Directions
Mix the graham cracker crust ingredients, then press down in the wells of a greased mini cheesecake pan.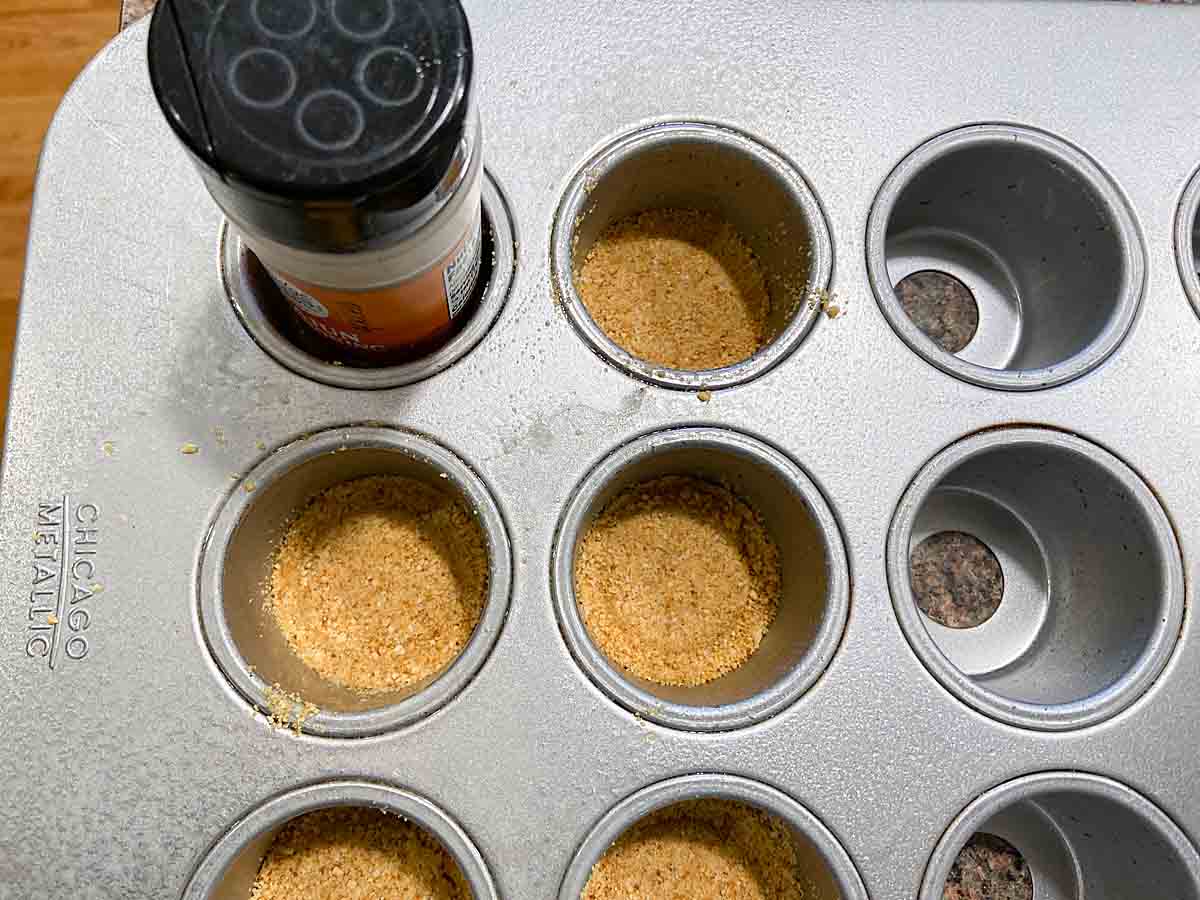 Cream the cream cheese until smooth, then add the sugar. Use the paddle attachment on low so you don't incorporate too much air.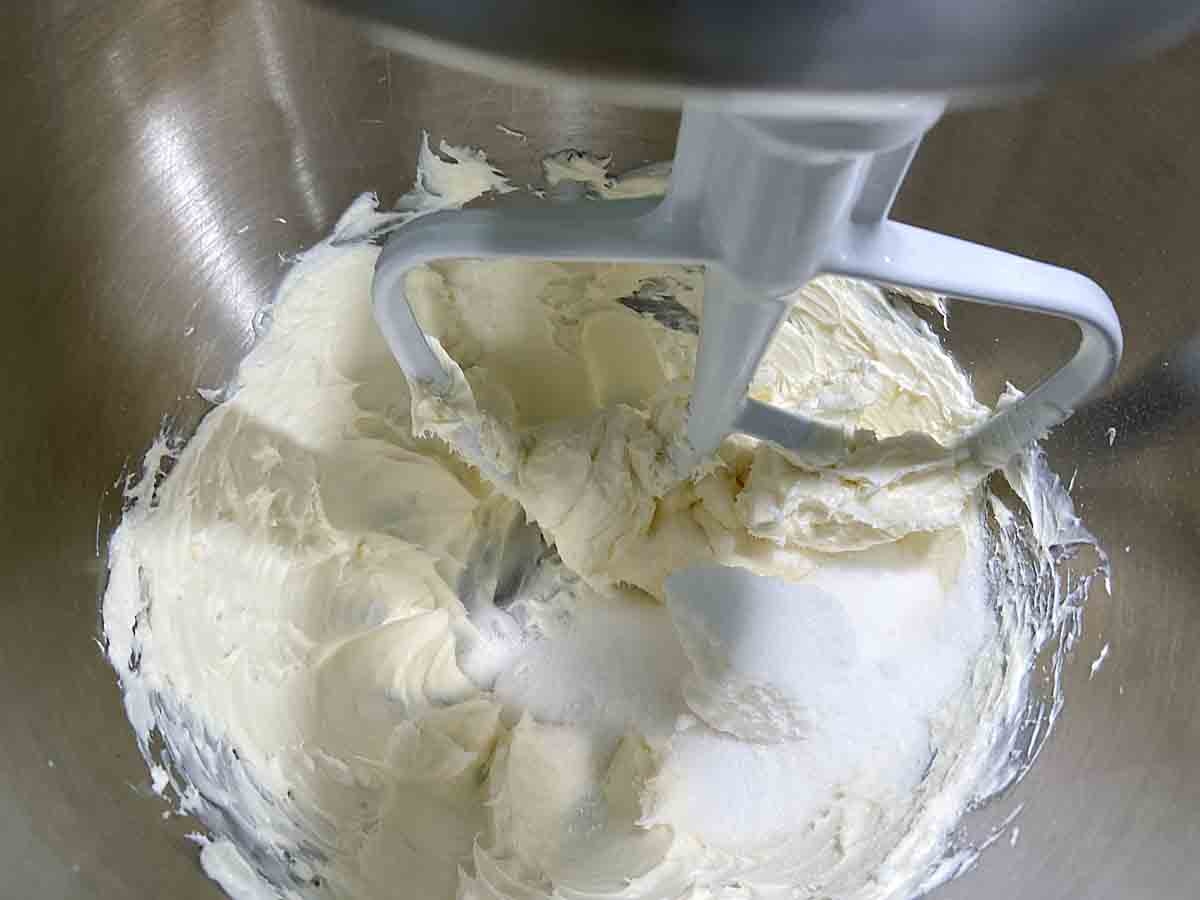 Mix in egg and vanilla.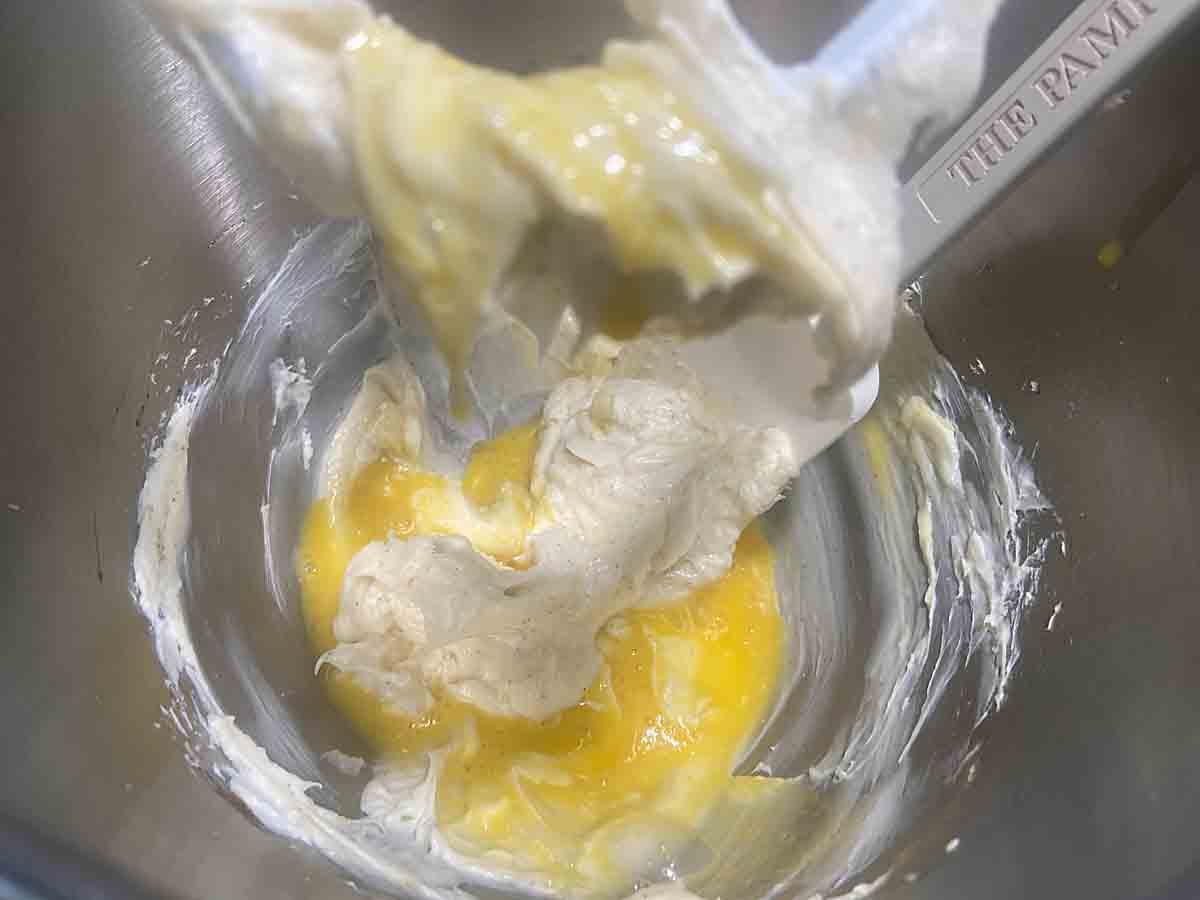 Drop spoonfuls into wells on top of baked crust.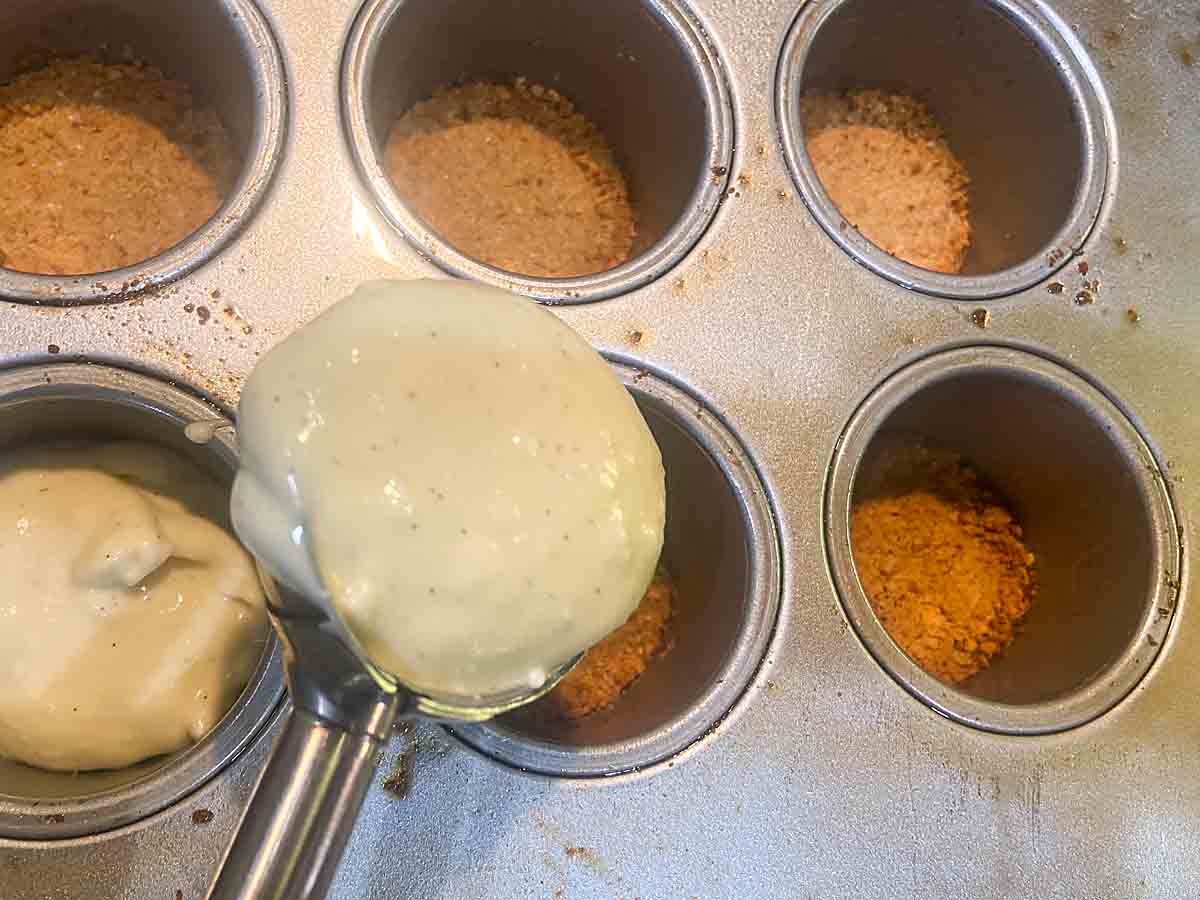 Bake until set.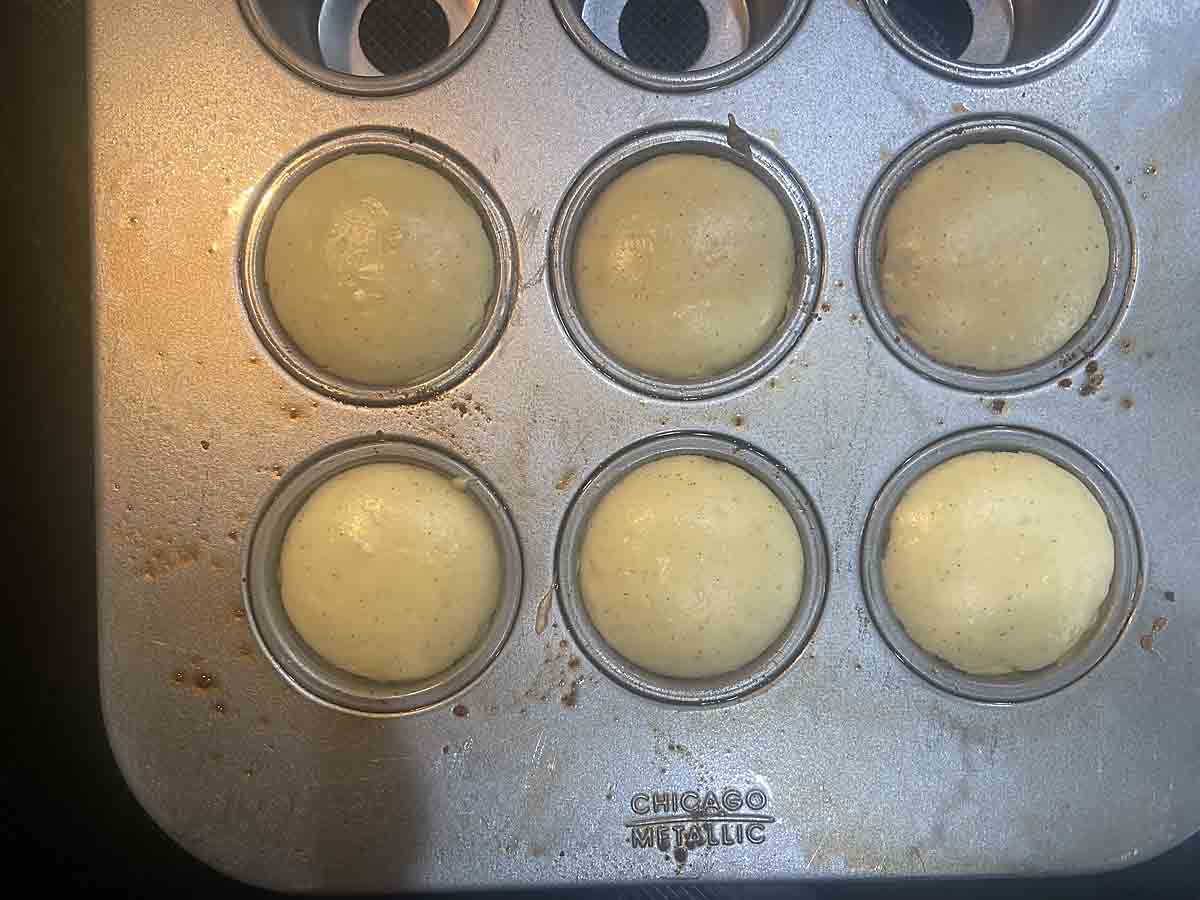 Let cool, then loosen edge with a thin knife.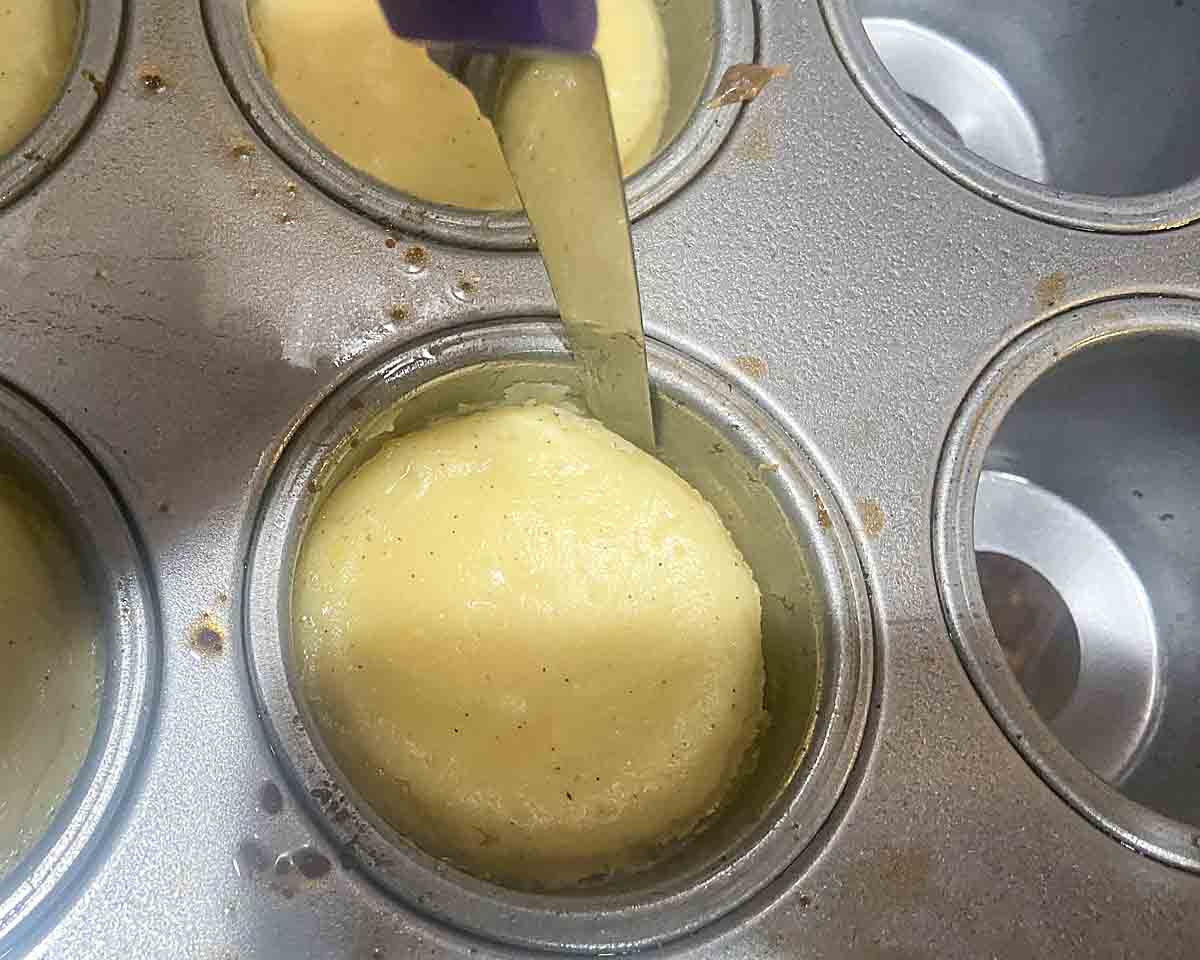 Push up on the removable bottoms to extract from pan, top with toppings of your choice, then serve.
Using Vanilla Paste vs Extract or Beans
Why should I use vanilla paste (vs extract or beans) in this? The short answer is that vanilla paste will give you the best combination of flavor, appearance and ease of use. Just check out the pretty flecks of beans in the photo above!
You see, years ago, I got a killer deal on vanilla beans and made lots of wonderful desserts. I'd scrape the beans, heat them with (usually) cream to infuse, then cool as needed and proceed with my dessert. It was more work but I loved the profusion of flavor and the beautiful way the beans dotted the final dish.
Then I learned about vanilla paste, which gives you the same lovely vanilla beans but in a form that you just stir into your recipe (like vanilla extract). This got me completely spoiled since it's so much easier to work with. It's also less fluid if you're making something that needs to stay drier. And it's more affordable than vanilla beans. I used Taylor and Colledge vanilla paste which is even organic! And it's especially nice for a dessert like these mini cheesecakes that really show off the beans.
Because I believe that, even when it comes to dessert, if you've got it, flaunt it!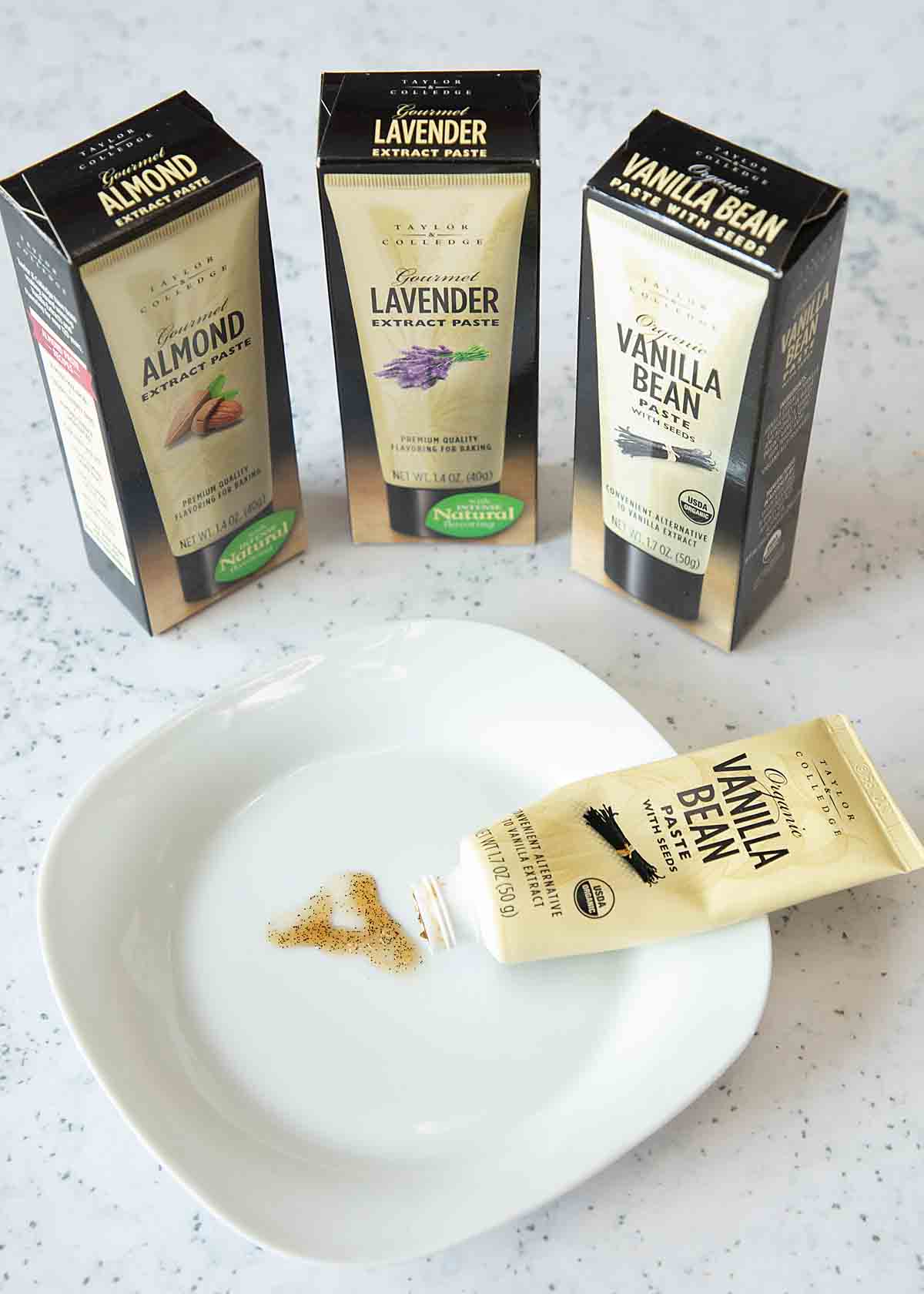 How to Serve
Mini cheesecakes are great for dessert or snacking any time. And since they have a hint of casual elegance, they work well for events like Mother's Day or Easter brunch, showers, formal teas or garden parties.
And how about creating a mini cheesecake buffet! You can dress these plain cheesecakes up in different ways or go with completely different flavors like Pumpkin Swirl Mini Cheesecake, Lemon White Chocolate Mini Cheesecakes and Mini Oreo Cheesecake Bites!
While it might sound like a lot of work, a mini cheesecake buffet can actually be quite easy since they freeze so well (see details below).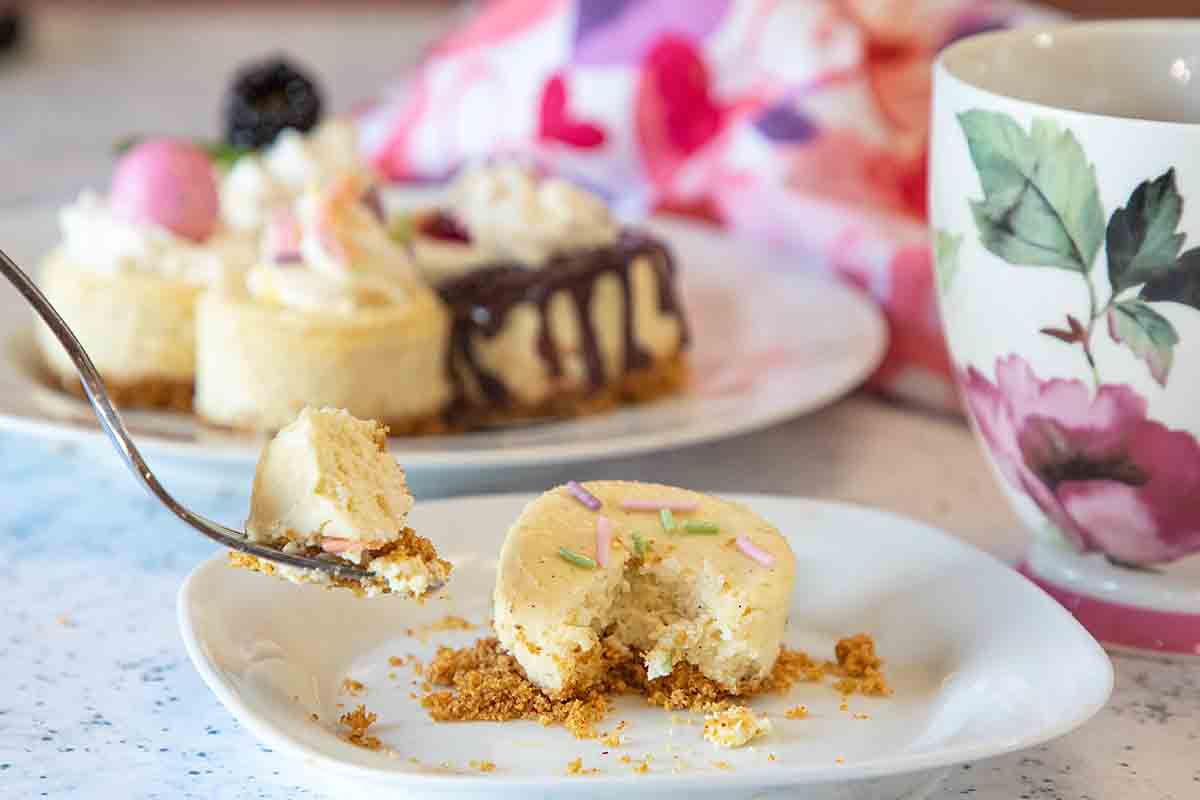 Variations and Special Diets
These particular mini cheesecakes are great for variety since you can just change the toppings. The sky's the limit on that! And since this is done after baking, a batch of twelve can give you three or four different "flavors," just by using a different fruit or topping.
I use a special pan because I love the look it gives. But if you don't own one (I now have four, ahem), I hear that you can make minis using cupcake papers inside a mini muffin pan. I haven't tried this, but lots of people have. Since they're smaller the quantity would increase and require less baking time.
Special Diets
Mini Cheesecake Bites can be turned gluten free easily–simply use gluten free graham crackers in the crust! Then make sure you make some with gluten free toppings as well (usually not hard).
And while these aren't exactly low carb, they aren't super high in sugar. If you left off the crust, you'd be at about 2 teaspoons of sugar in one plain mini cheesecake. Add whipped cream sweetened with sweetener plus a blackberry and it just might be the indulgence that doesn't break the bank.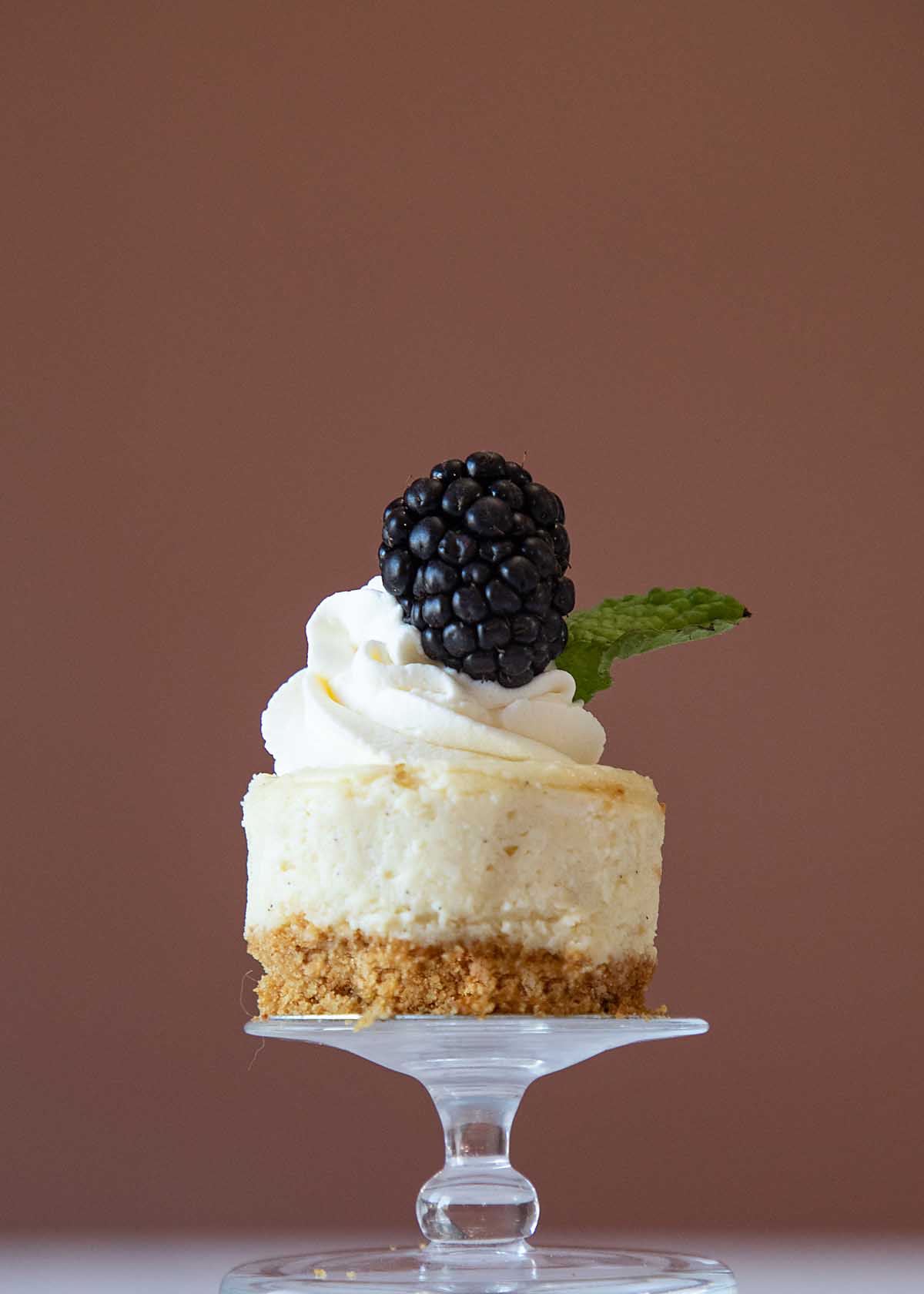 Preparation and Leftovers
You can make the cheesecake bites a couple days ahead without a problem, but I recommend adding the topping the day of. A good whipped cream might last a day (or even two) but it's easy enough to top the day of and not take any chances. Now for a more stable whipped cream, you could always consider my mascarpone whipped cream or gelatin stabilized whipped cream.
Or consider freezing per the instructions below.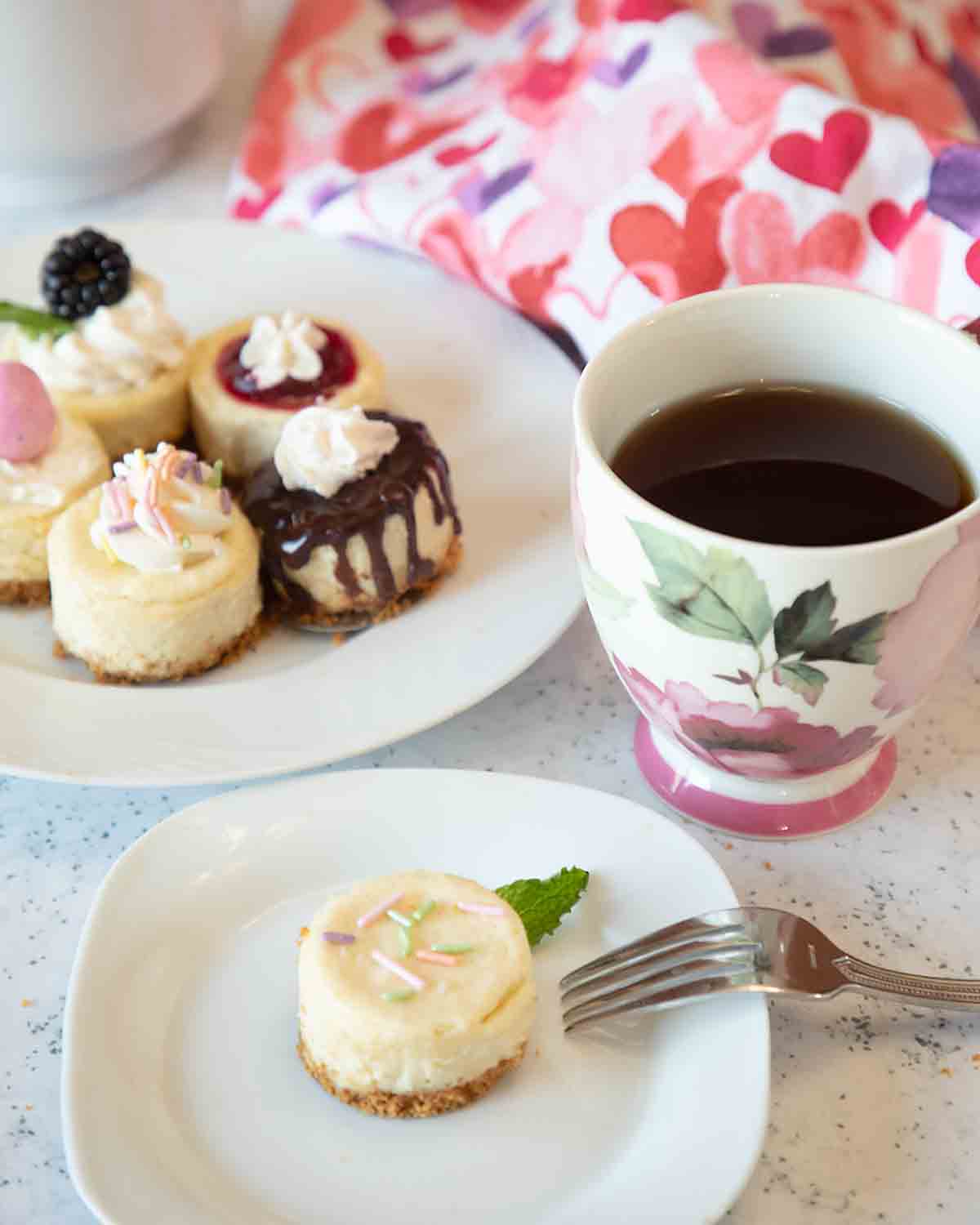 How to Freeze Mini Cheesecakes
As I mentioned, mini cheesecake freezes beautifully.
For my daughter's post-Covid wedding party, I froze dozens of minis in three different flavors. They were beautiful for a dessert bar that also featured heart shaped brownies and crème caramel.
In the weeks before the event, I made dozens of mini cheesecakes (testing first to make sure we liked them and that they'd freeze well). I froze the individual cheesecakes until no longer sticky, then stored them side by side in shallow, lidded, Tupperware containers in the freezer.
When the party day arrived, I thawed an initial batch, and then my party helpers kept tabs on the dessert table and took out extras as needed. Since they thaw in 10-15 minutes, we were able to thaw just what we needed, leaving the extras in the freezer for future eating.
Can I freeze cheesecakes with the toppings?
Many toppings can be frozen. But some, like fresh fruit, need to be added before serving.
For the easiest approach ever, go with toppings that can be frozen, so they're 100% ready when thawed. Fruit curd or jam will work well and even the whipped cream rosettes thawed fine. Or you can do them mostly frozen and just add a couple final touches when they're thawed.
How Long Do Frozen Cheesecakes Last?
Frozen cheesecakes should stay fine at least a few weeks and will do best in a freezer that isn't frost free. A frost free freezer will start to dry things out more quickly and add what I call a freezer taste, so those will have a shorter lifespan.
But now I'm a major fan and have frozen mini cheesecakes many time since the wedding. So they're now a regular on my dessert table!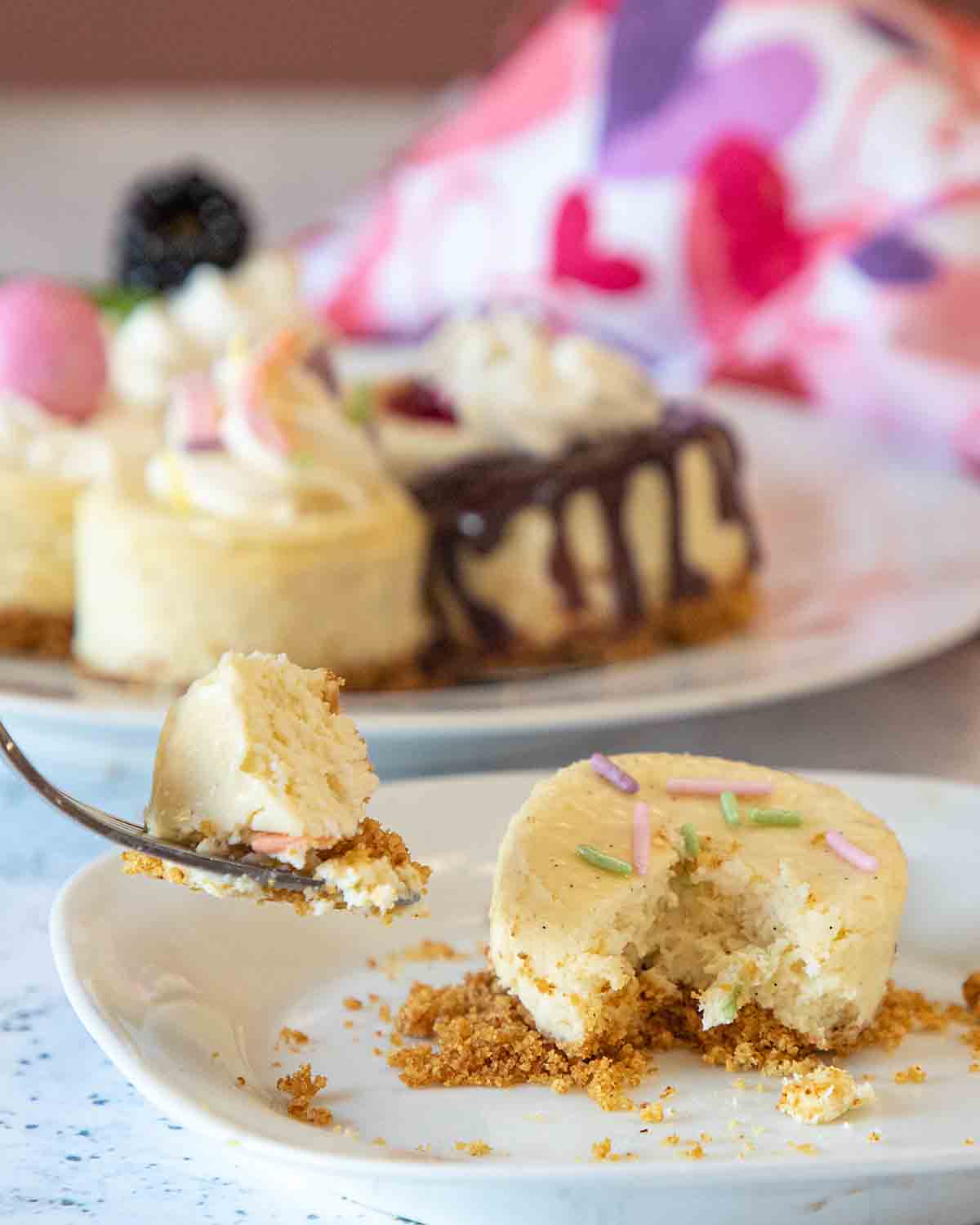 Tips & FAQs
For the prettiest twirl of whipped cream on the top, spoon your whipped cream into a piping bag (or a plastic bag with the corner cut out) fitted with a star tip, then pipe rosettes.
Have you heard of boxed graham cracker crumbs? Yes, graham crackers do come pre-crumbled and boxed, which can save you a little work!
How do I keep my cheesecake from sinking in the middle? Cheesecake rises as it bakes and can sink in the middle as it cools. A small depression is easily disguised when you top it, but a big one can be more of a problem. The best way to minimize your risk, is to use your mixer's paddle (not the whisk) attachment and to mix your filling on low.
And if you haven't properly warmed your cream cheese and end up with lumps, don't beat faster to eliminate them. Instead beat longer. Then next time try to get your cream cheese out earlier.
What if I don't need (or want) 12 cheesecakes? This recipe is easy to cut in half and simple enough so it's worth making a small batch. Or just go ahead and make all 12 and freeze the extras.
How do I press in the graham crackers crust? You can press in the graham crackers using any flat object that fits the wells. Or they make special tampers for people who make these a lot. I bought one, then promptly lost it, so now I use a spice jar. Press firmly and brush the sides of the wells free of stray crumbs if there are a lot.
Mini Cheesecake Bites
Mini cheesecake bites are small and tasty, topped with your favorite toppings. Easy and crowd-pleasing, they're perfect for many different occasions.
Ingredients
Crust:
1

cup

graham cracker crumbs

3

Tablespoons

butter

2

Tablespoons

sugar
Cheesecake Filling:
16

ounces

cream cheese

½

cup

granulated sugar

2

eggs

2

teaspoons

vanilla paste

or vanilla extract
Toppings (Optional but Recommended):
Whipped cream, fruit, jam or other toppings of your choice
Instructions
Preheat oven to 350*F. Spray the inside of each cheesecake well with non-stick cooking spray. (Or line a mini-muffin pan with paper liners.)

To prepare the crust, melt the butter, then crush the graham crackers if needed. Combine graham crumbs, butter and sugar. Add about 1 tablespoon of the crust mixture into each of the 12 mini cheesecake wells. Pack down the crumbs and bake for 10 minutes in preheated oven.

Reduce the oven temperature to 250 F and begin the filling. Using an electric mixer with the paddle, not whisk blade, blend cream cheese on low until very smooth. Add sugar and continue to blend until fully incorporated. Add egg and vanilla, and continue to beat on low, scraping down the sides of the bowl as needed.

Divide the cheesecake filling among the 12 wells. Bake cheesecakes until the filling is set, 22-25 minutes. Place the pan on a wire cooling rack and allow to cool to room temperature, then place entire pan in the refrigerator about 4 hours before removing cheesecakes from the pan.

Once cool, carefully remove the cheesecakes from the pan by pressing up on the removable bottom of each well. Keep the cheesecakes in the refrigerator until ready to serve. Top with the toppings of your choice.
Nutrition
Calories:
241
kcal
Carbohydrates:
18
g
Protein:
4
g
Fat:
17
g
Saturated Fat:
10
g
Polyunsaturated Fat:
1
g
Monounsaturated Fat:
5
g
Trans Fat:
0.1
g
Cholesterol:
73
mg
Sodium:
198
mg
Potassium:
73
mg
Fiber:
0.2
g
Sugar:
14
g
Vitamin A:
635
IU
Calcium:
47
mg
Iron:
0.5
mg
I am not a health professional and nutrition data is calculated programatically. Accuracy may vary with product selection, calculator accuracy, etc. Consult a professional for the best information.
Monday #SpringSweetsWeek Recipes
We share recipes from #SpringSweetsWeek on Pinterest! Make sure you follow the board to see all the delicious recipes shared this week.
Welcome to #SpringSweetsWeek 2023 hosted by Heather from Hezzi-D's Books and Cooks! This year 20 food bloggers from around the country are sharing over 75 sweet recipes that are perfect for spring. Thank you to Melissa's Produce, Anolon, Taylor and Colledge, and Selefina Spices for your generosity and support.