You Can Make Creme Caramel (& a Giveaway)
Crème Caramel is a smooth, creamy custard topping with rich dark caramel. Elegant enough for company and easy enough for everyday, it's a top contender for perfect dessert.
Crème Caramel is the darling of baked custards. Think creamy custard with a golden crown of caramel. It's been on my "to try" list, well… forever.
I had my first crème caramel in college, when I studied for a semester in Ireland. My host "mother" was a Cordon Bleu cook and this was a favorite dinner dessert. Yes, eat an amazing meal, then top it off with a touch of something sweet!
In the end, however, it was Nielsen-Massy, the vanilla folks, who gave me the push I needed to try it myself. The sent me a bottle of their vanilla paste which meant I needed something delicious to do with it!
That's because Nielsen-Massey vanilla paste is one of my favorite baking ingredients. Consisting of thousands (gazillions?) of tasty vanilla beans in a creamy paste, your dessert gets loads of beautiful vanilla beans without any more work than vanilla extract!
If you take a close look at the picture below you can even see the vanilla beans dotting the caramel. Not that I'm into flagrant vanilla bean flaunting or anything.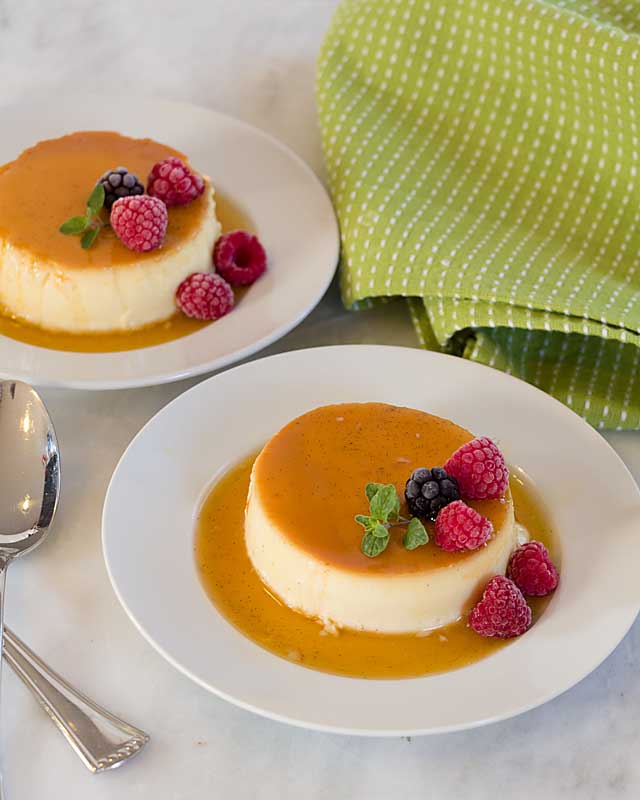 Of course, when I finally tried making Crème Caramel, I was delighted with how easy it turned out to be and have a few tips to share.
First, custard recipes often call for scalding the milk ahead of time, which most sources agree is probably a carryover from before pasteurization. And if you mix eggs and hot milk, you risk "scrambling" your eggs (not creamy). Instead I combine everything while cool, then stir the mix over medium heat until it is slightly warm and the sugar has dissolved. Easy peasy.
Second, rather than rely on the "jiggle test" to tell if the custard is done baking, I take its temperature with an instant read thermometer. Jiggling usually gets me a slightly overcooked custard (a custard is a bit overcooked if there are tiny bubbles around the outside–still delicious, just not as creamy), while an instant read thermometer is far more reliable. Sources differ on the best temperature to shoot for, but it is somewhere under 180 F (unless your custard includes a starch like flour or cornstarch which raises the temperature tolerance of the eggs). I use 175 F as my goal.
Finally, something unique to this custard, you actually need to let it sit in the refrigerator a while to allow the top layer of caramel to soften and melt into the custard. Fine Cooking says at least 12 hours and I found that the more time I waited, the more caramel melded into the custard (up to 48 hours; it never lasted longer). But even after a couple days, some of the caramel may remained in the baking dish. This is normal; just soak to remove.
Of course, that wait time makes Crème Caramel the perfect "make ahead" dish. Not that I ever need extra time the day of a dinner party.
Yup, Easter and Mother's Day are coming! Just sayin'…
Want to try for yourself? Then consider this giveaway, sponsored by Nielsen-Massey, for one bottle of Nielsen-Massey vanilla paste, an approximate $25 retail value. It is open to mailing addresses in the US and closes at midnight CDT on April 1. To enter, leave a comment below telling me if you've tried any good new recipes recently. For a second entry, sign up for Art of Natural Living emails (below my picture) and leave me a second comment, letting me know you did (or that you already subscribe). The winner will be picked randomly, contacted by email and have 24 hours to get back to me or a new winner will be chosen.
Crème Caramel
2018-03-22 07:17:07
Serves 4
Crème Caramel is a smooth, creamy custard topping with rich dark caramel. Elegant enough for company and easy enough for an everyday treat, it's a top contender for perfect dessert.
Nutrition Facts
Amount Per Serving
* Percent Daily Values are based on a 2,000 calorie diet. Your Daily Values may be higher or lower depending on your calorie needs.
Caramel
1/2 cup sugar
2 T water
Custard
1 cup whole milk
1/2 cup heavy cream
1/3 cup granulated sugar
pinch of salt
2 large eggs
1 large egg yolk (you can freeze the white for later)
1/2 teaspoon vanilla bean paste (or vanilla extract)
(Optional) Berries and herb leaves for garnish
Prepare caramel
Take out 4 small ramekins and have them ready to go.
In a small saucepan, add the sugar and water for the caramel. Bring to a boil over medium-high heat and cook, without stirring (stirring cooking sugar will cause crystallization) until the mixture starts to turn golden around the edges, 5 to 8 minutes. (Watch closely because once the mixture starts to change color, it will go from good to burnt almost instantly). Gently swirl the pan once to even out the cooking and prevent the sugar from burning in patches. Continue to cook until the sugar turns medium amber, about 30 seconds more.
Working quickly, pour about 1/4 of the hot caramel into the first ramekin and swirl about 1/4 inch up the side. Repeat with the remaining three ramekins. Let the caramel harden and prepare the custard.
Prepare custard
Preheat oven to 325F.
Whisk the eggs in a medium saucepan, then whisk in the remaining ingredients. Heat the custard mixture until the sugar dissolves and it is warm, but not hot. Strain through a strainer into a 1-quart measuring cup.
Pour 1/4 of the custard mix into each ramekin--pour in once only, do not top off. Place 3 ramekins into a baking dish and into the oven, then pour very hot water into the roasting pan until it comes one-third up the sides of the ramekins, being careful not to splash water into the custard. Add the 4th ramekin to the baking dish.
Bake the custards in the water bath until the near center of the custard reaches 175F on an instant read thermometer, 30 to 45 minutes (see note). If you don't have an instant read thermometer, insert a knife slightly off center and it should come out clean.
Transfer the ramekins to a wire rack and cool completely. I usually use a slotted pancake turner to remove the first couple, before removing from the oven (I have splashed my custard at this point too). Once cool, cover each ramekin with plastic wrap and refrigerate for 8 hours (see note), or up to 3 days.
To serve, run a small knife in a smooth (not sawing) motion around the edge of each ramekin to loosen the custard. Place a small plate on top of the ramekin, then invert. If the creme caramel doesn't release, you can gently shake up and down a few times to help loosen, holding the plate and ramekin tightly together.
Decorate with berries and fresh herbs if desired
Notes
If you want to double the recipe, I suggest that you either make the caramel in two batches or get someone to help you swirl the caramel in the cups while you pour -- the caramel can burn or harden if you take too long.
There is one exception to the 175 F rule and that is a deep custard. This should work in a standard dish, evenly divided by 4, but one time when I went deeper (due to a dish issue), the deeper custards tested to 175 but came out too soft at the bottom of the dish (the "top" when inverted). I believe the thermometer registered the 175 F of the top while the bottom was still too cool. So for a deeper custard, you may still need the "jiggle test," aka remove when it has a slight jiggle.
I haven't tried serving my creme caramel without a rest of at least 8 hours (Fine Cooking says 12) but others serve more quickly. If you have other experience here, let me know.
Art of Natural Living https://artofnaturalliving.com/