Crème Caramel is a smooth, creamy custard topped with rich molten caramel. It's elegant enough for company and easy enough for everyday–a top contender for the perfect dessert.
Crème Caramel is the darling of baked custards. Think creamy custard with a golden crown of caramel. It was on my "to try" list, well… forever.
I first fell in love with this special dessert in college, when I studied for a semester in Ireland. My host "mother" had studied at Cordon Bleu school while living in Paris and this was a favorite dinner dessert. Yes, eat an amazing meal, then top it off with an amazing dessert!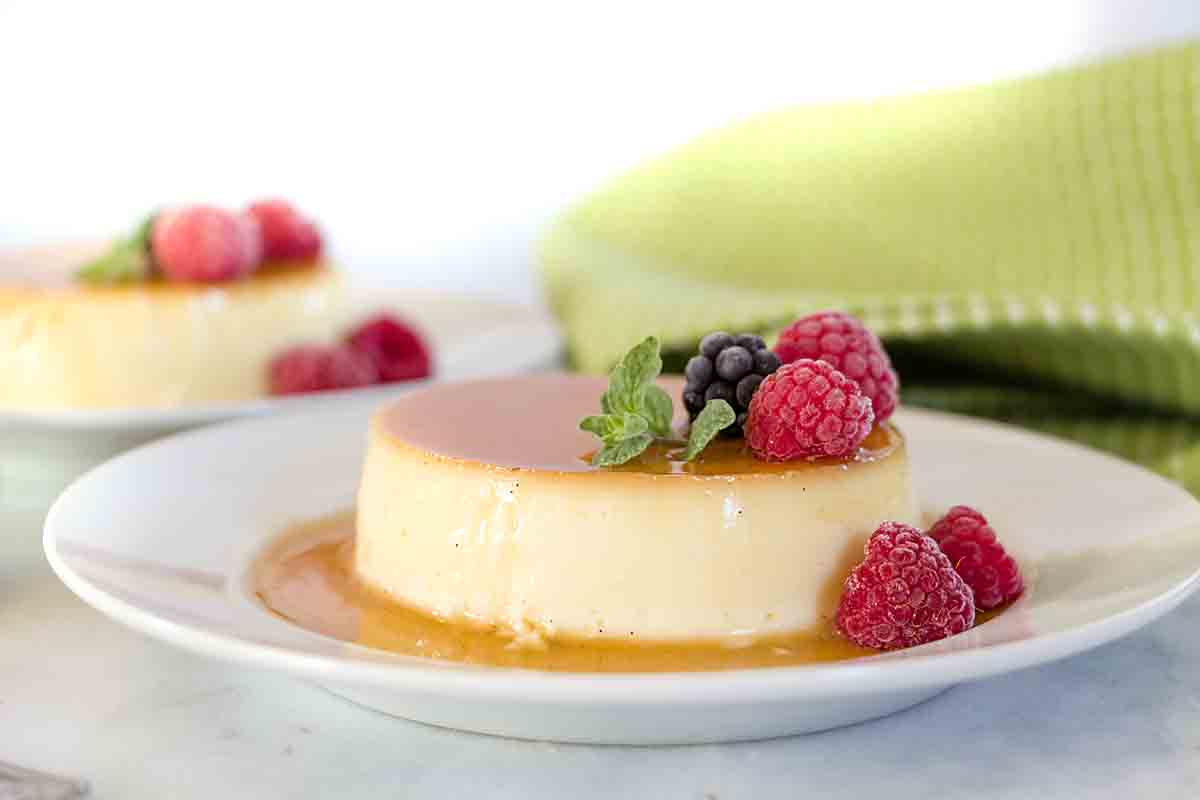 What is Crème Caramel
Per Wikipedia, "Crème caramel is a variant of plain custard (crème) where sugar syrup cooked to caramel stage is poured into the mold before adding the custard base. It is usually cooked in a bain-marie on a stovetop or in the oven in a water bath." It is then unmolded, or turned upside down then shaken out of its mold, so that the caramel layer is on top and loose caramel cascades down the sides.
It's sometimes also called flan, caramel custard, or caramel pudding.
Yum!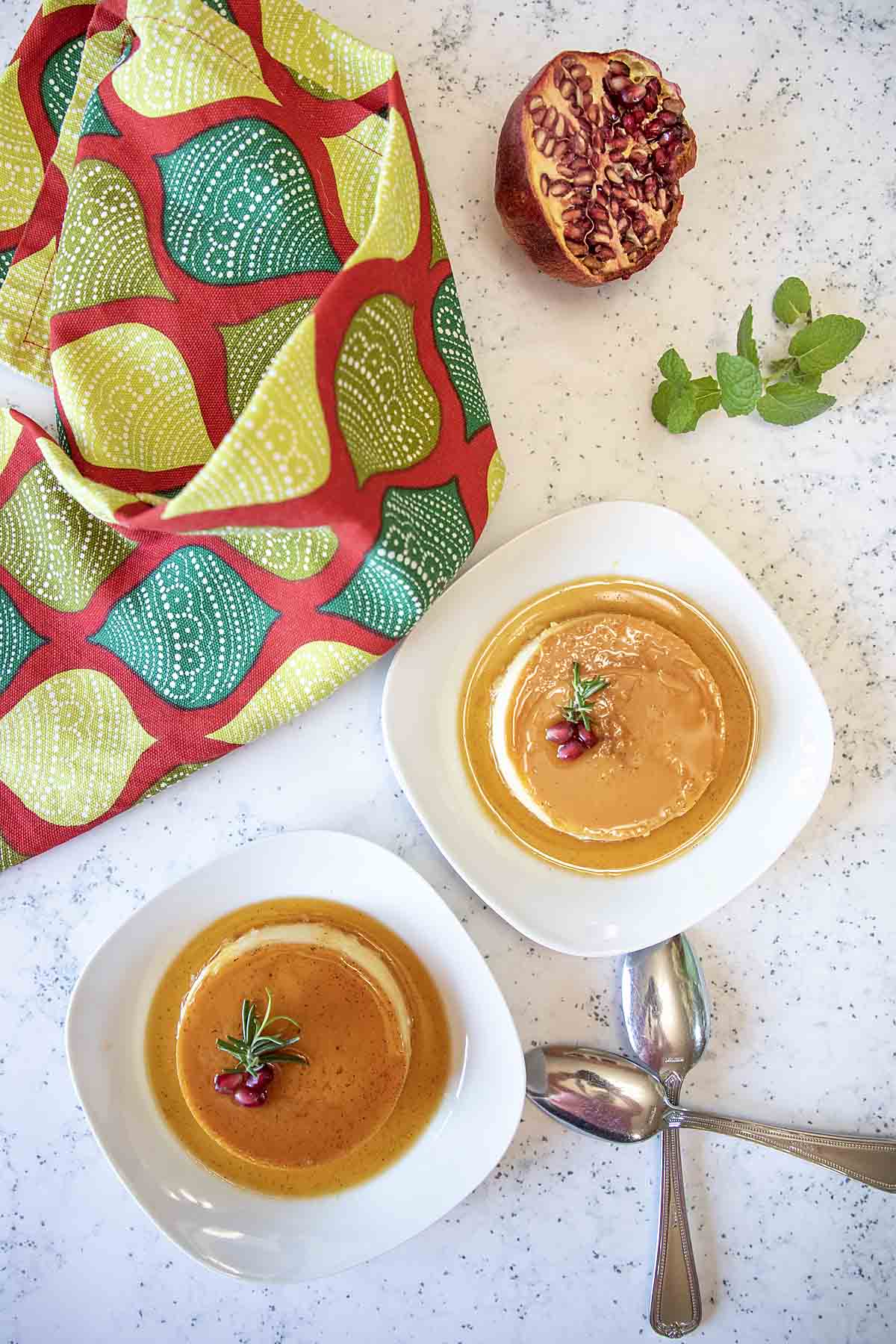 Why You'll Love This!
Tasty. The creamy vanilla custard topped with a rich caramel is elegant and so very tasty!
Easy. While it looks like a challenging dessert, this is really quite easy. (Shhh!)
Impressive. This dish is almost magical and is sure to impress your guests! Or even your kids!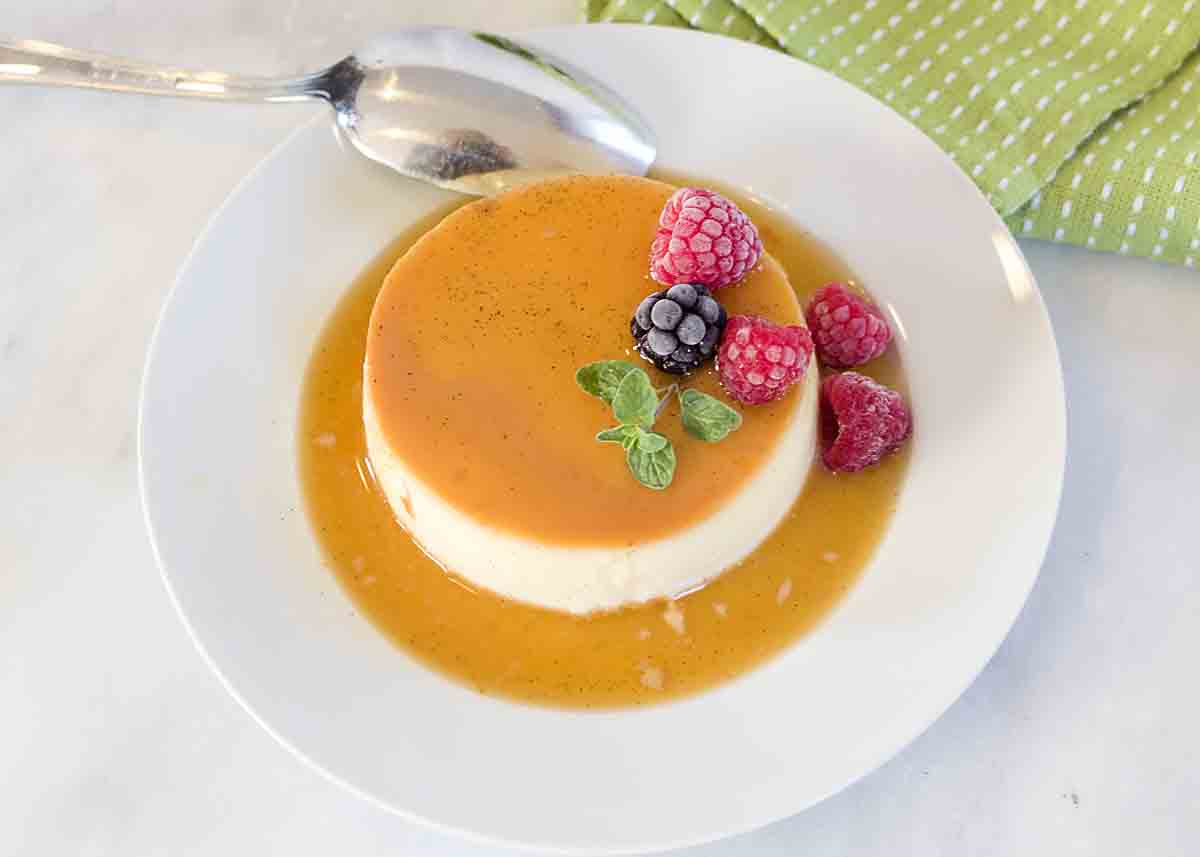 What You'll Need
Ingredient Notes
Granulated Sugar. This transforms into the caramel topping as well as sweetens the custard.
Water. This is used in making the caramel topping.
Whole Milk. This forms the bulk of the custard base.
Heavy cream. This adds richness to the custard.
Salt. Salt is a flavor enhancer.
Eggs. Eggs add richness and flavor and they thicken the custard.
Vanilla. This adds flavor to the custard. I like to use a vanilla paste if possible to get the beautiful vanilla beans in the custard, but extract will work as well.
Optional Berries and herb leaves for garnish. I will garnish with berries any time or seasonal toppings! And mint leaves are always great to have on hand.
Special Tools
You'll need ramekins or other dishes suitable for baking the custard.
Step by Step Directions
Bring sugar and water for caramel to a boil over medium-high heat. Cook, without stirring until golden around the edges.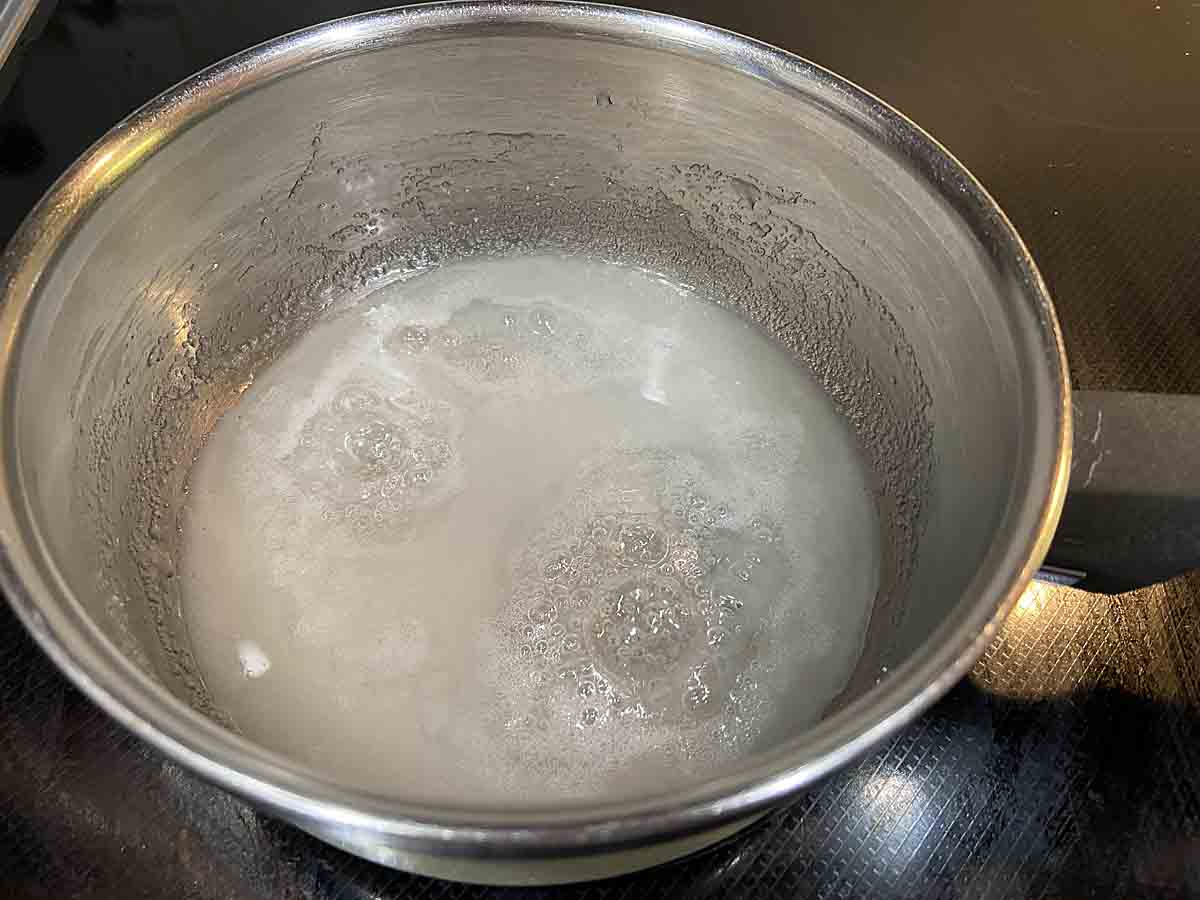 Pour 1/4 of the hot caramel into each ramekins and swirl about 1/4 inch up the side.. Let the caramel harden.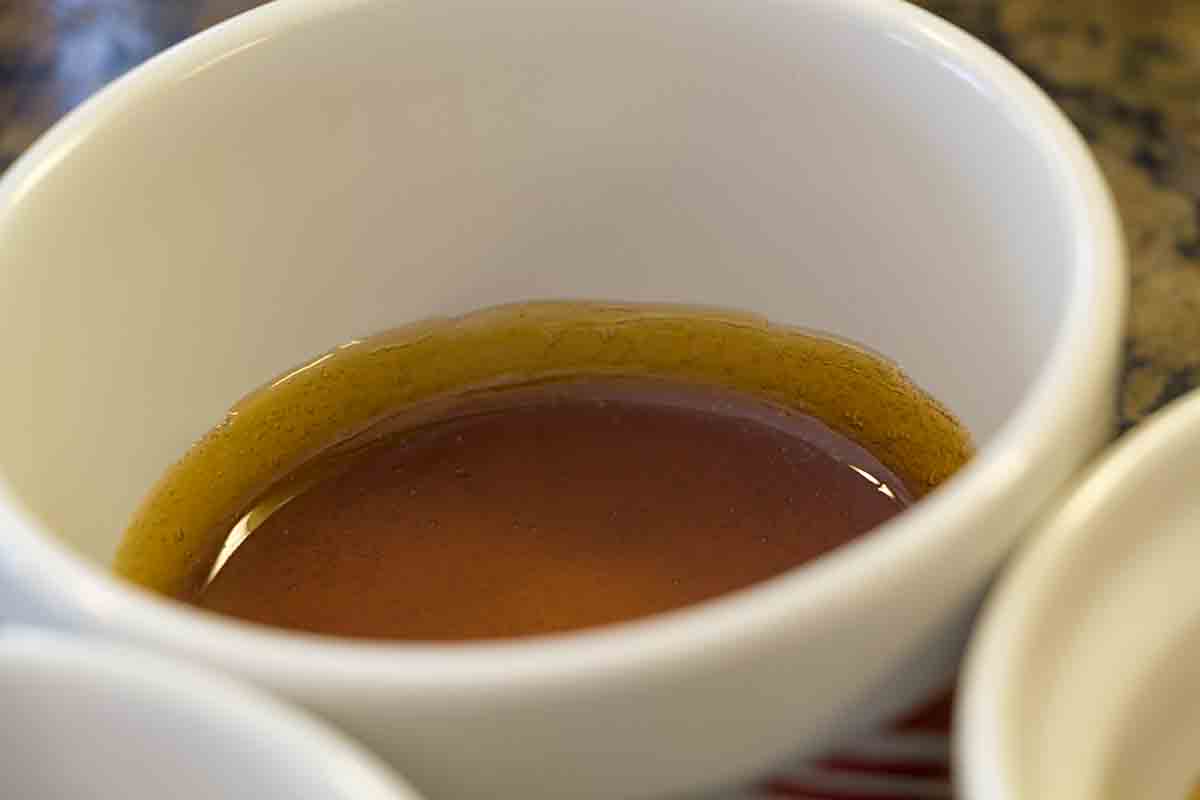 Whisk the custard ingredients. Heat until the sugar dissolves and it is warm, but not hot.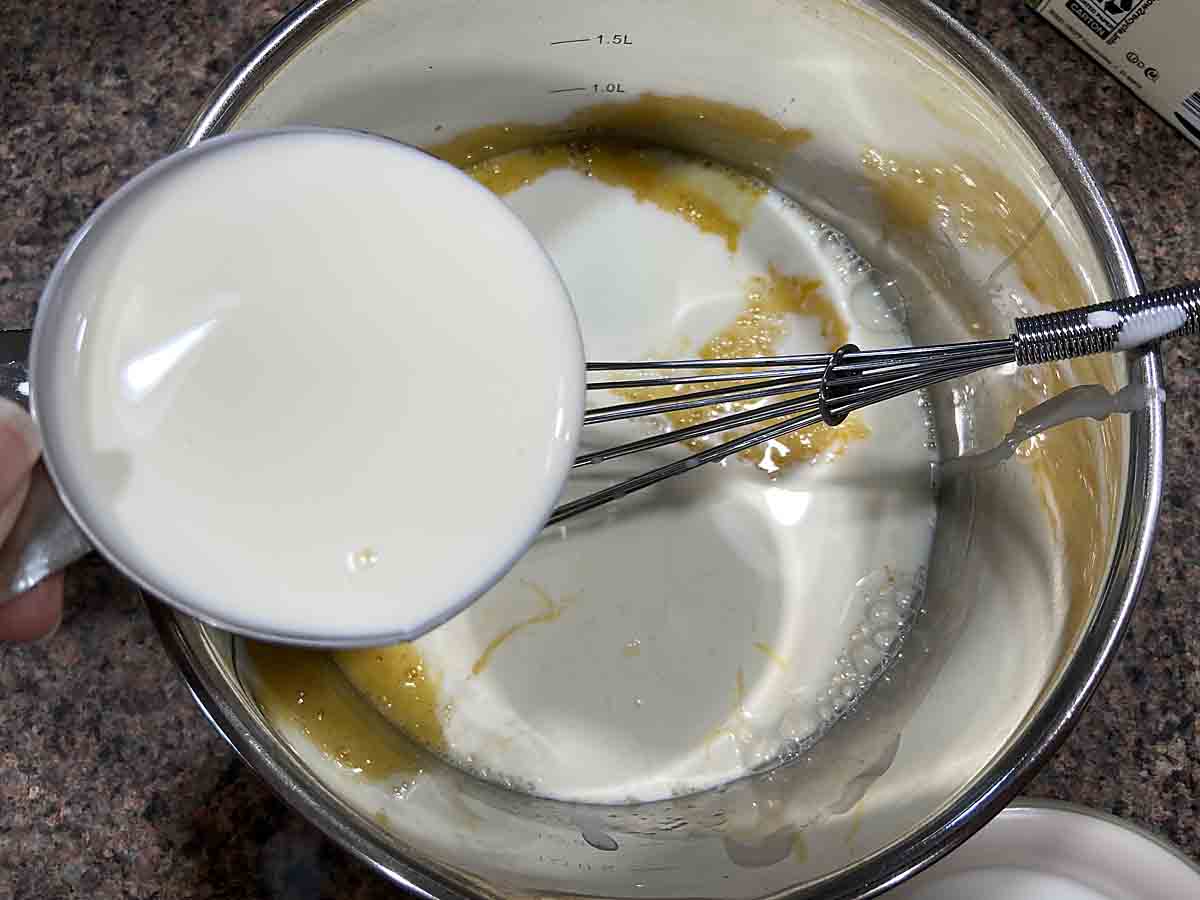 Strain through a strainer into a 1-quart measuring cup.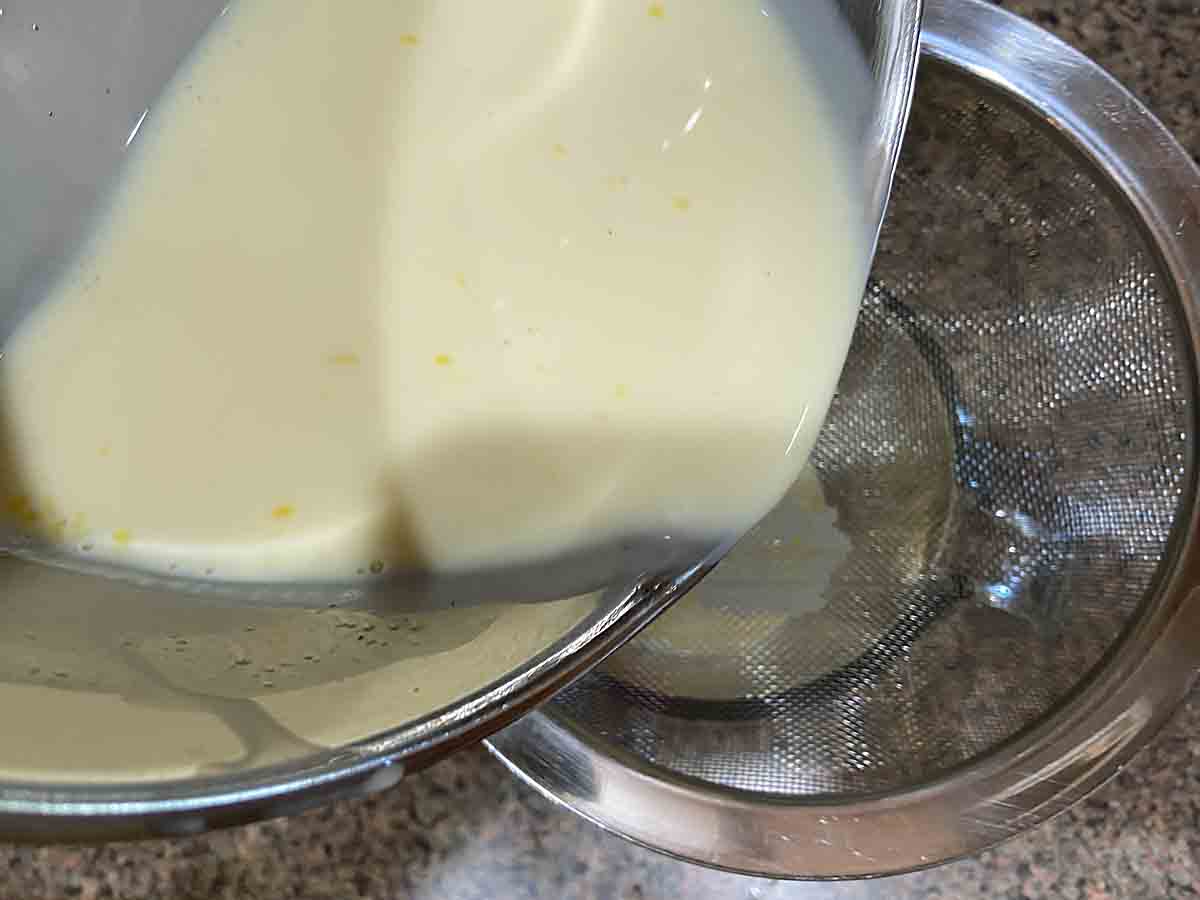 Pour 1/4 of the custard mix into each ramekin. Place into baking dish and add water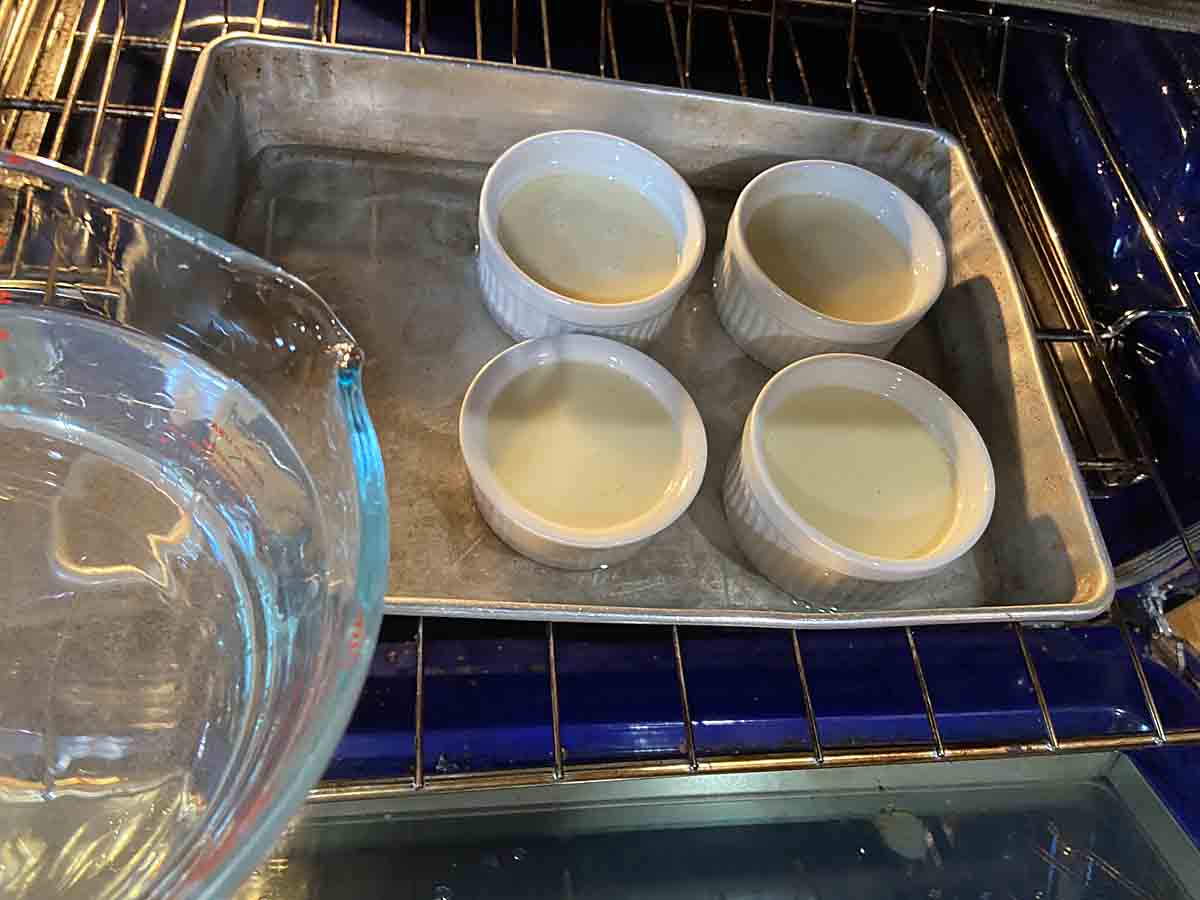 Bake until the near center of the custard reaches 175F on an instant read thermometer or until a knife inserted slightly off center comes out clean. Let cool on rack, then cover and refrigerate at least 8 hours. Decorate with berries and fresh herbs if desired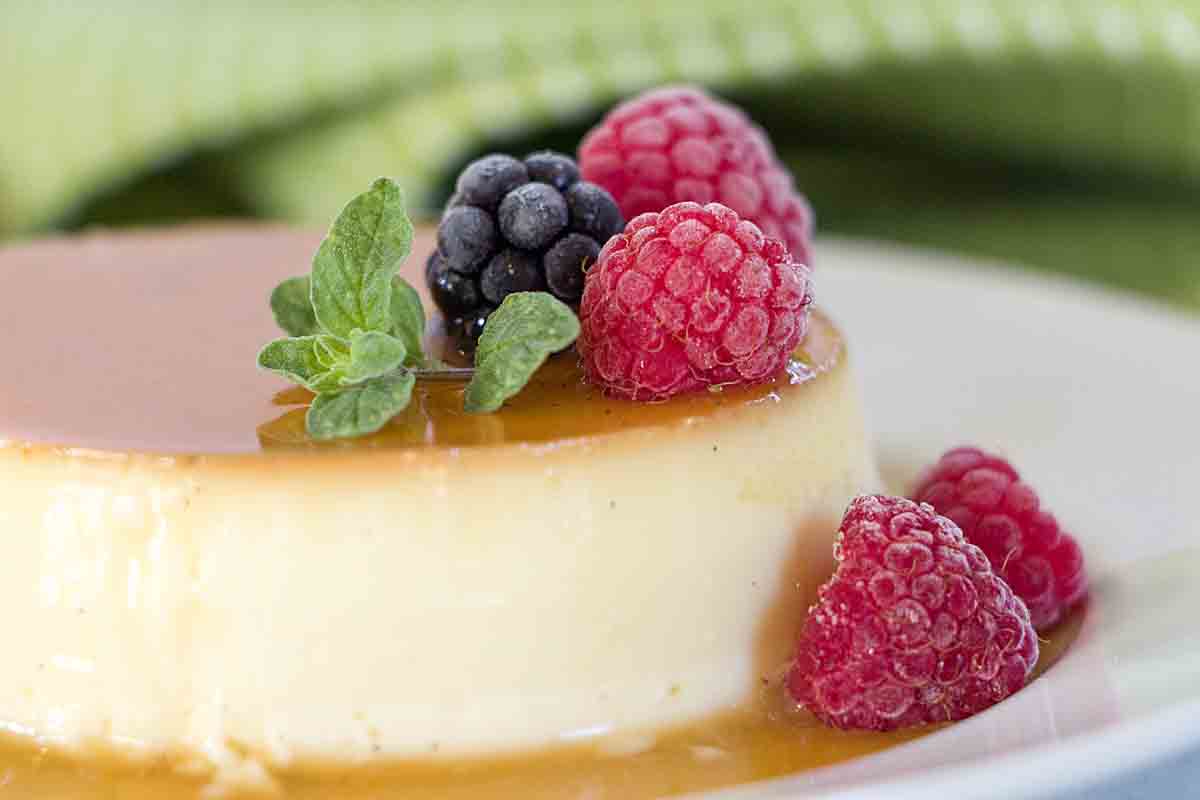 How I Simplified the Standard Recipe
When I finally tried making Crème Caramel, I was delighted with how easy it turned out to be but I did make a couple changes to the classic recipe to simplify it.
First, custard recipes often call for scalding the milk ahead of time, which many sources feel is probably a carryover from the days before pasteurization. And if you mix eggs and hot milk, you risk "scrambling" your eggs (not creamy).
Instead I combine everything while cool, then stir the mix over medium heat until it is slightly warm and the sugar has dissolved. Easy peasy.
Second, when I bake it, rather than rely on the "jiggle test" to tell if the custard is done, I take its temperature with an instant read thermometer. Jiggling usually gets me a slightly overcooked custard (a custard is a bit overcooked if there are tiny bubbles around the outside–still delicious, just not as creamy), while an instant read thermometer is far more reliable.
Sources differ on the best temperature to shoot for, but it is somewhere under 180 F (unless your custard includes a starch like flour or cornstarch which raises the temperature tolerance of the eggs). I use 175 F as my goal.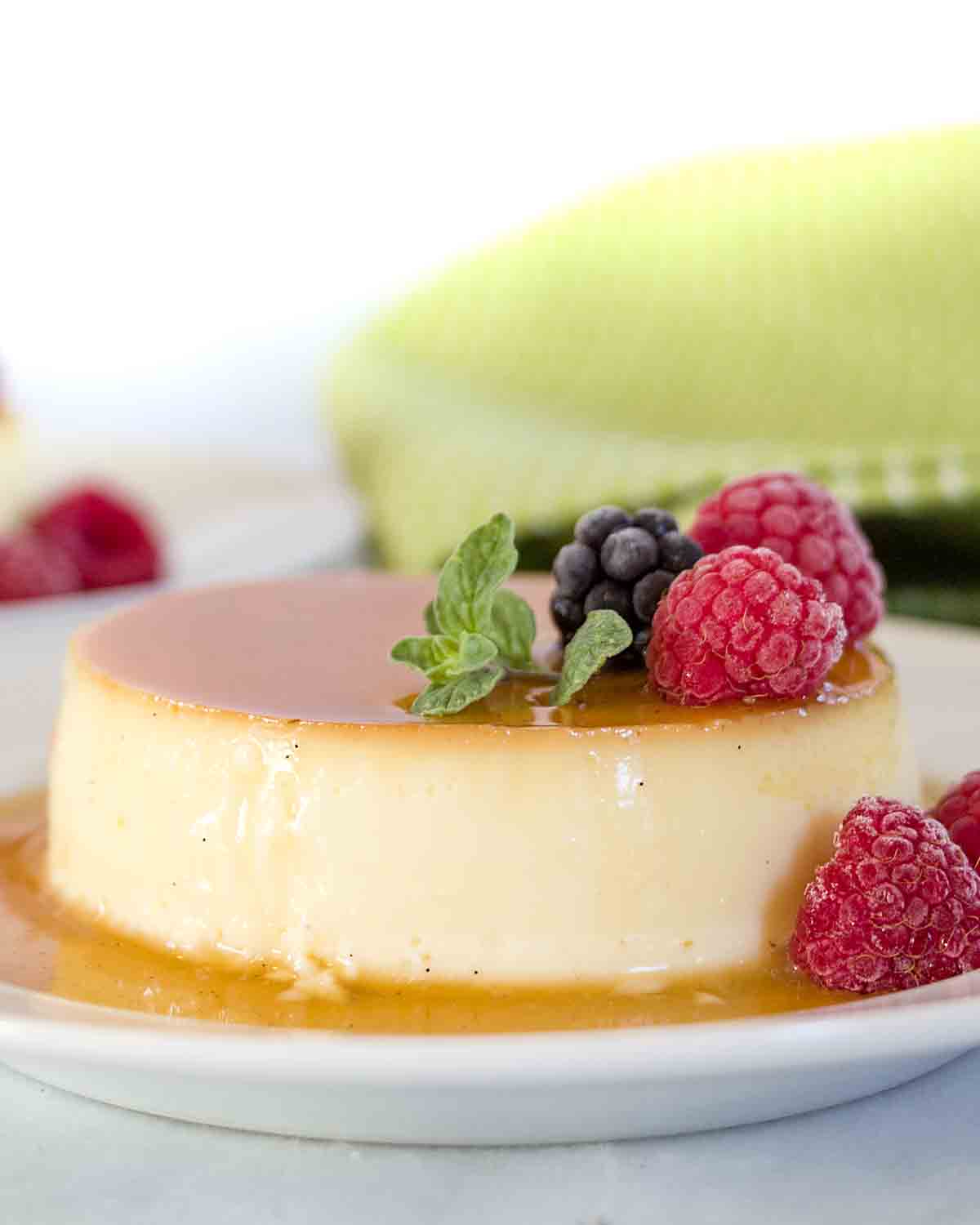 How to Serve
This is an impressive dessert that can work beautifully after a nice dinner. And because it is prepared ahead of time, all you need to do that night is unmold and decorate, which takes just a few minutes. I slide a thin knife along the edge of the ramekin, set a small serving plate on top, flip, then shake gently in a downward motion and pull off the ramekin.
Once the liquid part of the caramel has pooled, I top with berries or other pretty garnishes. Berries are great anytime or consider decorating with seasonal toppings like pomegranate seeds and rosemary at Christmas.
The favorite time I served these was for my daughter's garden party wedding celebration. We had the main course catered, but I did appetizers and a dessert bar. Plates of beautiful crème caramel sat alongside mini cheesecake bites and heat-shaped brownies for an elegant end to the festivities!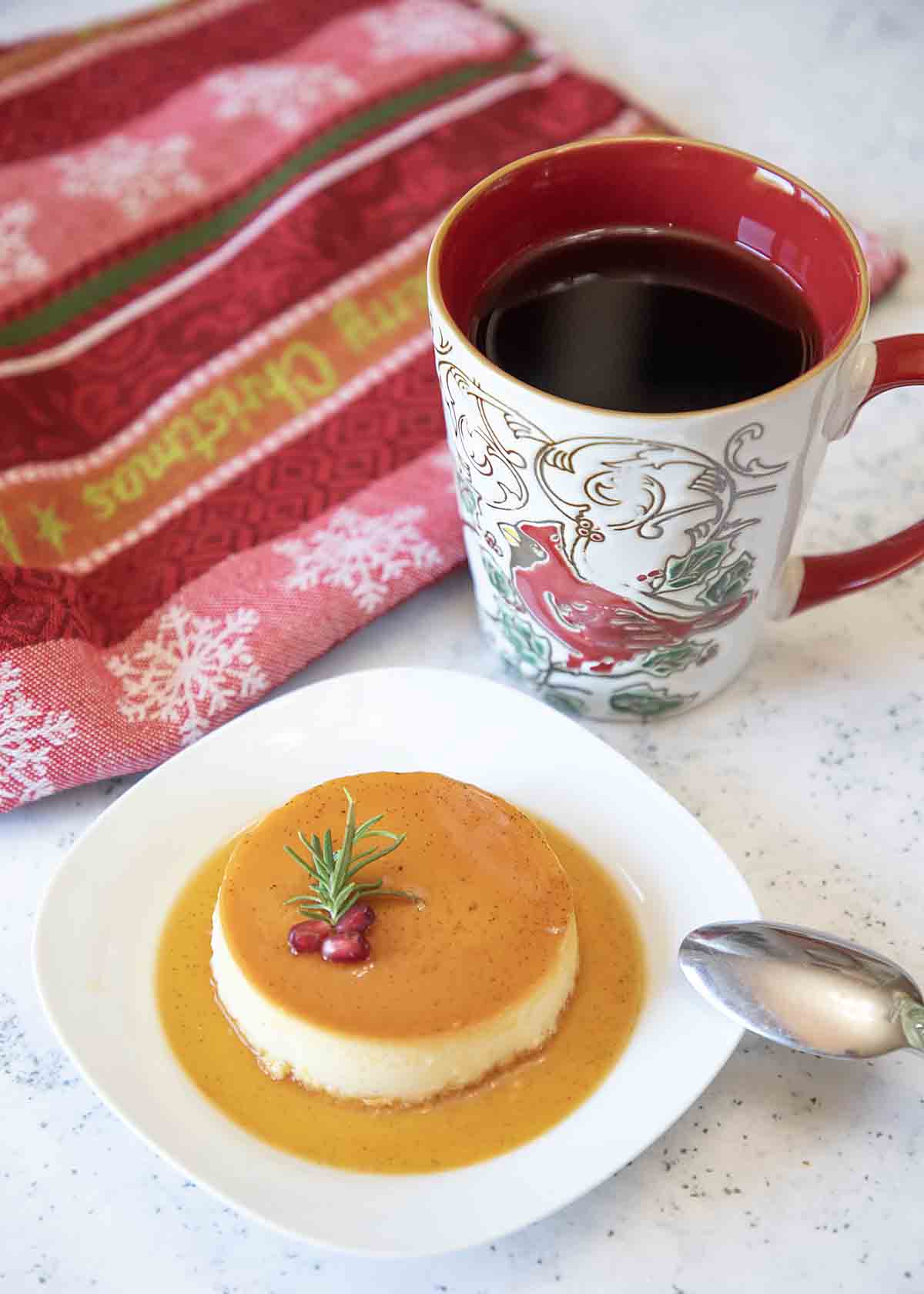 Preparation and Leftovers
You'll need to make this at least 8 hours before serving and ideally the day before. Leave any unneeded desserts in their mold/ramekin until needed. Use within 3 days.
Variations
People sometimes will do a single large crème caramel in a larger tart pan. I've never tried this myself but it always looks good.
Crème caramel is closely related to crème brulee, the custard with a crunchy caramelized sugar topping. Both are amazingly good, but crème caramel is easier and much more practical for a large gathering.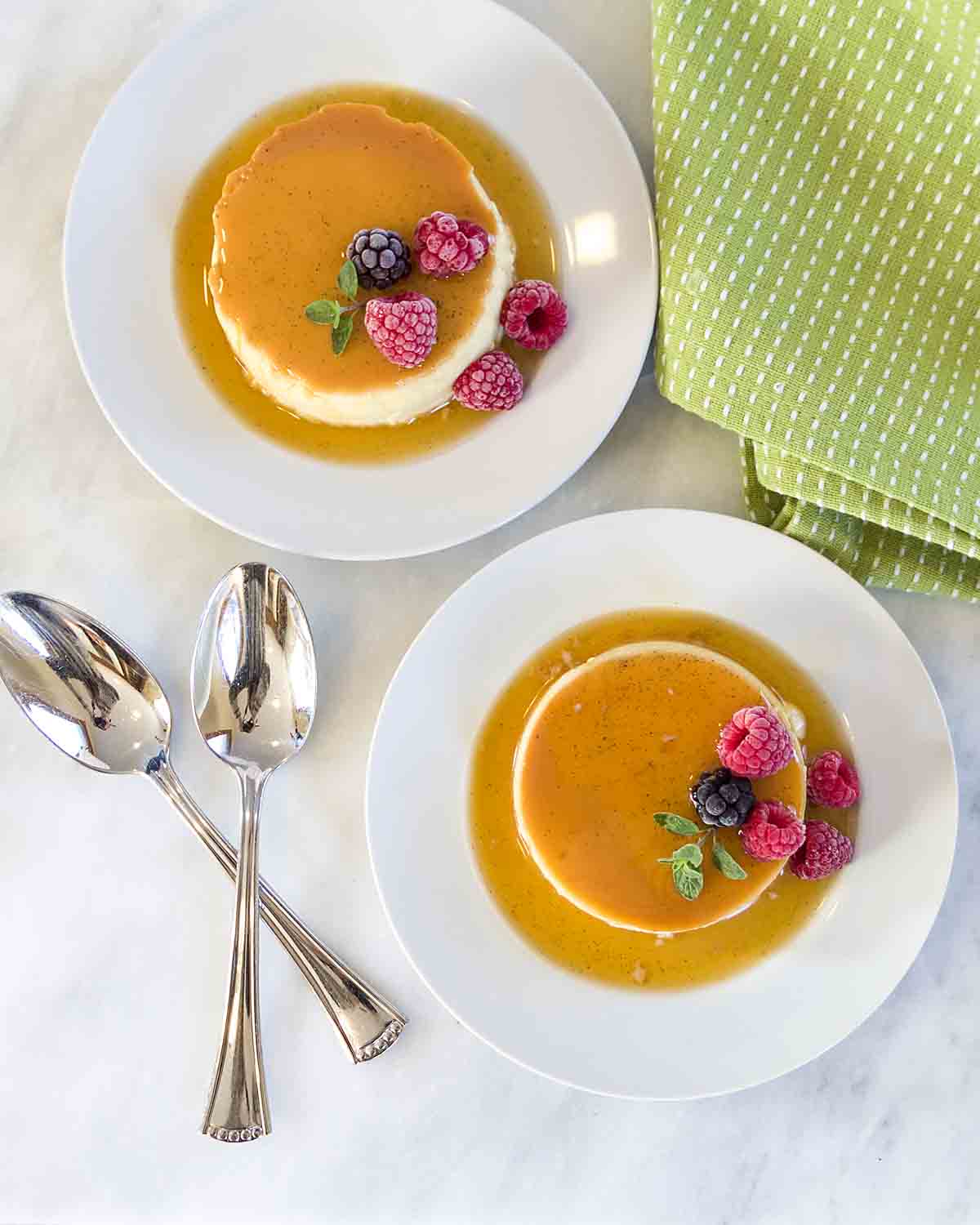 Tips & FAQs
This recipe is for 4 servings which works well for a small dinner party. But I've made this for a larger gathering many times. Now in that case I still make the caramel portion 4 dishes at a time. The hot caramel cools quickly and I find it's much less risky do this in smaller amounts.
Use vanilla paste (or even a vanilla bean) instead of extract if you have it. I love to see the beautiful vanilla beans dotting a pretty dessert like this. If you've got it, flaunt it, I always say!
Since it requires a long resting time (Fine Cooking says at least 12 hours–and I found that the longer I waited, the more caramel melted into the custard), consider making a couple extra just in case an extra guest drops in.
Even if you wait 48 hours to unmold your crème caramel, there will still be some extra caramel stuck to the ramekin. While it may seem hard as a rock, remember that sugar is water soluble. So just soak the crusty dish in water to dissolve the caramel.
And for other great things to do with eggs, take a look at some more tasty egg dishes…

Incredible Egg Recipes
We share Recipes From Our Dinner Table! Join our group and share your recipes, too! While you're at it, join our Pinterest board, too!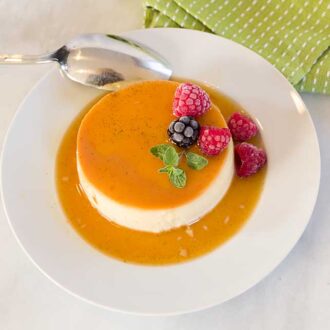 Crème Caramel
Crème Caramel is a smooth, creamy custard topped with rich molten caramel.  It'selegant enough for company and easy enough for everyday--and a top contenderfor the perfect dessert.  
Ingredients
Caramel
1/2

cup

sugar

2

Tablespoons

water
Custard
1

cup

whole milk

1/2

cup

heavy cream

1/3

cup

granulated sugar

pinch

salt

2

large eggs

1

large egg yolk

you can freeze the white for later

1/2

teaspoon

vanilla bean paste

or vanilla extract

Optional Berries and herb leaves for garnish
Instructions
Prepare caramel
Take out 4 small ramekins and have them ready to go.

In a small saucepan, stir together the sugar and water for the caramel. Bring to a boil over medium-high heat and cook, without stirring (stirring cooking sugar will cause crystallization) until the mixture starts to turn golden around the edges, 5 to 8 minutes. (Watch closely because once the mixture starts to change color, it will go from good to burnt quickly). Gently swirl the pan once or twice to even out the cooking and prevent the sugar from burning in patches. Continue to cook until the sugar turns medium amber, about 30 seconds more.

Working quickly, pour about 1/4 of the hot caramel into the first ramekin and swirl about 1/4 inch up the side. Repeat with the remaining three ramekins. Let the caramel harden and prepare the custard.
Prepare custard
Preheat oven to 325F.

Whisk the eggs in a medium saucepan, then whisk in the remaining ingredients. Heat the custard mixture until the sugar dissolves and it is warm, but not hot. Strain through a strainer into a 1-quart measuring cup.

Pour 1/4 of the custard mix into each ramekin--pour in once only, do not top off. Place ramekins into a baking dish and into the oven, then pour very hot water into the pan until it comes about halfway up the sides of the ramekins, being careful not to splash water into the custard.

Bake the custards in the water bath until the near center of the custard reaches 175F on an instant read thermometer, 30 to 45 minutes (see note). If you don't have an instant read thermometer, insert a knife slightly off center and it should come out clean.

Transfer the ramekins to a wire rack and cool completely. I usually use a slotted pancake turner or a canning jar grabber to remove the first couple, before removing from the oven (I have splashed my custard at this point too). Once cool, cover each ramekin with plastic wrap and refrigerate for 8 hours (see note), or up to 3 days.

To serve, run a small knife in a smooth (not sawing) motion around the edge of each ramekin to loosen the custard. Place a small plate on top of the ramekin, then invert. If the creme caramel doesn't release, you can gently shake up and down a few times to help loosen, holding the plate and ramekin tightly together.

Decorate with berries and fresh herbs if desired
Notes
If you want to double the recipe, I suggest that you either make the caramel in two batches or get someone to help you swirl the caramel in the cups while you pour -- the caramel can burn or harden if you take too long.
There is one exception to the 175 F rule and that is a deep custard. This should work in a standard dish, evenly divided by 4, but one time when I went deeper (due to a dish issue), the deeper custards tested to 175 but came out too soft at the bottom of the dish (the "top" when inverted). I believe the thermometer registered the 175 F of the top while the bottom was still too cool. So for a deeper custard, you may still need the "jiggle test," aka remove when it has a slight jiggle.
I haven't tried serving my creme caramel without a rest of at least 8 hours (Fine Cooking says 12) but others serve more quickly. If you have other experience here, let me know.
Calories will actually be lower since some of the sugar remains in both the pan and the ramekins/molds.
Nutrition
Calories:
347
kcal
Carbohydrates:
46
g
Protein:
6
g
Fat:
16
g
Saturated Fat:
9
g
Polyunsaturated Fat:
1
g
Monounsaturated Fat:
4
g
Trans Fat:
0.01
g
Cholesterol:
171
mg
Sodium:
65
mg
Potassium:
156
mg
Sugar:
46
g
Vitamin A:
720
IU
Vitamin C:
0.2
mg
Calcium:
113
mg
Iron:
1
mg
I am not a health professional and nutrition data is calculated programatically. Accuracy may vary with product selection, calculator accuracy, etc. Consult a professional for the best information.
Updated from the original dated March 22, 2018