No torch creme brulee is easy and delicious! Here are step by step instructions with pictures for homemade creme brulee, browned under the broiler!
This post may contain Amazon or other affiliate links, which can earn me a small commission, please see my

policy

page for details.
Most dessert isn't exactly health food. But sometimes a girl's got to indulge. So when I learned you can make crème brulee without a torch, I couldn't resist. At least my no torch crème brulee is organic. And it's under 300 calories!
I have a new food philosophy. Eat great healthy local food. Most of the time. Then slip in a not-too-unhealthy dessert with kickass flavor.
Kind of like working hard all week then doing a late Saturday night out or a mid-week movie.
According to Wikipedia, crème brulee is "a dessert consisting of a rich custard base topped with a contrasting layer of hard caramel' Dating back to around 1691, it is typically flavored with vanilla, but can be made in other flavors. I've even seen restaurants do trios in different flavors. Yes, please!
What makes crème brulee distinctive is its caramel-y top glaze. This is traditionally made by spreading sugar on top of baked custard, then melting it with a blow torch. But, if you don't mind a bit of homespun imperfection, you can also do this under a broiler (you will need broiler safe dishes—which many real crème brulee dishes are). And it's easy!
Step by Step Directions
Tips and Notes
Now baked custard has a bit of a reputation. So I expected making no torch crème brulee to be touchy—make a mistake and you have scrambled eggs… or watery goo. But I did a lot of variations (as in how many times can you make the same dish in less than a month) and nothing failed.
Some of the options I tried:
I used anywhere from 2-6 egg yolks per 2 cups of cream. My personal preference is to go light on the yolks for a creamier taste and lighter texture, but those who like it eggier (or are using liquid ingredients other than full fat whipping cream) may want to go the full 6.
Tried with full cream and 2 egg yolks, 25% skim milk with 4 egg yolks. Yum. And yum.
I tried baking it in the typical water bath at 325 as well as a convection bake at 200. I have a slight preference for the water bath, but could go either way.
Tried glazing with melted sugar caramel, sanding sugar, organic cane sugar, organic cane sugar ground up fine, brown sugar. For the broiler, I prefer brown sugar.
Tried flavored with lavender and Irish Coffee. Mmmm all around! (And stay tuned for St Patrick's day!)
Just in case you happen to be suffering from No Torch Crème Brulee OCD, like me, I found a forum with everything you ever wanted to know about crème brulee.
Which is good, 'cause now that I know how easy this is, I'll be making… Chai Crème Brulee, Pumpkin Crème Brulee, Lavender Crème Brulee …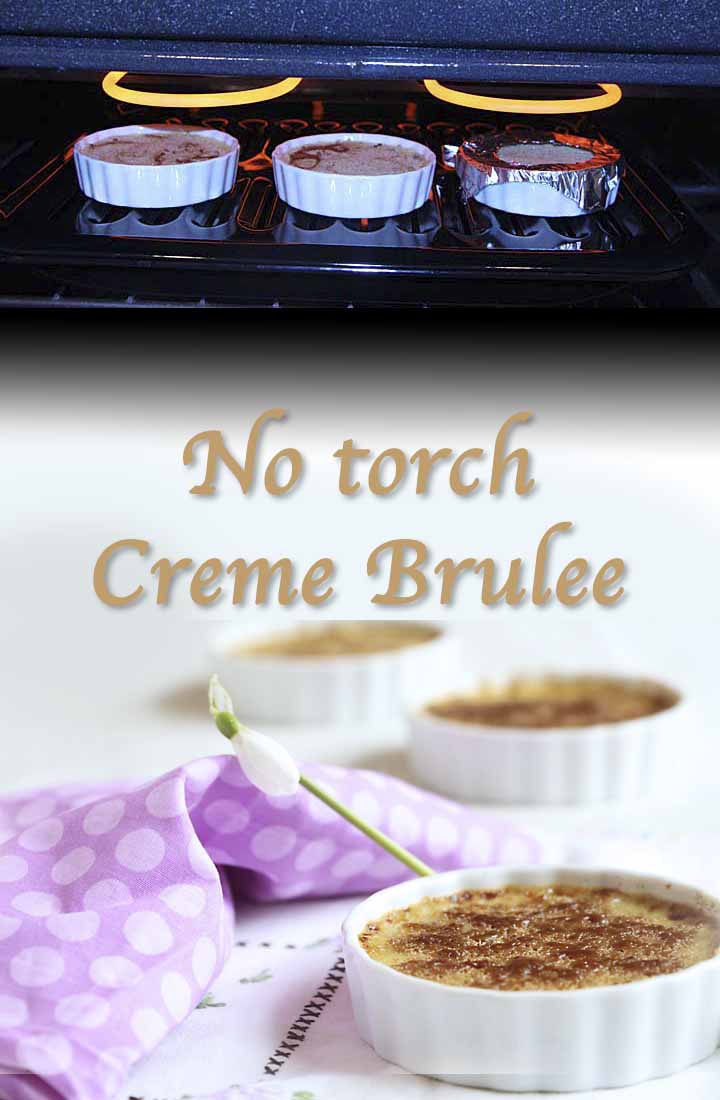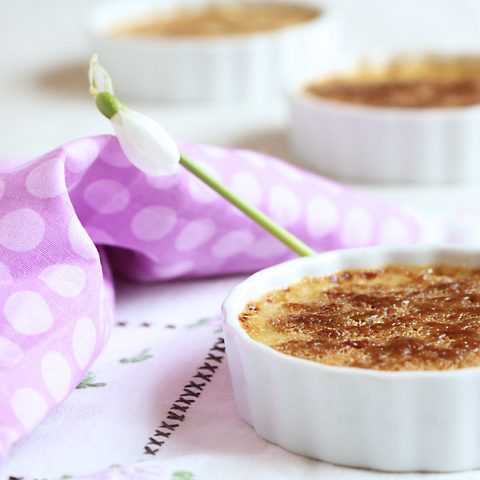 No Torch Creme Brulee
No torch creme brulee is easy and delicious! Here are step by step instructions with pictures for homemade creme brulee, browned under the broiler!
Ingredients
4 egg yolks (see note 1)
1 1/2 cups whipping cream (see note 2)
1/2 cup skim milk
1/3 cup granulated sugar
1 vanilla bean (or 1 teaspoon vanilla extract)
9 teaspoons brown sugar
Instructions
Heat oven to 325°F. In 13x9-inch pan, place 6 (4-oz) broiler safe ceramic ramekins.
Cut vanilla bean in half, then scrape out seeds. Place seeds and pod in a small saucepan with cream, skim milk and sugar and heat until just below boiling, stirring to dissolve sugar. Remove from heat and let cool until just slightly warm. (If using vanilla extract, you can heat to a lower temperature, just until sugar is dissolved.)
In small bowl, slightly beat egg yolks with wire whisk. Add cream mixture and stir until well blended. Strain into a pouring vessel. Pour cream mixture evenly into ramekins.
Carefully place pan with ramekins in oven. While in oven, pour enough boiling water into pan, being careful not to splash water into ramekins, until water covers two-thirds of the height of the ramekins.
Bake 25 to 40 minutes until the center of the custard is set but jiggly (it's okay if sides are jiggly too as long as the center is set)
Carefully transfer ramekins individually to cooling rack—I found that lifting with a hamburger turner worked best. Refrigerate until chilled, approximately 2 hours.
Sprinkle about 1 1/2 teaspoons of brown sugar over each chilled custard. Place under pre-heated broiler to brown. Watch like a hawk to avoid burning (or fire).
Refrigerate until rechilled, 1-2 hours
Notes
If you like an "eggier" custard, you can use 6 egg yolks
If I don't have milk, I omit it and use 2 cups of whipping cream with 3 egg yolks. If halving the recipe, I have had success with 1 egg yolk and 1 cup of whipping cream (but I wouldn't go that low using anything less than full heavy cream).
This can be made in the morning for a same-day dinner.
Nutrition Information:
Yield:

6
Serving Size:

1
Amount Per Serving:
Calories:

310
Total Fat:

25g
Saturated Fat:

15g
Trans Fat:

1g
Unsaturated Fat:

8g
Cholesterol:

191mg
Sodium:

32mg
Carbohydrates:

19g
Fiber:

0g
Sugar:

19g
Protein:

4g
Nutrition data accuracy may vary with product selection, calculator accuracy, etc. Consult a professional for the best information.