Irish Coffee Creme Brulee
You can tell an obsessed blogger by the repetitive posts. Yes, today I'm making an Irish Coffee Crème Brulee for St Patrick's Day–right after my basic vanilla creme brulee. Would it help if I told you I feel guilty about double desserts? Fish or vegetables next time, cross my heart!
But this dessert is a testament to just how easy creme brulee is to make. And the fact that it's so tasty and foolproof that testing is a joy. In fact, I'm going to be buying additional ramekins to make this special custard-y treat for larger dinner parties.
Now I should tell you… the Irish Coffee (strong coffee with Irish Whiskey & whipped cream) that flavors this does hold a special place in my heart. Because of an event I've related before.
When I was in college, I spent a semester abroad studying in Dublin. At the time it was not uncommon for historical properties to have no central heating. I lived in a beautiful Georgian, but the fact that I could see my breath in my bedroom as early as October was a little hard on my respiratory system and I was coming down with a cold.
I had tickets to the Abbey Theater and decided to tough it out anyway (considering my student budget). As I sniffled through intermission, someone mentioned that Irish Coffee was sold in the lobby and had been known to stop more than one cold dead in it's tracks. I decided to give it a try.
I felt lovely during the rest of the show and slept soundly that night. When I woke in the morning, however, I couldn't speak above a whisper and was under the weather the rest of the week.
I don't know if the moral of the story is don't take Irish Coffee for a cold or don't take medical advice from random strangers. But I never did either again.
Irish Coffee Crème Brulee, however, with it's lighter booziness and creamy richness, is unlikely to be dangerous with a cold. Though nothing in this post is intended as medical advice ;-).
If it would be helpful to see more detailed preparation pictures, take a look at my original No Torch Crème Brulee post. Or if you are just in the mood for a straight Irish Coffee recipe (and my first telling of the story), check out my original post. If you really NEED to be healthy, I do have a nice brown soda bread recipe!
Happy St Patrick's Day.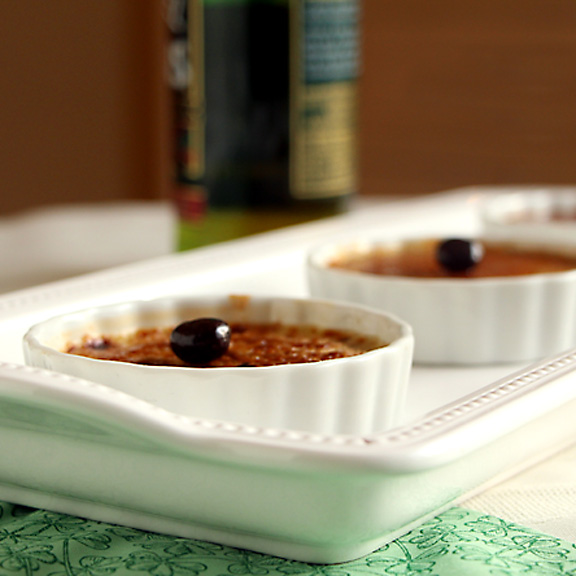 No Torch Irish Coffee Creme Brulee
2016-03-16 09:40:20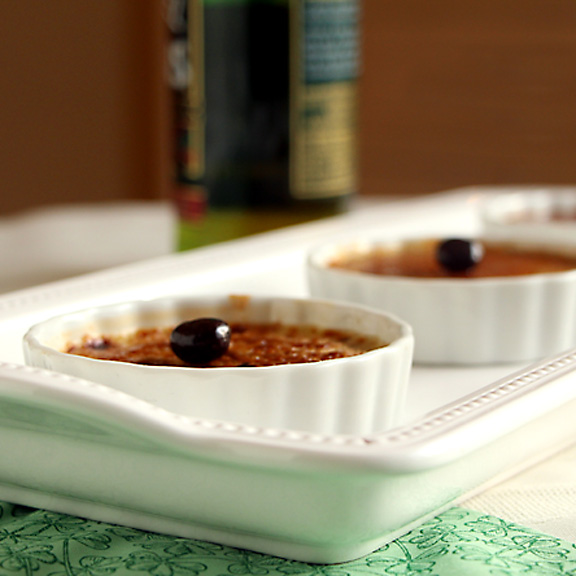 Serves 4
Irish Coffee Creme Brulee is a delicious and deceptively easy treat. Approx 200 calories/serving and no torch required!
Nutrition Facts
Amount Per Serving
* Percent Daily Values are based on a 2,000 calorie diet. Your Daily Values may be higher or lower depending on your calorie needs.
Ingredients
3 T sugar
¼ c strong brewed coffee (see note)
¾ c heavy cream
1 T whiskey (or 2 for a stronger flavor)
½ t vanilla
3 egg yolks
Instructions
Preheat oven to 325 F.
Dissolve sugar in the coffee. Add cream, whiskey and vanilla.
Beat eggs and combine well with cream mixture. Strain into pouring vessel.
Pour into four 4-ounce ramekins, then set the ramekins into a 9 x 9 inch or 9 x 13 inch baking pan.
Carefully place pan with ramekins in oven. While in oven, pour enough boiling water into pan to cover two-thirds of the height of the ramekins. Be careful not to splash water into ramekins.
Bake 25 to 40 minutes until the center of the custard is set but jiggly (it's okay if sides are jiggly too as long as the center is set)
Carefully transfer ramekins individually to cooling rack—I found that lifting with a hamburger turner worked best. Refrigerate until chilled, approximately 2 hours.
Sprinkle about 1 1/2 teaspoons of brown sugar over each chilled custard. Place under pre-heated broiler to brown. Watch like a hawk to avoid burning (or fire).
Refrigerate until rechilled, 1-2 hours
Notes
I used a French Press to brew a very strong coffee.
Art of Natural Living https://artofnaturalliving.com/