Roasted Frozen Broccoli in Tahini Sauce
Farm to table vegetables are all the rage! Who wouldn't be happy to eat tender-crisp fresh vegetables everyday! But frozen vegetables have a lot going for them, especially when served up in a tasty dish like Roasted Frozen Broccoli in Tahini Sauce.
I love the growing season with it's unblemished produce and varied choices. But for many of us, winter is long. And imported items from California (or even the southern hemisphere–gasp!) come at an economic and environmental cost.
Enter frozen vegetables with some benefits of their own. Watching your pennies? Off season frozen may be a steal! Garden or CSA with a bumper crop? Preserve the extras! Committed to eating local? Freeze for winter. And if they are frozen right after harvest, their nutrition may even exceed fresh!
In the past my frozen broccoli has gone into casseroles like Chicken Divan. But it is delicious roasted—just in case you want to shake up the ubiquitous roasted roots!
The broccoli can go right into the oven frozen–no need to thaw. When it comes out tender and caramelized, with a creamy layer of tahini sauce, you may not miss spring at all.
Winter is long! But being a locavore means never having to give up flavor!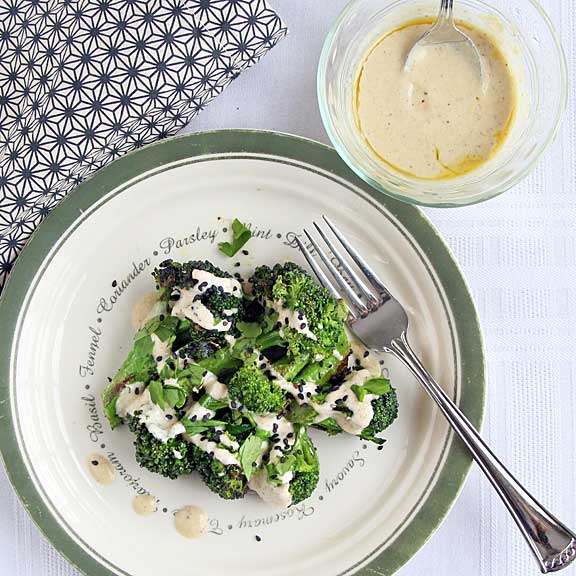 Roasted Frozen Broccoli in Tahini Sauce
2016-03-06 07:28:21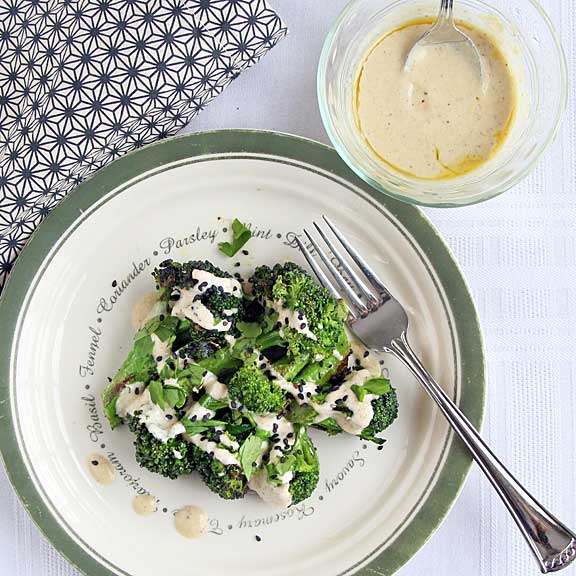 Serves 4
Winter won't slow you down with great frozen vegetable options like roasted frozen broccoli in tahini sauce. Freezer to table in 20 minutes!
Nutrition Facts
Amount Per Serving
* Percent Daily Values are based on a 2,000 calorie diet. Your Daily Values may be higher or lower depending on your calorie needs.
Roast Broccoli
10-12 ounces frozen broccoli florets
1-2 tablespoons olive oil
salt
pepper
1 teaspoon sesame seeds (optional) for garnish
Tahini Sauce
2 tablespoons tahini paste
2 tablespoons almond milk, yogurt or water
1 tablespoon olive oil
1 tablespoon lemon
½ teaspoon garlic powder
¼ teaspoon cumin
¼ teaspoon pepper
1/8 teaspoon salt
Instructions
Preheat oven to at 400 F. Drizzle frozen broccoli (see note) with olive oil and stir to coat. Sprinkle with salt and pepper. Roast in a single layer until tender and starting to brown, about 15 minutes. (If you use fresh broccoli, cooking time may increase by 5-10 minutes)
To make sauce, whisk ingredients in a small bowl until well-blended.
Remove cooked broccoli to a serving plate, drizzle with dressing, and top with black sesame seeds if desired.
Notes
For the crispest broccoli from frozen, pop right into the oven without thawing first.
Art of Natural Living https://artofnaturalliving.com/