Dried Orange Slices: How to Make and Use
Tasty and attractive, dried orange slices are good for eating and pretty for decorating. 15 ways to use them, plus how to preserve.
This post is sponsored in conjunction with #SpringSweetsWeek. I received product samples from sponsor companies to help in the creation of the #SpringSweetsWeek recipes. All opinions are mine alone. Take a look at the giveaway below for your chance to win some of these great products.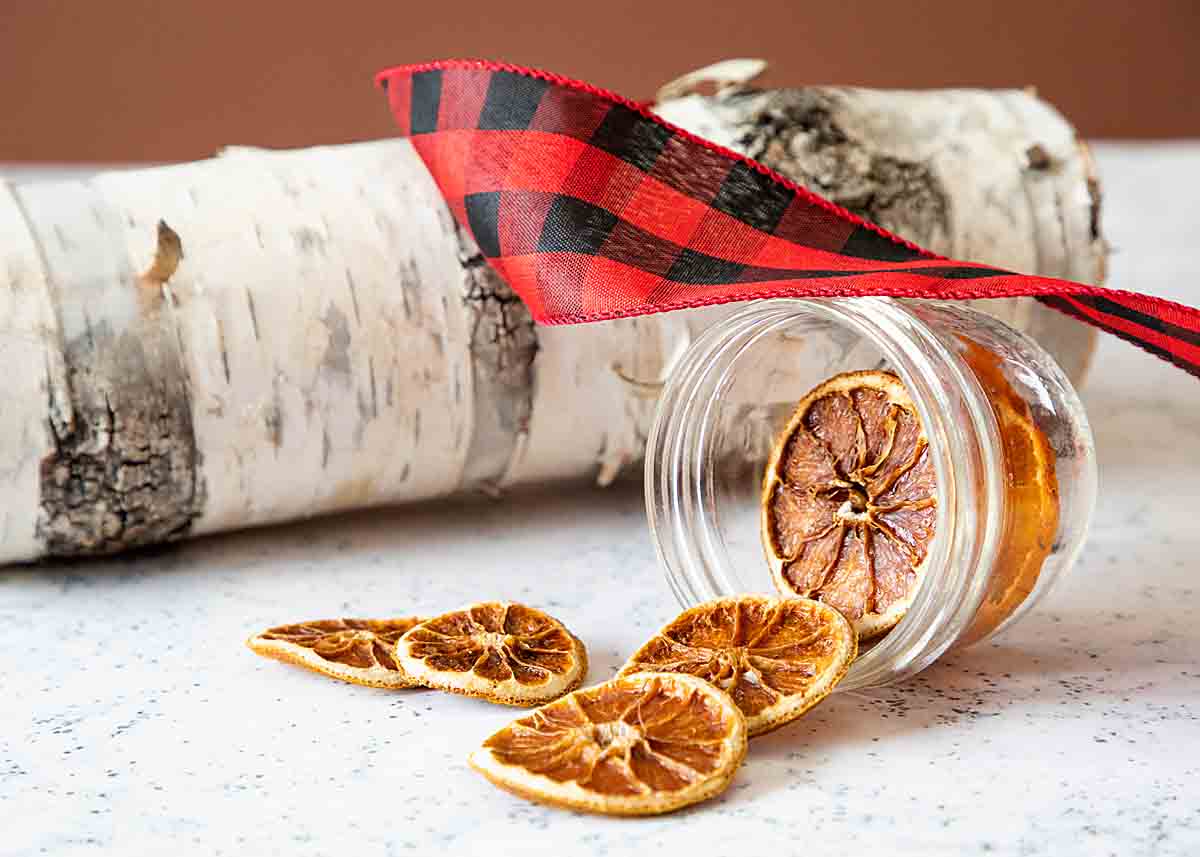 In the dark doldrums of winter, what would we do without citrus! Yes, while northern strawberries rest under a blanket of snow, and plum trees stand barren (though are great to cut for forced blooms), the south is producing citrus in abundance!
Hooray!
And you can take advantage of this bounty by making dried orange slices! It's super easy and they can be used in so many ways from foods to decorations. Whether it's chocolate dipped orange slices or simmer potpourri, they're a bounty for a natural household!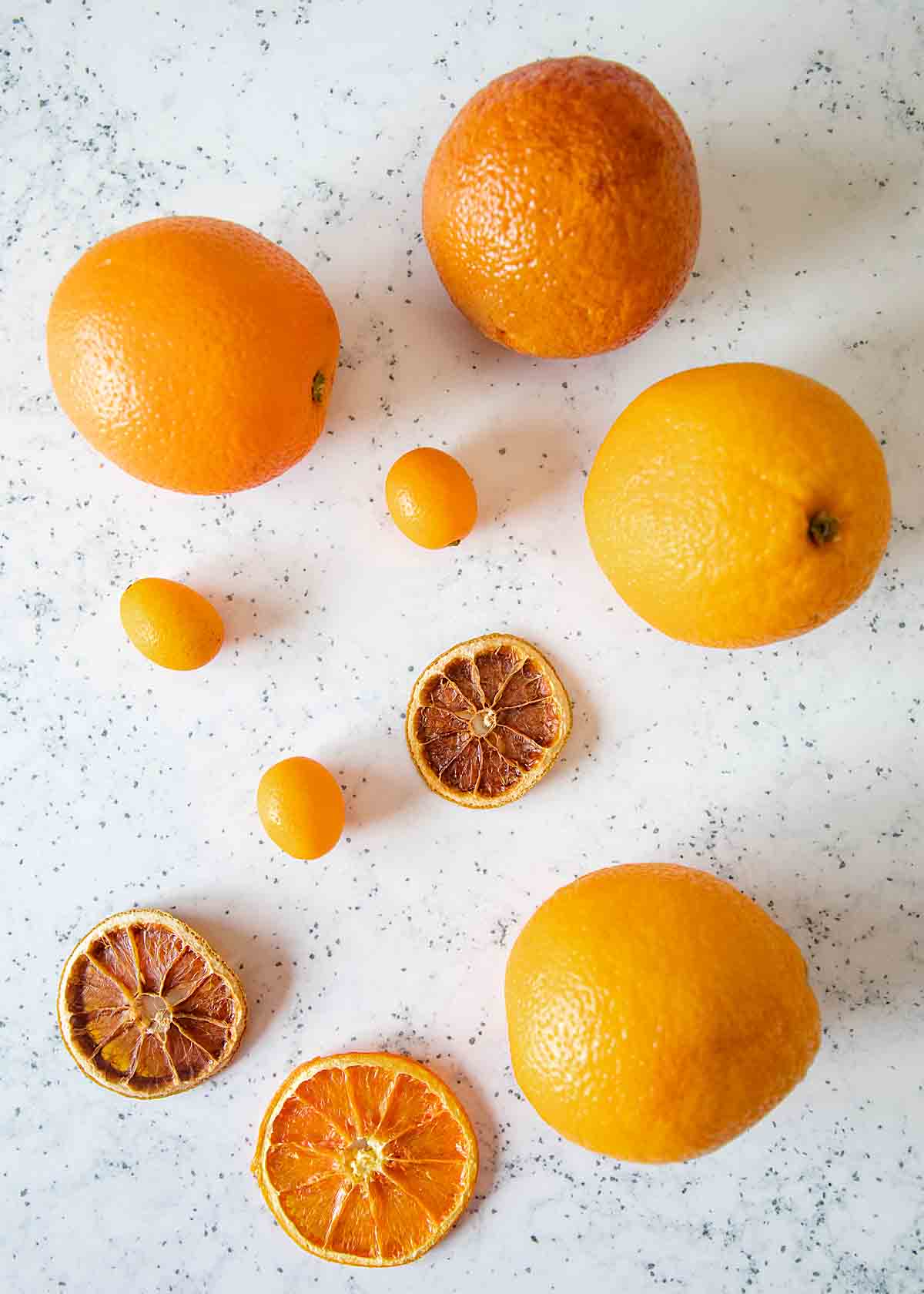 What are Dried Orange Slices?
Dried orange slices are slices of orange that have been air or heat dried until the water content is reduced enough to preserve them. The Farmer's Almanac lists drying as one of four main methods to preserve fruit which also include freezing, jam-making and pickling.
Of course drying has one fun advantage over the other methods. The end product is good for eating and can also be used for home décor!
And if you're lucky enough to receive a beautiful fruit box loaded with citrus from Melissa's Produce, it's fun to think of everything you can make! It feels like Christmas in… any month. Yes, making dried orange slices is just the thing to keep that feeling going!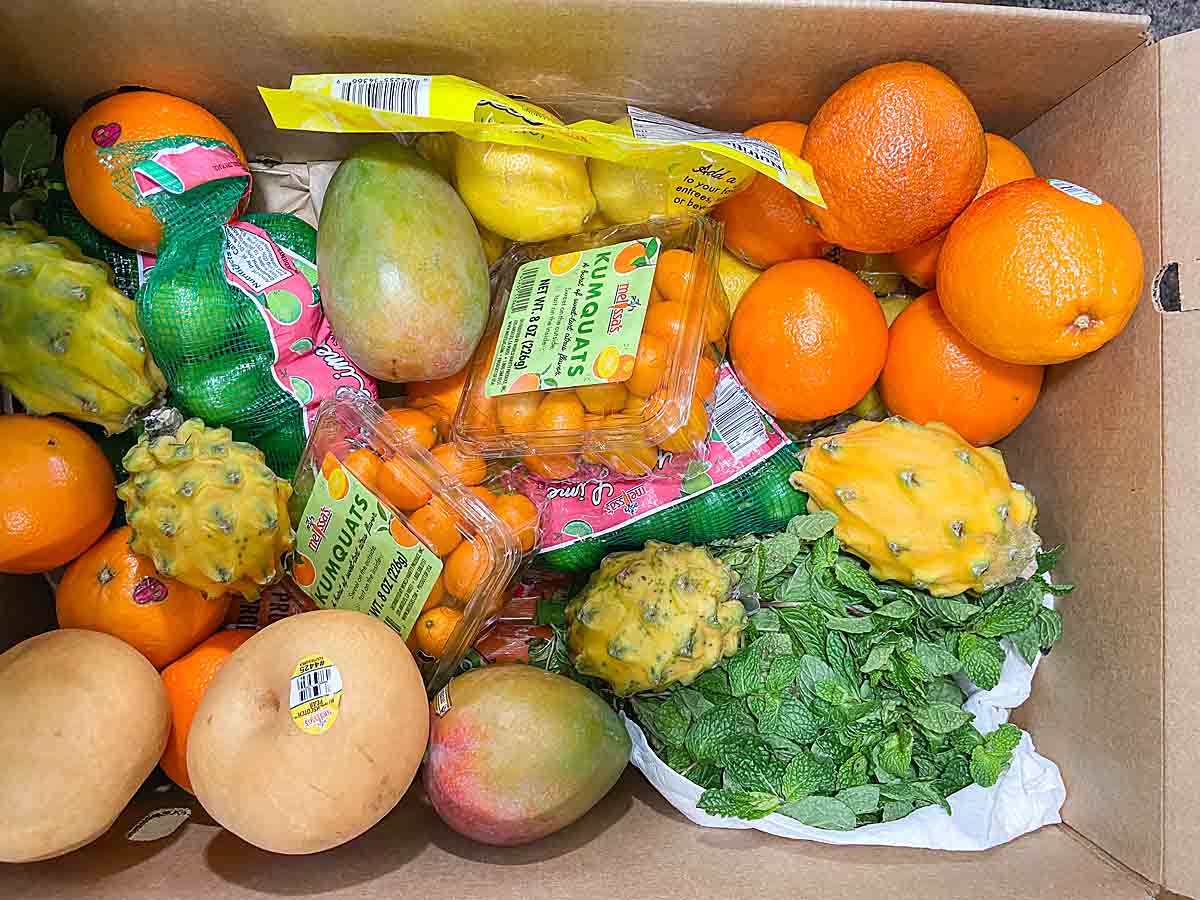 Why You'll Love This!
Beautiful. Dried orange slices are so pretty and can be used for (all kinds of) décor. And if you're eating them, well, you eat with your eyes first, they say!
Tasty & healthy. How many times is an appealing snack, absolutely, 100% natural? Yes, I know adding chocolate might take that down a little, but only a little.
Versatile and cost effective. A single bag of oranges can produce a lot of slices. You may run out of things to do before you run out of orange slices!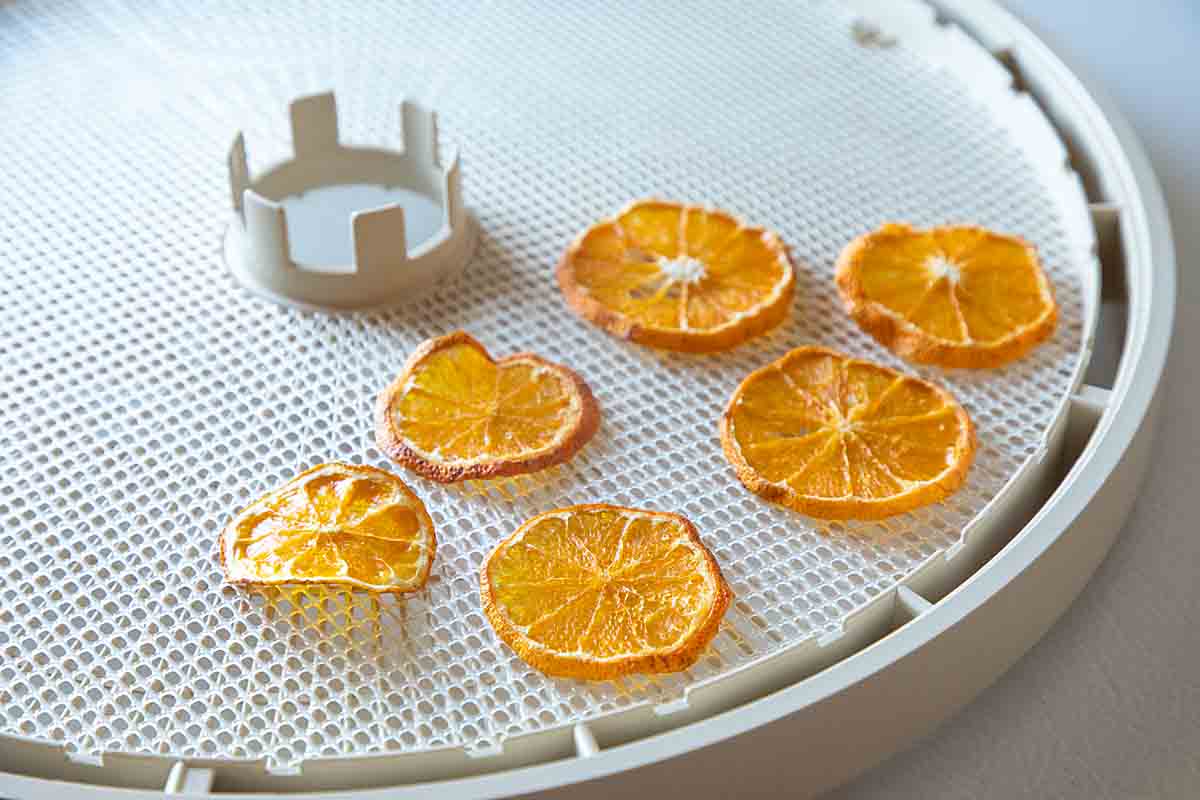 What You'll Need
Ingredient Notes
Oranges. That's all! How easy is that! I think it's my first 1-ingredient recipe!
Special Tools
If you decide to use the oven drying method, you don't need any special tools, though an oven safe rack that will hold the slices or parchment can be nice. To dehydrate you'll need a dehydrator, unless your oven has an unusually low setting (most ovens have a low temperature of 170F).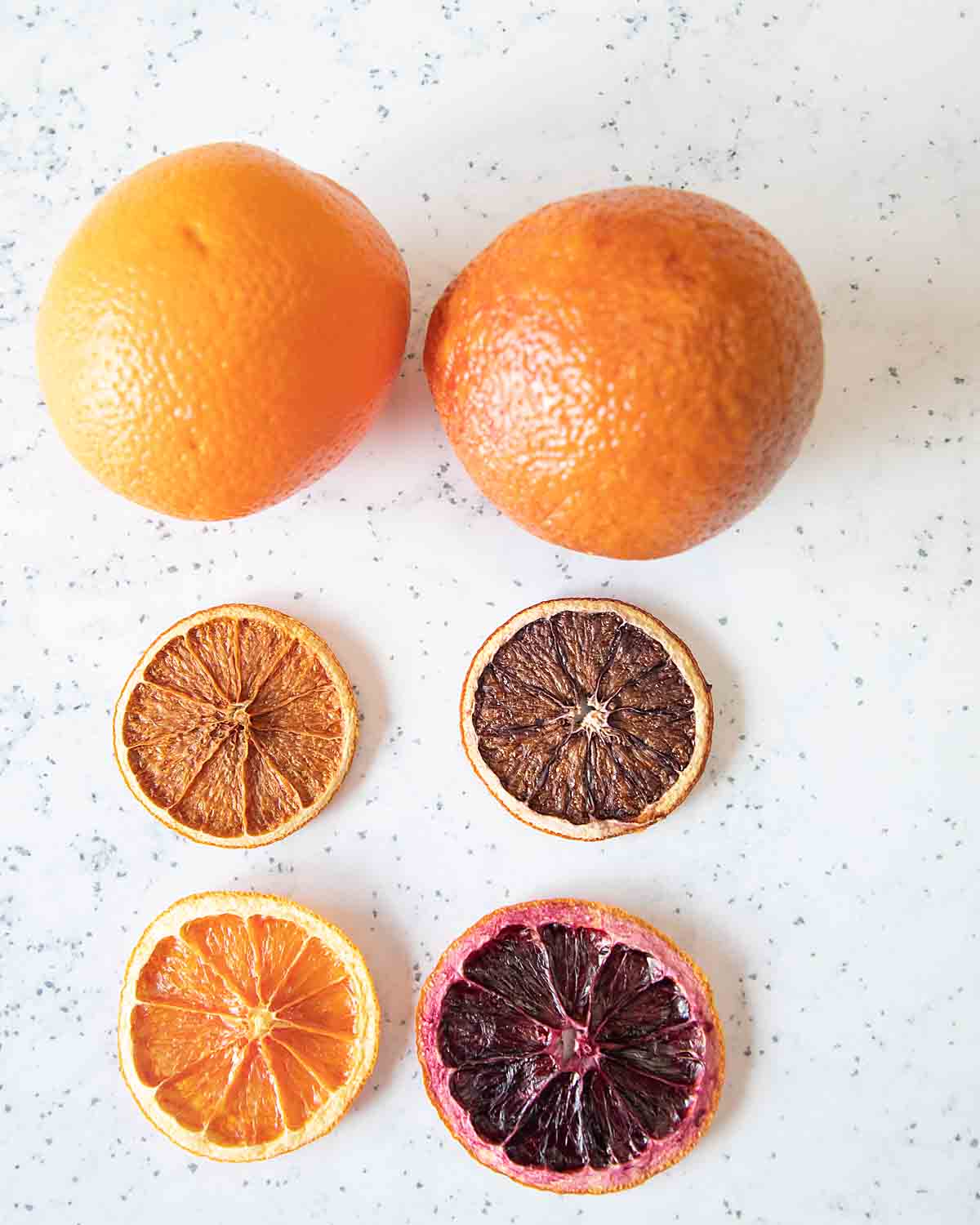 Dried orange and dried blood orange slices, oven-dried in middle row, dehydrated on bottom–from same oranges (size difference is from different section of the oranges)
Three Ways of Preserving Orange Slices
I have used three different ways of preserving orange slices. They each have different pros and cons which I'll explain below. And to make the most of the harvest, this year I made orange slices all three ways!
Dehydrated Orange Slices
Dehydrated orange slices are made in a dehydrator and dried at a temperature of 135F or less. You simply slice the fruit, set it on a drying tray, turn the dehydrator on and flip the slices over a few times while they dry.
The lower drying temperature helps preserve the color and fresh taste and still completes the process before the fruit molds.
The advantages of this method are the fresh taste and color I mentioned, plus the ease of use. And it allows you to preserve without adding any sugar. The biggest con is that you need to have a dehydrator.
Best for: sugar-free eating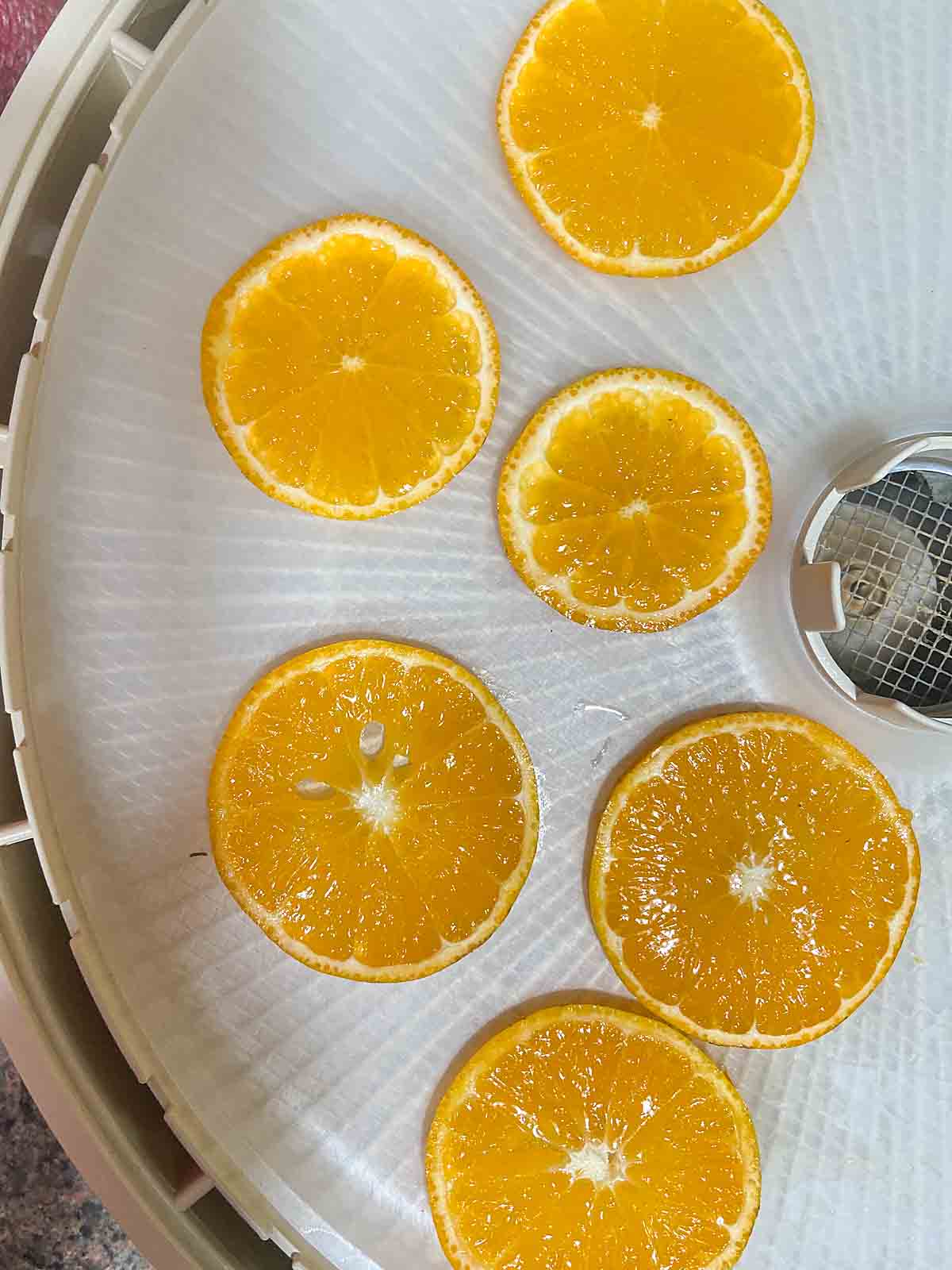 Oven Dried Orange Slices
Dehydrating oranges in the oven follows a similar method. You slice the oranges, set on a baking sheet topped with parchment or an oven proof metal rack and bake at 200 F. As with the dehydrator method, you flip the slices over periodically to achieve even drying.
The oven dried slices turn more warm-toned and take on almost a patina that I think is lovely, so it's my favorite method for use in decorations. This has the additional advantages of being quick, easy and not needing special equipment. In terms of cons, the flavor suffers some from the heat.
Can I oven dry them at 170F? 170F is the lowest temperature for many ovens so seems appealing. But I tried this at first and discovered two things. First it's enough warmer than the dehydrator's 135 to lose the fresh taste and second, it's enough cooler than 200 that it takes many hours longer. If you want to eat them and don't have a dehydrator, you can give it a try but it's not my first choice.
Best for: Decorations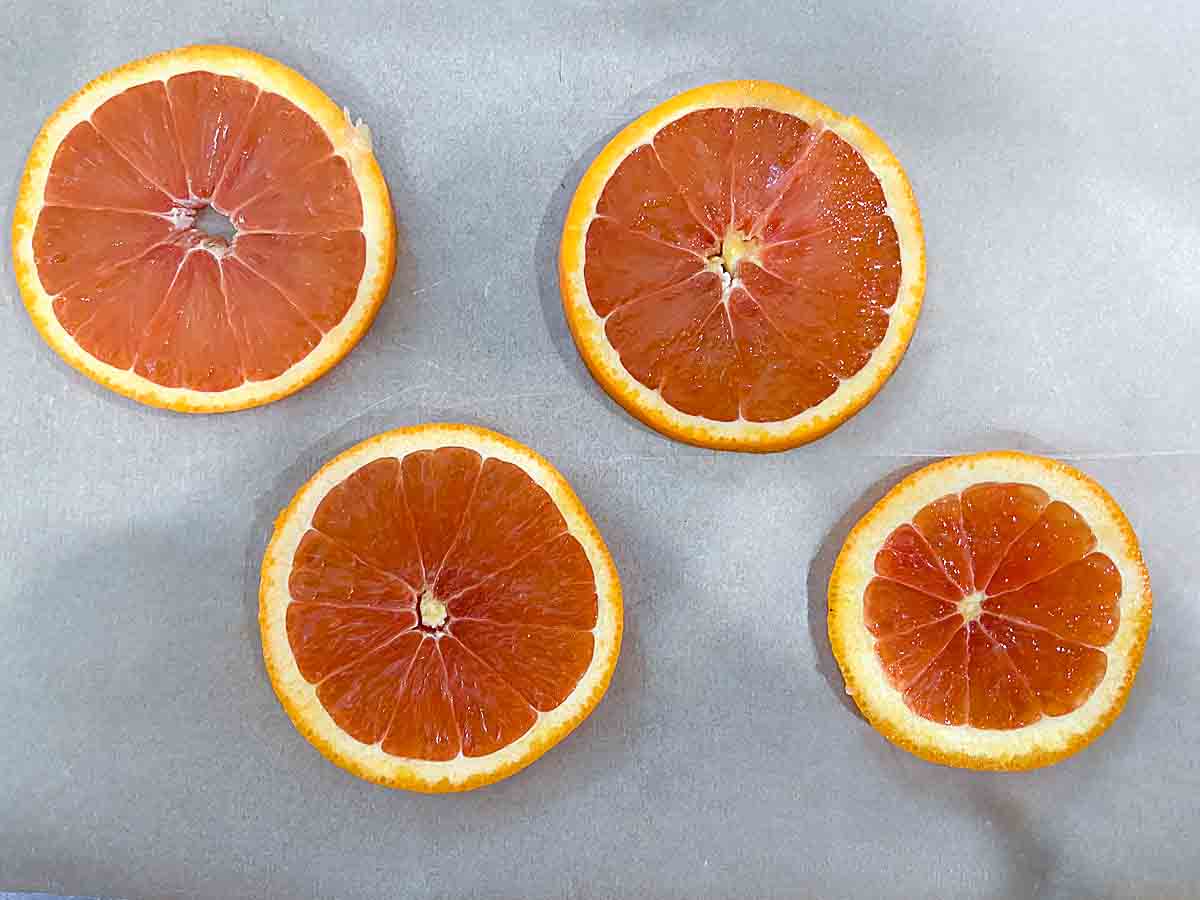 Candied Oranges Slices
The final preservation method I use is candying the orange slices. This is actually a method of candy making and is discussed in detail in my candied orange slices post. It requires boiling orange slices in a simple syrup until you get to the "firm ball" temperature to achieve a glossy yet pliable slice.
The advantage of this is that these are very beautiful and tasty. The downside is that is takes a little more effort and skill and it infuses the orange with unhealthy sugar.
Best for: candy, cake decorating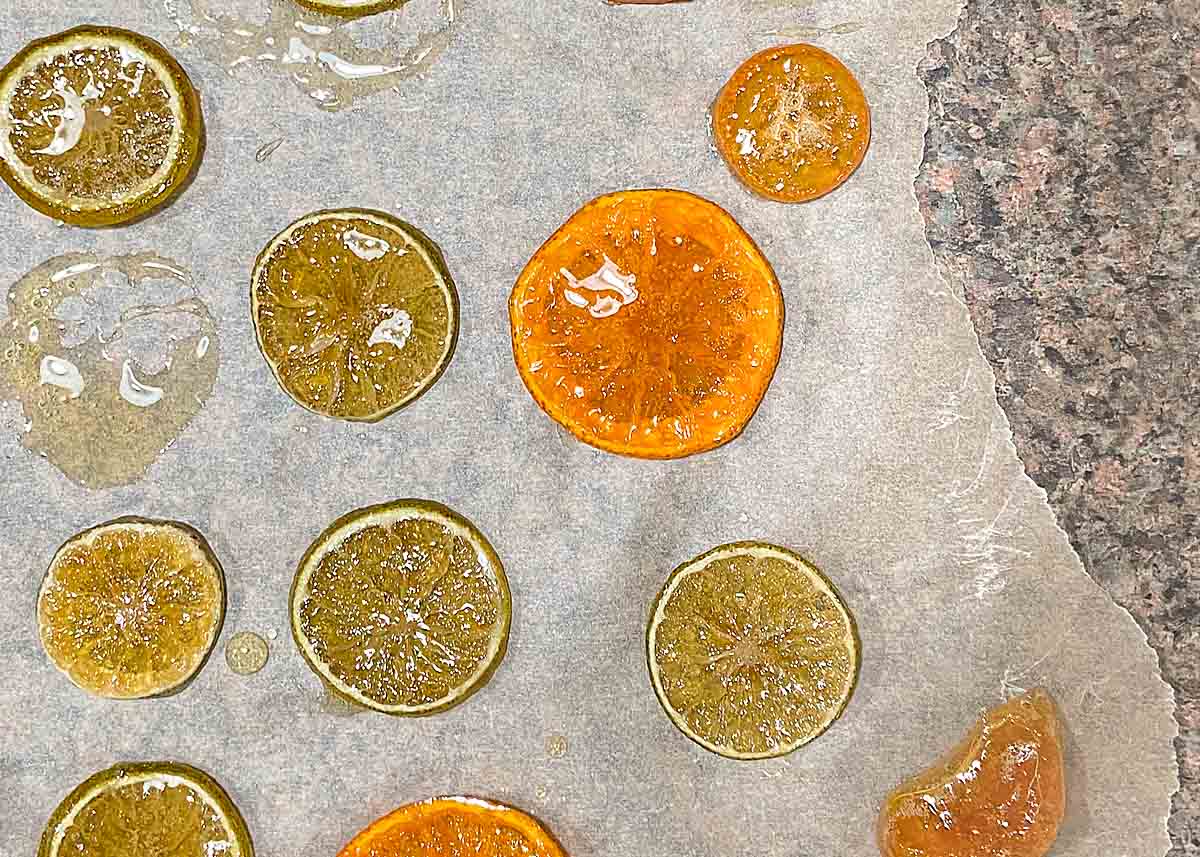 Other Methods
I don't own an air fryer but the air circulation and ability of some (but not all) air fryers to operate at a low temperature can make this a viable option. Lower capacity would be the downside with this method, since you can't lay a lot of slices out flat.
I have also seen microwave methods, but these seemed a little more hands on, so I didn't test them.
And finally in some very dry climates, air drying might even be possible. While air drying herbs works in Wisconsin, I'd worry about mold with a high moisture item like this.
Step by Step Instructions
In summary:
Slice the oranges. I use a mandolin (use protective gloves or the holder) but you can slice by hand.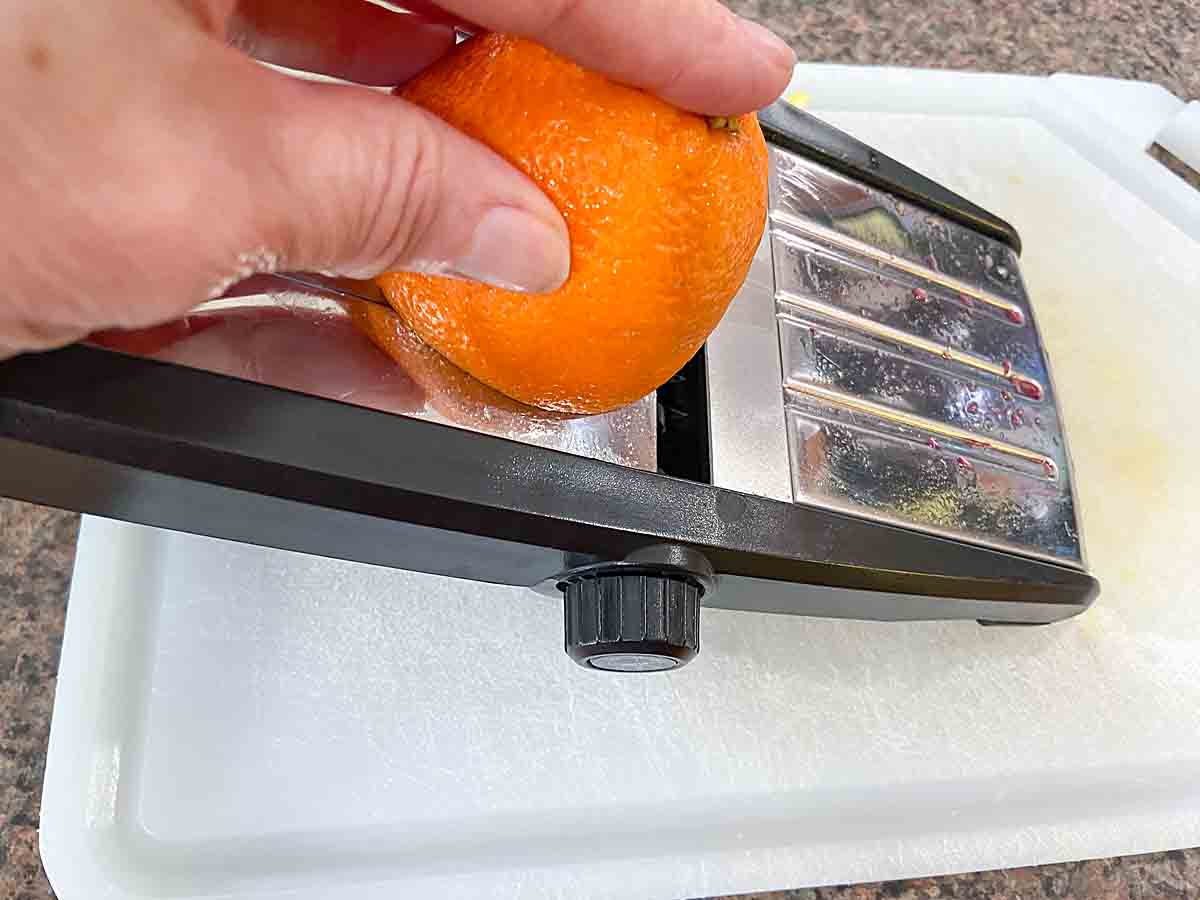 Remove seeds if needed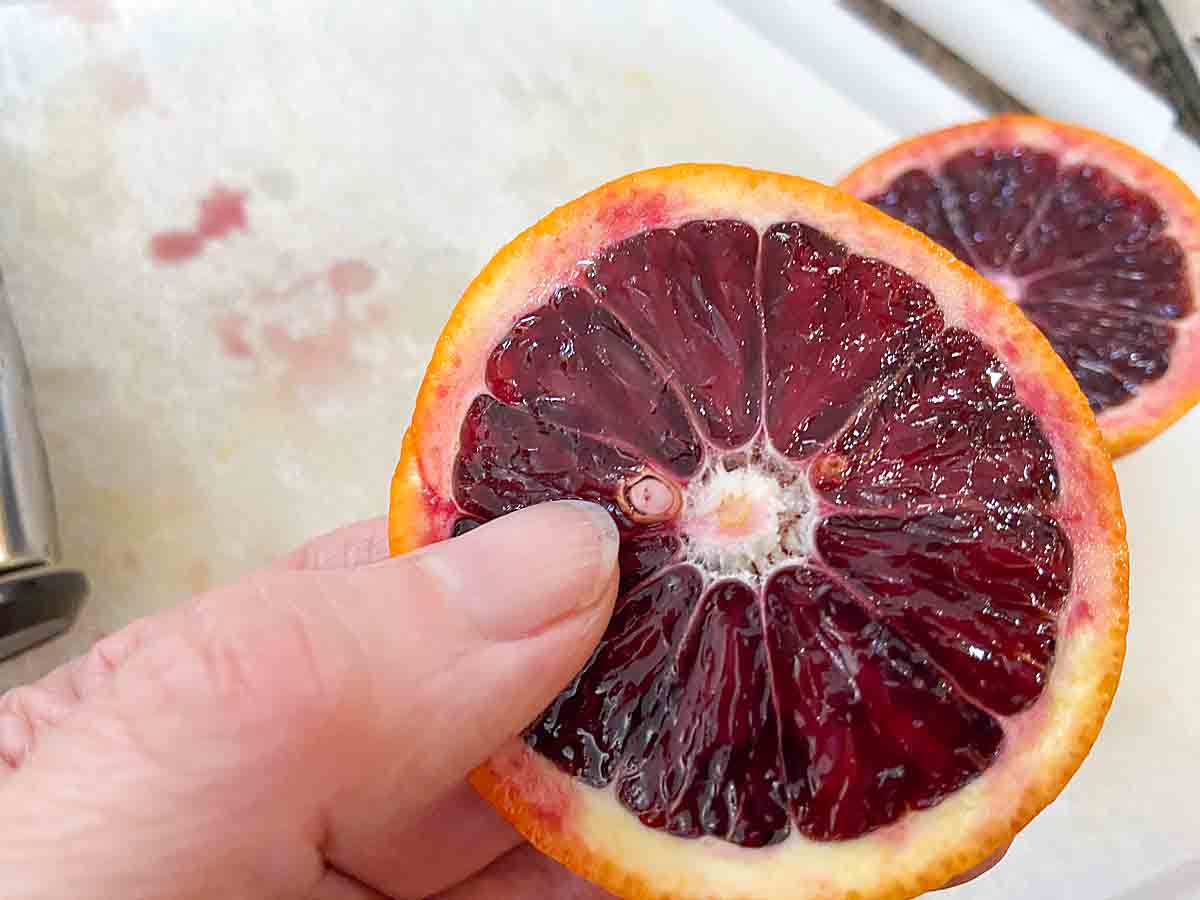 Set individually on baking sheet in oven or mesh drying sheet in dehydrator. Heat at 200F in oven or 135F in dehydrator, flipping the slices over every hour or so until dried.
15 Uses for Dried Orange Slices
Now that you understand how to dry orange slices, the real fun can begin—figuring out all the ways you can use them. Here are some suggestions to get you started!
1) Garnish a drink—from cocktails, to mocktails to hot or iced tea.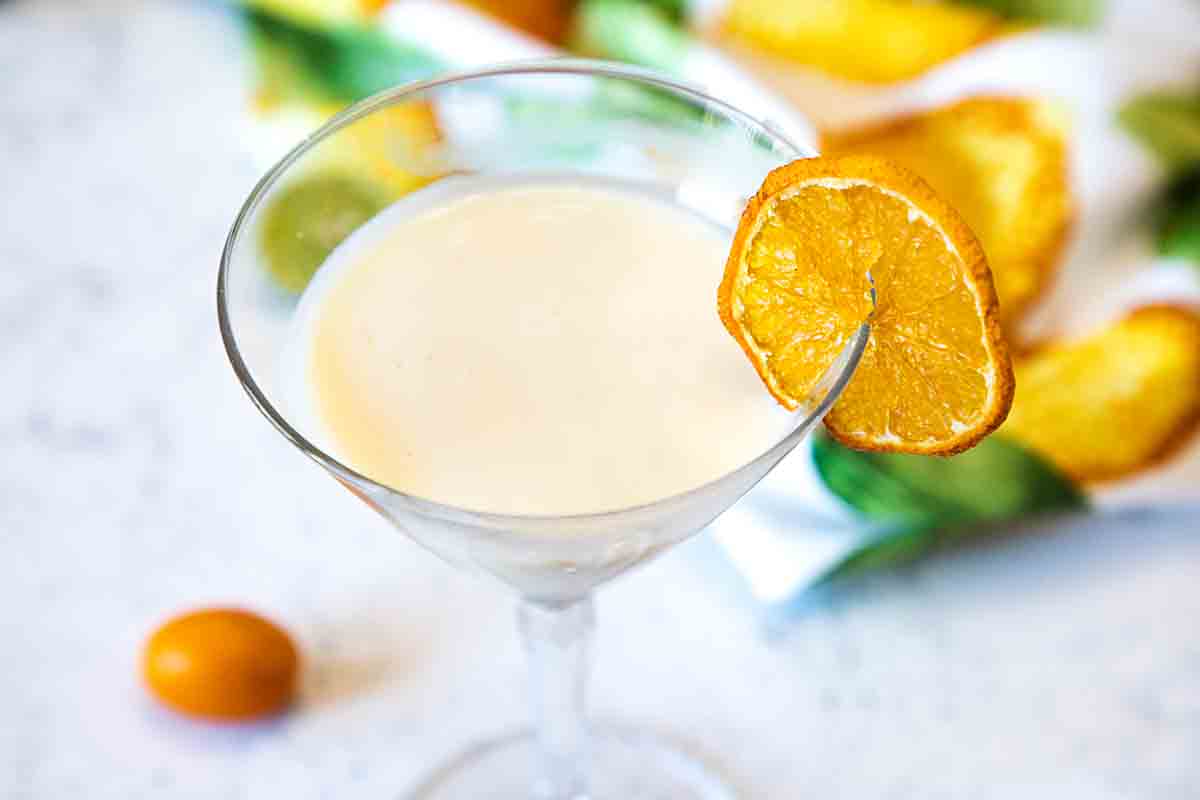 2) Garnish a ham.
3) Add to potpourri or use in a simmer pot for fragrance.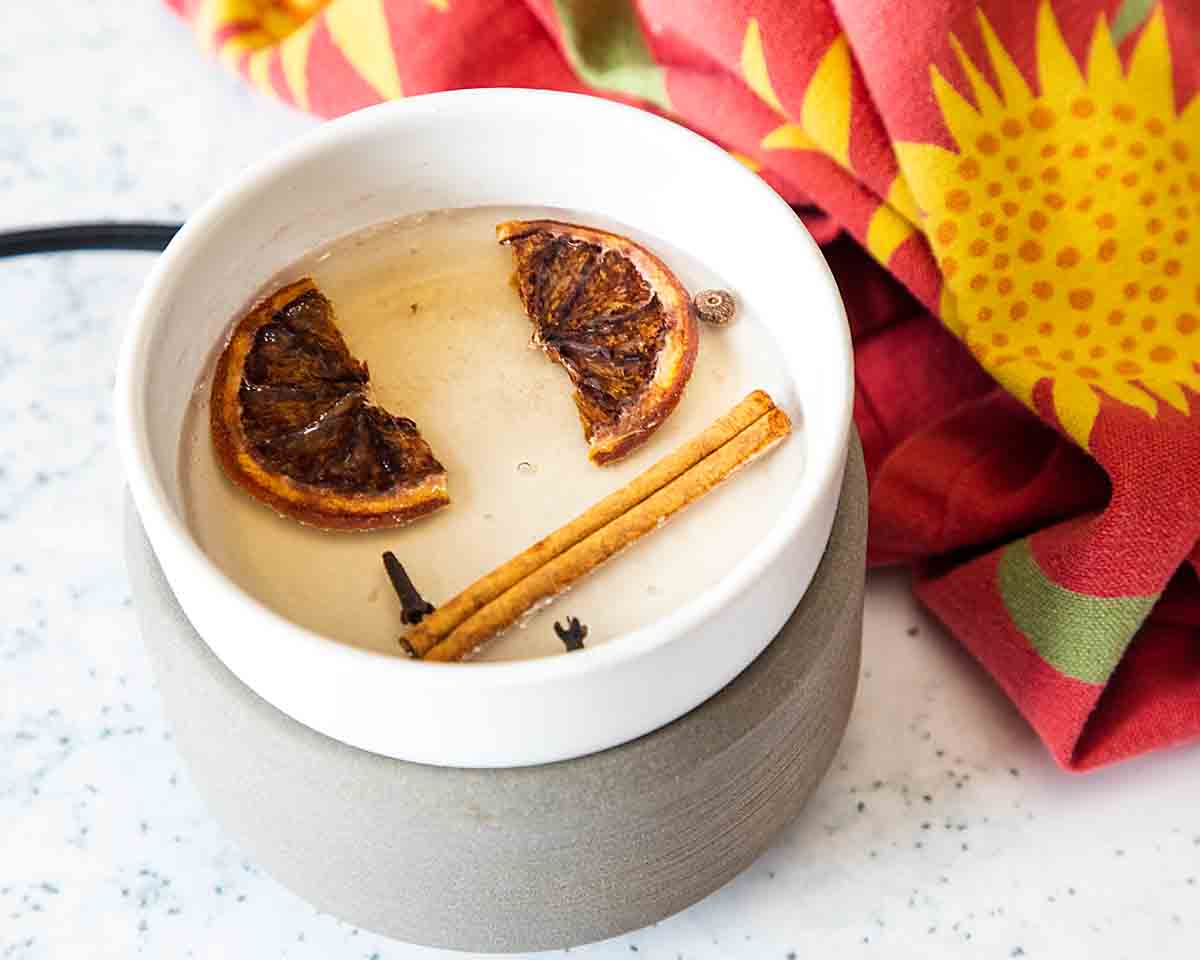 4) Use as a pretty cake or cupcake decoration.
5) Dip slices in chocolate and sea salt for a fun snack.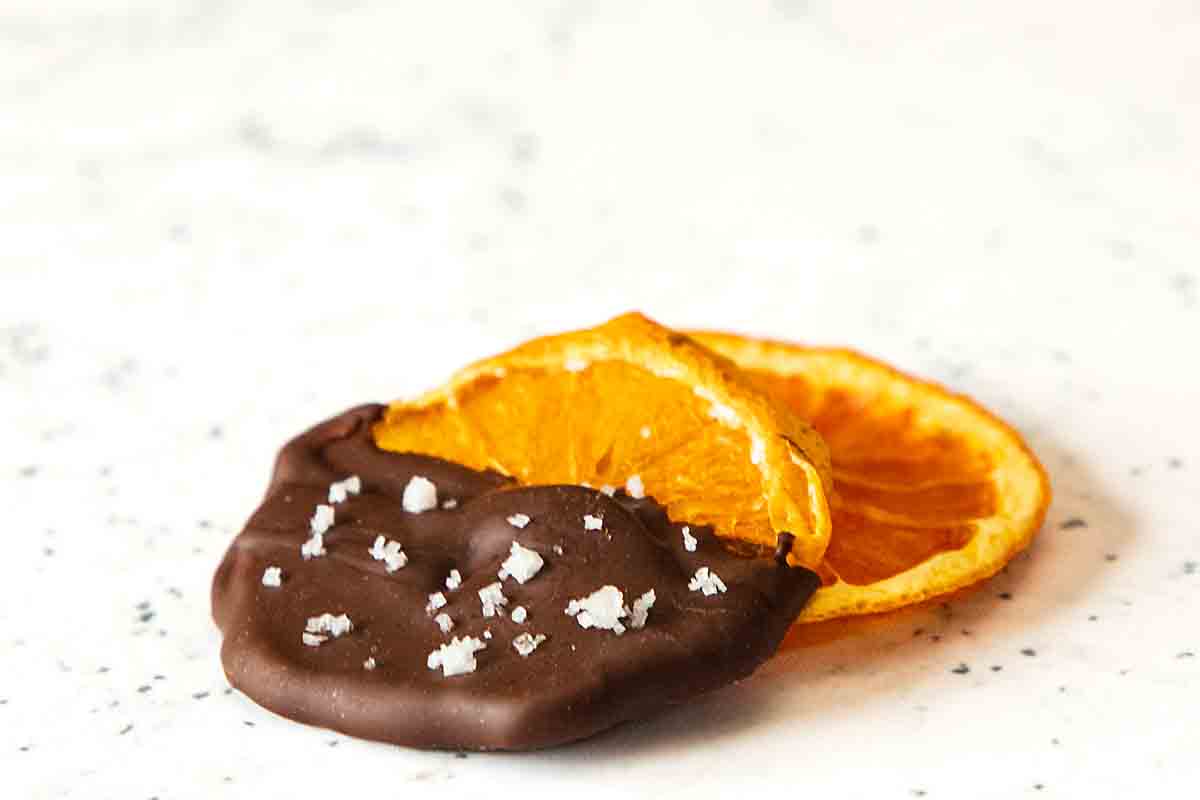 6) Crumble into mulling spice mix.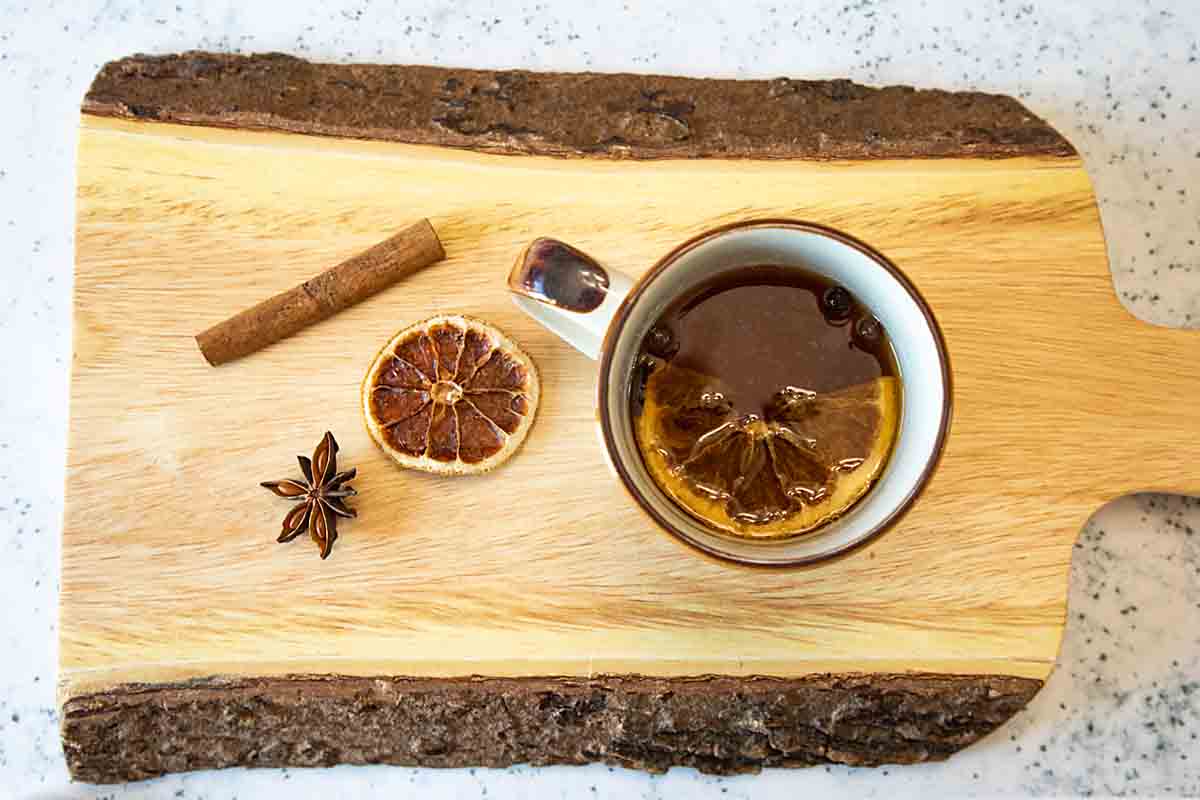 7) Package into a jar as a DIY gift. (It's almost time for teacher's gifts!)
8) Hang from a string for Christmas ornaments.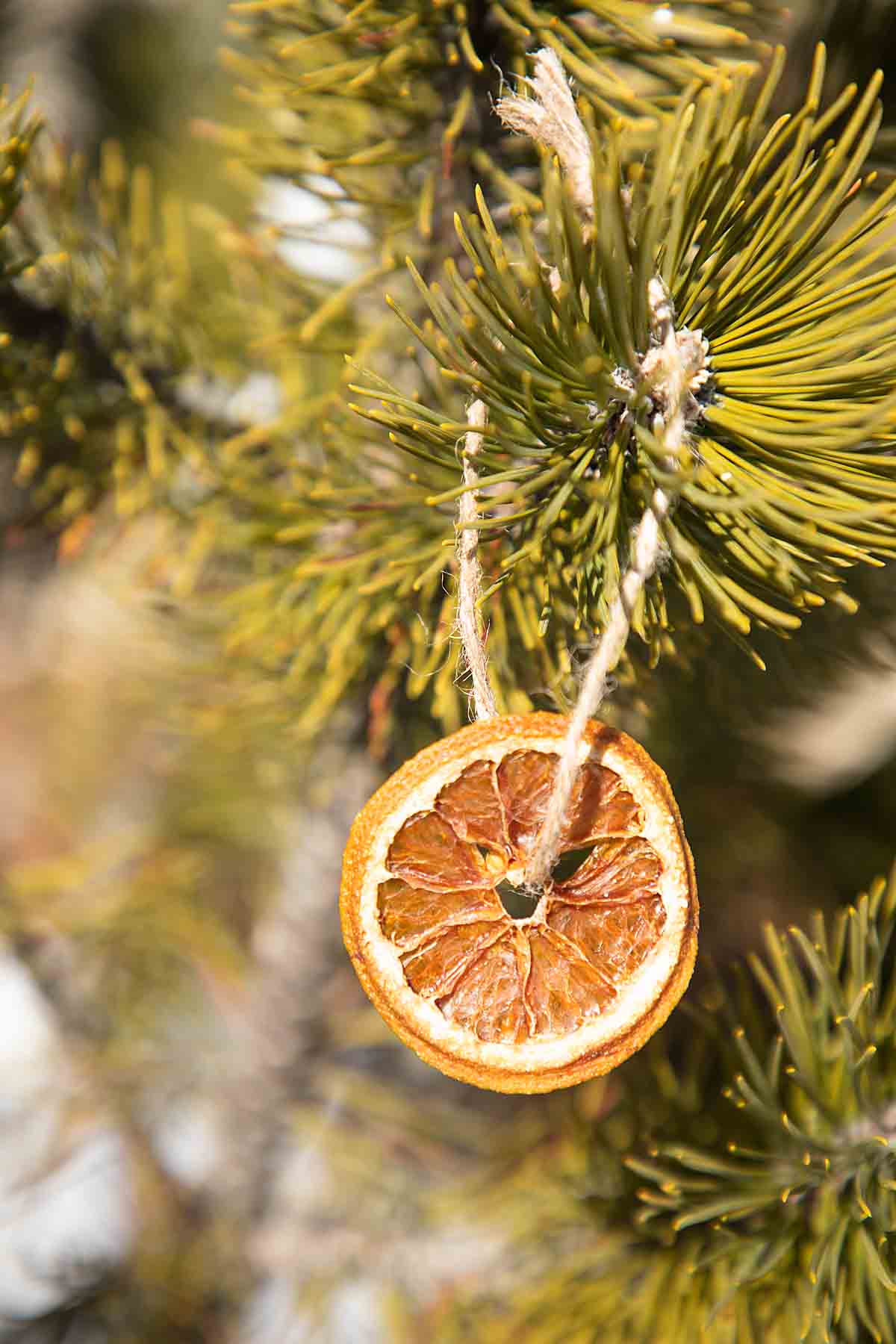 9) Glue to a pretty wreath.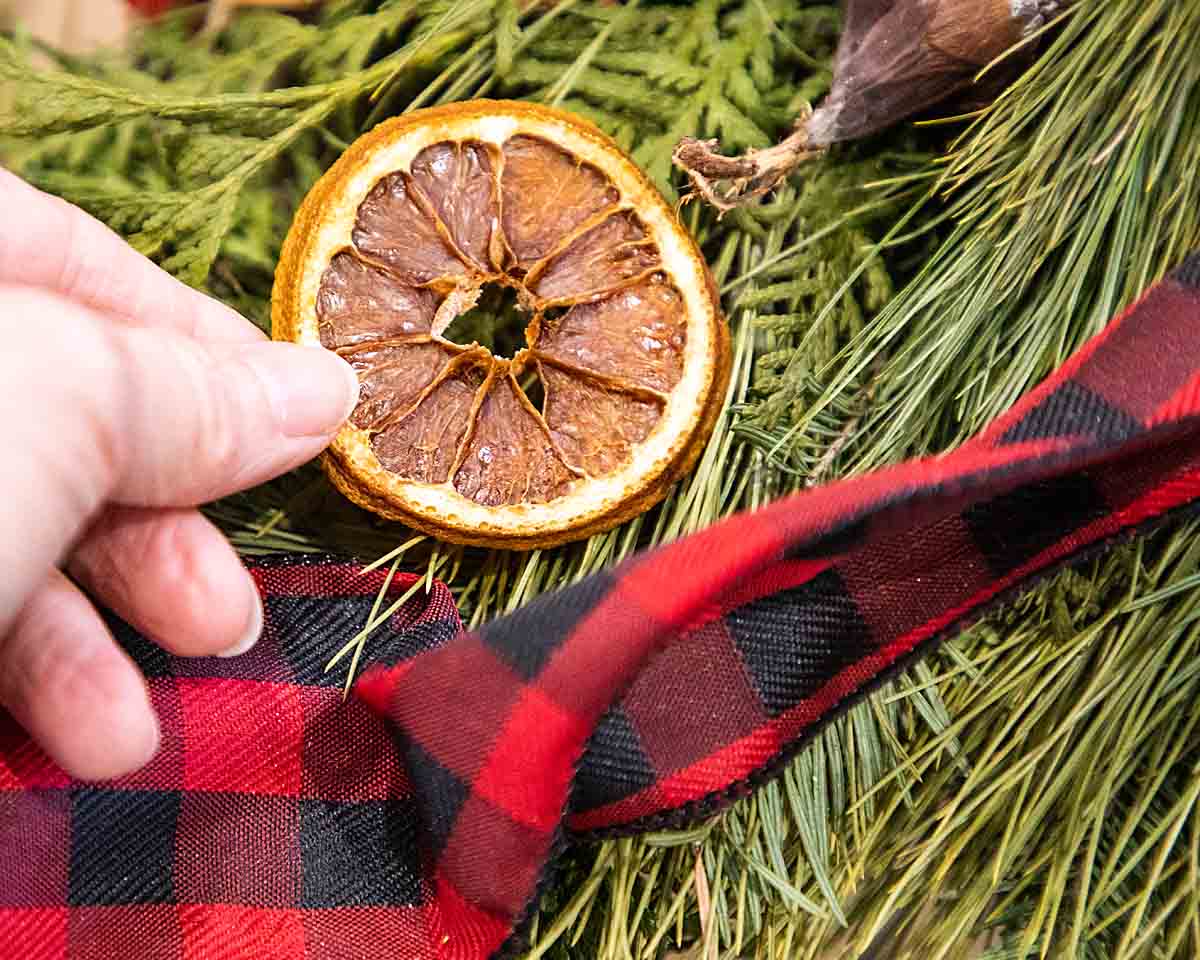 10) Create a dried orange garland.
11) Decorate a package, candle or gift basket. See that teacher's gift note above.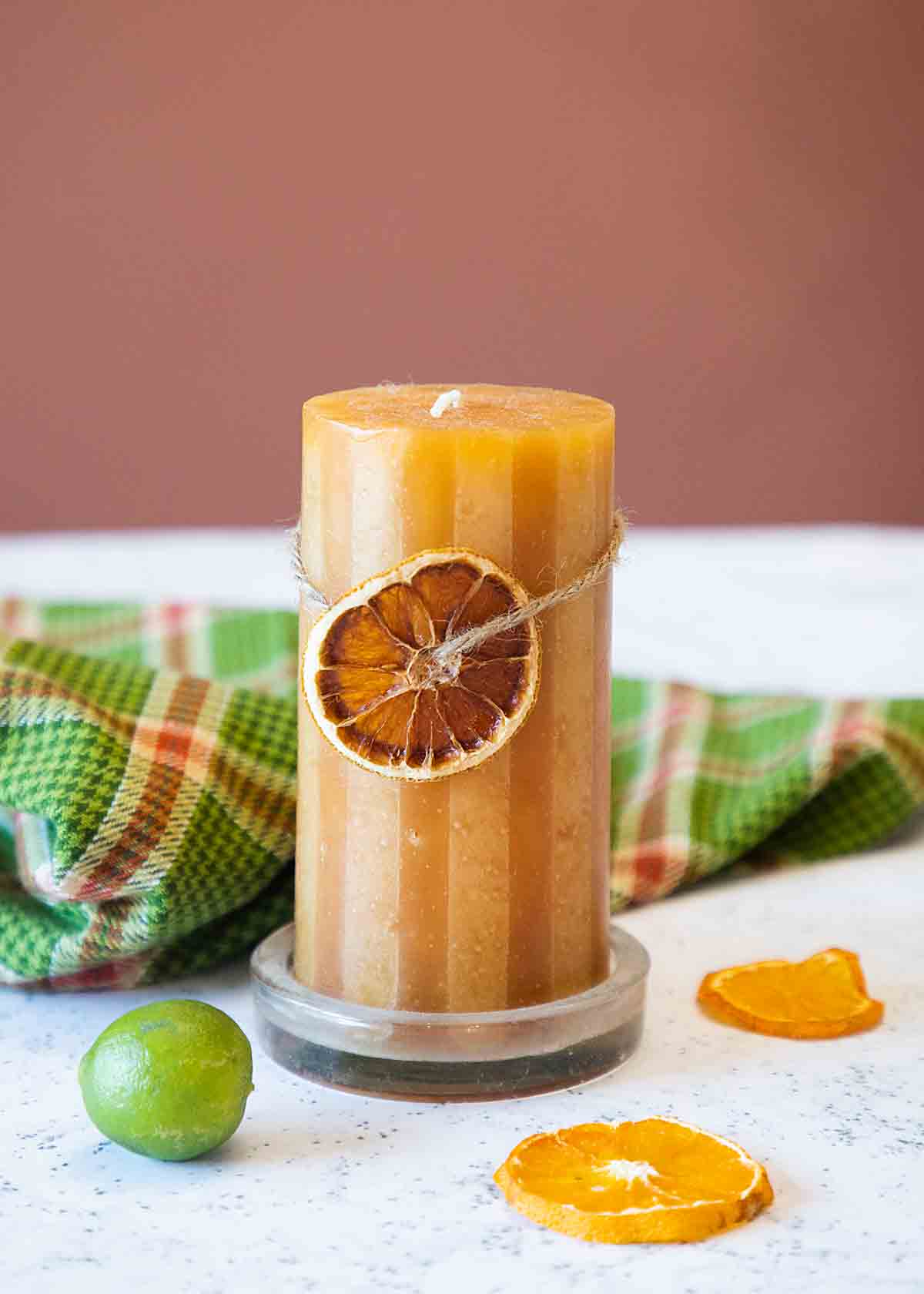 12) Float in punch or sangria.
13) Use as a gluten free cracker.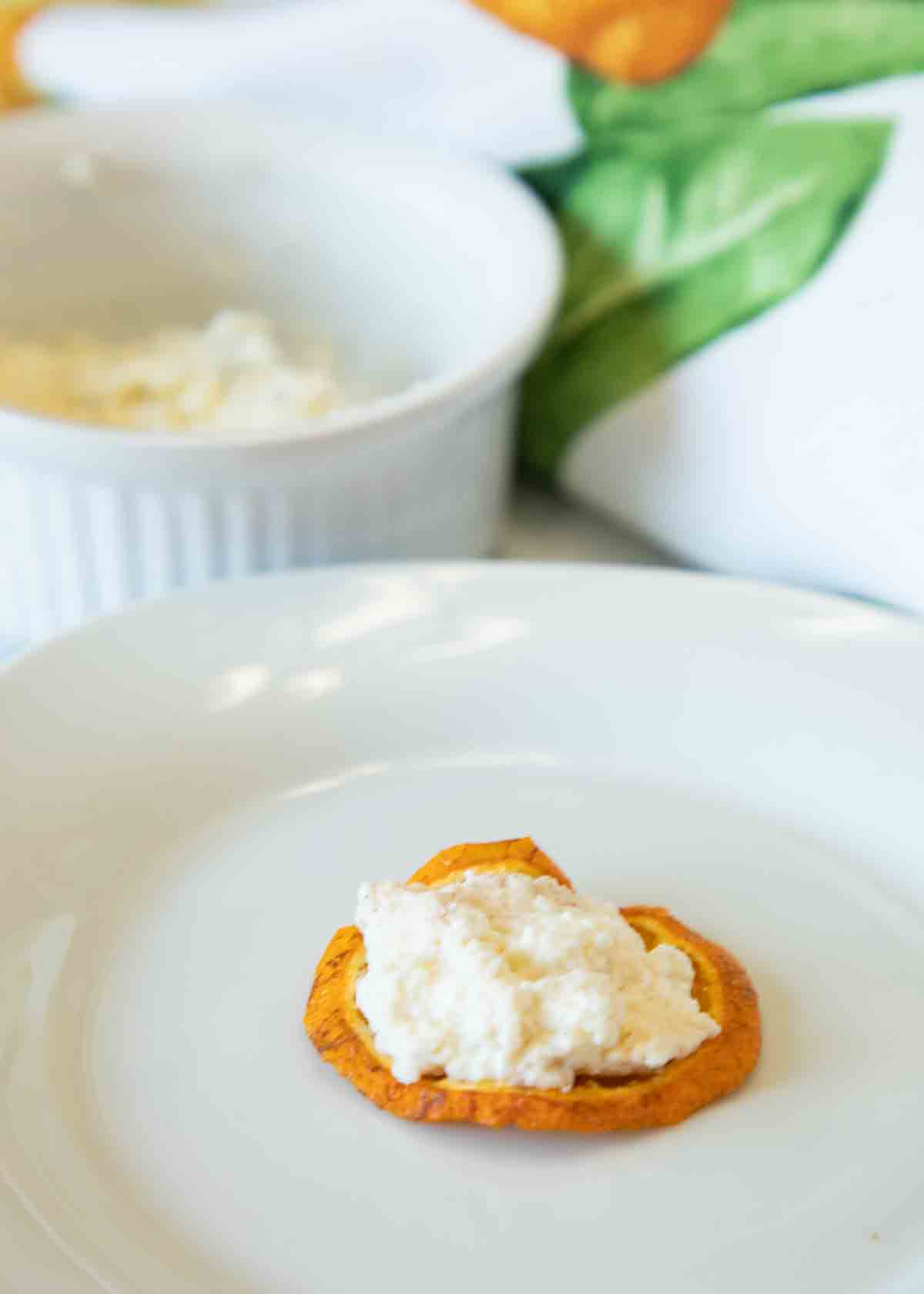 14) Add to a charcuterie board. You're not limited to fresh fruit and dried figs.
15) Turn into napkin rings.
Variations
If you're loaded up with oranges, there are lots more fun things to do with them. Consider trying some Spiced Orange Curd, Orange Cranberry Marmalade or an Easy Coconut Orange Tart!
And coming tomorrow, check out my blood orange mimosa!
Finally, I also have some great tips on making dried apples and dried pears that makes them especially attractive!
Tips & FAQs
Depending on how you will use them, consider drying different sizes of citrus– varieties like tiny kumquats, medium mandarins and full sized navals! This can make for an especially lovely look (shown here using candied orange slices). Yes, it's the same amount of work and you'll have a ball!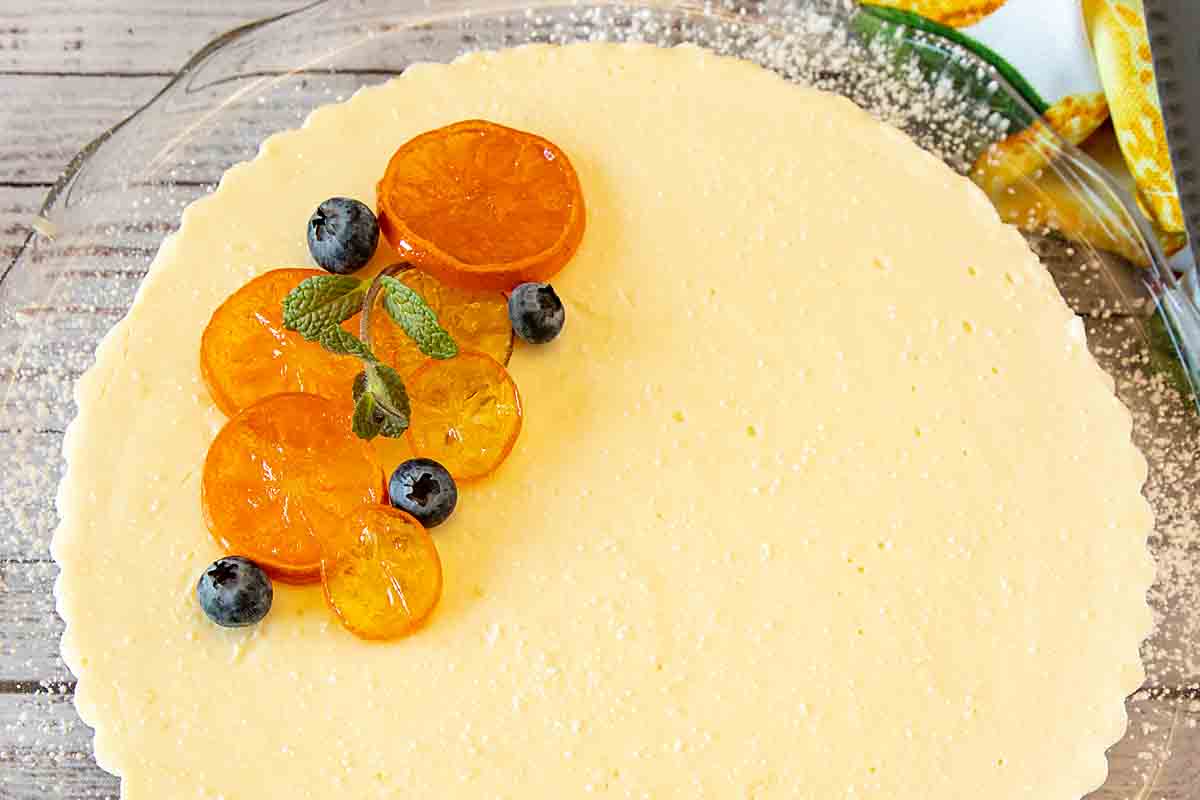 If you are trying to extend their life past the season, dehydrate the slices thoroughly and store dry. Some dried orange slices made by a friend got moldy over the humid summer. But consider that they're so much fun and so easy, it's easy to make this an annual project!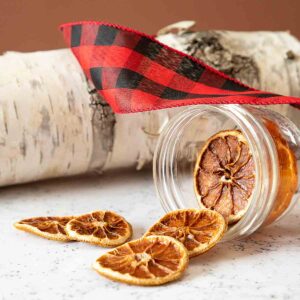 Dried Orange Slices
Tasty and attractive, dried orange slices are good for eating and pretty for decorating. 15 ways to use them, plus how to preserve.
Ingredients
4

oranges

or more or less if you prefer
Instructions
Slice oranges 1/8-1/4 inch thick. Discard (compost) the end slices that are all peel.

Remove any seeds.

To oven dry, place slices into a 200 F oven on a baking sheet topped with an oven safe metal rack or parchment. Flip slices over every hour until dry. Time will vary based on thickness, tightness of the oven seal, and will be less if you have a rack (since they can dry from both sides at the same time). Mine took 4-6 hours on parchment. On a rack, it should be about half that.

To dry using a dehydrator, set the temperature to 135F. Set the slices on a mesh drying sheet. If you are worried about dripping, pat them dry first or set up an additional, unused tray with a solid drying sheet below. Start the dehydrator and flip the slices every hour or so. Mine have taken from 6-9 hours on a mesh tray but double the one time I used a solid tray.
Nutrition
Calories:
31
kcal
Carbohydrates:
8
g
Protein:
1
g
Fat:
0.1
g
Saturated Fat:
0.01
g
Polyunsaturated Fat:
0.02
g
Monounsaturated Fat:
0.01
g
Potassium:
119
mg
Fiber:
2
g
Sugar:
6
g
Vitamin A:
147
IU
Vitamin C:
35
mg
Calcium:
26
mg
Iron:
0.1
mg
I am not a health professional and nutrition data is calculated programatically. Accuracy may vary with product selection, calculator accuracy, etc. Consult a professional for the best information.
Tuesday #SpringSweetsWeek Recipes
We share recipes from #SpringSweetsWeek on Pinterest! Make sure you follow the board to see all the delicious recipes shared this week.
Welcome to #SpringSweetsWeek 2023 hosted by Heather from Hezzi-D's Books and Cooks! The sun is shining, the weather is getting warmer, and we are celebrating the beginning of spring with plenty of spring sweets and a fun giveaway! This year 20 food bloggers from around the country are sharing over 75 sweet recipes that are perfect for spring. So get ready to enjoy amazing spring treats like cupcakes, cookies, pies, jams, and even a few beverages! Thank you to our #SpringSweetsWeek sponsors that are helping us give away some great prizes. Thank you to Melissa's Produce, Anolon, Taylor and Colledge, and Selefina Spices for your generosity and support. We have an incredible giveaway with four amazing prizes and would love it if you would take a moment to read about it and the prizes that you can win!
Prize #1: A Fresh and Dried Organics Basket from Melissa's Produce.
One winner will enjoy an abundance of fruit with Melissa's Fresh and Dried Organics Basket. This hand-woven basket holds a delicious combination of fresh and dried Organic fruits and is carefully wrapped with cellophane and finished with a colorful ribbon. Melissa's Produce has everything from common apples and bananas to exotic passion fruit and kumquats.
Prize # 2: A $30 Gift certificate to Selefina Spices.
One winner will enjoy a $30 gift certificate to buy all their favorite spices for cooking and baking! Selefina Spices sells an assortment of spices gathered using dedication and care with which we've curated their online tea collection. With our decades of experience sourcing products and establishing global connections their mission is to be able to bring you fresher, higher-quality spices and seasonings at lower prices.
Prize #3: A selection of 4 extract pastes from Taylor and Colledge.
One winner will receive a selection of extracts to include almond, lemon, organic vanilla bean, and lavender. In 1897, Taylor & Colledge won its first award for excellence in vanilla. Since then, the Taylor & Colledge commitment for unsurpassed quality has earned its reputation as one of the world's finest producers of vanilla.
Prize #4: AnolonPro Bakeware 2 Piece Set of Half Sheet Cookie Pans.
One winner will win a 2-piece set of 13-inch x 18-inch half sheet baking pans for cookies! These aluminized steel professional sheet pans deliver unmatched durability and heat conduction for incredibly reliable results and are oven safe to 550°F. You'll be able to bake all your favorite cookies to perfection. Anolon Pro Bakeware gives you professional grade bakeware at affordable prices.
Thank you #SpringSweetsWeek Sponsors: Selefina Spices, Anolon, Melissa's Produce, and Taylor and Colledge for providing the prizes free of charge. These companies also provided the bloggers with samples and product to use for #SpringSweetsWeek recipes. All opinions are my own. The #SpringSweetsWeek giveaway is open to residents of the United States who are 18 years of age or older. All entries for the winner will be checked and verified. By entering you give the right to use your name and likeness. The number of entries received determines the odds of winning. Four (4) winners will be selected. The prize packages will be sent directly from the giveaway sponsors. The #SpringSweetsWeek Bloggers are not responsible for the fulfillment or delivery of the prize packages. Bloggers hosting this giveaway and their immediate family members in their household cannot enter or win the giveaway. No purchase necessary. Void where prohibited by law. This promotion is in no way sponsored, endorsed or administered by, or associated with Facebook, Instagram, Pinterest, Twitter or any other social channel mentioned in the #SpringSweetsWeek posts or entry.