Holiday Spiced Orange Curd
Every December I get organic oranges from one of my CSAs. For a Wisconsin CSA, it's a surprising bounty–and this year I am going to preserve some of the freshness by making Spiced Orange Curd.
The holiday orange deliveries started years ago with the CSA's beekeeper. After pollinating summer crops in the north, the bees moved south to a Florida orchard. Before you knew it, our CSA was getting citrus from that grower. Don't connections come in wonderful ways?
I had always associated preserving citrus with marmalade which has a bitterness that I don't care for. But curds are completely different. Blended with egg yolks and butter they possess a richness that I compare to crossing jam with buttercream frosting.
While I have been making fruit curds for years, starting with puckery lemon curd and a wickedly indulgent strawberry curd. But this year I decided to try a holiday-inspired spiced orange curd, based on this recipe from Food in Jars, but infused with the cinnamon and clove flavors of the season. It is a wonderful indulgence, drizzled on toast or biscuits, delicious stirred into yogurt and the perfect accompaniment to gingerbread scones.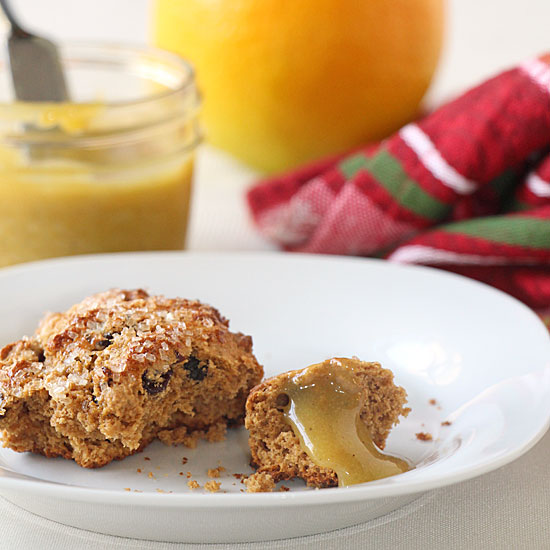 Most curd recipes, including this one, are not acidic enough to can in a water bath, but will freeze perfectly. My preference is to use small, straight sided canning jars. The size means it's easy to finish the curd before it spoils, you don't need to worry about chemicals in plastic, and the canning glass is tempered for extra strength. Check out this guide for freezing in glass from Erica of Northwest Edible Life.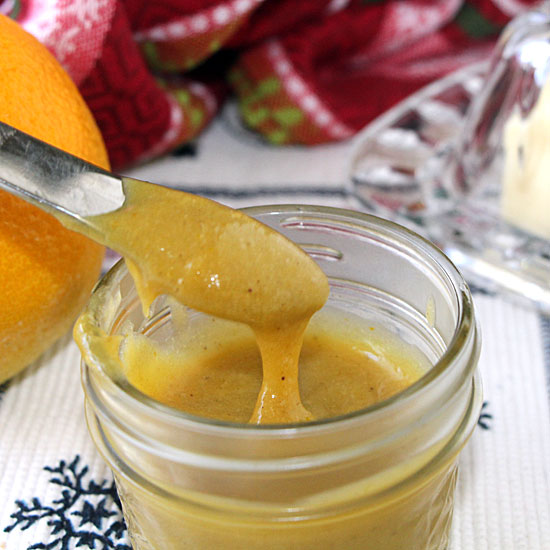 Aren't winter indulgences great!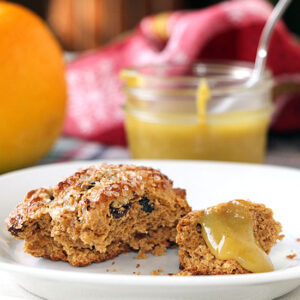 Spiced Orange Curd
Spiced Orange Curd is a wonderful indulgence, drizzled on toast or biscuits, stirred into yogurt or topping cakes, tarts or gingerbread scones.
Ingredients
1/2

cup

orange juice

from 1-3 oranges, depending on size

6

egg yolks

3/4

cup

granulated sugar

1/2

teaspoon

ginger

1/4

teaspoon

cloves

1/2

teaspoon

cinnamon

½

cup

butter

cut into cubes
Instructions
Remove the zest from the oranges with a Microplane and set it aside. Juice the oranges and measure out a generous 1/2 cup of the juice.

Whisk together the juice, zest, egg yolks, spices and sugar in a medium saucepan.

Heat the mixture over medium whisking until the curd thickens and coats the back of the spoon. The mixture should be about 165 F.

When the curd has thickened, remove it from the heat and stir in the butter a few cubes at a time.

Set a fine mesh sieve over a bowl and push the curd through. This removes the zest and any bits of scrambled egg which would hurt the smooth texture of the curd.

Pour the finished curd into a jar and let it cool in refrigerator. Top jar with a lid when cool.
Notes
This make about a pint (or 4 4-oz jars).
This curd keeps for 10-14 days in the fridge. If you want to keep it longer, divide it into smaller jars and freeze them.
You can use whole spices (a cinnamon stick, a few cloves, and a couple slices of fresh ginger) instead of powdered for a purer color. To do this, add them to the juice mixture and they will strain out in the straining step.
Nutrition
Calories:
112
kcal
Carbohydrates:
10
g
Protein:
1
g
Fat:
8
g
Saturated Fat:
4
g
Polyunsaturated Fat:
1
g
Monounsaturated Fat:
2
g
Trans Fat:
0.2
g
Cholesterol:
88
mg
Sodium:
49
mg
Potassium:
25
mg
Fiber:
0.1
g
Sugar:
10
g
Vitamin A:
290
IU
Vitamin C:
4
mg
Calcium:
12
mg
Iron:
0.2
mg
I am not a health professional and nutrition data is calculated programatically. Accuracy may vary with product selection, calculator accuracy, etc. Consult a professional for the best information.