Whole Wheat Gingerbread Scones
I love mornings–especially during the holidays. And waking up to a sparkling Christmas tree calls for a special breakfast. Cocoa and coffee for warmth. Sizzling bacon or sausage. A tray of sweets for flannel-clad kids (or flannel clad Moms…). Today it holds gingerbread scones.
I used to be terribly intimidated by scones. And for no good reason. They have a reputation for being fussy, going tough as leather with over-mixing. But I haven't had it happen. Even in my very first tries.
In fact it was my daughter-who-doesn't-cook who first got me started. A fan of all things British and too green to be fearful, she just jumped in and succeeded. They became her go-to treats for any-occasion parties.
I started making her currant scones after this surprising revelation. But holidays call for something special and so these gingerbread scones were born. Clinching the deal was some spiced orange curd I just made, courtesy of a bunch of organic oranges. It seemed like a perfect match!
Of course they are delicious with butter… or honey… or…
After three tries, here is the recipe I ended up with based on one from Pinch of Yum (sanding sugar replacing a less healthy glaze). The batch is small (it makes 12), but I figure that just lets me do a tray with more variety. I use 100% whole wheat pastry flour, which is supposed to develop less gluten for a more tender crumb–and the stronger wheat flavor fades in the intensity of the molasses and ginger. But I wouldn't hesitate to try the recipe with a combo of all purpose wheat and unbleached flours. Not fussy, remember?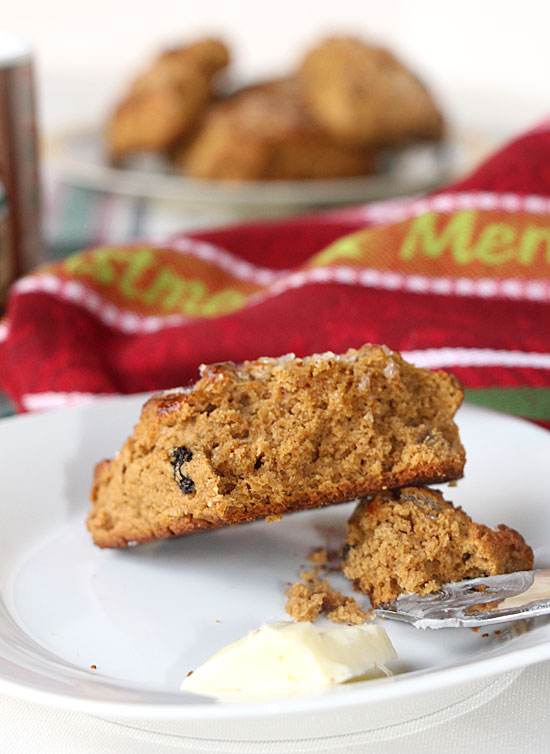 What is your favorite holiday breakfast?
Gingerbread Scones
2015-11-29 16:35:12
Serves 12
Waking up on a crisp winter morning calls for a special breakfast--like whole wheat gingerbread scones.
Nutrition Facts
Amount Per Serving
* Percent Daily Values are based on a 2,000 calorie diet. Your Daily Values may be higher or lower depending on your calorie needs.
Ingredients
• 1/2 cup butter, very cold
• 3 cup whole wheat pastry flour
• 1 teaspoon cinnamon
• 1/2 teaspoon ground cloves
• 1 teaspoon ground ginger
• 1/2 teaspoon salt
• 1 Tablespoon baking powder
• 2 eggs
• 1/4 cup real maple syrup
• 1/4 cup molasses
• 2 Tablespoons finely chopped crystallized ginger (optional)
• 1/2 cup currants
• 1 egg for glaze (see note)
• Sparkling sugar (optional)
Instructions
Mix flours, cinnamon, cloves, ginger, salt, and baking powder in food processor or by hand.
Cut the butter into the flour mixture with a fork or pastry tool or blend with food processor, until butter pieces are tiny and flour-coated.  Mixture will resemble crumbs but will still be a fairly floury.
In a separate bowl, whisk the eggs, maple syrup and molasses.
Stir the wet ingredients into the flour/butter mixture until just combined.
Turn the dough out onto a floured board and knead once or twice.  Roll out or pat dough into a long rectangle with a thickness of about 3/4 inch. Cut squares from the rectangle, then cut on the diagonal to form triangles.
Spray a cookie sheet with a non-stick baking spray and place scones on the sheet.  Brush with beaten egg and sprinkle with sanding sugar.
Bake at 400°F for 12-15 minutes or until golden, then cool on a wire rack.
Notes
If you can glaze very lightly, you may try removing a teaspoon or two from the eggs in the mix to use to glaze the scones instead of using an additional egg. (I have done this successfully)
Art of Natural Living https://artofnaturalliving.com/