Oyster Cornbread Dressing
With a rich savory flavor, Oyster Cornbread Dressing, will put your holiday turkey or crown roast (or any other meat!) over the top!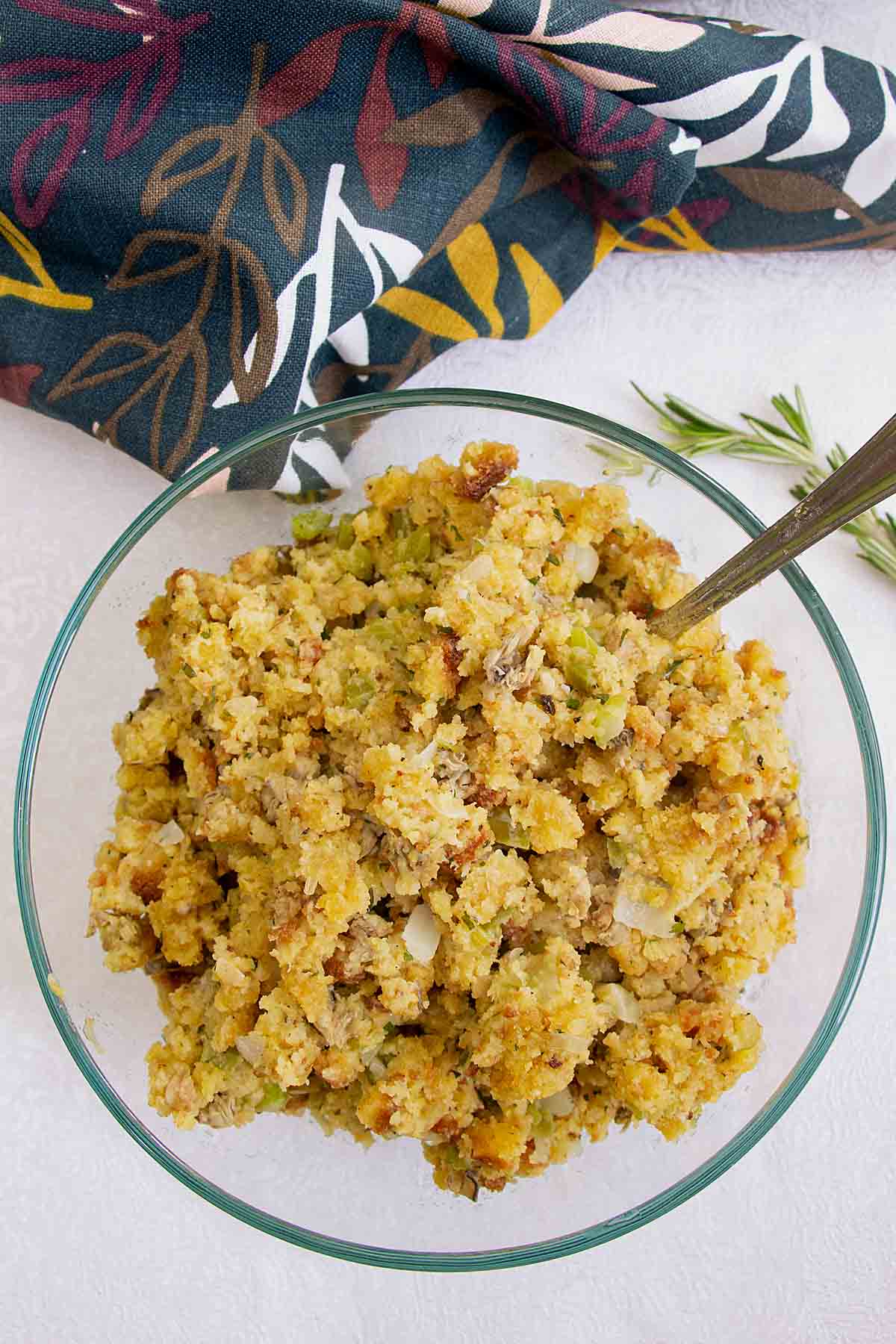 I have a confession to make–and one that's especially tough this time of the year. I don't like dressing. Come Thanksgiving, when the line extends back from the stuffing, I'm the first to skip around it for the potatoes.
But this Oyster Cornbread Dressing is so good, I'd actually fight you for it.
In fact, when I served it up after writing this post, my oldest confessed. It's the only dressing she's ever liked too.
Now, the first time I served this, it wasn't for Thanksgiving–and it wasn't with turkey. It was for a formal dinner with a stunning lamb crown roast. That beautiful circle of tender rib chops needed something very special to fill the center.
Enter a new dressing, from a well worn McCall's cookbook. It's been beloved ever since!
What Makes This a Winner
With all due respect to my mother, this Oyster Cornbread Dressing beats her traditional stuffing hands down, both for flavor and ease of preparation.
Yes, I still cringe at the memories of her grinding chicken gizzards with a hand cranked meat grinder, screwed tight to the cutting board. Every few minutes it would jam and she'd pull the whole thing apart to clear it out.
Nope.
But memory makes this more exciting. Simply chop up a few ingredients, mix with (okay a prodigious amount of) butter and store-bought cornbread stuffing mix. Then have it turn out amazing!
Step by Step Directions
As I mentioned it's quite easy to do. You start by mixing part of the butter and heating the water in a Dutch Oven or casserole. Then mix with the stuffing mix and set aside.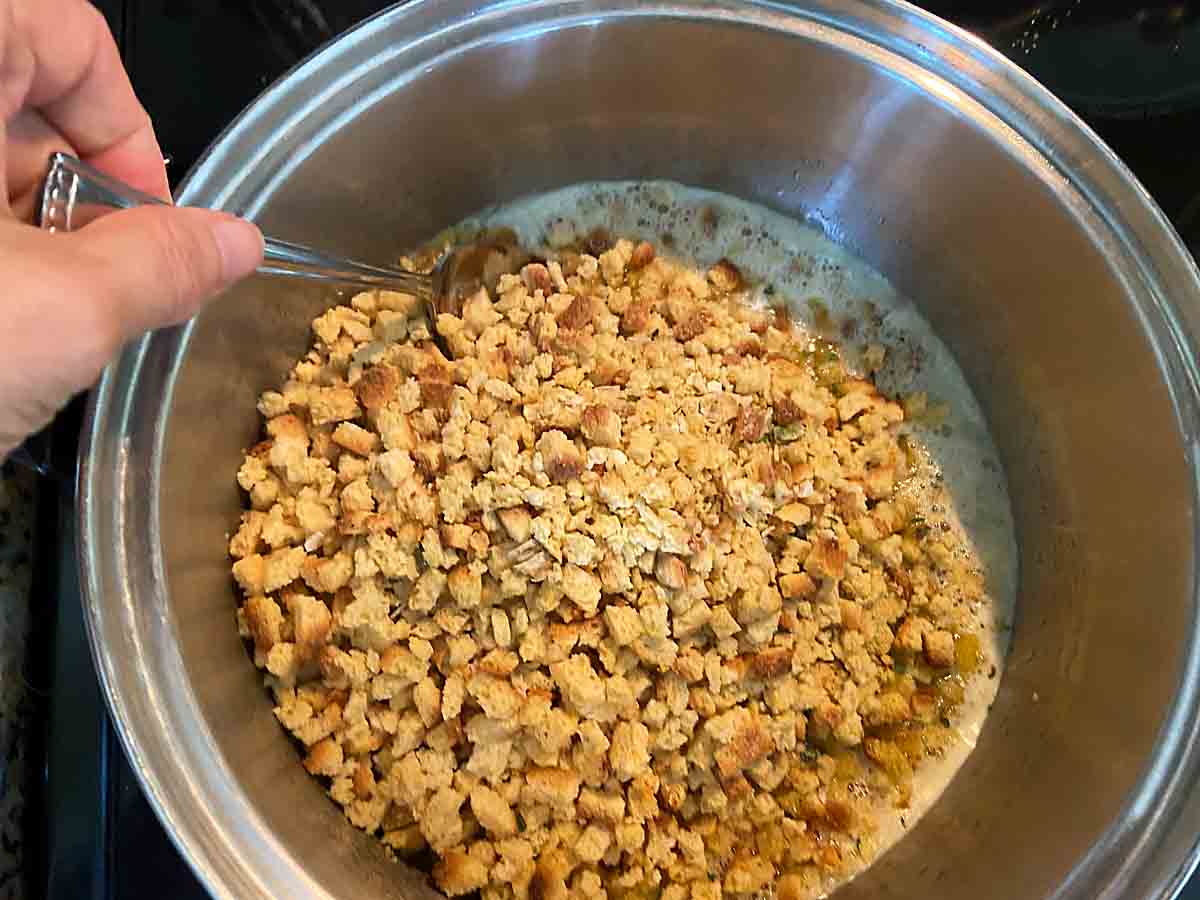 Sautee the vegetables in the remaining butter.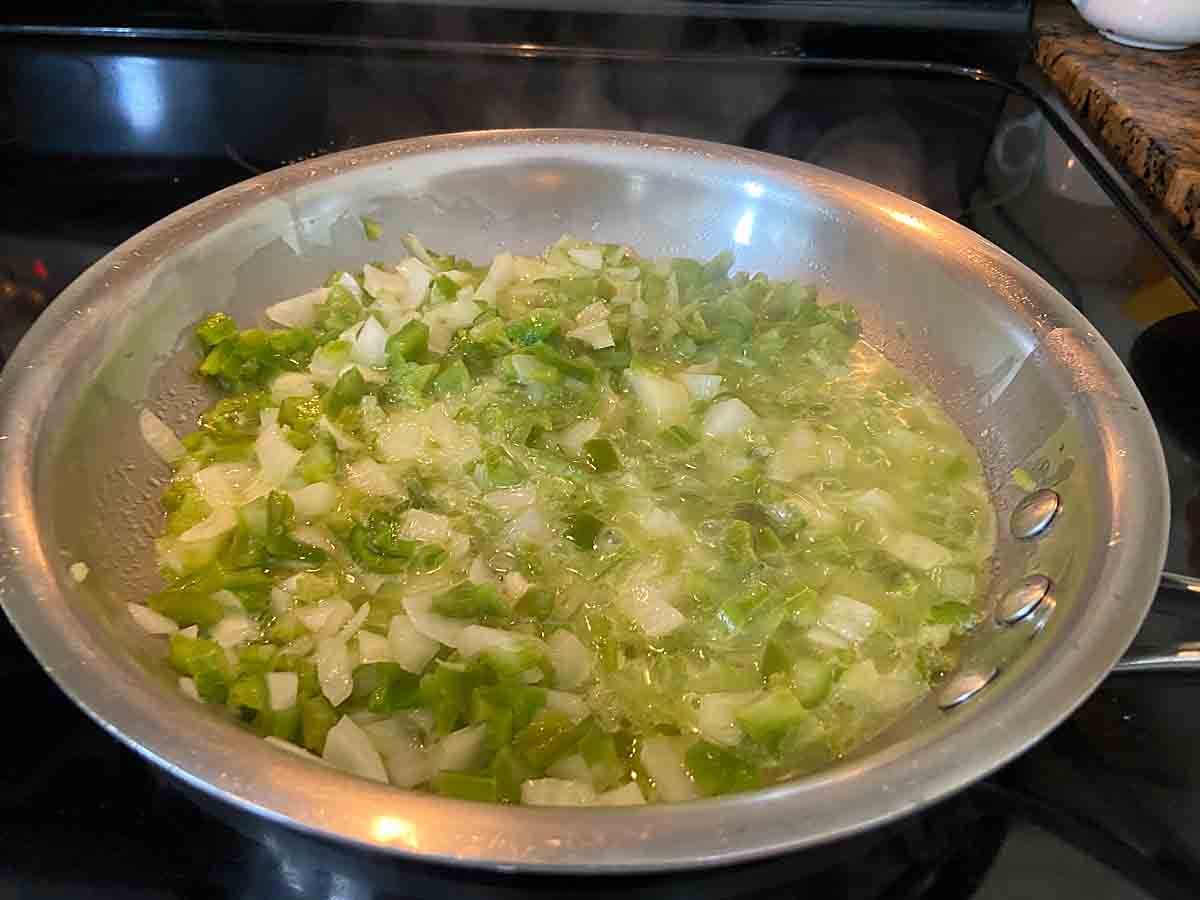 Add oysters and seasonings then cook a few more minutes.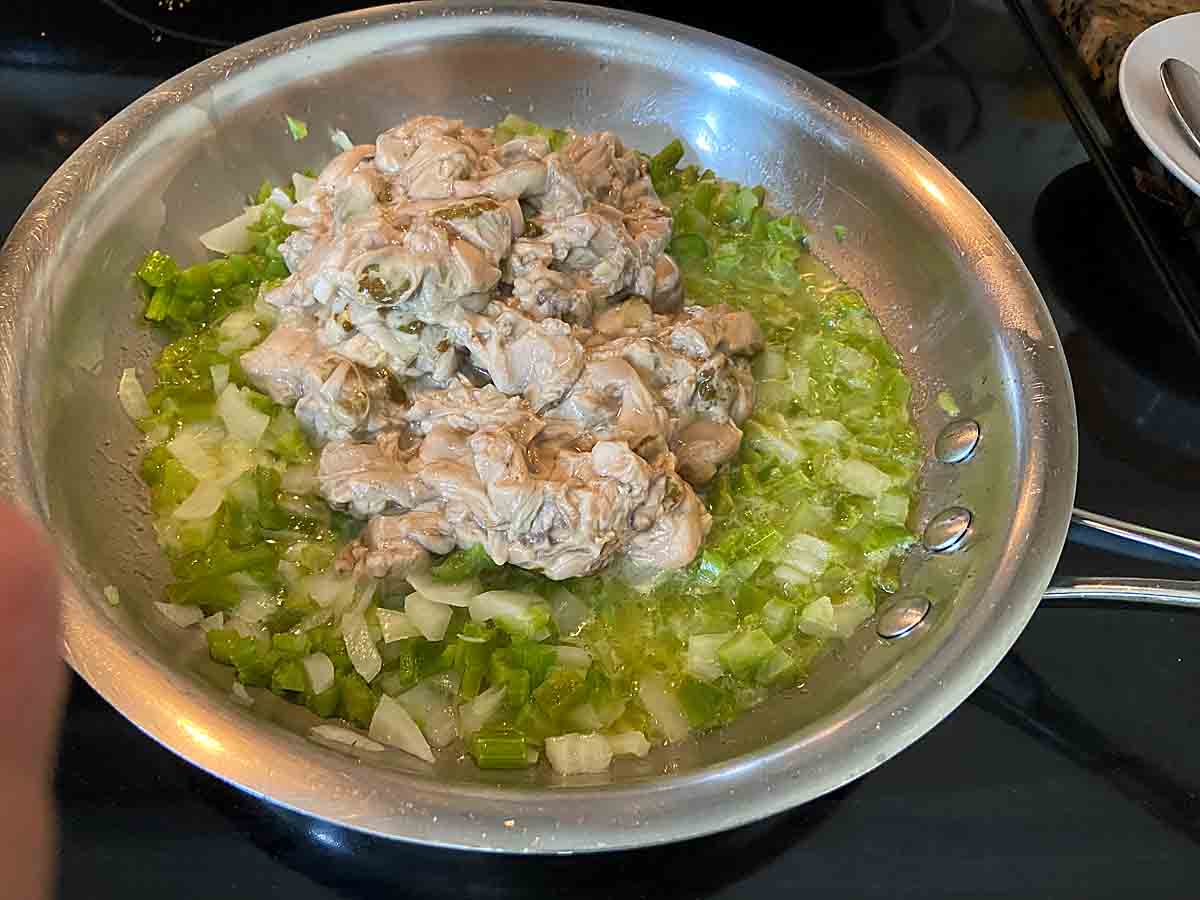 Combine the two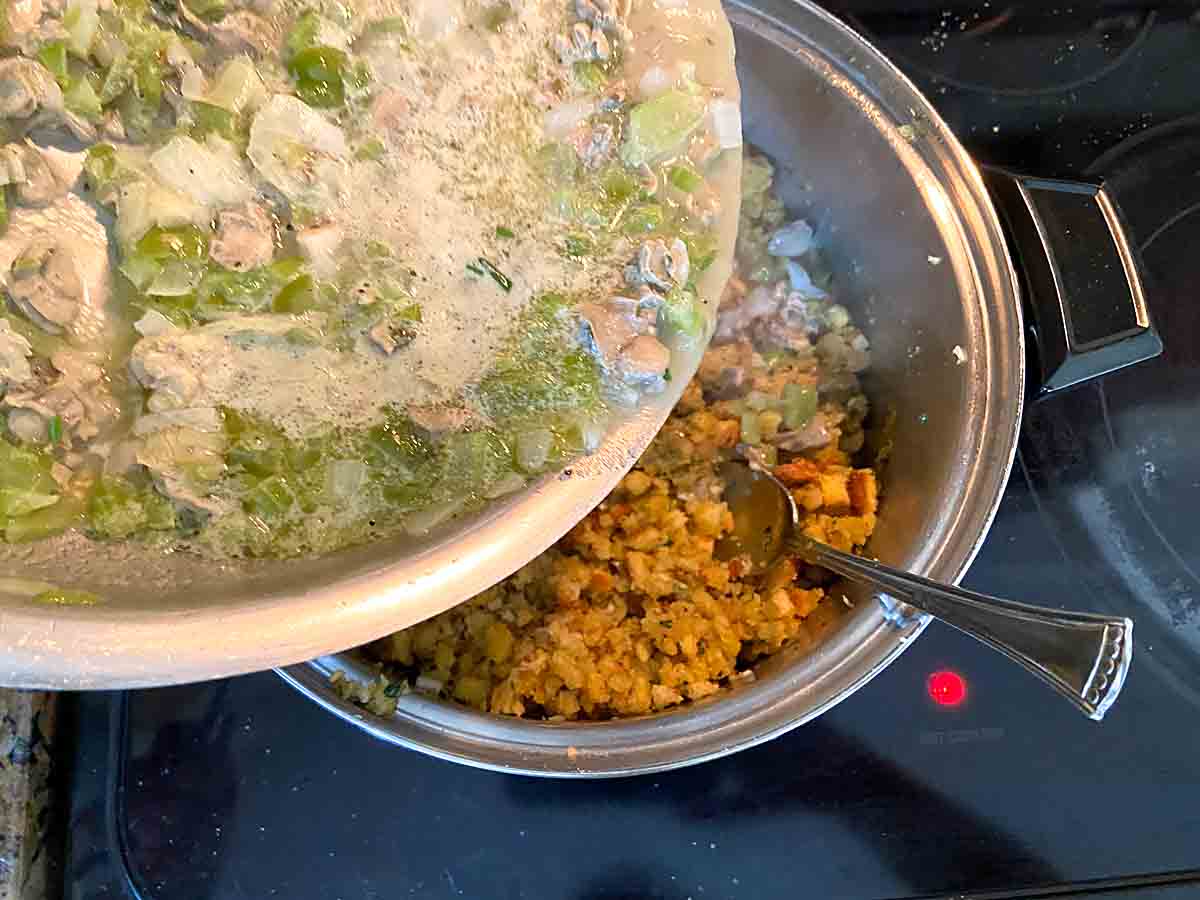 Enjoy!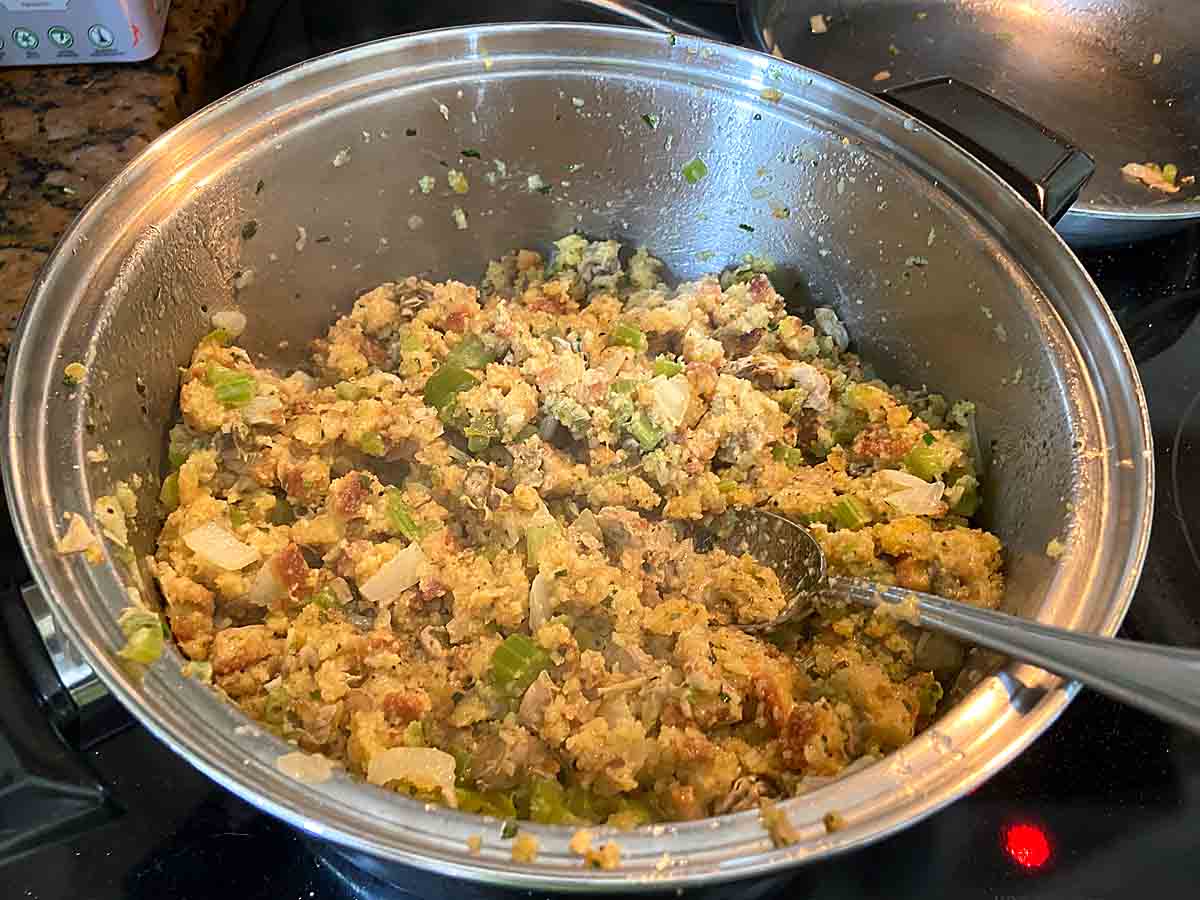 Inside or Outside (the bird, that is)?
Did you know there is controversy about whether dressing should be baked inside a bird or left out?
Well, I am pretty firmly in the out camp. Putting stuffing inside means you have to cook your bird longer, and you need to worry that the poultry juices may have contaminated the stuffing.
In fact the USDA "does not recommend stuffing a turkey for food safety reasons. When stuffed, it takes a longer time to cook the turkey, and you must make sure the innermost part of the stuffing has also reached 165 degrees Fahrenheit. This can be challenging with large birds."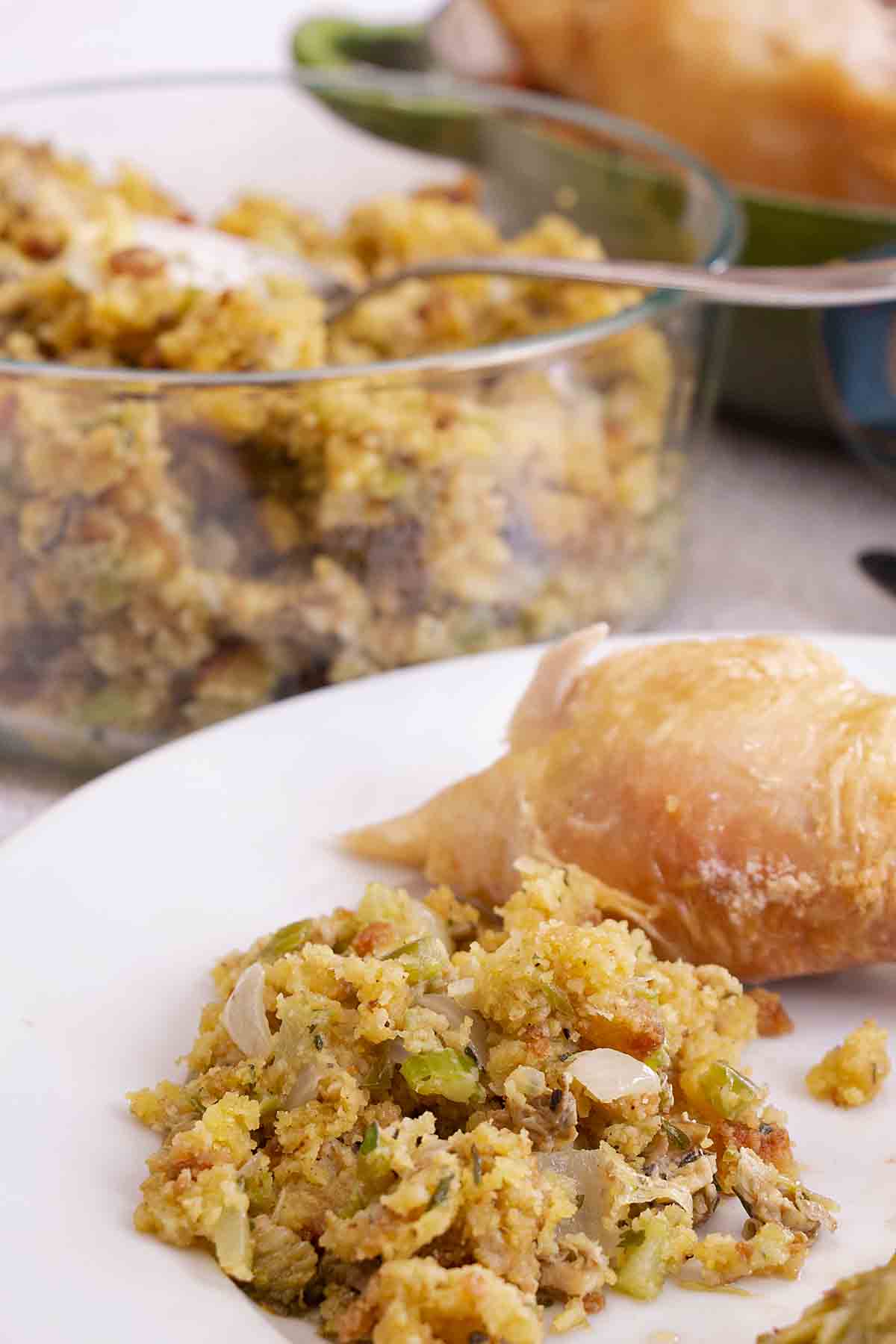 Yup! And by the time your stuffing hits the required 165F, what's the chance that your bird is still moist?
Of course, I always figured the real reason you stuffed a bird was that a boring dressing needed all the help it could in the flavor department! So it needed the turkey juices.
Well this dressing needs zero extra help! How good is that!
But I admit I am a sucker for long held family traditions. So if you do decide to stuff, check out these safety tips from Michigan State University.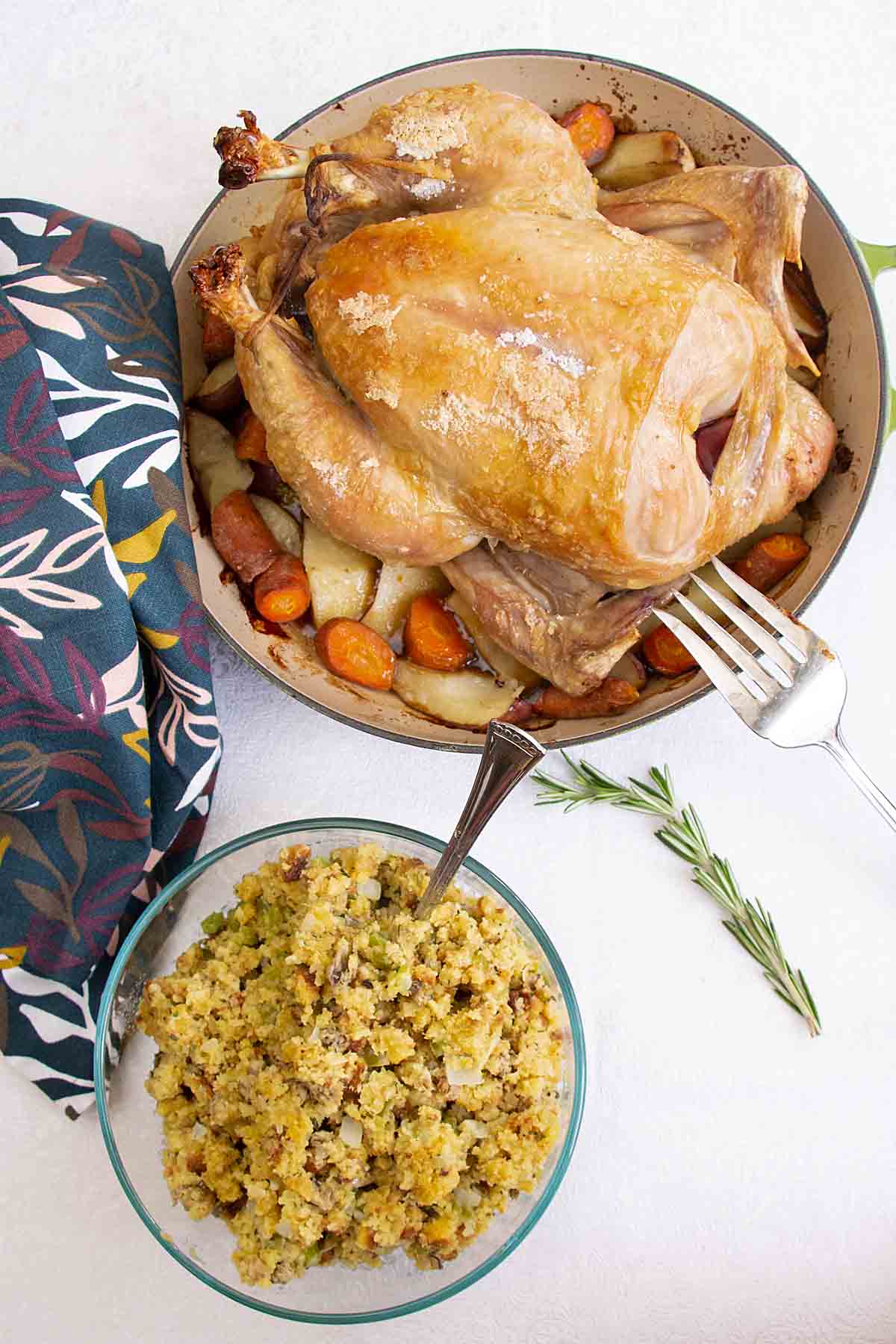 Beyond Turkey: Other Ways to Use Dressing
Whether you're a big dressing fan or more of a dilettante, you should know: a tasty dressing is good for a lot more than turkey. The most obvious is a roast chicken–which is super easy with this Dutch Oven Whole Chicken recipe.
And aas I mentioned earlier, if you are serving a crown roast, a dressing is a nice way to fill the center. Both lamb and pork crown roasts are lovely this way. And an oyster dressing is elegant enough not to look out of place.
Stuffed pork chops are another delicious entrée. And for one more option, the NY Times has featured a seriously beautiful stuffed standing rib roast.
Whatever you serve, you may end up with leftovers. These can go into an egg casserole, stuffed acorn squash, even stuffed portabella mushrooms.
But I have never found it necessary to push leftovers with this recipe. If I simply leave it in the refrigerator with the message that it's up for grabs it always disappears on its own. Yes, when someone wants a snack, it's like, Hmm, I could have a bowl of ice cream or Oyster Cornbread Dressing…. Of course, dressing!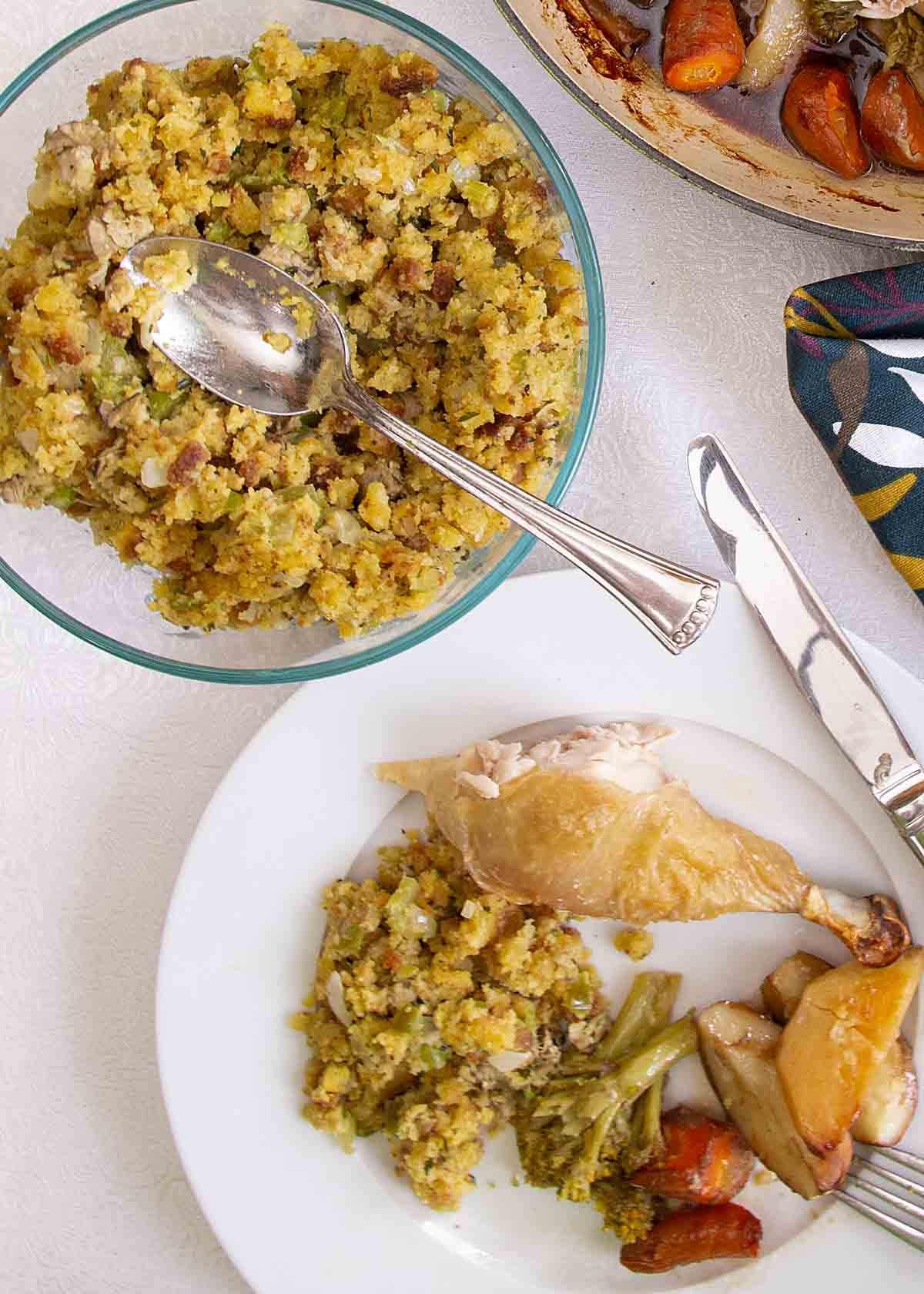 Variations
Of course, if oysters are hard to come by, you can always use other seafood instead. Or to ditch the seafood entirely, how about this Sausage Stuffing Recipe.
Tips & FAQs
Now there is one downside to this dish. Oysters aren't always easy to find—and are never cheap. I buy bulk oysters from a local fishmonger (freezing the drained liquid for future soups) and call first to make sure they have them.
So this will probably always be a "special occasion" recipe. But it does make a lot. The original recipes says it makes 12 cups which will fill a 16 pound turkey.
Happily this means that if you want to serve with a roasting chicken, or stuff a few pork chops, you can make less and save on the cost. Cutting the recipe in half should give you enough for a smaller dinner–and maybe still some leftovers.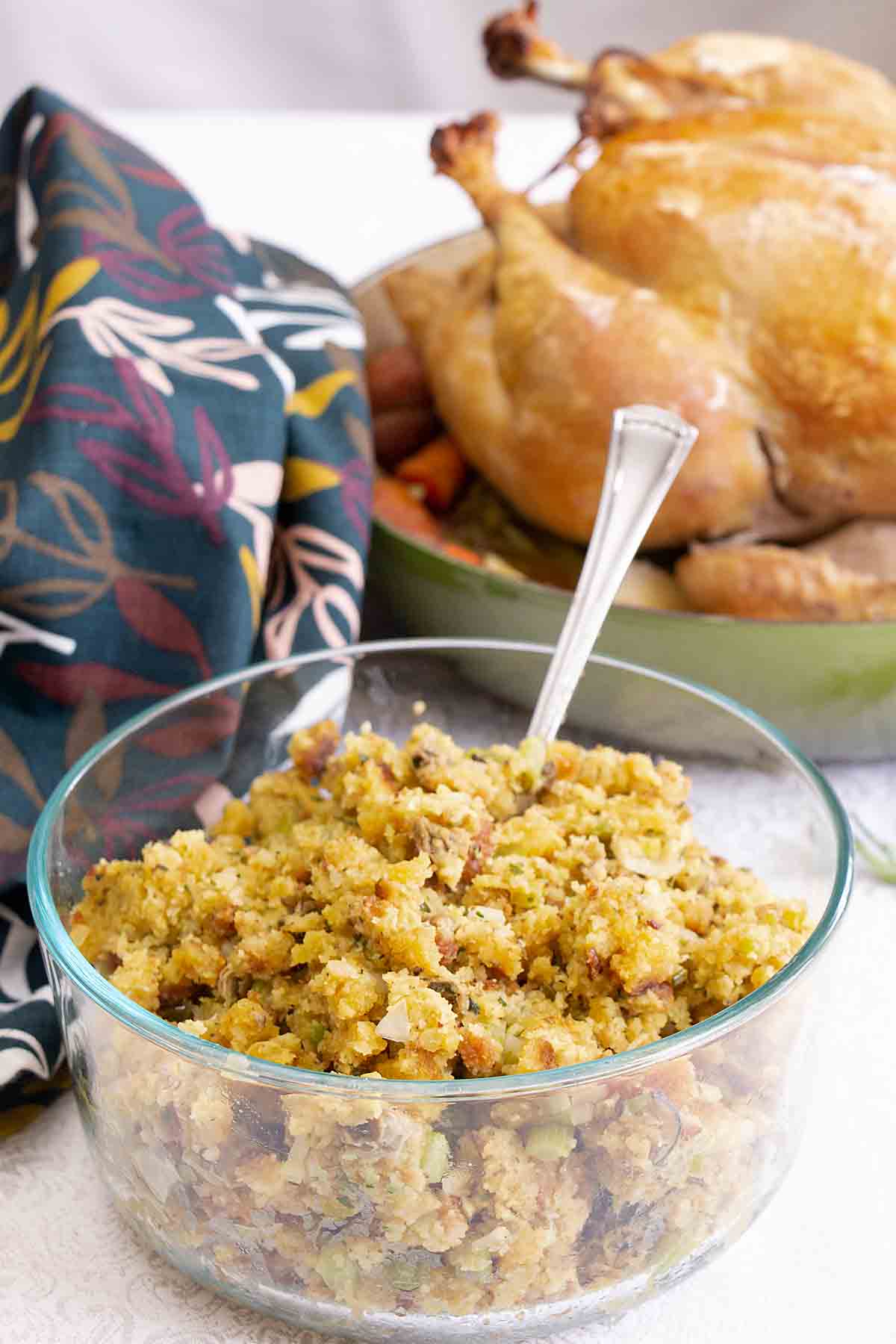 The recipe calls for commercial cornbread stuffing mix and I have used different brands over the years. I rarely remember what I used the prior time and they've all worked well. The important thing I'll note is that package sizes change. While the original recipe called for 2 8-ounce packages, what I ended up doing this time was buying three 6-oounce packages of (Stove Top, not sponsored) cornbread stuffing mix and discarding (composting) the extra.
Finally, if you aren't stuffing the bird and have a pretty Dutch Oven, consider using this to make your Oyster Cornbread Dressing. Then you can go right from stove top to table!
And if you're still undecided here's some more Scrumptious Stuffing to chose from!
We share Recipes From Our Dinner Table! Join our group and share your recipes, too! While you're at it, join our Pinterest board, too!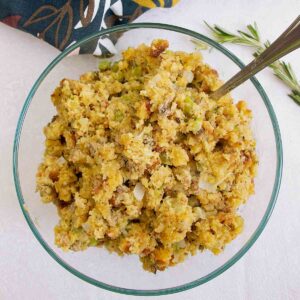 Oyster Cornbread Dressing
With a rich savory flavor, Oyster Cornbread Dressing, will put your Thanksgiving turkey (or other meats) over the top! 
Ingredients
1 ½

cups

butter

divided

1

cup

water

16

ounces

cornbread stuffing mix

see note

1 ½

pints

fresh oysters

½

cup

onion

chopped

½

cup

green pepper

chopped

½

cup

celery

chopped

1

teaspoon

salt

½

teaspoon

dried rosemary

¼

teaspoon

fresh ground pepper
Instructions
In a 6 quart Dutch Oven or casserole, heat water and melt 1 cup of butter. Toss with the cornbread stuffing mix and set aside.

Drain the oysters, then roughly chop them (or just cut in half). Set aside.

In a large frying pan, melt the remaining butter, then sautee the vegetables until tender.

Add salt, pepper, rosemary and oysters, then cook a few more minutes until oysters are cooked through.

Add the oyster mixture to the cornbread pan and mix well.
Notes
I couldn't find 8 ounce packages oof cornbreaad stuffing mix, so combined 3 6-ounce packaages and discarded the extras.
The original recipes says this makes 12 cups, enough to fill a 16 pound turkey.
I am not a health professional and nutrition data is calculated programatically. Accuracy may vary with product selection, calculator accuracy, etc. Consult a professional for the best information.