Lacy, sweet and crisp with a creamy filling, brandy snaps are a tasty and impressive British cookie that's perfect for the holidays.
Are you as obsessed with the Great British Bake-Off as I am? I love almost everything they do! But especially fun are the British sweets that I've never heard of before, much less eaten or made.
So when it came time for Christmas Cookie Week with my blogging friends (see below for lots of great recipes), the Brandy Snaps I'd seen there were first on my list! I even converted Mary Berry's Brandy Snap recipe (she's one of the original hosts) off the BBC website.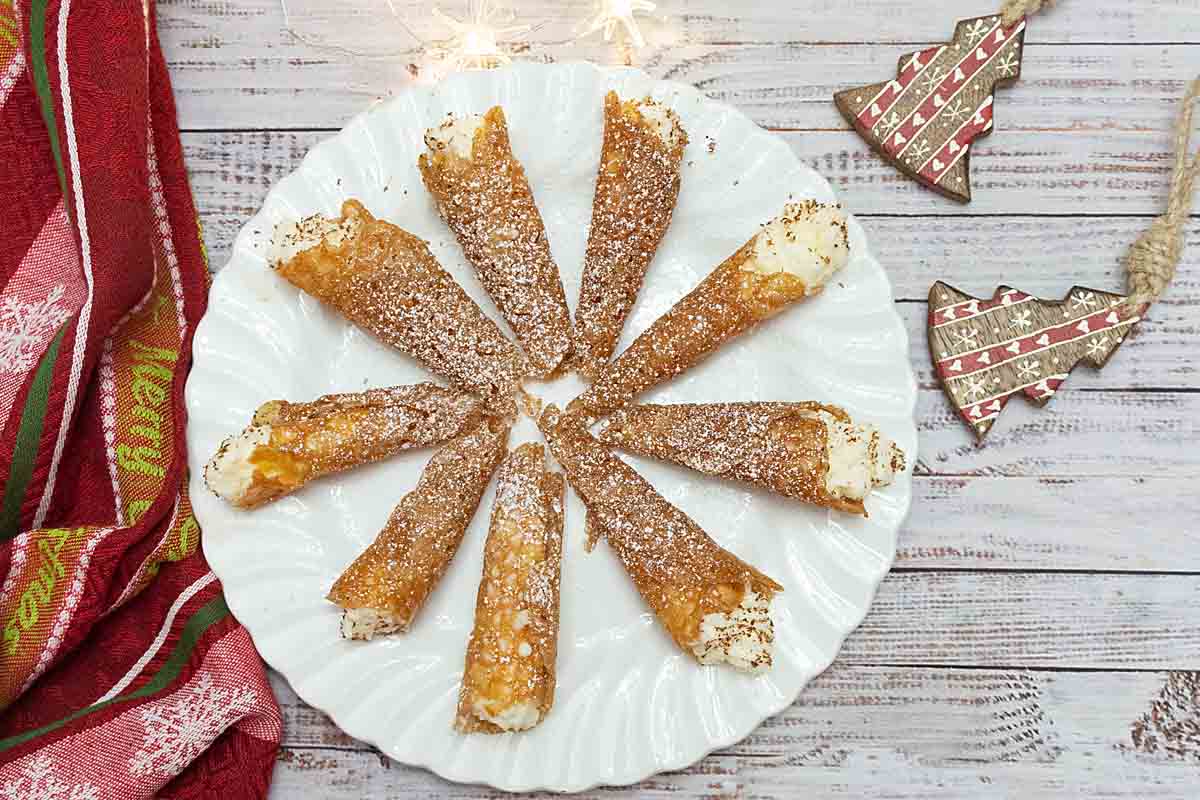 What are Brandy Snaps
Per Wikipedia "Brandy snaps are a popular snack or dessert food in the United Kingdom, Ireland, Australia and New Zealand, similar to the Italian cannoli. They are often tubular, brittle, sweet, baked casings … sometimes served filled with whipped cream."
But why are brandy snaps called brandy snaps? This is something I wondered since there is no brandy in them. The Wikipedia article above said it was a reference to burnt, meaning their golden brown crispness Of course the snap part is obvious given the crisp, almost candy-like cookie with a beautiful crunch or snap!
The most common US equivalent I found was the lace cookie, which is similarly lacy but not usually rolled and filled.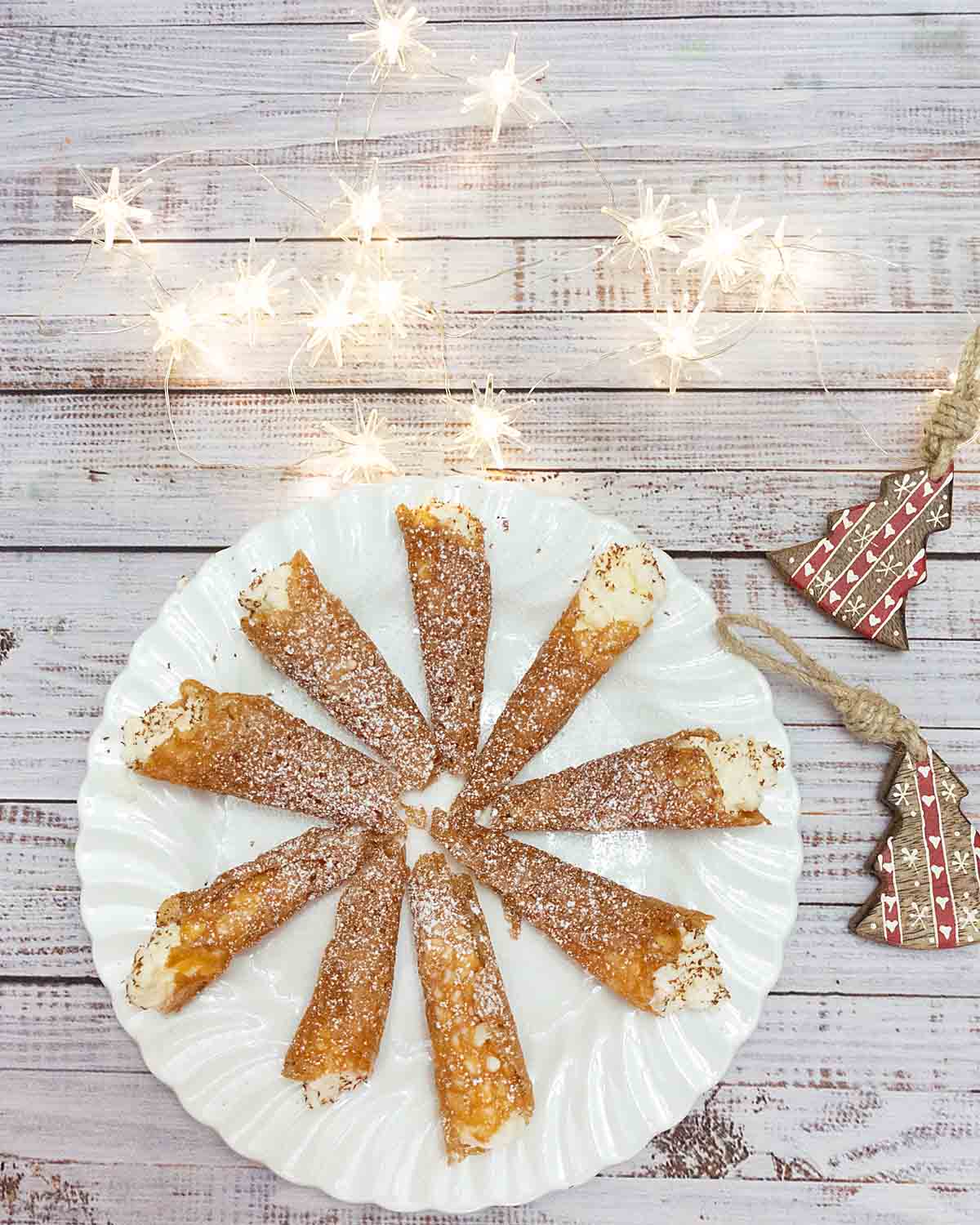 What Makes This a Winner (In the End)
The Brandy Snaps are very flavorful and make an impressive presentation. And they'll totally wow any anglophiles around!
But after a couple failures (both of which were due to stupid mistakes on my part), I was wondering if they were worth the effort.
Then my oldest (admittedly an Anglophile) came by and raved about the end result. And she said, she'd even be happy to make them all by herself, the next time around!
After we sat down and had some with tea, I got a chance to relax and really appreciate their flavor and uniqueness. They truly are lovely—and it's not their fault I got careless! Plus I have a detailed list of mistakes I made (below) to help you avoid them!
Step by Step Directions
You start by melting the butter and sugar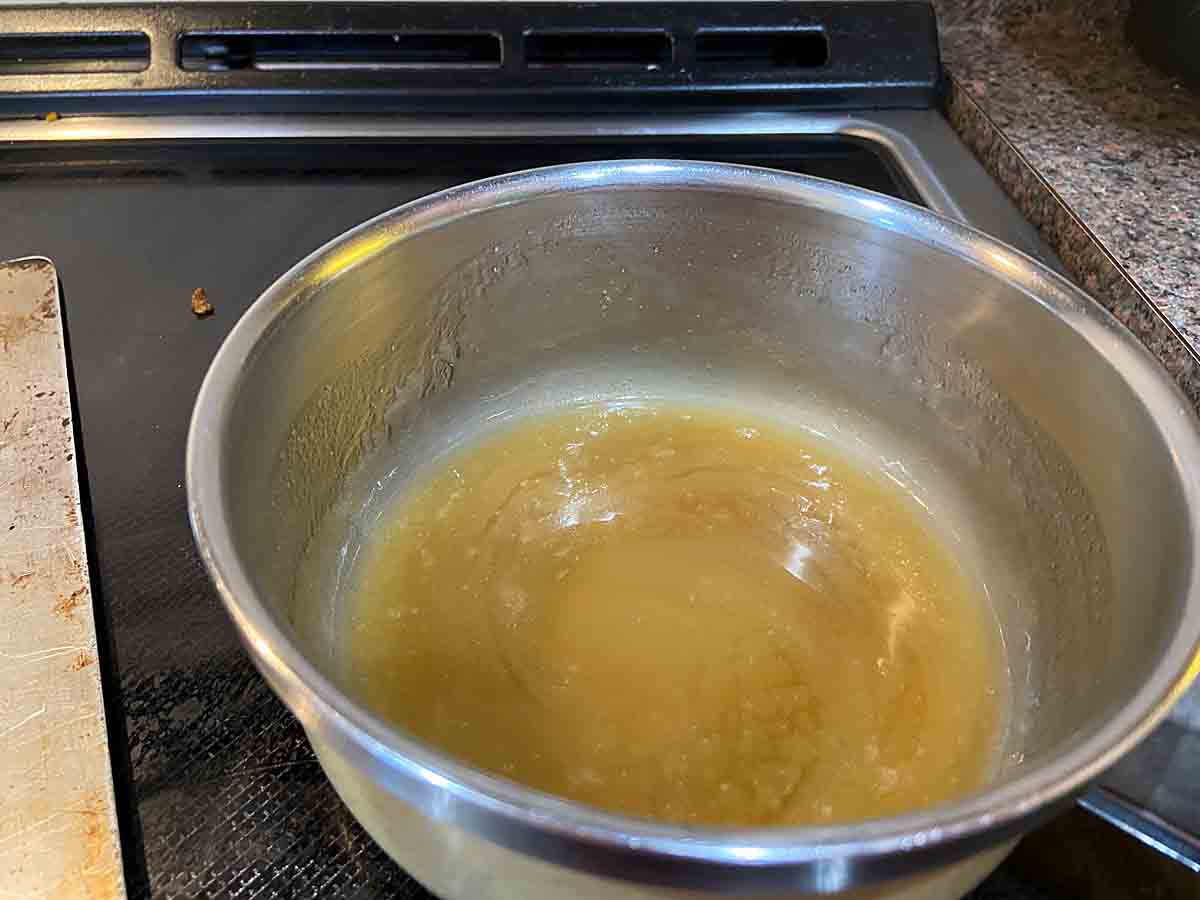 Then whisk in flour and spices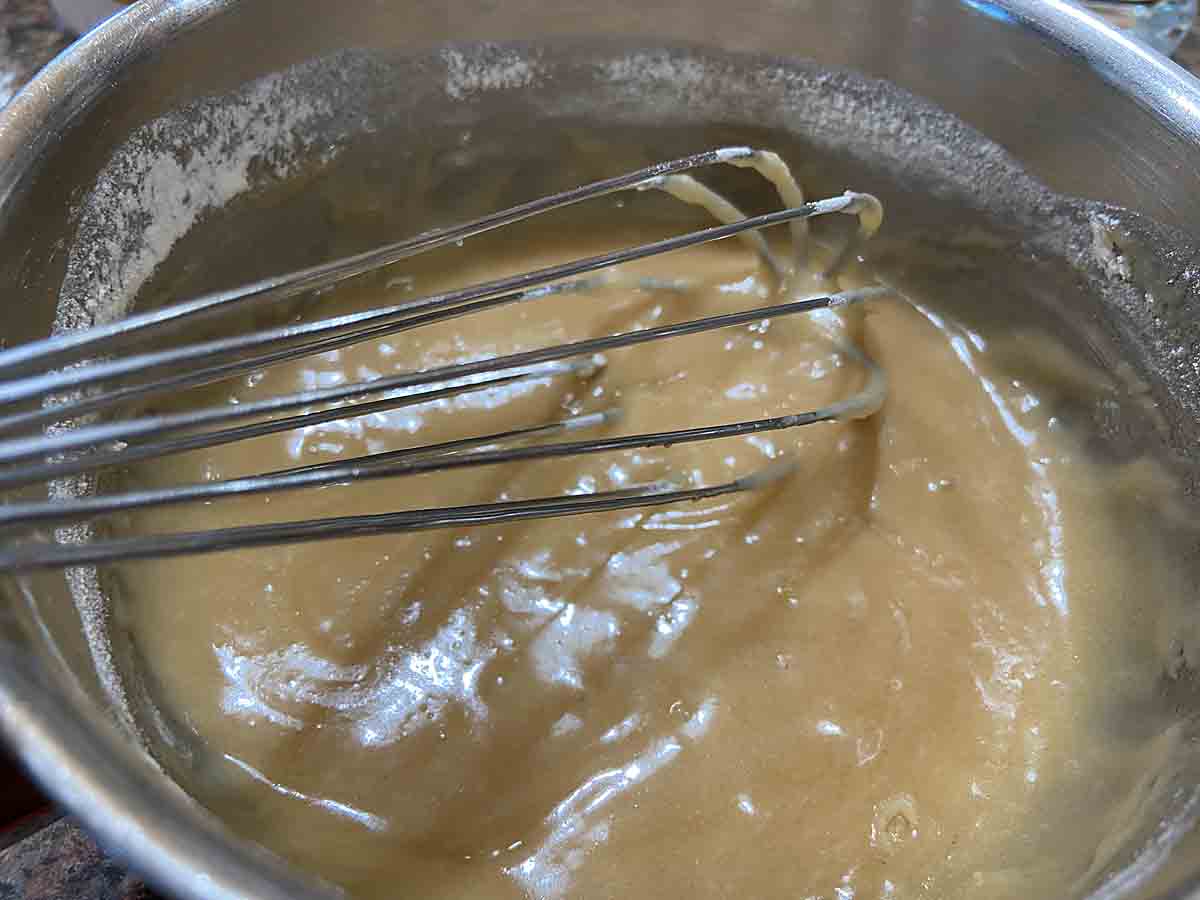 Spoon 4 Tablespoons onto parchment lined baking sheet, then bake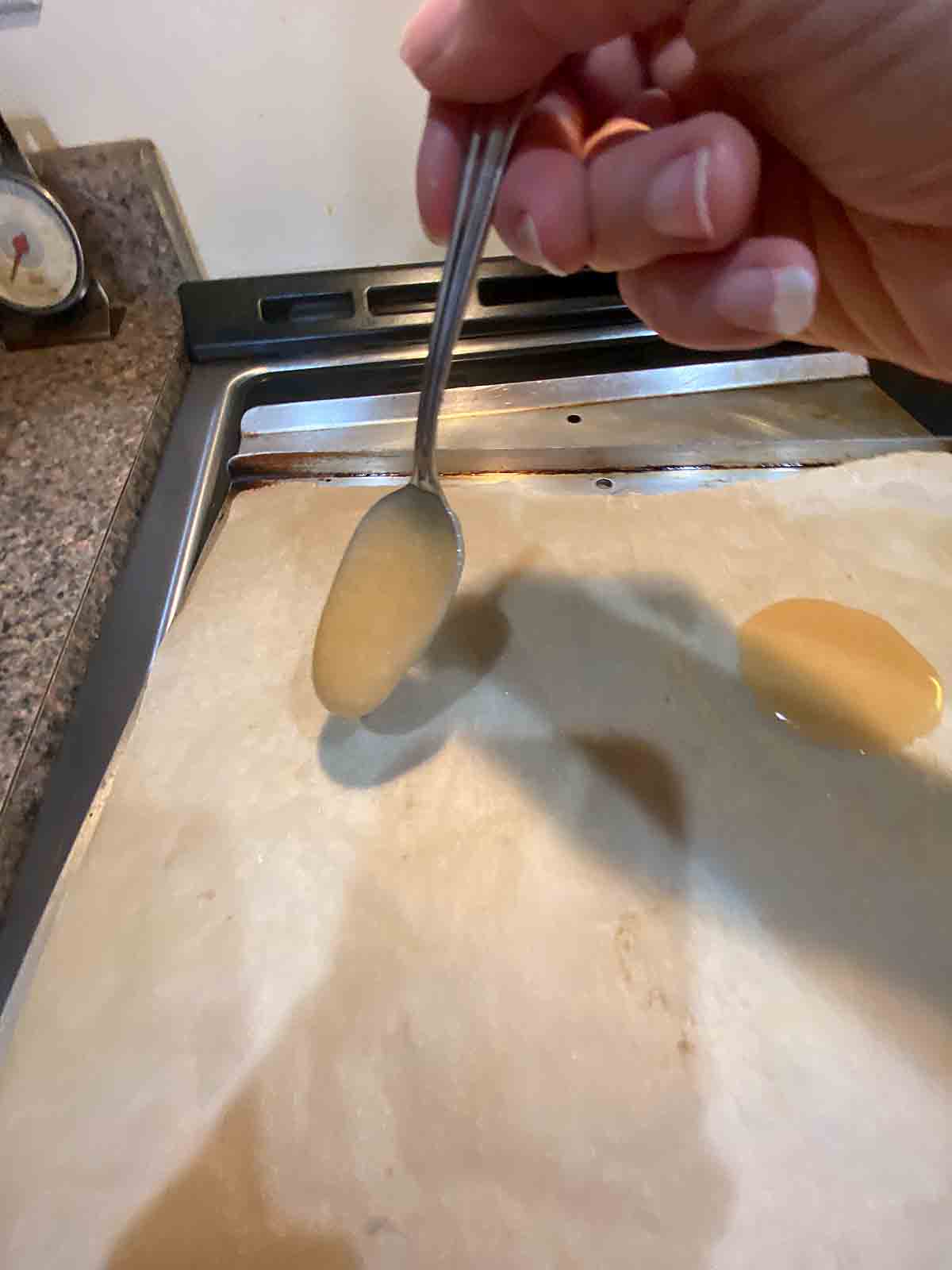 Cut apart baked cookies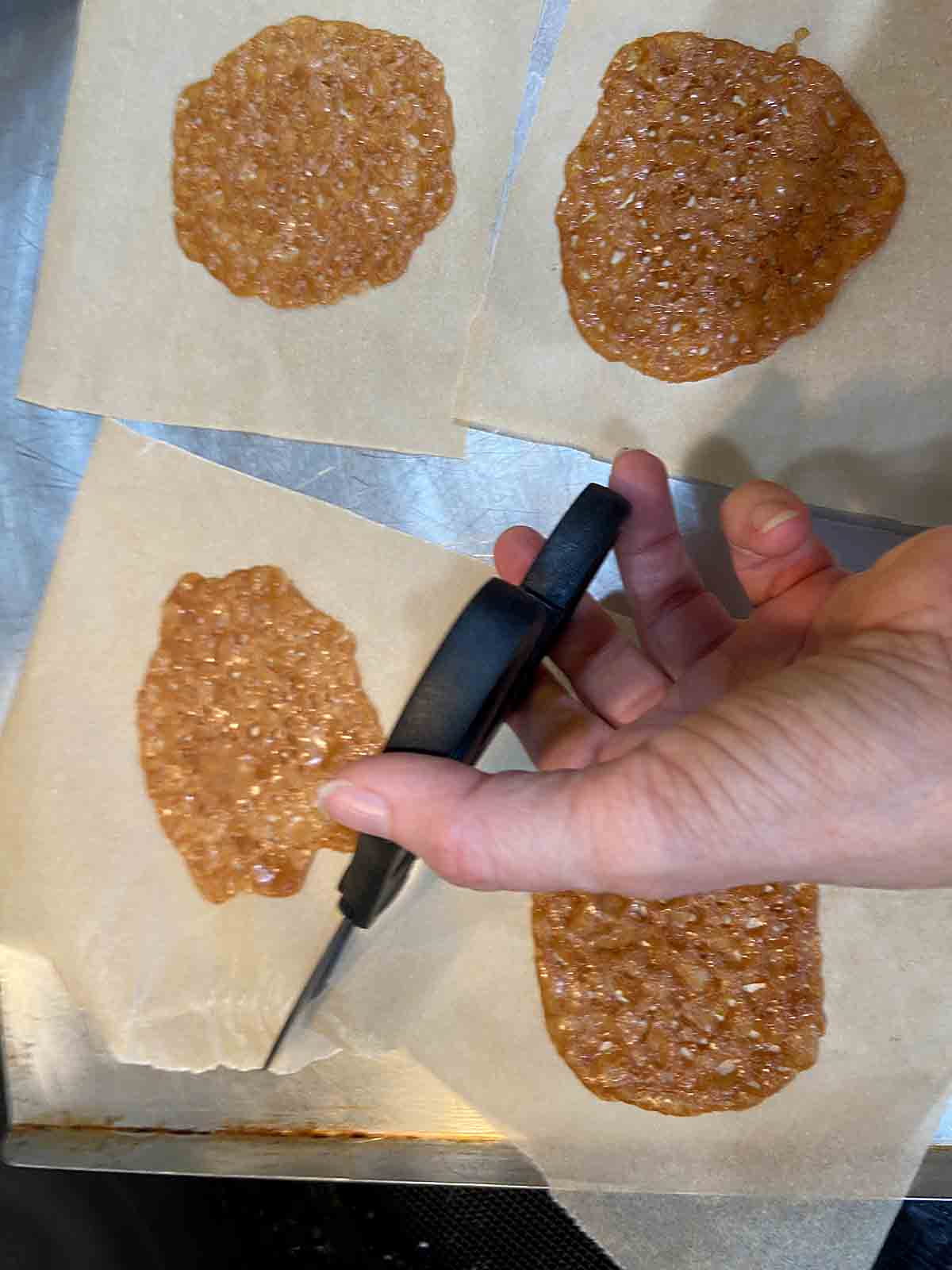 Shape as desired (I decided on cones)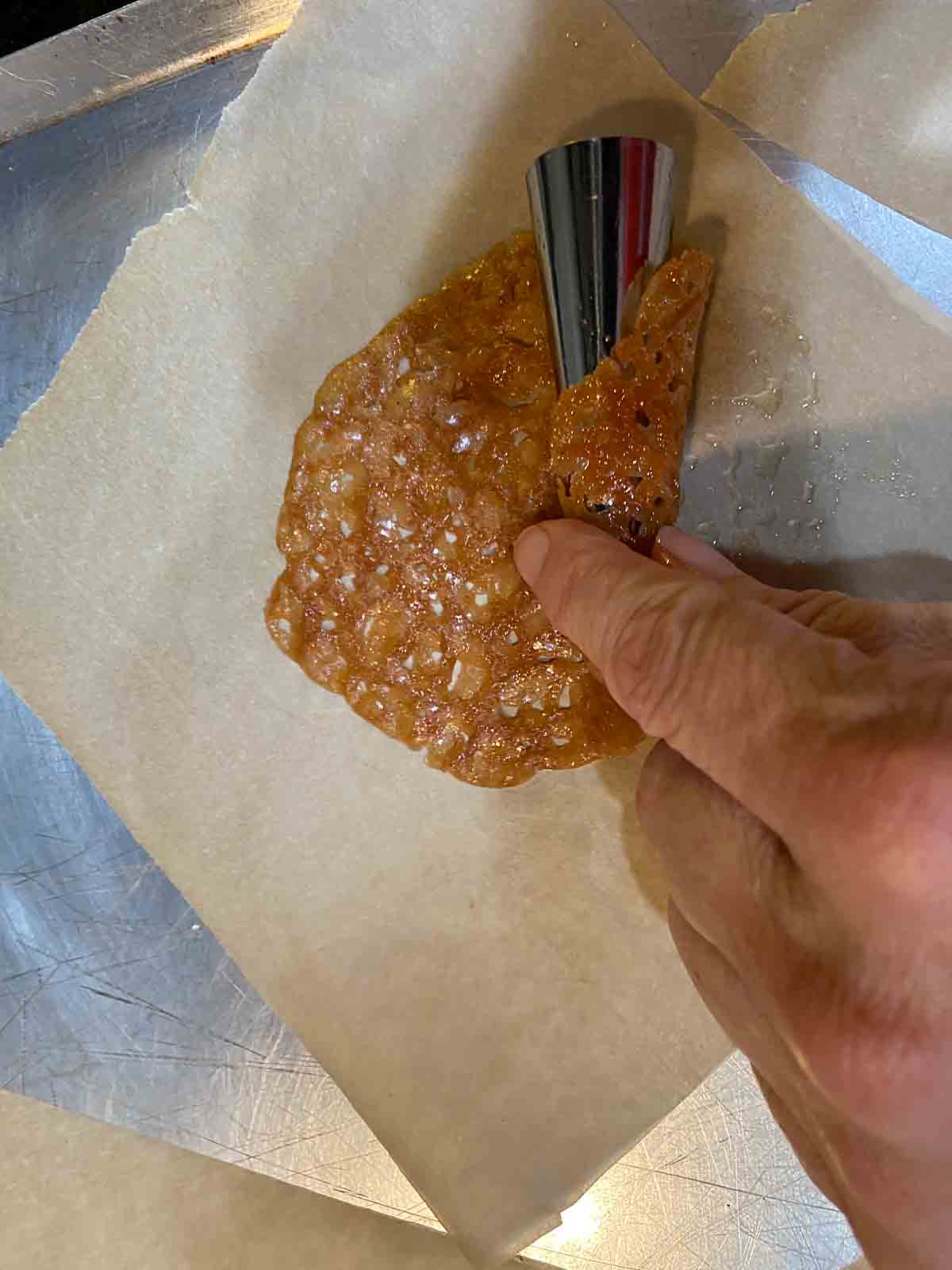 Let cool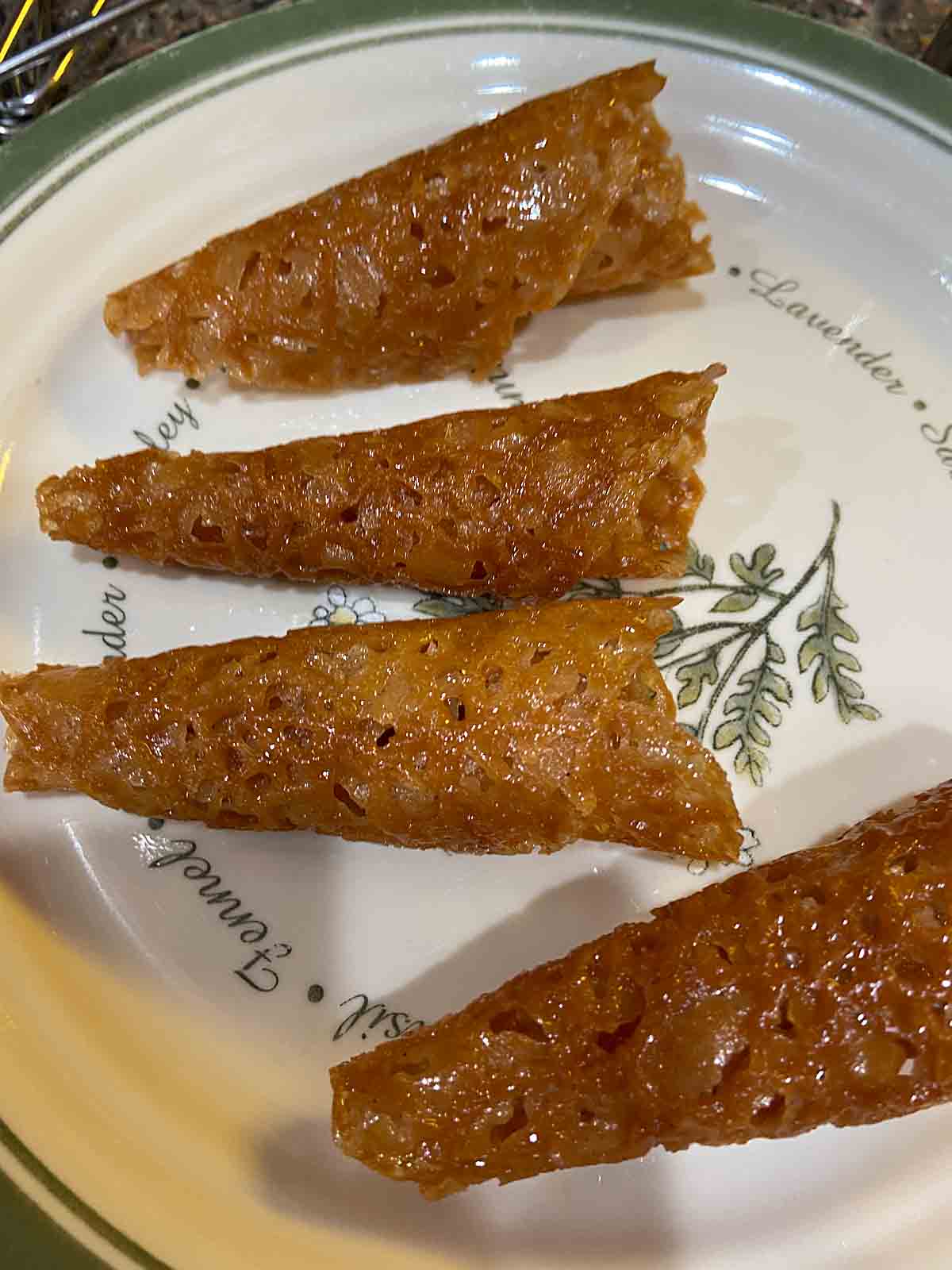 Fill and garnish if desired.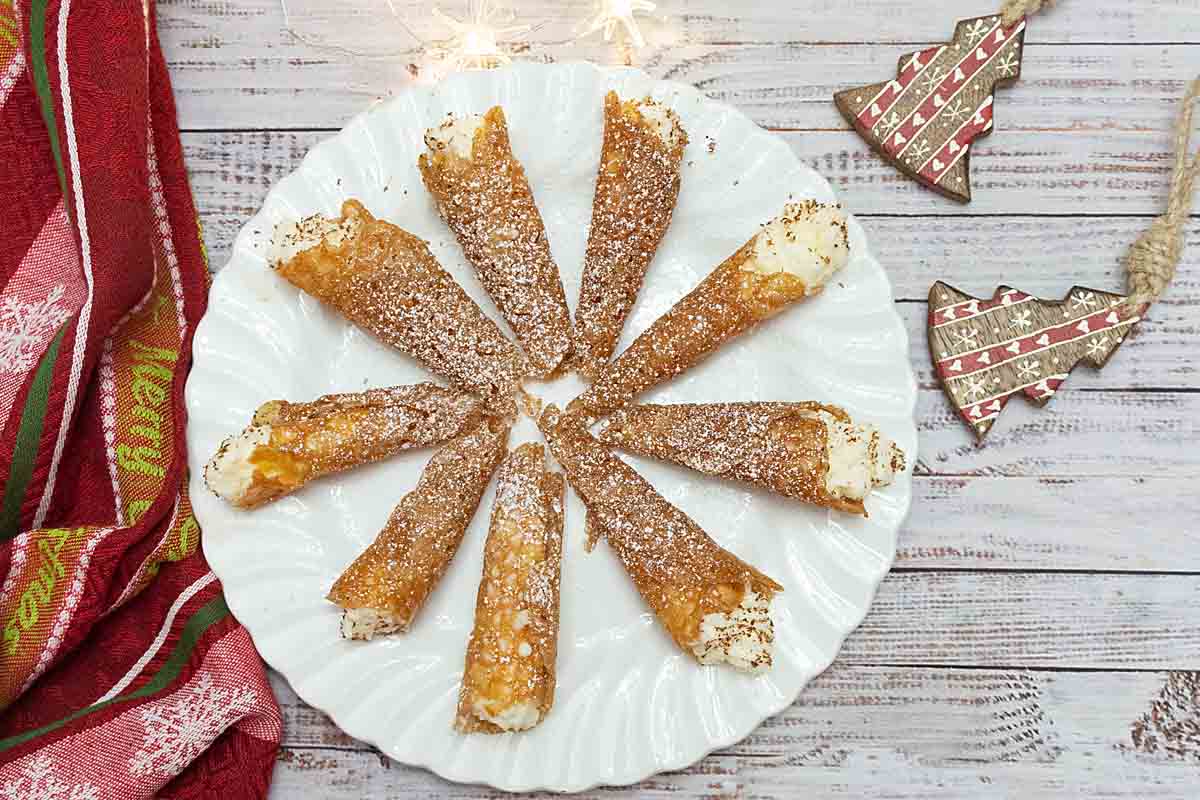 How to Make Different Shape Options
I bought horn-shaped molds which I was liked a lot. Made of stainless steal, I wondered if they also helped the cookie harden faster which is a plus since there are four on each cookies sheet to complete before they cool. No mold? I also heard that using aluminum foil to cover the pointy end of a cookie style ice cream cone can work.
But this isn't the only styling option and a more common style is simply a hollow cylinder. Here I have heard suggestions like use a wooden spoon handle as a mold.
Another shape option is a bowl or dish shape, which would be really cute filled and decorated with berries. For this, an orange with the ends cut off to sit flat, or even a drinking class could work as a mold.
Lessons Learned: Bloopers and Tips
In making these, I learned that I have trouble cutting a recipe in half and converting from weight to tablespoons at the same time. Which is also how I know that if you leave out half of the butter, your cookies won't get lacy. They still tasted pretty good!
So, I am including both weights and measurements in my version. The weights will be most accurate but I know not everyone has a scale. If you use Tablespoons, fluff and level the flour.
The second thing I leaned was that if you leave your remaining batter on the heat while making your first 4 cookies, and it boils for a bit, you can't rescue it by adding water and stirring. (Even though this works with caramel.) But those tasted good too.
I worked with just one pan (4 cookies) at a time so I didn't have problems with them hardening too quickly. You can prepare the batter topped parchment in advance, and put them into the oven in 5+ minute intervals so you have time to finish one pan before the next comes out.
Interestingly, I expected to have more problems when it came to forming the shapes. But, while some are better than others, they were all usable. I didn't need to use non-stick spray, though you might with other molds.
I also fared pretty well on the ingredient conversion. Instead of golden syrup, I used maple syrup and instead of demarara sugar I used evaporated cane sugar. Two wins!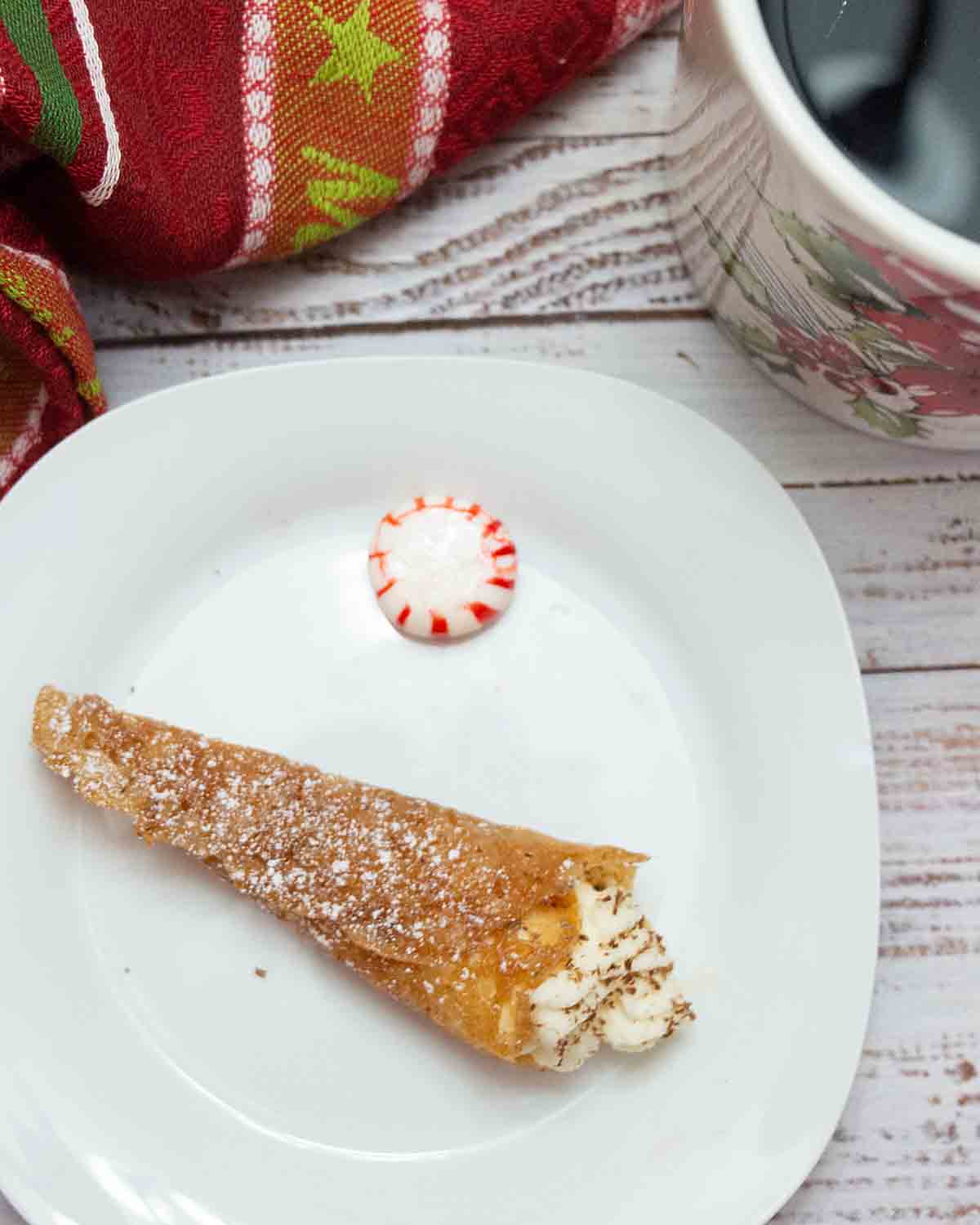 Garnishing
I originally decided on the horn shape because I wanted to dip the ends in chocolate and crushed nuts. Ultimately I was a little overwhelmed and decided to skip that part.
Since they looked a little plain, I dusted with powdered sugar and liked that look. You can sprinkle the powdered sugar through a fine mesh strainer or a sifter for a dappled appearance.
Another thing I tried was grating a little chocolate on the cream (see below). And maybe next time I'll manage to dip in chocolate!
On Filling (the cream) and Filling (the action)
If I recall, these were usually filled with pasty cream on the show, while most of the online recipes I saw used whipped cream.
I decided I wanted something (almost) as easy as whipped cream but a little more substantial so I mixed some whipped mascarpone with whipped cream. If you do go with whipped cream I'd suggest you whip your own heavy cream, since the spray cans use light cream and are very airy.
With regard to the act of filling, my set of cone molds came with narrow piping tips to let you get right to the ends of the cones using a pastry bag. Ultimately I felt that using those wasn't worth the effort. So in the end, I just used the star tip and squeezed a little harder which pushed the cream (mostly) to the end.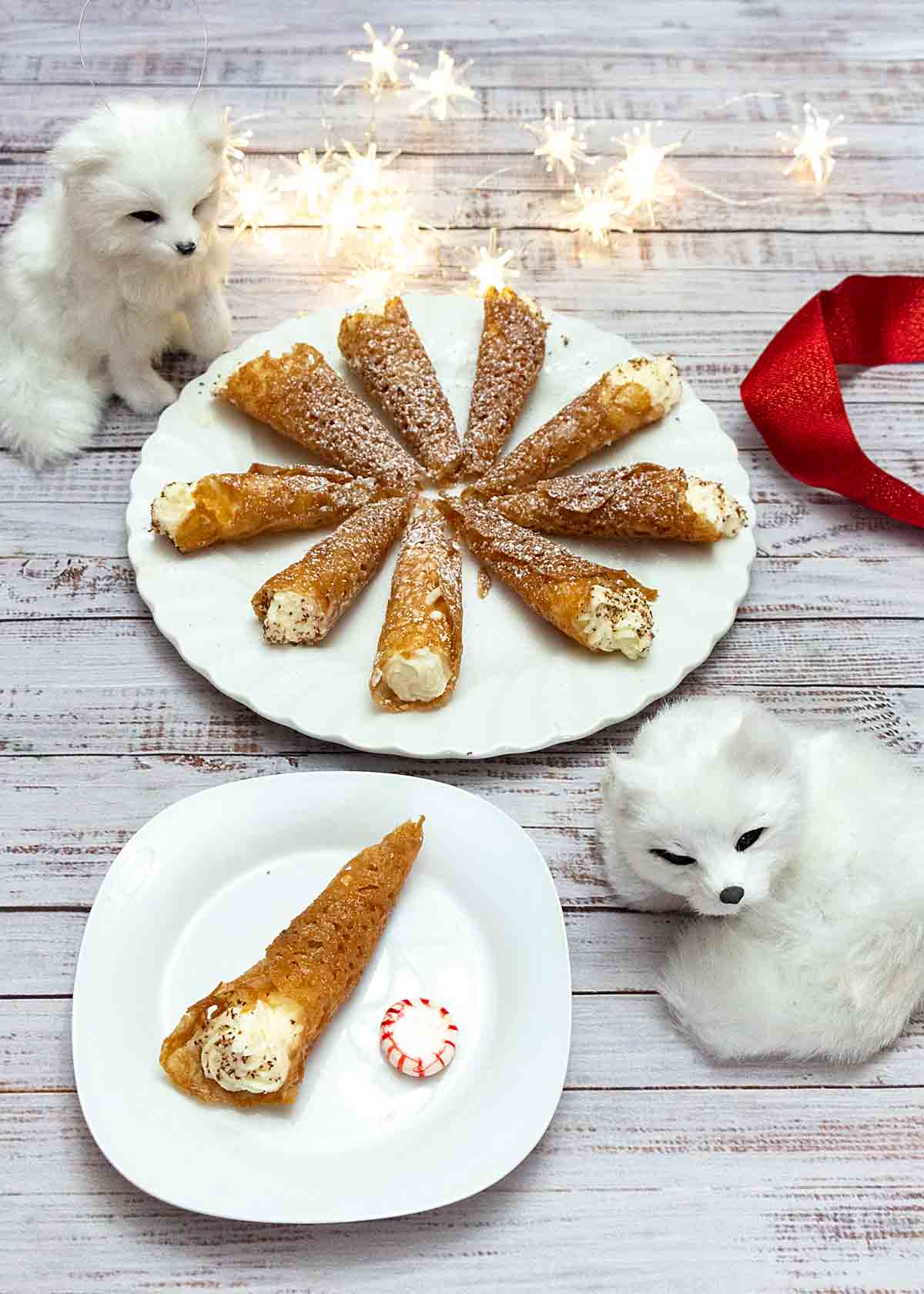 Has this whet your appetite for a little holiday baking? Then check our the recipes below and come back for more this week!
Monday Christmas Cookie Recipes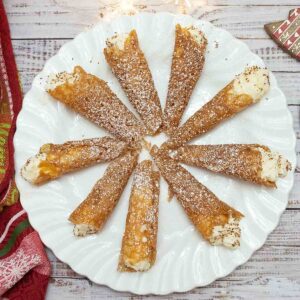 Brandy Snaps
Lacy, sweet and crisp with a creamy filling, brandy snaps are a tasty and impressive British cookie that's perfect for the holidays.
Ingredients
Brandy snaps:
2

ounce

butter

4 T

2

ounces

evaporated cane sugar

4 T

2

ounces

maple syrup or golden syrup

3 T

1¾

ounces

all purpose flour

6 1/2 T

¼

teaspoon

ground ginger

¼

teaspoon

cinnamon

½

teaspoon

lemon juice

bottled is fine
Mascarpone Cream Filling (may substitute whipped heavy cream):
4

ounces

mascarpone

softened

1

Tablespooon powdered sugar

or to taste

½

teaspoon

vanilla

¼

cup

whipping cream

Powdered sugar for dusting
Instructions
Preheat the oven to 350 F. Line two baking sheets with parchment paper and prepare your cookie mold as needed. (My stainless steel cone mold needed no prep)

Heat the butter, sugar and syrup in a small, heavy saucepan on medium until the butter has melted and the sugar has dissolved, about 5-10 minutes. Try not to let the mixture boil (and never stir boiling syrup as it will crystalize, though you can swirl it).

Remove from heat, and let the mixture cool in the pan about 2-3 minutes, then whisk in the flour, spices and lemon juice. Mix thoroughly.

Drop four teaspoonfuls of the mixture onto one of the prepared baking sheet to make neat circles, evenly spaced.

Bake first tray in the pre-heated oven until cookies are lacey and dark gold, about 10-15 minutes.

Remove the cookie sheet from the oven. Let sit for a minute to get the cookies just cool enough to handle.

Separate the cookies by cutting apart the parchment. Use the parchment to lift the first cookie to the mold. Leave the others on the cookie sheet to stay warm.

Working quickly, roll the cookie around your mold, discard the parchment and press to seal the cookie edges. Remove cookie from the mold to a plate then repeat with the other three cookies. (I have heard if they get too hard to mold, you can pop back into the oven for a few seconds to soften).

Repeat with the remaining batter. You should have a total of 16 cookies/ 4 pans. I worked with one pan (4 cookies) at a time and put new pans into the oven in 5-10 minute intervals, so never had problems with the cookies hardening too quickly. If your batter is hardening you can spoon onto the parchment ahead of time (what I did) or I have heard you can mold it into balls and bake that way.

Prepare the filling. Whip softened mascarpone until smooth then combine with the powdered sugar and vanilla. Beat the whipped cream separately until stiff peaks form, then combine with the sweetened mascarpone. Store in the refrigerator until needed.

Before serving, pipe the mascarpone cream into the cookies. Dust with powdered sugar if desired.
I am not a health professional and nutrition data is calculated programatically. Accuracy may vary with product selection, calculator accuracy, etc. Consult a professional for the best information.