With a candy "glass" window cut into a buttery sugar cookie, Stained Glass Cookies are tasty, impressive and perfect for the holidays.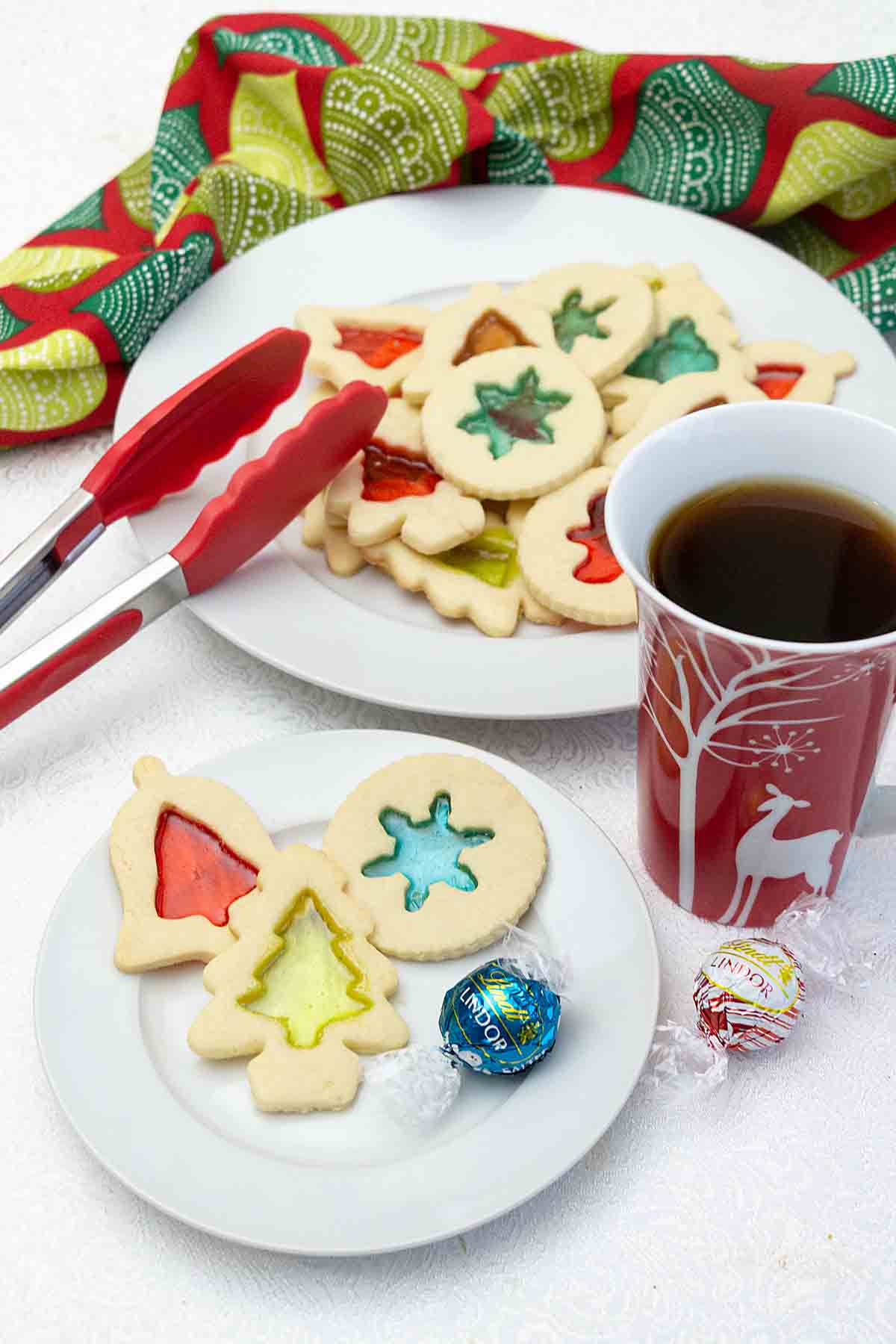 Making Stained Glass Cookies has been on my list, practically forever. They are so pretty and, well… you eat with your eyes first!
So when I began planning for Christmas Cookies Week with my blogging friends (keep reading for more tasty recipes below), I decided to give them a try.
In the end, they came together easily and were even more impressive than I expected. Why didn't I try these years ago!
Yes, I know, so many recipes, so little time.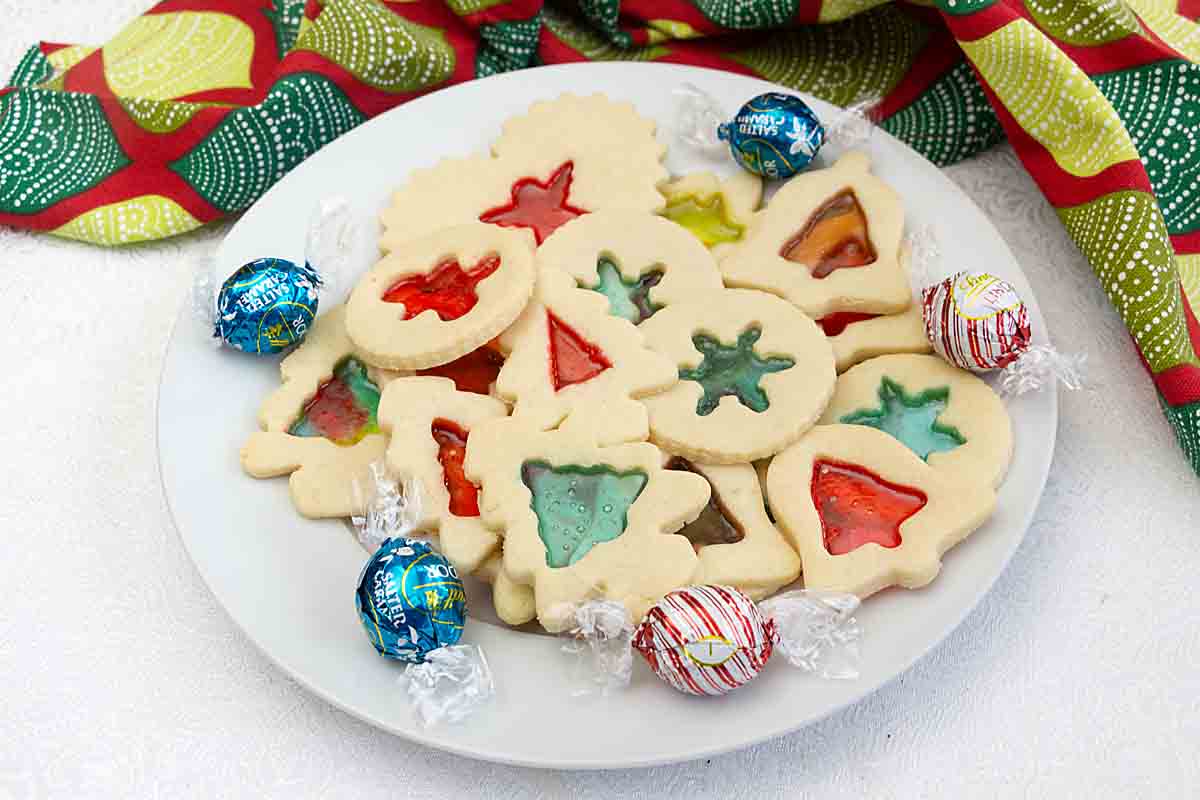 What are Stained Glass Cookies
If you've never seen them before, stained glass cookies are a cutout sugar cookie with a "window" that looks like colored glass. They are popular around the holidays though they'd probably be seriously cute for a baby shower or gender reveal too.
The "glass" cutout is achieved by cutting out the inside of the cookie with a smaller shape. This can be done using a smaller cookie cutter or cut by hand.
The window-like opening is filled with crushed colored translucent candy. This melts as the cookie bakes, then re-hardens with a glass-like appearance. While it sounds a bit complicated, they turned out to be pretty simple!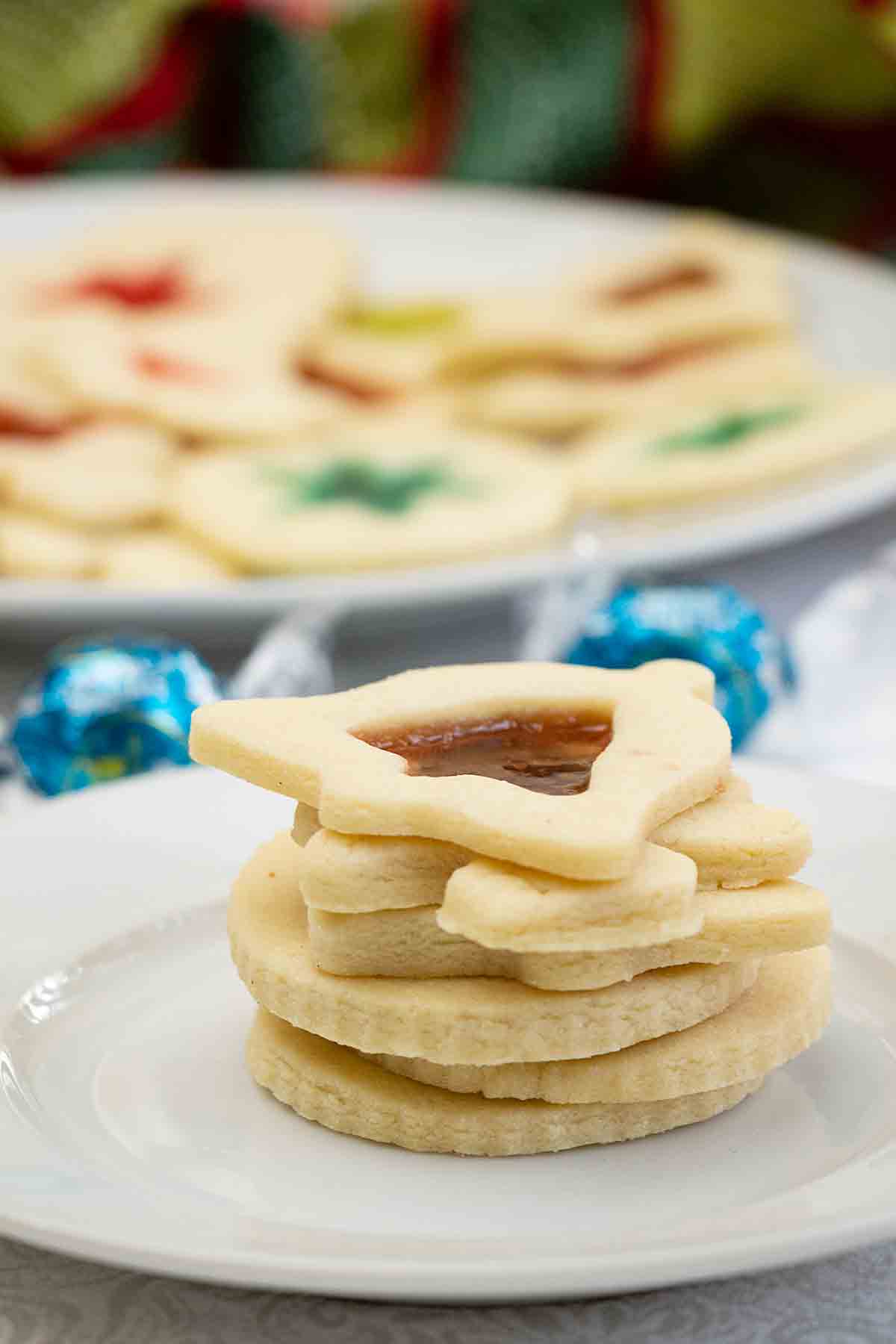 Step by Step Directions
As I mentioned, these were quite easy to make. To start you crush the hard candy, keeping the different colors separate.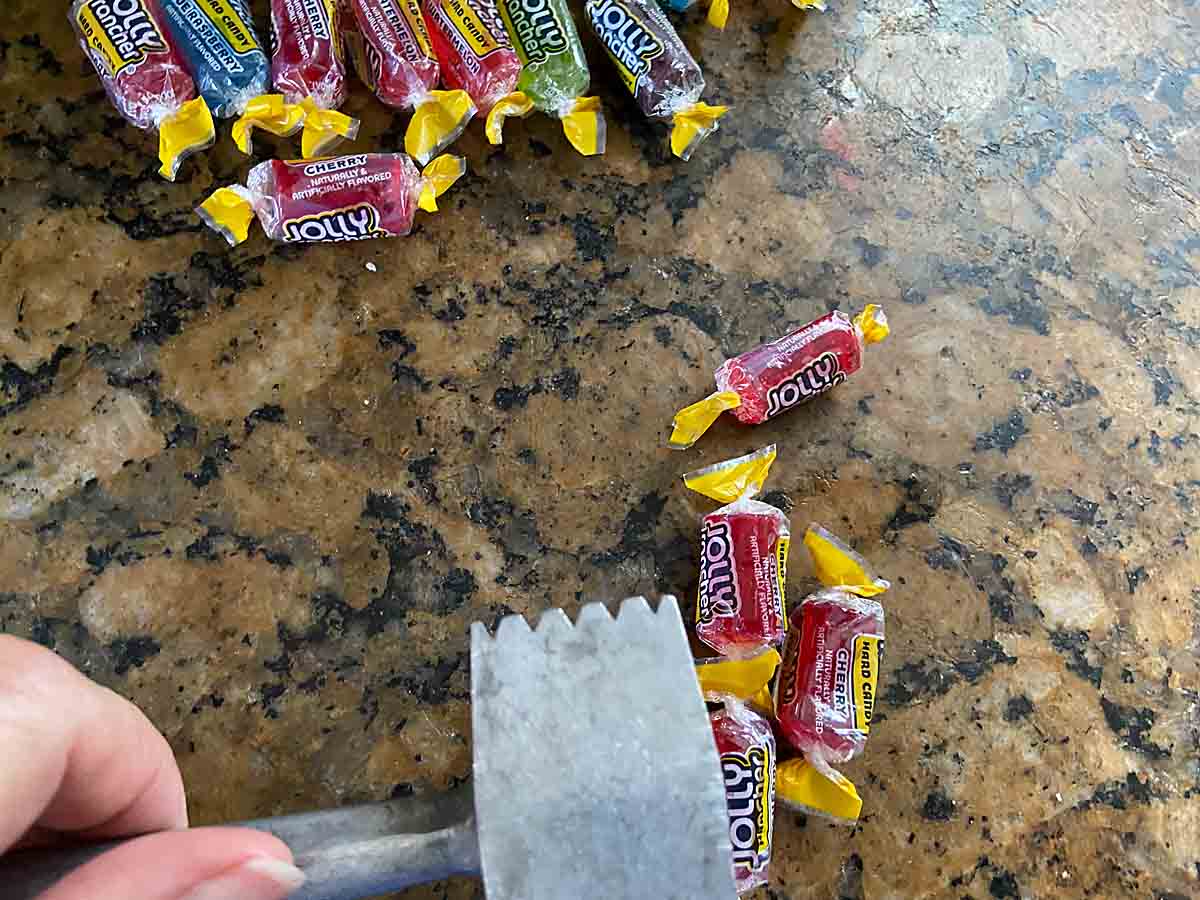 Next begin the dough by mixing the butter egg and sugar. Then add in the flour and continue mixing until well combined.
On a floured surface roll out to 1/4 inch thick.
Cut cookie, then lift off with a metal spatula to loosen from the surface.
Cut the inside window with a smaller cookie cutter or by hand with a knife.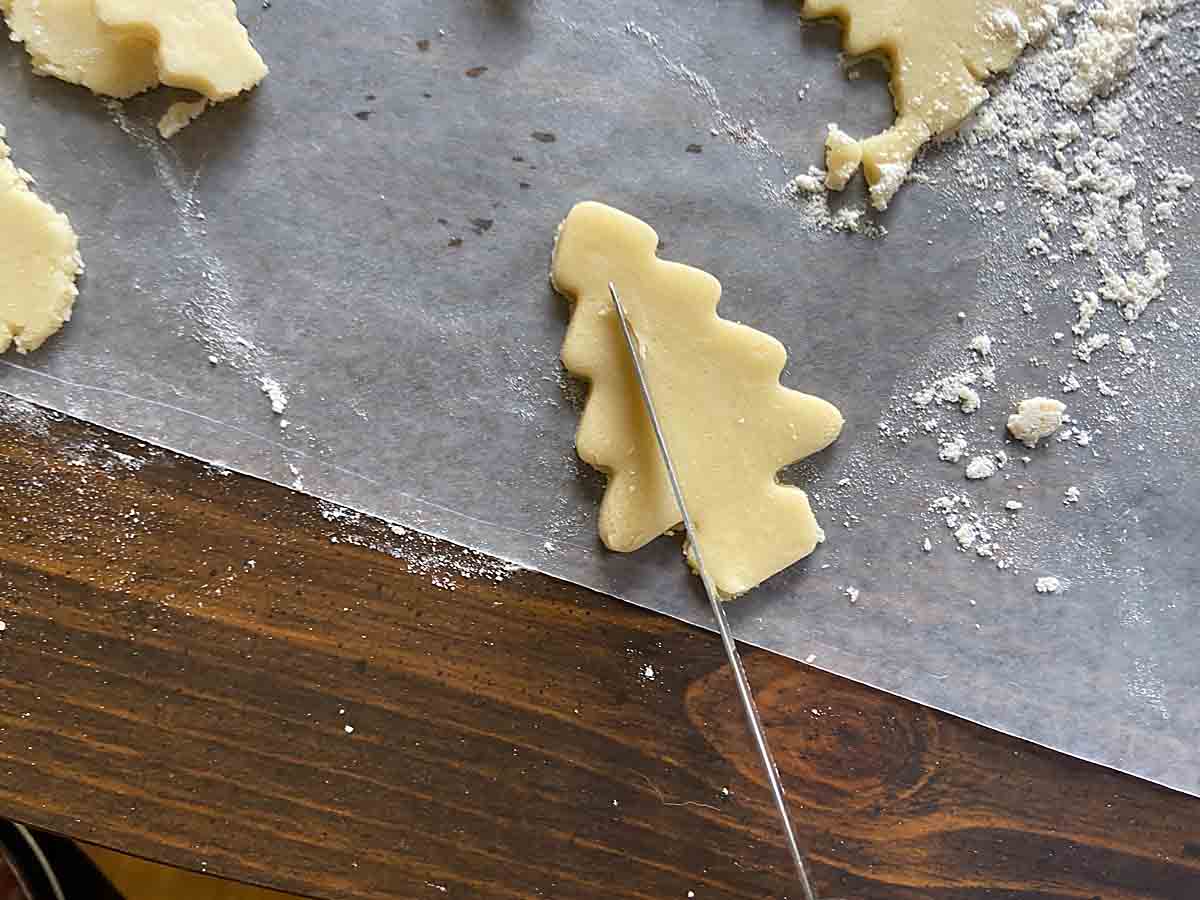 Place the cookies on baking parchment, then fill the "window" opening with crushed candy.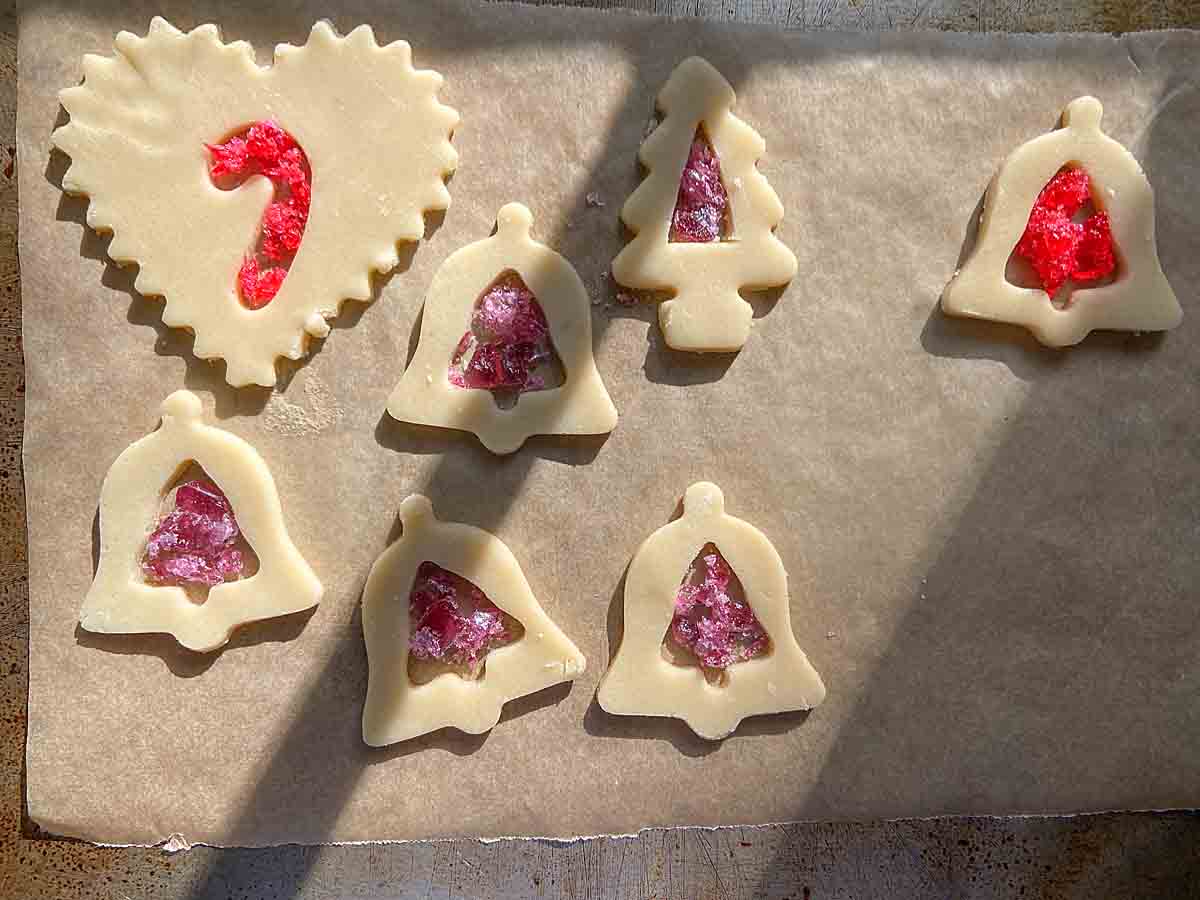 Place in 350 F oven and bake until cookie is set and candy is melted and bubbly, about 9 minutes.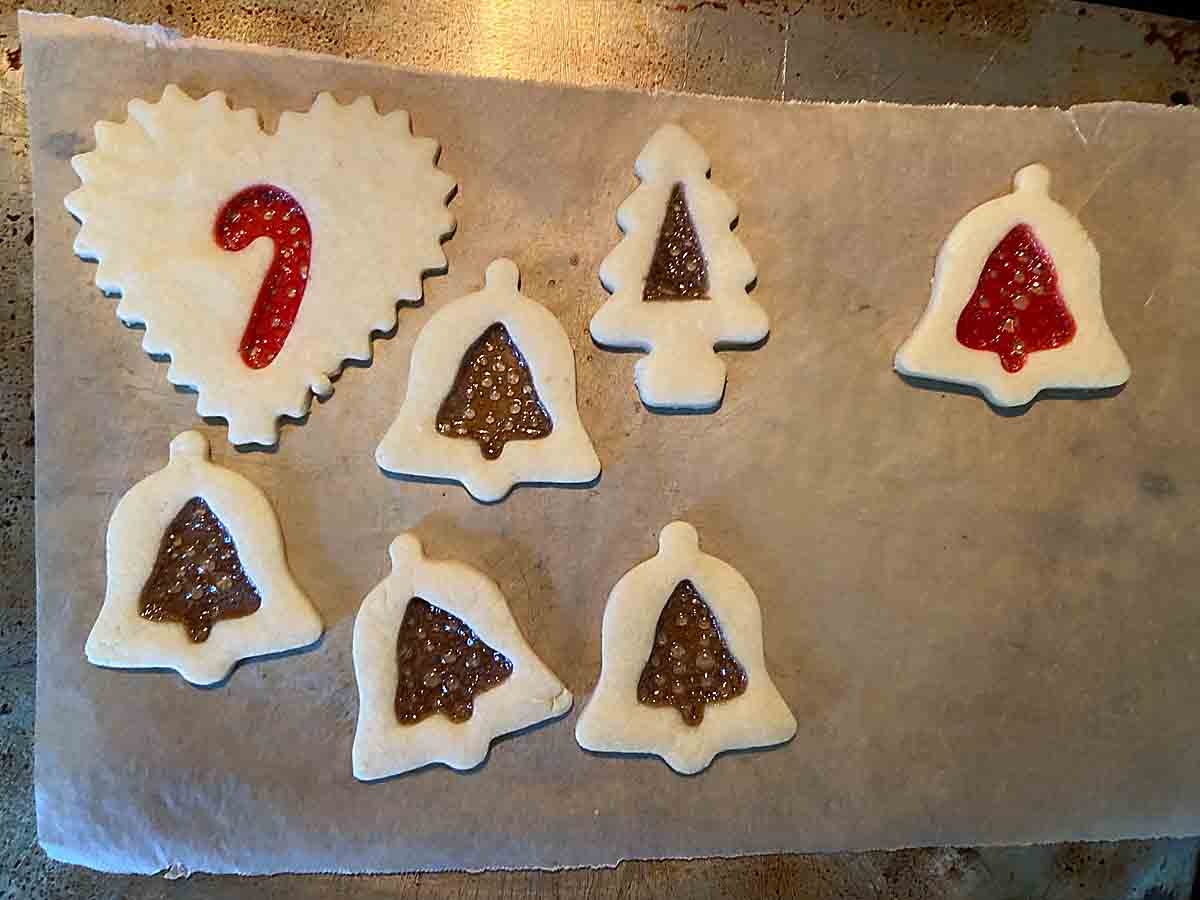 Remove from oven. Slide parchment onto cooking rack to cool. Repeat with remaining batter.
Selection of Cookie Cutters
There are many options when it comes to shapes (inside and outside) for your Stained Glass Cookies. One of my favorite combos was using the same shape in bigger and smaller sizes. Like the bells above!
My other favorite outside shape was the circle. This gave me a lot of options for a different center cutouts. I already had a set of small holiday cookie cutter that worked very well for this. And next year I plan to get a slightly larger circle cutter.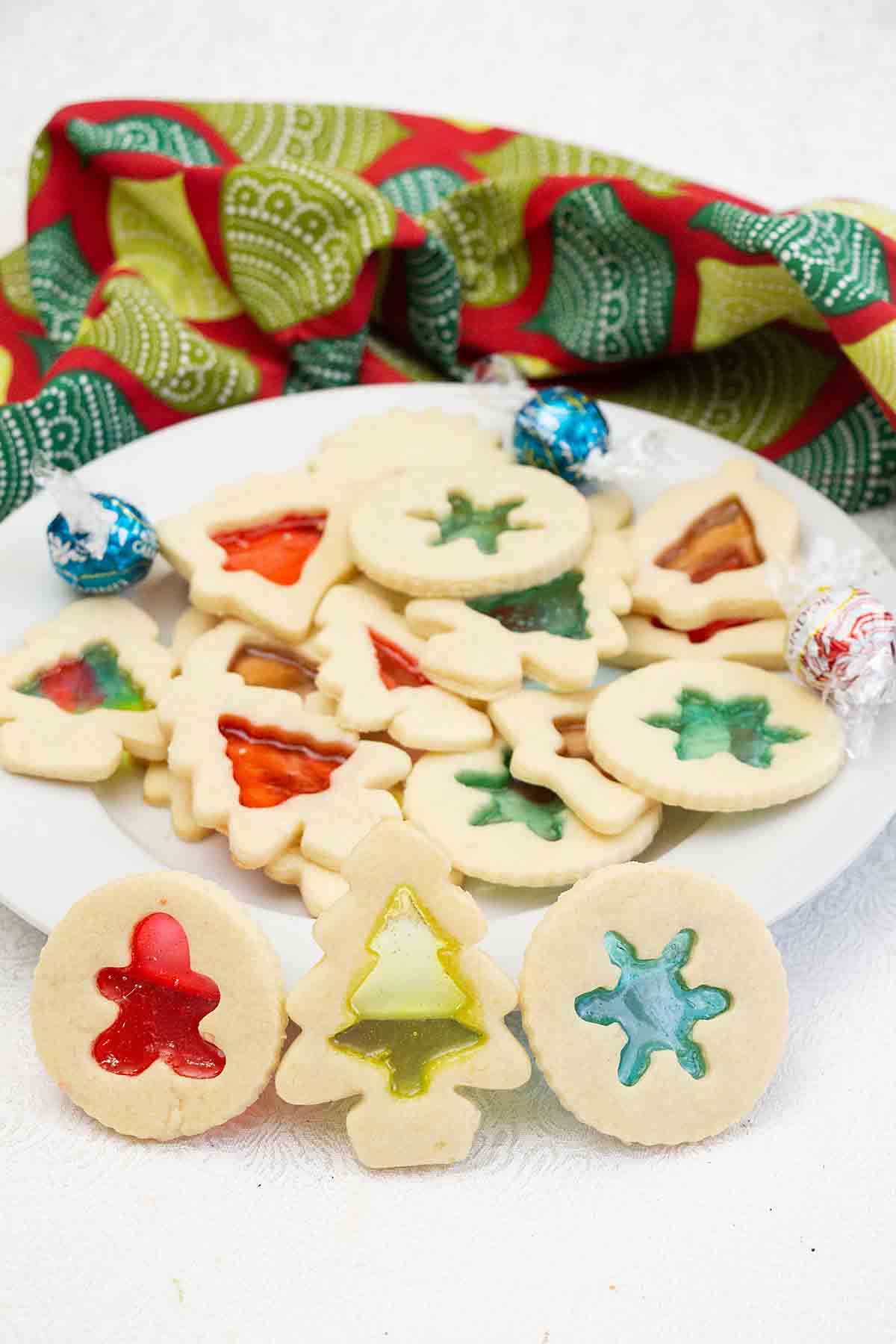 Hard Candy Selection
I used jolly rancher candies in my cookies, though it is likely that many translucent candies or suckers would work.
The one critique I got (from my "picky daughter"), was that it felt strange to be eating a Christmas sugar cookie then bite into a blue raspberry flavored center. She suggested that peppermint flavor would be more appropriate.
I have heard you can use peppermint candies or candy canes. But since they aren't translucent you lose part of the cookie's appeal. So on my agenda for next year is to make my own clear hard candy with peppermint flavor and give that a try! Stay tuned!
On Refrigerating Cookie Dough
Most recipes for Stained Glass Cookies chill either the cookies or the dough before baking. This is a common technique to keep butter cookies from spreading as they bake.
I started out with this in mind, cutting the cookies, then popping them into the freezer for 5-10 minutes. But they seemed pretty solid so I tried baking just one cookie without refrigerating first. It came out perfect so I skipped all refrigeration on the final cookies.
My recipe has a little less liquid than many and I believe this makes the difference. But there is one caveat here. Different brands of butter have different percentages of water and that can sometimes be the culprit with spread. In the unlikely event this happens, pop your cookies into the freezer for 5 minutes before baking.
How to Make a Hanging Cookie
These cookies are pretty enough to use as ornaments or hanging decorations!
To make a hanging cookie, you need to cut a hole to slide a string or ribbon through. This should be done before you bake the cookie, of course, but also before you cut your inside opening. This will ensure you have room left in the right place for the sting opening (ask me how I know this).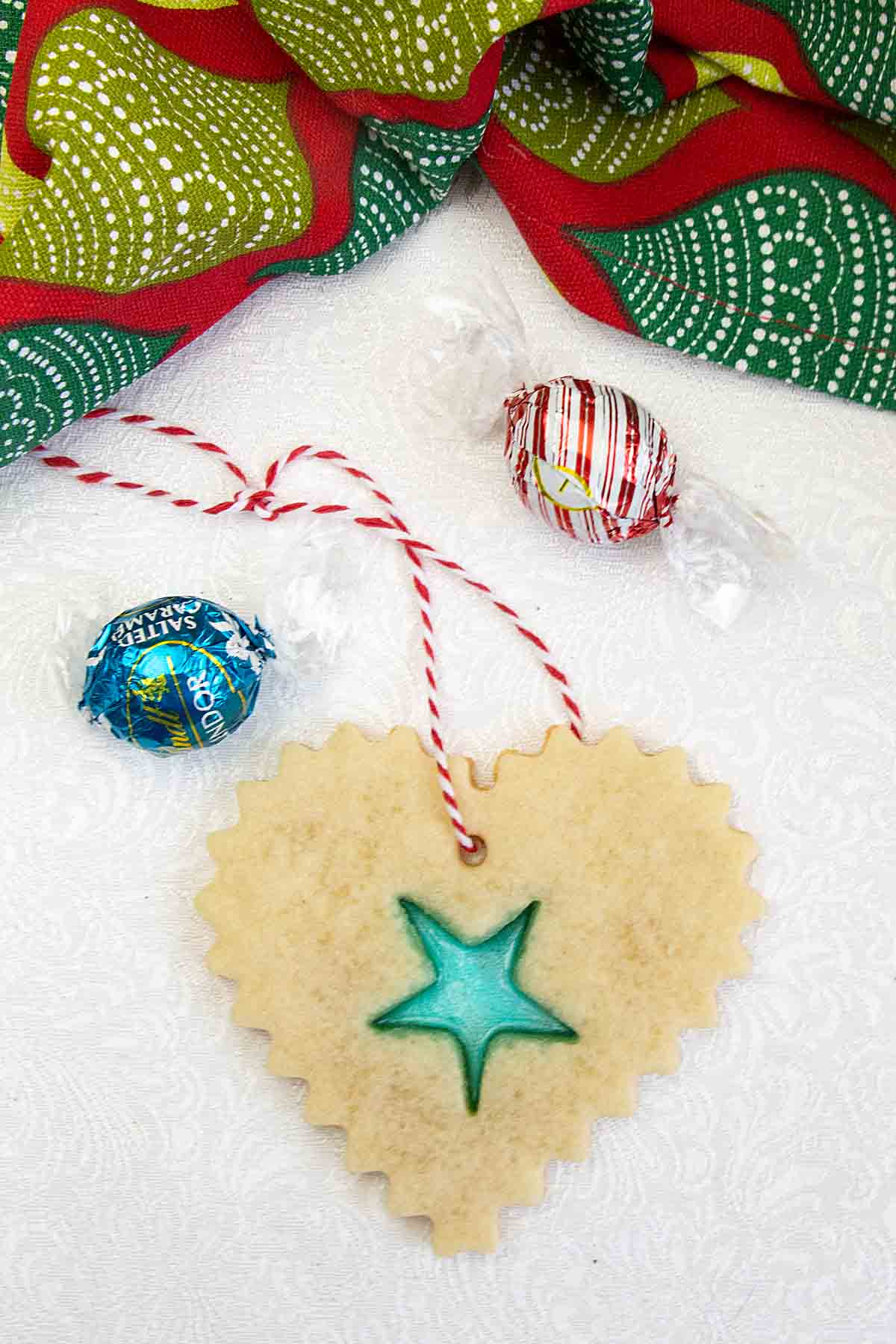 I used a metal straw to make an opening, which worked well since it was sharp and solid. The cut out piece of cookie pulled up when I lifted the straw and then I blew it out.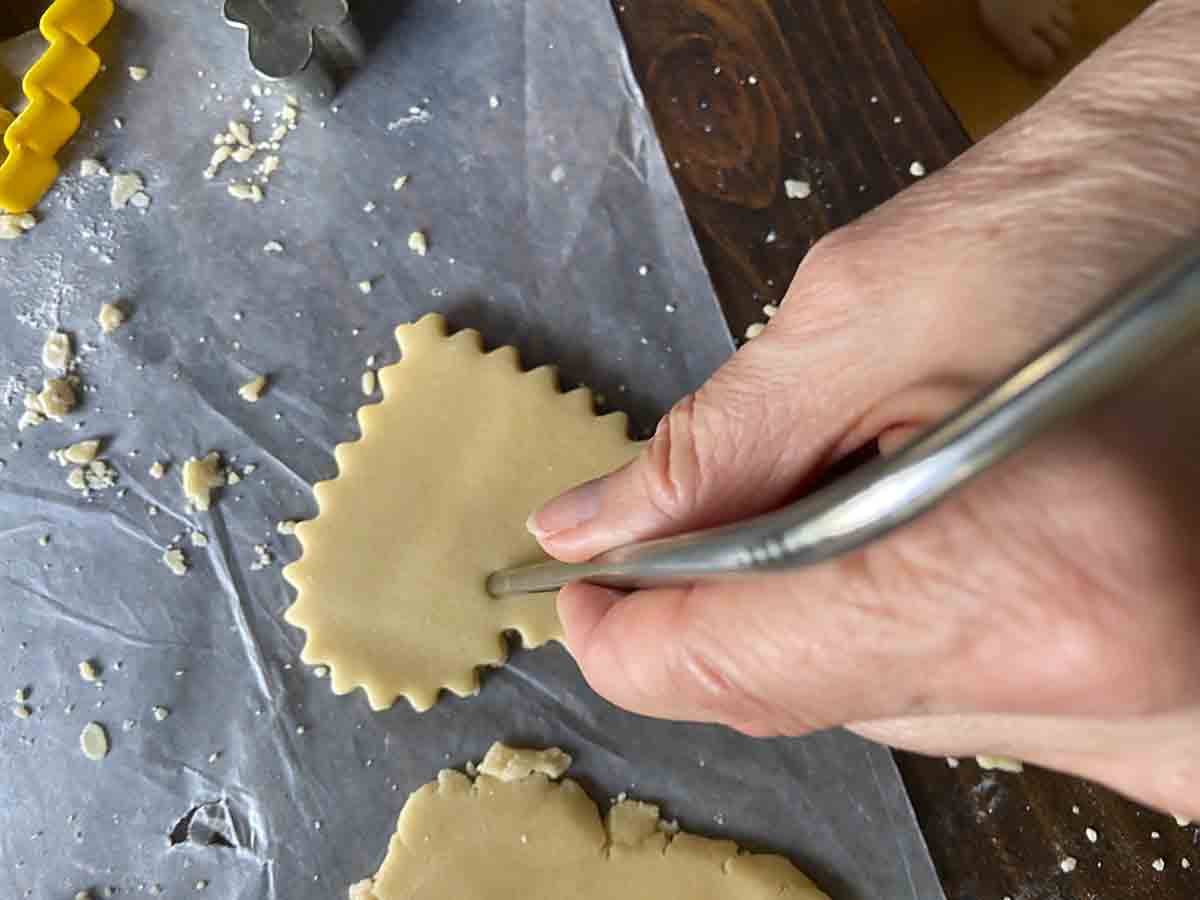 Tips & FAQs
If you peek into the oven while your cookies are baking (yes, I know you are not supposed to do this) you can watch the transformation. When the candy first melts, it looks like it won't fill all the space. A few minutes later, the molten candy starts to boil and then it spreads out.
When you take it out of the oven, there are sometimes a lot of bubbles. Many of these will dissipate as they cool. Some may remain and if that bothers you, you can break them with a toothpick while the candy is still molten.
How finely do I crush the candy? I decided that a powder was hard to work with and that anything up to about 1/4 inch wide still melted fine. So go for a sweet spot in between. But don't obsess since it didn't seem to be that critical.
Getting the right amount of candy into the opening was the only thing at all tricky. If you put too many candy pieces in the "window" space, the candy boils up over the top of the well and comes out looking like the picture below. I filled about to the top, but stayed away from the edges and this seemed to work. The picture in the step by step directions above may help.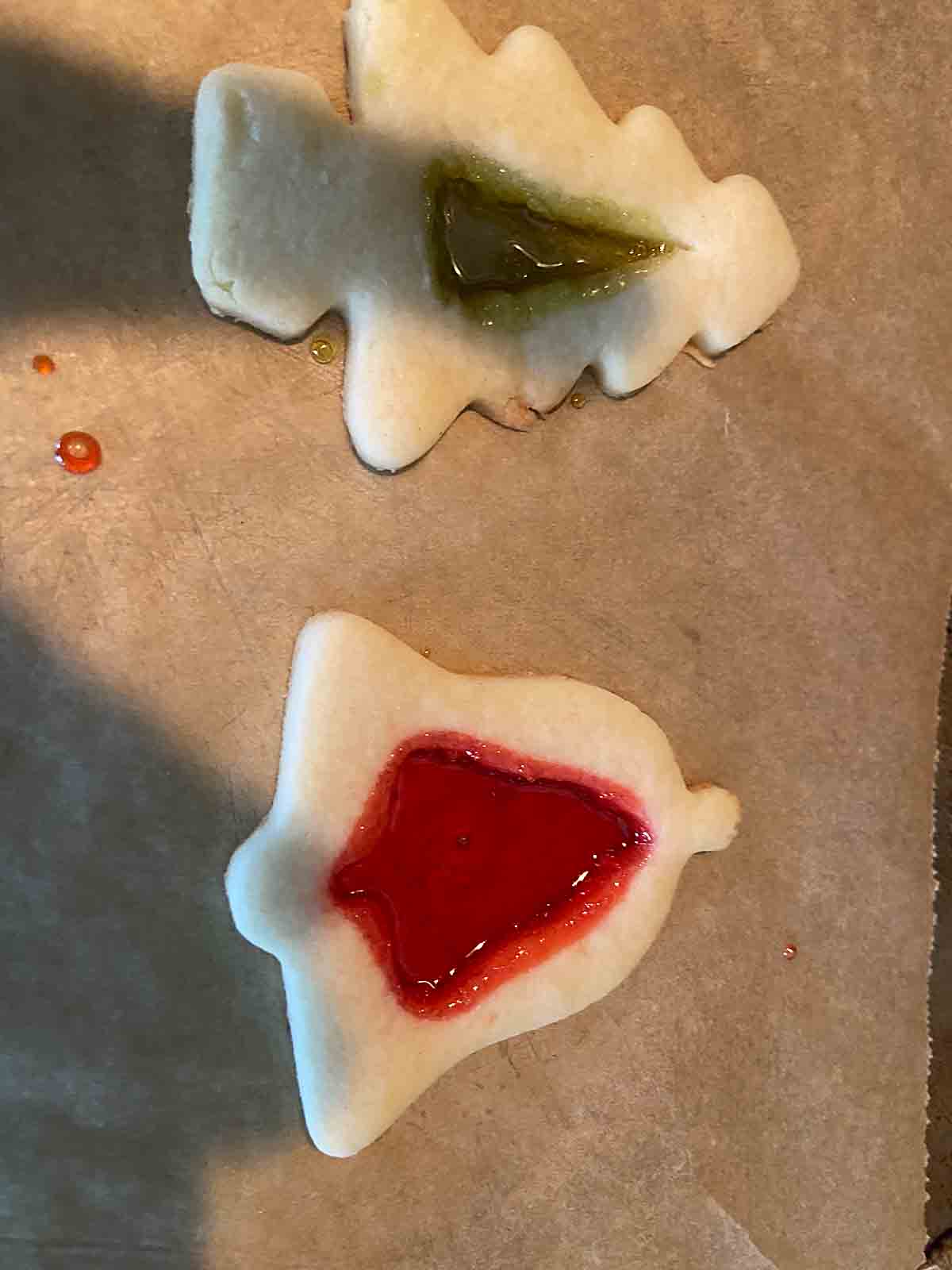 What happens if I underfill my windows? If you underfill and part of the window is empty, you can add more crushed candy and put the cookie sheet back in the oven for another minute or two. I underfilled my final batch when I was trying to stretch my crushed candy, so I have tested this!
Have you heard that you can compost brown parchment paper? I just read this here and it made my day! Now if I could just figure out what to do with the Jolly Rancher wrappers!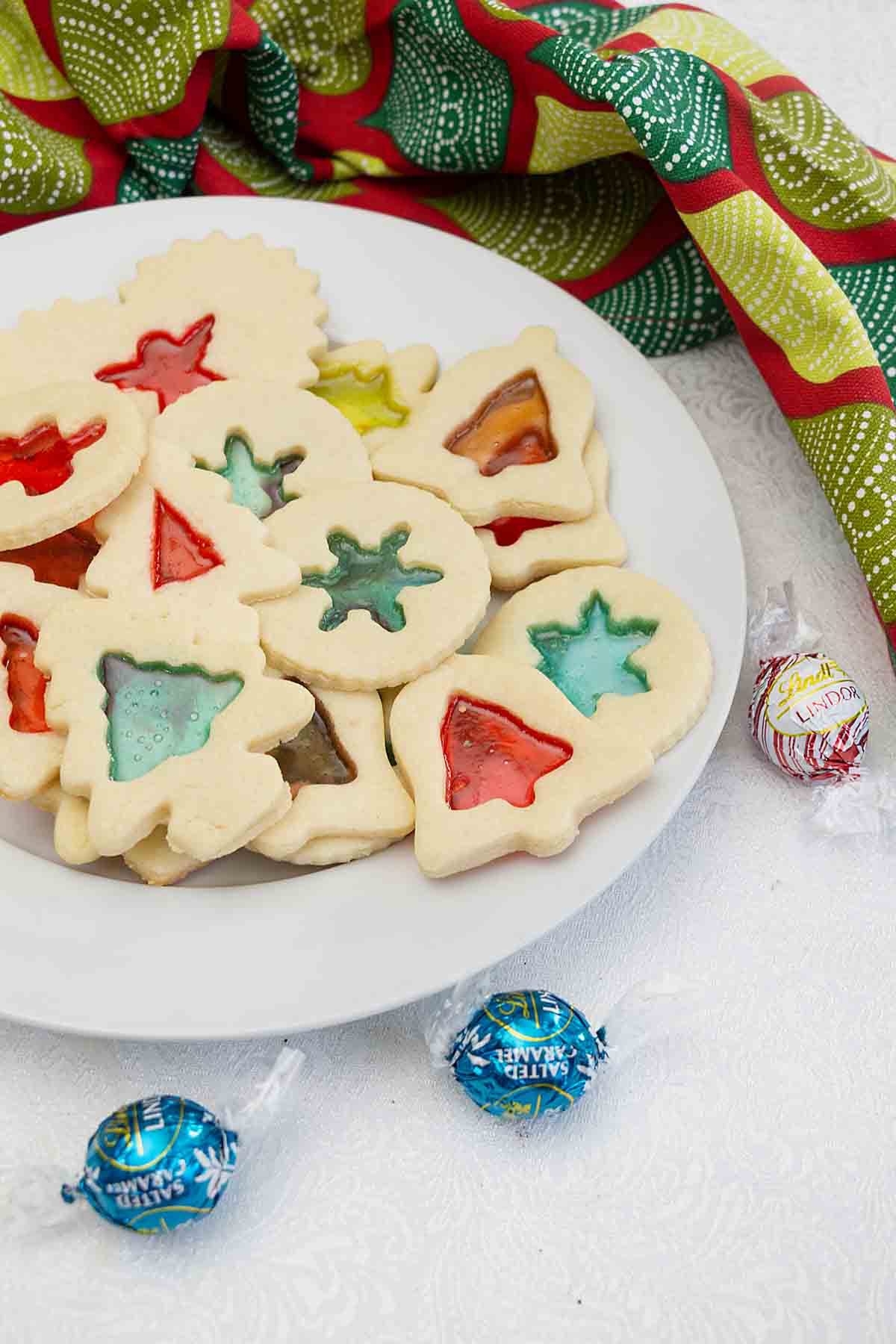 Wednesday Christmas Cookie Recipes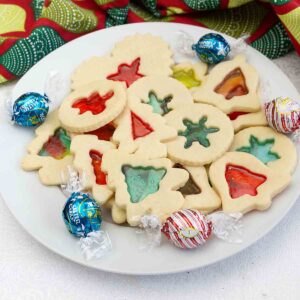 Stained Glass Cookies
With a candy "glass" window cut into a buttery sugar cookie, Stained Glass Cookies are tasty, impressive and perfect for the holidays.
Ingredients
12

Jolly Rancher candies

or a bit more, or equivalent

½

cup

butter

softened, or margarine

½

cup

sugar

1

egg white

1/2

teaspoon

vanilla extract

1 ½

cups

all-purpose flour

fluff, spoon and level

1/4

teaspoon

salt

skip if using salted butter
Instructions
Separate Jolly Rancher candies by color. Leave them in the wrapper (or place in a plastic bag) and crush with a meat tenderizer (or other hard metal object). Place each color in a separate ramekin or small dish.

Cream butter, sugar, vanilla and salt if using. Add egg white and mix until well combined.

Add flour, one half cup at a time, and mix until well combined.

On floured wax paper roll out to about ¼ inch thick or slightly thinner. Cut out a cookie, then separate from paper and move aside using a metal spatula. With a smaller cookie cutter, cut out center "window". Again with the spatula, place the cookies on parchment lined baking sheet an inch from any other cookie Repeat until baking sheet is full.

When the baking sheet is full, fill the cookie centers with crushed candy—it doesn't need to be in all the corners since the candy will spread as it heats.

Bake cookies until set and candy center is bubbly, about 9 minutes.

Slide the parchment on to a cooling rack and let cookies cool. When centers have hardened, remove from the parchment.

Repeat with the remaining dough, adding cutout dough back and re-rolling as needed.
Notes
If you double the recipe, you can use 1 whole egg instead of two egg whites.
Your cookie count will vary depending on size of cookie and the size of the window.
Nutrition
Calories:
79
kcal
Carbohydrates:
10
g
Protein:
1
g
Fat:
4
g
Saturated Fat:
2
g
Polyunsaturated Fat:
0.2
g
Monounsaturated Fat:
1
g
Trans Fat:
0.2
g
Cholesterol:
10
mg
Sodium:
57
mg
Potassium:
12
mg
Fiber:
0.2
g
Sugar:
4
g
Vitamin A:
118
IU
Calcium:
2
mg
Iron:
0.4
mg
I am not a health professional and nutrition data is calculated programatically. Accuracy may vary with product selection, calculator accuracy, etc. Consult a professional for the best information.