Classic Carrot Raisin Salad
Crunchy and flavorful with a hint of sweet, carrot raisin salad is a family pleasing classic. Quick if you choose pre-cut carrots!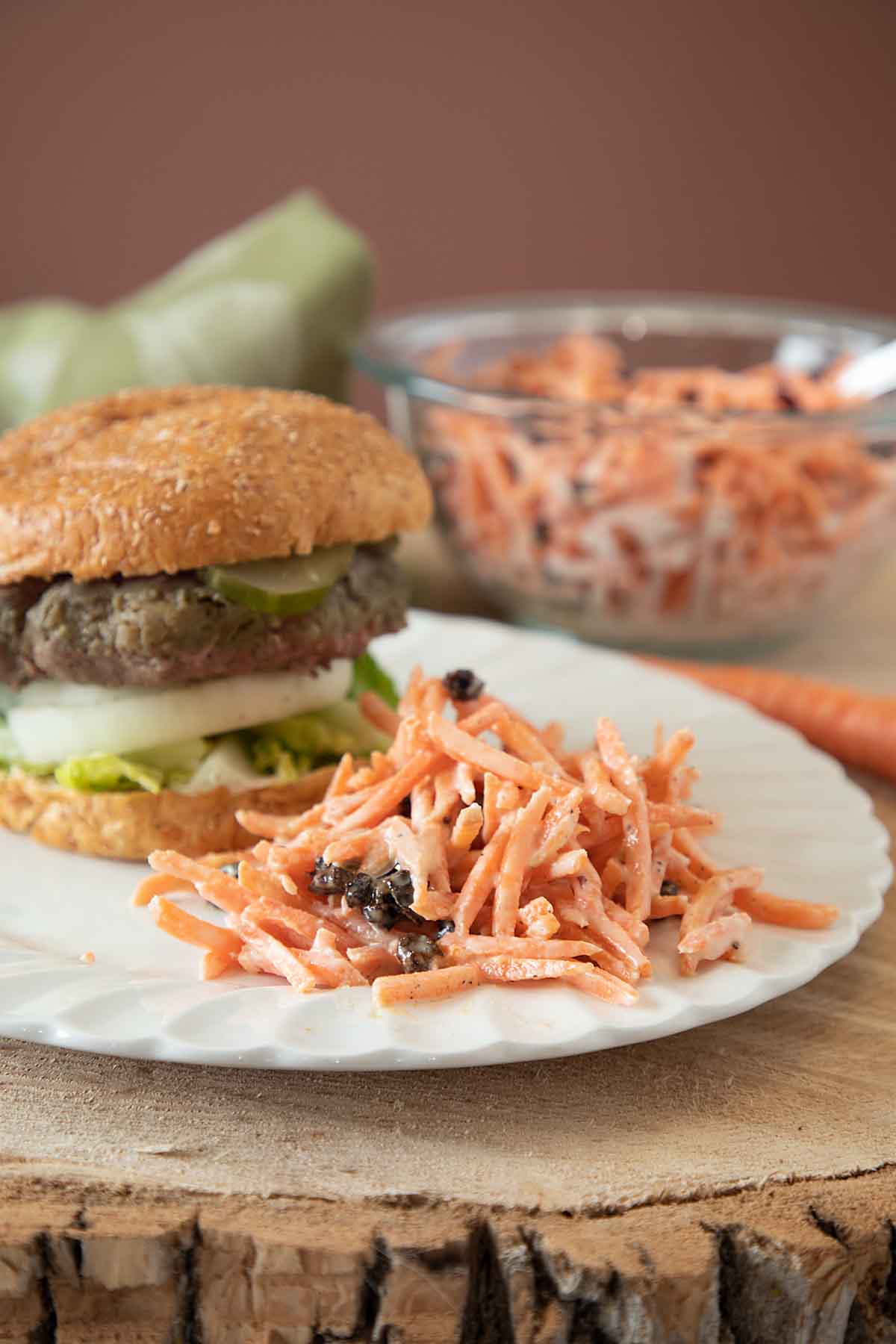 I decided to make this Carrot Raisin Salad in a rather backhand way. I had seen a recipe for tahini carrot salad and, since I'm pretty much in love with tahini, I put it on my list.
But as I waited to make it, I kept thinking back to my youth. Yes, I ate a lot of carrot raisin salad back in the day–there were soooo many picnics, potlucks and barbecues graced by its presence.
In the end nostalgia won. Hey, summer's coming!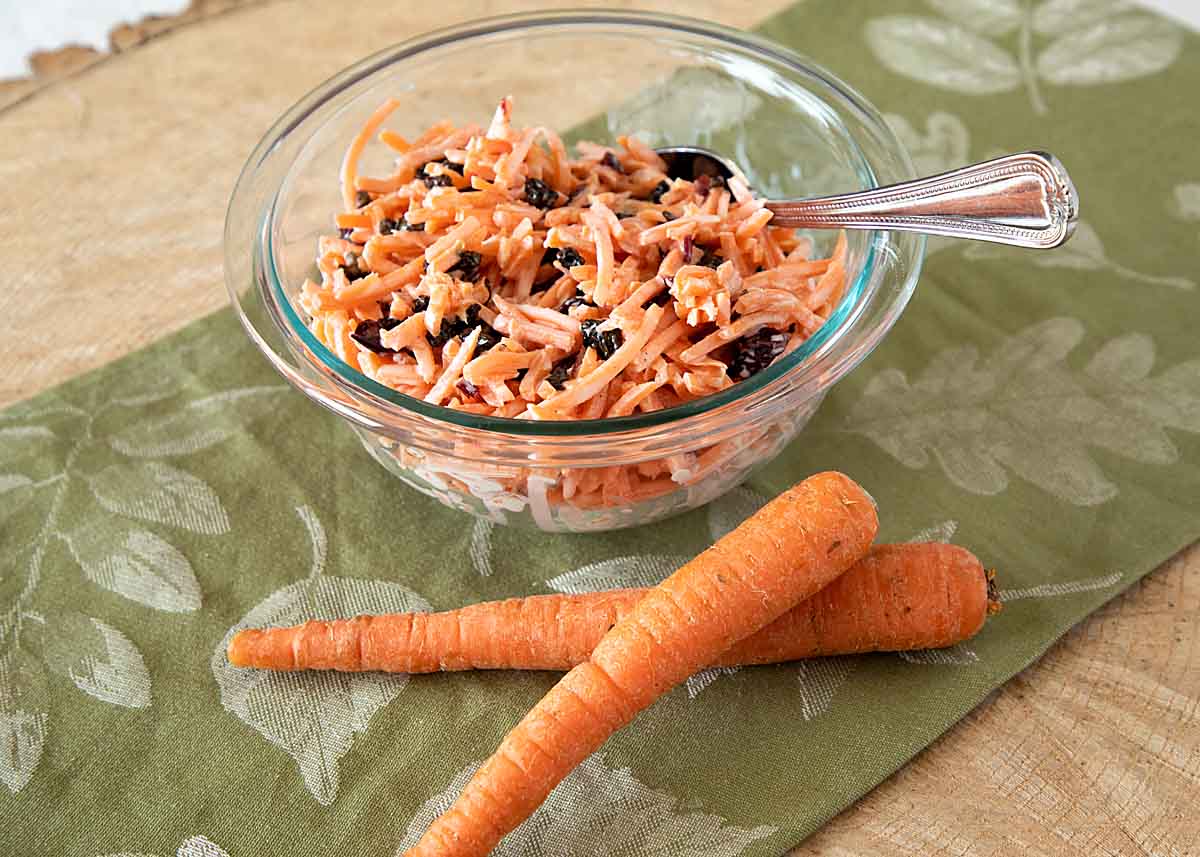 What is Carrot Raisin Salad

This tasty, classic salad has been gracing picnics, potlucks and dinner tables for well over a half century! The oldest version I was able to find online was from a 1958 Good Housekeeping Salad booklet that included a version made with orange slices!
Hugely popular and picnics and potlucks in the 1960s and 1970s, it enjoyed some more recent fame on the menu of Chick-fil-A. Well, that was until it's much lamented removal that sent fans searching for copycats.
Why You'll Love This!
Great flavor and crunch. The flavor is surprisingly complex for such a simple salad. And of course the carrots add a super crunch!

Easy. It's hard to beat a 5-ingredient recipe for ease of preparation! Go with pre-cut carrots for the easiest option.

Family-pleaser. With the hint of sweetness, this can be more of a kid-pleaser than cole slaw. And adults love it too!
Versatile. This is a great side for so many other dishes!
And did I mention it's healthy with all those beautiful carrots!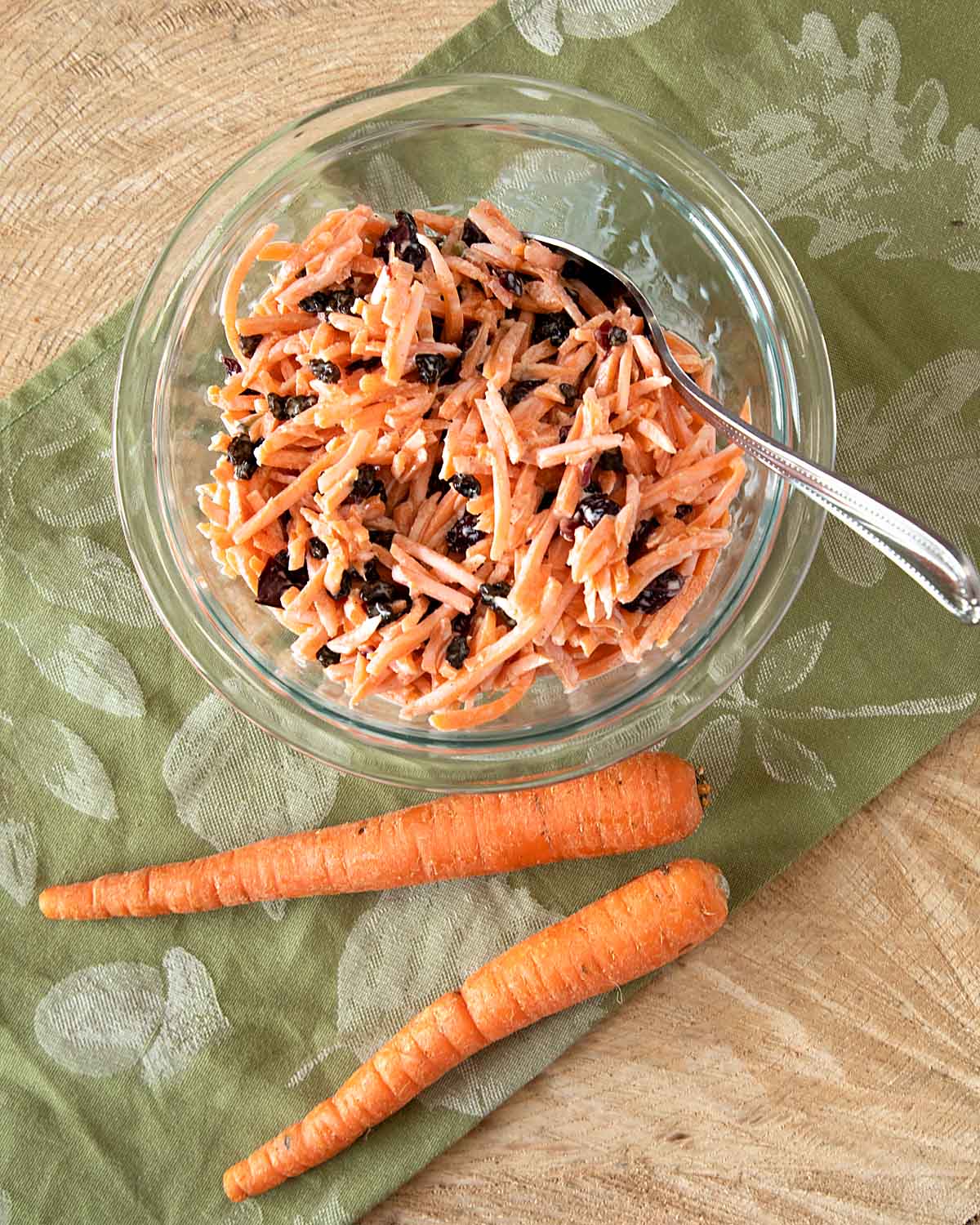 What You'll Need
Ingredients:
Carrots. Cut into matchsticks these comprise the bulk of the salad. Cut (or grate) your own, or buy them already julienned.
Raisins add a nice chew and compliment the carrot flavor. Use dried currants, dried cranberries or other small dried fruits if you prefer!
Mayonnaise forms the base of the dressing. Use your favorite.
Sugar, honey or maple syrup adds a hint of sweetness to the dressing.
Cider vinegar adds a bit of tart to the dressing. Lime or lemon juice are good too!
Salt, pepper to enhance the flavors.

Special Tools:
If you are cutting carrots yourself, a mandoline with protective gloves can be helpful. You can also grate the carrots using a food grater or food processor. If this sounds intimidating, it is pretty easy to find pre-cut carrots!
Step by Step Directions
Mix dressing ingredients.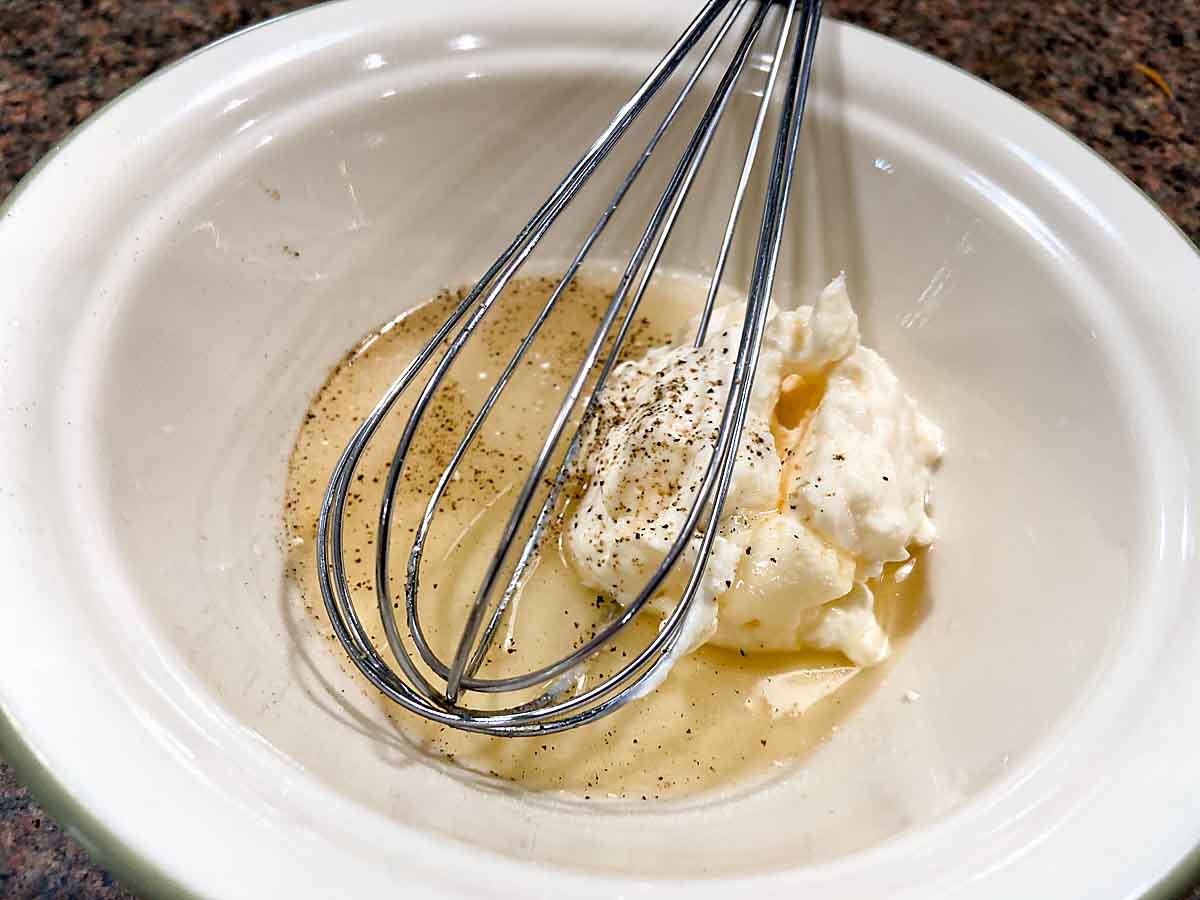 Mix salad ingredients.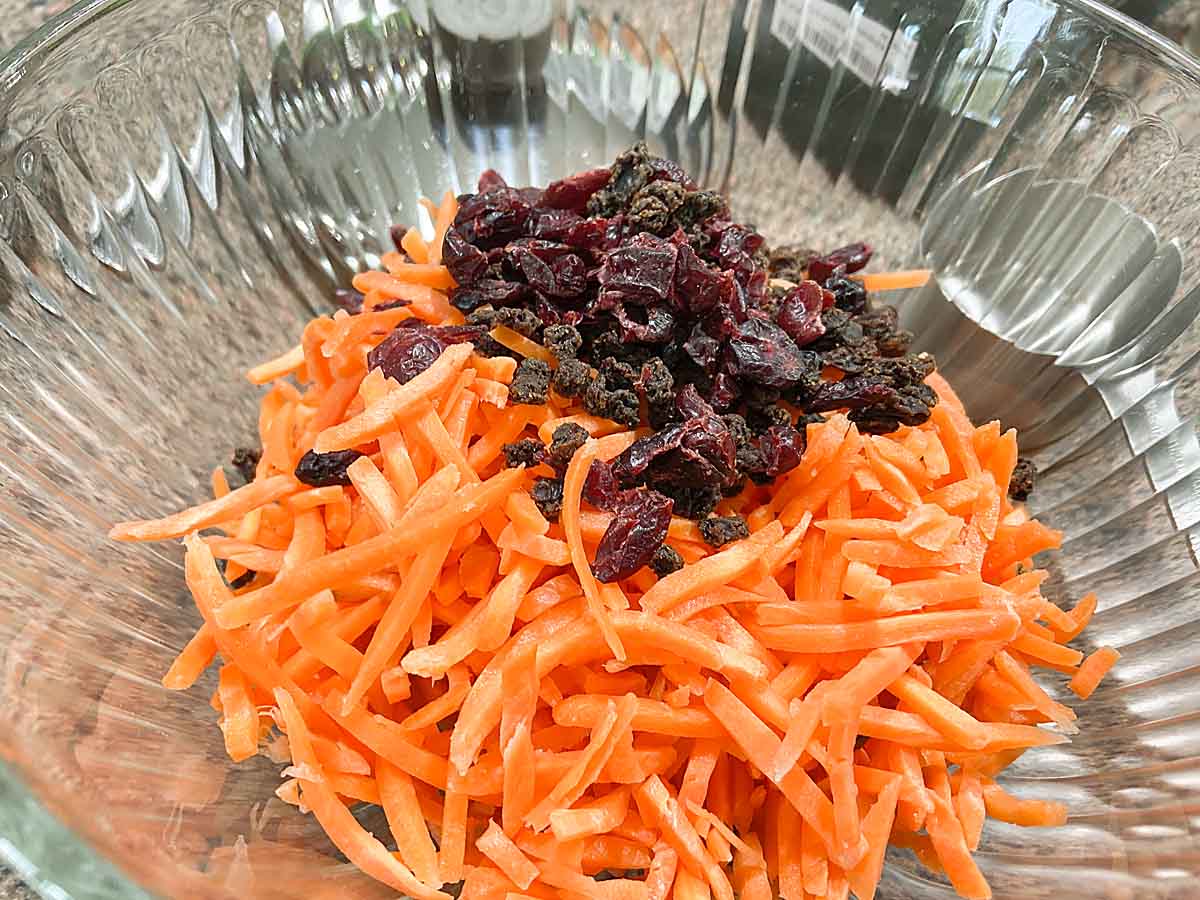 Toss with dressing.
How to Cut Up Carrots for Salad

If it's the height of CSA season or you're a big gardener or farmer's market fan, a bountiful harvest may provide real motivation to prepare your own carrots. Here are some tips!
Do I need to peel the carrots?
If your carrots are relatively clean and fresh, you can often skip the peeling in exchange for a good scrub!
And did you know that there is extra nutrition in the carrot peel? That's right! You see, carrots have three layers: the outer peel, the intermediate phloem and the inner xylem. When you peel a carrot, you generally remove the peel and a bit of the phloem. According to the Tufts Health & Nutrition Letter,
"Vitamin C and niacin are most concentrated in the peel but can be found in appreciable amounts in the phloem. As for beta-carotene (an orange pigment and plant form of vitamin A), the peel and phloem have approximately equal amounts. That is why both peeled and unpeeled carrots have the same orange color. The xylem contains the lowest amount (about 10% of the total) of beta-carotene. But, the xylem contains the majority of the calcium, potassium, magnesium and phosphorus…"
Can I shred carrots with a grater or food processor?
Shredding the carrots is probably the easiest way to prepare whole fresh carrots for this! If your food processor is good at producing larger shreds, that might be the quickest method. If it tends to grind them too finely, or to produce a lot of carrot juice in the process, you are probably better off hand grating.
In that case, a standard grater should work.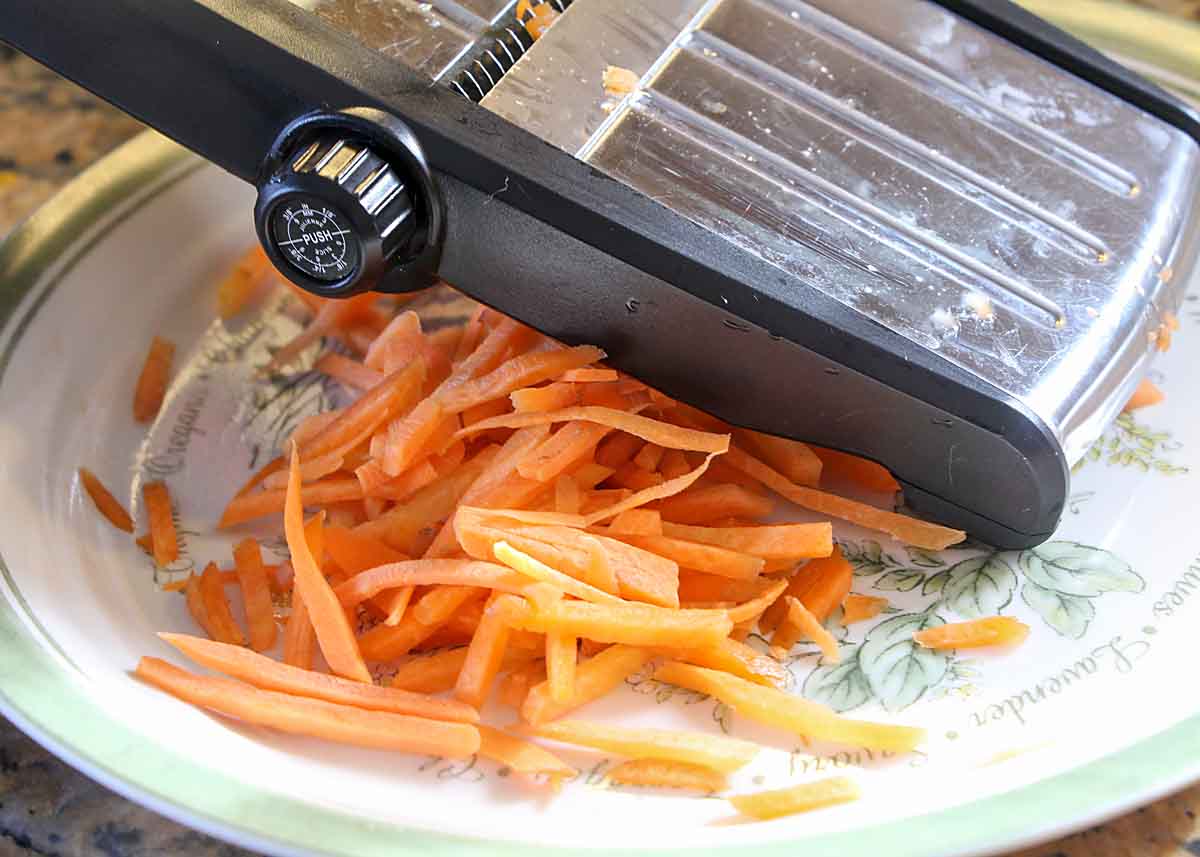 Can I make carrot matchsticks with a mandolin?
I admit I bought the pre-cut matchsticks this time. But I've used my mandolin to make carrot matchsticks for my Thai Carrot Slaw and been happy with the results. If you do use a mandolin, be careful, since they are quite sharp. Today most mandolins come with safety gloves that reduce the chances of injury. If you have an older mandolin, the gloves can be ordered separately.
And I just ordered a Julienne Y-Peeler to test that out as well–I'll follow up here after I try it!
How many carrots do I need?
To try to approximate the pre-cut package size, I weighed out 10 ounces of medium carrots which came to 6 carrots. Then I figured that there would be some waste—things like peels, extra ends or piece that don't shred well. So I would probably use about 8 carrots.
This will vary with carrot size, of course. And BTW, I usually eat the end pieces that are too small to process! A bonus for the cook!
Can I buy the carrots pre-cut?
If all the prep souonds daunting, carrot matchsticks are readily available in the store. Although I'm a big proponent of local eating, I don't hesitate to buy pre-cut if I'm busy–or running out of local carrots like in the spring or early summer!
And happily, l have even found organic carrot matchsticks!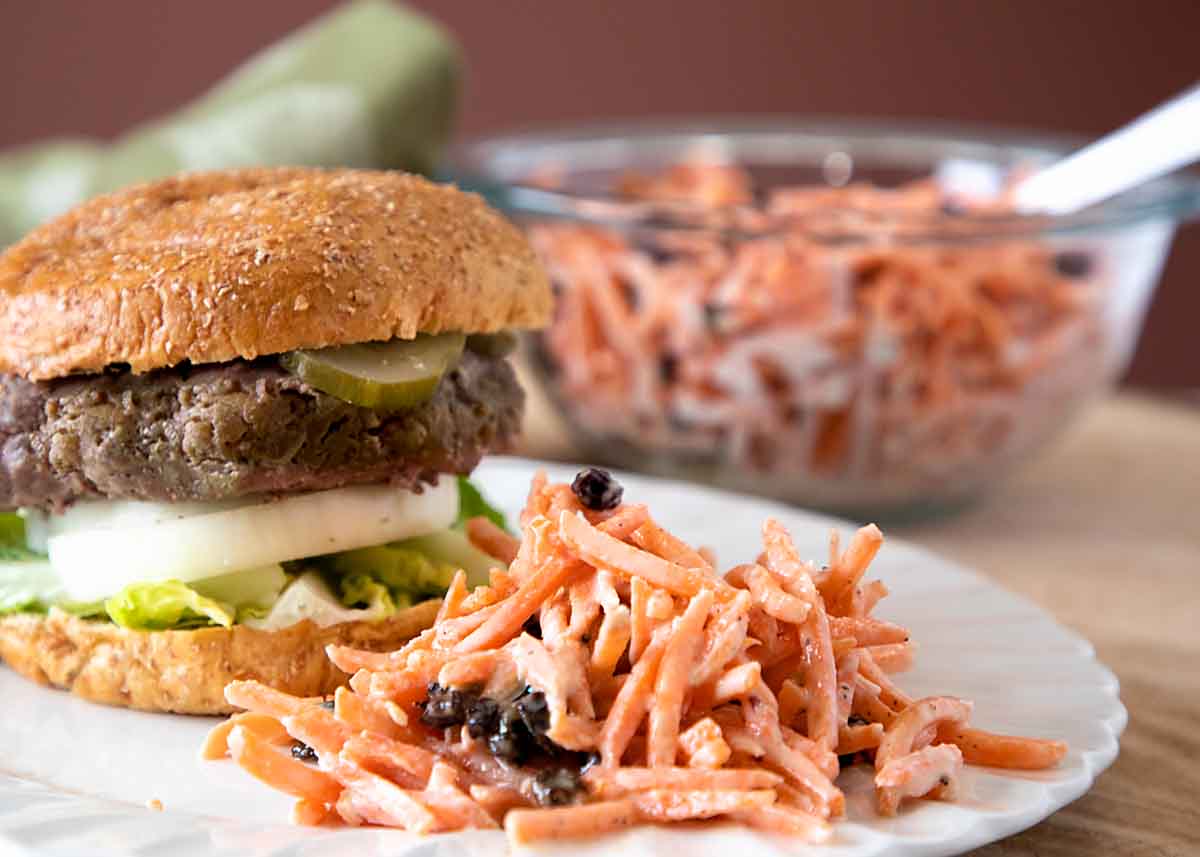 How to Serve
This is a wonderful side dish that goes well with so many foods! It's especially nice for sandwiches or burgers and most summertime casual fare. It would also be at home with BBQ chicken or ribs!
Now if your fish fries are in a rut, how about swapping out the traditional cole slaw. Serve this carrot raisin salad instead and give your family a treat!
Or take it along to a potluck or barbecue–perhaps pack it for a picnic
Yes, this summer I think I'll be keeping it handy for times when I need a quick and easy way to add nutrition to a meal!
Tips & FAQs
You can make this about a day in advance without much loss of quality. Cover and refrigerate until needed. Or make up the dressing and the salad and keep separate until a couple hours before serving, then toss together.
Leftovers should keep 3-4 days, covered in the refrigerator.
How to rescue dried out raisins?
If you find that your raisins are a little older and drier than you thought, just cover them with a little boiling water. Then let them sit about 5-10 minutes, drain and they should be good to go!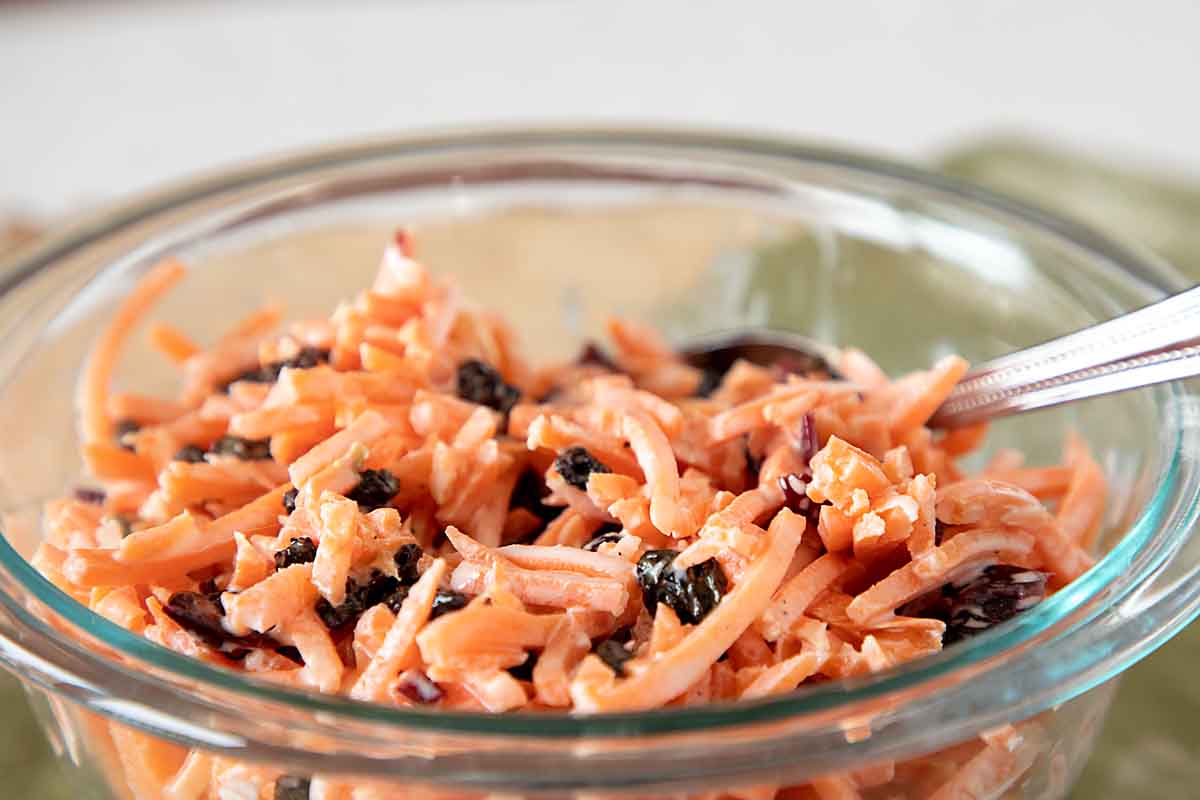 Variations
It's easy to make this salad your own! If the spirit moves you, add some pineapple pieces, apple chunks, nuts or seeds. And then there's always the orange slice option used in the 1958 Good Housekeeping recipe!
Too orange for you? I've seen tricolor carrot matchsticks in the stores too which are fun and nutritious. Don't forget to eat a rainbow!
Carrot Recipes
We share Recipes From Our Dinner Table! Join our group and share your recipes, too! While you're at it, join our Pinterest board, too!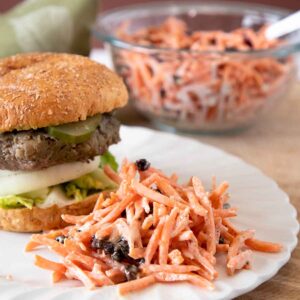 Carrot Raisin Salad
Crunchy and flavorful with a hint of sweet, carrot raisin salad is a family pleasing classic.  Quick with pre-cut carrots!
Ingredients
Salad:
3

cups

carrot matchsticks

10 ounce bag

¾

cup

raisins
Dressing:
1/3

cup

mayonnaise

vegan if desired

1

Tablespoon

sugar

honey or maple syrup

1

Tablespoon

cider vinegar

Salt

pepper, to taste
Instructions
Mix dressing ingredients.

Mix salad ingredients.

Toss salad ingredients with dressing.
Nutrition
Calories:
173
kcal
Carbohydrates:
22
g
Protein:
1
g
Fat:
10
g
Saturated Fat:
2
g
Polyunsaturated Fat:
6
g
Monounsaturated Fat:
2
g
Trans Fat:
0.02
g
Cholesterol:
5
mg
Sodium:
128
mg
Potassium:
359
mg
Fiber:
3
g
Sugar:
5
g
Vitamin A:
10700
IU
Vitamin C:
5
mg
Calcium:
27
mg
Iron:
1
mg
I am not a health professional and nutrition data is calculated programatically. Accuracy may vary with product selection, calculator accuracy, etc. Consult a professional for the best information.