Brighten your day with this Colorful Spring Salad full of vibrant fruits, lettuce & pink pickled eggs. A tasty first course or light entree.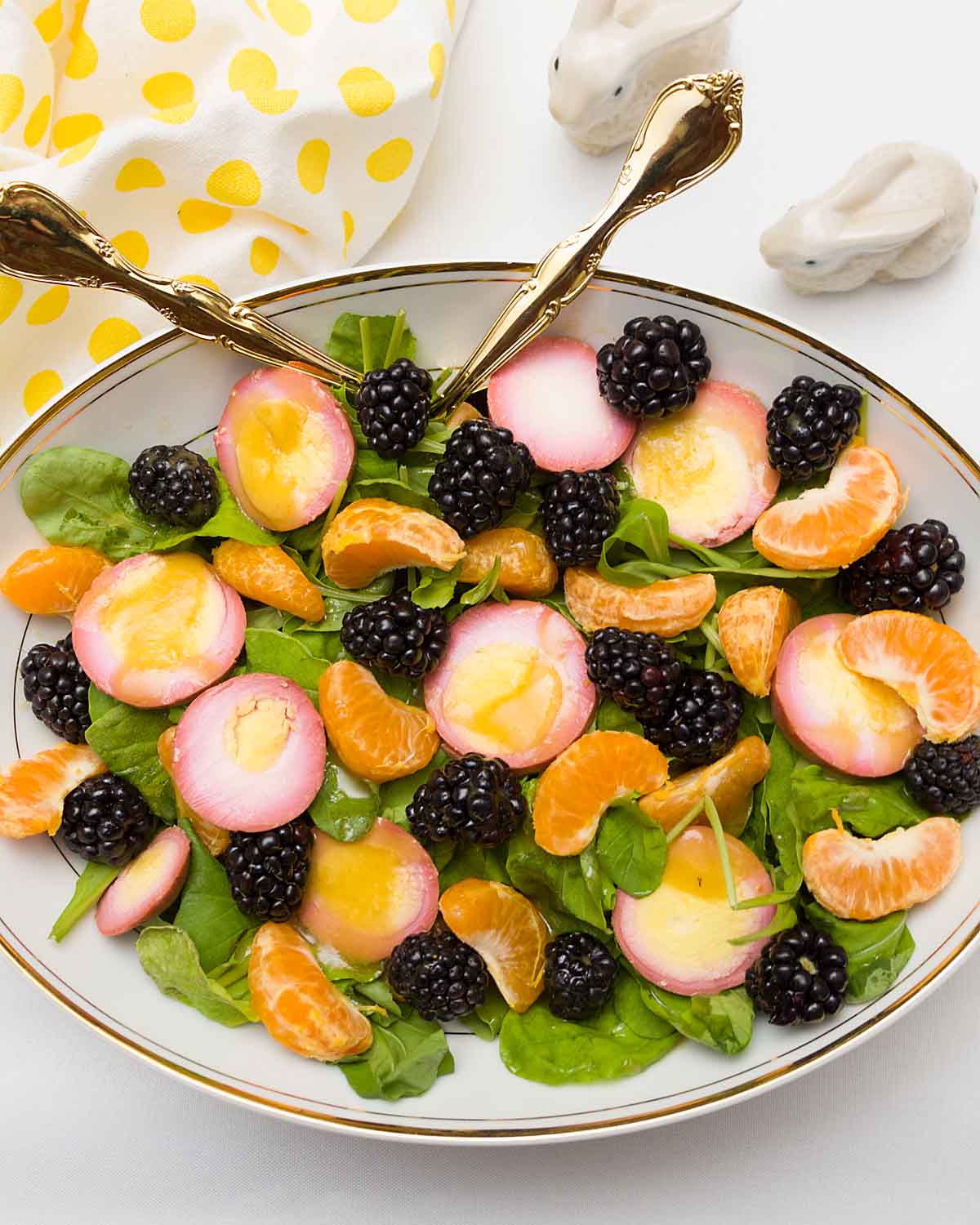 If you're looking for the perfect spring starter for Easter or Mother's Day, this Colorful Spring Salad should definitely be on your list! With a slightly sweet, homemade vinaigrette, this salad recipe is light, delicious, and easy to make.
It starts with an arugula or spring mix salad base, then adds fruit and pink pickled eggs, for a spring salad that is not only beautiful, but bursting with flavor as well.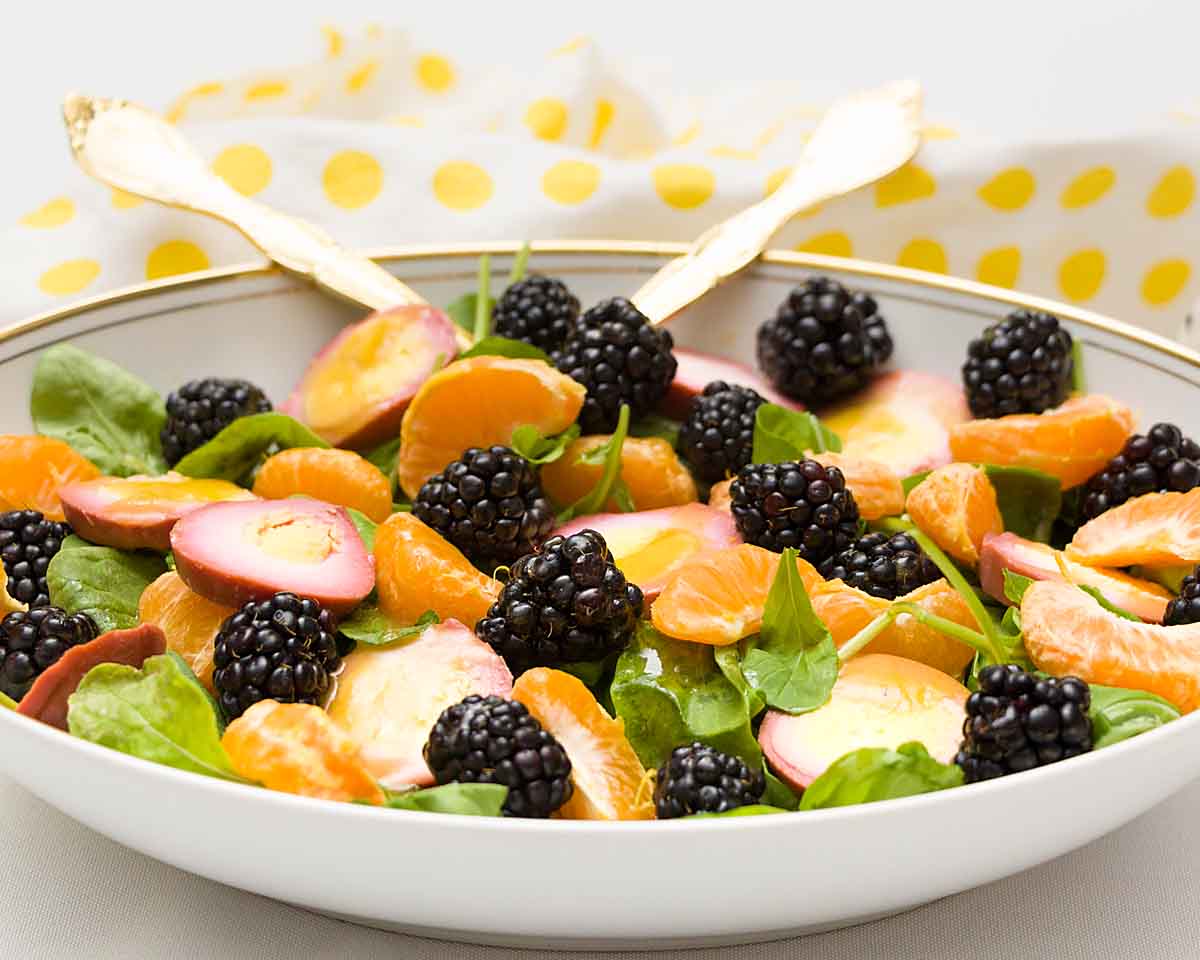 What are Refrigerator Pickled Eggs?
According to Egg.ca, "Prior to the days of refrigeration, pickling eggs in vinegar was used as a preservation method."
Of course, like many people, pickled eggs were foreign to me–but all that changed when I participated in the Food in Jars canning challenge and made multicolor pickled eggs.
Now unlike canning dill pickles, making refrigerator pickles (using eggs, cucumbers or other veggies) is super simple. No canning, just mix a few ingredients and store in the refrigerator. Easy-peasy.
Of course here my goal was not to preserve, but to add the spring-like pink color. And of course there's the added flavor and protein boost the eggs provide.
Why You'll Love This!
Delicious flavor. This salad is full of flavor — from the fresh ingredients to the homemade vinaigrette salad dressing!
All the Spring Colors. They say you eat with your eyes first!
Easy to make. Aside from preparing the pickled eggs a day in advance, you'll only spend about 20 minutes pulling this salad together.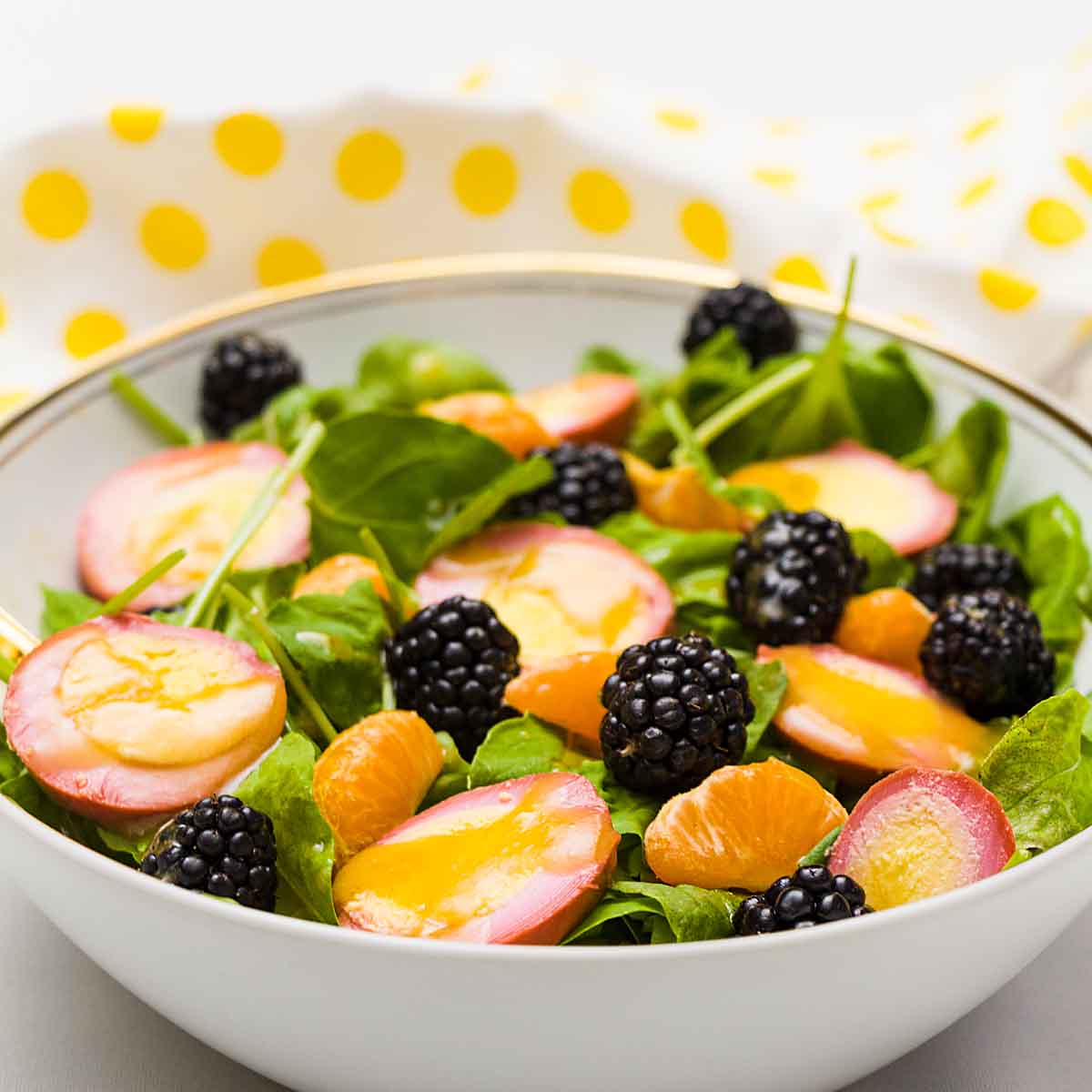 What You'll Need
Quick Pickled Egg Ingredients
Beet juice. The beet juice naturally adds a pink color as well as a hint of earthy flavor to the eggs. I used canned juice in this since that was so easy.
Vinegar. We are using vinegar to preserve the eggs and add flavor
Red onion. These are optional but can also add more flavor to the pickled eggs.
Hard-cooked eggs. Boil eggs at home or buy the pre-cooked, already peeled hard boiled eggs at your grocers. (If your eggs sometimes shred when peel, you'll love the store option!)
Homemade Vinaigrette Ingredients:
Honey. Honey adds a sweet flavor and balances out the other flavors in the salad.
Olive oil. I used olive oil in this recipe for a healthier and more flavorful option.
Apple cider vinegar. Sharp and a touch fruity, apple cider vinegar is my first choice but feel free to use another quality vinegar if you prefer.
Dijon mustard, ginger, salt, pepper. These complete the flavor profile.
Other Salad Ingredients:
Arugula or spring mix – Arugula or spring mix are colorful and flavorful greens that work well in this salad.
Mandarin oranges, blackberries – These fruits add flavor, color and nutrition to the salad. The freshness is a nice counterpart to the pickled egg slices
Special Tools
No special tools are required!
Step by Step Directions
One day ahead, mix pickling ingredients in a small jar and add peeled hard-cooked eggs. Make sure liquid covers the eggs. Refrigerate overnight. (You only need to do one color.)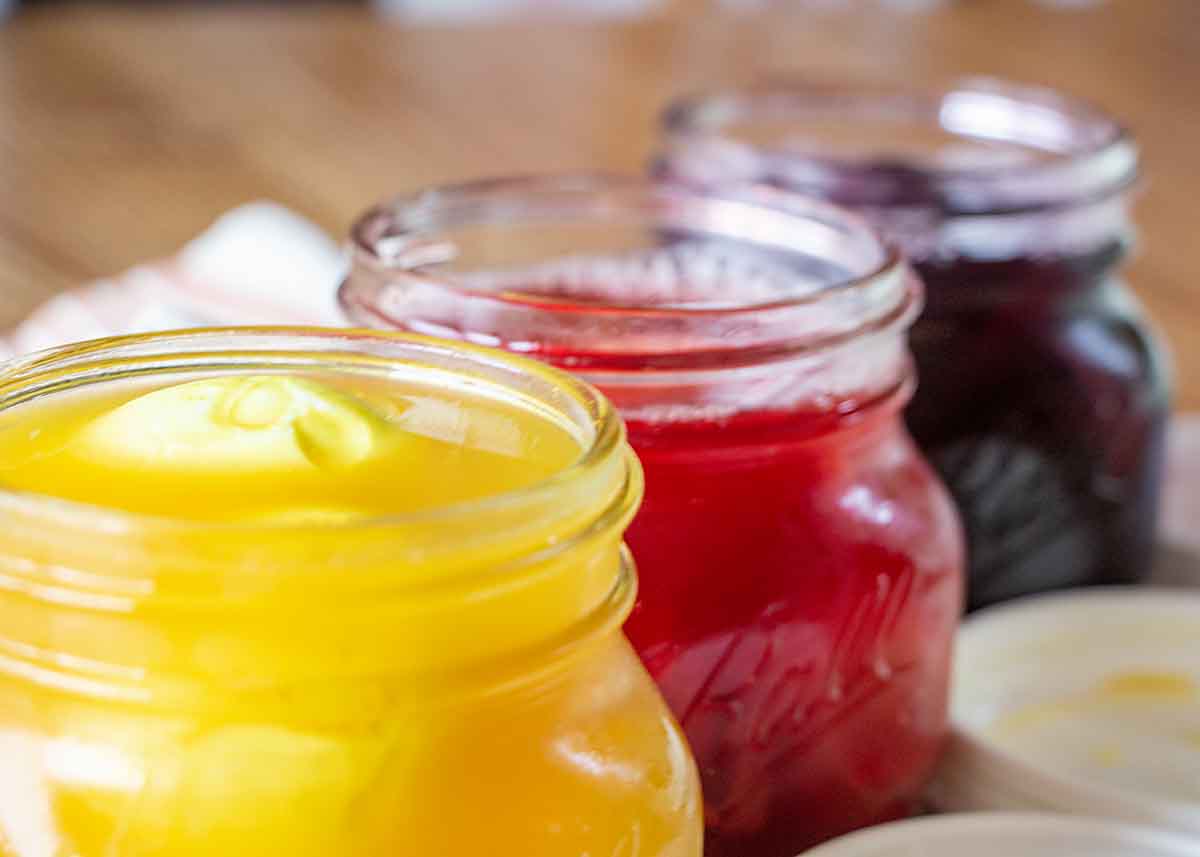 Combine salad dressing ingredients, then whisk until emulsified. Place arugula in a large salad bowl and toss with salad dressing.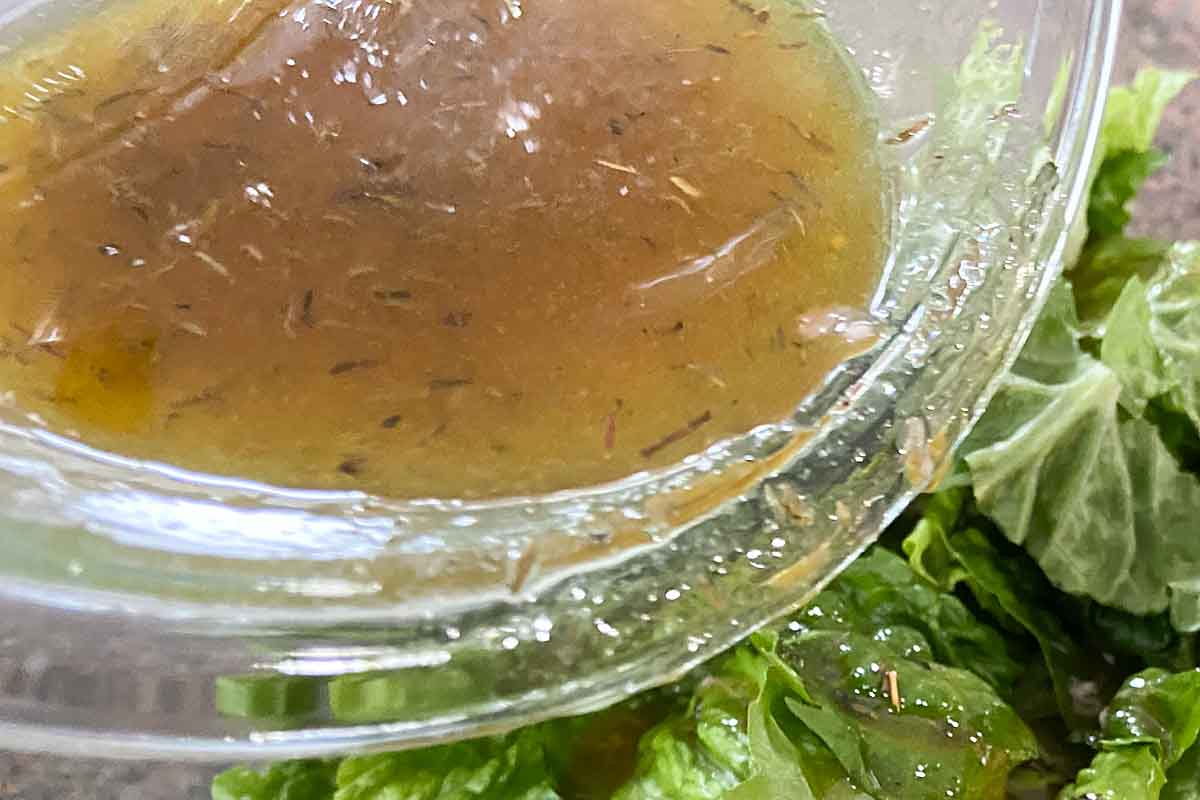 Top with orange sections and blackberries. Slice pickled eggs and add to salad toppings.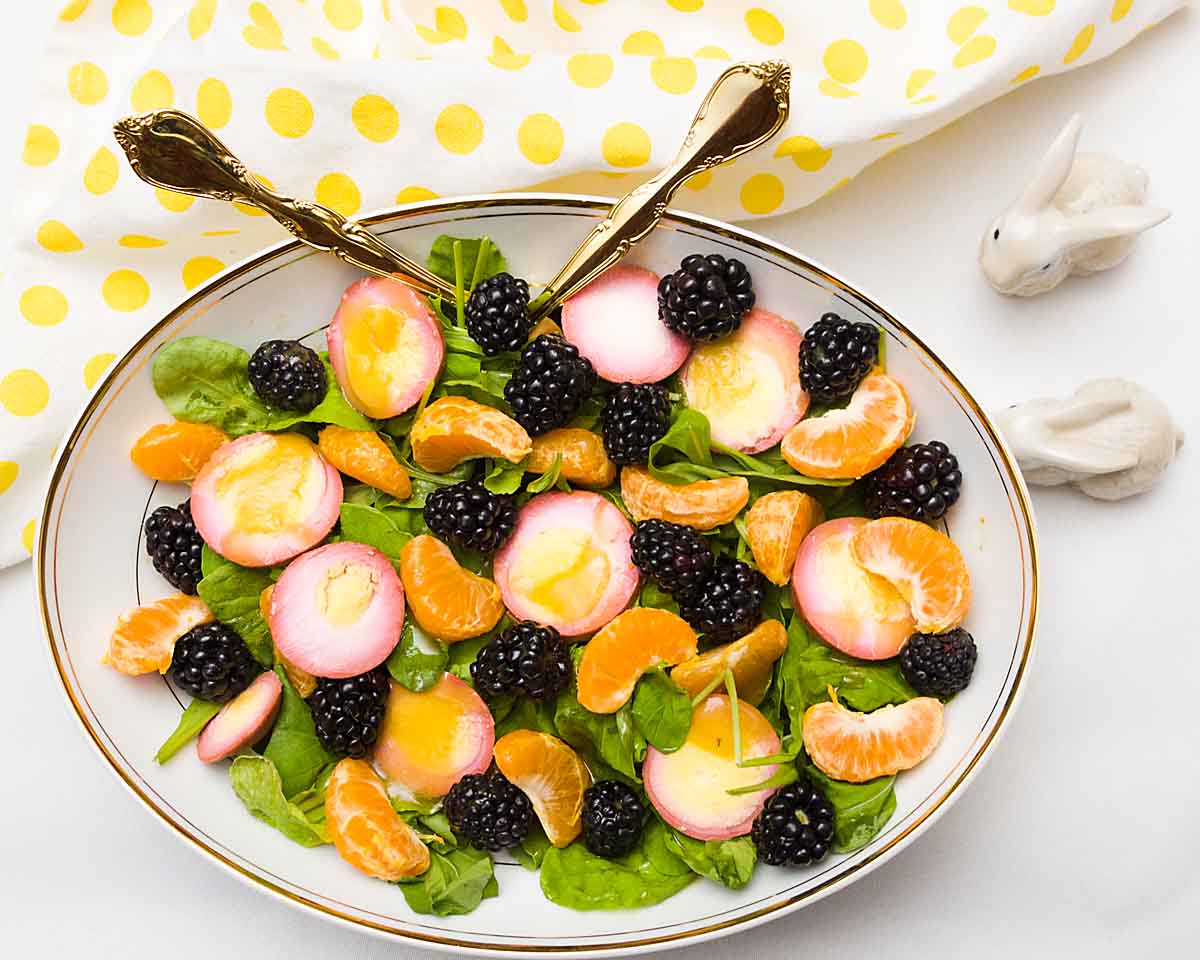 Serve immediately and enjoy.
How to Serve
You can serve this salad on its own as a light meal. You can also serve it as a first course salad. And wouldn't it look splendid on a holiday buffet table! Do you have your Easter and Mother's Day menus planned?
Before and After
Make-Ahead Tips
You can prepare the dressing and components of this salad a day or two in advance and keep, covered, in the refrigerator. Just before serving, assemble and dress your salad.
In Case of Leftovers
Once dressed, the salad is best eaten within hours. If you are very unsure of the amount that will be consumed, consider serving the dressing on the side and letting the guests dress their own salads. As long as it's not dressed, you'll have an extra 2-4 days to finish the salad, depending on the freshness of the ingredients.
Extra pickled eggs can be kept refrigerated, in the vinegar pickling solution, for at least three months. They even get more flavorful over time. Pickled eggs can be used in egg salad, deviled eggs–or almost anywhere you'd use a hard-boiled egg.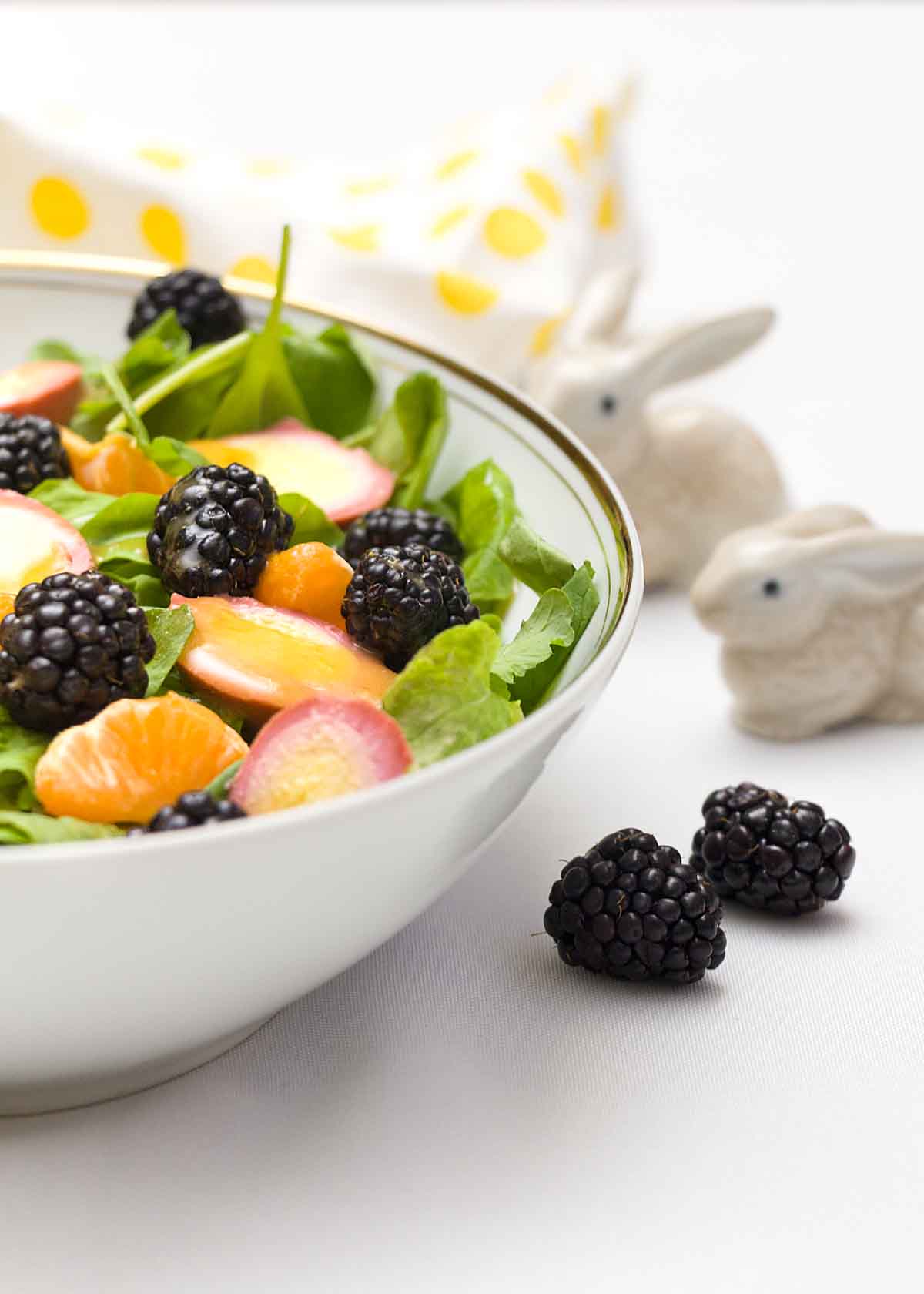 Easy Easter Side Dish Recipes
We share Recipes From Our Dinner Table! Join our group and share your recipes, too! While you're at it, join our Pinterest board, too!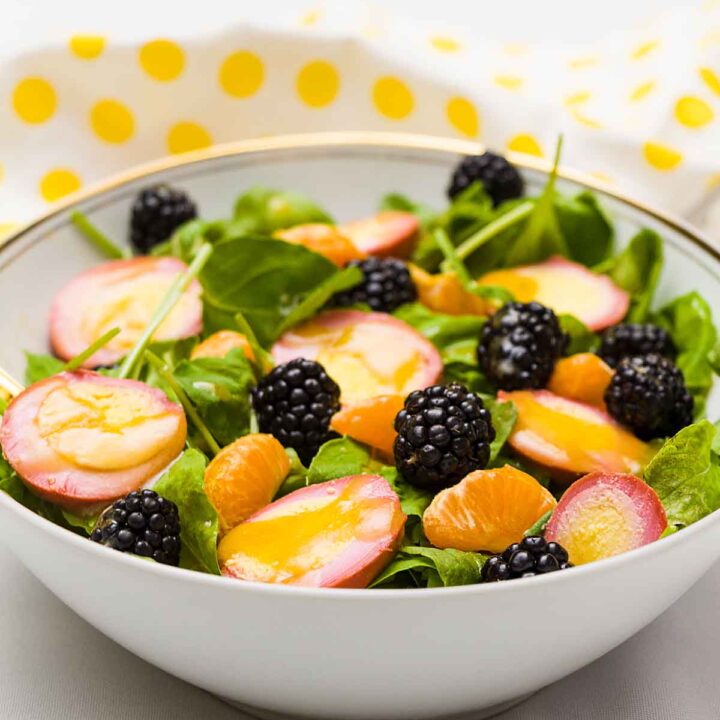 Colorful Spring Salad
Yield: 4 servings

Prep Time: 20 minutes

Additional Time: 1 day

Total Time: 1 day 20 minutes

Brighten up your Spring with this Colorful Spring Salad! Light and simple, this recipe combines fresh ingredients for the perfect Spring Salad.
Ingredients
Pink Pickled Eggs
1/3 – 1/2 cup beet juice
1/3 – 1/2 cup vinegar
Couple slices red onion (optional)
3 peeled hard-cooked eggs
Salad dressing
1 Tablespoon honey
¼ cup olive oil
2 Tablespoon apple cider vinegar
1 teaspoon Dijon mustard
½ -1 teaspoon ginger, to taste
Salt, pepper to taste
Additional Salad Ingredients
1 5-ounce package arugula or spring mix
3 small mandarin oranges, peeled and sectioned
½ pint blackberries
Instructions
One day ahead, mix pickling ingredient in a small jar and add peeled hard-cooked eggs. Make sure liquid covers the eggs. Refrigerate overnight.
Combine salad dressing ingredients, then whisk until emulsified. Place arugula in large salad bowl and toss with salad dressing.
Top with orange sections and blackberries. Slice pickled eggs and add to salad toppings.
Serve immediately.
Notes
Prep time is 20 minutes plus one day if you count the pickling time.
Nutrition Information:
Yield: 4 Serving Size: 1
Amount Per Serving: Calories: 278Total Fat: 16gSaturated Fat: 2gTrans Fat: 0gUnsaturated Fat: 12gCholesterol: 47mgSodium: 283mgCarbohydrates: 31gFiber: 5gSugar: 24gProtein: 5g

Nutrition data accuracy may vary with product selection, calculator accuracy, etc. Consult a professional for the best information.

This was originally published in shorter form, April, 2019.