GMA Best Breakfast Winner Makes Blueberry Coffee Cake
A few years back it was the buzz around town. One of our local restaurants, the White Gull Inn, was a finalist in the Good Morning America (GMA) Best Breakfast contest. Their breakfasts are amazing and the Inn is totally cute, so I can't say any of the regular patrons were surprised when they took first place. Plus it's tough to beat Cherry Stuffed French toast! Today, I am baking another favorite off the menu–Blueberry Coffee Cake.
The White Gull Inn makes their coffee cake with different fruits on different days of the week–no boredom here! Although the area is famous for their cherries, Sunday is blueberry coffee cake day–my favorite! Warm and fruity, with a brown sugar cinnamon sweetness, it has pushed the award winning stuffed French Toast and savory hash to my back burner.
If blueberries (or cherries) aren't a favorite, it's a pretty easy substitution to swap in your favorite fruit. Unlike the Inn, I use half whole wheat flour which got some interesting responses. My oldest said, it was amazing, but just a tad less perfect since it was a little soggier. My brother said it was even better because it was moister! Go figure!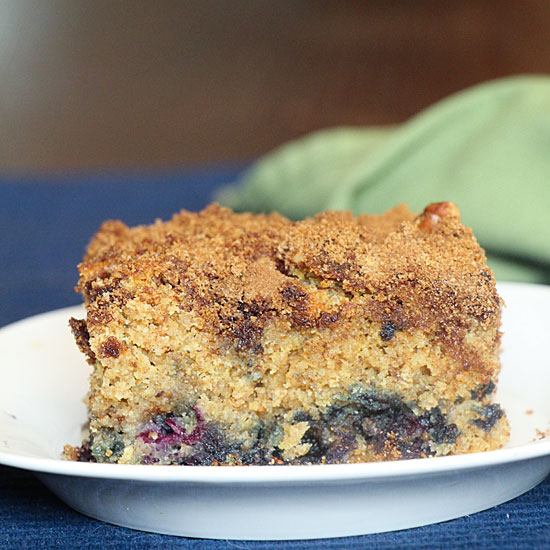 White Gull Inn Blueberry Coffee Cake
2014-07-06 08:55:22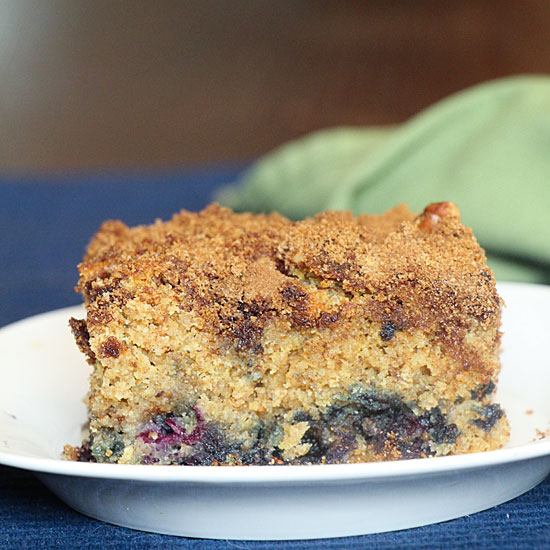 Serves 12
Nutrition Facts
Amount Per Serving
* Percent Daily Values are based on a 2,000 calorie diet. Your Daily Values may be higher or lower depending on your calorie needs.
Topping
1 1/2 cups brown sugar
2 Tablespoons cinnamon
3/4 cup chopped walnuts
Coffeecake
2 cups sour cream
2 teaspoons baking soda
2 cups all purpose flour
2 cups whole wheat flour
1 Tablespoon baking powder
1 cup butter, softened
1 1/2 cups sugar
4 eggs
2 teaspoons vanilla
2 cups fresh or frozen blueberries (do not thaw if frozen)
Instructions
Preheat oven to 350 degrees F. Make topping by mixing brown sugar, cinnamon and walnuts together and set aside.
Mix together sour cream and baking soda. In separate bowl, mix flour and baking powder. In medium mixing bowl cream butter and sugar together. Add eggs one at a time and vanilla. Cream until fluffy. Add sour cream and flour mixtures alternately and mix thoroughly.
Spread a scant (see note) one half of the cake mixture in greased 9" x 13" pan. Sprinkle blueberries over this, then top with 1/3 of the topping. Carefully spread the remaining batter on top, then sprinkle with the rest of the topping.
Bake for 1 hour to 1 hour 15 minutes. Check periodically and cover with foil if browning too quickly. Serve warm or cool.
Notes
The top layer of cake batter is a little challenging to spread over the nuts, topping & berries. Be sure you use only half (or a bit less) of the batter for the bottom layer.
Also I cut my pieces a bit smaller than they do 😉
Adapted from White Gull Inn
Adapted from White Gull Inn
Art of Natural Living https://artofnaturalliving.com/