Grilled Ham and Cheese Sandwich
With savory ham, creamy cheese and a bit of mustard, a Grilled Ham and Cheese Sandwich is classic comfort food for a family friendly lunch.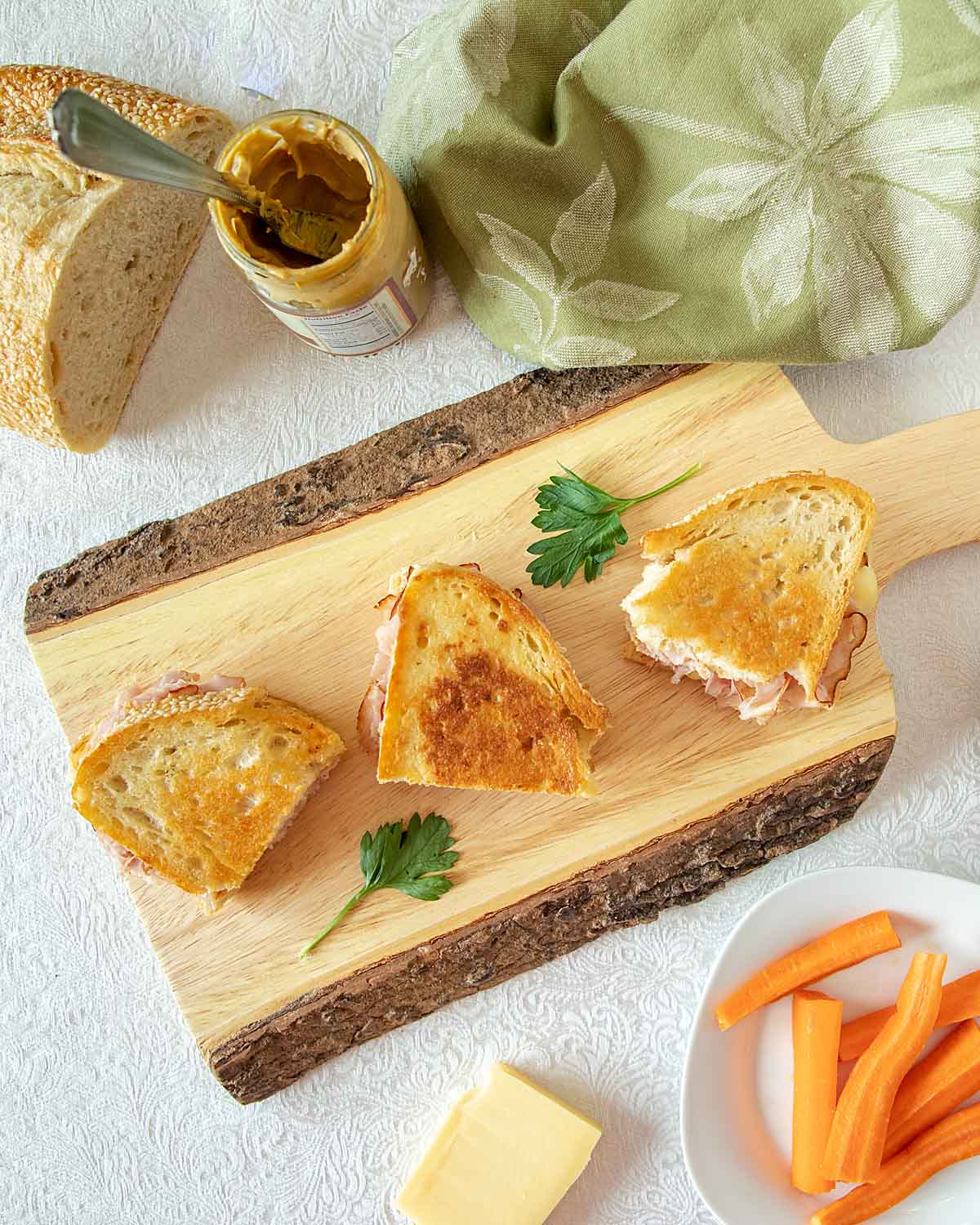 When my blogging friends decided to make grilled cheese, my initial thought was, "boring." As in, here is something that belongs on the kids menu next to hot dogs and PB&J.
But of course once a group of food bloggers starts to play with a concept, boring goes right out the window!
So then I thought what if I did grilled cheese with ham. While it's not quite up there grilled brie and cherry chutney, it does bring back a lot of childhood memories.
And it tastes pretty good too.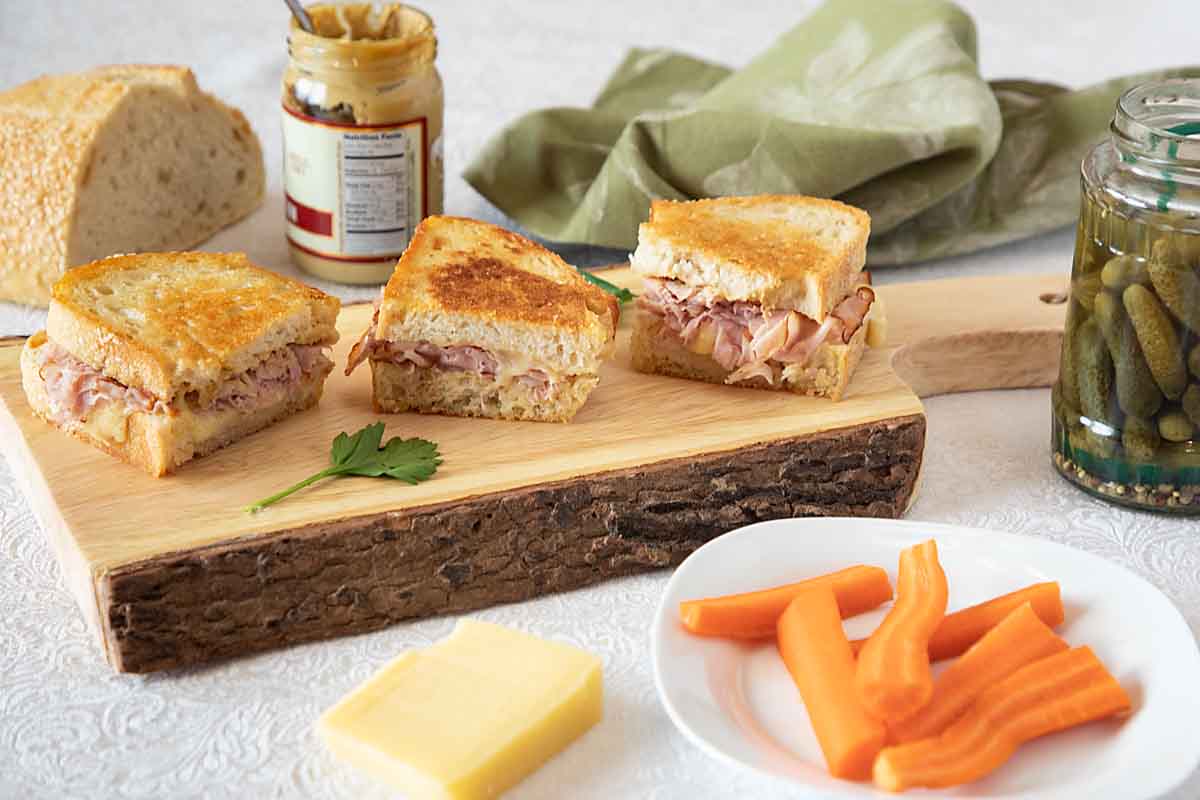 Why You'll Love This!
I guess even food gets its 15 minutes of fame! In the film It's Complicated, Meryl Streep served this to Steve Martin in the form of a Croque Monsieur. Dressed up with fine Gruyere cheese, bathed in Bechamel, then grilled, it is French café food, the fancy cousin of today's sandwich.
But while a Croque Monsieur may make you want to utter sweet nothings in French, a Grilled Ham and Cheese will make you smile warmly and sigh. Maybe lean back and put your feet up.
That's because it's:
Easy. Just combine a few ingredients on some buttered bread and grill, stovetop. Works even on a busy night.
Tasty. I always say, things become classics for a reason. With food, it's usually taste!
Kid-friendly. This is a sandwich that pleases even picky kids (leave the ham off if you must). And happily grown-ups love it too! How many foods can say that!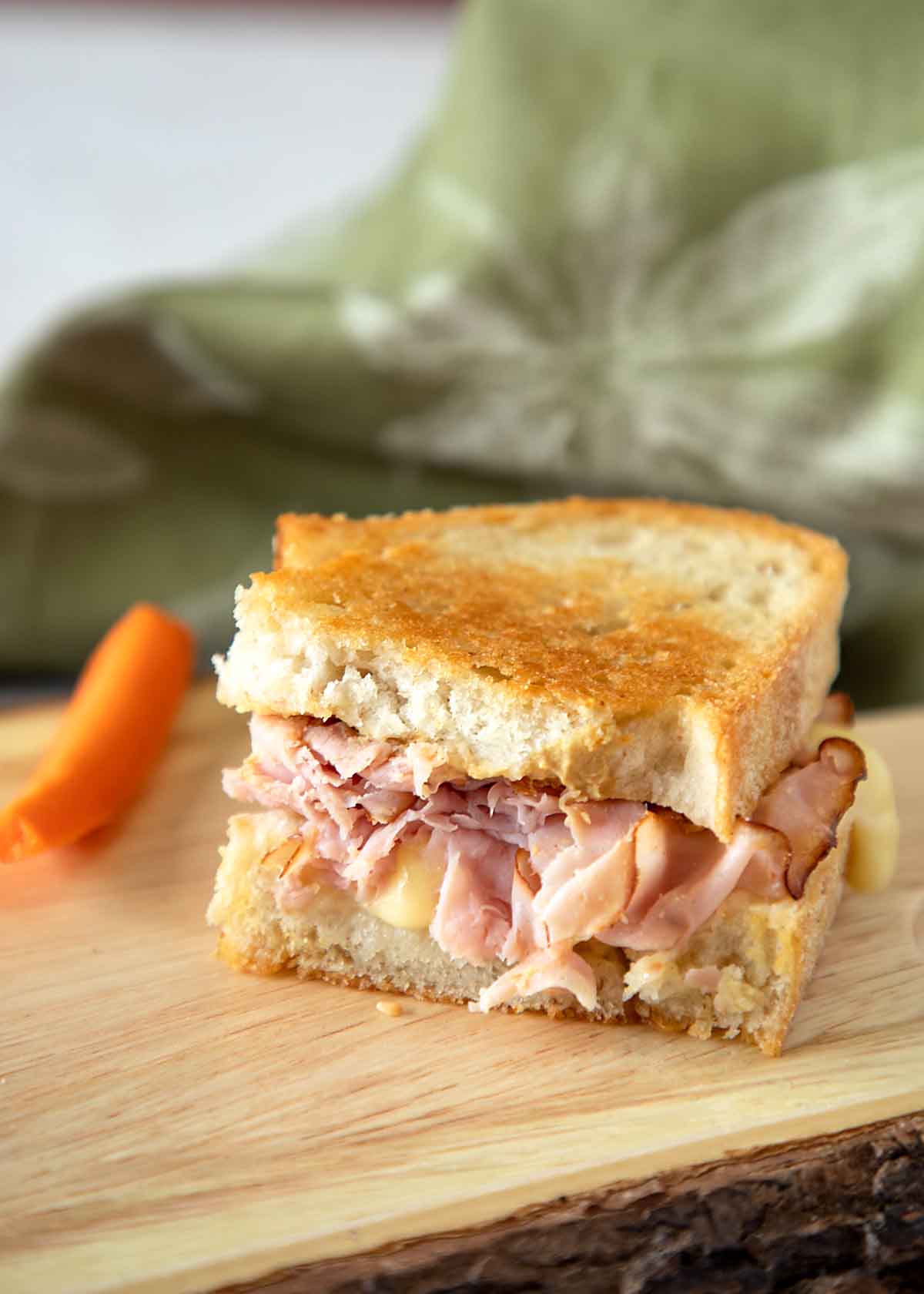 What You'll Need
Ingredients
Ham. Deli ham is probably the easiest option here. But if you serve a ham for Easter and have leftovers, so ahead and slice that up. (My mom did it both ways). And it you want to go organic and uncured I have seen organic uncured deli style ham from both Organic Valley and Applegate Farms (plus whole hams of course).
Cheese. I like to go with slices (which I cut myself), since I think that makes transfer to the pan, and flipping, easier. Some people prefer to use shredded cheese. As to what type of cheese, well there's a whole discussion on that below (but Swiss is my choice)!
Bread. Yup, a whole discussion on this below too. Bottom line—go with what you like.
Mustard. This is the "secret ingredient" that puts these Grilled Ham and Cheese Sandwiches over the top. I used Dijon mustard, but would use yellow or even my homemade peach mustard in a heartbeat. If you hate mustard, skip it.
Butter. This is to get a nice golden brown butter crust on the bread. But some people swear by mayonnaise and I tried something new (yup, you guessed it, more on this below). But butter is the gold standard.
Special Tools
A lidded skillet will help ensure you get the cheese melted before the bread burns.
Step by Step Directions
Top one piece of bread with cheese and the other with mustard.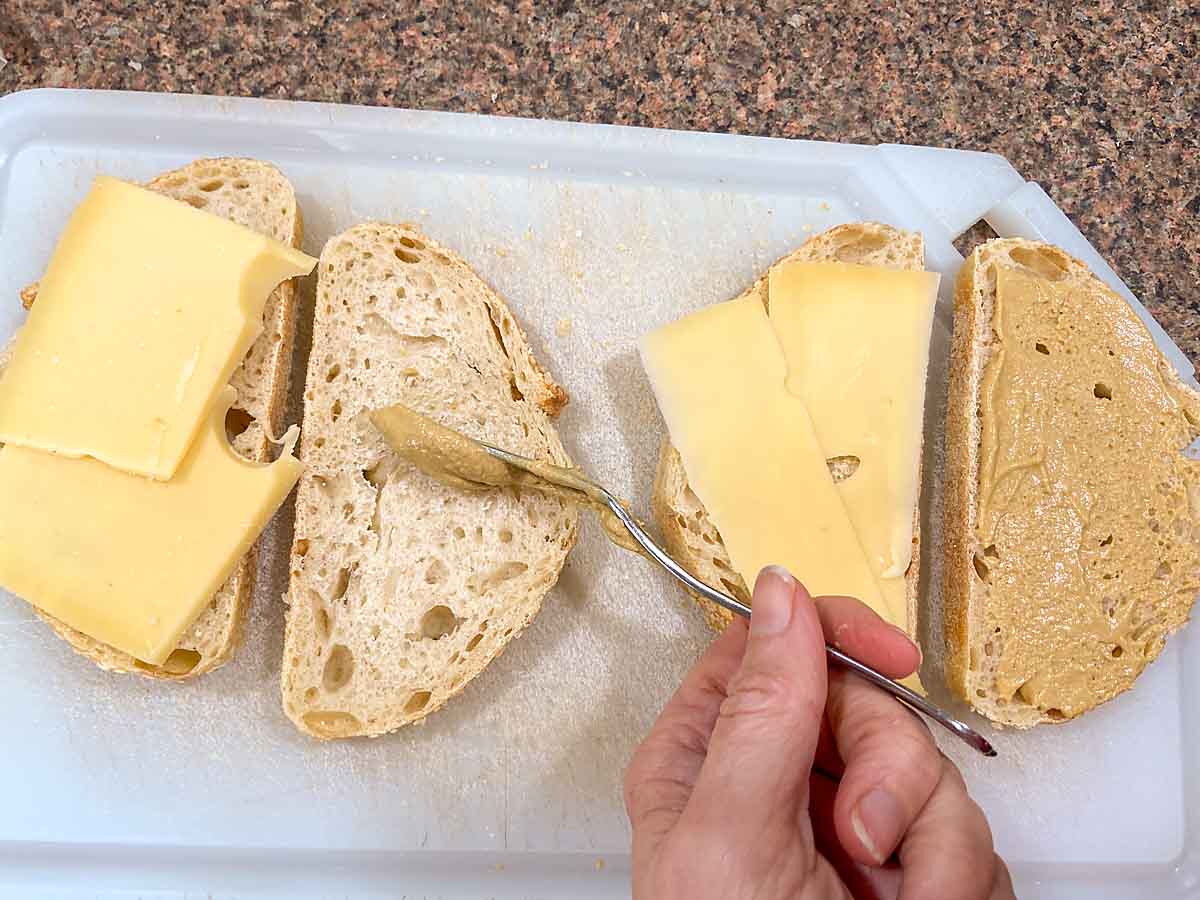 Top the mustard with ham.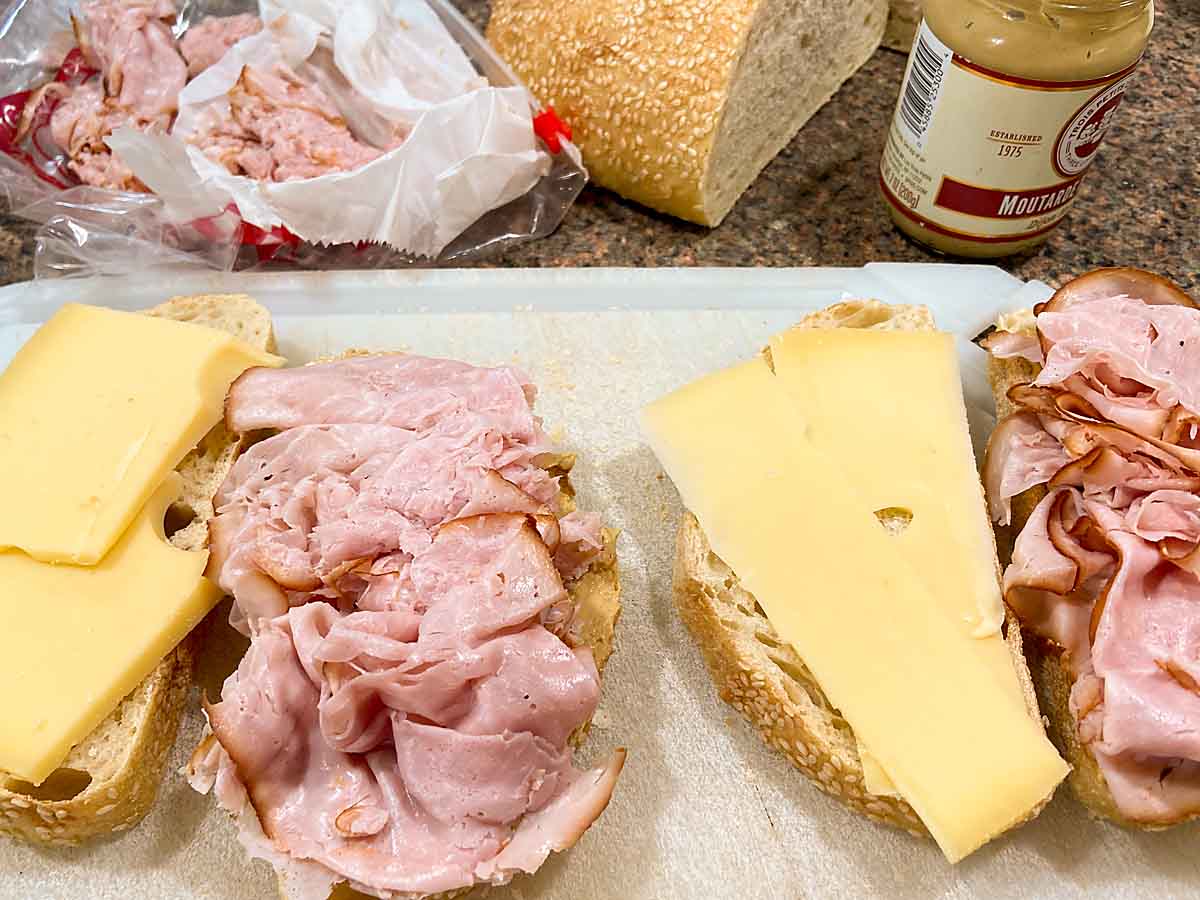 Put the two sides together and butter the outsides of the bread (see Tips for suggestions for hard butter).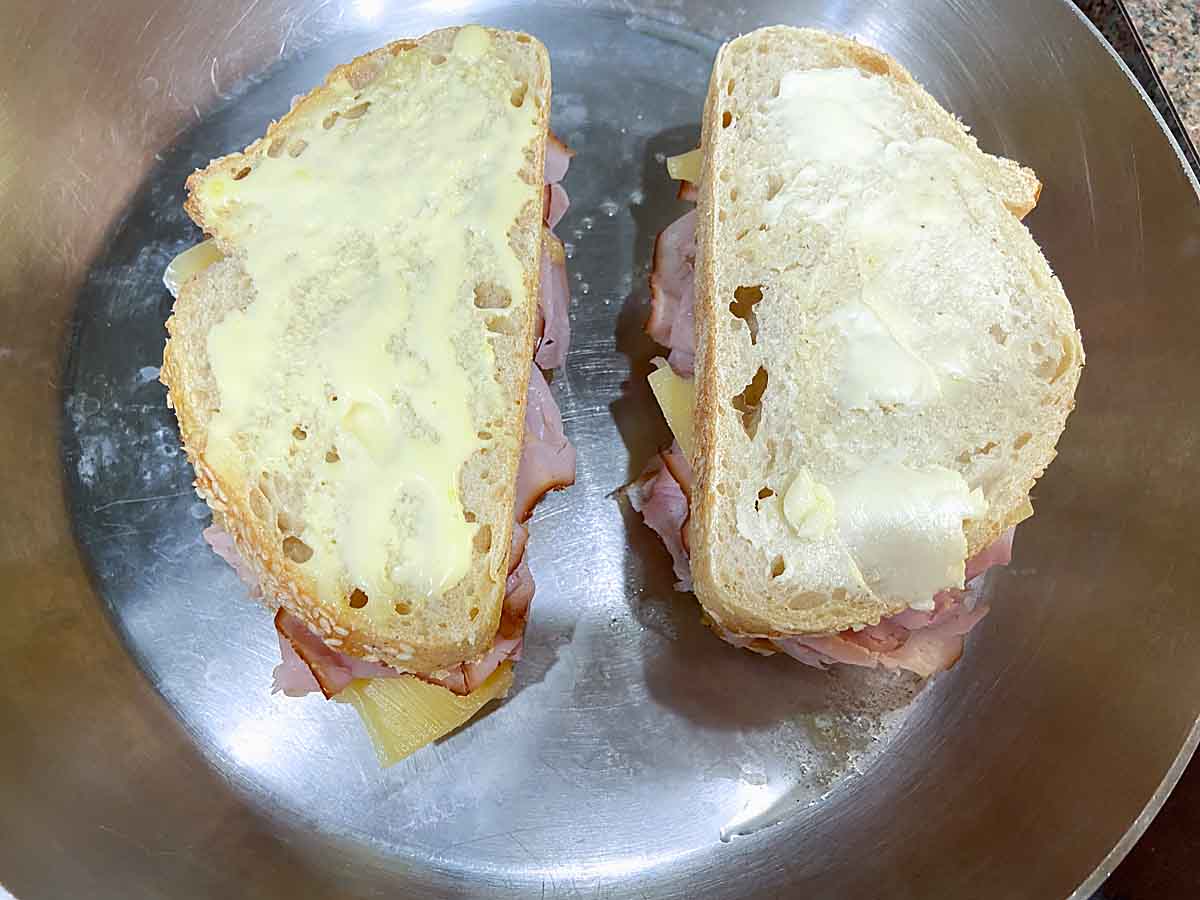 Grill, covered, until golden, then flip so uncooked side is down.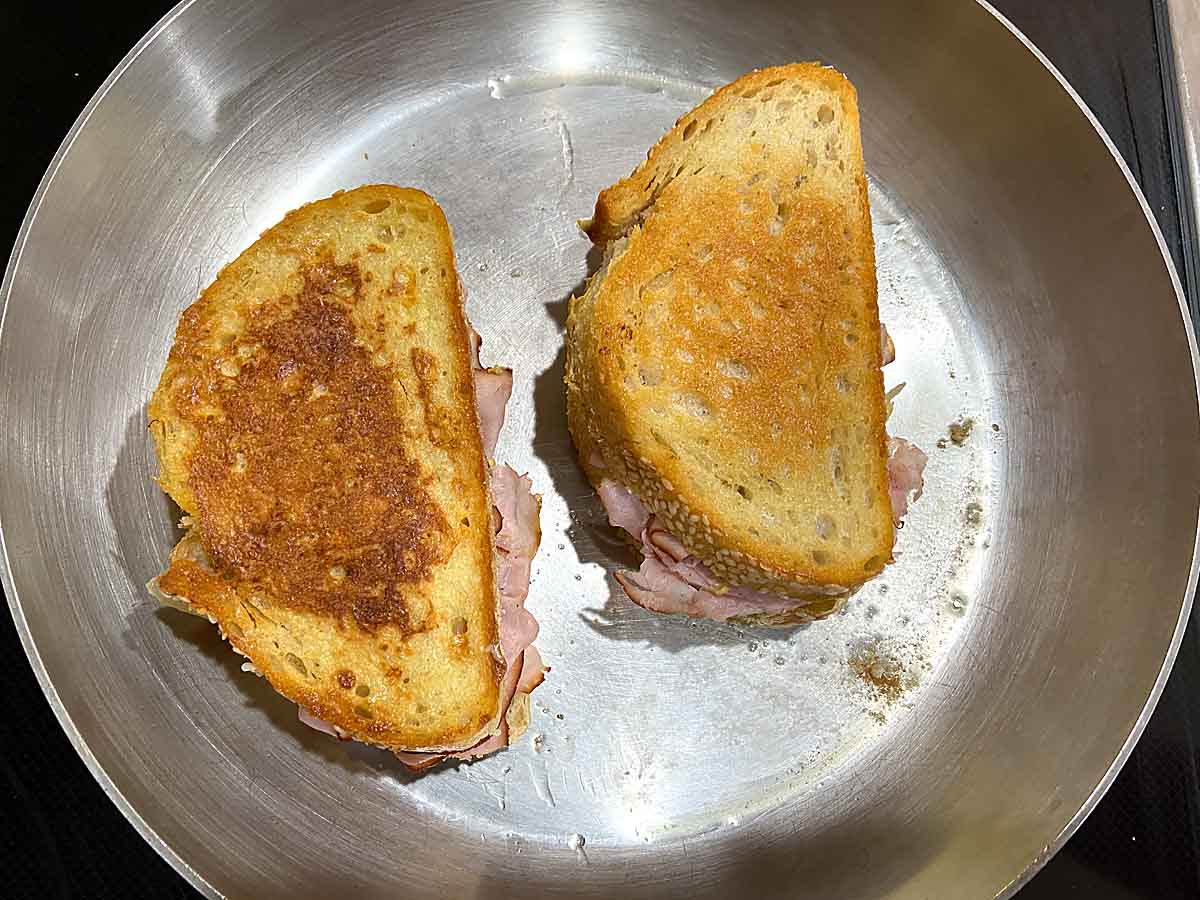 Remove when both sides are golden and cheese is melted.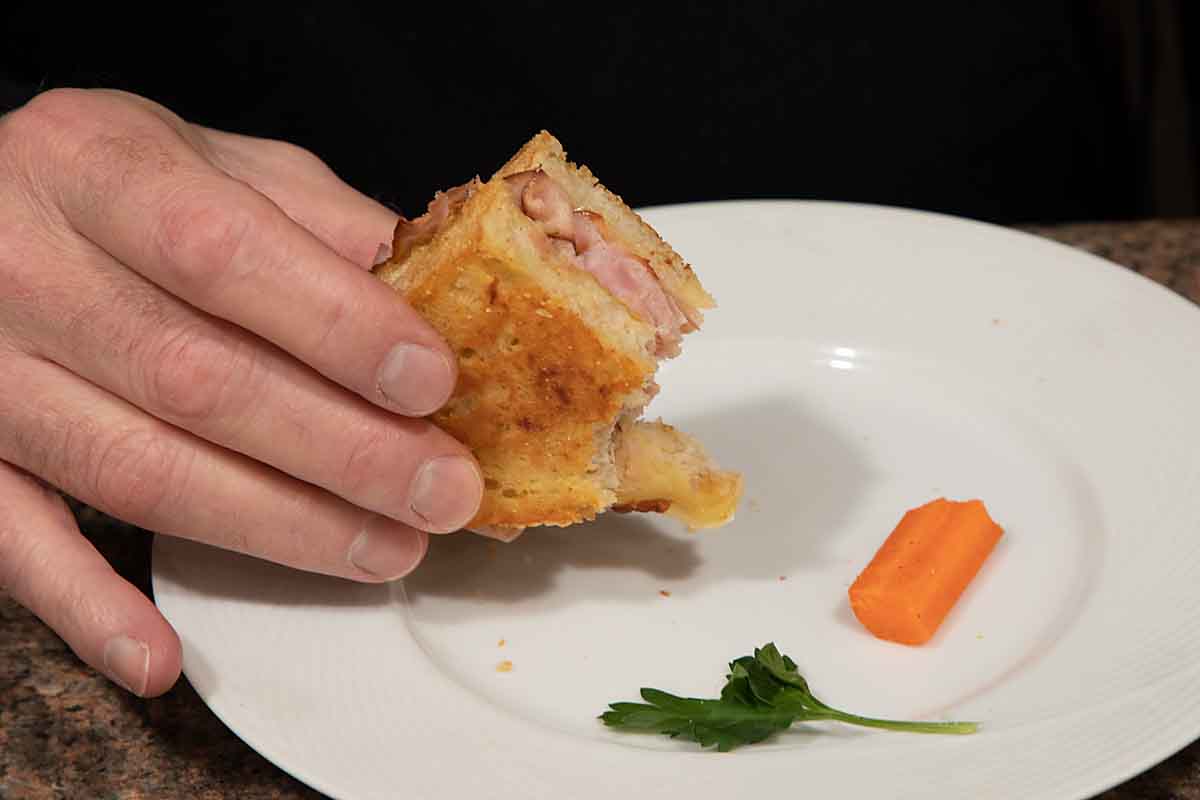 Enjoy!
What is the best cheese for this?
I used Jarlsberg (Swiss) because it's my husband's favorite cheese and, well, that's what I grew up eating. In fact my mother actually called these sandwiches Grilled Ham and Swiss. No, you can't second guess childhood memories.
But if you prefer Gruyere, be my guest—you'll be right up there with the Croque Monsieur folks! Or Gouda or Cheddar. Yes, just about any cheese can work… well as long as it's real cheese, not processed. Wisconsin girl here.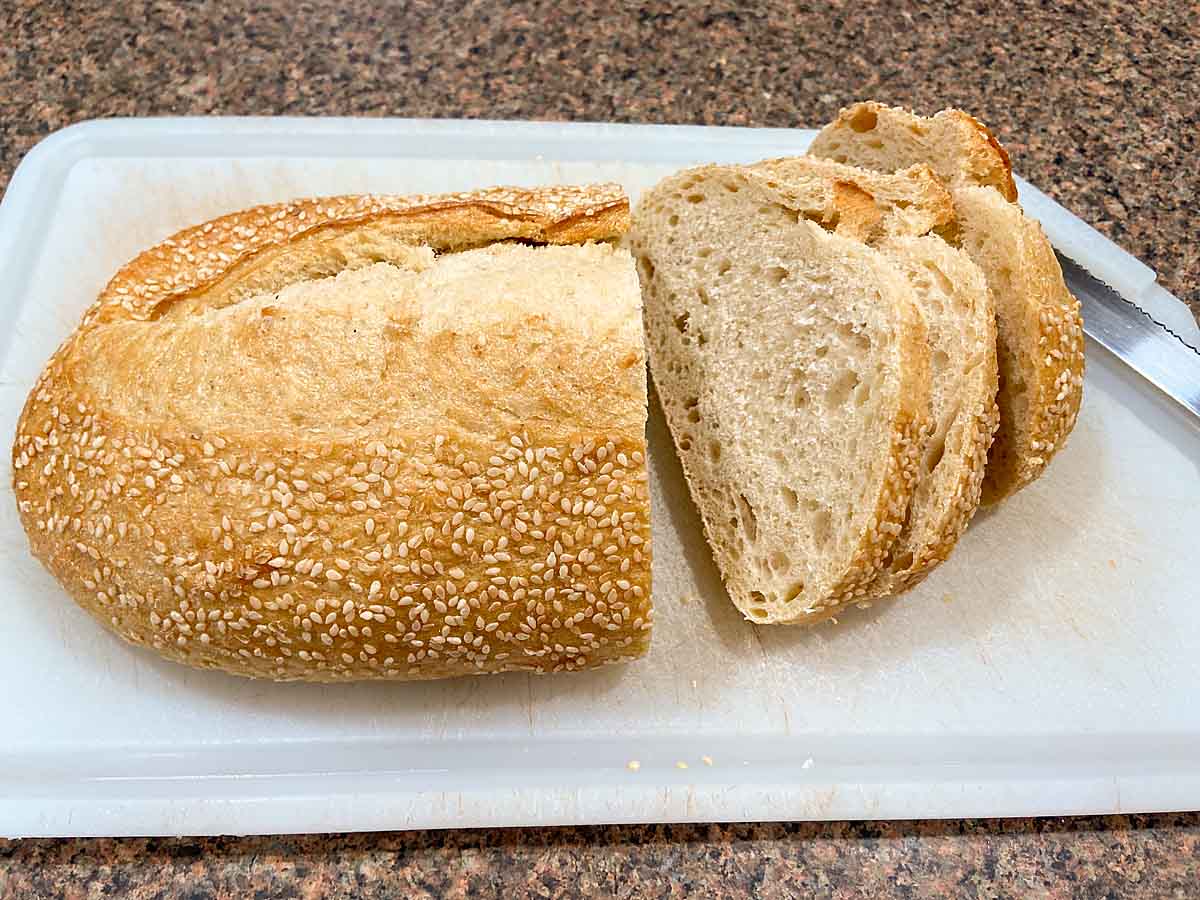 What is the best bread?
My first thought on bread was rye. I mean what's more classic than a nice deli rye. The bakery even had sliced pumpernickel! Alas, the flavor was great but it was so dark it made it difficult to see the grilled color at all. So I'd scratch that one.
In the end, my favorite was bakery sourdough, sliced just a little thick. It had an amazing crunch and really showed off the golden grill color. Plus it had flavor that could stand up to (but not dominate) the ham and cheese! .
But just like with the cheese, go with what you like–preferably a bread that's not too dark. Go classy with sourdough, go healthy with multigrain, go picky-eater-friendly with white bread. All yum!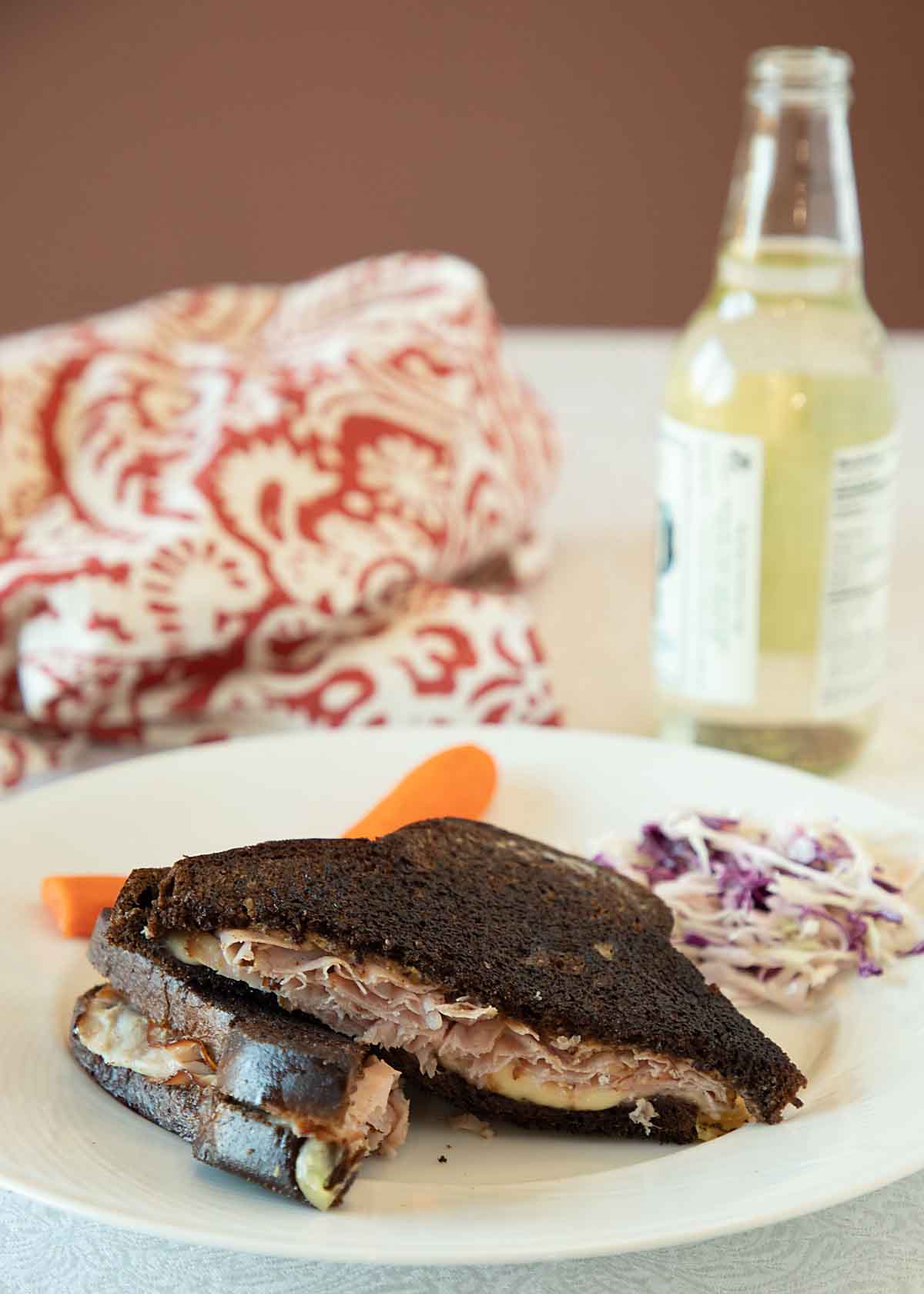 Did I hear something about grilling with mayonnaise?
Now I read something new the other day—that grilling with mayo works better than butter. They said that the mayo browned a bit more slowly making it more likely to get the cheese melted before the sandwich is too dark. So I made one with butter one with mayo.
Unfortunately I used the dark rye, so all I can say is that both worked and tasted about the same.
I also had a little leftover hollandaise, so I tried that too, figuring it was very similar to mayo in ingredients. Well this time (on sourdough) the hollandaise clearly got darker. Still it was pretty and tasty. As was the buttered version.
In the end I felt there wasn't enough difference to matter a lot. Well, unless you're trying to use up hollandaise and conserve butter.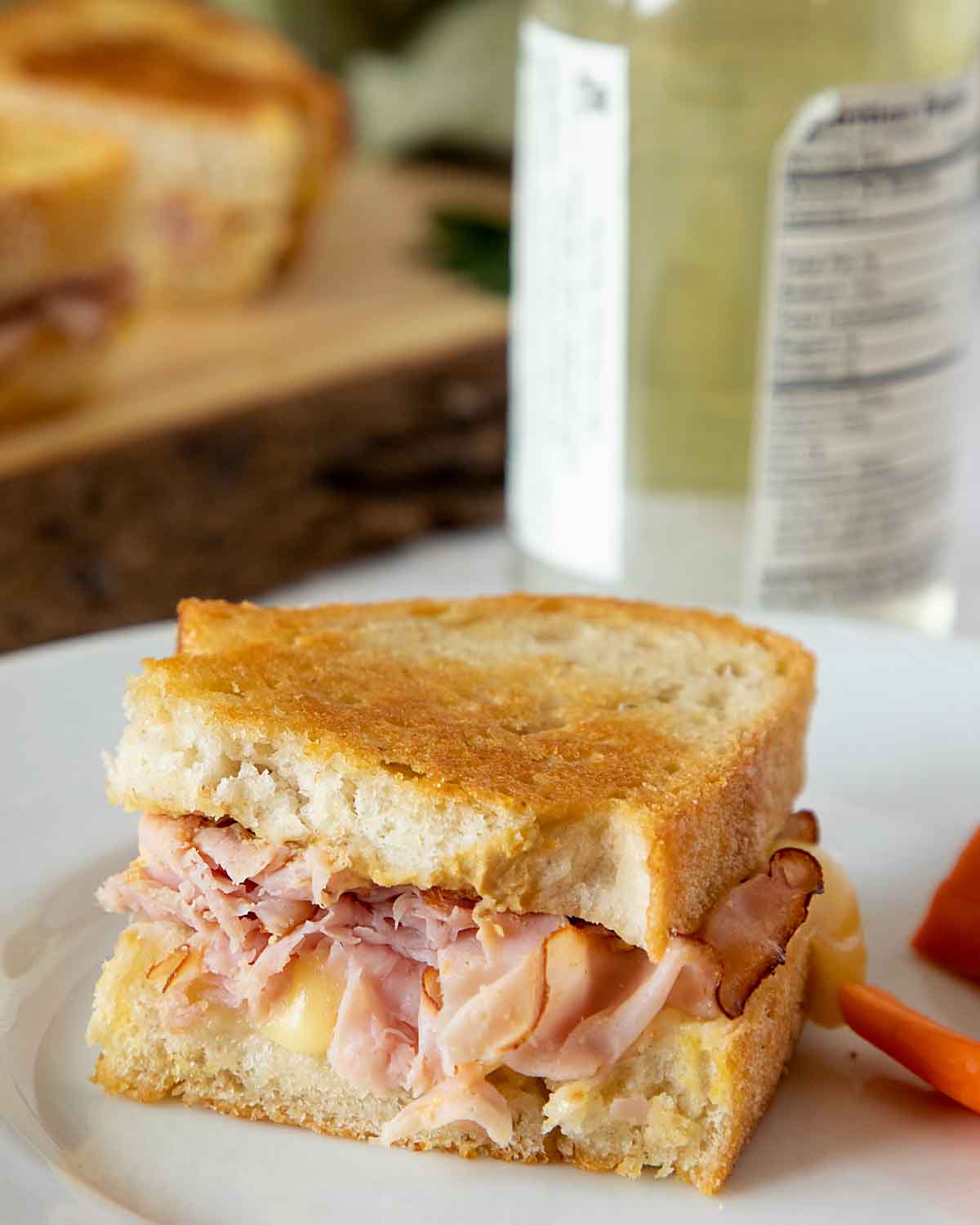 How to Serve
Grilled Ham and Cheese Sandwiches are perfect for lunch or a light dinner. In terms of sides, I love adding a casual salad like coleslaw, Broccoli Waldorf Salad or Carrot Raisin Salad. Raw vegetables with dip is another nutritious option. Or even a small letttuce salad.
Sliced fruit or fruit salad is a good choice as well. Consider a cluster of grapes, melon slices or apple quarters.
For a more elegant lunch or light book club supper, consider adding a cup of soup to any of the serving options above. Allow the option of a full or half sandwich in that case.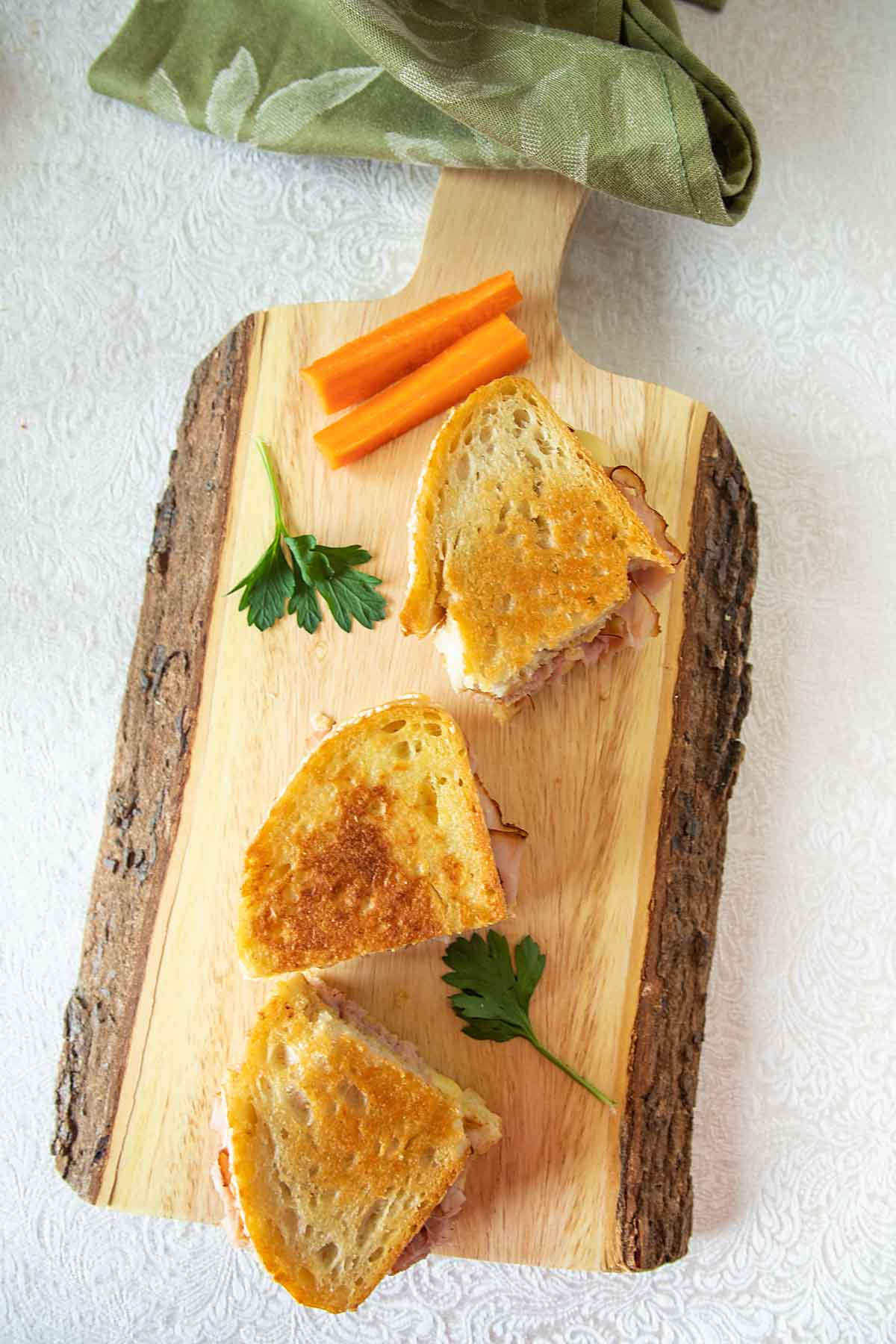 Tips & FAQs
The one challenge in this sandwich is getting the cheese melted without burning the bread. To do this, I keep the heat a little low and the pan covered. Then I check the sandwich and adjust as needed (flipping when the first side is done, of course). When the cheese is nearly melted, I take the cover off to make sure the sandwich is crisp (type of bread will impact that too)
If my butter is too hard to spread on the bread (which is true the entire winter), I drop a pat into the pan, then add the sandwich. Next I set another pat of butter on to the top slice of bread and cover the pan with the lid. I grill the sandwich covered, and by the time it's ready to turn, the butter is soft enough to spread before flipping.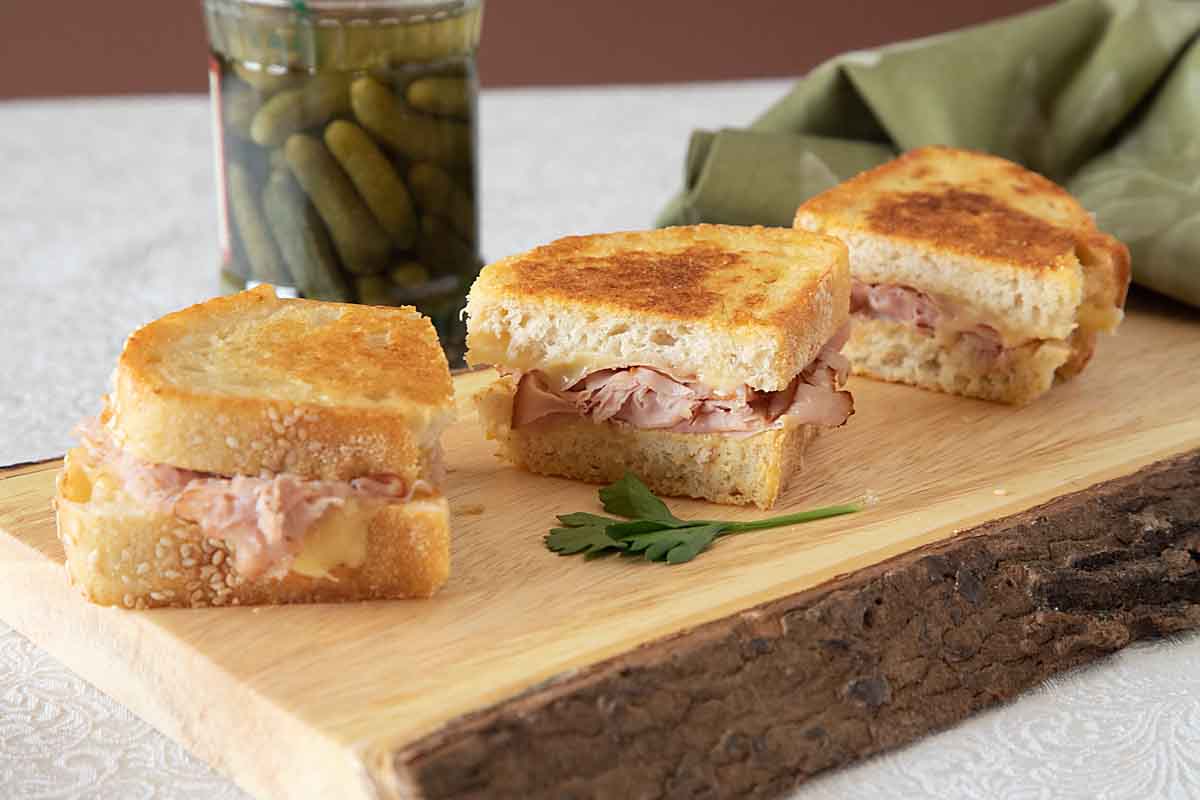 Get Your Grilled Cheese On!
We share Recipes From Our Dinner Table! Join our group and share your recipes, too! While you're at it, join our Pinterest board, too!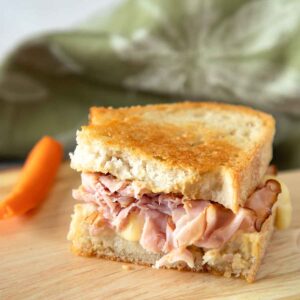 Grilled Ham and Cheese Sandwich
With savory ham, creamy cheese and a bit of mustard, a Grilled Ham and Cheese Sandwich is classic comfort food for a family friendly lunch. 
Ingredients
2

slices

bread

1/2 - 1

Tablespoon

Dijon mustard

1

ounces

cheese

or up to 1 1/2 ounces, sliced

3

ounces

ham

approximate, shaved or sliced

1/2

Tablespoon

butter
Instructions
Top one piece of bread with cheese and the other with mustard.

Top the mustard with ham.

Put the two sandwich halves together and butter the outsides of the bread.

Lay sandwich flat in large skillet. Cook on medium low, covered. Adjust heat if sandwich is browning too quickly or slowly. You want the cheese to be melted when the bread is toasted. When first side is golden, flip so the uncooked side is down

Cover and continue cooking until cheese is almost melted. Remove cover to let bread crisp better and cook until cheese is melted and bread is golden.

Remove from pan and enjoy immediately.
Nutrition
Calories:
540
kcal
Carbohydrates:
28
g
Protein:
32
g
Fat:
33
g
Saturated Fat:
15
g
Polyunsaturated Fat:
3
g
Monounsaturated Fat:
11
g
Trans Fat:
0.3
g
Cholesterol:
96
mg
Sodium:
1752
mg
Potassium:
379
mg
Fiber:
3
g
Sugar:
4
g
Vitamin A:
476
IU
Vitamin C:
0.2
mg
Calcium:
292
mg
Iron:
3
mg
I am not a health professional and nutrition data is calculated programatically. Accuracy may vary with product selection, calculator accuracy, etc. Consult a professional for the best information.