Lamb Sliders with Tzatziki Sauce
Add a little exotic flare to your summer grilling with these Lamb Sliders with Tzatziki Sauce–the cucumber, yogurt, lemon sauce is the perfect compliment! Perfect for picnics, potlucks or cookouts!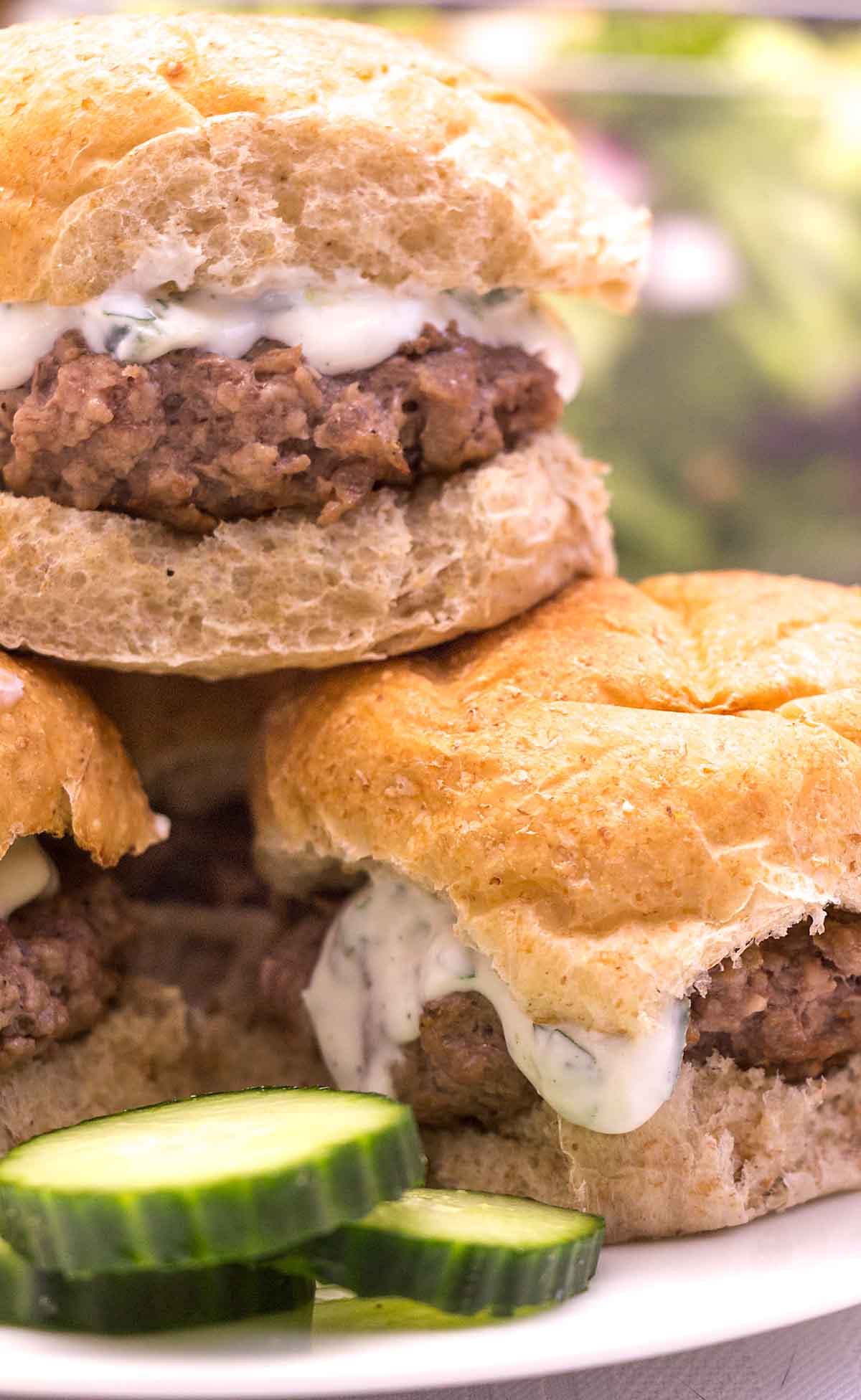 It's supposed to be spring in the Midwest right now. But winter keeps coming back with additional dustings of snow. Nooooo!
But despite the weather, I'm excited! Picnics. Grilling. Cookouts. It will be here in no time!
And to prepare, I've reworked my Lamb Sliders from 2019! Back then a blogging friend, David from Cocoa and Lavender mentioned adding some herbs to the ground lamb burgers. It sounded so good, I updated the recipe!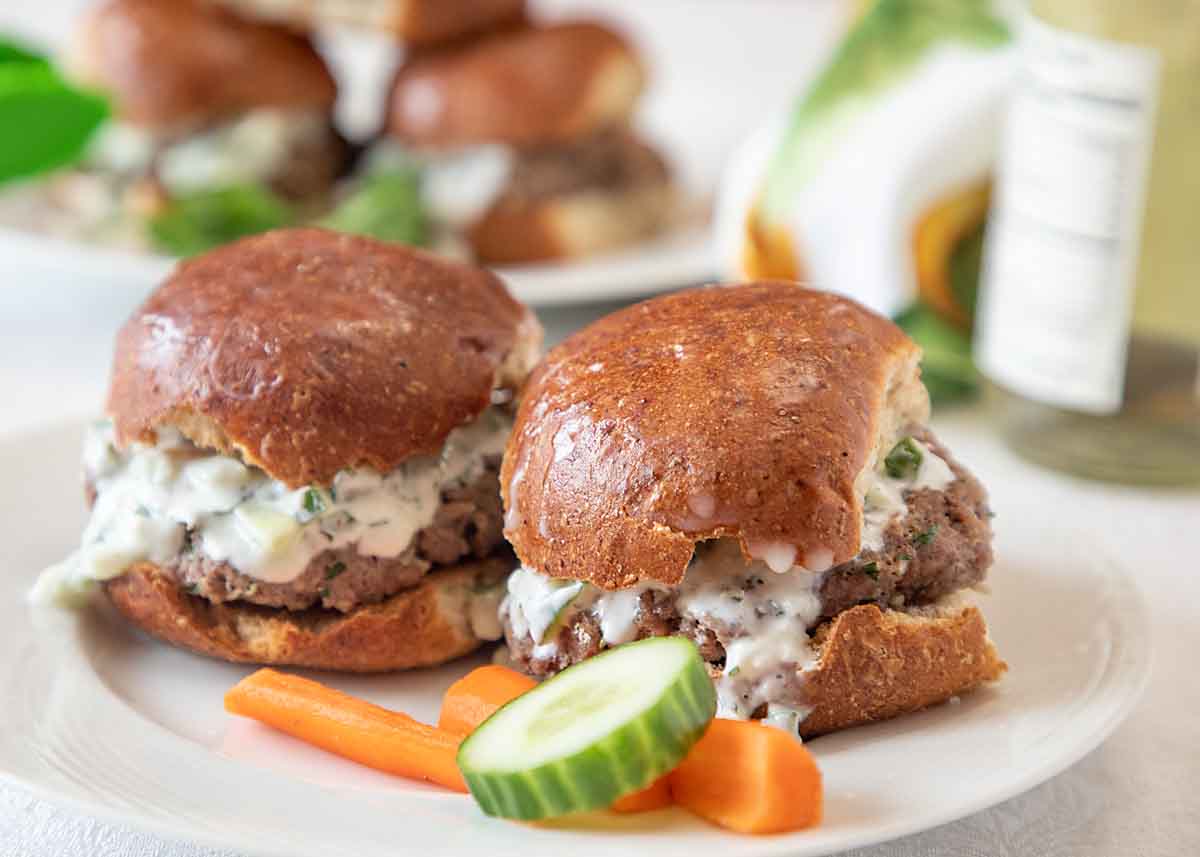 What is Tzatziki Sauce?
According to Wikipedia, Tzatziki Sauce is "a dip, soup, or sauce found in the cuisines of Southeast Europe and the Middle East. It is made of salted strained yogurt or diluted yogurt mixed with cucumbers, garlic, salt, olive oil, sometimes with vinegar or lemon juice, and herbs"
While you may not know the name you're probably familiar with the delicious cucumber yogurt mixture that is spooned onto Gyro sandwiches. Let me tell you it is equally good on a Greek Lamb Burger.
In the past, I've just mixed yogurt and cucumbers. It was good, but with just a few more add-ins like garlic, lemon and parsley, the sauce is over the top!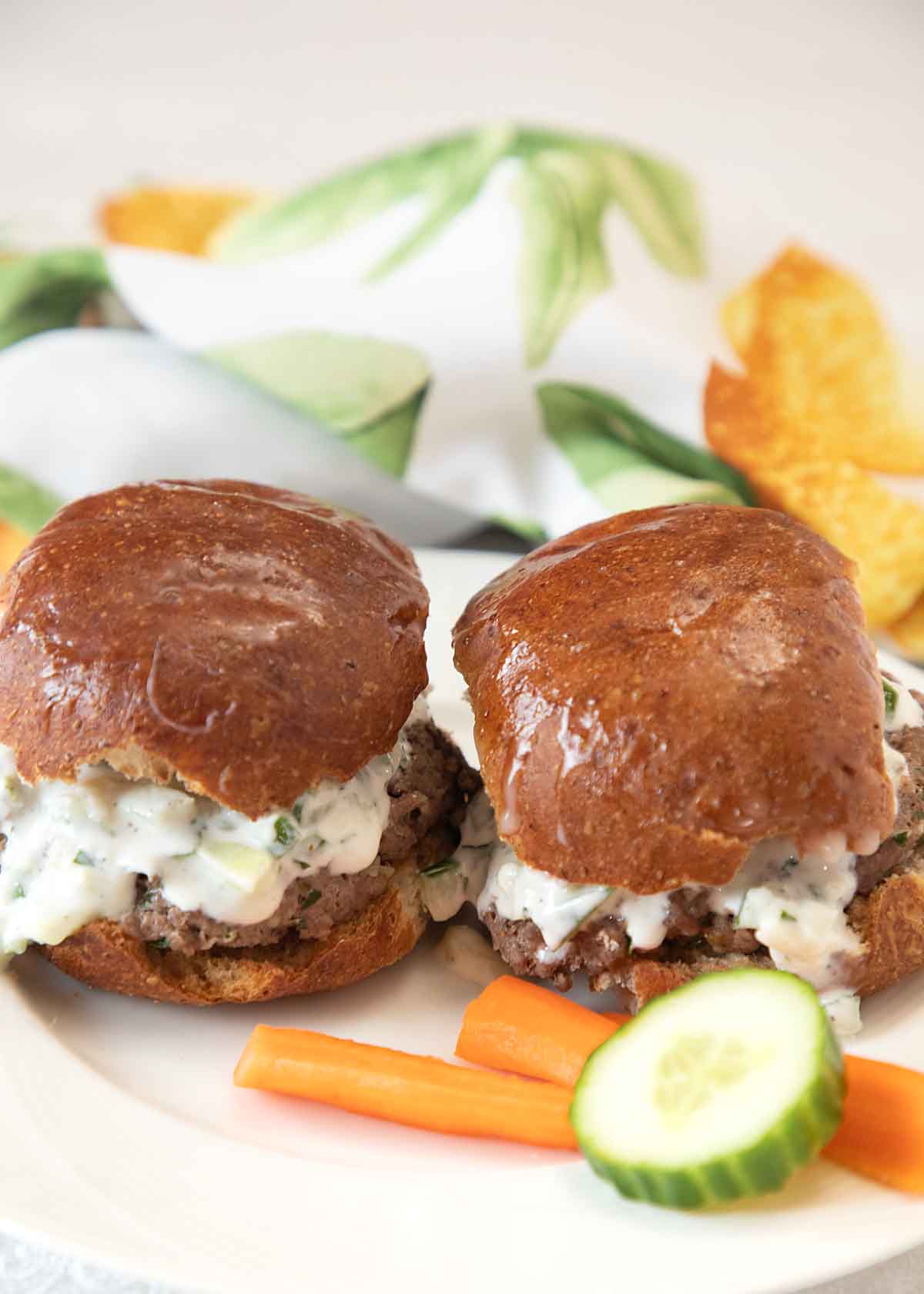 Why You'll Love These
Flavorful. From the lamb mixed with herbs to the fresh and tasty yogurt sauce, good flavor is everywhere.
Easy. Just mix together a quick sauce, fry up some burgers and you're good to go.
Perfect for any appetite or for a big spread. I love the slightly smaller slider size because it can adapt to different appetites and still leave room for lots of fun picnic sides.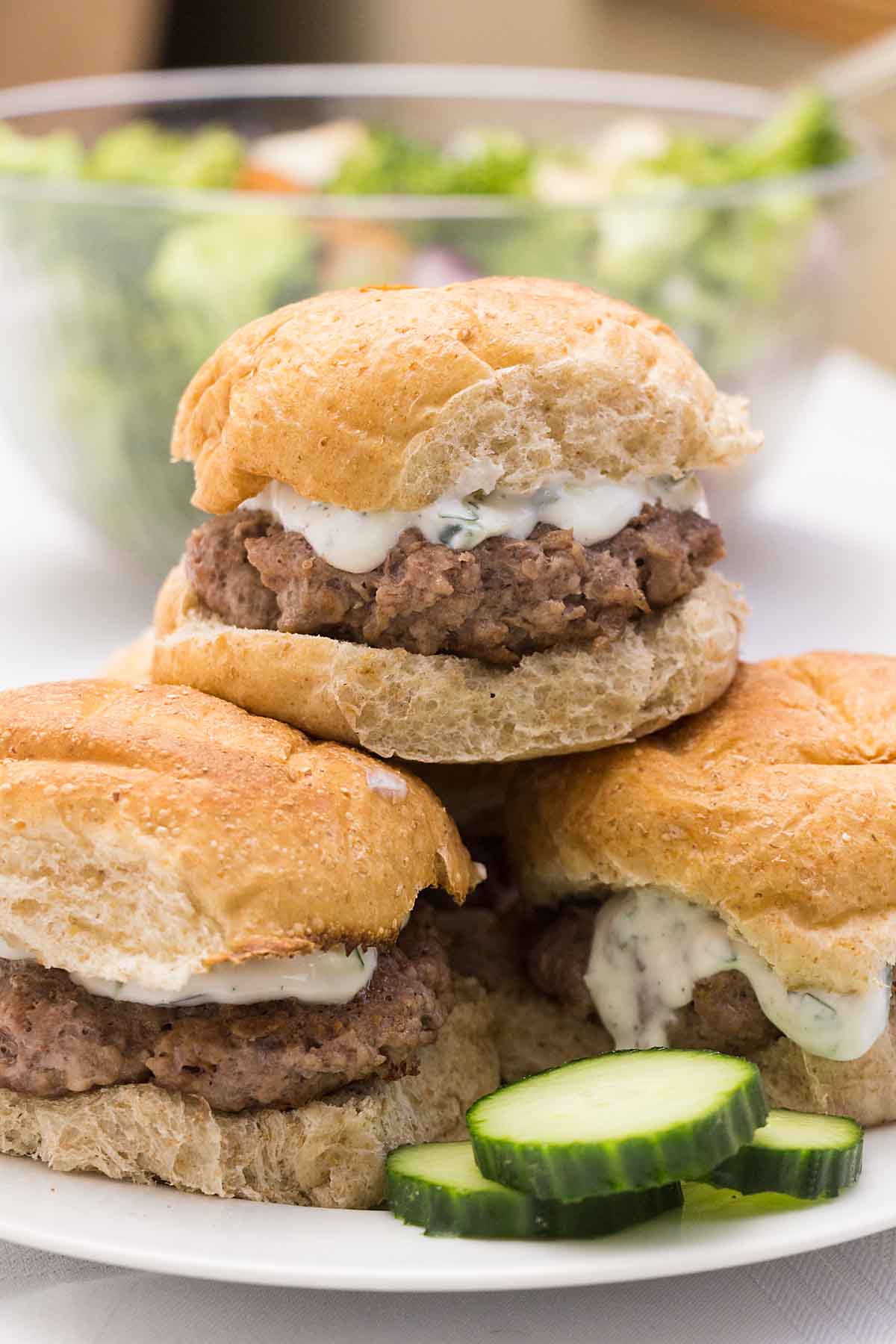 What You'll Need
Ingredients:
Sauce:
Yogurt. This forms the tart and creamy base of the sauce.
Cucumber. This adds a freshness to the sauce
Lemon juice, parsley (or mint or dill), garlic, salt, pepper. These add flavor.

Burgers
Lamb. This is the flavorful base of the burger.
Buns. I used slider sized buns, but you can use full-sized by adjusting the burger size.
Fresh Garlic, Fresh Parsley, Dried Oregano, Dried Thyme, Dried Onion add Mediterranean flavor to the meat.
Tools:
No special tools are needed though I do like an instant read thermometer to be sure the meat is up to temperature.
Step by Step Directions
Mix the Tzatziki Sauce ingredients.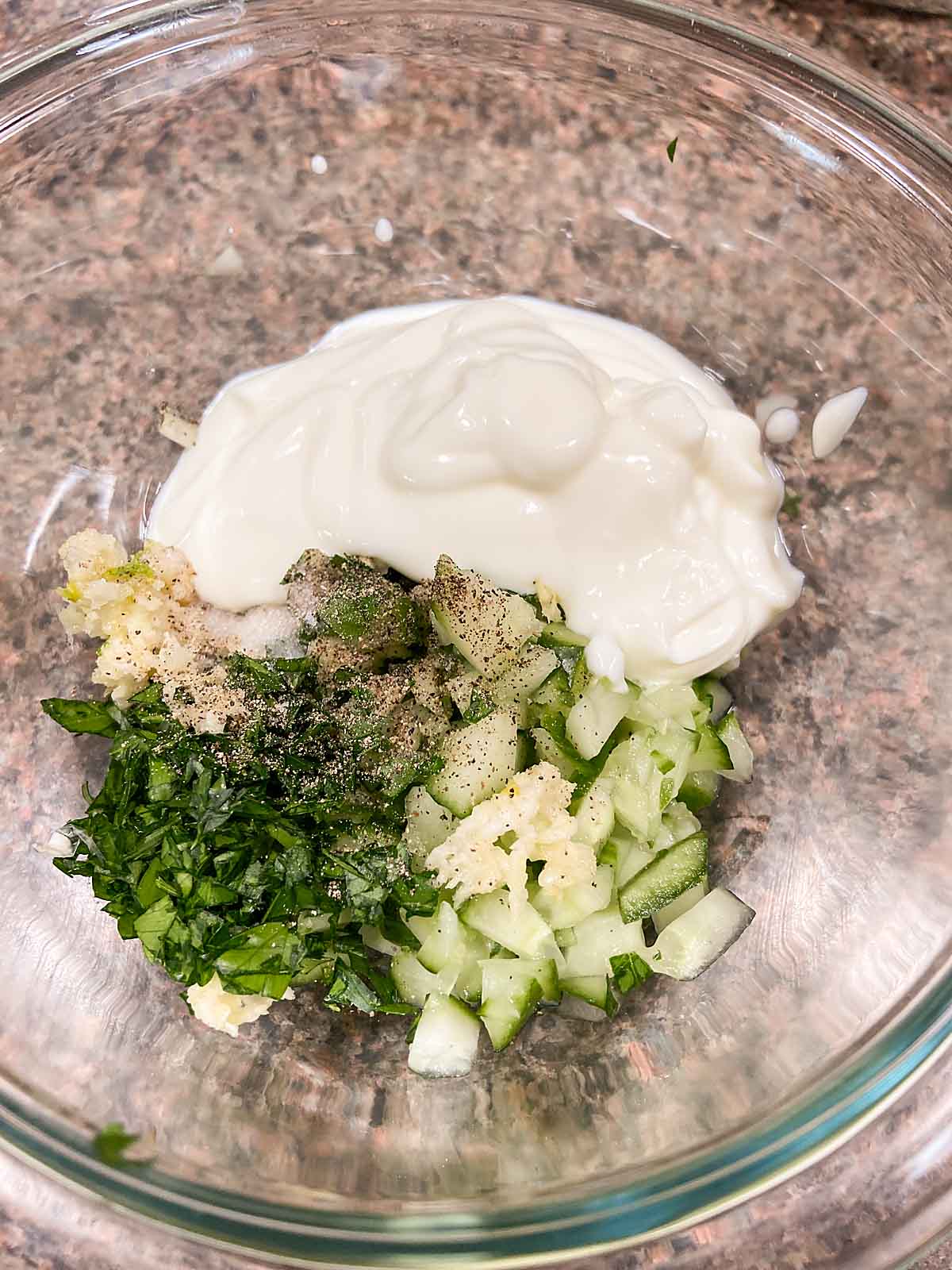 Mix the meat and herbs.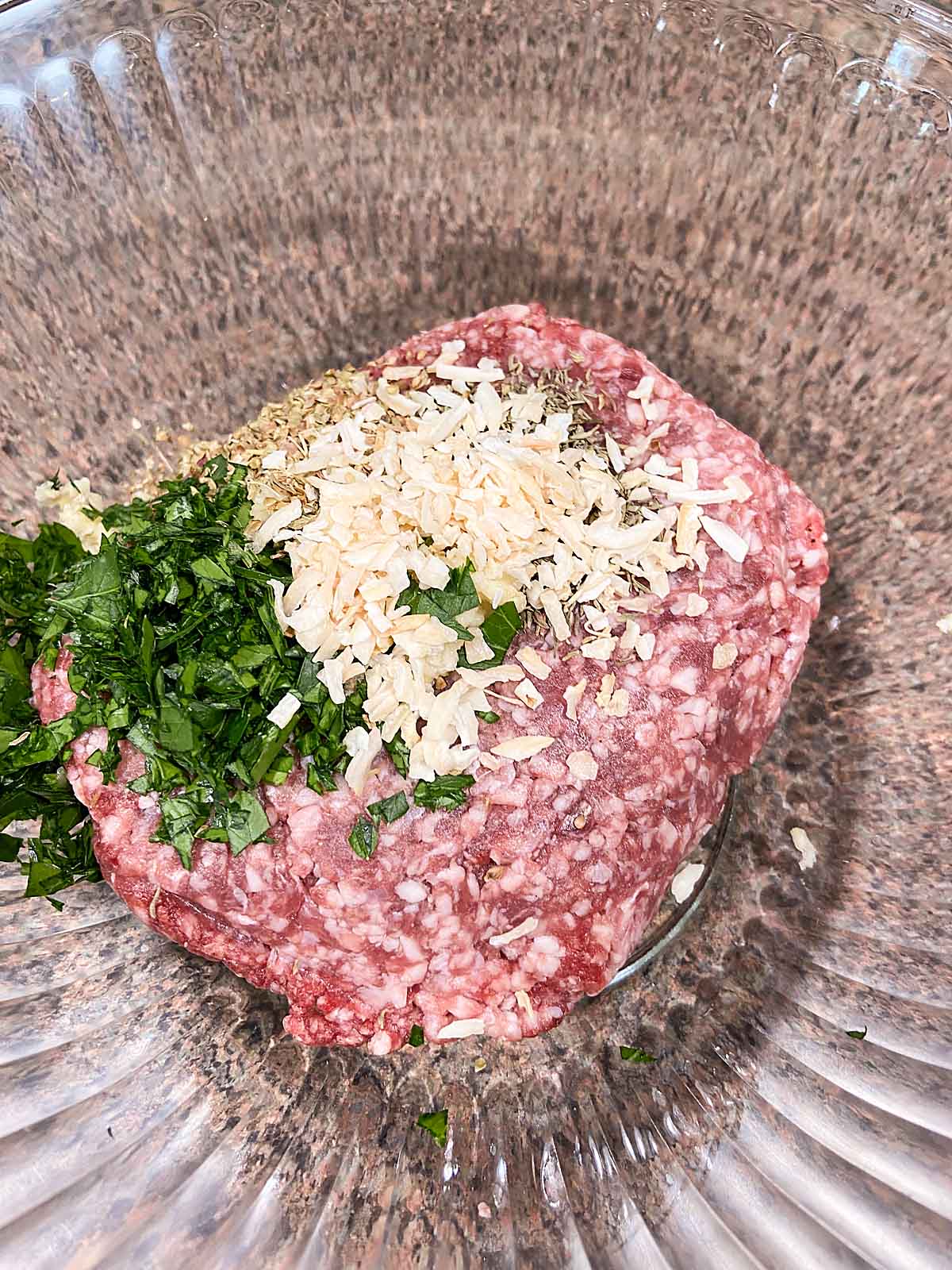 Form the meat mixture into patties.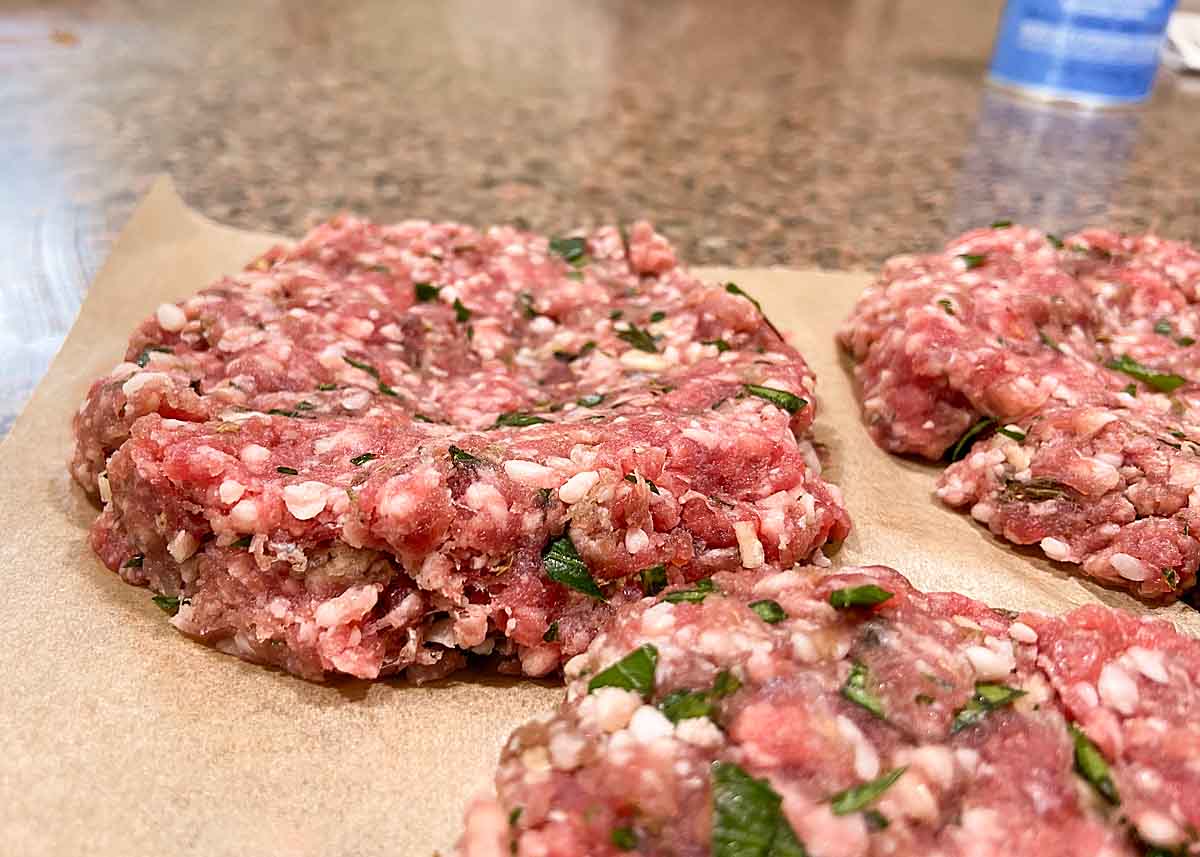 Fry or grill the meat.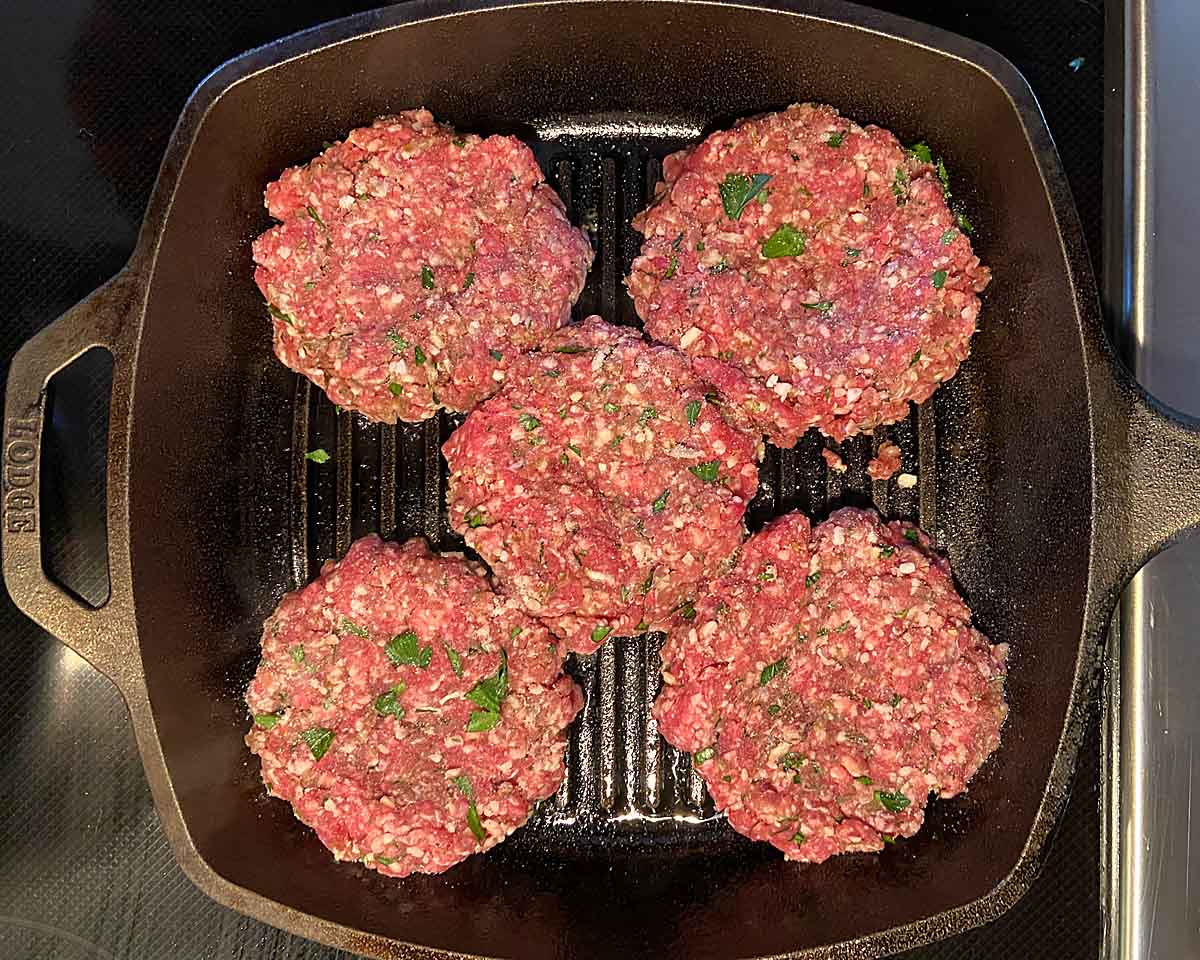 Serve on buns with sauce.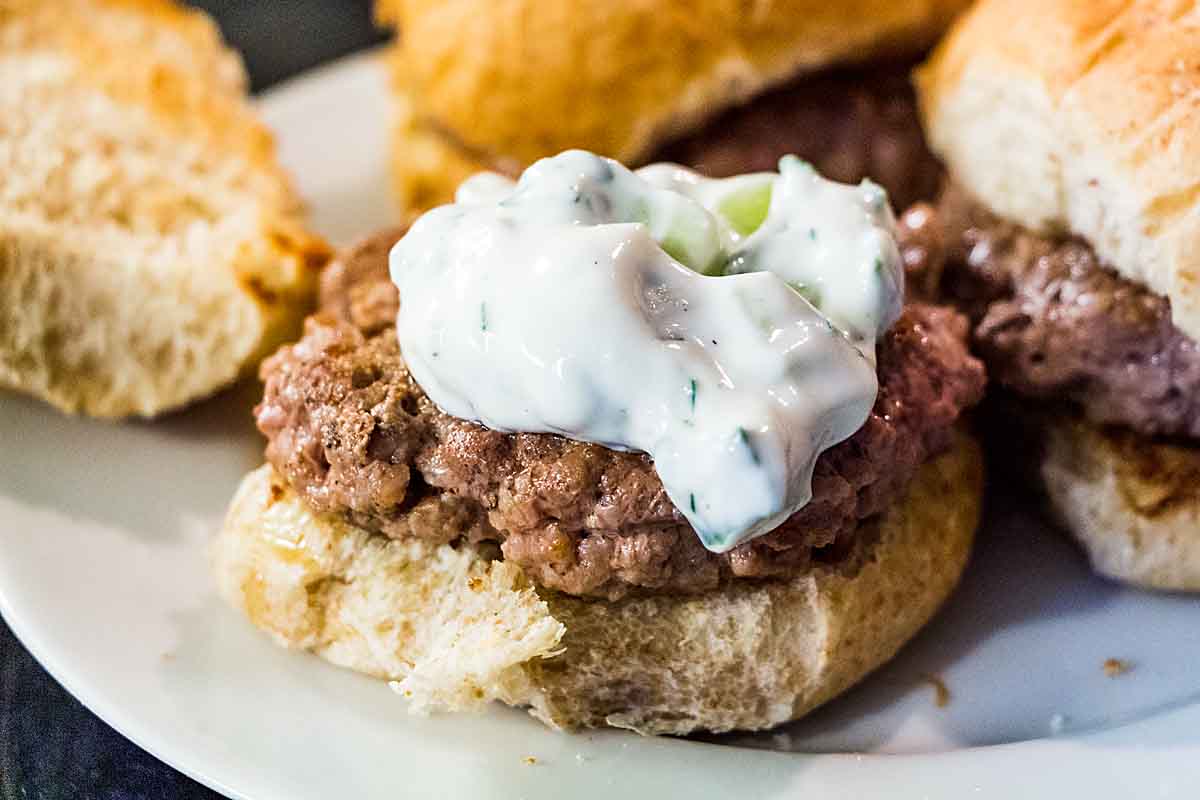 How to Serve
Lamb Sliders with Tzatziki Sauce are perfect for lunch or a light dinner and will be particularly at home at cookouts or picnics. With a casual sandwich like this, I have a fondness for salads like coleslaw, Broccoli Waldorf Salad or Carrot Raisin Salad.
And given the Mediterranean origins of this dish, you might want to go with a side like this Cauliflower Tabbouleh or Greek Pasta Salad.
Tips and FAQs
Can I make these as full-sized lamb burgers? Absolutely, you'll just need to adjust the proportions. You may need as much as 6 ounces to fill out a larger bun. Yes my main reminder here is to fit your burger to the bun size!
Can I use ground beef instead of lamb? Absolutely. While I love lamb, it is more expensive and harder to come by–aand not everyone's cup of tea. So beef is a fine substitute. You can also go with a turkey or veggie burger if that better suits your dietary needs or preferences.
How do I swap in fresh herbs for dried or vice versa? The rule of thumb here is that you need 3 times as much fresh herb to equal the dried. So 1 teaspoon of dried thyme would be equivalent to 3 teaspoons (or 1 Tablespoon) of fresh thyme.
What is the easiest way to mince garlic? I peel first, then use a garlic press. Some people say you don't need to peel first but this seems to work better for me.
How I chop parsley? Parsley chops much better when it is dry so I wash and dry it in advance. Then I remove the leaves from the stems (which are great for vegetable broth) and cut them with an Ulu. It's fast and easy! But you can use a chef's knife too.
Lamb Sliders with Tzatziki Sauce:
Yield: 5

Prep Time: 10 minutes

Cook Time: 10 minutes

Total Time: 20 minutes

Add a little exotic flare to your grilling with these Lamb Sliders with Tzatziki Sauce--the cucumber, yogurt, lemon sauce is the perfect compliment!
Ingredients
Tzatziki Sauce
1/2 cups plain reduced fat yogurt
1/2 cups cucumber chopped
1 T lemon juice
1 Tablespoon parsley, or mint or dill
1 cloves garlic minced
1/4 teaspoon salt
1/8 teaspoon pepper
Lamb Burgers
1 pound ground lamb
1 clove garlic, minced
1 teaspoon dried oregano
1 Tablespoon chopped fresh parsley
1 teaspoon dried thyme
2 teaspoons dried minced onion
salt, pepper
5 dinner rolls/slider buns
Instructions
Mix sauce ingredients, then set aside for flavors to blend.
Mix the lamb with the herbs, being careful not to overwork the meat.
Divide ground lamb into 5 sections and form into patties. Salt and pepper the patties, then grill until done.
Serve on slider roll topped with sauce.
Nutrition Information:
Yield: 5 Serving Size: 1 grams
Amount Per Serving: Unsaturated Fat: 0g

Looking for some great Father's Day food? Then take a look at these recipes from some of my blogging friends:
Fantastic Father's Day
We share Recipes From Our Dinner Table! Join our group and share your recipes, too! While you're at it, join our Pinterest board, too!