No Marinade Lamb Kabobs combine juicy lamb, ripe peppers, tomatoes, onions and tahini sauce for a tasty, healthy dinner!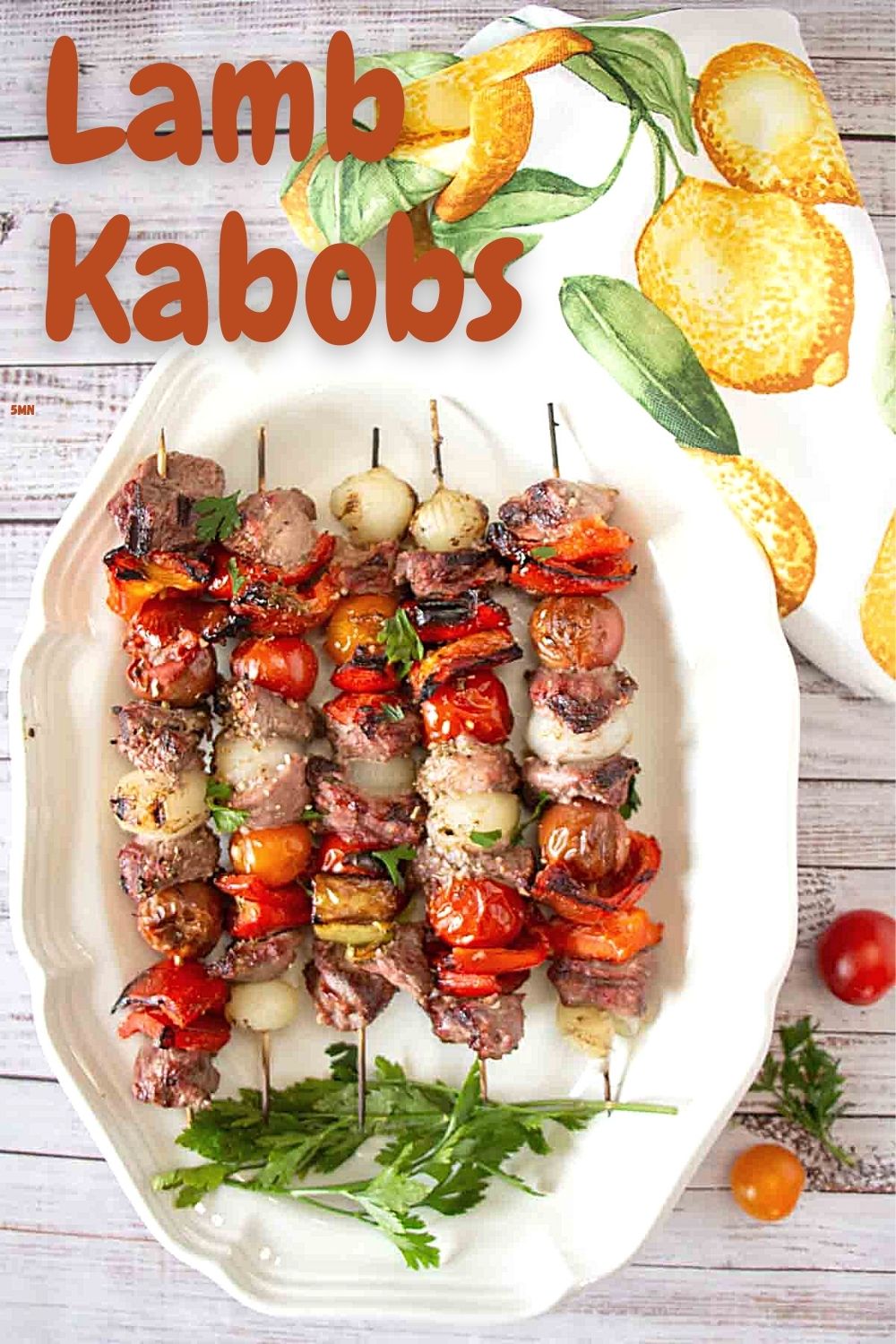 This post is sponsored in conjunction with #FallFlavors Week. I received product samples from sponsor companies to help in the creation of these recipes. All opinions are mine.
It was a glorious moment, years ago, when I realized that you don't need to pre-marinade shish kabobs. If you use good quality ingredients, drizzling with oil and herbs before grilling is all you need to do.
Not that my life is erratic or unpredictable…
I love any variation on shish kabob and today's lamb kabobs were inspired by cipollini onions. Yes, these arrived in the Melissa's Produce box I got for #FallFlavors week. I always find something fun and inspirational when I get a Melissa's delivery!
Check our the giveaway below for the chance to win a subscription!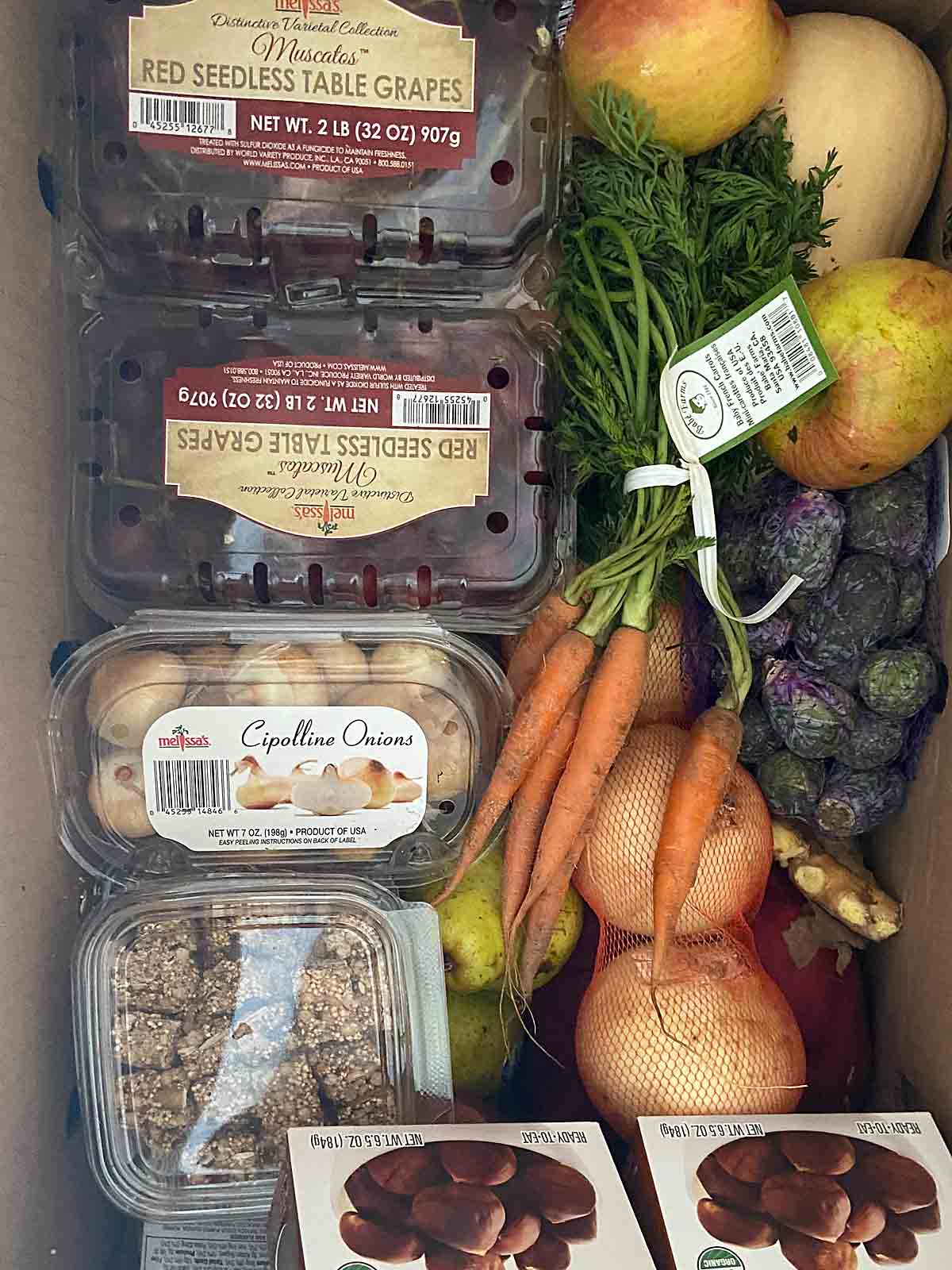 I had never cooked with them before but I did have one prior exposure to these saucer-shaped beauties. That was a group of dancing cipollinis in my daughters' ballet recital. Yes, really.
But these were the exact perfect size and shape for kabobs! And the remainder were a big hit in my roasted veggies. See some of the other #FallFlavor recipes for more cipollini recipes!
What Makes This a Winner
Lamb Kabobs have so much going for them including…
Step by Step Directions
You start by boiling the onions (just 2 minutes), then slipping off the skins. They'll be perfect on the kabobs then.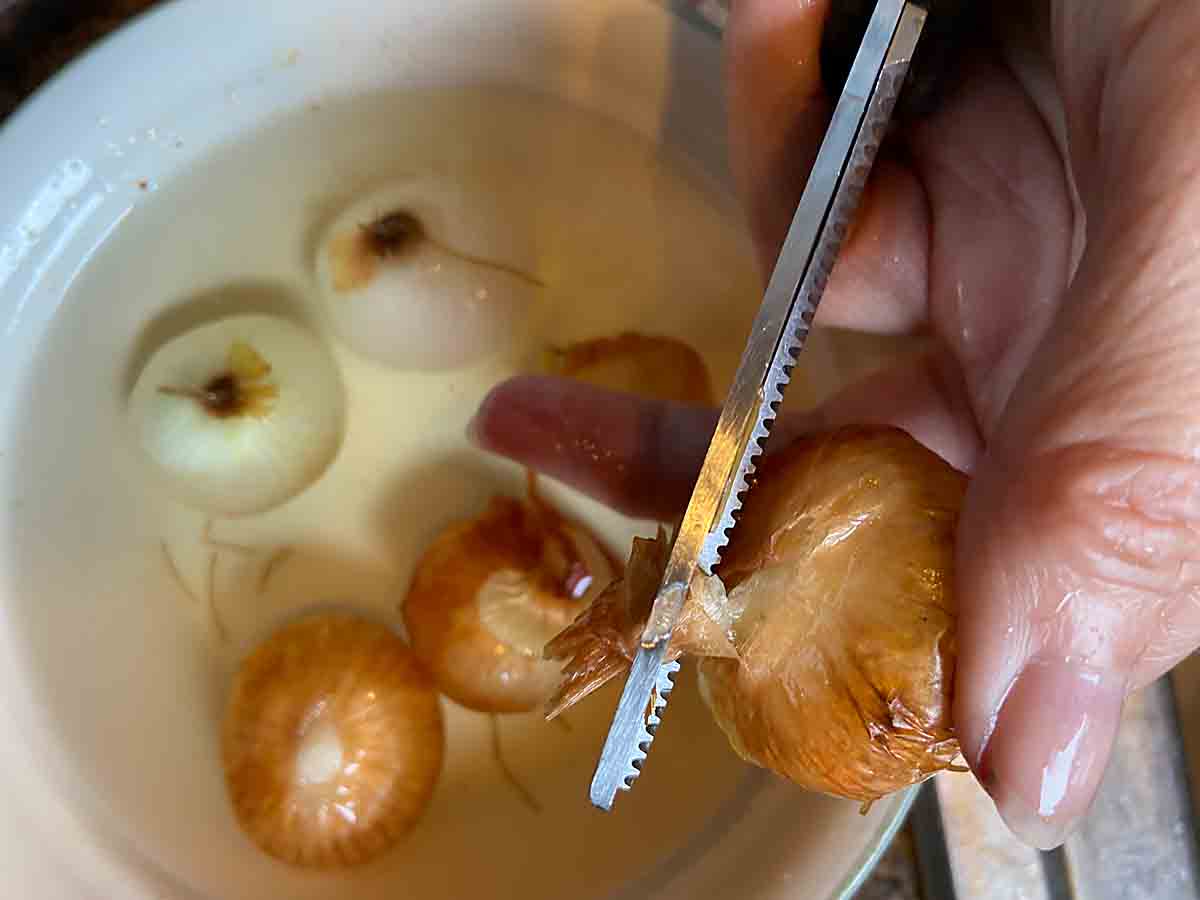 Cut your red pepper. I use two pieces together as a "cube."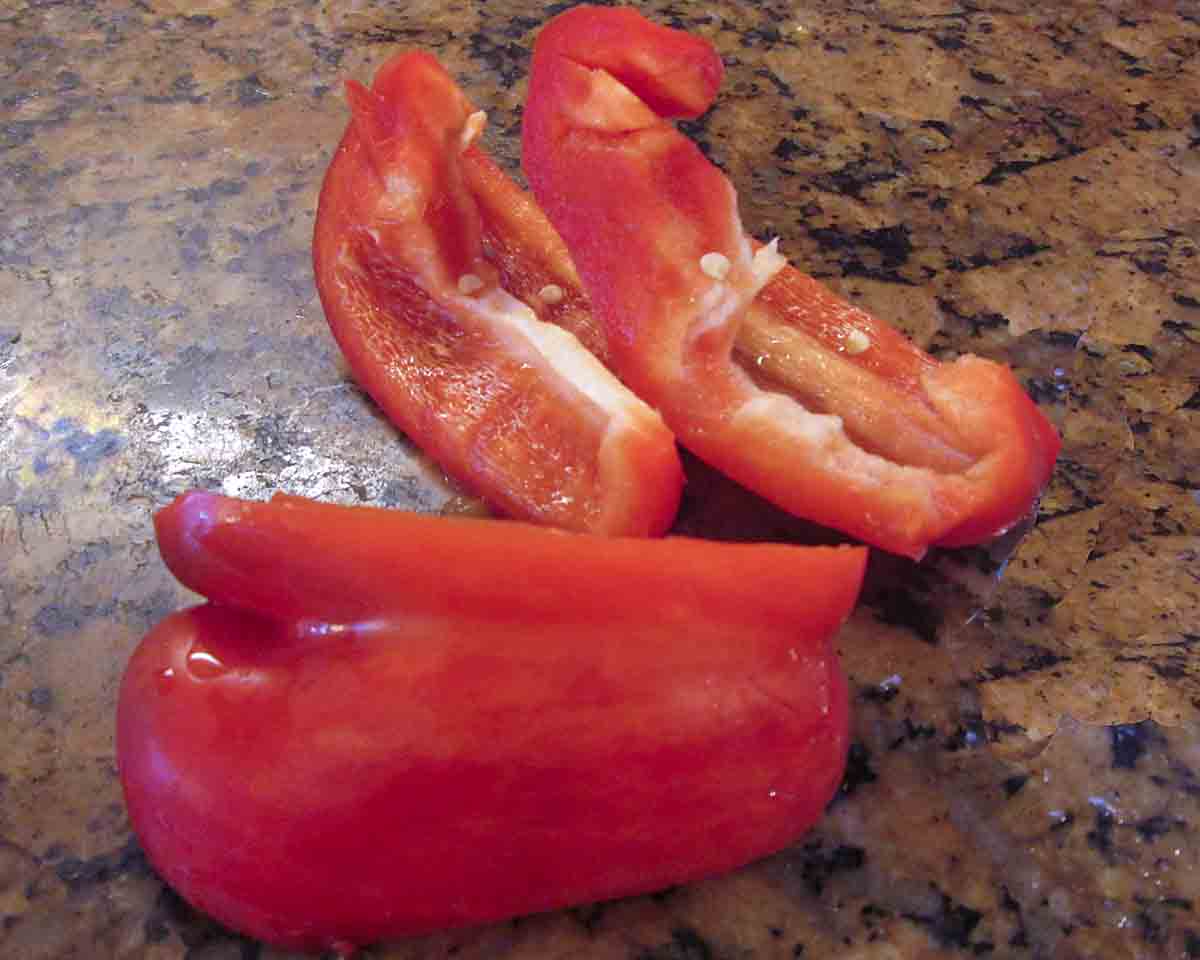 Assemble your lamb kabobs.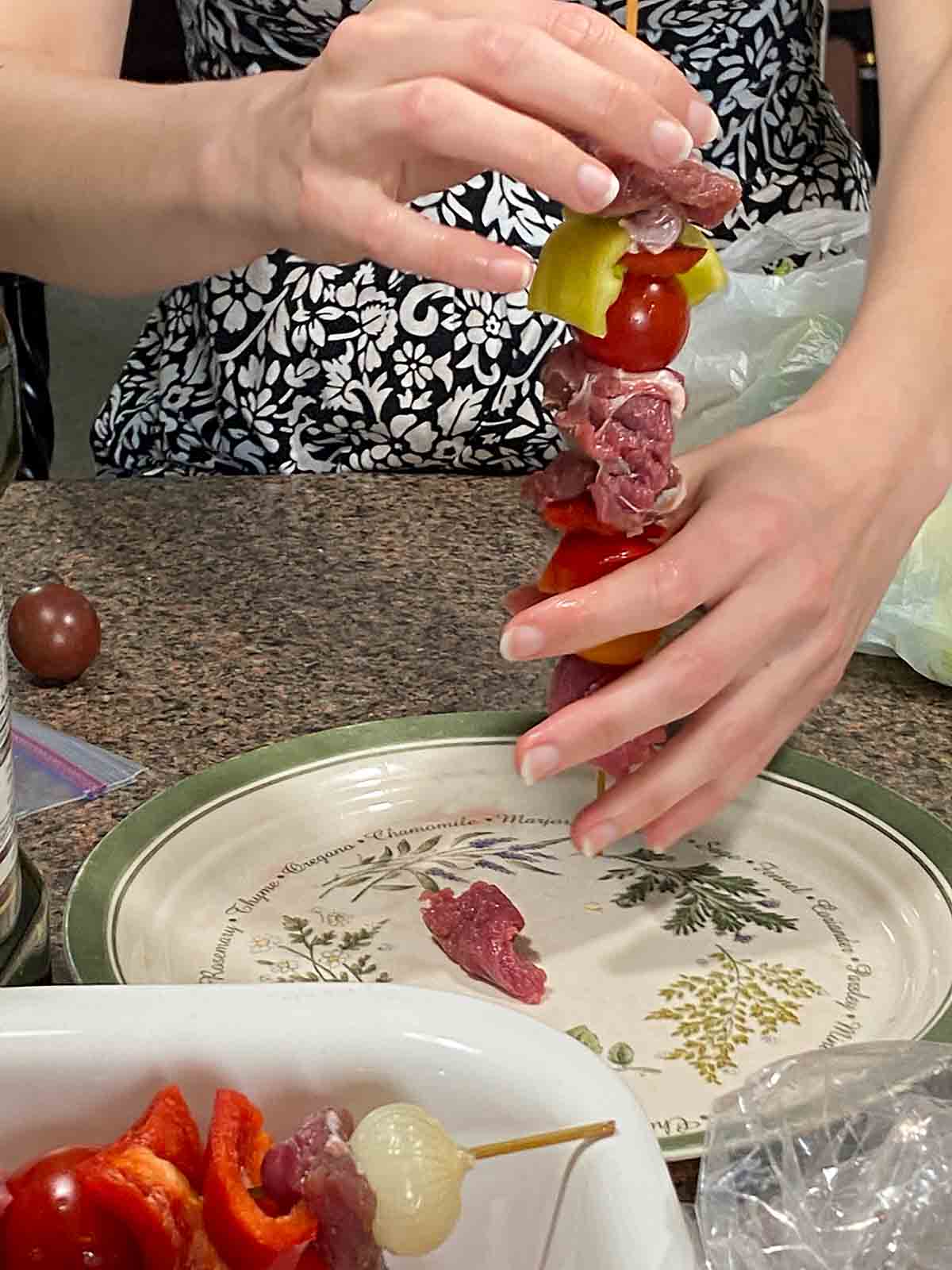 Drizzle with olive oil and sprinkle with herbs, salt & pepper.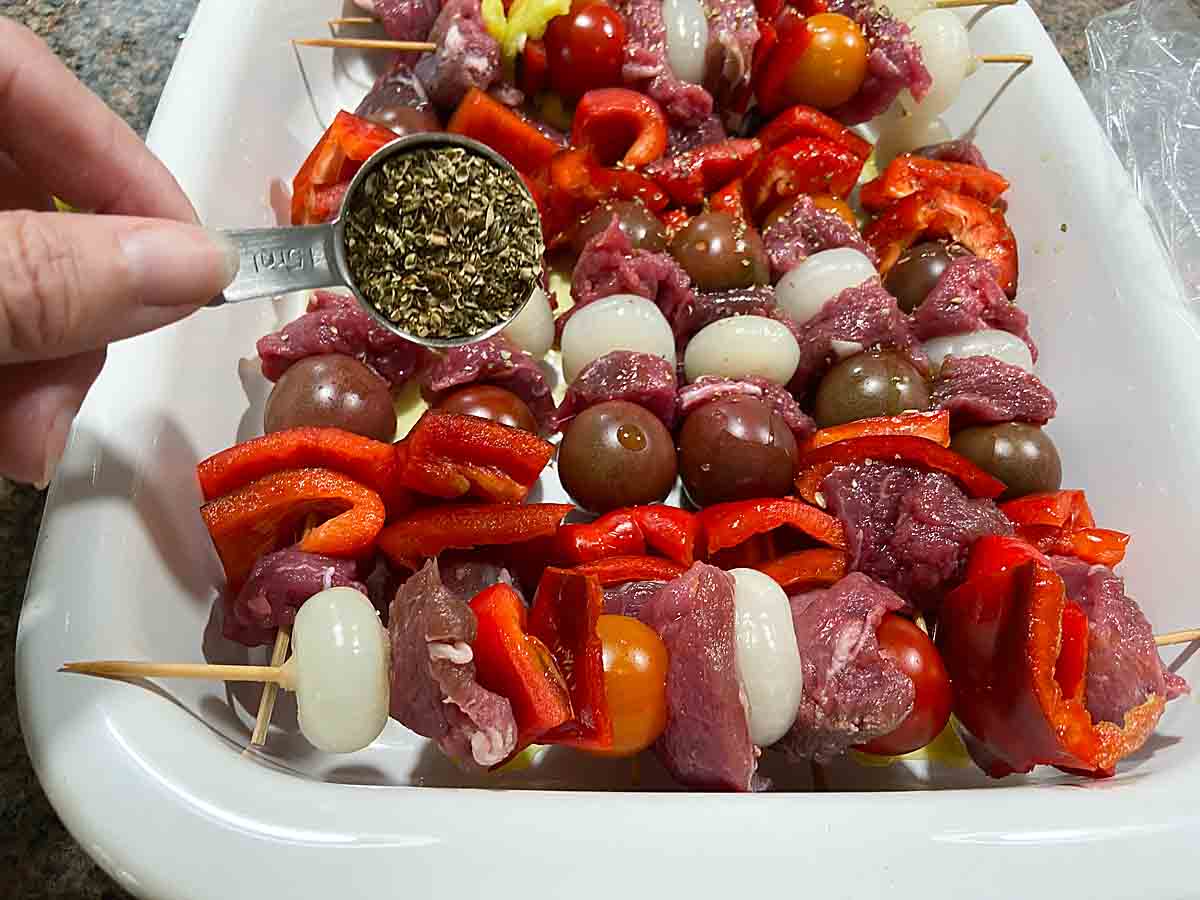 Whisk together your sauce ingredients.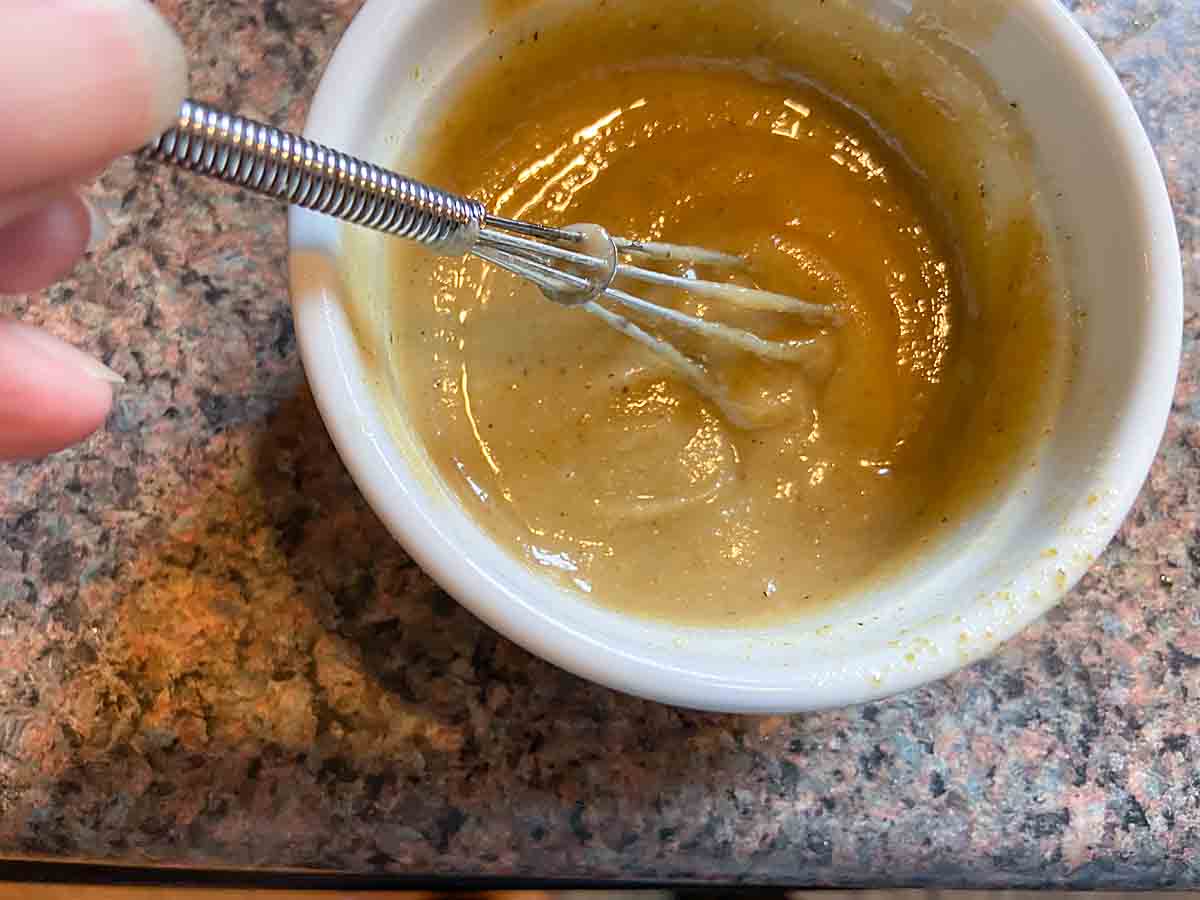 Grill.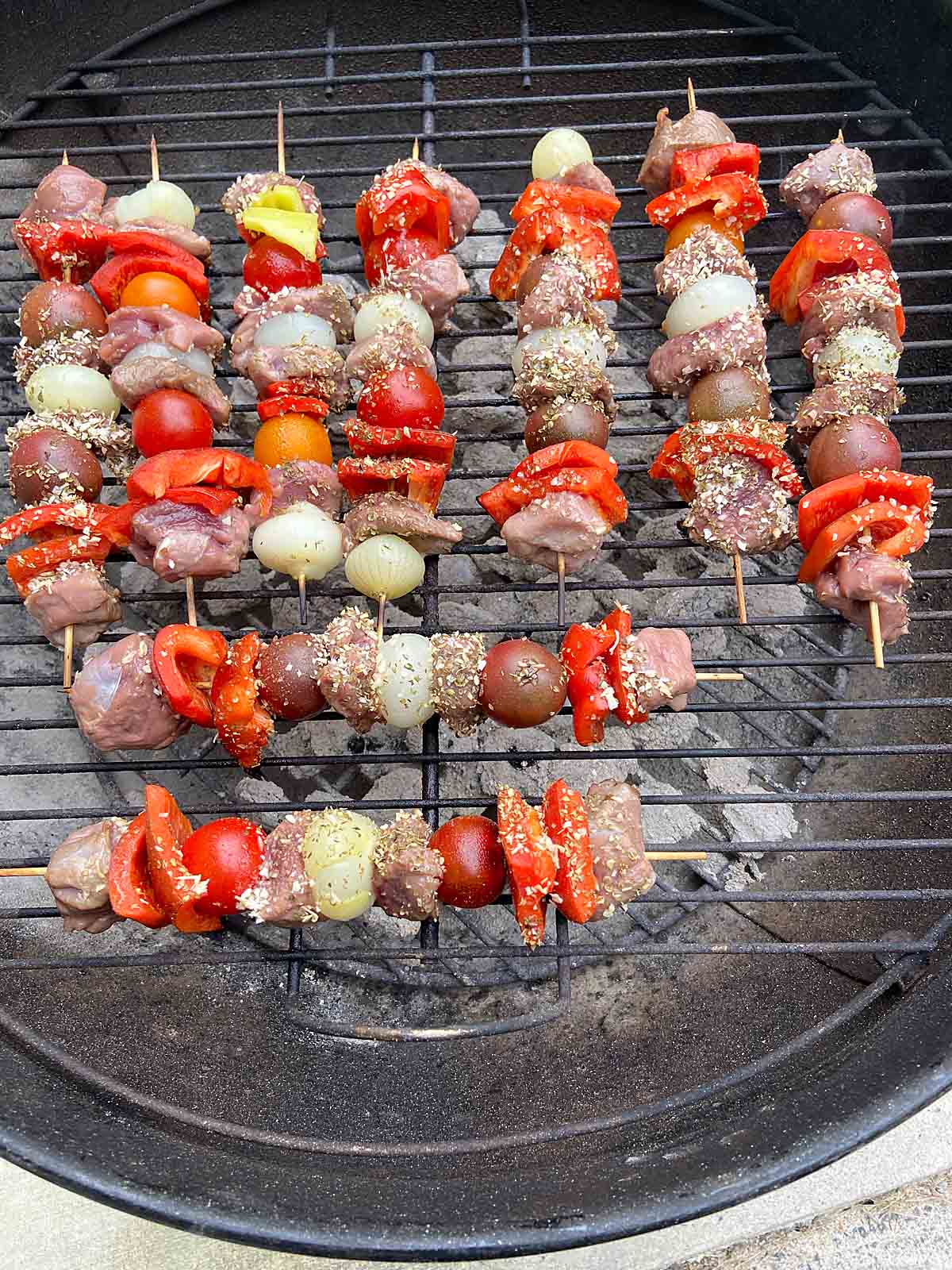 Serve!
What Cut of Lamb is Best & Can I Use Another Meat
With lamb, you walk a fine line between cost and tenderness. While your rib chops are meltingly tender, the meat is pretty expensive to use for the casual kabob. In my kitchen, this is usually set aside for the stunning presentation provided by rack of lamb or a crown roast.
I've seen lamb shoulder recommended by a number of bloggers and this perplexes me. Shoulder is a tough cut that benefits from slow cooking—Bon Appetit roasts theirs for 4 ½ hours–which is about what I do pork shoulder. While some authors say the marinade tenderizes, I'm skeptical–if marinade worked that well wouldn't we all be grilling cheap cuts instead of expensive steaks?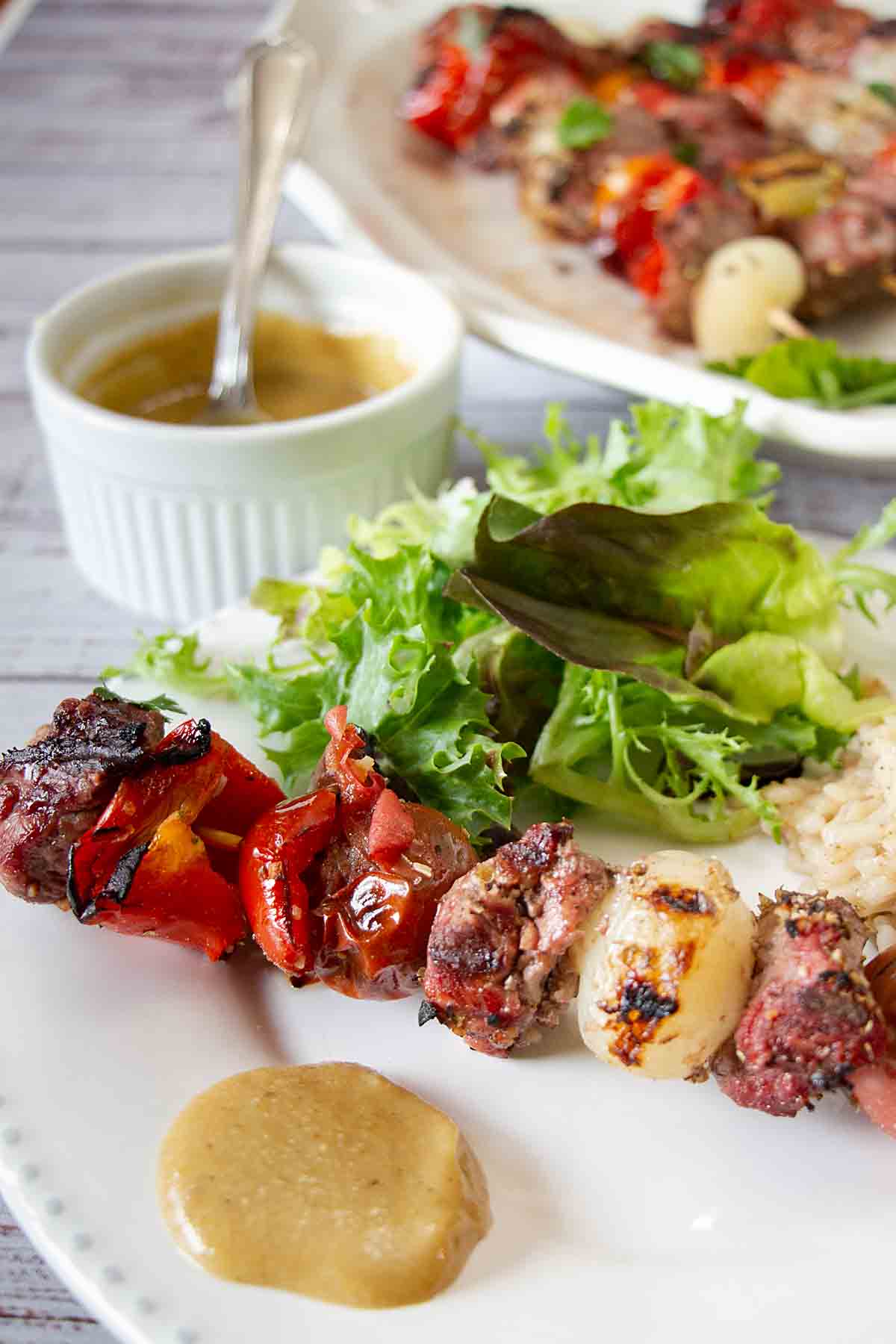 So finally I ended up thinking loin or leg of lamb. These cuts are more reasonably priced and are great cooked medium to medium-rare. I used a leg that I took off the bone myself, but if you are planning ahead, see if your butcher will do it. And for my next freezer lamb, I'm going to ask for loin chops, which will be easy to debone! (I freeze bones and trimmings for stock.)
And BTW, the leg was tender and absolutely delicious!
If you can't get lamb, or it doesn't fit in your budget, the closest substitute would be beef. In that case, I'd go with sirloin or tenderloin since the price point is better than lamb,.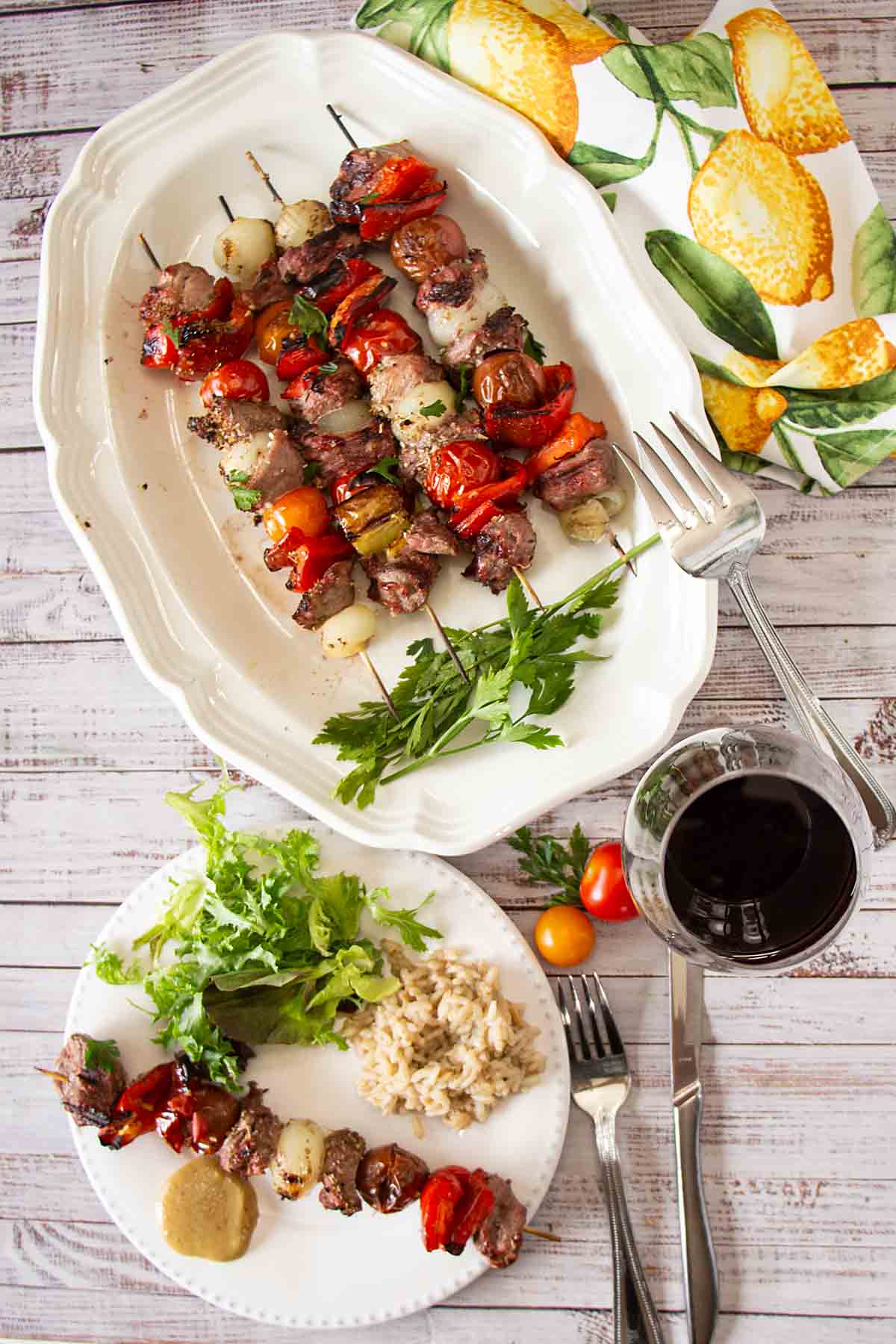 Working with Skewers
For a topic as simple as skewers there are actually a number of decisions to make, as follows:
Single or Double Skewers I like to use two skewers in each kabob because that keeps the meat and vegetables from rotating on the skewers when you flip them. On the day I made these, I forgot and they were indeed harder to turn!
Metal or Bamboo Skewers Metal skewers are reusable and the don't need to be pre-soaked like bamboo! And some metal skewers re already flat which can help with the rotation issue noted above.
Alas, the risk of burns from the hot metal has always scared me off. Since bamboo is a renewable resource and they even compost per Sustainability Nook, that's what I use.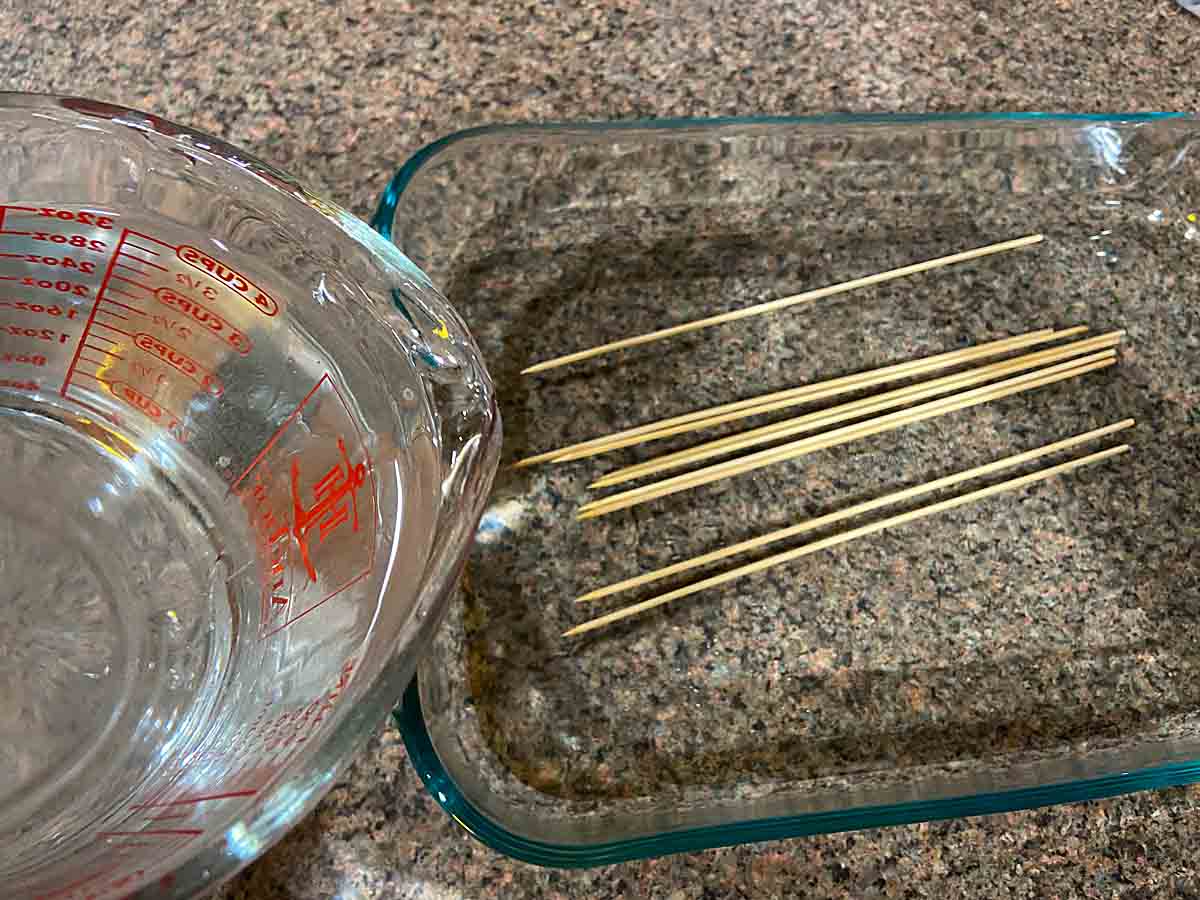 How to soak. I use a lasagna pan to soak my skewers. Really long? No problem! If needed, you can weigh them down with a glass or bowl filled with water.
Separate skewers for separate items. Some people swear by cooking each item on a separate skewer. The theory is that everything can be cooked whatever length of time it needs for perfection. My personal opinion is that since most vegetables are good al dente, if you base your cooking time on the meat, It's all going to be good. For the rare exception like the cippolini onions, a brief pre-cook gives you the best of both worlds.
And you can't beat serving up a kabob with everything for presentation!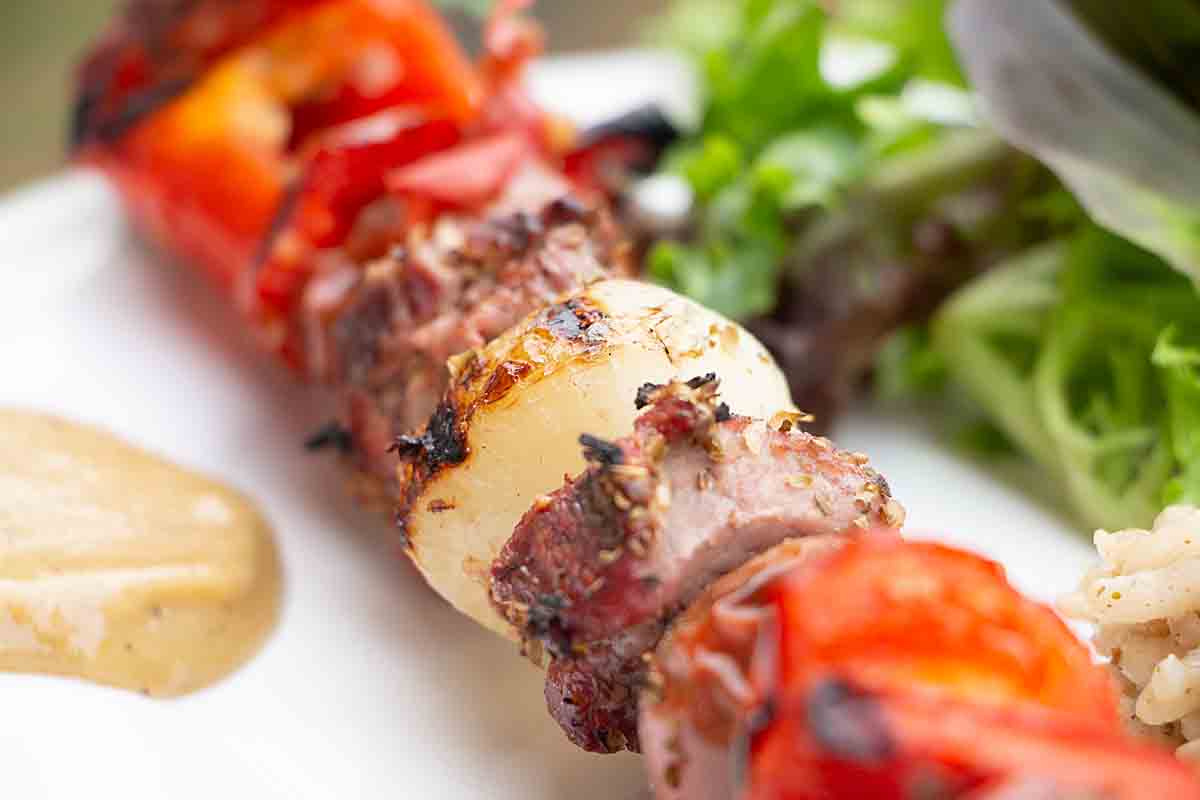 Sauce Options
You don't actually need a sauce for this, it has plenty of flavor already! But it can be nice to have a little sauce, like the tahini sauce I include. Just in case people want to dip!
Interestingly all tahini is not created equal and I didn't love the last jar I bought. This time I got some ground (like peanut butter) in house by our local co-op and it was amazing.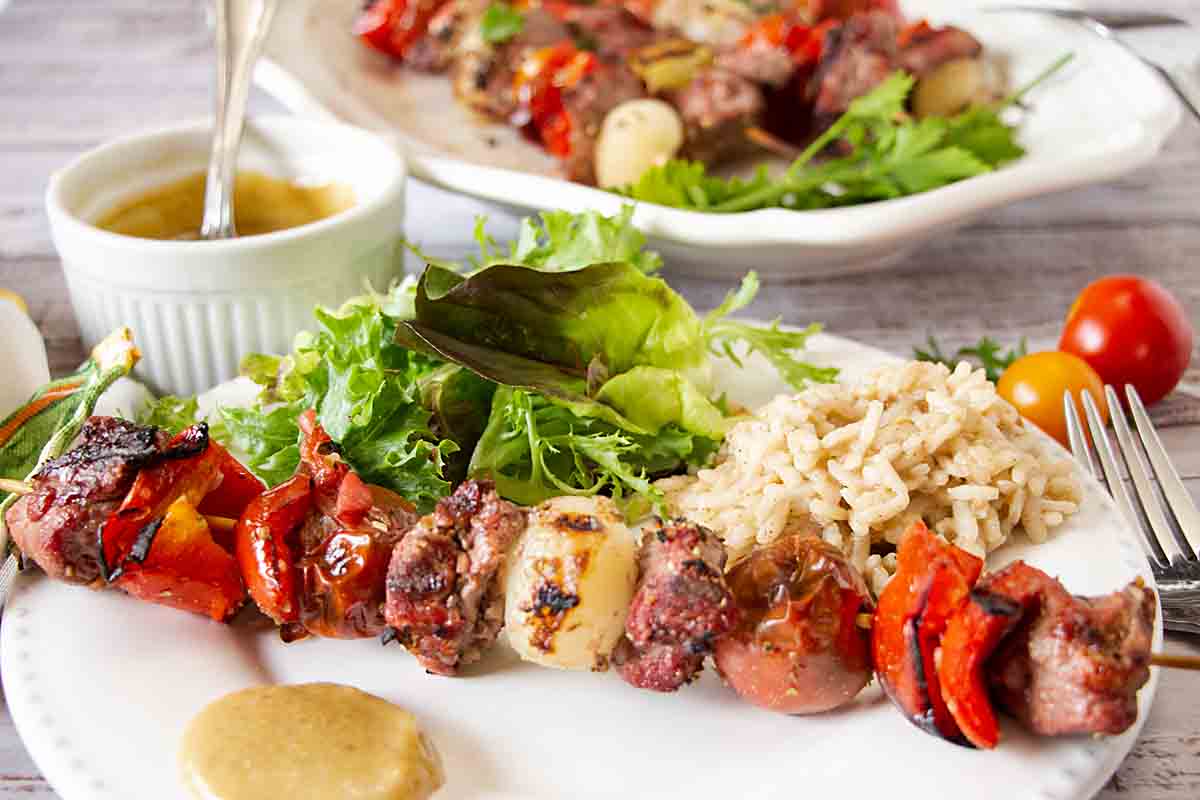 Tzatziki sauce, a yogurt cucumber sauce, is another great option.
What to Serve With
To keep with the easy theme, you can simply serve Lamb Kabobs with pita bread and a bagged green salad.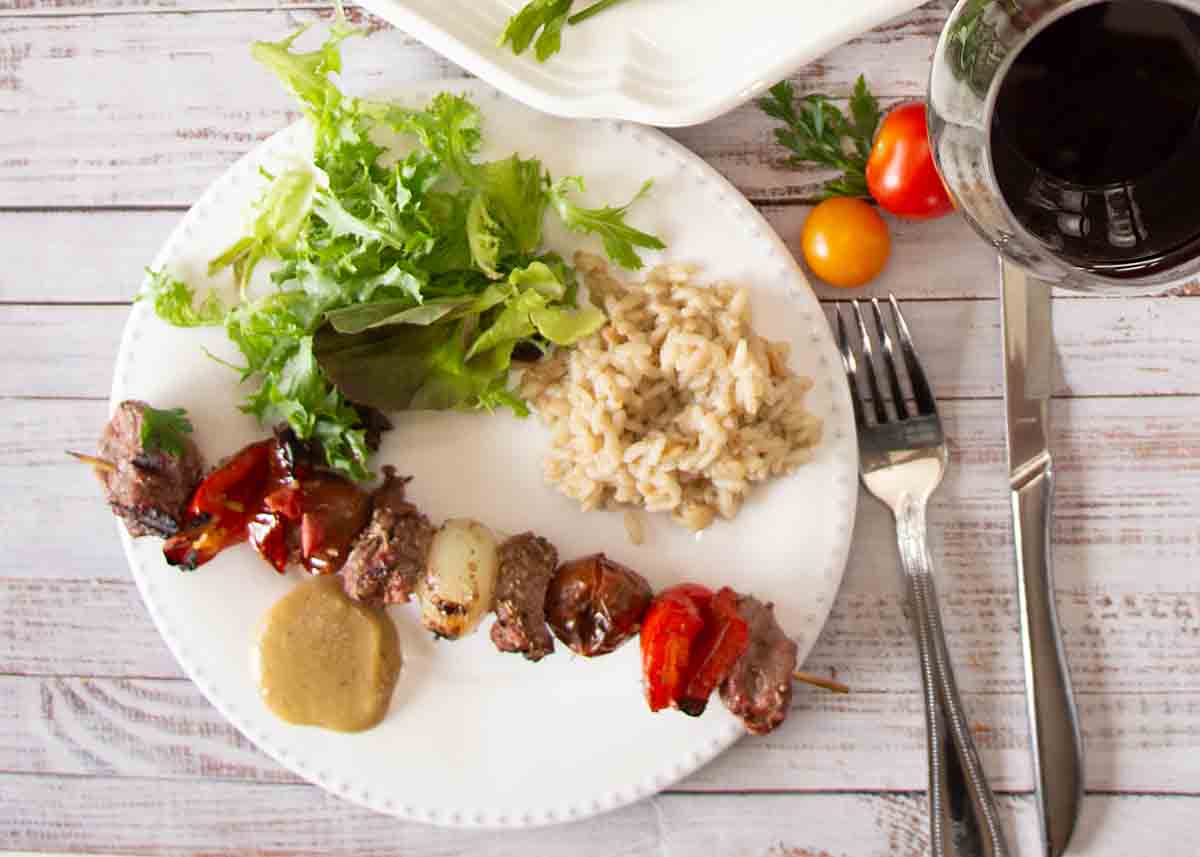 If you're willing to work a little harder than rip and pour, consider a side with a Middle eastern flare like Kale Tabboulleh or a gluten-free Cauliflower Tabouleh.
Rice is another traditional accompaniment and delicious with kabobs. But, truly, in the casual grilling spirit of summer, anything goes!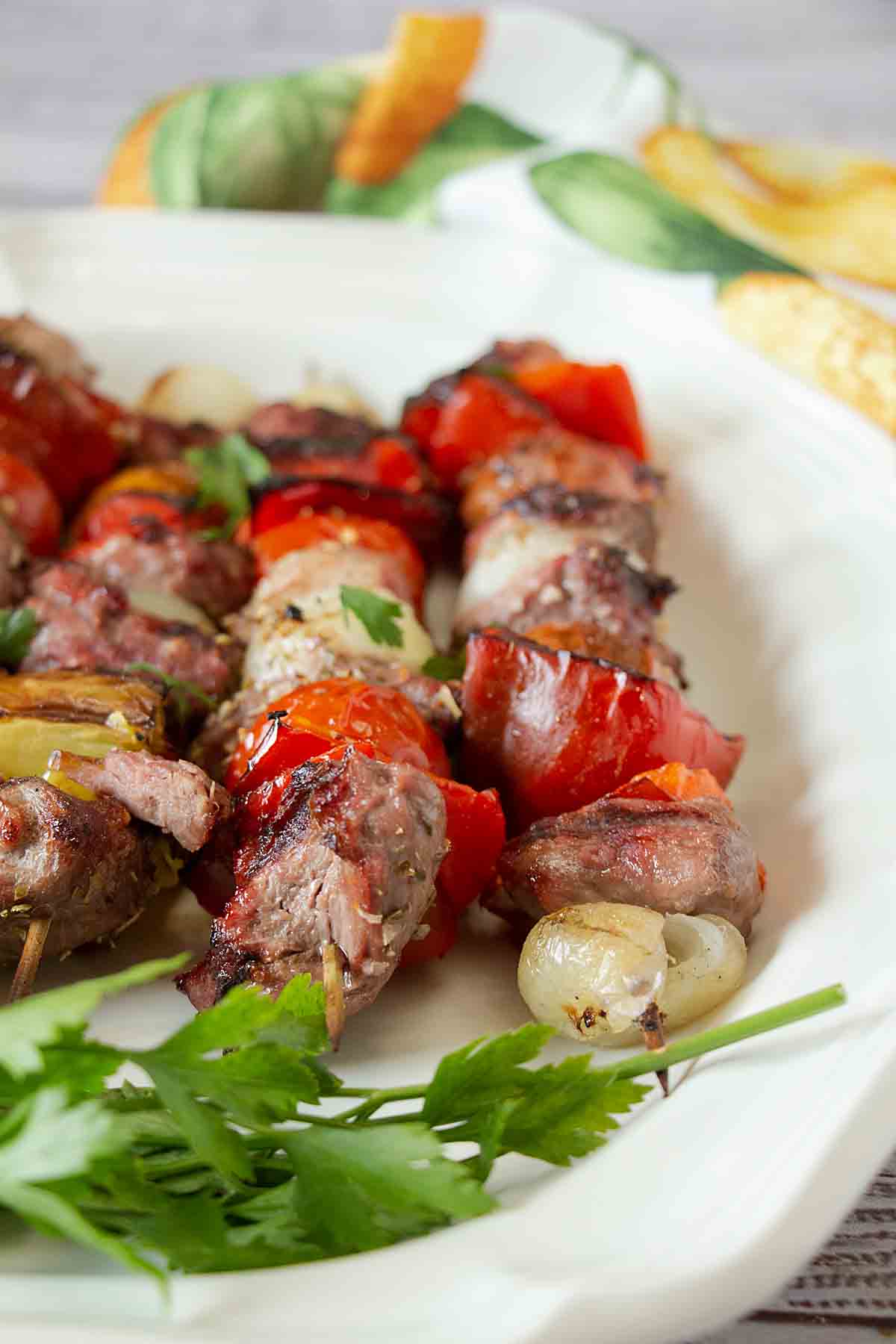 Tips & FAQs
I usually build a test kabob that serves as model for ordering the ingredients. It's a lot easier not to have to think about each kabob you build! Of course, by the end, I am usually left with odd numbers of different items and end up sticking them on willy nilly. Luckily, it's pretty hard to make a bad kabob!
Don't snug up your ingredients too tight against each other on the skewer. You want the exterior of the meat cooked well to kills any bacteria. The inside can be cooked to your taste, though medium rare to medium is usually considered optimal for good lamb cuts.
More #FallFlavors Recipes Below:
Appetizers and Snacks
Breakfast and Baked Goods
Side Dishes
Main Dishes
Desserts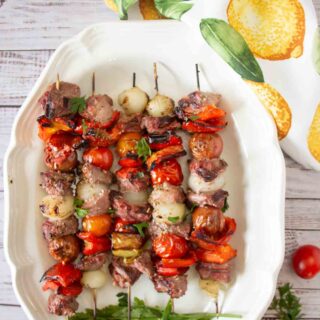 No Marinade Lamb Kabobs
No Marinade Lamb Kabobs combine juicy lamb, ripe peppers, tomatoes, onions and tahini sauce for a tasty, healthy dinner! 
Ingredients
Tahini Sauce:
2

Tablespoon

olive oil

1

Tablespoon

lemon juice

½

teaspoon

garlic powder

¼

teaspoon

cumin

¼

teaspoon

pepper

1/4

teaspoon

salt

1/4

cup

tahini paste
Lamb Kabobs:
2

ripe bell peppers

red, yellow or orange

1

+ pound of lamb leg or loin cubes

½

pound

of cippolini onions

1

pint

of cherry tomatoes
Drizzle:
2

Tablespoons

Olive Oil

1

Tablespoon

dried oregano

1

Tablespoon

dried minced onion or 1 teaspoon onion powder

Salt

Pepper to taste
Instructions
Soak bamboo skewers in water as the package recommends, usually at least 30 minutes. For best stability, plan for two skewers per kabob—though one can work if you are short. While skewers soak prepare kabob ingredients and tahini sauce.

Rinse the onions, then boil in a small sauce pan for about 2 minutes. Remove and dunk in cold water to cool. Cut the tips off both ends of each onion and slip the skins off.

Remove stem and seeds from the red pepper and discard. Cut red pepper into 1 inch pieces. I put two piece together for a "cube".

To prepare sauce, whisk together all ingredients except tahini. Whisk in tahini. Set aside.

Insert cubes of meat and vegetables on skewers, alternating types. For most even cooking, leave a bit of air space between each item.

Drizzle skewers with olive oil, then sprinkle with oregano, dried minced onion, salt and pepper.

Grill on both sides until done to your liking, about 10-15 minutes total (depending on grill temperature and size of pieces). You can use an instant read thermometer to test for doneness.

Remove skewer before eating.
Nutrition
Serving:
2
skewers
Calories:
565
kcal
Carbohydrates:
18
g
Protein:
34
g
Fat:
41
g
Saturated Fat:
11
g
Polyunsaturated Fat:
27
g
Cholesterol:
105
mg
Sodium:
367
mg
Fiber:
4
g
Sugar:
6
g
I am not a health professional and nutrition data is calculated programatically. Accuracy may vary with product selection, calculator accuracy, etc. Consult a professional for the best information.