Kefta Salad with Tzatziki Dressing
A green salad topped with spiced beef sausage kebabs, Kefta Salad with Tzatziki Dressing is a tasty and unique main course salad. Just add pita.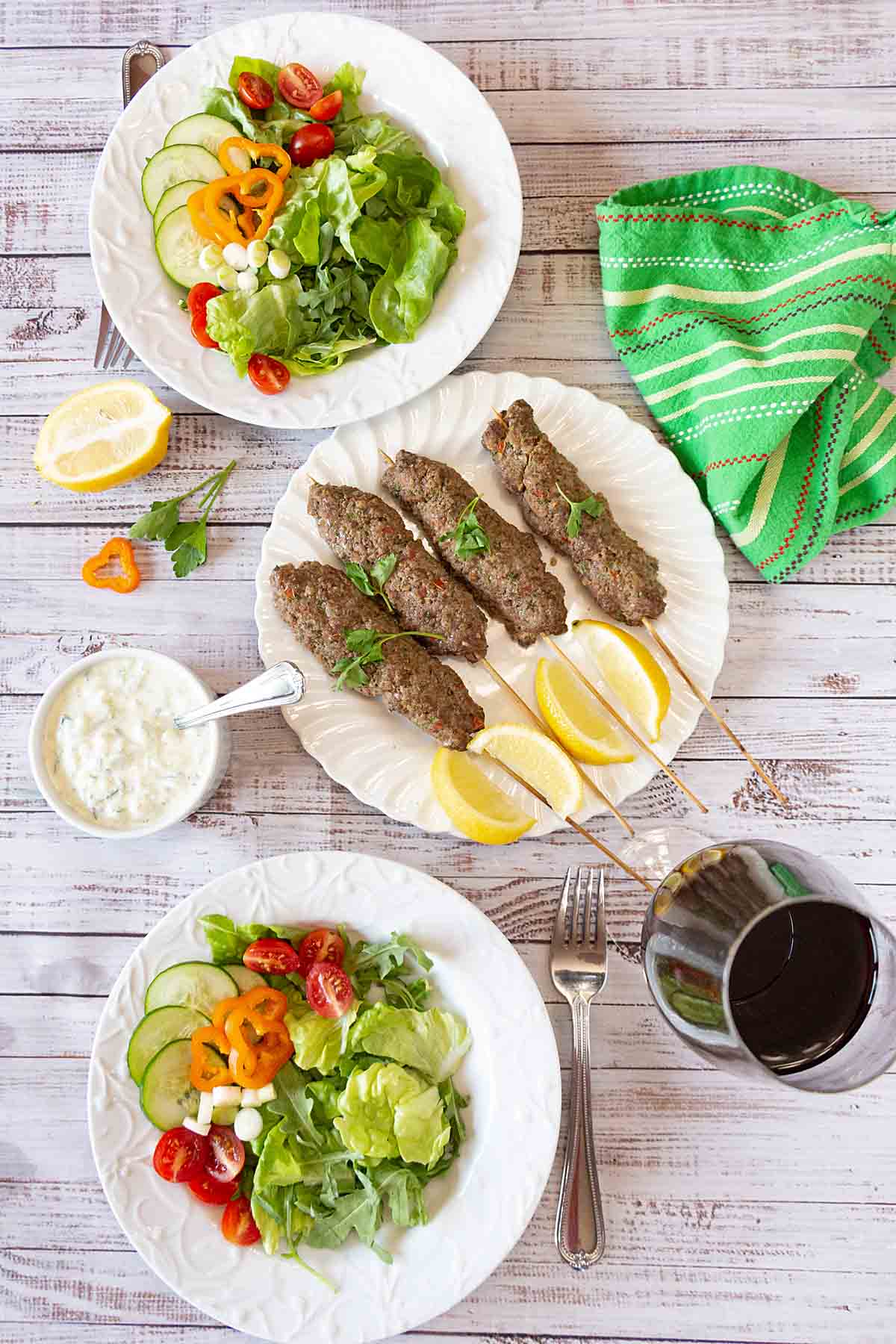 Welcome to #SummerGamesWeek 2021 hosted by Amy from House of Nash Eats! We are celebrating the start of the Tokyo Games with over 50 recipes representing more than 25 countries competing in the upcoming Summer Games! Come join me and my fellow Summer Games Week bloggers as we bring you recipes from appetizers to drinks to entrées and desserts!
Even before I decided to participate in Summer Games Week, this salad was on my radar. Maybe it was the buzz around the Olympics. Or the deluge of CSA vegetables. In any case, it fit right in with my goal to keep things fun, healthy and simple for the rest of the summer!
Yes, I had been wanting to turn my beloved Baked Kufta with Potatoes and Tahini into a main course salad. And in the end it was easy and super flavorful.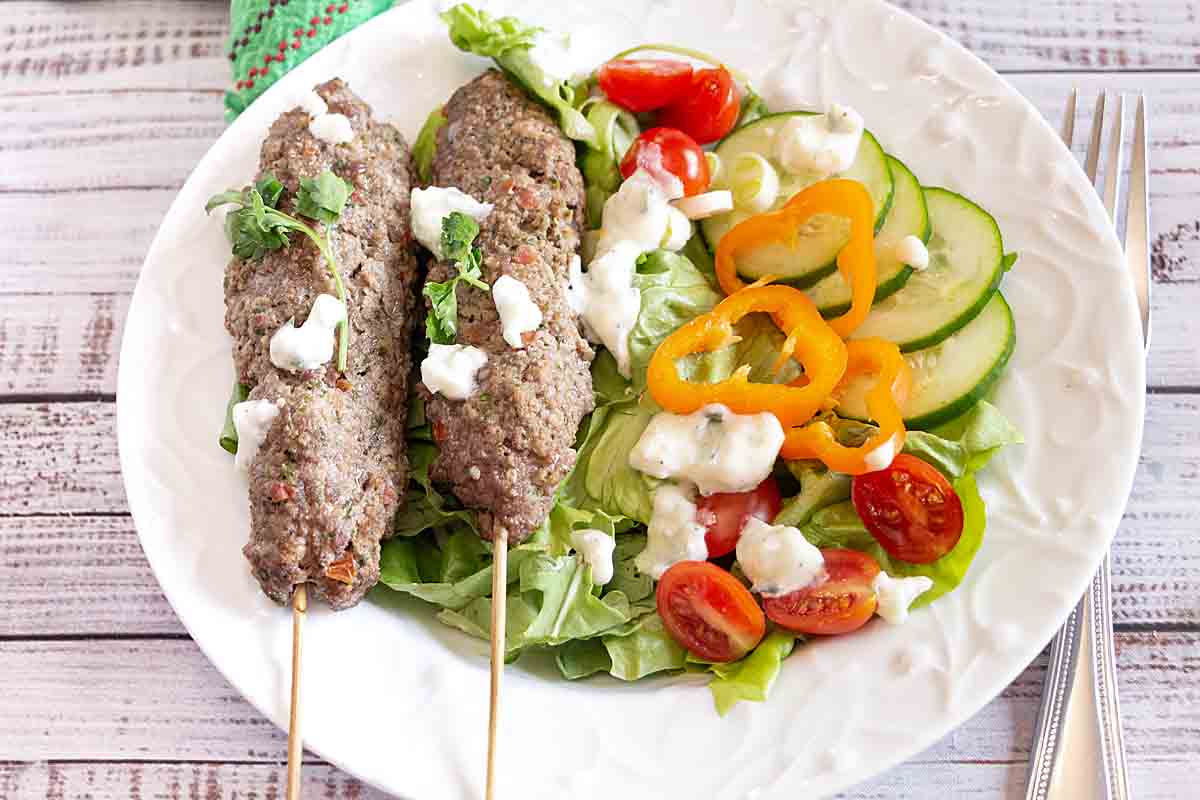 What is Kefta?
Since kefta isn't a household word, I decided to look it ip on Wikipedia. Here I was informed that kefta is "a family of meatball or meatloaf dishes found in the Indian subcontinent, South Caucasian, Middle Eastern, Balkan, and Central Asian cuisines. In the simplest form, koftas consist of balls of ground meat usually beef, chicken, lamb or mutton, or a mixture – mixed with spices or onions."
There are many different terms for the dish from ketfa, to kofta, to kufta to kafta and more. I suppose that's not surprising given how many countries are enjoying it!
I had eaten Kefta in Middle Eastern restaurants many times and was excited when I finally realized how easy it is to make at home. In the spirit of full disclosure, however, I don't know if there is any authenticity to serving the kefta on top of a salad. But I have seen it alongside many times!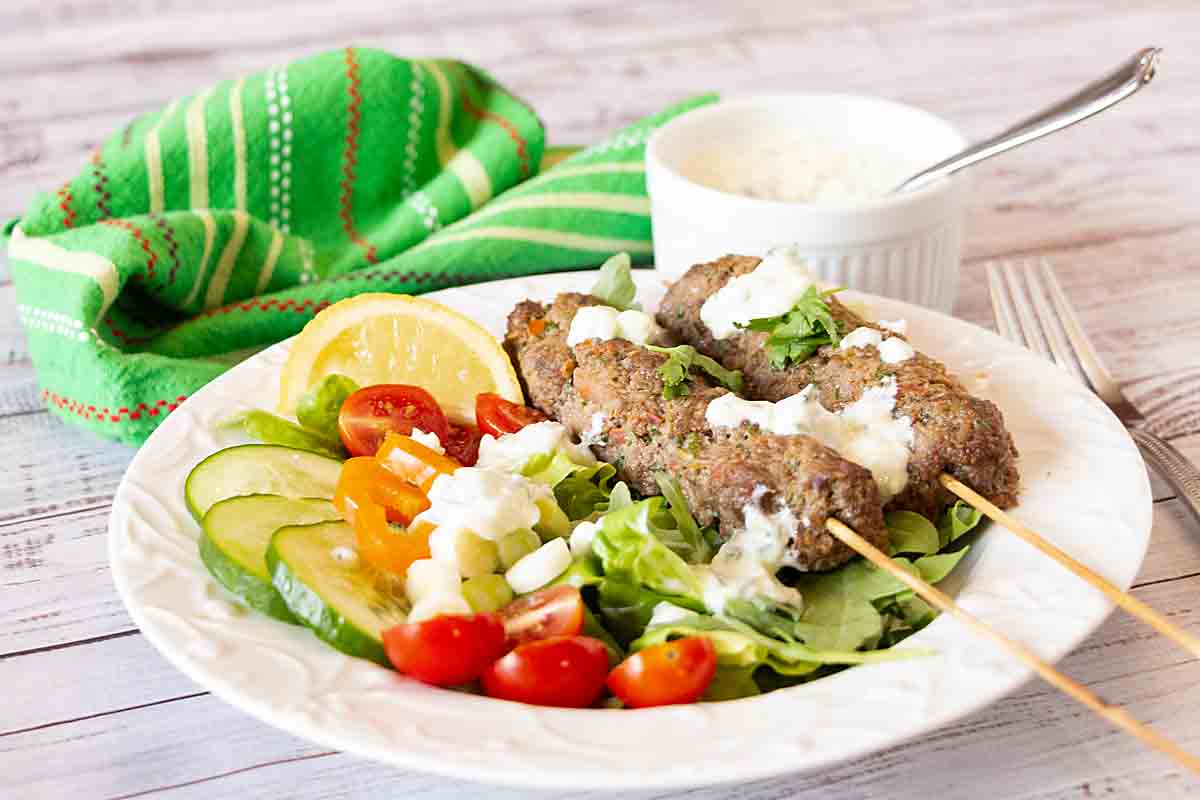 Directions Overview
This recipes uses a food processor to chop and mix the spiced mixture which means it's very easy to make. And there is a simple but tasty dressing based on Tzatziki sauce as well.
You start by seeding a half cucumber for the dressing.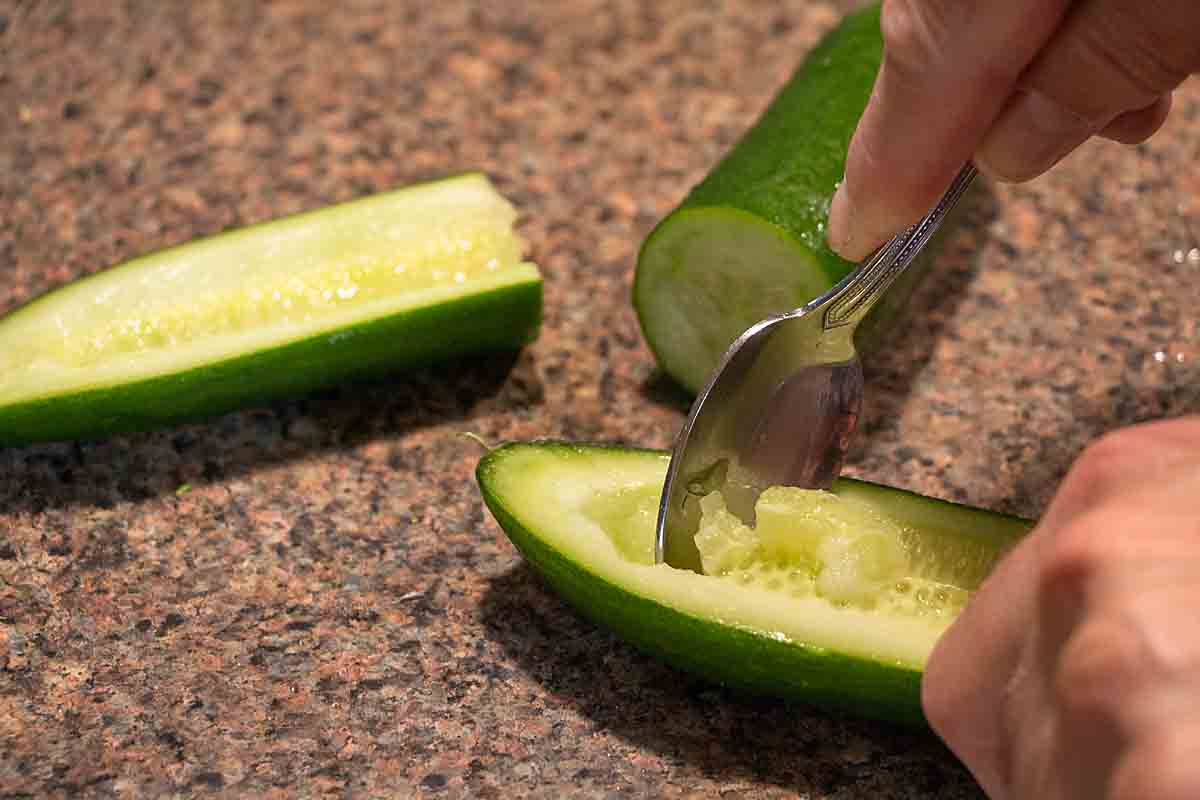 Chop, salt and drain the cucumber, then mix up with the remaining Tzatziki dressing ingredients. Set aside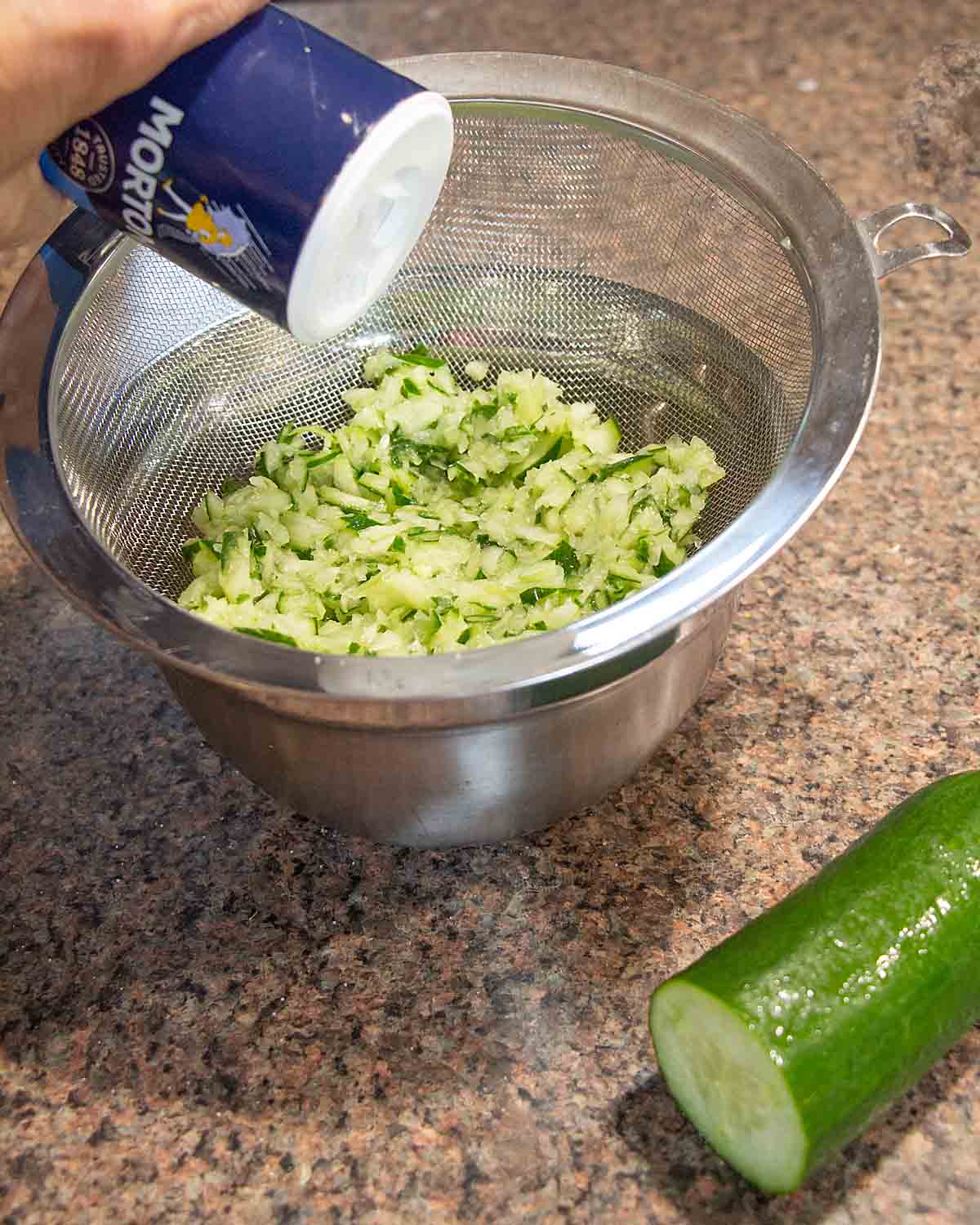 Next you prepare your flavoring mixture, using a food processor to chop.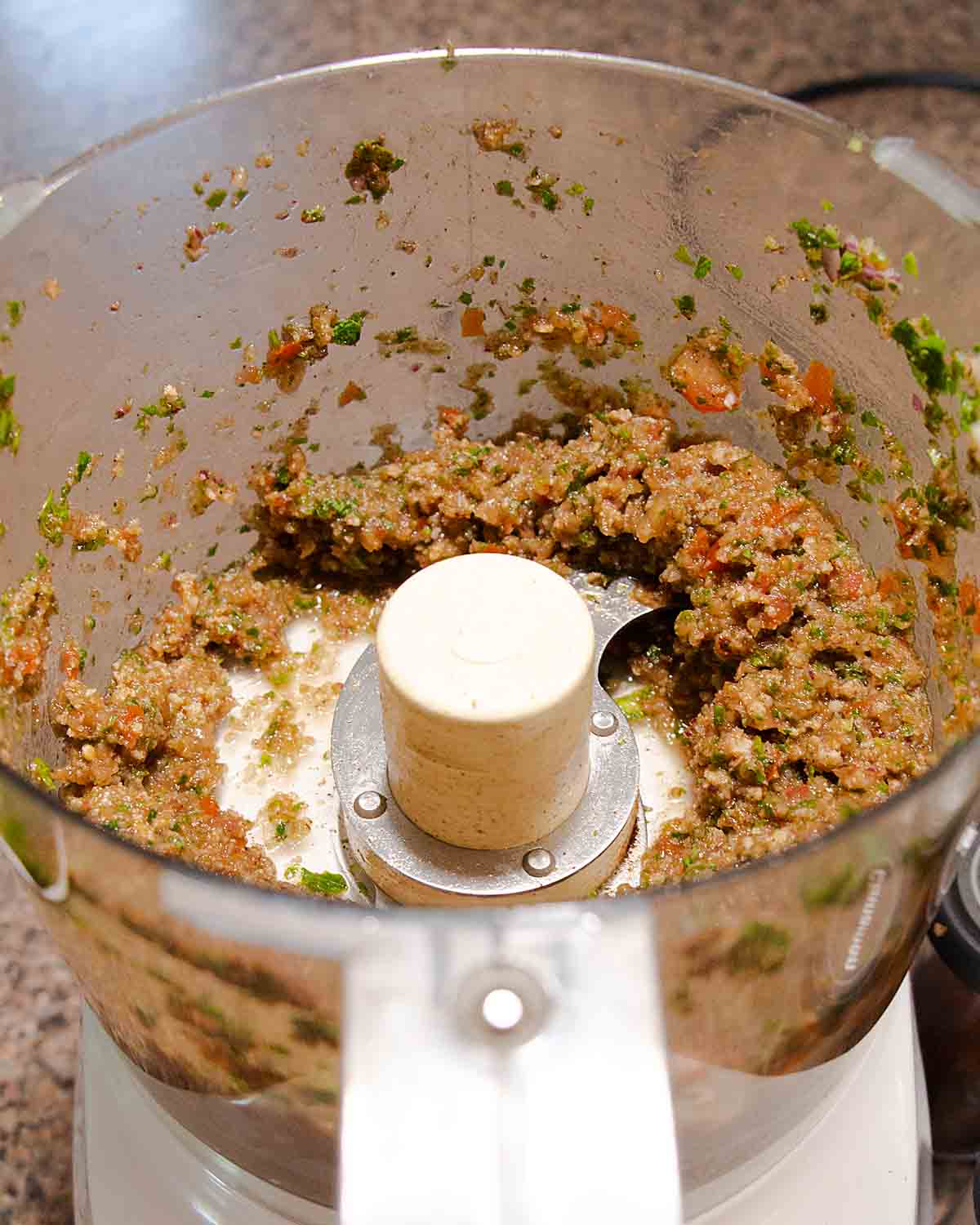 Blend with ground beef by hand, form on to shish kabob skewers and grill or bake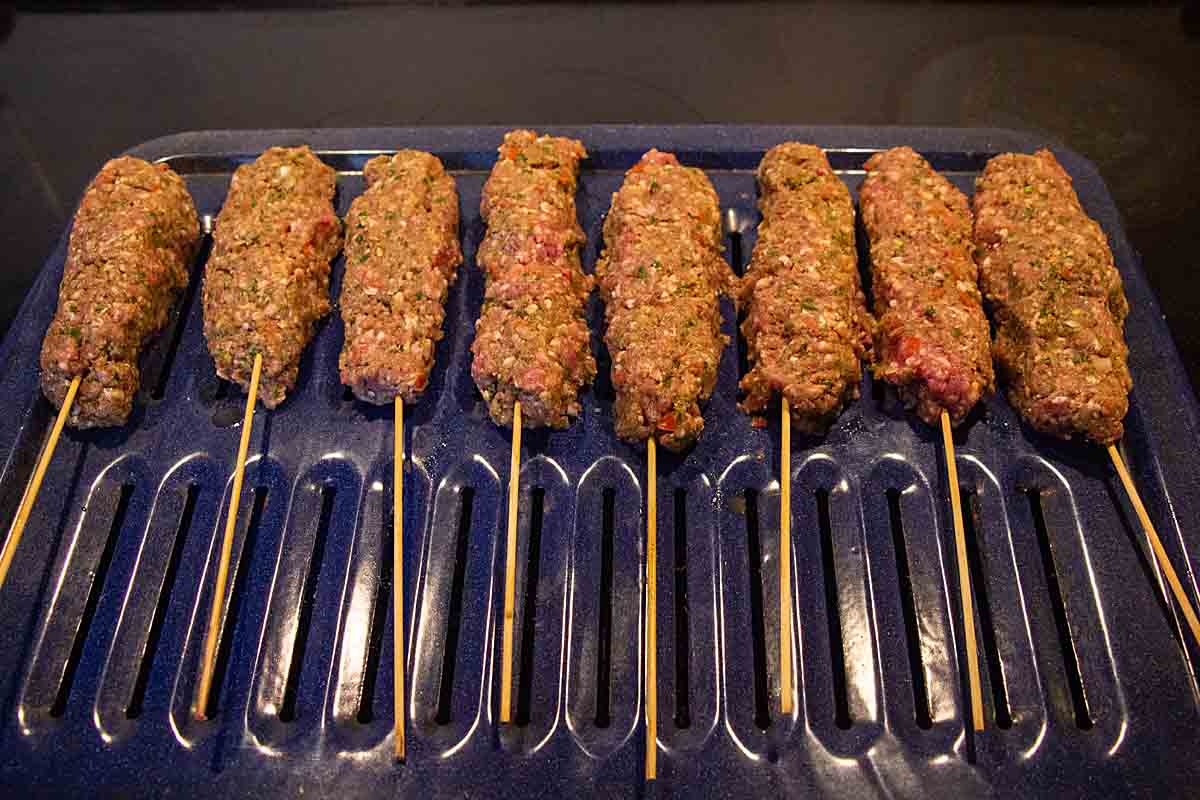 Serve over a salad with dressing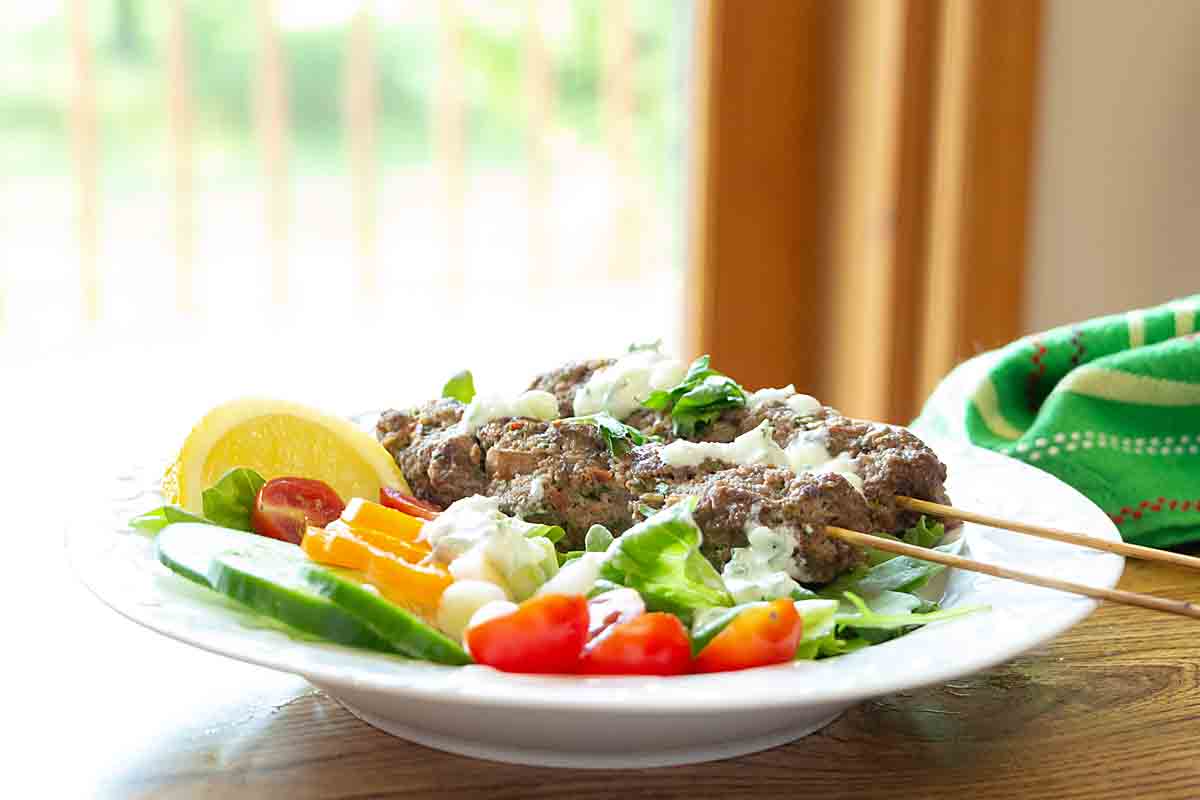 How do you cook the meat
While grilled kefta kabobs is probably the most common cooking method, it's not required. In fact our grill isn't working so this wasn't even an option.
In the end I did oven baked kefta kabobs, but I also considered molding the meat mixture into finger sized pieces and doing pan fried kefta sausages! I've seen kofta meatballs as well.
Just make sure the internal temperature gets up to 165 F for food safety, since these are made with ground meat.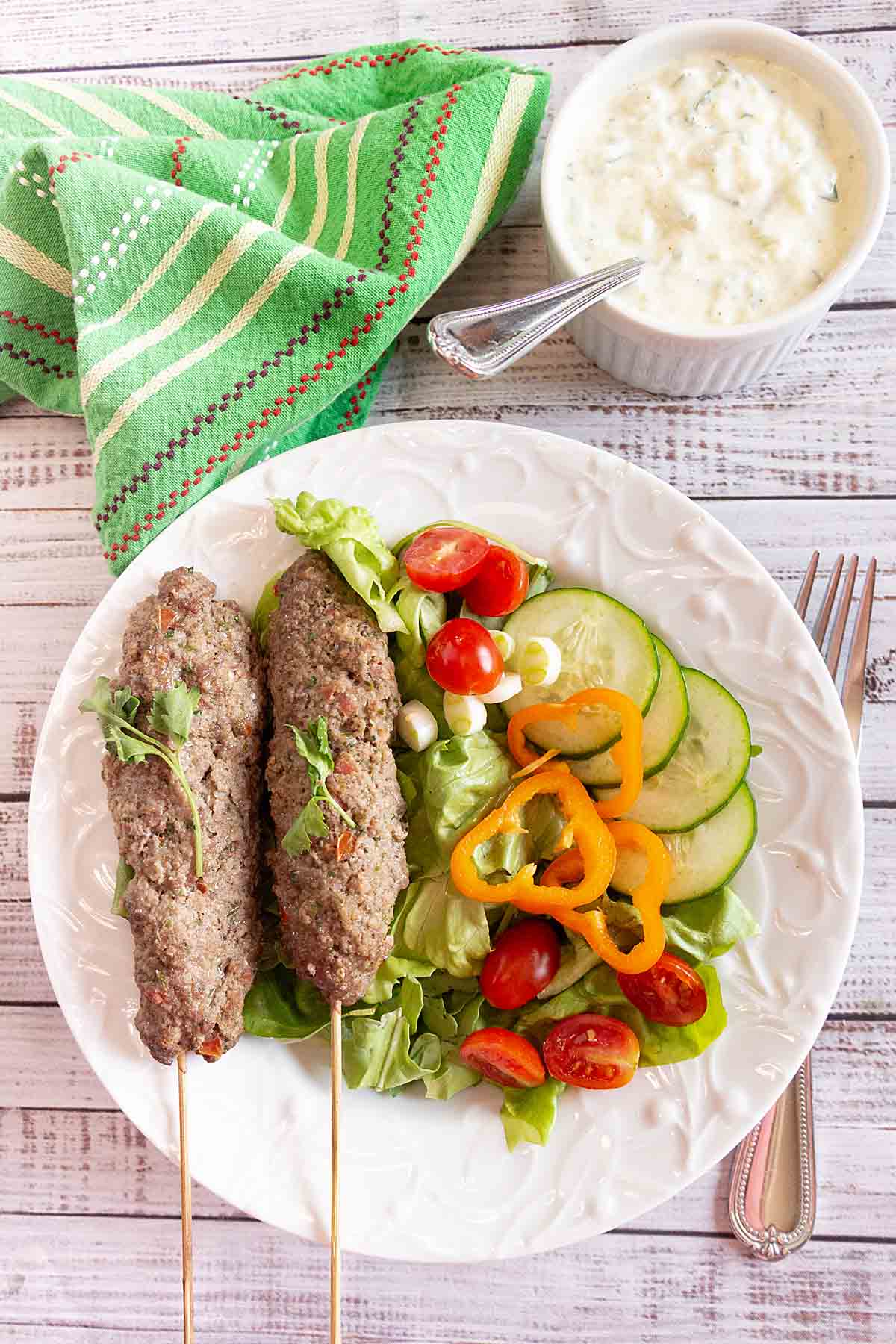 Can I make a dairy free dressing?
If you want or need to go dairy free, you will still want a mediterranean salad dressing for the complimentary flavors. One option would simply be to substitute a non-dairy yogurt in the Tzatziki dressing.
But for more variety you might try a simple tahini dressing. Just dilute some tahini paste with enough warm water to make a nice consistency, then add a little lemon juice, garlic and salt.
What do I serve with a Kefta Salad?
Rice or potatoes can be served alongside these kabobs, but my personal favorite is pita bread. It doesn't heat up the house and is super easy.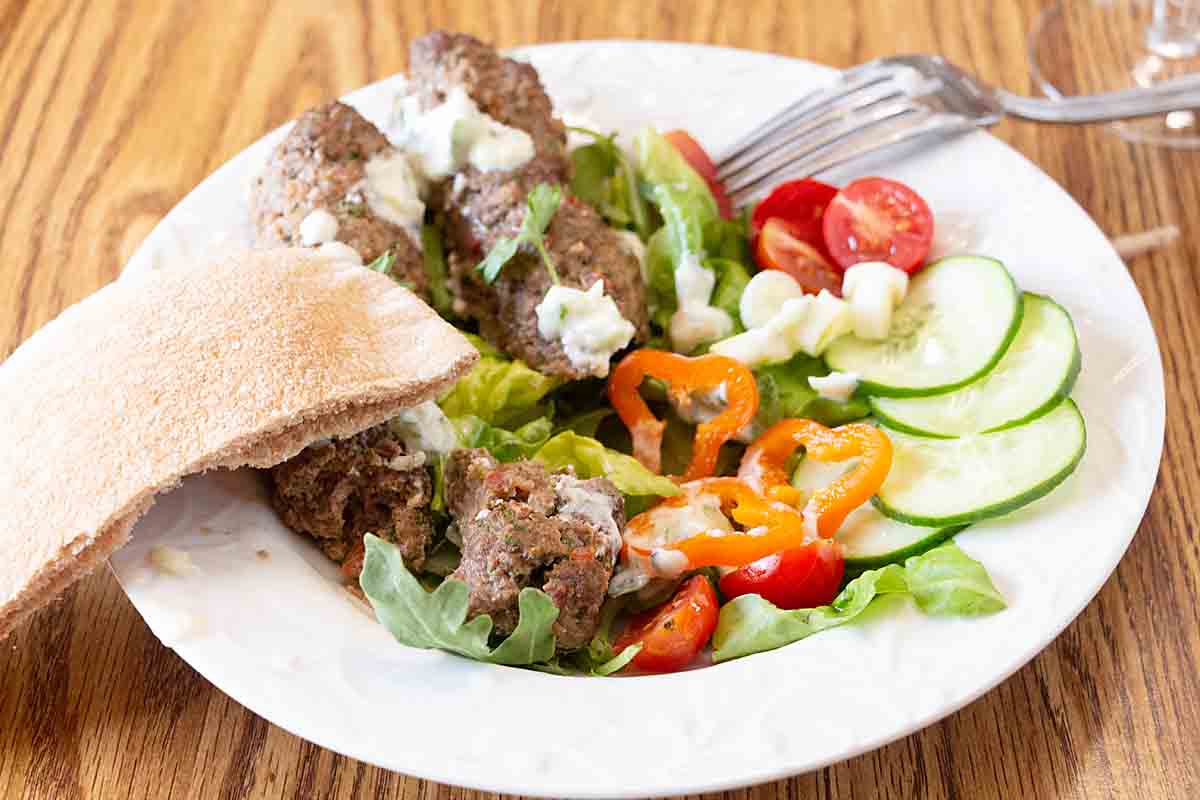 Then as a bonus, if you have leftovers, you can stuff them into an opened pita and call it a kefta sandwich. It's a good day when your leftovers feel like a new dish!
Yes, the beauty of a main course salad is that it's relatively complete all by itself! And in the heat of summer doesn't that sound refreshing!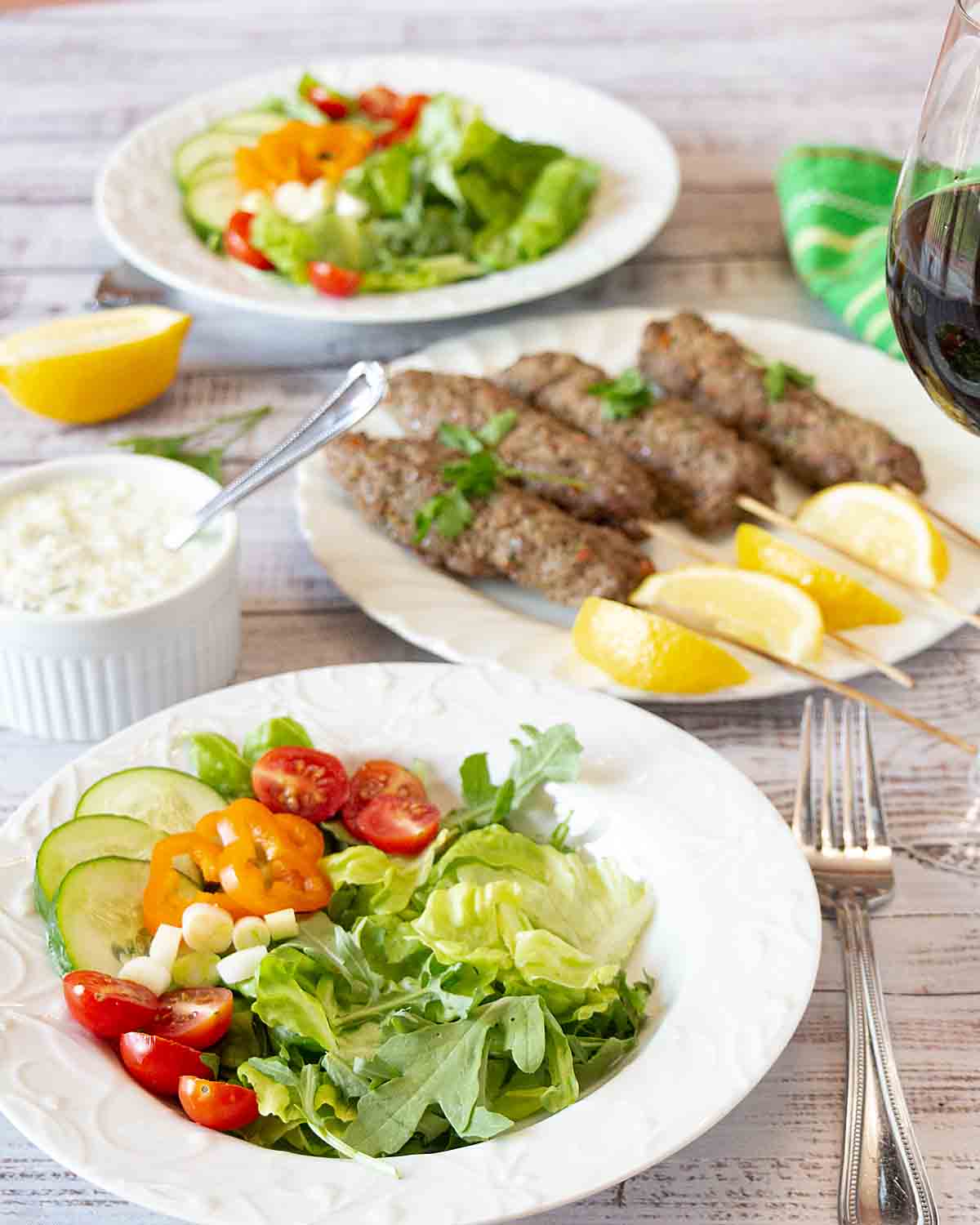 The recipe is at the bottom of the post. But just in case you're thinking about some more international food, take a look at these other ideas below.
Monday #SummerGamesWeek Recipes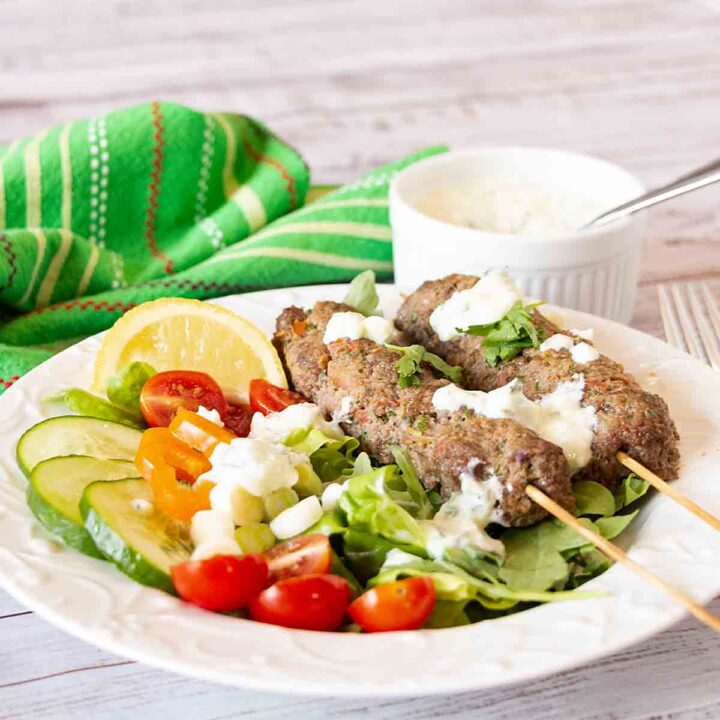 Kefta Salad with Tzatziki Dressing
Yield: 4

Prep Time: 45 minutes

Cook Time: 15 minutes

Total Time: 1 hour

Made with spiced beef sausage kabobs and vegetables, Kefta Salad with Tzatziki Dressing is a tasty and unique main course salad. Just add pita.
Ingredients
Tzatziki Dressing:
1/2 cucumber (use the rest in the salad)
salt
1/2 cups plain Greek yogurt
1 Tablespoon lemon juice
2 Tablespoons extra virgin olive oil
1 Tablespoon finely chopped parsley
1 cloves garlic minced
1/4 teaspoon salt, pepper or to taste
Kefta seasoning mix:
1 medium onion, quartered
1 medium tomato, quartered
4 cloves garlic
½ cup of fresh parsley leaves
Spice mix: ½ teaspoon paprika, ½ t allspice, ½ t coriander, 1/2 t pepper, 1/4 t cinnamon, ¼ t cumin, pinch cloves
1 teaspoon salt
1 slice bread, torn into pieces
Meat:
1 pound ground beef or lamb
Salad:
about 6 ounces of lettuce of your choice
1/2 pint cherry tomatoes
4 mini peppers sliced into rings
remaining half of the cucumber from the dressing, sliced
Instructions
If grilling the kabobs, soak eight skewers in water. This isn't needed if you are oven baking them.
Make the dressing. Seed half a cucumber, chop, salt and let sit in a strainer briefly to drain.. Discard juices and mix the cucumber with the rest of the dressing ingredients. Store in the refrigerator while you make the rest of the dish.
Using a food processor, pulse the seasoning mix ingredients until finely chopped. They will look surprisingly like meat. Remove from food processor and in a separate bowl, mix with the meat.
Form seasoned meat mixture around eight skewers. Bake in a 375 F oven until temperature is 165F, about 15 minutes. Alternatively you can grill the kabobs,
While kabobs are cooking assemble salads. Slice the cucumber and mini peppers into rounds. Divide lettuce between four bowls, and top with tomatoes, sliced cucumber and sliced mini peppers.
Serve salads with kefta kabobs and dressing.
Nutrition Information:
Yield: 4 Serving Size: 1
Amount Per Serving: Calories: 556Total Fat: 35gSaturated Fat: 11gTrans Fat: 1gUnsaturated Fat: 20gCholesterol: 125mgSodium: 1050mgCarbohydrates: 18gFiber: 4gSugar: 7gProtein: 42g

Nutrition data accuracy may vary with product selection, calculator accuracy, etc. Consult a professional for the best information.
More Middle East Inspired Recipes