Kufta in Tahini Sauce with Efficiency Tricks
Kufta in Tahini Sauce (or kofta or kefta) is ground meat mixed with parsley, onions, garlic and spices! Topped with potatoes and Tahini Sauce it's a Middle Eastern delight.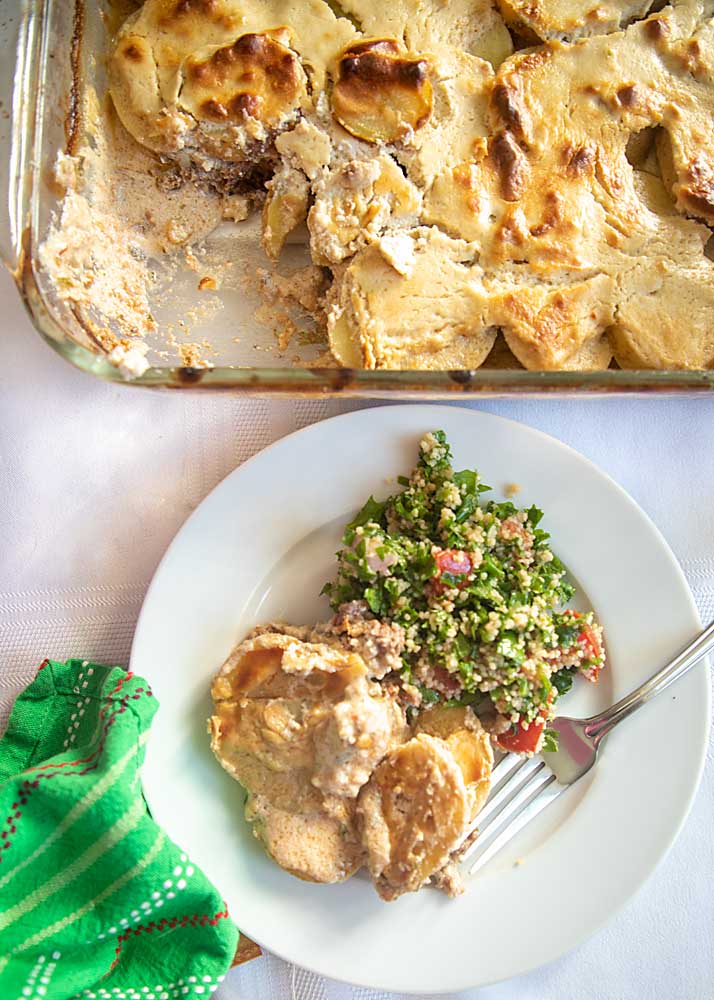 In my youth, I used to eat Middle Eastern a lot. It was a great way to go, when you were watching your pennies, but still wanted food that was high on flavor.
I often ordered Kufta in Tahini Sauce, a seasoned ground meat dish topped with potato slices and tahini. Creamy, rich and comforting, I always had the version prepared with lamb, putting it on my "make someday" list.
Happily, my Sunday blogging buddies decided to cook Middle Eastern this week!
Unhappily, when I got ready to cook, I was out of ground lamb. And I almost abandoned my plans. Then I remembered my new philosophy: nothing matters if it makes something too hard to do. So I took out some ground beef.
In the end, the change of meat was no problem. The spices and tahini sauce provided the real character, not the specific meat. And the family gobbled it down. Yes!
Recipe Efficiencies
The recipe, based on one from the Foodtasia blog, tastes virtually identical to my earlier memories. Despite the fact it includes a few changes from tradition to make it more efficient. Hooray for the "not too hard" philosophy again.
The first change was to push the meat into a single big layer on the bottom of the pan versus creating individual sausages or skewers. Then I skipped pre-cooking my potatoes.
In the end, the potatoes were perfectly cooked and the Kufta in Tahini Sauce was, well… dangerously delicious!
Here's to living in the real world!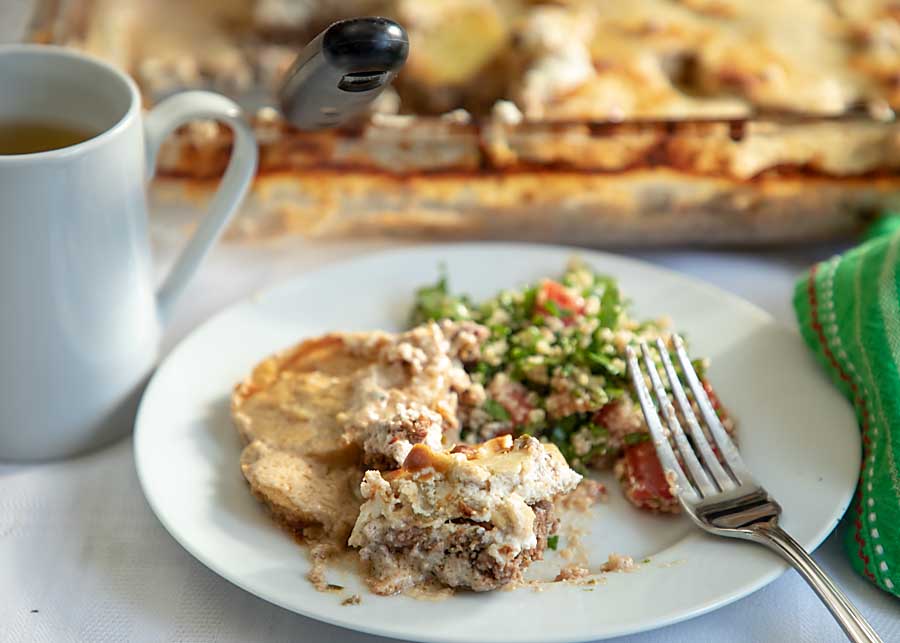 Kufta in Tahini Sauce
2019-10-11 20:43:08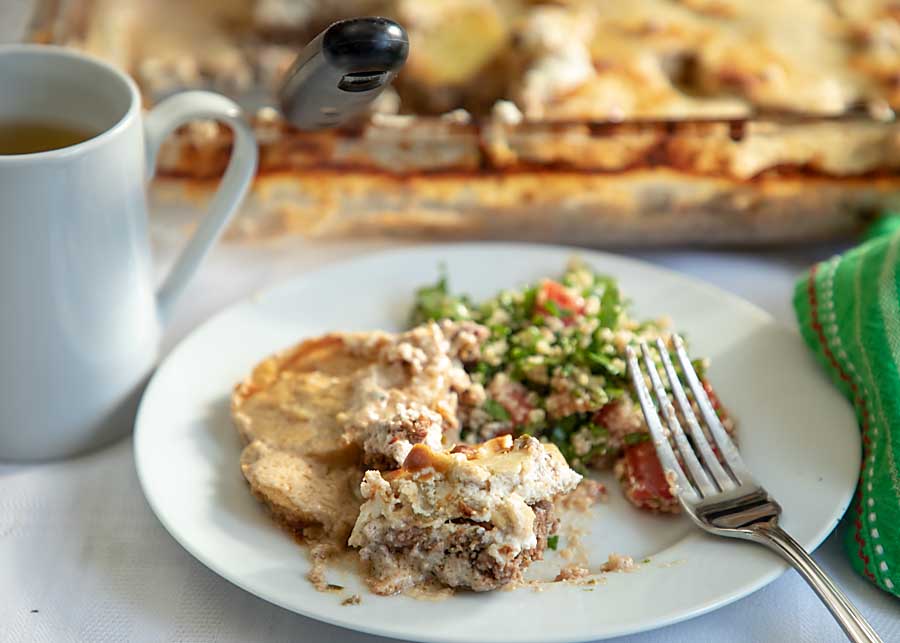 Serves 8
Kufta in Tahini Sauce (or kofta or kefta) is ground meat mixed with parsley, onions, garlic and spices! Topped with potatoes and Tahini Sauce it's a Middle Eastern delight.
Nutrition Facts
Amount Per Serving
* Percent Daily Values are based on a 2,000 calorie diet. Your Daily Values may be higher or lower depending on your calorie needs.
Ingredients
Ingredients
• 1 lb ground beef or lamb
• About 5 medium potatoes, cut in ¼ inch slices (no need to peel)
• Optional Garnish: additional chopped parsley and/or 1-2 Tablespoons toasted pine nuts
Kufta seasoning mix
• 1 medium onion
• 1 medium tomato
• 4 cloves garlic, pressed or finely minced
• ½ cup of fresh parsley leaves
• Spice mix: ½ teaspoon paprika, ½ t allspice, ½ t coriander, 1/2 t pepper, 1/4 t cinnamon, ¼ t cumin, pinch cloves
• 1 teaspoon salt
• 1 slice bread, torn into pieces
Tahini Sauce
• 4 cloves garlic, minced or pressed
• 1 cups yogurt
• 1 cup tahini
• Juice from large lemon
• 1 cup water
• 1 teaspoon salt, or to taste
Instructions
Combine the Kufta seasoning ingredients in a food processor and process until finely minced. It will look surprisingly like meat when done.
Put the seasoning mixture into a 9 by 13 inch baking pan. Add the ground beef and mix by hand to combine, right in the dish. Don't overwork.
Press the Kufta into a flat, uniform layer in the baking pan. Make depressions in the Kufta mixture with your fingers.
Put the baking pan into the preheated oven for about 7 minutes while you make the sauce. This will allow the meat to set slightly. Do not leave it in longer or the meat will be overcooked in the end.
In a blender or food processor, combine the sauce ingredients and blend until smooth.
Remove the pan from the oven. Top with sliced potatoes. Pour sauce over evenly to cover.
Bake at 400 degrees F for about 40 minutes until the meat is cooked through and the sauce is bubbling and lightly browned.
Serve warm, optionally with rice.
Art of Natural Living https://artofnaturalliving.com/
Easy Middle Eastern Food Recipes
We share Recipes From Our Dinner Table! Join our group and share your recipes, too! While you're at it, join our Pinterest board, too!