Blackened Chicken is a spicy and flavorful main dish from Cajun country. Add simple sides like coleslaw and corn bread for a quick & easy dinner.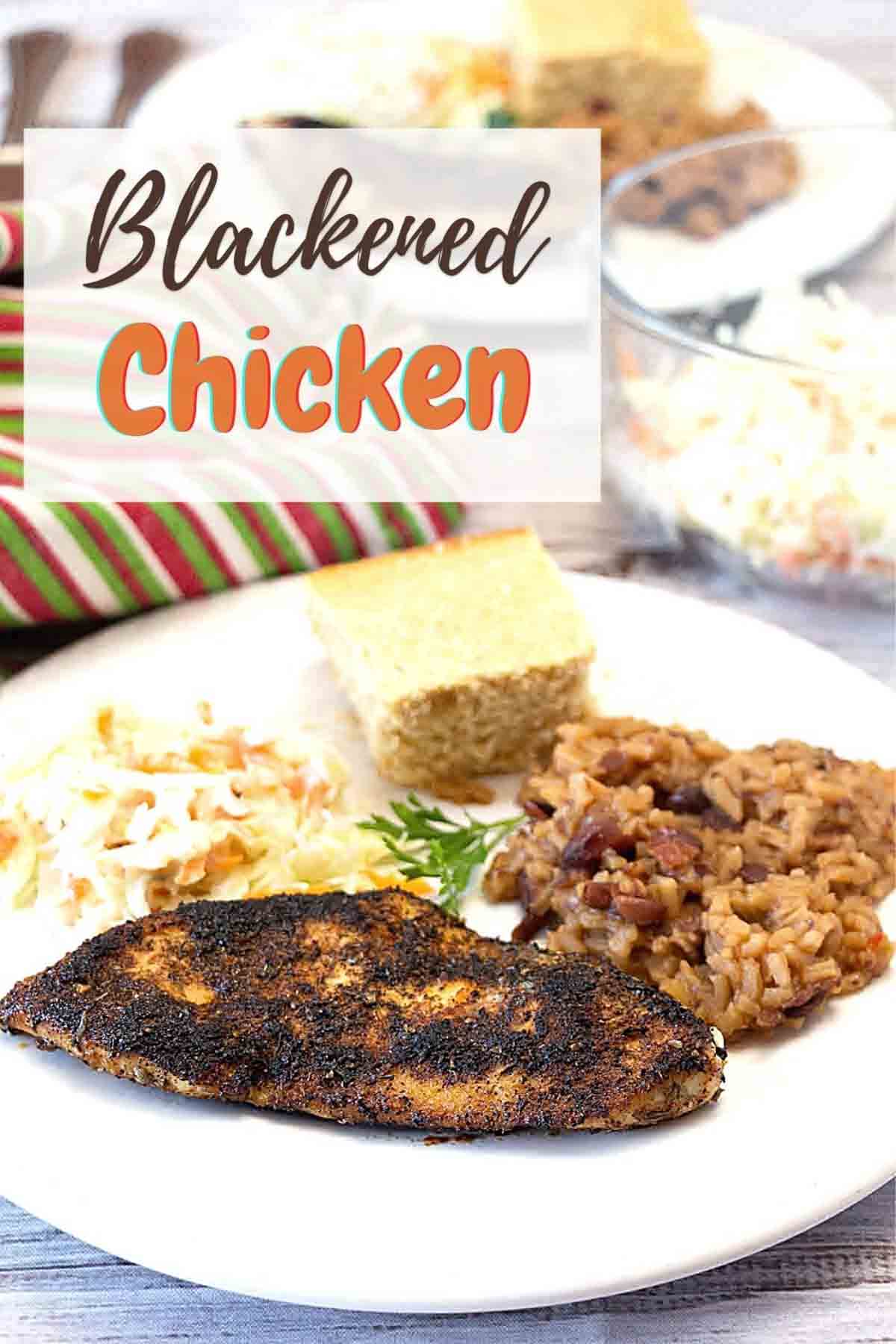 I'd eaten blackened dishes out many times. From seafood to chicken, maybe an occasional blackened steak, it was always a food I enjoyed.
But I'd never tried it myself. I'm not even sure now what I feared. Having to buy too many spices? Killing off my spice-averse husband? Setting the kitchen on fire?
Well I've done it now and I can tell you there is nothing to fear. And I can't wait to "blacken" something else!
What is Blackened Chicken
The original "blackened" dish wasn't chicken at all, but a fish.
Per the NY Times, Chef Paul "Prudhomme dipped redfish fillets in butter, dusted them with ground cayenne and a mix of dried herbs, and seared them in a red-hot iron skillet until a black crust formed."
Ultimately, his blackened redfish spread outward from New Orleans to became a national sensation–so popular it's reported Gulf Redfish became threatened.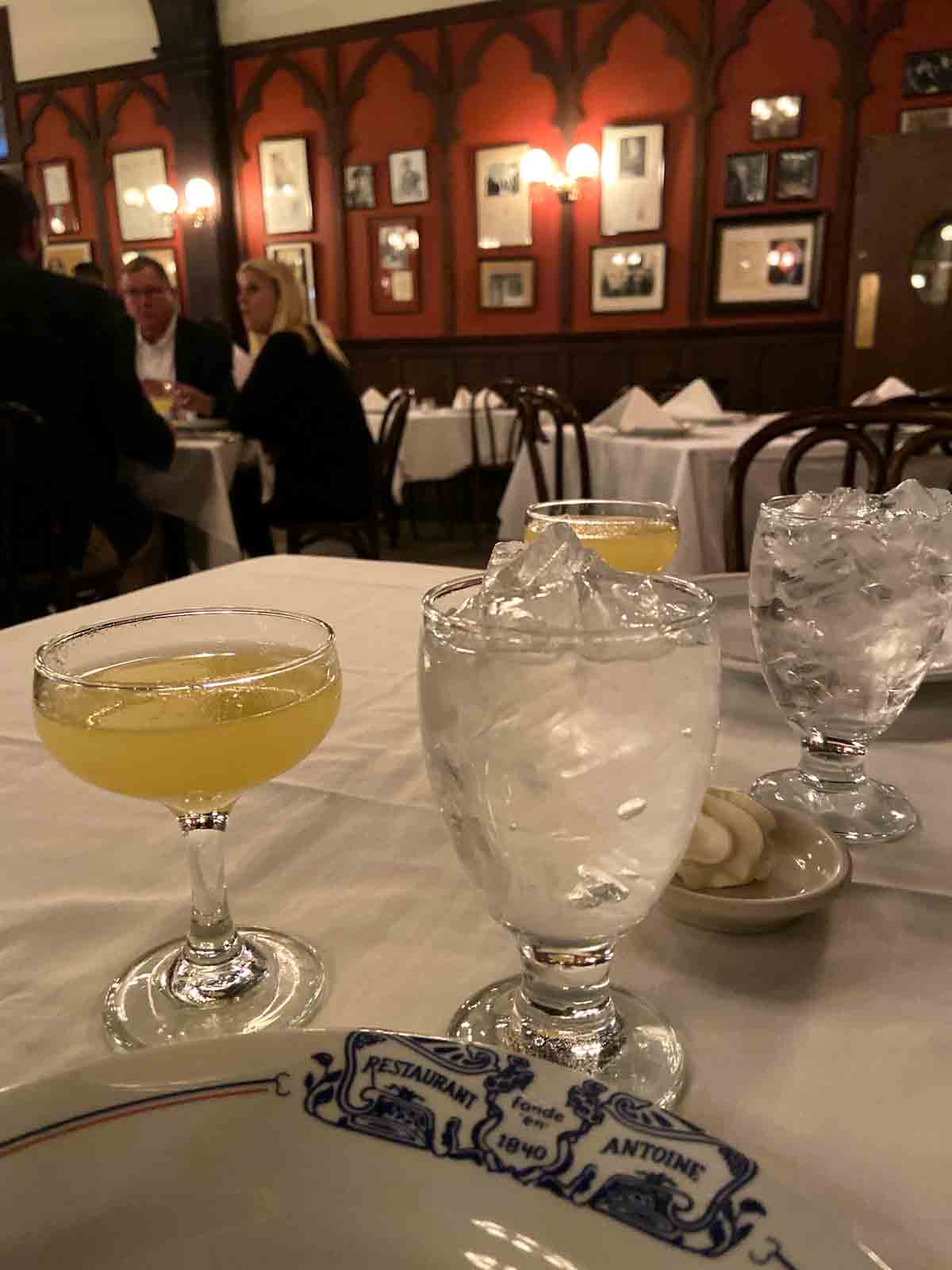 As the Cajun-inspired dish took off, restaurants everywhere got creative. And dishes like blackened chicken and blackened prime rib hit menus all over.
Who can argue with versatility I guess!
What Makes This Dish a Winner
Quick & Easy This is a super fast dish, that's easy to prepare and cook–just minutes per side. In fact, it's so quick, you'll need to select sides that are also quick (or start then early). Which is how coleslaw got served here instead of roasted vegetables.
Fun & Flavorful It was a unanimous three thumbs up at dinner. My "spice-averse" husband was pretty tentative when he took his first bite, but in the end really enjoyed it. In fact he ate the 4th serving without batting an eyelash.
No special ingredients The spices are all common kitchen spices and the only other things you need are PAM or oil and chicken.
What is in Blackened Seasoning Mix?
As I scoured the Internet there was a remarkable consistency in the types of spices in different Blackened Seasoning Mix spices. And they were all pretty typically found in your ordinary kitchen spice collection. Hooray!
These include cayenne, garlic, onion powder, oregano, thyme, paprika, salt and pepper.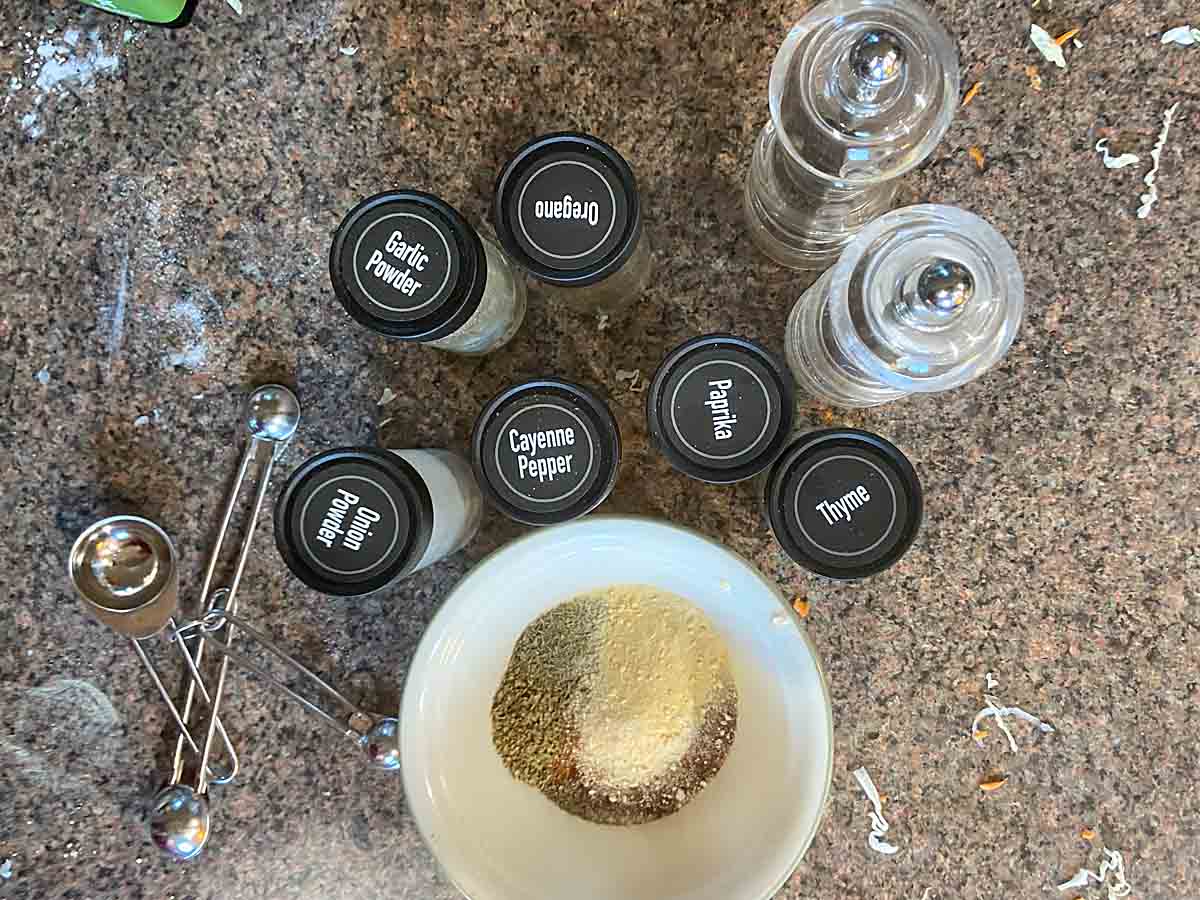 Directions
Blackened chicken is super quick and easy. The hardest part is opening the windows to deal with the smoke if you can't cook outside!
Slice chicken breasts thin for a quick even cook.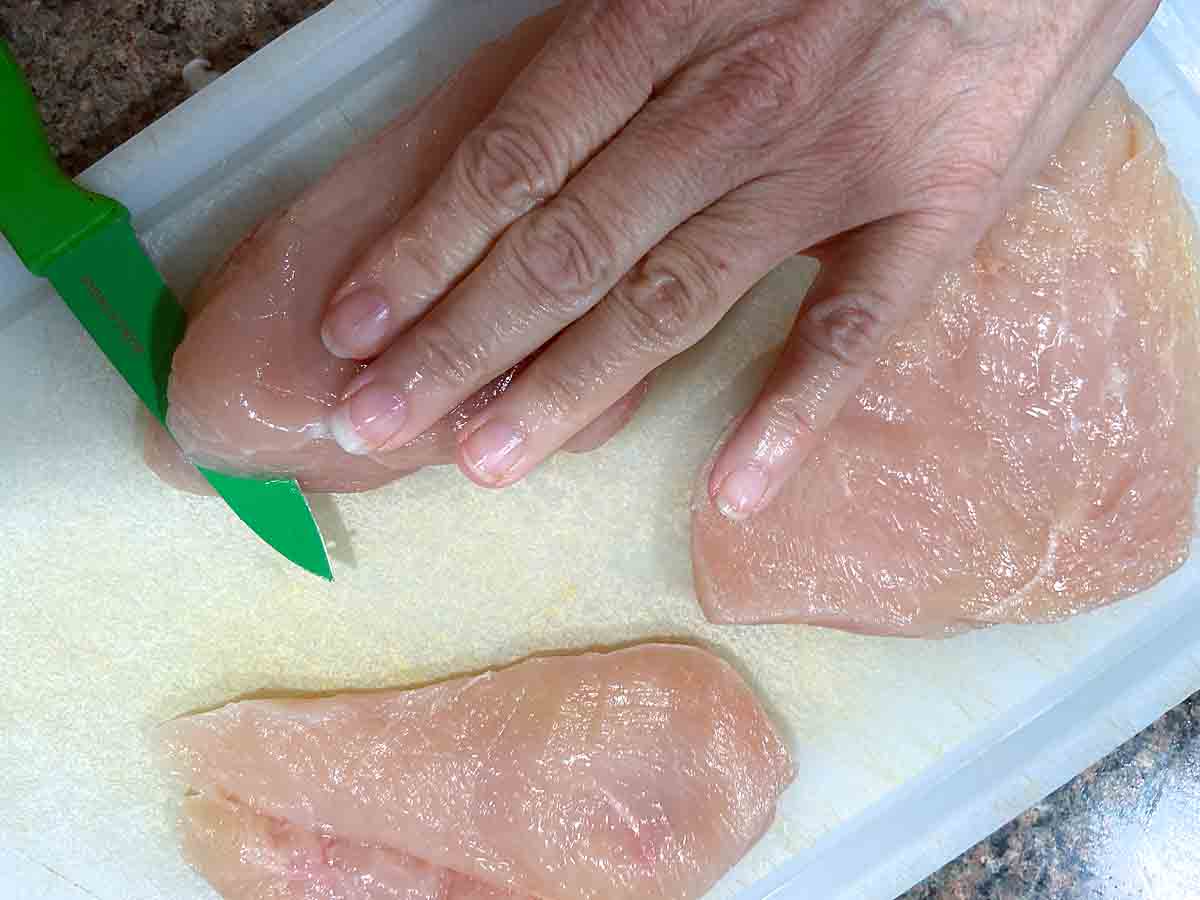 Miix up the spice mix and pat onto both sides of the chicken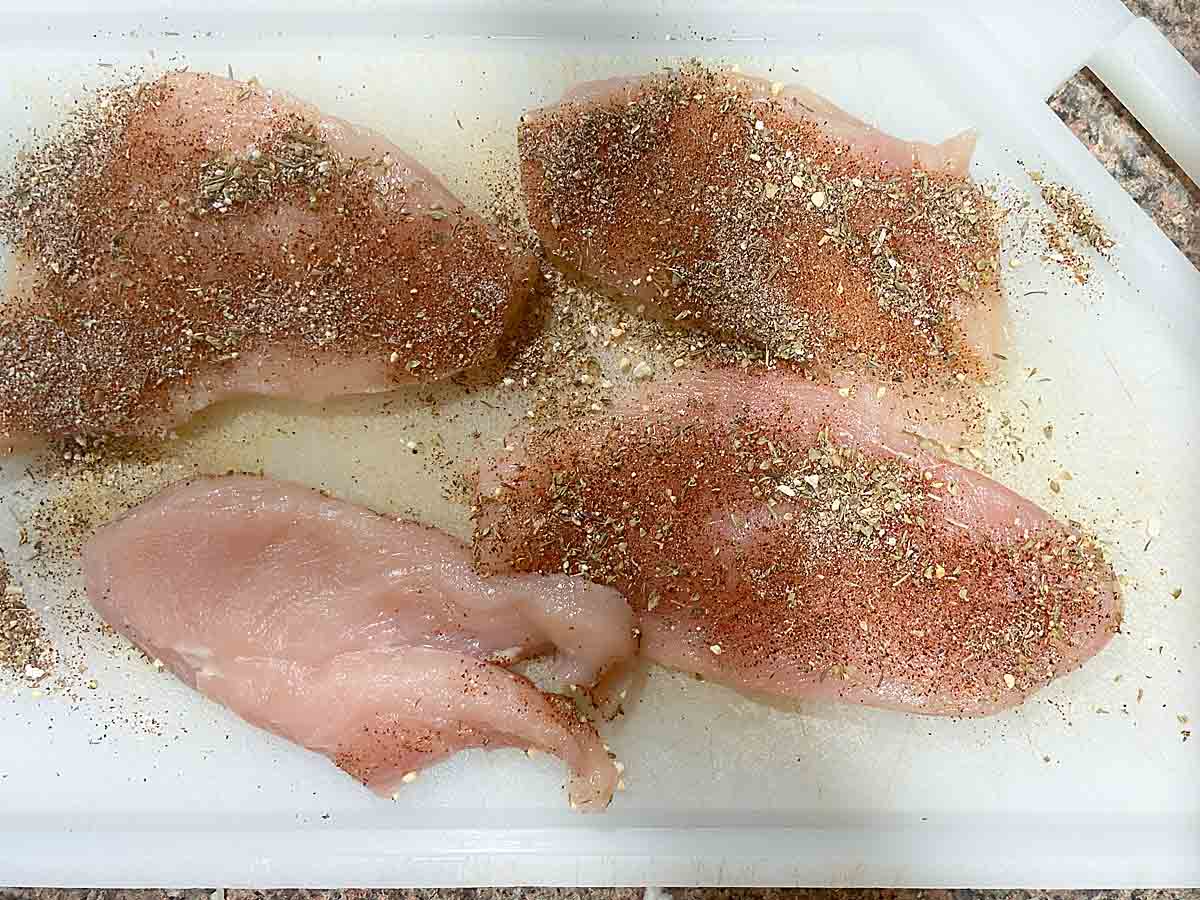 Sear in hot skillet turning after a few minutes to char both sides.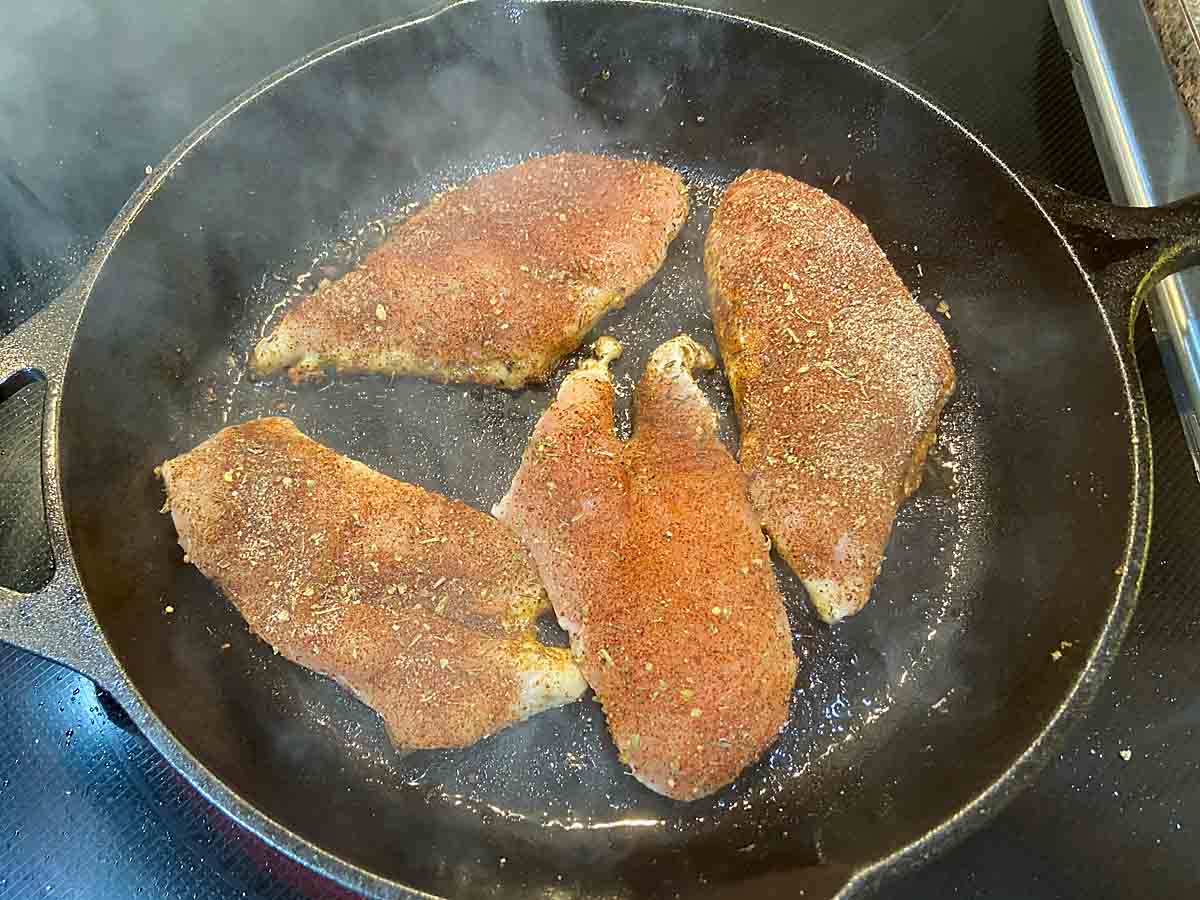 When the internal temperature reaches 165, it is done!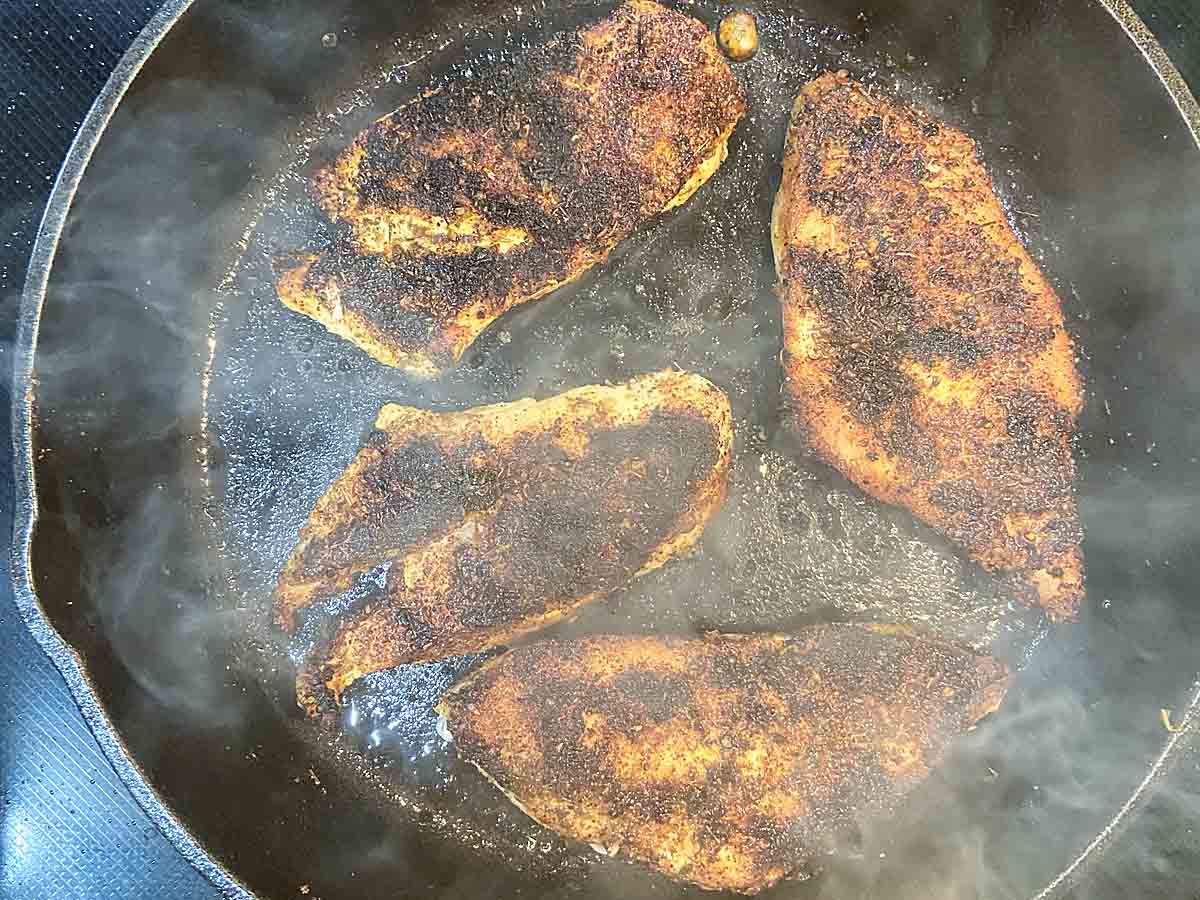 What to Serve With This
It's nice to keep with a Cajun theme if you can in your sides. You might consider:
Red beans & rice (I used a packaged mix)
Salad w remoulade dressing (see my NOLA Fried Oyster Salad)
Coleslaw
Cornbread
Dirty rice
Okra
In fact I think we had as much fun with the sides as the Blackened Chicken itself.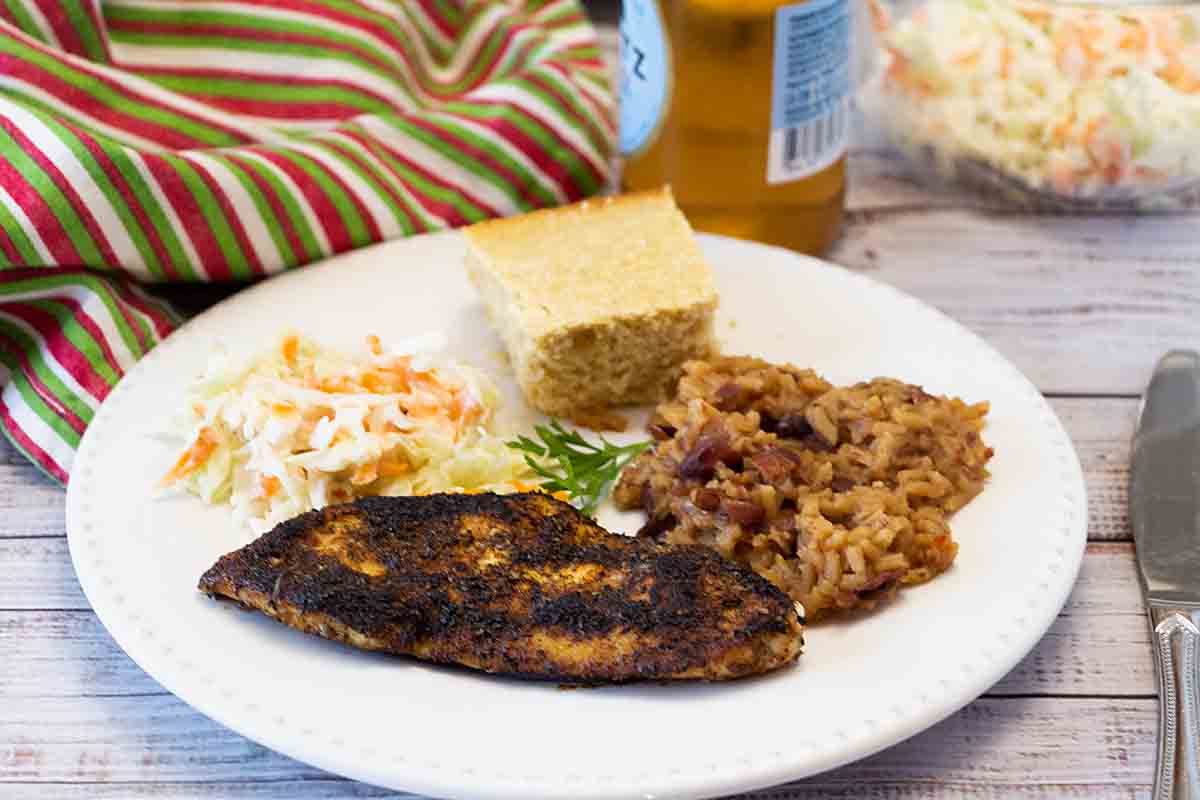 Variations
I served the Blackened Chicken as a simple entrée, but there are many other ways you could serve it. These include:
Slice the chicken breast and serve on salad
Slice and serve with pasta alfredo
Serve on a sandwich
You can even change up your meat and blacken steak or (duh) seafood.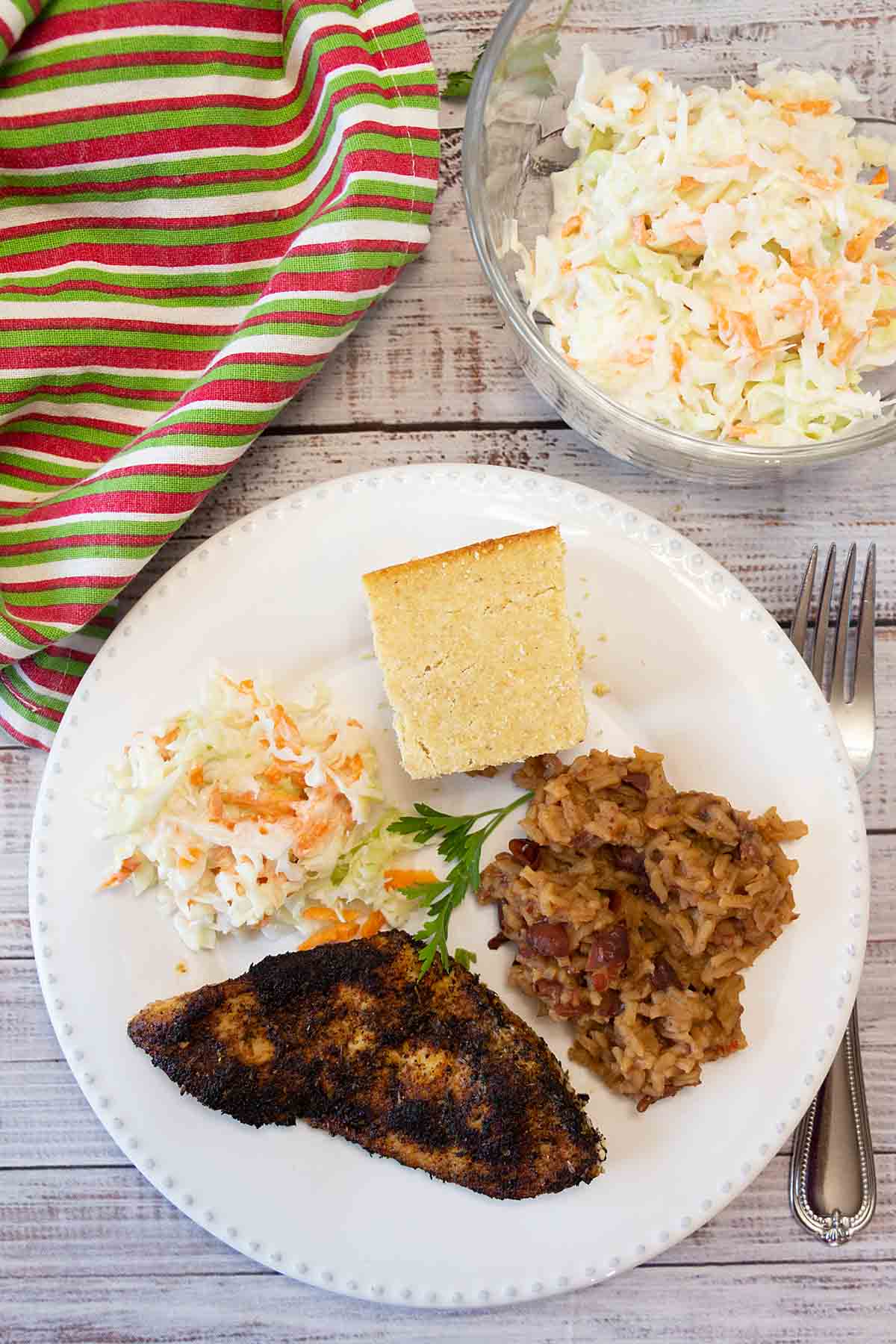 Tips & FAQs
I typically cut large chicken breasts in half to make thinner cutlets. They cook more quickly and evenly this way and are a better serving size than an 8 ounce portion. If there is still a big difference in thickness, I may even pound them for more evenness (I didn't need to do this today).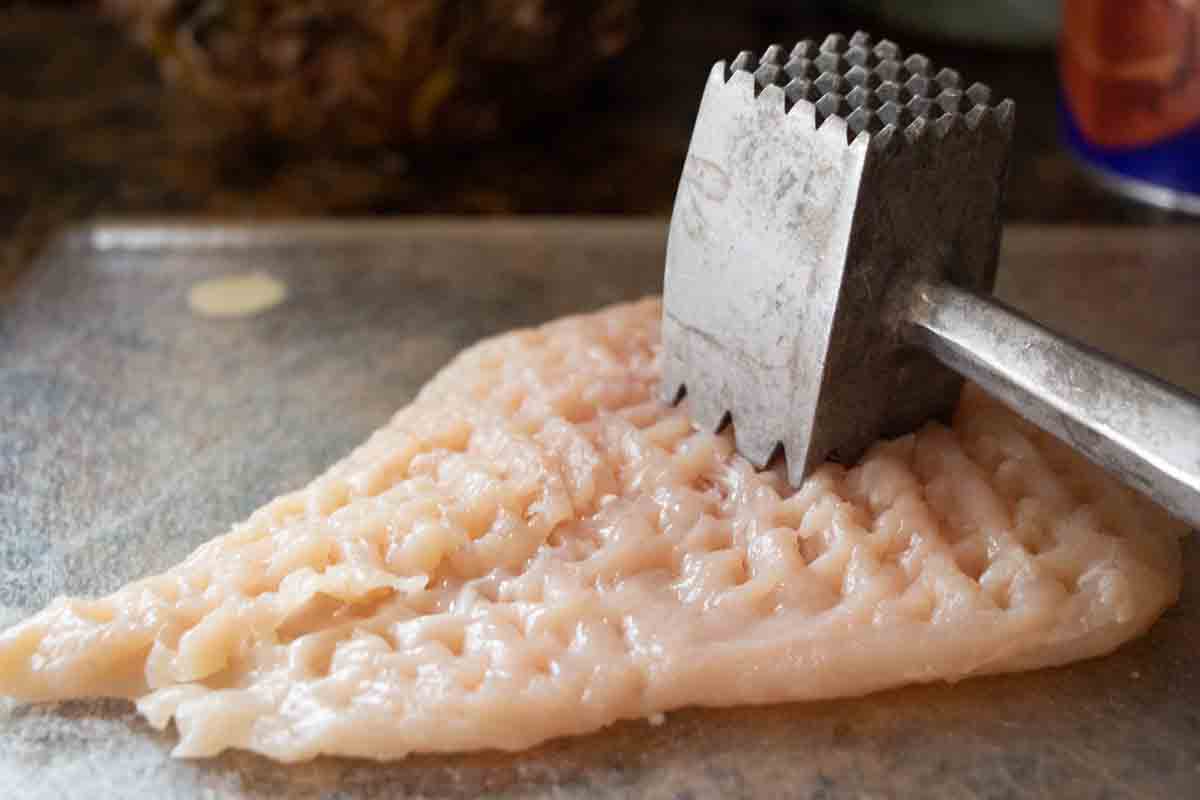 Beware of smoke. Many people recommend cooking this outside (still in a cast iron pan for the char) or at the very least shutting off the smoke detectors. We opened the windows to help with the smoke and I was exited that this seemed to be working. Then my daughter came down from the second floor to complain she couldn't breathe up there and I knew where all the smoke had gone. Best laid plans 🙂
What if I don't have a cast iron skillet? Blackened Chicken is traditionally cooked in cast iron but a second choice would be a quality stainless steel pan. Given the high heat, I would not use a non-stick pan.
Huge amounts of butter are used in the traditional preparation of this dish, both for coating the chicken first, then for frying. I chickened out (no pun intended) and applied the spice mixture directly to the raw chicken then used Pam for the frying. Yes, butter would create even more smoke.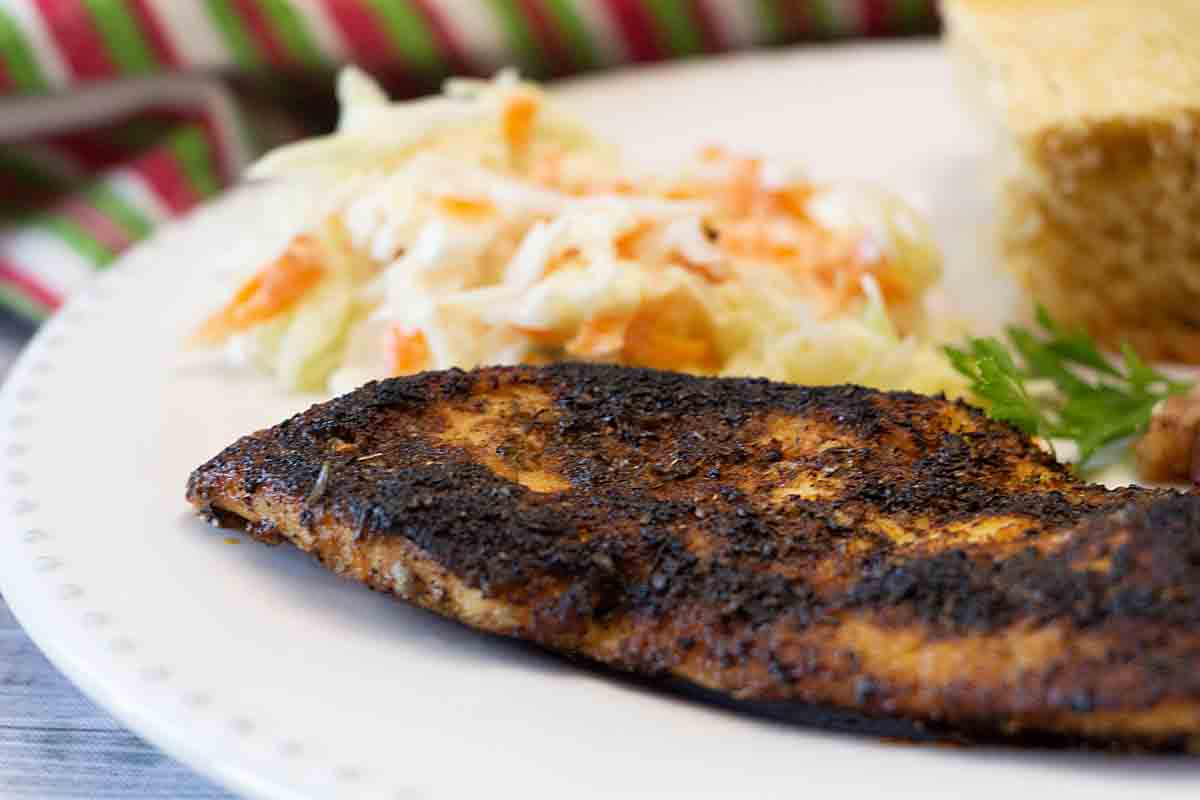 Butter is supposed to be needed for the char but, as you can see, mine got a nice char just using non-stick spray. I intend to try with butter next and will report back on the differences.
Favorite Chicken Recipe
We share Recipes From Our Dinner Table! Join our group and share your recipes, too! While you're at it, follow our Pinterest board, too!
Blackened Chicken
Blackened Chicken is a spicy and flavorful main dish from Cajun country. Add simple sides like coleslaw and corn bread for a quick & easy dinner. 
Ingredients
2 large chicken breasts (at least 6 ounces each)
PAM cooking spray (or oil for frying)
Blackened Seasoning Mix:
2 teaspoons paprika
1/4 teaspoon cayenne pepper
1 teaspoon dried thyme
1 teaspoon dried oregano
1 teaspoon garlic powder
1 teaspoon onion powder
1/2 teaspoon fresh ground black pepper
1/2 teaspoon salt
Instructions
Start cast iron skillet heating over medium high heat
Cut chicken breasts in half to make thinner cutlets
Mix seasoning ingredients together. Sprinkle seasoning onto both sides of chicken
When pan is very hot, spray with PAM non-stick spray. Add chicken to pan. Turn when charred (about 3 minutes). Cook until both sides are charred and internal temperature is 165F.
Serve immediately.
Notes
This gets very smoky and many people recommend cooking outside.
Nutrition Information:
Yield:

4
Serving Size:

1
Amount Per Serving:
Calories:

110
Total Fat:

2g
Saturated Fat:

1g
Trans Fat:

0g
Unsaturated Fat:

1g
Cholesterol:

51mg
Sodium:

311mg
Carbohydrates:

2g
Fiber:

1g
Sugar:

0g
Protein:

19g
Nutrition data accuracy may vary with product selection, calculator accuracy, etc. Consult a professional for the best information.