Balsamic Glazed Pork Meatloaf
Balsamic Glazed Pork Meatloaf is flavored with parsley & cumin, then topped with a balsamic glaze for a tasty lunch or dinner. Comfort food with a touch of class!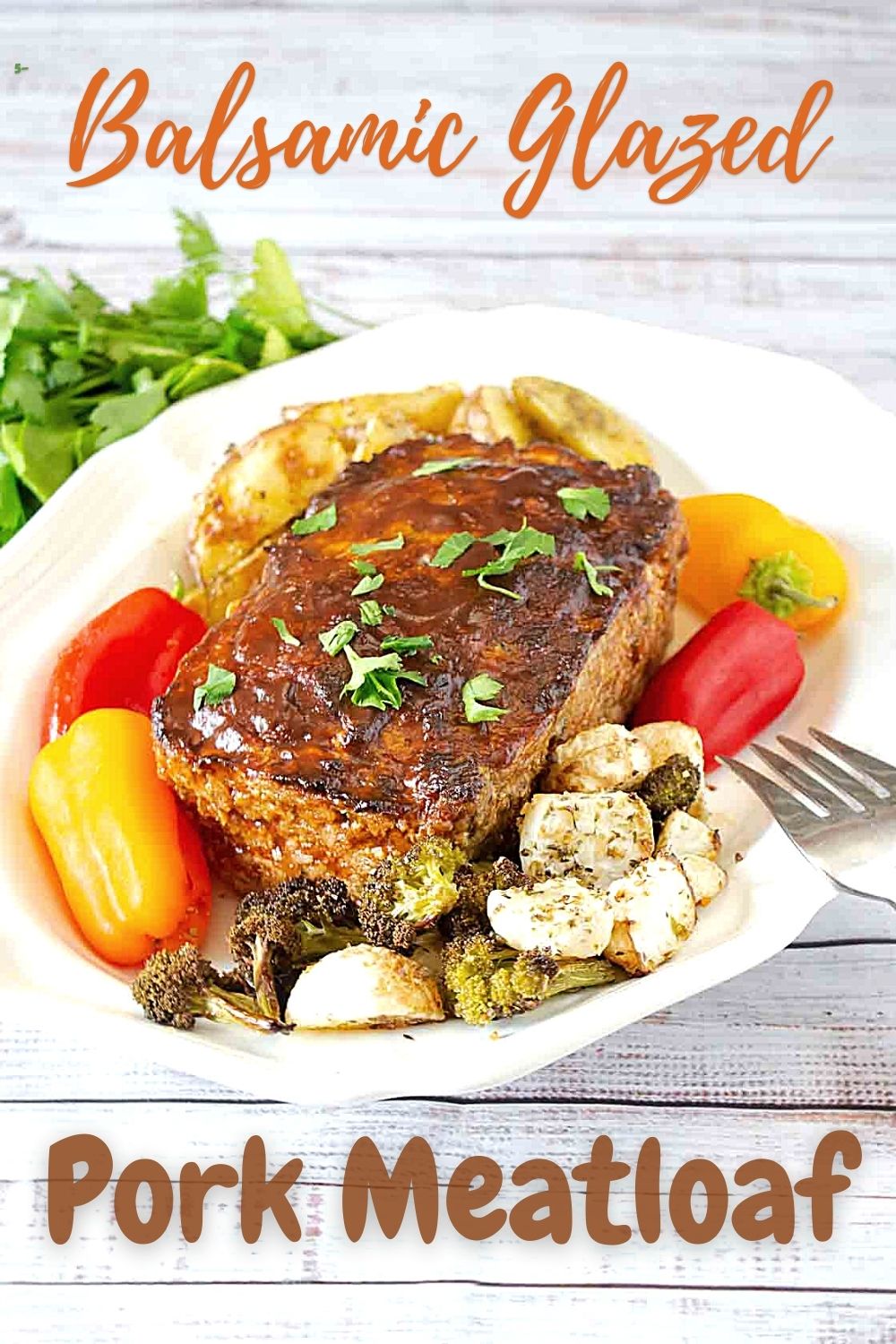 I was never a meatloaf fan. A slab of ground beef, bathed in fat and topped with catsup–what's to love? I think it came from a childhood where my mother was famous for bad ground beef dishes. Hockey puck burgers anyone?
So when a friend suggested I try her favorite meatloaf… I was skeptical. How good could meatloaf really be? But she had never steered me wrong, so in the end, I broke down.
My husband was ecstatic since meatloaf was a (long lost) childhood favorite of his. And in the end, I was too. Whether it was the change in meat… or new seasoning… or just growing up, I am now a meatloaf fan!
Here's to getting rid of old biases!
What Makes This Recipe a Winner
In the end there were so many reasons to love my new pork meatloaf!
Easy Prep Just mix ingredients and bake. Optionally bake veggies and potato wedges alongside for a simple complete meal.
Adaptable to Special Diets This recipe goes gluten-free or keto with a couple simple tweaks, covered below! Yup, I never know when I might have to go keto again! And it's dairy-free too!
Flavorful Comfort Food As the weather starts to turn cooler, you know you gotta have some comfort food! Instead of bland boxed mac, why not pick something with real flavor!
Directions
In a large bowl, mix non-meat meatloaf ingredients. Add meat, mix well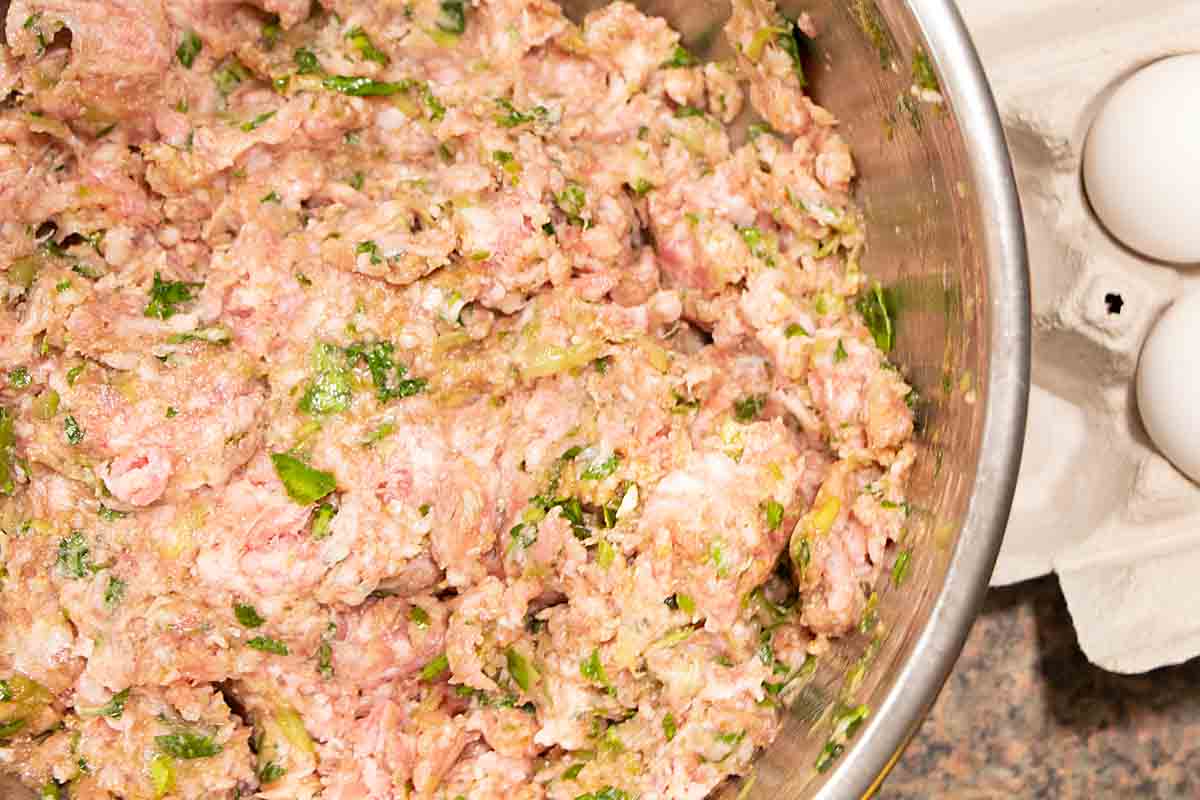 Pour into loaf pan. Level top.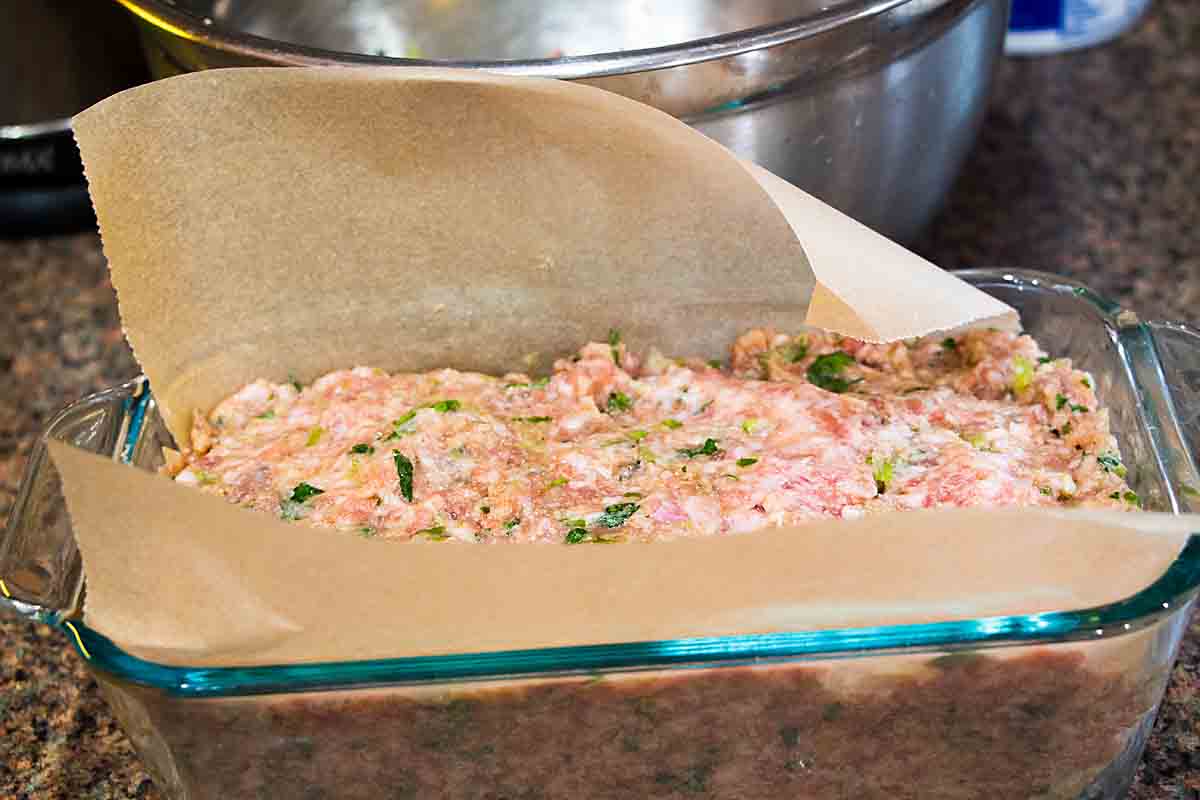 Bake about 45 minutes until meatloaf reaches at least 155F with an instant read thermometer. Mix glaze ingredients and spread the glaze over the meatloaf.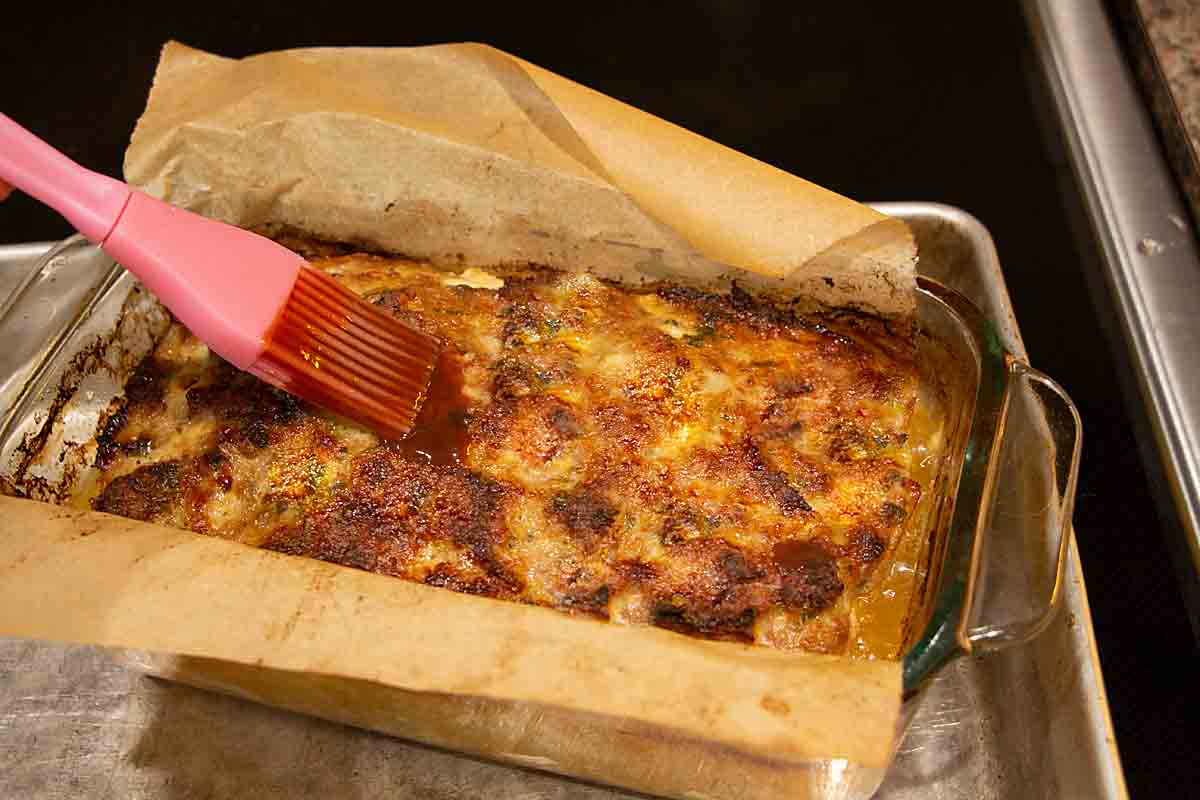 Bake for another 10-15 minutes until temperature reaches 160F (165 if you use ground turkey). Let stand 10 minutes before slicing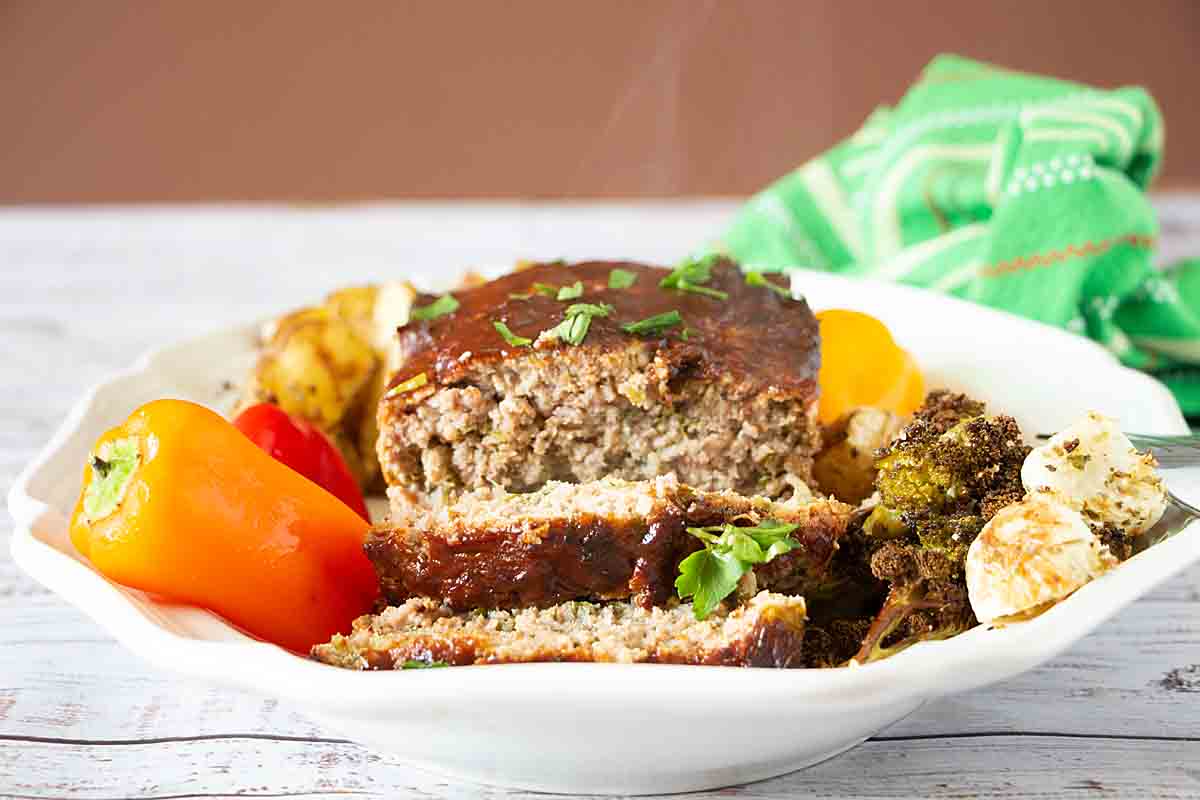 What Meat Should I Use
Since this is Pork Meatloaf (!) pork would be my first choice. But the original recipe used turkey so that's another tested option. I decided to go with ground pork since that's a lot easier to get locally and would change up the flavor from ground beef just like the turkey did.
There's a lot of controversy about the best fat ratio for meatloaf. Some people say go lean, others suggest fattier. Because my local meat doesn't come with 3 handy fat options, I just threw caution to the wind and went with what I had (I suspect mine is higher fat). And in the end, much of the fat cooks off and is discarded.
How to Form Your Meatloaf
You have the option of making your meatloaf as a freeform loaf or molded in a loaf pan. I tested both ways and decided I liked the look of the loaf pan version best. It's more like "Mom's" and I'll go the nostalgia route any time! If you go with freeform, set it on a sided pan, in case there is a lot of fat runoff.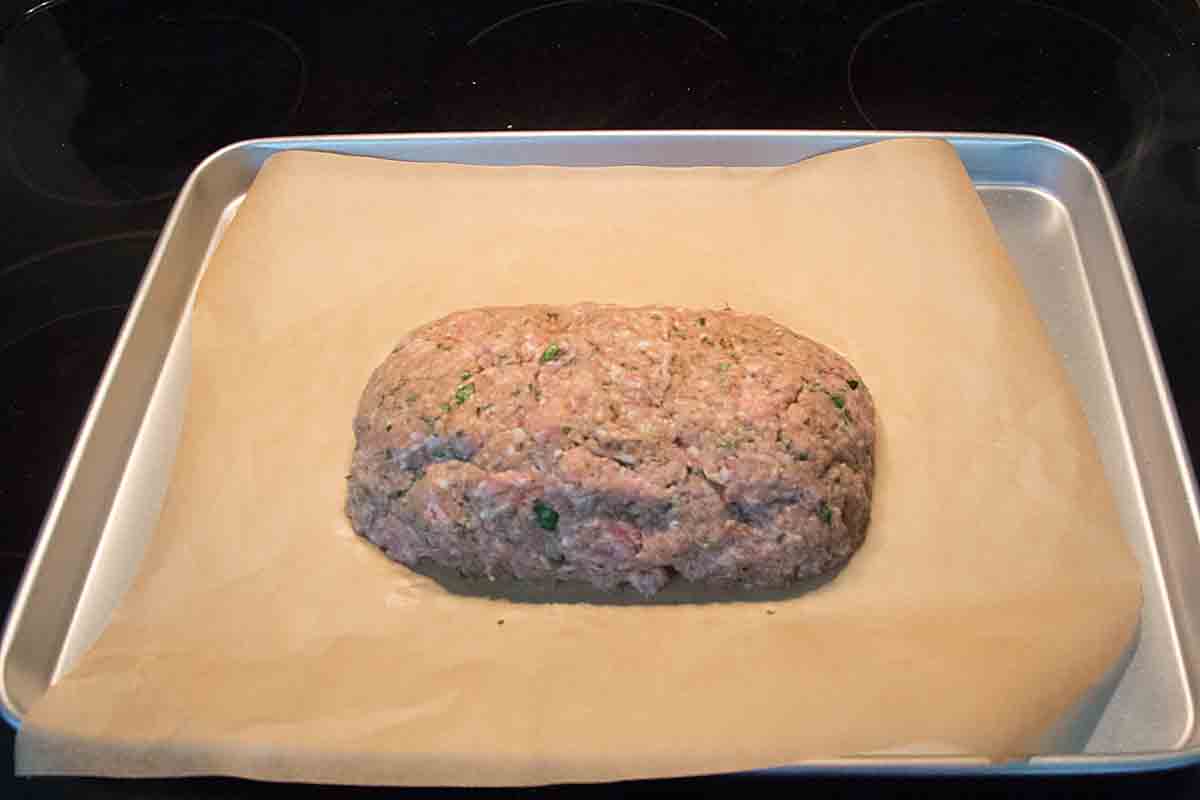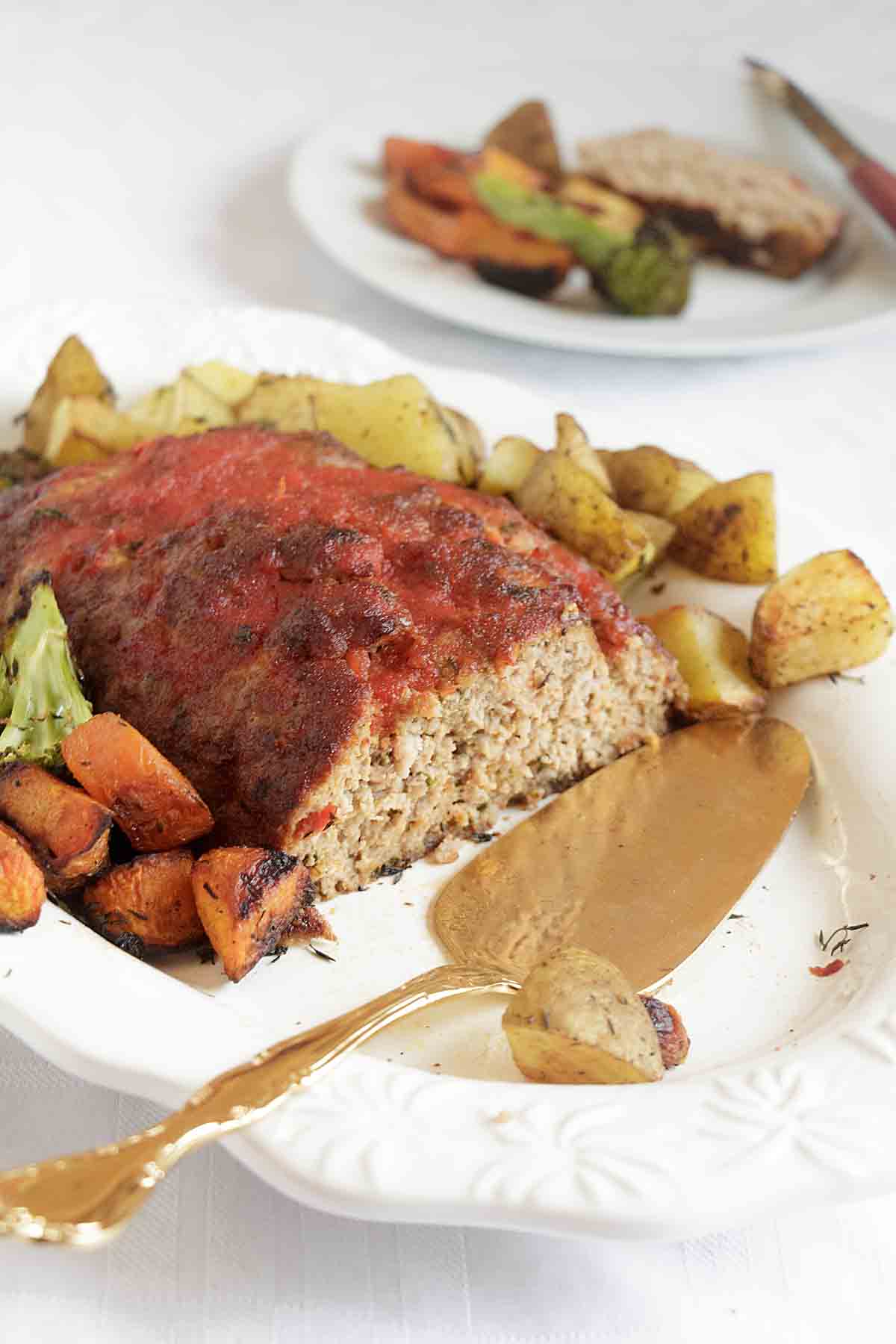 For best results, don't overwork the meat. (Did you know that's recommended for hamburgers too?) To help you accomplish this, the recipe calls for mixing the other ingredients first, then adding the meat.
It's up to you if you are going to line the pan with parchment. It doesn't tend to stick and I know many people just use a couple of hamburger turners to extract it or cut it in the pan. Lining a loaf pan does make the meatloaf easier to pull from the pan–especially important if you need good pictures for your blog 🙂
What Do I Serve With This
Because the meatloaf has an extended baking time, you can roast vegetables and potato wedges alongside of it in the oven! This will give you a complete meal that is super easy & efficient.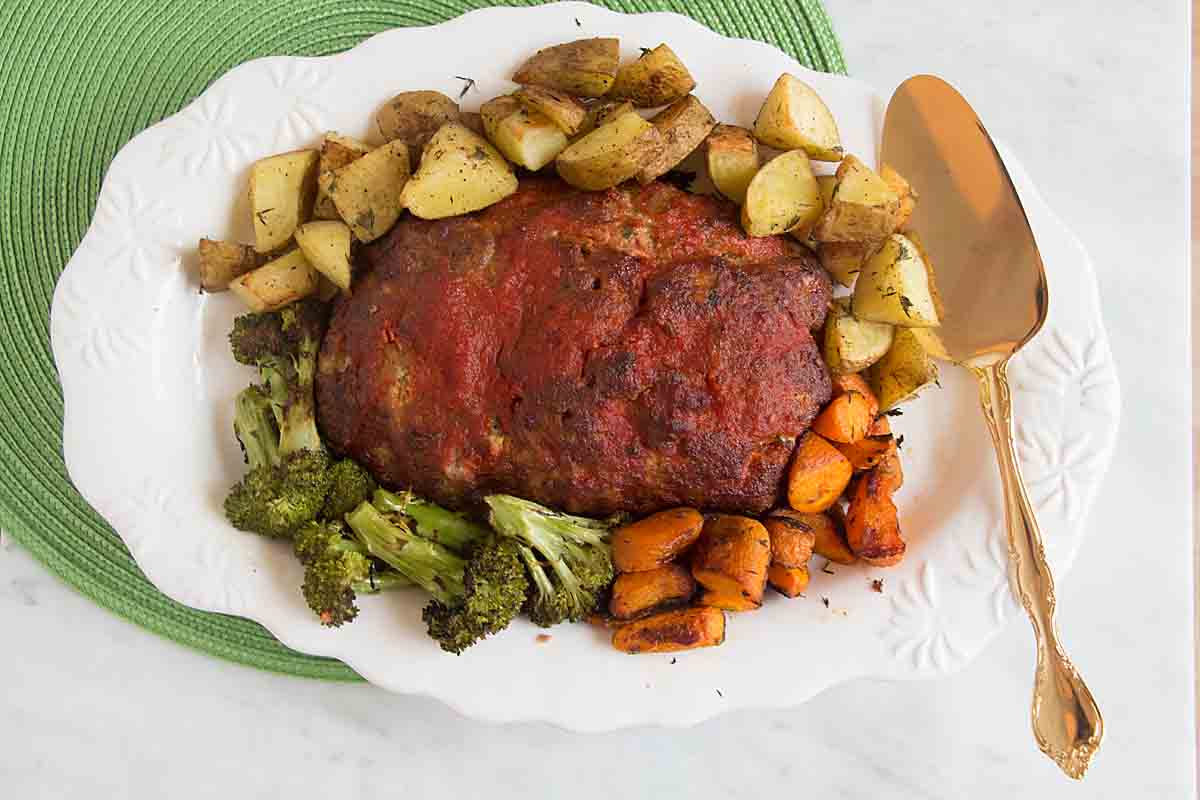 Or for just a little more work, masked potatoes will keep that comfort food vibe going.
Finally I'll serve a salad with just about anything. If you have roasted veggies, potatoes and a salad you are a long ways to your 5-a-day fruit/vegetable goal!
Converting to Keto, Gluten-Free
If you're serving vegans or vegetarians, you probably want to pick another main course—or at least include a lot of great sides.. But for a number of other diets, conversion is simple.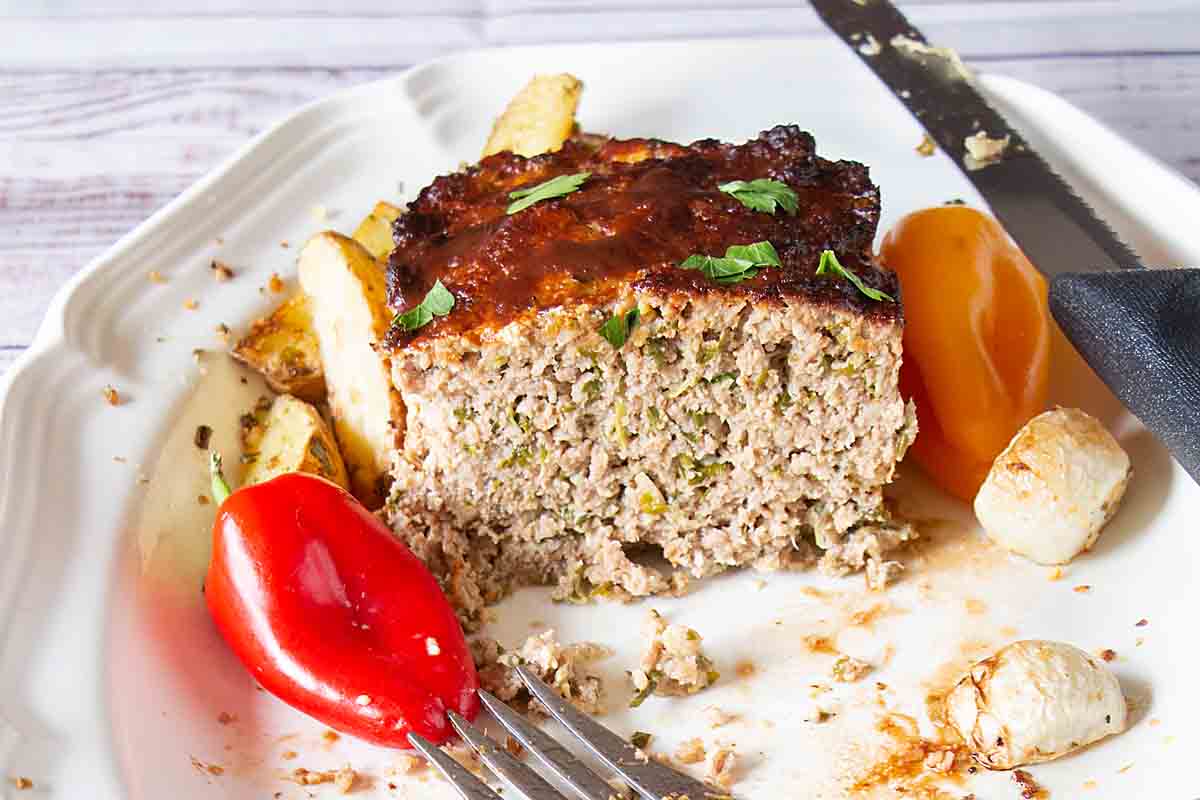 For a keto meatloaf, you can use ground up pork rinds instead of the breadcrumbs. You'll also want an unsweetened/sugar free ketchup. Taste the glaze and add some stevia, swerve or other sweetener if needed for a flavor boost.
You can make this recipe gluten free using the keto trick of ground pork rinds mentioned above or use gluten free breadcrumbs. Double check your ketchup and balsamic vinegar for gluten.
I suspect this would also readily convert to Whole30 or Paleo.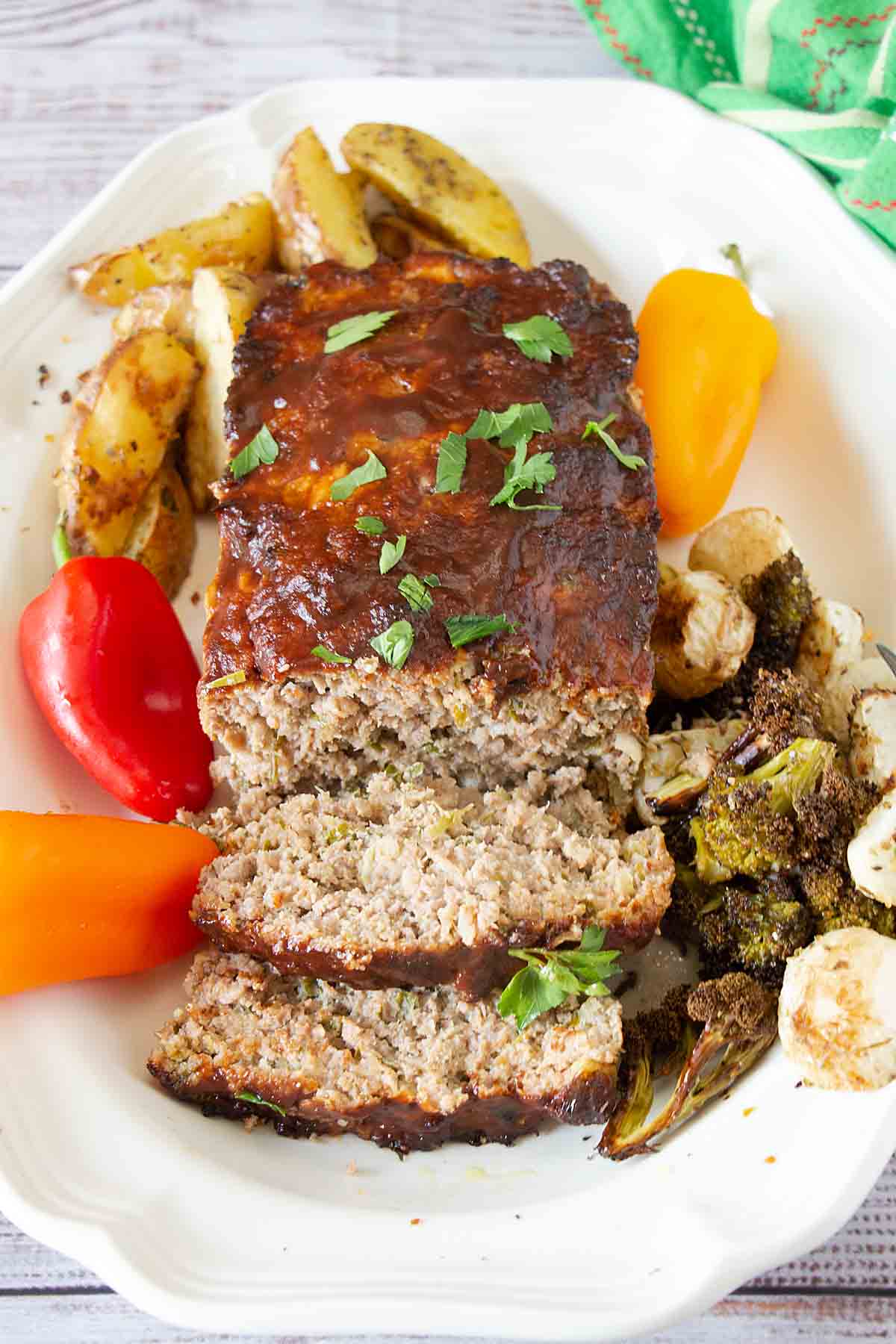 Tips & FAQs
For a meatloaf that is moister and less likely to crumble, the Chicago Tribune suggests letting the meatloaf set in the pan for about 15 minutes before cutting into it. When you think about letting a roast "rest" so the juice re-integrate this make a lot of sense.
Then, when cutting, use a long serrated knife and gently saw, rather than press.
If you are out of breadcrumbs, substitution is no problem. Crushed cracker crumbs are another option, though a bit more expensive. Or it's easy to make your own with this homemade breadcrumbs recipe.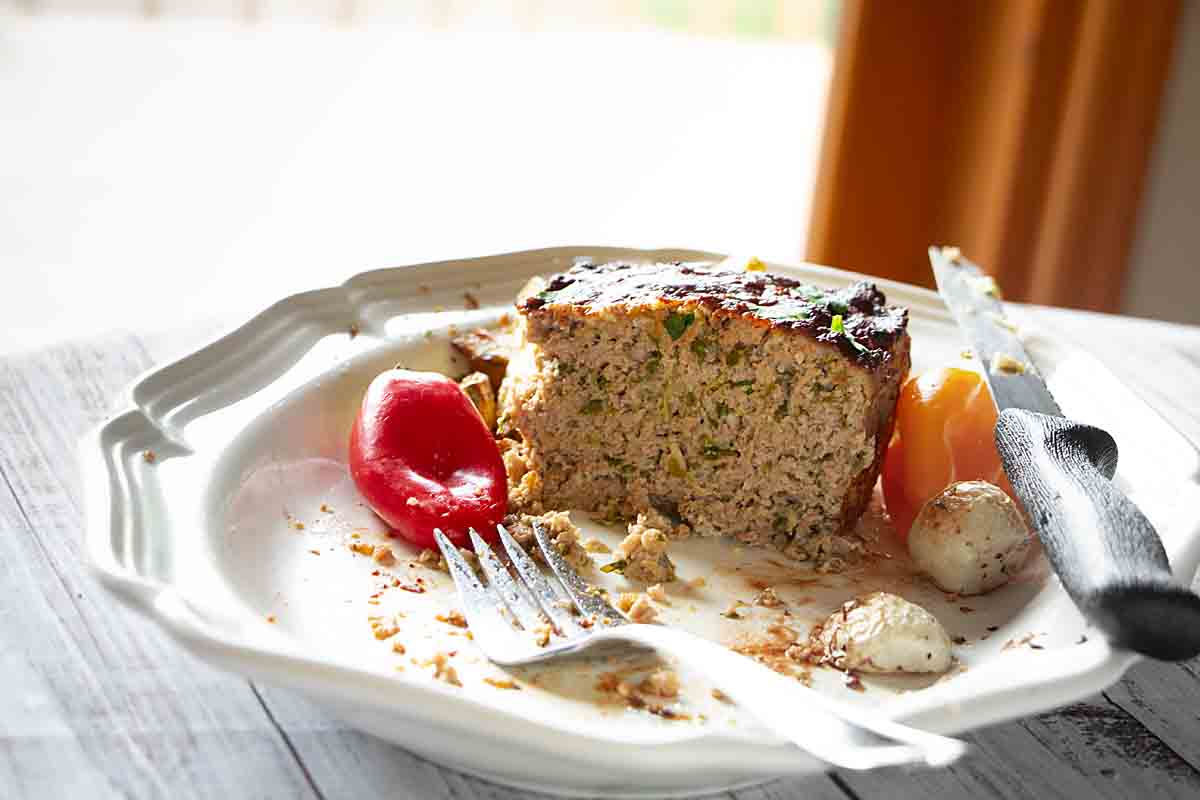 What to do with leftovers
This makes a lot so you may have leftovers. But, lucky you, there are lots of ways to use them. Besides simply reheating, consider:
Meatloaf sandwich – A favorite of my husband's!
Fried meatloaf – Another husband pleaser!
Add to scrambled eggs with chives or green onions – my favorite since I love a hardy, easy breakfast!
Crumble into mac n cheese — you might just get some extra protein into your kids!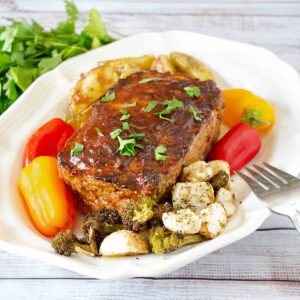 Balsamic Glazed Meatloaf
Balsamic Glazed Meatloaf, delicious pork or turkey meatloaf, flavored with parsley, cumin and balsamic glaze, just may change your mind about meatloaf!
Ingredients
Meatloaf
2

eggs

3

Tablespoons

ketchup

3

Tablespoons

balsamic vinegar

1/4

cup

grated onion

4

cloves

garlic

minced

1

teaspoon

salt

3/4

cup

dried bread crumbs

1

bunch flat leaf parsley

chopped

2

teaspoon

cumin

2

pounds

ground pork

may sub turkey
Glaze
1/3

cup

ketchup

3

T

balsamic vinegar
Instructions
Preheat oven to 350 F.

In a large bowl, whisk together eggs, 3 T ketchup and 3 T balsamic vinegar. Mix in remaining meatloaf ingredients except meat.

Add meat, mix well, then pour into loaf pan (or mold into loaf shape on parchment lined rimmed backing sheet). Level the top.

Bake about 45 minutes until meatloaf registers at least 155F with an instant read thermometer.

Mix glaze ingredients and top the meatloaf with the glaze. Bake for another 10-15 minutes until temperature reaches 160F. (165F if you have used ground poultry).

Let stand 10-15 minutes before slicing.
Nutrition
Calories:
462
kcal
Carbohydrates:
15
g
Protein:
37
g
Fat:
27
g
Saturated Fat:
10
g
Polyunsaturated Fat:
15
g
Cholesterol:
192
mg
Sodium:
611
mg
Fiber:
1
g
Sugar:
6
g
I am not a health professional and nutrition data is calculated programatically. Accuracy may vary with product selection, calculator accuracy, etc. Consult a professional for the best information.
Originally published 10/1/2017