With layers of seven different fruits in alternating colors, and an amazing simple sauce, this Seven Layer Fruit Salad makes it exciting to eat a rainbow!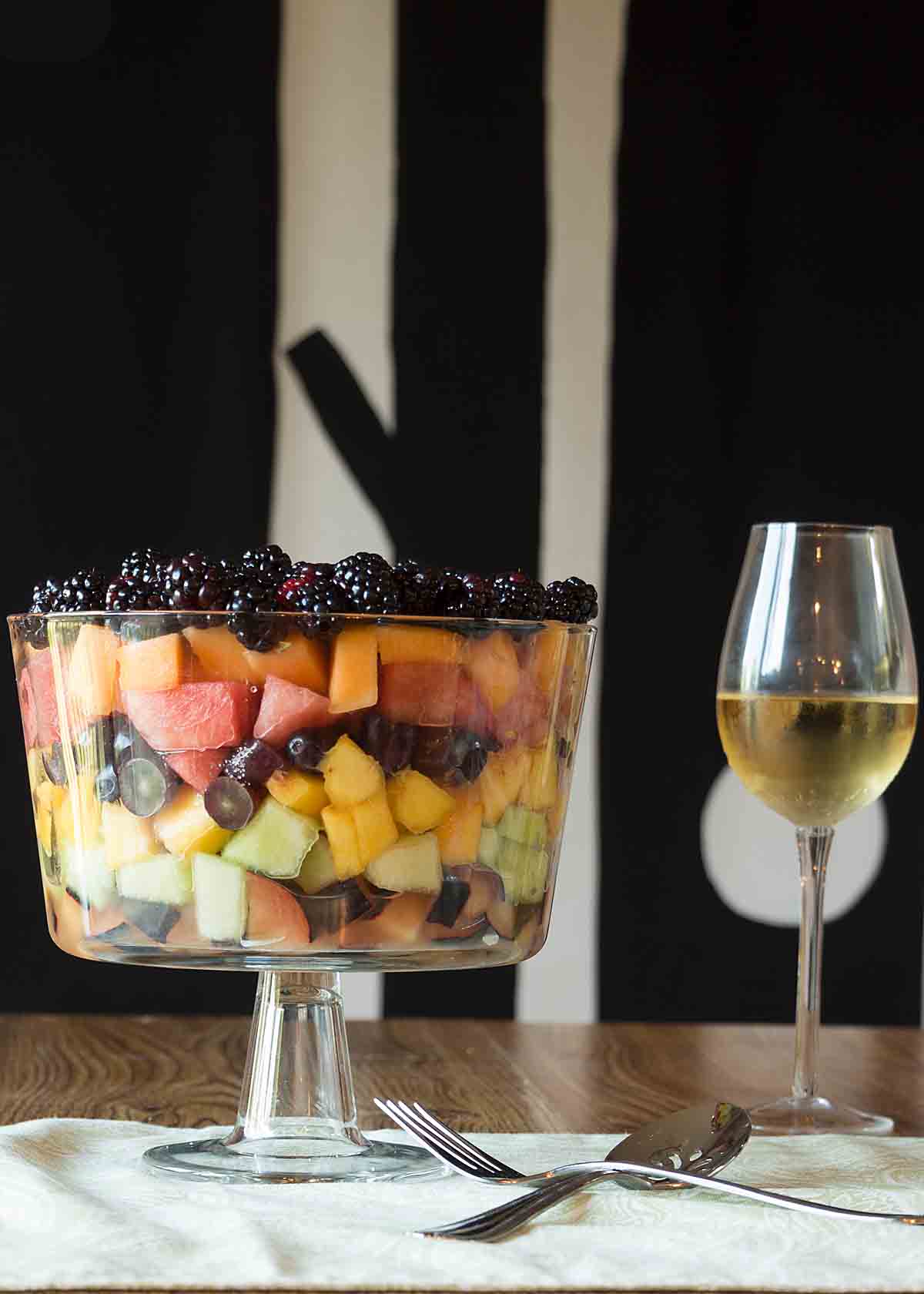 I created this Seven Layer Fruit Salad years ago–and I did it in response to a prompt. If I were going to make a unique seven-layer salad, what would I do?
The answer was easy, I said, I'd do it with fruit! A journalist friend tested the recipe and it was published as "Inger's Seven Layer Fruit Salad" in newspapers all over. I just hope that's not my only 15 minutes of fame!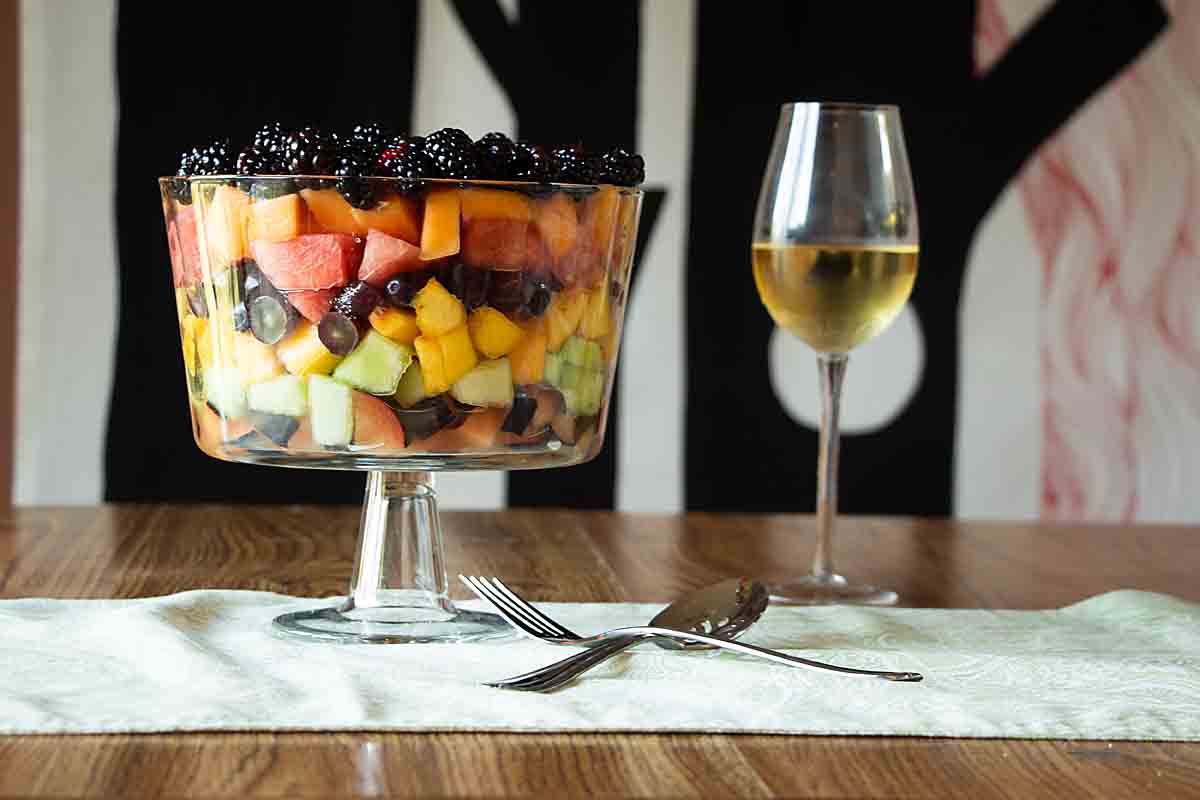 The original inspiration for the Seven Layer Fruit Salad is even older, dating back to a college semester in Dublin, where I lived with a Cordon Bleu cook. Her fruit salad (with no layers) was made extra special by macerating the fruit.
She added a little sugar and orange juice, which drew out the fruit juices to make a wonderful sauce! And I could hardly believe how easy it was, when I asked for her secret!
That salad has been a favorite ever since, but this seven-layer version is even more special, since it is served layered in a trifle dish (any large glass serving dish will do).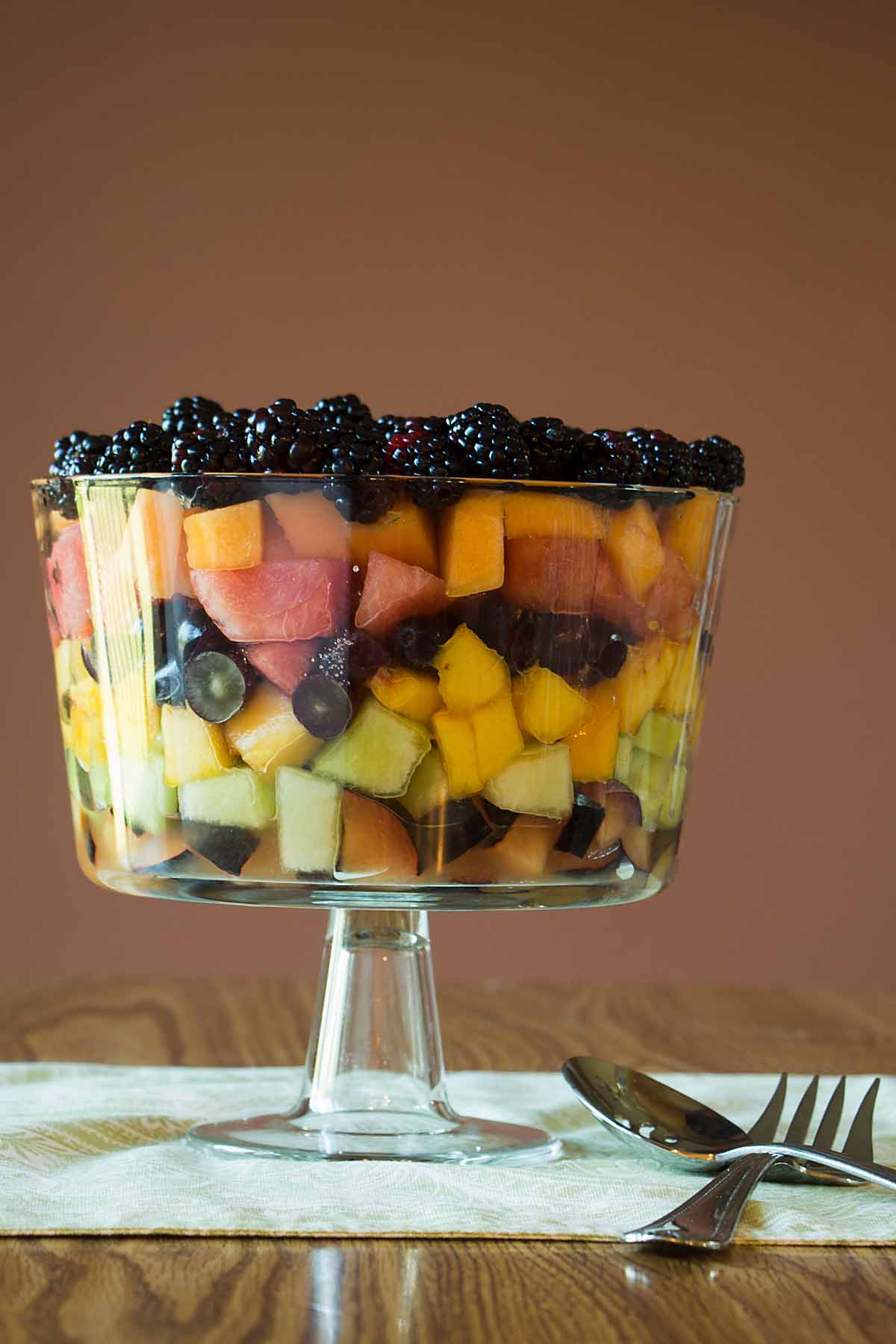 What makes this dish a winner
• Stunning presentation. With so much beautiful fruit showing through a tall glass serving bowl, this dish is a great way to make an impression!
• Delicious flavor. The first special flavor component is the blend of all the different fruits. Then there's the tasty "sauce" that magically appears when the sugar and orange juice draw out some of the fruit juices. Yum!
• Great health value. One of my favorite healthy eating sayings is "eat a rainbow." This fruit salad has 100% nailed that!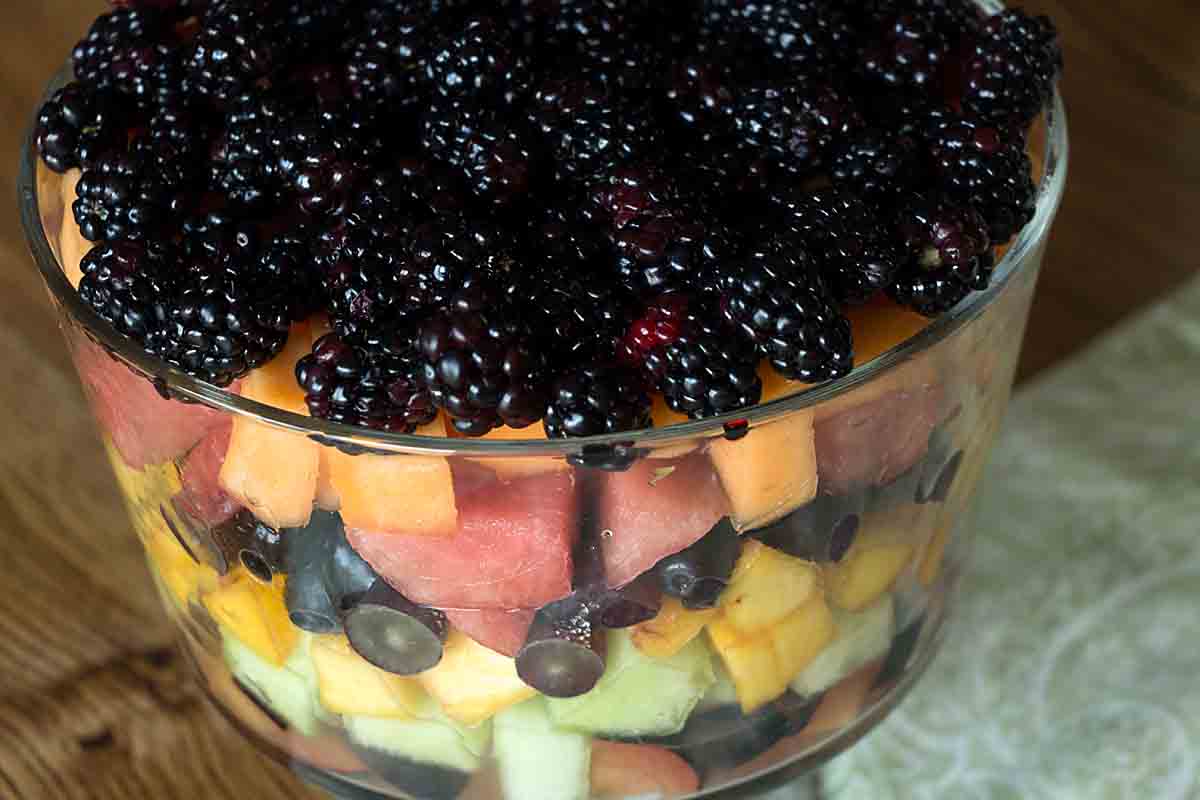 What is maceration & why does it make fruit so tasty?
Per Wikipedia, "In food preparation, maceration is softening or breaking into pieces using a liquid….In the case of fresh fruit, particularly soft fruit such as strawberries and raspberries, the fruit is often simply sprinkled with sugar (and sometimes a small amount of salt) and left to sit and release its own juices. This process makes the food more flavorful and easier to chew and digest."
In this recipe the orange juice creates the base for the sauce, adds citrus overtones, and helps to blend the flavors (plus keeps any pears from browning). The sugar draws out juices from all the fruits so the flavor blend is nuanced and complex!
How to Make
While this recipe takes zero skills, cutting up all that fruit is going to take some time. But if you're looking for a beautiful presentation, I think it's worth it!.
You start by cutting up the fruit into bite-sized pieces. I like to put the cut fruit in bowls by type, so I can move them around to make different color arrangements.
Next you spoon the bottom fruit layer into your serving bowl, and sprinkle with a teaspoon of sugar. Continue alternating fruit and sugar until all the layers have been set into the bowl.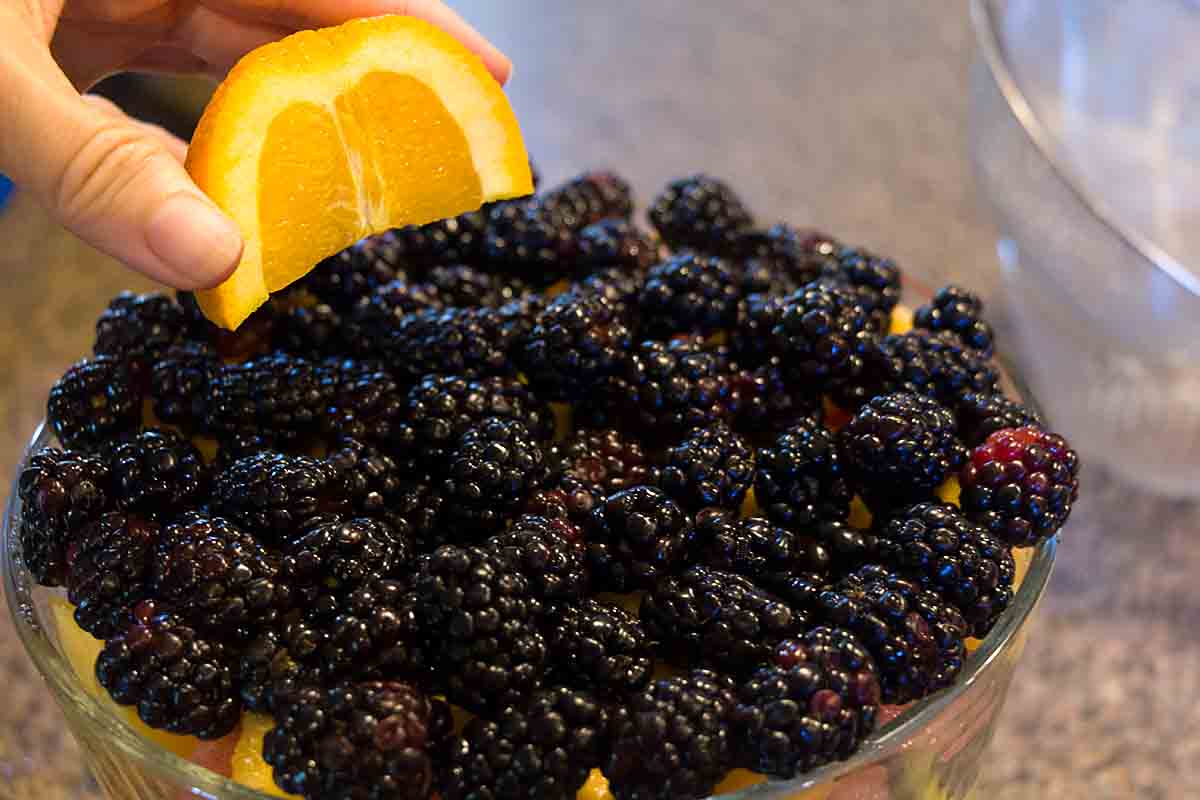 Finally drizzle with orange juice to add a little citrus punch and give the maceration process a head start!
Let the salad sit in the refrigerator for a couple hours, then serve.
Fruit Selection and Preparation
The best fruits for this salad are juicy and soft to medium in firmness. This will allow them to release juice and to soften consistently. I like to vary my selections by season but some good candidates are (by color):
Red: watermelon, raspberries, strawberries, cherries
Green: kiwi, honeydew, green grapes
Blue: blueberries, blackberries, plums, black grapes
Orange: mango, cantaloupe, peaches, apricots
White: pears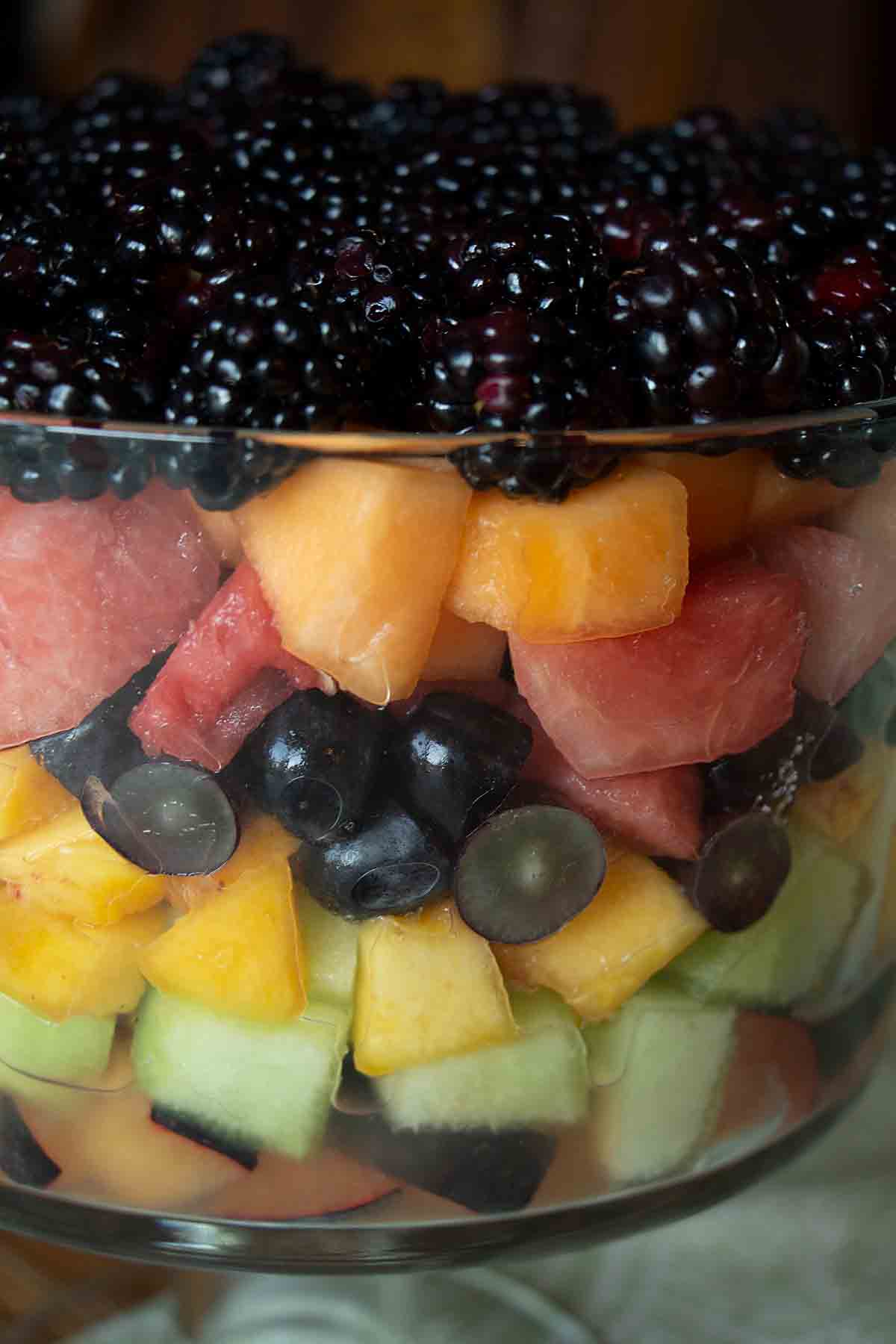 Fruits I would NOT use are: apples (too crunchy), passion fruit (too soft), bananas (not juicy, too sweet), citrus (too stringy).
In selecting your fruit, you'll will want enough color variety so that you don't have to put two of the same color next to each other. For a standard trifle dish, you'll need about 2 cups per layer, but this may change if you use a different dish. Grapes should be cut in half to allow the juices to release.
Can I use frozen fruit? I love using frozen fruit in the winter, but this recipe really needs fresh. Frozen is lovely for cooked recipes, smoothies and yogurt, but the texture and the appearance change. Since these are so important in this recipe, go with the fresh.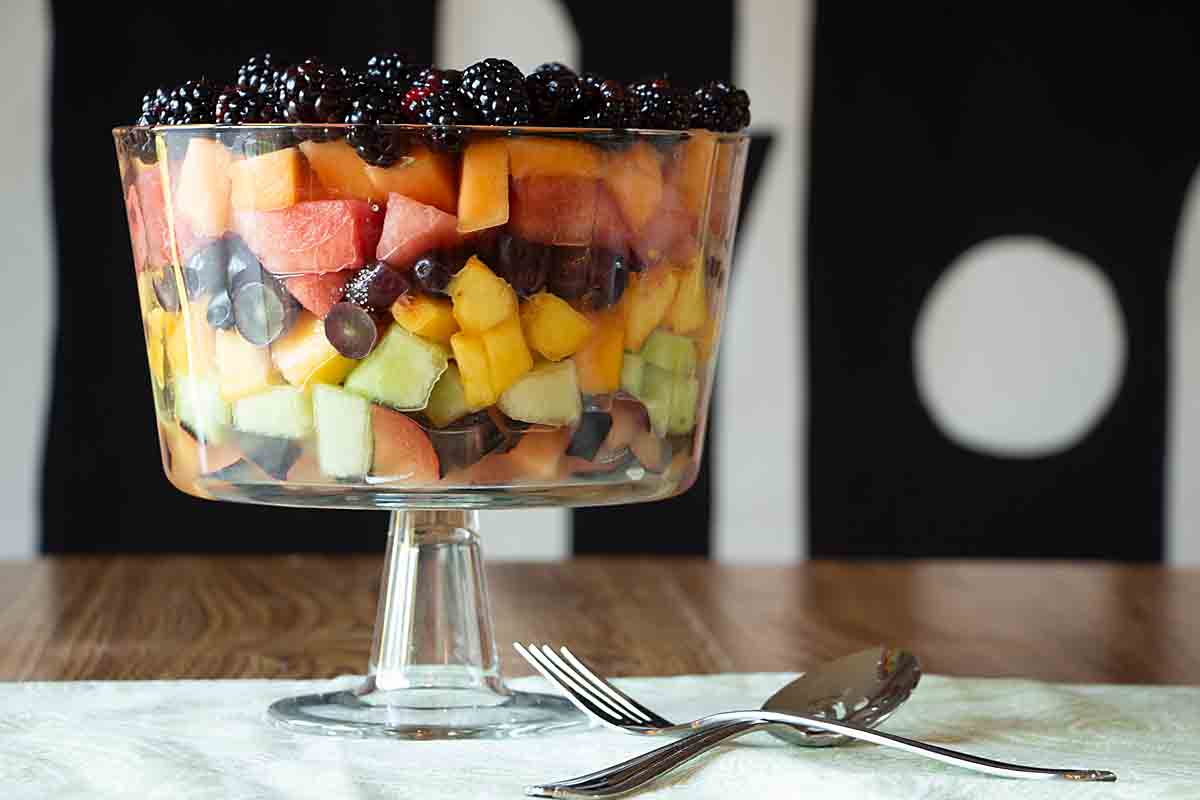 Tips & FAQs
Make this the day you'll serve it, but give it a couple hours to macerate in the refrigerator before serving. Any leftovers will still be tasty the next day but they won't look as fresh anymore.
Can I used packaged OJ? Yup, as long as it's good orange juice!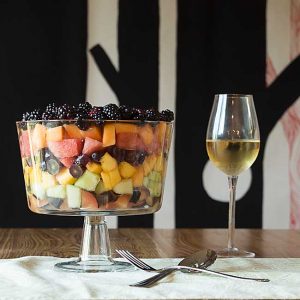 Seven Layer Fruit Salad
With layers of seven different fruits in alternating colors, and an amazing simple sauce, this Seven Layer Fruit Salad makes it exciting to eat a rainbow!
Ingredients
14

cups

of cut up fruit

2 cups each of 7 varieties (see notes)

1-2

tablespoons

sugar

1

orange
Instructions
Layer the cut fruit in a trifle dish (or other glass dessert bowl) one fruit at a time. Sprinkle 1/2 - 1 teaspoon of sugar on top of each of the first six layers. Alternate fruit colors to make a pleasing arrangement.

Squeeze the juice from one orange on top of the final layer. Refrigerate for an hour or two to allow the juices to combine.
Notes
Today's seven-layer fruit salad has (from bottom to top) plums, honeydew, peaches, grapes, watermelon, cantaloupe, blackberries!
Nutrition data will vary based on fruits selected.
Nutrition
Calories:
188
kcal
Fat:
0.4
g
Saturated Fat:
0.04
g
Polyunsaturated Fat:
0.004
g
Monounsaturated Fat:
0.004
g
Sodium:
21
mg
Potassium:
399
mg
Fiber:
7
g
Vitamin A:
1289
IU
Vitamin C:
18
mg
Calcium:
27
mg
Iron:
1
mg
I am not a health professional and nutrition data is calculated programatically. Accuracy may vary with product selection, calculator accuracy, etc. Consult a professional for the best information.
(Originally published 9/20/18)
Layering Up Salads
We share Recipes From Our Dinner Table! Join our group and share your recipes, too! While you're at it, join our Pinterest board, too!