Spicy Italian Pasta Salad
With a light creamy dressing and flavorful add-ins like salami, artichokes and red pepper, this Spicy Italian Pasta Salad is a summer "go to" recipe.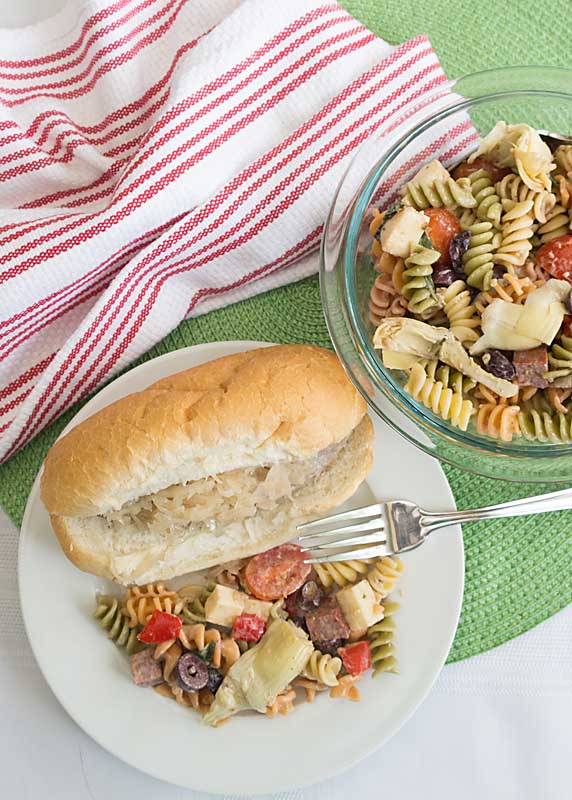 We've made a particular lettuce salad in our family for years. It's called Spicy Italian Salad and packs a big punch of flavor from a blend of chopped salami, artichokes and homemade dressing. Mmmm!
So the other day, when I was thinking about freshening up pasta salad, the notion hit me. What if I converted my lettuce salad to "Spicy Italian Pasta Salad"!
I started with the salad ingredients, sans lettuce, then tossed in some halved cherry tomatoes (extra) Italian cheese and fresh basil ribbons.
Then I crossed my usual vinaigrette and the typical heavy mayo dressings for a creamy vinaigrette.
My family was in heaven since I don't make pasta salad very often. The result was truly flavorful but without the heaviness of many pasta salads.
With picnic season coming up, having a nice pasta salad in your back pocket is important. And better yet, my "picky" daughter, now in her first grown up job, happily packed up a big container to take to work for lunch.
Picky kids devouring the leftovers? Now that's a success story!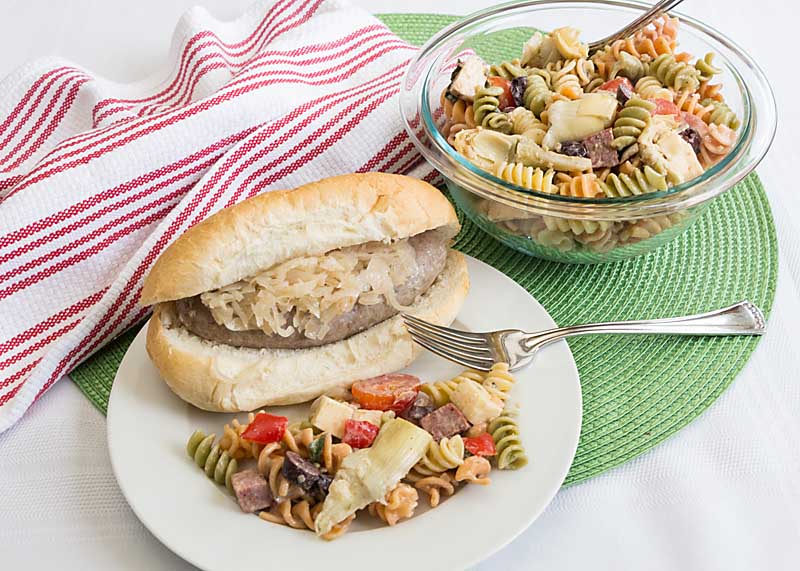 Spicy Italian Pasta Salad
2019-07-05 09:19:45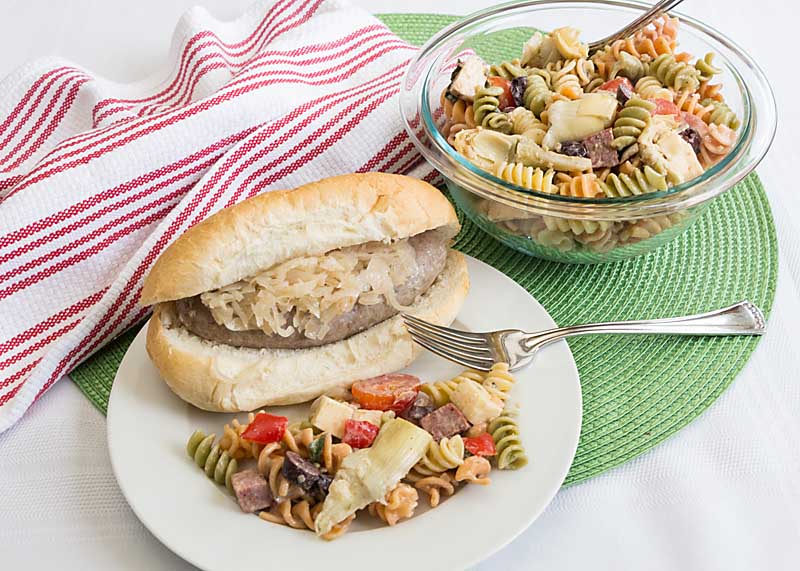 Serves 6
With a light creamy dressing and flavorful add-ins like salami, artichokes and red pepper, this Spicy Italian Pasta Salad is a summer go to recipe.
Nutrition Facts
Amount Per Serving
* Percent Daily Values are based on a 2,000 calorie diet. Your Daily Values may be higher or lower depending on your calorie needs.
Salad
• 12 ounces tricolor small pasta like fusilli
• 1/2 red bell pepper diced
• 1 pint cherry tomatoes halved
• 1/2 cup sliced kalamata olives
• 3 Tablespoons julienned basil
• 1 cup cubed Toscano or other flavorful Italian cheese
• 1 can Artichoke hearts
• 1 cup chopped salami (about 8 ounces)
• 1/3 cup shredded parmesan cheese
Creamy Balsamic Vinaigrette
• ¼ cup olive oil
• ¼ cup balsamic vinegar
• ¼ cup light mayonnaise
• 3 cloves garlic, pressed or minced
• 1 Tablespoon Oregano
• 1 Tablespoon dried Minced onion
• 1 teaspoon salt or to taste
• 1/2 teaspoon ground black pepper or to taste
Instructions
Cook pasta until just al dente. Plunge into ice water to stop cooking.
In a large bowl, toss together diced pepper, halved cherry tomatoes, sliced olives, julienned basil, cubed cheese, salami and artichokes.
Whisk together dressing ingredients.
Drain pasta, then add to salad ingredients. Add dressing and toss to combine
Sprinkle shredded parmesan curls over top and serve.
Art of Natural Living https://artofnaturalliving.com/
Picnic Party Recipes
We share Recipes From Our Dinner Table! Join our group and share your recipes, too! While you're at it, join our Pinterest board, too!