The winter of 2015 may forever be known as the season of soup. Yup… with two kids having impacted wisdom teeth surgery, the blender was my very, favorite, appliance! Of course in some ways the timing was handy—soup is always part of my Christmas Eve dinner! This year a Tomato Stilton Soup made its debut, along with an old friend, Pumpkin Coconut soup.
In the pre-Christmas, post-surgery whirlwind, I was making regular treks to a local specialty food store, Larry's Market, for some of their delicious deli soups, picking out whatever would puree the best. No cupboard full of canned soup for my little darlings (though I think we went through nearly a case of boxed organic mac 'n cheese). Yes, there is a (small) downside to raising kids who know good food!
One of those deli soups was a tomato blue cheese soup. I loved the creamy richness and the combination of savory tomato with sharp blue cheese, so I decided to create one of my own. Did I mention HOW FULL my freezers and refrigerators are from last year's CSAs?? When I was done and saw how low the calorie count was, I was psyched!
So this is now officially a versatile soup. From convalescence to holiday first course and now to post-New Year's diet. Yes!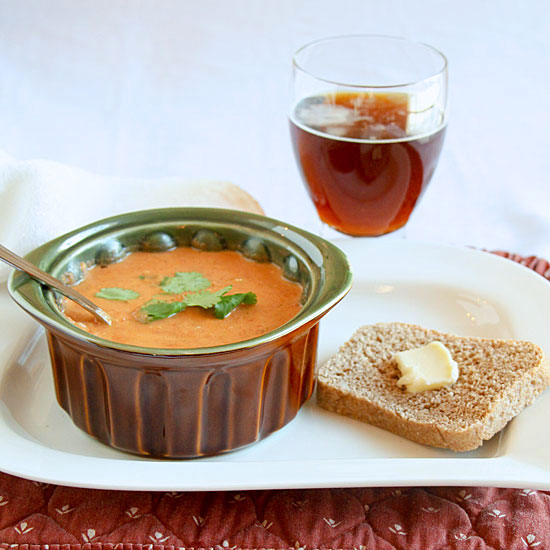 Tomato Stilton Soup
2016-01-10 16:19:29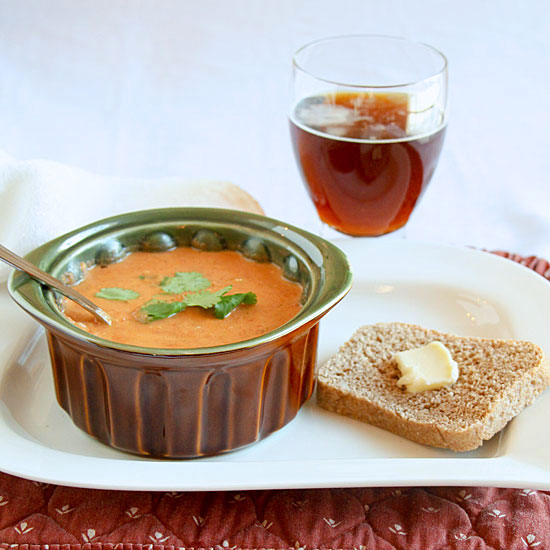 Serves 6
Cream rich Tomato Stilton soup blends savory tomato with sharp blue cheese, yet is under 150 calories per bowl. Who said healthy is hard!
Nutrition Facts
Amount Per Serving
* Percent Daily Values are based on a 2,000 calorie diet. Your Daily Values may be higher or lower depending on your calorie needs.
Ingredients
1 T butter or oil
1 c chopped leek or onion
1 c chopped celery or celery root
2 clove garlic
3 c broth
28 oz diced tomatoes
1 tsp thyme
2 T white miso paste (optional)
½ c cream or half and half
2 oz crumbled stilton or blue cheese of your choice, or to taste (about ½ c of crumbles, see note)
Instructions
Heat butter or oil in large saucepan over medium heat. Add leek, celery, and garlic and sautee until just tender.
Add tomatoes, broth and thyme and cook until tomatoes are starting to break down about 30 minutes.
Pulse with a handheld blender a couple times, then add miso (if using), cream and stilton.
Serve warm.
Notes
2 ounces of cheese will give it a distinctive blue cheese flavor. For a stronger tomato flavor, start with less cheese and adjust to taste.
Art of Natural Living https://artofnaturalliving.com/