Betty Crocker French Apple Pie for 2-4
Betty Crocker French Apple Pie for 2-4 is as tasty & special as the original–just smaller, with tender apples, flavorful cinnamon & crunchy streusel topping.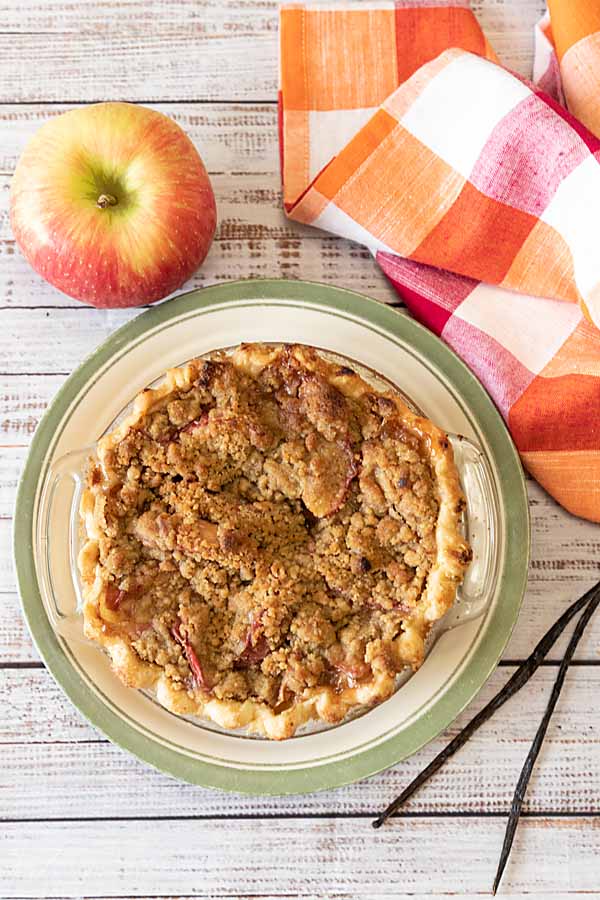 It was my first love–for pie, that is. And it's still a huge favorite!
Years ago, I blogged about the full-size version—and it's still the #1 recipe on the blog! With tender, flavorful apples, spicy cinnamon, and a crunchy topping, the apple streusel pie is truly the essence of fall!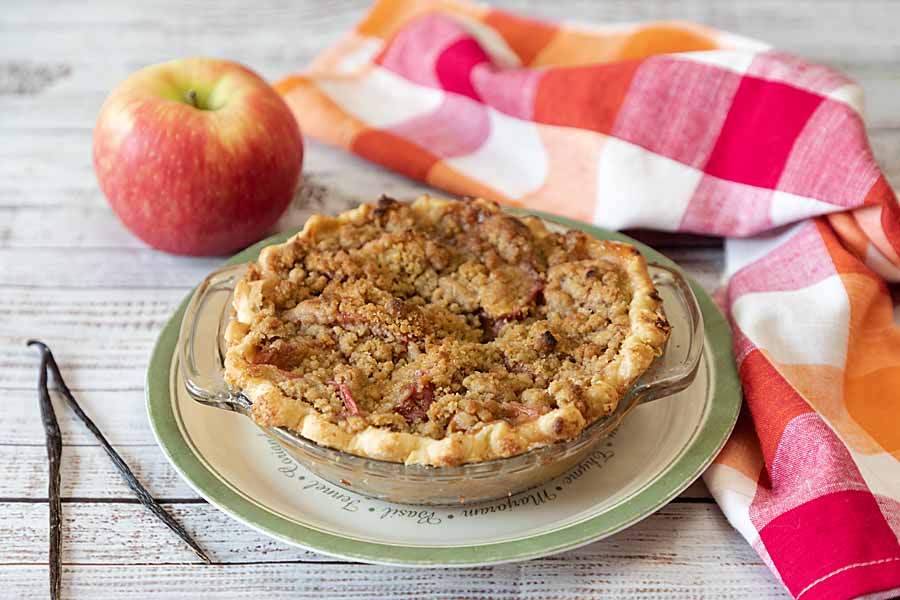 Small is Beautiful!
Back in the day, I used to make (regular) Betty Crocker French Apple Pie regularly. We had a household of six—2 parents, 3 kids and 1 grandma. Pie disappeared that night–or by breakfast at the latest.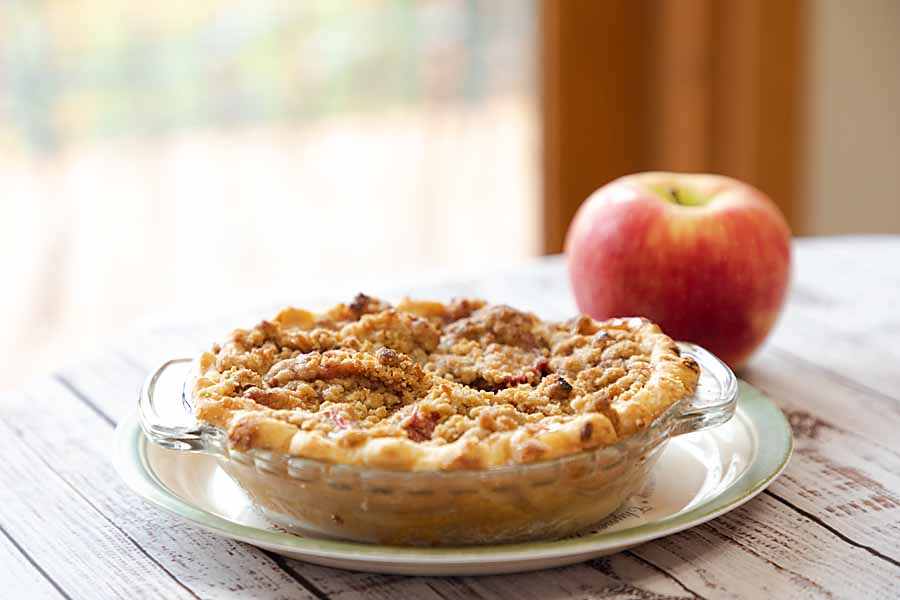 Now with just my husband and youngest home, figuring out a mini apple pie has been on my list. Forever.
Of course, this year there is also the Thanksgiving issue. Typically, I bring four or more different varieties of pie to my brother's big event. Alas, not this year.
So now is the time to go small. And it's good in so many ways. Not that I'd ever eat an entire half pie or anything…
Good for the Pie Novice
It isn't by accident that the Betty Crocker French Apple Pie was the first pie I ever made. Besides the great flavor, it's one of the easiest pies I know.
The streusel topping is perfect for a pie beginner. Just mix it up with your fingers and sprinkle on top. No lattice, no sealing.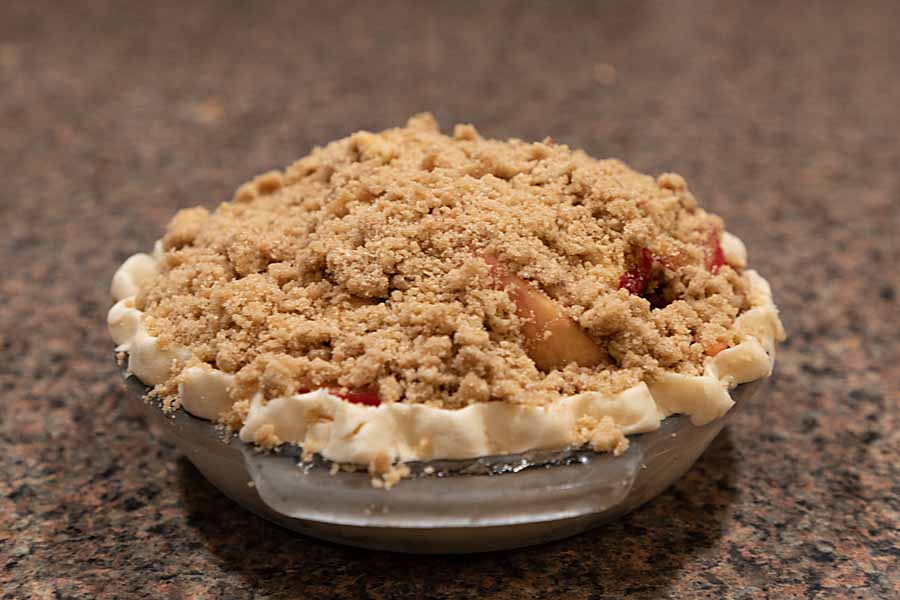 For a full size pie you can even go with a commercial crust. Though for the small size, it's probably best to make your own (recipe included). But rolling to 7 inches is a lot easier for a novice than rolling full size. Trust me—I still have a little pie crust fear myself.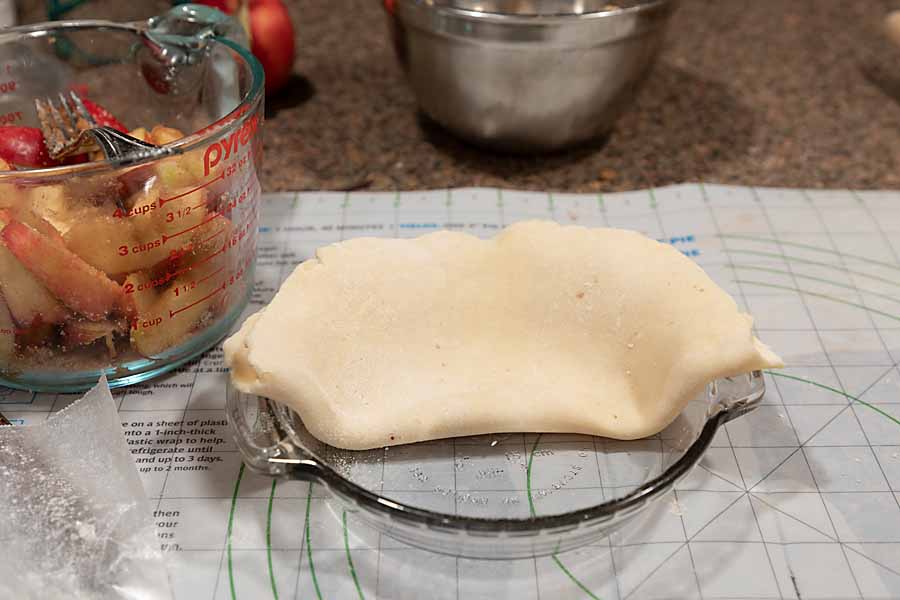 And one last easy prep tip—peeling the apples is optional. I skip it to avoid the work and for less waste. My youngest (my "picky daughter") may complain, but she digs in happily anyway.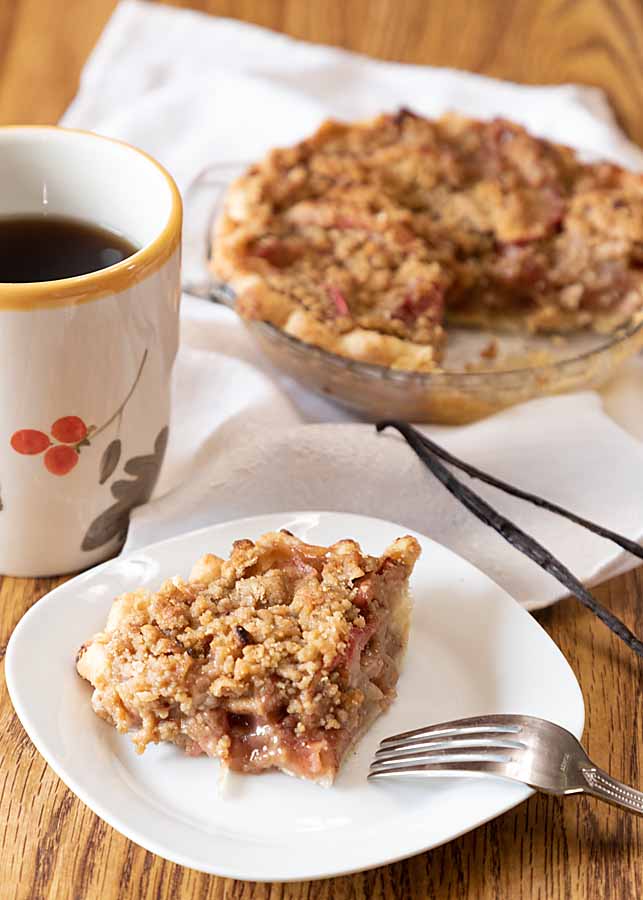 Final Tips
If there's one downside to going small, it's that you need a small (6 inch) pie pan. I use Anchor Hocking glass plates (not sponsored) and have seen them as low as $3.99 each. In fact, I recently increased my collection with an order of six.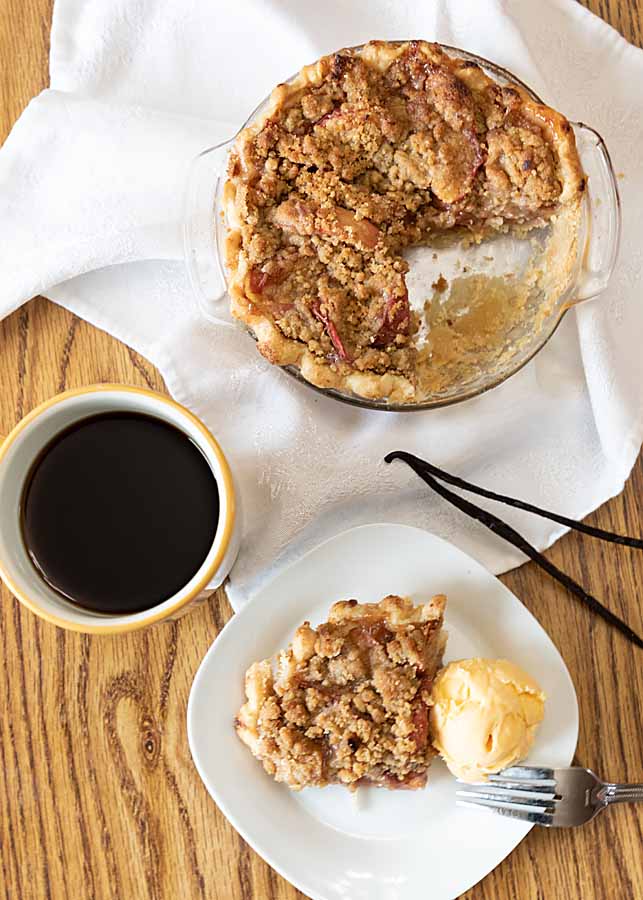 And if all this sounds so good you want to miniaturize another favorite pie, here's another tip Start with about 1/3 of the original full size recipe and you should be pretty close to perfect. I'll be doing more soon!
Yes, I don't care if there's only six of us for Thanksgiving this year. I'm still serving four pies!
Betty Crocker French Apple Pie for 2-4
Betty Crocker French Apple Pie for 2-4 is as tasty & special as the original with tender apples, flavorful cinnamon & crunchy streusel topping.
Ingredients
Crust:
½

cup

all-purpose flour

1/4

teaspoon

salt

1 1/2

Tablespoons

butter

chilled

2

Tablespoons

shortening

chilled.

Up to 2 T ice water

used 1T
Pie:
2 1/2

cups

sliced apples

cored and sliced in 1/4 inch slices, peeling optional

1/4

c

sugar

1/2

t

cinnamon
Streusel Topping:
1/3

cup

flour

3

Tablespoons

brown sugar

3

Tablespoons

butter
Instructions
Mix the flour and salt together in a food processor or large bowl. Cut the chilled butter and shortening into small cubes or pieces, then add to flour mixture.

Pulse or use a pastry cutter or two forks to cut the butter and shortening into the flour mixture until it resembles coarse meal with some pea-sized bits of butter/shortening.

Drizzle in the cold water, 1/2 Tablespoon at a time, and pulse or stir after each addition. Stop adding water when the dough begins to form large clumps.

Transfer the pie dough to a floured work surface. Using floured hands, knead gently until it forms a ball. Flatten into a 1-inch thick disk, wrap and refrigerate for at least an hour.

To roll out chilled dough, place on a pastry sheet or wax paper, start from the center of the disc and work your way out in all directions until it is slightly larger than a 7-inch circle. Turn it over and re-flour if it starts to stick.

Spray pie pan with non-stick spray, then center crust in pan. Fit to pan sides, then do your favorite edge treatment (pressing all around with fork tines is simple and attractive for novices).

To prepare filling, mix cinnamon and sugar. Toss sliced apples in cinnamon sugar mixture. Place sugar-coated apples inside your pie crust in the pie pan, including any sugar that doesn't stick to the apples. They should mound up above the edge of the pie pan (apples cook down as they bake).

Mix streusel ingredients (I use my fingers) lightly until they come together in crumbly pea-sized pieces. Top the apples with the streusel topping.

Set pie pan in a rimmed pan to catch any drips as it cooks. Bake in 400 degree oven for about 45 minutes until it is browned and filling is starting to bubble. Check periodically and cover topping with a layer of aluminum foil if it is browning too much (you can pretty much count on needing to do this).

Pie is best if cooled before serving to re-solidify juices but I've been known to dig in early and live with the juice running out!.
Nutrition
Calories:
385
kcal
Carbohydrates:
51
g
Protein:
3
g
Fat:
20
g
Saturated Fat:
11
g
Polyunsaturated Fat:
8
g
Trans Fat:
1
g
Cholesterol:
38
mg
Sodium:
239
mg
Fiber:
3
g
Sugar:
28
g
I am not a health professional and nutrition data is calculated programatically. Accuracy may vary with product selection, calculator accuracy, etc. Consult a professional for the best information.