Creamy Roasted Garlic Soup
Rich and flavorful, Creamy Roasted Garlic Soup is a garlic lover's dream. Perfect as a starter, or add bread and salad for a tasty lunch.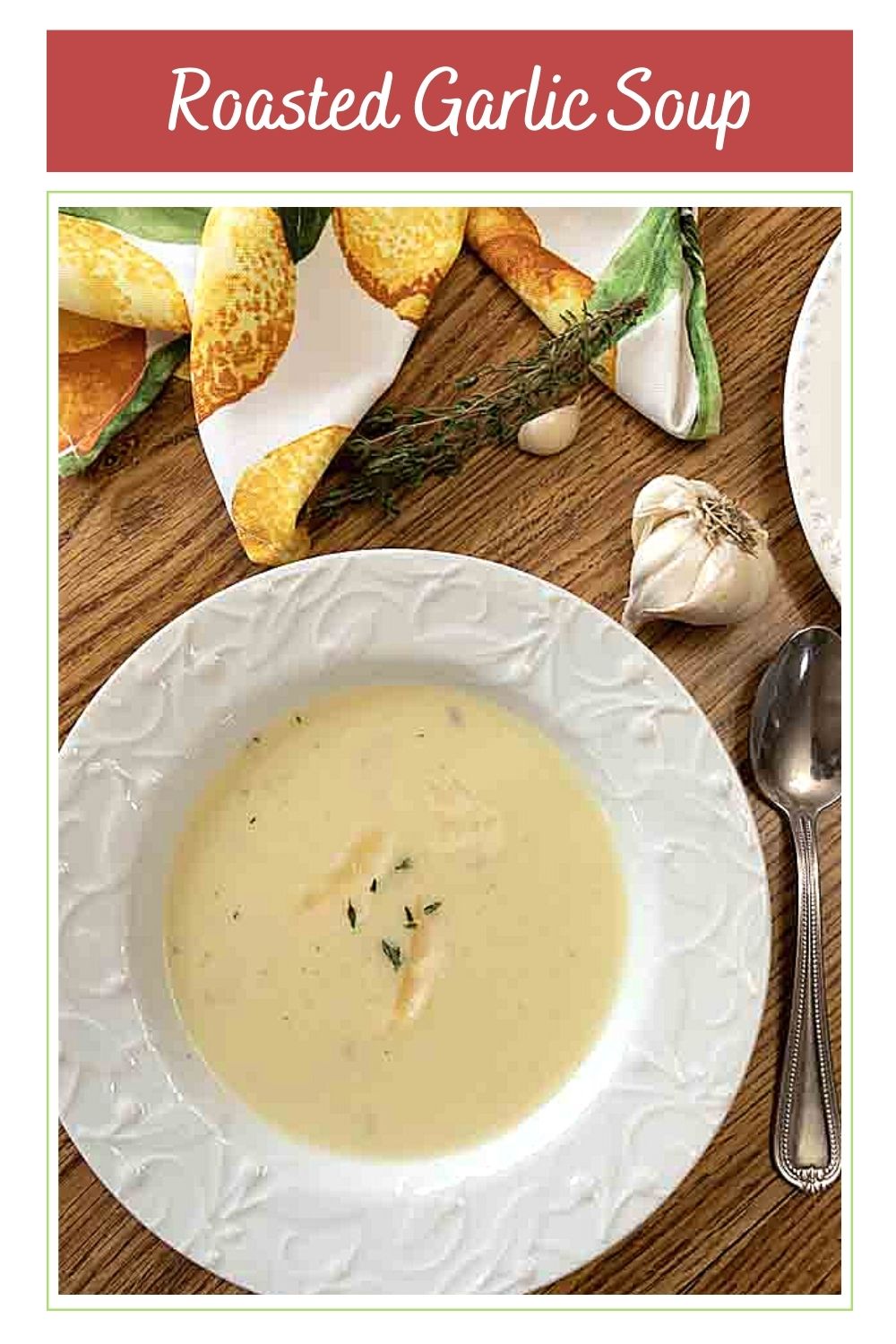 We're a household or garlic lovers. When a recipe calls for garlic, I sometimes double it—and never get a complaint. Of course roasted garlic is extra special with a bit of sweetness and caramelized overtones!
If you don't share love of garlic–or are allergic (you know who you are), perhaps you might prefer some other nice soups that I have shared in the past.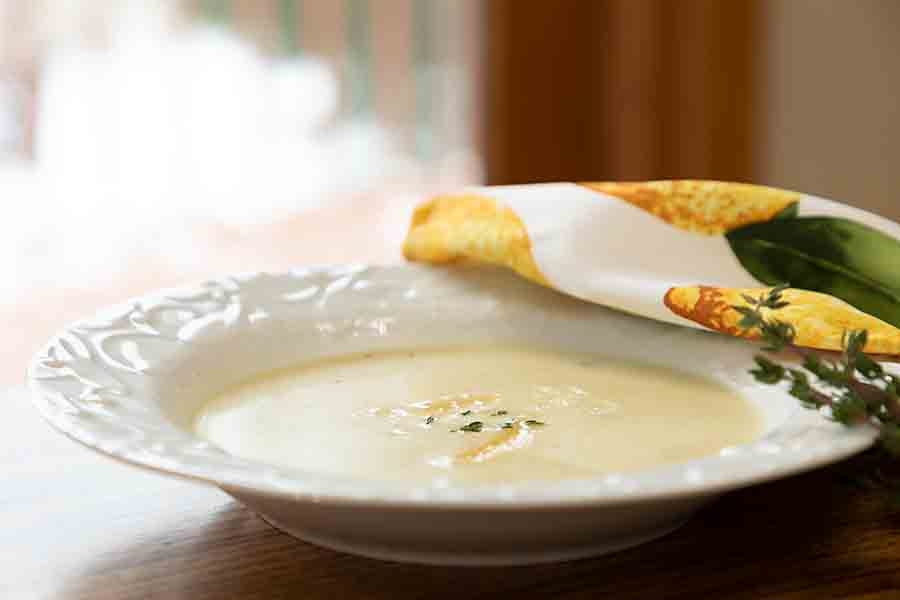 Now the making of this soup started as a lucky accident. When I did an add-on to my final CSA box, I requested some garlic. Well, as near as I can figure, I thought I was ordering 6 bulbs of garlic but really ordered 6 bags of garlic. Bag/bulb–details, details.
But ultimately it became an opportunity!
I had seen Roasted Garlic Soup in articles about the California garlic festival–and always meant to try it myself. I guess there's no time like the present!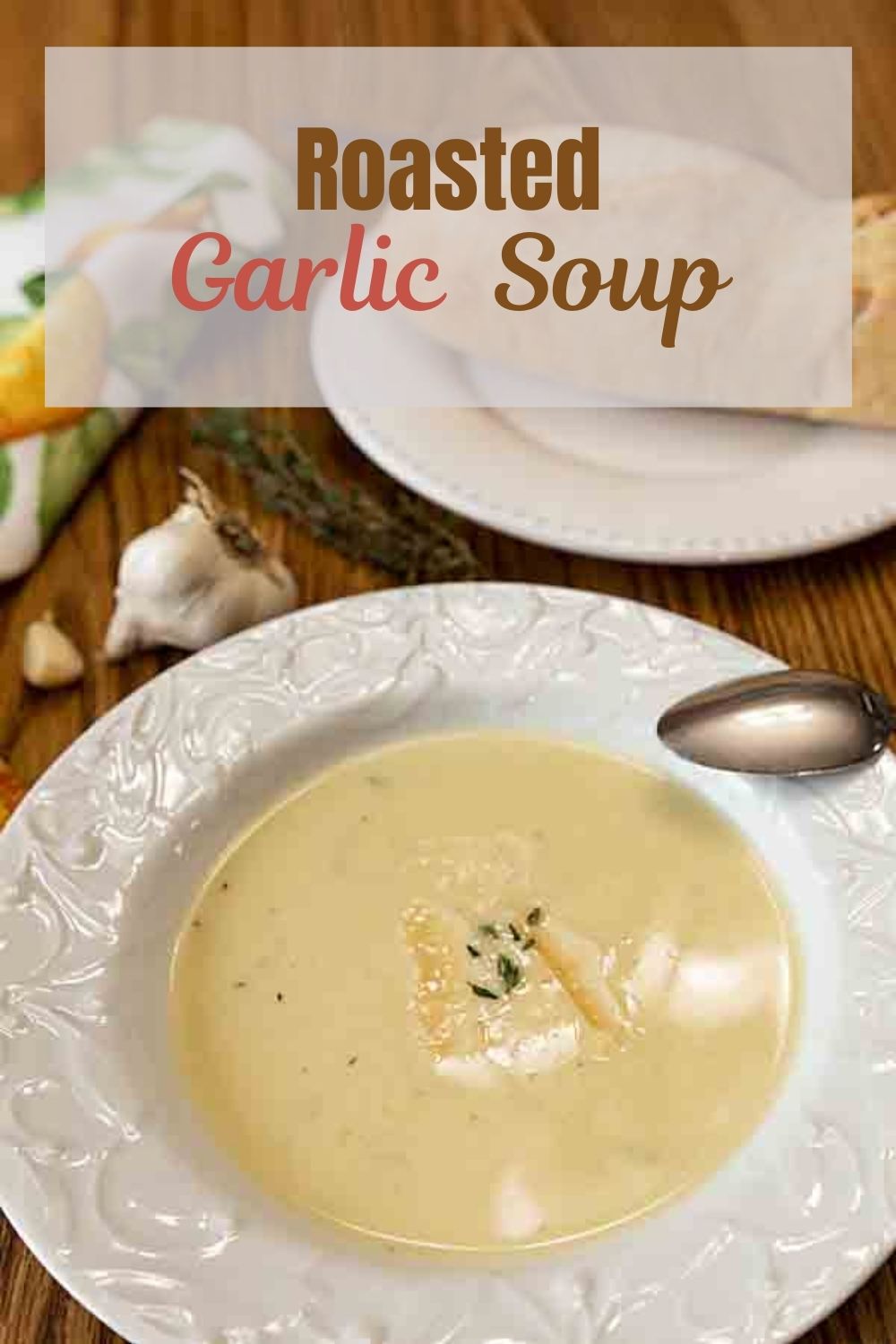 This recipe is based on one from Epicurious and other than finding it a bit inexact (just how large a garlic clove do you mean?), I loved it. Of course, in the end, a little more or less garlic is probably not going to matter given the quantities in this recipe.
How to make Roasted Garlic Soup
The soup was time consuming due to the garlic roasting time but easy in terms of both effort and work time.
You start by roasting 3-4 bulbs (that's bulbs not cloves) of garlic. I cut off the stem end, drizzled with olive oil, wrapped in foil and baked.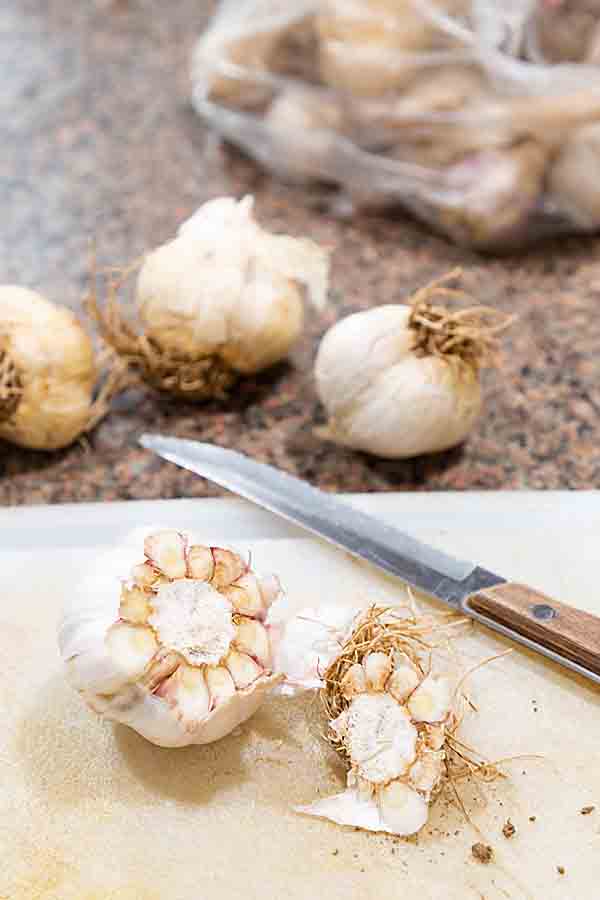 Squeeze the roasted garlic from the bulbs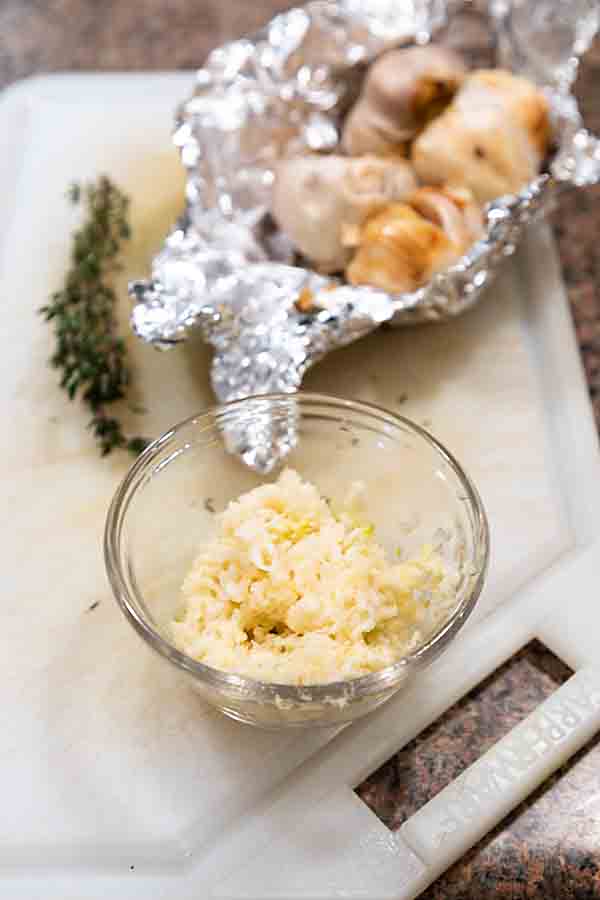 Sautee onions and thyme in butter, then add back roasted garlic and more raw garlic.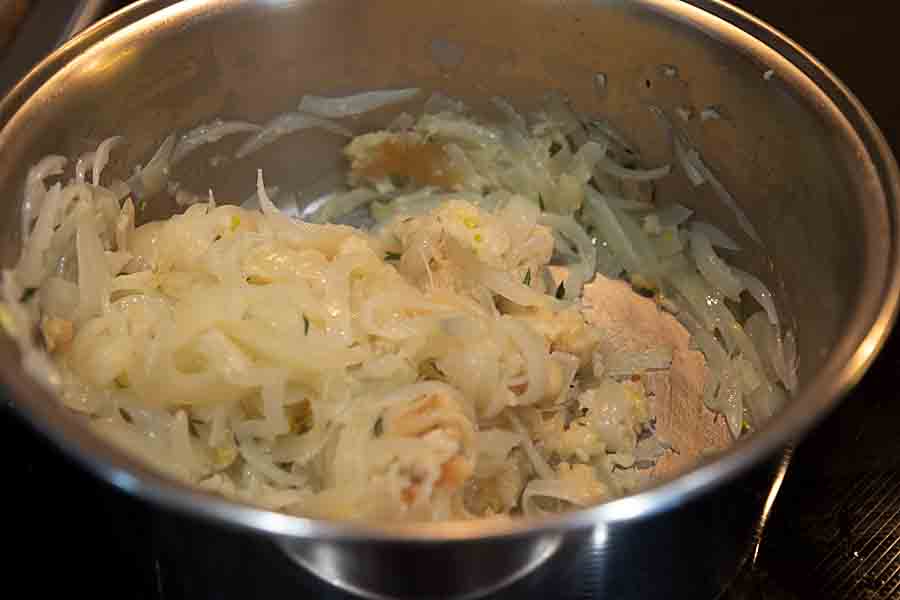 Add broth and simmer, then puree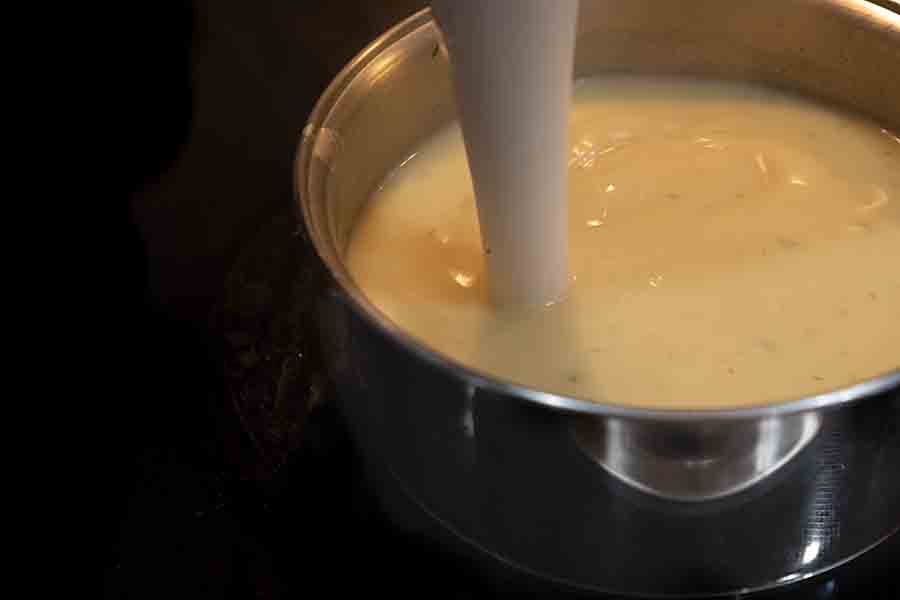 Add cream and grated cheese
Serve with a dash of vermouth or sherry or a lemon wedge, perhaps garnished with shaved parmesan and thyme or chive sprinkles.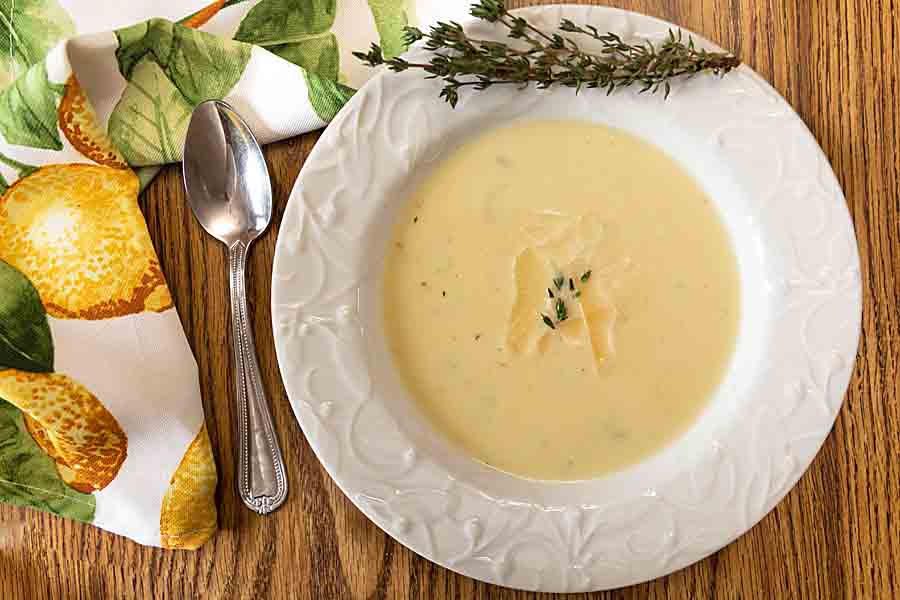 How to Serve / Health Value
I've always supposed garlic lovers come by it naturally since there are many health benefits. Garlic contains antioxidants and a variety of nutrients that may promote heart health among other health benefits. It may even help fight colds! For more detail, take a look at Healthline.
Like other soups, this would make a delicious first course. Or add a salad and some crusty bread for an easy and tasty lunch!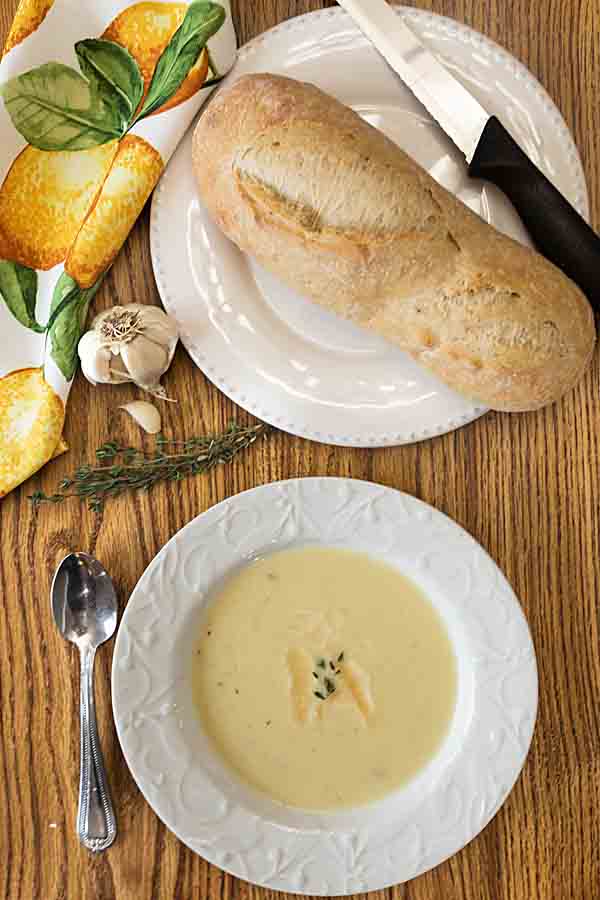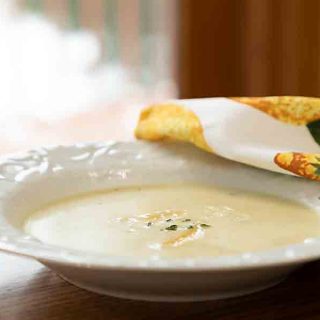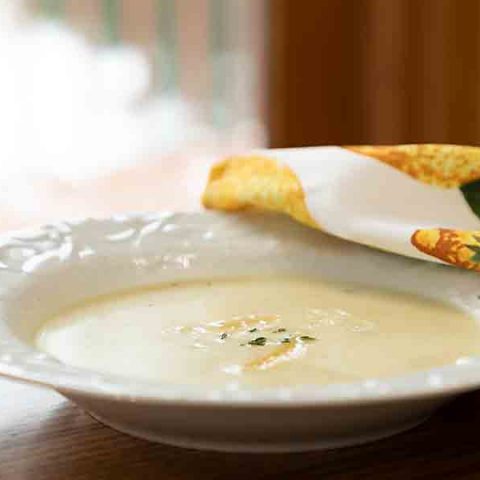 Creamy Roasted Garlic Soup
Rich and flavorful, Creamy Roasted Garlic Soup is a garlic lover's dream.  Perfect as a starter or add bread and salad for a tasty lunch.
Ingredients
3-4

bulbs garlic

unpeeled

1

tablespoon

olive oil

2

tablespoons

butter

2 1/4

cups

sliced onions

1 1/2

teaspoons

fresh thyme leaves or ½ teaspoon dried thyme

18

garlic cloves

peeled and minced

3 ½ - 4

cups

chicken or vegetable broth

1/2

cup

heavy cream

1/2

cup

finely grated Parmesan cheese

about 2 ounces

4

lemon wedges for serving or 4 half shots of vermouth
Instructions
Preheat oven to 350°F. Cut off the stem end from 3-4 bulbs of garlic and drizzle cut end with olive oil. Cover with foil and bake until garlic is golden and tender, about 45 minutes. Cool, then use your hands to squeeze garlic cloves out of the papery exterior. Reserve the cloves.

Melt butter in heavy large saucepan over medium-high heat. Add onions and thyme and cook until onions are soft and translucent, about 6 minutes. Add roasted garlic and 18 raw minced garlic cloves and cook for a few minutes. Add broth, cover and simmer until everything is very tender, about 10 minutes. Puree soup using an immersion blender (or a stand blender in batches). Add cream and grated Parmesan then heat until well-blended and hot. Season with salt and pepper to taste.

Divide soup between four bowls. Garish with shaved parmesan and thyme leaves if desired. Serve with a wedge of lemon or half shot of vermouth.
Nutrition
Calories:
409
kcal
Carbohydrates:
34
g
Protein:
14
g
Fat:
26
g
Saturated Fat:
13
g
Polyunsaturated Fat:
9
g
Trans Fat:
1
g
Cholesterol:
77
mg
Sodium:
3522
mg
Fiber:
5
g
Sugar:
14
g
I am not a health professional and nutrition data is calculated programatically. Accuracy may vary with product selection, calculator accuracy, etc. Consult a professional for the best information.