Did you hear the announcement that we (in the northern hemisphere) are halfway through meteorological winter? It sure made me feel better! Until I started to worry about the piles of beets stacked up in the basement refrigerator. Beets are high in antioxidants and folate–it wouldn't do to let them spoil. And so I made Garlic Roasted Beets.
My sister must have been thinking along the same lines. She reminded me of this recipe which we had eaten at our buying club (a group of people who get together to buy wholesale) dinner. Yes great recipes are a fringe benefit of hanging out with natural foodies!
This recipe is not the fanciest looking dish you'll ever serve (I almost wondered if it was pretty enough to blog about), but it is simple, healthful and delicious–and it makes a nice dent in a store of CSA beets. Yes, olive oil and a bulb of roasted garlic have amazing transformative powers! It also reheats beautifully–should you need to finish your kids' share the next day ;-).
Just a word to the wise before you begin. All over the internet you will read about how easy it is to slip beet skins off after roasting. Do not believe this. While it is relatively easy, some beets peel great, and others you need to go after with a knife. I'd hate for anyone to get a complex from a healthy recipe! Any peeling doubts, see this thread on CHOW.
Now does anyone have an awesome idea for basement turnips?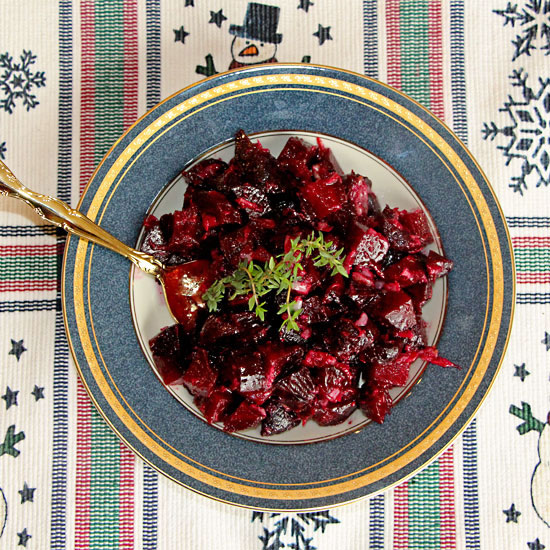 Garlic Roasted Beets
2015-01-20 08:55:24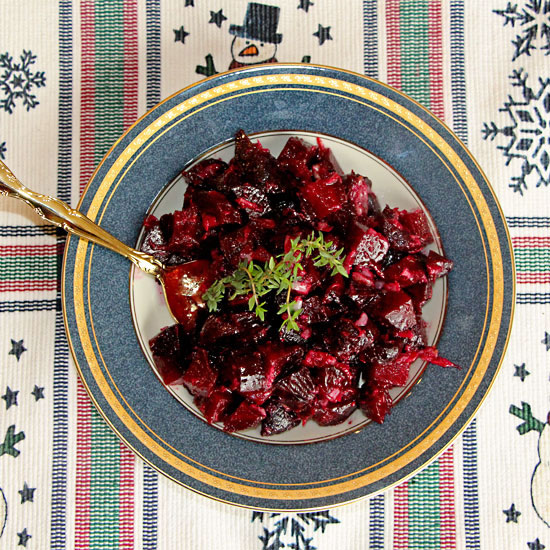 Serves 4
Garlic Roasted Beets are simple, delicious and healthful--and a great way to finish up last fall's harvest of beets!
Nutrition Facts
Amount Per Serving
* Percent Daily Values are based on a 2,000 calorie diet. Your Daily Values may be higher or lower depending on your calorie needs.
Ingredients
1/2 quart of beets (1 - 1 /2 lbs)
1 bulb garlic
2 T extra virgin olive oil + extra 1 1/2 T for roasting
1 T good vinegar (e.g. balsamic, red wine)
1/2 t salt
1/4 t pepper
Instructions
Wash beets and toss in 1 T olive oil. Place in roasting pan and set in 400 F oven.
Slice the stem end off a bulb of garlic. Drizzle the cut end with 1/2 T olive oil and wrap the bulb in aluminum foil. After the beets have been in the oven for 1/2 hour, add the wrapped garlic to the roasting pan.
When beets are tender (about 1 hour), remove them and the garlic from the oven. When beets are just cool enough to handle, peel, then dice them and set aside.
Squeeze the garlic from the bulb and put in a small bowl. Mash thoroughly with a fork (see note), then add 2 T olive oil, vinegar, salt and pepper, mixing well.
Combine diced beets and garlic mixture and serve hot or cold. Garnish with a sprig of fresh herbs if desired.
Notes
The garlic is much easier to mash if you do it before adding the vinegar and oil.
Art of Natural Living https://artofnaturalliving.com/