Grilled Vegetable, Bread & Tomato Salad (Panzanella)
Back in the day, serving bread on salads was big. Of course, that bread was typically chopped, seasoned, and rebranded as croutons. But the concept was legit—bread in salads is delicious! This time, it's served up torn and marinated in a Grilled Vegetable, Bread & Tomato Salad, or Panzanella.
Wikipedia describes Panzanella as "a Tuscan salad of bread and tomatoes that's popular in the summer. It includes chunks of soaked stale bread and tomatoes, sometimes also onions and basil, dressed with olive oil and vinegar." Yes, one can never have too many ways to get rid of old bread!
Still, I am convinced that summer is the operative word in the salad description. With tomatoes at their peak, and temperatures favoring raw or grilled dishes, Grilled Vegetable Bread & Tomato Salad is perfect now. Meet me on the terrace and I'll bring the wine!
While the base requirements for a classic panzanella are bread, tomatoes and a nice vinaigrette, the sky is the limit for add-ons today. With a recent CSA bounty that includes eggplant, summer squash and a perfect yellow pepper, I'm going to town! Top with some fresh mozzarella for protein and you have a complete dinner!
Since this was my first time trying a Grilled Vegetable, Bread & Tomato Salad, I scoured the web for preparation tips. "The optimal ratio is ⅓ bread, ⅔ all the other good stuff." "No matter what, do not cut the bread into cubes." (Bon Appetit) "Better to mash the anchovies into the sauce than using them whole like Oliver" (The Guardian) "Give everything about a half hour to mingle and mix, and this bread salad goes from "pretty good" to a bona fide can't-stop-eating-it dinner win. " (The Kitchen)
Here is my version: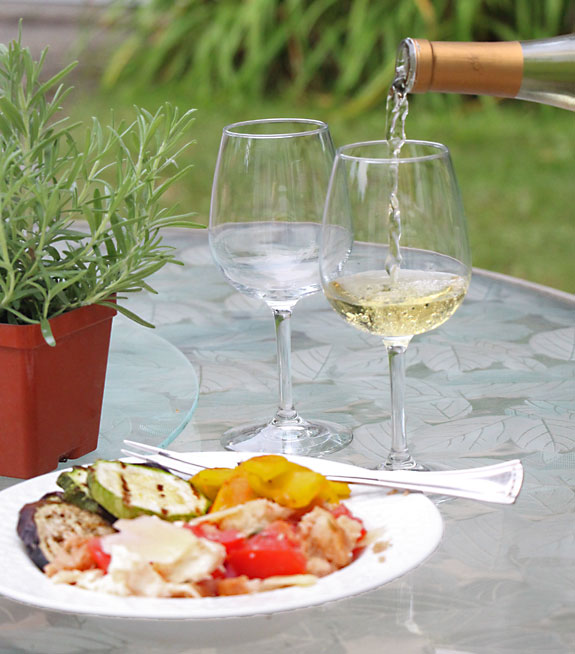 Grilled Vegetable, Bread & Tomato Salad (Panzanella)
2016-08-11 16:08:17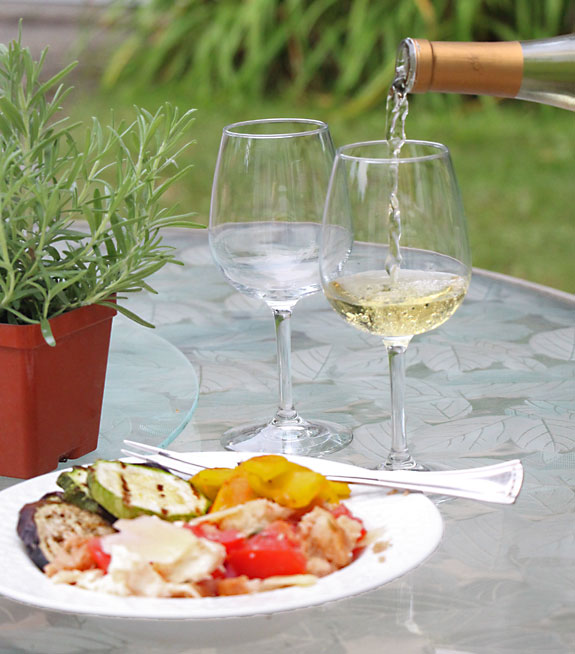 Serves 4
Grilled Vegetable, Bread & Tomato Salad or Panzanella is a fragrant salad full of summer's goodness--and a complete meal if you add fresh mozzarella.
Nutrition Facts
Amount Per Serving
* Percent Daily Values are based on a 2,000 calorie diet. Your Daily Values may be higher or lower depending on your calorie needs.
Salad ingredients
• 3-4 large, ripe tomatoes, cut into 1-inch chunks
• ½ teaspoon salt
• a few red scallions, sliced
• handful of basil leaves, torn
• 1 tablespoons capers, drained
• 1 red or yellow bell pepper, seeded, roasted and cut into strips (you can use canned marinated pepper)
• 1 Tablespoon olive oil
• 1 Tablespoon dried oregano
• salt, pepper
• 1 medium zucchini or other summer squash
• 1 small to medium eggplant
• ½ loaf French bread, torn into bite sized pieces (4 cups)
• 4 ounces of fresh mozzarella, torn into bite sized pieces
For the vinaigrette
• 1 clove minced garlic
• ¼ teaspoon Dijon mustard
• 1 tablespoon fresh rosemary or 1 teaspoon dried
• 2 tablespoons balsamic vinegar
• ¼ cup extra virgin olive oil
• ¼ teaspoon sea salt
• 1/4 teaspoon freshly ground black pepper
• 2 anchovies, mashed or 1 teaspoon anchovy paste (optional)
Instructions
For the vinaigrette, whisk all the ingredients together in a large (salad-sized) bowl.
Add the cut up tomatoes, red onion, basil, and capers to the dressing bowl. Toss, then salt the tomatoes with an additional ½ teaspoon salt to bring out the juices. Let sit while you prepare the vegetables.
Slice the vegetables about ¼ inch thick on a diagonal. Brush with 1 Tablespoon olive oil and sprinkle with dried oregano, salt & pepper.
Add the bread cubes and fresh mozzarella to the salad bowl and toss with the vinaigrette and tomato mixture. Top with the Parmesan shavings.
Grill the eggplant and zucchini for a few minutes on each side, until tender. Add the grilled vegetables and roasted pepper to the salad, or serve alongside and let people combine for themselves.
Notes
Feel free to use include the vegetables that you have available!
Parmesan shavings make a nice additional garnish.
Art of Natural Living https://artofnaturalliving.com/