Hearty Stovetop Beef Stew (Bourguignon)
Loaded with carrots, turnips, green beans & mushrooms, in a rich beef stock, Hearty Stovetop Beef Stew makes a complete meal. Just add whole grain bread.
It was years ago when I found the original recipe for Hearty Stovetop Beef Stew. I was in the beginnings of a lifelong love of soups, and it seemed inherently sane to make huge pots of soup on Saturdays, freeze it in small portions and thaw midweek for dinner. As my career ramped up and free time ramped down, this became a lifeline.
Yes, I was not going to give up healthy, local eating just because career and kids took up, hmmm… 110% of my time.
In the fall, Hearty Stovetop Beef Stew was especially a godsend. Deeply buried in CSA harvest vegetables, the recipe cut through that crisis, err bounty and provided dinner at the same time. Just add whole grain bread.
I have been making this recipe for so many years—and tweaked it so many times, that I am not sure how much it resembles the original. Feel free to take liberties with the quantities and even the ingredients. I am pretty sure the original recipe had potatoes, but I went with turnips since they freeze better. Low on turnips? Try kohlrabi or add more carrots. I'm sure that's what our stew-making forbears did!
Yes, Hearty Stovetop Beef Stew is perfect to eat in the bountiful fall—and to freeze for a rich, warm meal in the barren days of winter.
Winter is coming.
I couldn't resist.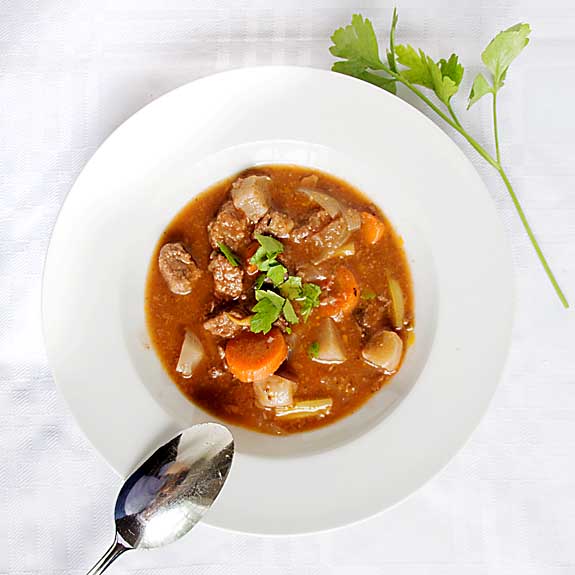 Hearty Stovetop Beef Stew
2017-08-27 16:24:17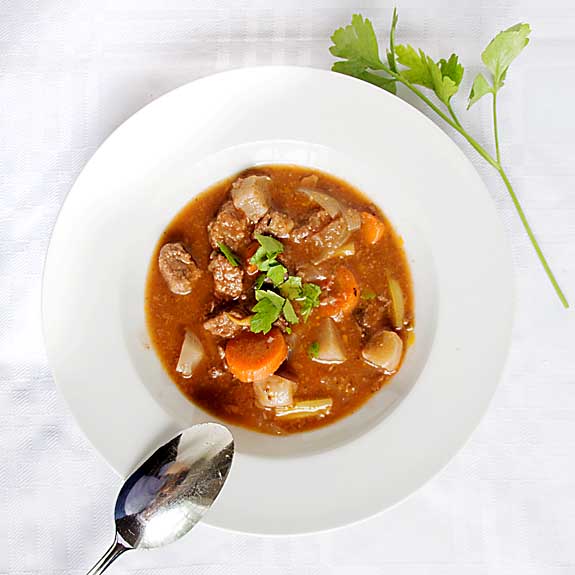 Nutrition Facts
Amount Per Serving
* Percent Daily Values are based on a 2,000 calorie diet. Your Daily Values may be higher or lower depending on your calorie needs.
Ingredients
6 ounces bacon (or ¼ - ½ cup vegetable oil)
1 – 1 ½ c. flour
2 T. ea thyme, marjoram
1/2 lb. carrots cut in ½ inch chunks (2 c)
8 c. low sodium beef broth (or chicken)
2 lb turnips cut in 1/2 in chunks (4c)
1 lb mushrooms, sliced
1 bottle dry red wine
½ cup brandy or cognac (optional)
16 oz. bag frozen cut green beans
6 oz can tomato paste
1 c chopped onions
2 T. minced garlic
3 lb beef sirloin or round, trimmed and cut in 1 inch cubes
2 bay leaves
salt and pepper to taste
Instructions
If using bacon, dice the bacon, then fry it in a large stockpot. When it is crisp remove the bacon and half of the fat, retaining both. If not using bacon, heat 3 tablespoons of oil in a large stockpot.
Coat meat with flour. Brown beef in 2-3 batches, adding additional oil or bacon grease for each batch.
Remove meat then stir in onions and garlic. Sautee until just beginning to brown.
Stir in red wine and brandy if using. Carefully scrape up browned bits from pan and mix into liquid.
Stir in remaining ingredients except green beans. Simmer for 1 hour. Add green beans. Simmer another 45 min. Discard Bay leaves.
Art of Natural Living https://artofnaturalliving.com/