Homemade Essential Oil Reed Diffusers
It's been a few months since I got an essential oil box via my partnership with Simply Earth. And I have to tell you, I was waiting with anticipation. Because this month's box features how to make essential oil reed diffusers and other fun winter products.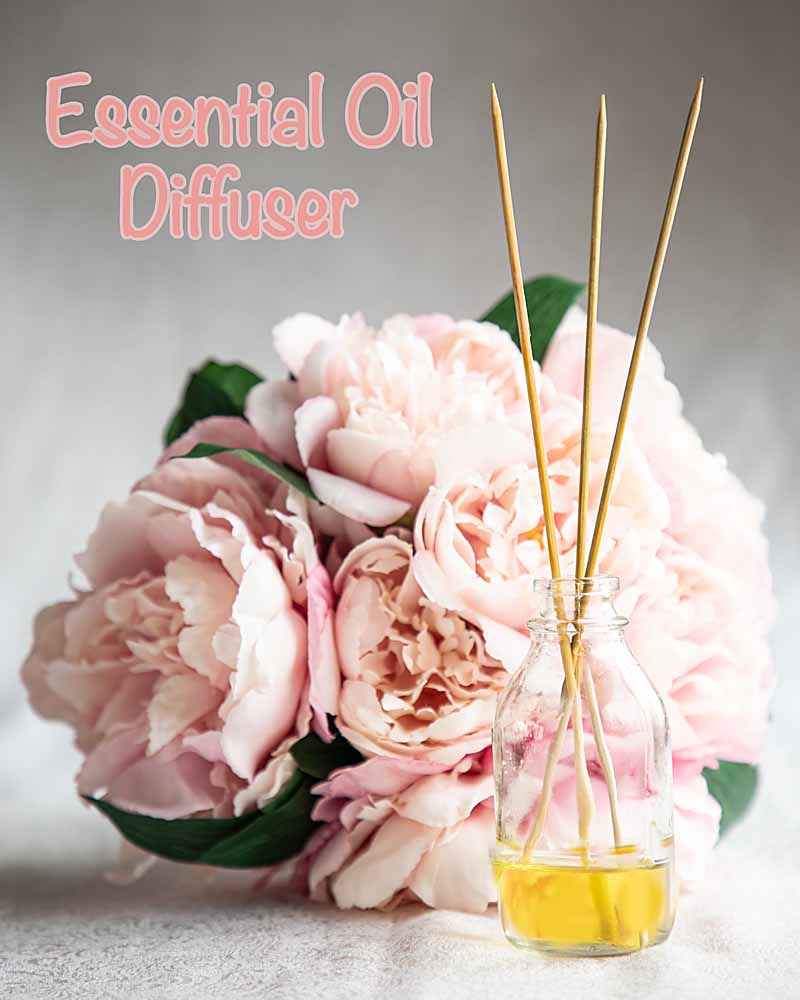 (Disclaimer: This post contains affiliate links and I received the products free of charge in exchange for this review. But the opinions are my own.)
Yes, my Wisconsin house won't see fresh air for months. Bring on the diffusers!
My mother used to use a commercial chemical air plug-in. And we used to get a headache every time we entered her apartment. Yup, just like I don't put synthetic chemicals on my skin, I don't want to breathe them.
Years ago, I bought some lovely essential oil reed diffusers that really freshened up the house. But they were seriously expensive.
So, when this month's box suggested making my own, it was like, well duh!
How to Make Homemade Essential Oil Reed Diffusers
Making a reed diffuser at home is a simple process. You combine the ingredients, then place them in a narrow-mouthed bottle. (You could use a wider mouthed bottle, stopped with a cork with a hole for the reeds). Finally, you insert reeds (or bamboo skewers) to wick-up the scent.
Just remember that, for safety reasons, essential oils always need to be diluted. There are two main (natural) methods for dilution. The first is to dilute your oils in a mixture of alcohol and water. The second is to dilute them in a light carrier oil like safflower, fractionated coconut or sweet almond.
I tried both methods, using vodka as my alcohol, which left the oils floating on top. Afterwards I read that my 80-proof vodka didn't have a high enough alcohol content. So something like rubbing alcohol may have worked better. I'll have to update you with future trials!
But diluting in a carrier oil was perfect. And happily, the bonus box has both coconut oil and almond oil!
Here is a recipe for you: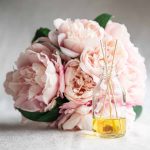 Print
Homemade Essential Oil Reed Diffusers
Making homemade essential oil reed diffusers is fun and easy. Here is a step by step guide along with some helpful tips and sources.
Materials
25

drops of essential oil

one of more varieties

1/4

cup

light carrier oil like liquid

fractionated coconut oil or sweet almond oil

Narrow mouth glass bottle

3-5

reeds or bamboo skewers
Instructions
Mix essential oil and carrier oil and place in bottle

Insert reeds

Wipe the outside carefully, then set out where it will not be knocked over

Enjoy
I used a combination of lemon and orange oils in the first diffuser and in the other mixed Ho Wood and Orange. The first was very fresh and sunshine-y, while the second was similarly fresh but with a hint of sophistication.
Essential Oil Reed Diffuser Tips
To set expectations, the fragrance is subtle. A diffuser isn't going to cover up the fact that you fried fish last night. But, do you really want a scent that's strong enough to cover up fried fish?
The best container is one with a narrow opening since it will slow down evaporation. (I found a set of three at TJ Maxx for 3.99) Another option is a container that has a cork with a hole for the reeds.
You can "flip" the reeds if the scent starts to diminish. Take care when turning and wipe down the outside. I had an EO diffuser that dissolved the finish on a table from a reed-flipping dribble I couldn't even see.
If you have pets, be sure that you are aware of safety issue with pets–and keep them separated.
Despite being considered a "safer" alternative, people (and furniture and pets) can have bad reactions to even properly diluted oils. My oldest can't touch anything lavender without breaking out into hives. This is more of an issue for touching than smelling, but check out the safety record of your chosen scent first and place where it won't get knocked over.
To share an old soap-makers trick for blending scents. If you are considering a scent combo, place a drop of each of the scents on a cotton ball or q-tip. Seal in a bottle to allow scents to blend and vaporize, then open the cap to allow the scent to escape. Adjust oils/ratios as desired.
Happily, right now all of this is super easy with the March Simply Earth box. And if you're committed to trying this, don't wait–these boxes sell out around mid-month (there will be more new fun next month).
What's in a Box…
The March box contains the following items, along with recipes and labels:
• Cypress Essential Oil
• Energy Blend Essential Oil
• Orange Essential Oil
• Patchouli Essential Oil
• 5 reeds
• Lava rock beads
• Aromatherapy inhaler
PLUS, every new subscriber gets an additional special offer–for free. It's a bonus box with even more supporting products. Things like bottles and carrier oils that will help you make future recipes. My bonus box contained:
• 6 small Amber Bottles
• 6 Amber Roll-On Bottles
• 1 bag of Beeswax Pellets
• 12 oz. Jar of Solid Coconut Oil
• 4 oz. Bottle of Fractionated (Liquid) Coconut Oil
• 4 oz. Bottle of Almond Oil.
The two boxes would be over $150 if purchased from many of the other essential oil vendors.
Even better, for a limited time, I have a code that will get you $40 off on a future box. That means your first month is a great deal–and your second month could be free. How fun is that!
Just follow my referral link and use the code ARTOFNATURALLIVINGFREE
The Company
Part of the motivation for the founders of this company was the challenge experienced sourcing good quality natural products. They comment:
With the safety of your home in mind, we're meticulous about every step of our process. To make sure each plant reaches its potential, we carefully and ethically choose a region where it will thrive. Then we work with our farmers. When our plants have reached maturity, they are harvested safely and fairly. From there we collect their natural essential oils through either cold-pressing or steam-distillation. Every batch is then tested to ensure 100% purity.
Yes, Simply Earth is so confident in their quality they offer a 365 day guarantee! Plus they donate 13% of their profits to charity. Why not add a little fresh air to your life with Simply Earth!
Subscription recap
To recap…. For a limited time, you can subscribe to a $39/mo essential oil recipe box using my referral link and code ARTOFNATURALLIVINGFREE to get:
• Your first monthly box
• A new subscriber bonus box
• $40 off a future box
If you are thinking about getting started with essential oils, want to make some fun products for the home/gifts or just want the best smelling house, you should give it a try!