Meaty and creamy, this low-carb Reuben soup blends corned beef, swiss cheese and sauerkraut into a soup that's perfect St Patrick's Day–or any time.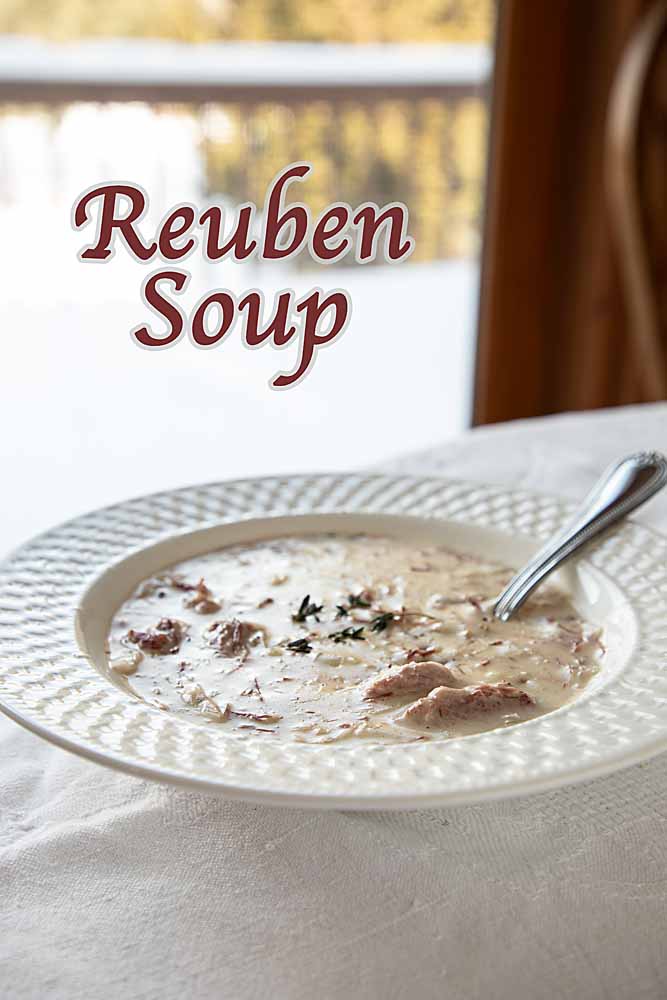 Last week, I served a new Reuben Soup that was a hit in our household. It started out with a couple things to recommend it. It is low carb for my new keto diet—while at the same time, "normal" enough for the rest of the family.
Even better, it's suitable for celebrating St Patrick's Day. Just in time for the holiday.
I make corned beef only rarely—once every couple years. Though it certainly is tasty enough, it doesn't quite strike me as health food. It's delicious with boiled potatoes and cabbage, but my favorite way to eat it is a Reuben Sandwich. With sauerkraut, Swiss cheese and thousand island dressing the sandwich is a taste sensation. But one that will never do on my diet!
Instead, this Reuben Soup, originally from the blog Bare Feet in the Kitchen, was the perfect alternative. I removed the potatoes, since they aren't keto—and aren't in a Reuben anyway. Then I used Xanthan gum to thicken instead of rice flour. But we decided that the soup was plenty thick before the thickener, so that's now a permanent change.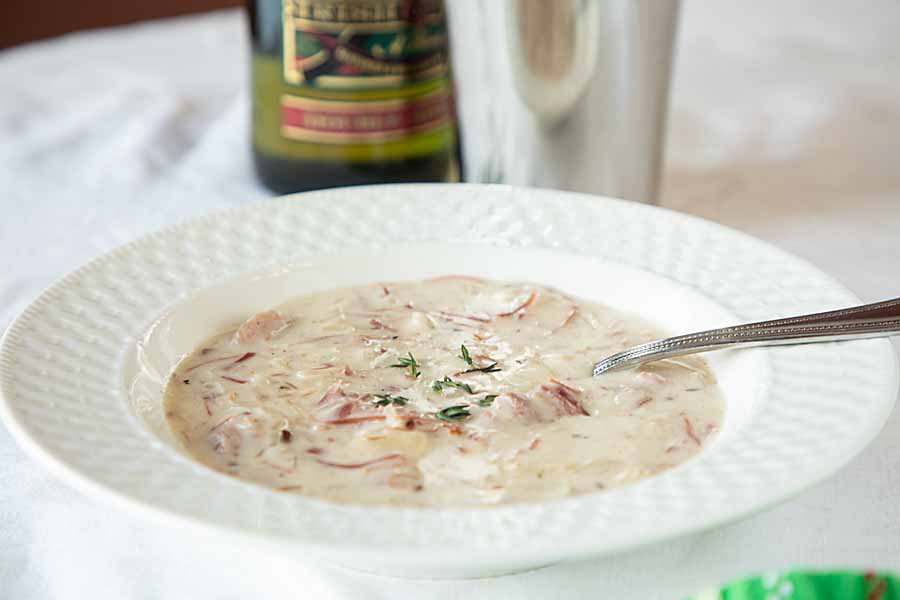 The family loved having an unusual treat–and the prospect of more, when the holiday arrives! Whether you are prepping for St Pat's or just surviving the winter, Reuben Soup is a great option!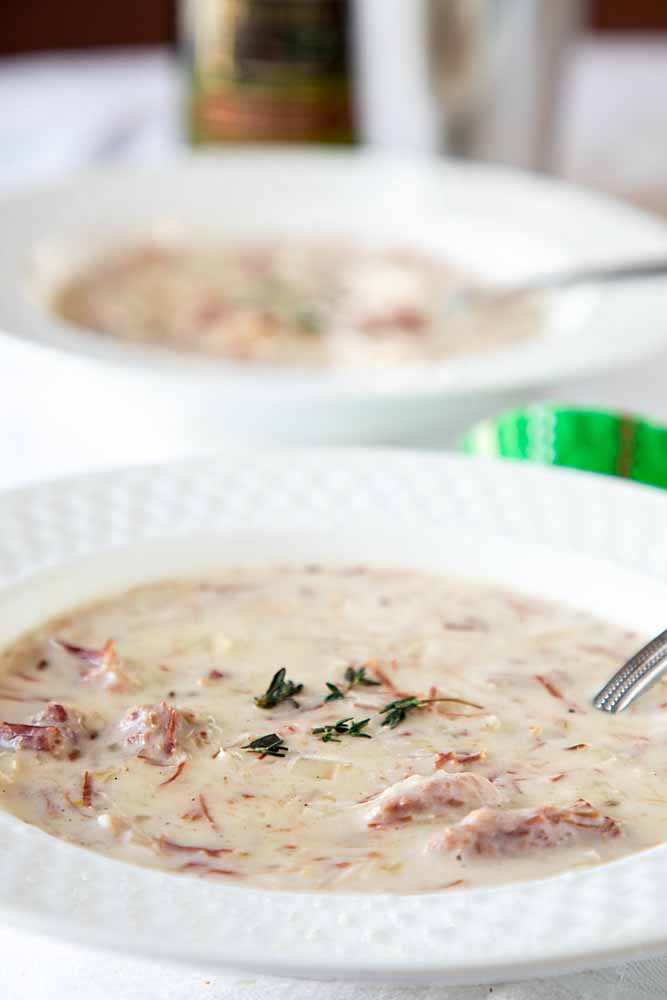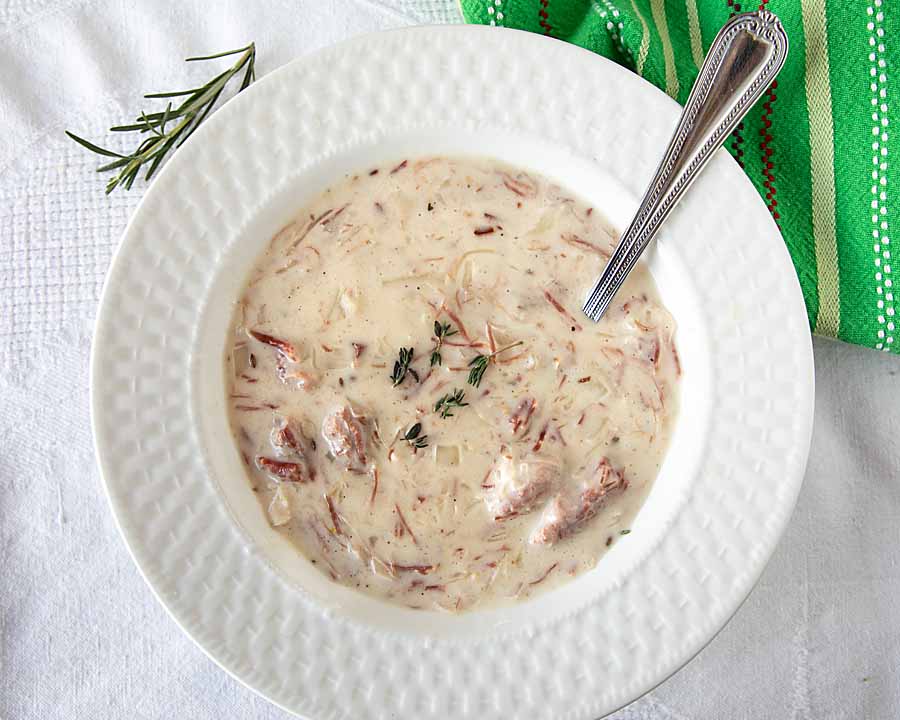 Reuben Soup
2020-02-22 20:49:50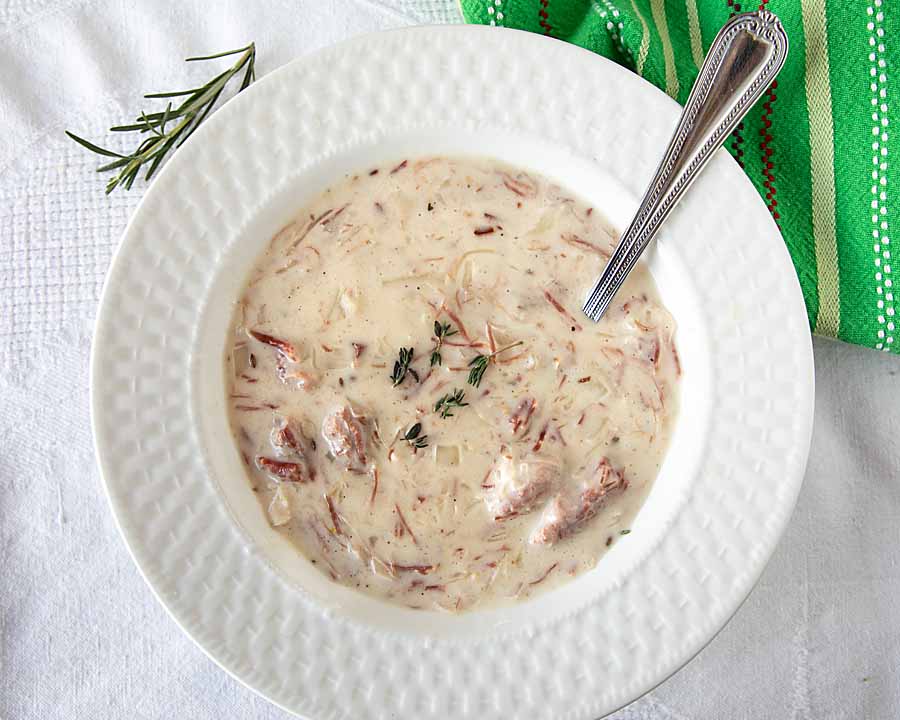 Serves 6
Meaty and creamy, this low-carb Reuben soup blends corned beef, swiss cheese and sauerkraut into a soup that's perfect St Patrick's Day--or any time. 
Nutrition Facts
Amount Per Serving
* Percent Daily Values are based on a 2,000 calorie diet. Your Daily Values may be higher or lower depending on your calorie needs.
Ingredients
• 2 tablespoons butter
• 1 medium size onion diced into 1/2" pieces
• 2 large cloves garlic minced
• ¼-1/2 teaspoon red pepper flakes
• 4 cups chicken broth
• 2 cups cooked corned beef chopped into bite-size pieces
• 1 cup sauerkraut drained
• 1 tablespoon Worcestershire sauce
• 1 teaspoon pickle juice
• 1/4 teaspoon caraway seeds
• ½ teaspoon salt, pepper
• 1/2 cup heavy cream
• 1 cup shredded Swiss cheese
Instructions
Melt the butter in a large pot over medium heat. Add the onions and saute until tender, about 5 minutes. Add the garlic and red pepper and saute another minute.
Add the remaining ingredients except the cream and swiss cheese. Bring to a boil, then reduce to a simmer for about 10 minutes to allow flavors to blend
Stir in the cream and Swiss cheese whisking until cheese is melted. Serve warm. Or reheat the next day (when flavors were actually better).
Art of Natural Living https://artofnaturalliving.com/
Easy St. Patrick's Day Recipes
We share Recipes From Our Dinner Table! Join our group and share your recipes, too! While you're at it, join our Pinterest board, too!