Pork in Brandy Cream Sauce
Pork in Brandy Cream Sauce pairs tender pork with ripe peppers, mushrooms, brandy and cream, then tops it off with pink and green peppercorns.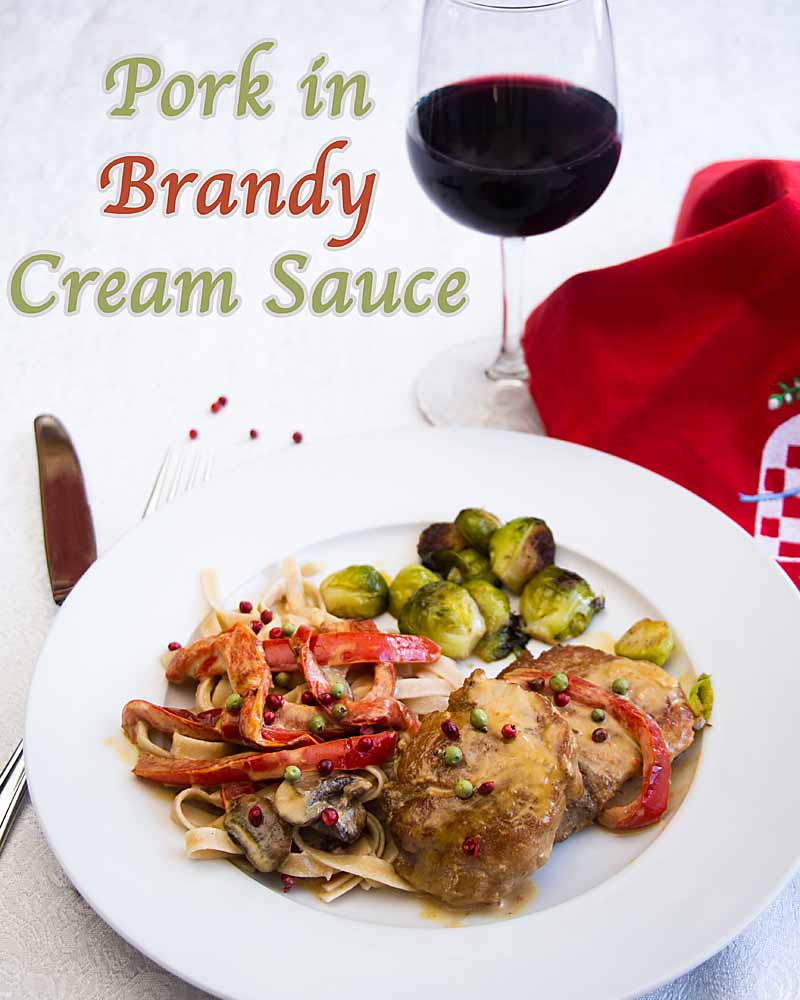 I've been thinking a lot about Valentine's Day lately. While normally I would do a nice dessert, I finally started keto. And since I'm still getting used to it, I'm not going to challenge myself with dessert.
But no problem. This Pork in Brandy Cream Sauce from Culinary Flavors is lovely. And so festive with its jewel-like pink and green peppercorns that it passes muster for any special occasion dinner. Especially when you don't want to slave in the kitchen, like Valentine's Day!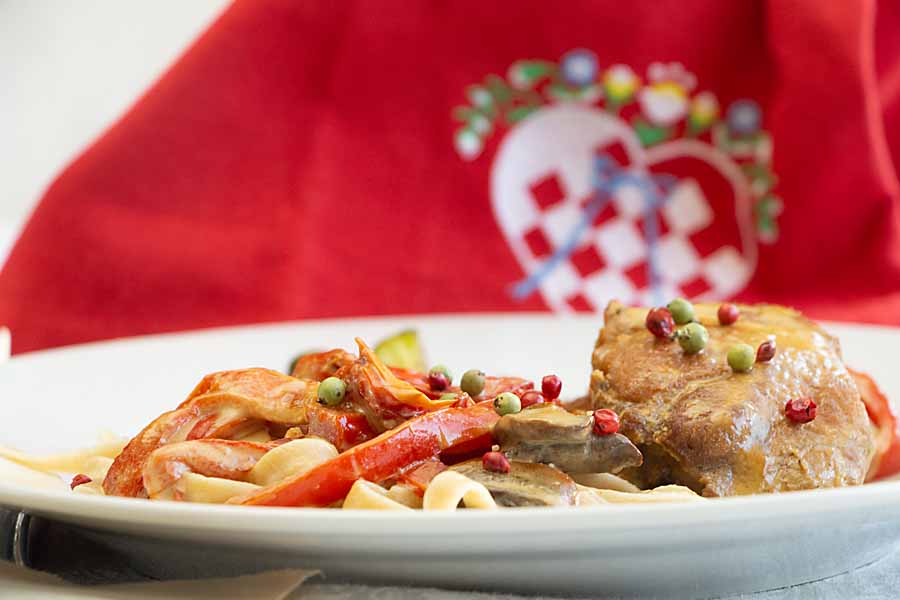 Pink and green peppercorns were new to me and I ended up at a specialty spice store for them. Here I learned that pink peppercorns aren't pepper at all, but a tiny dried berry related to cashew nuts. So, leave them off if you have nut allergies.
The green peppercorns, as you might suspect, are unripe standard peppercorns and they have a peppery flavor that is slightly more herbal. Yum!
And apparently the pink peppercorns are also used to top salads and other fresh dishes. What a fun new garnish!
The original recipe for Pork in Brandy Cream Sauce called for pork tenderloin, but I used a couple packages of pork chops from my annual local pig. Local pigs don't (generally) come with tenderloin, but the pork chops were easy to debone (the bones went into stock).
It was even easy to make!
I do have one heads up if you prepare this dish. In the "add brandy" step, the sauce will taste very very strongly of brandy-even a big brandy lover might be taken aback. Don't worry however, since it mellows out into a sauce that is simply rich and flavorful after you simmer with the cream.
Happy Valentine's Day!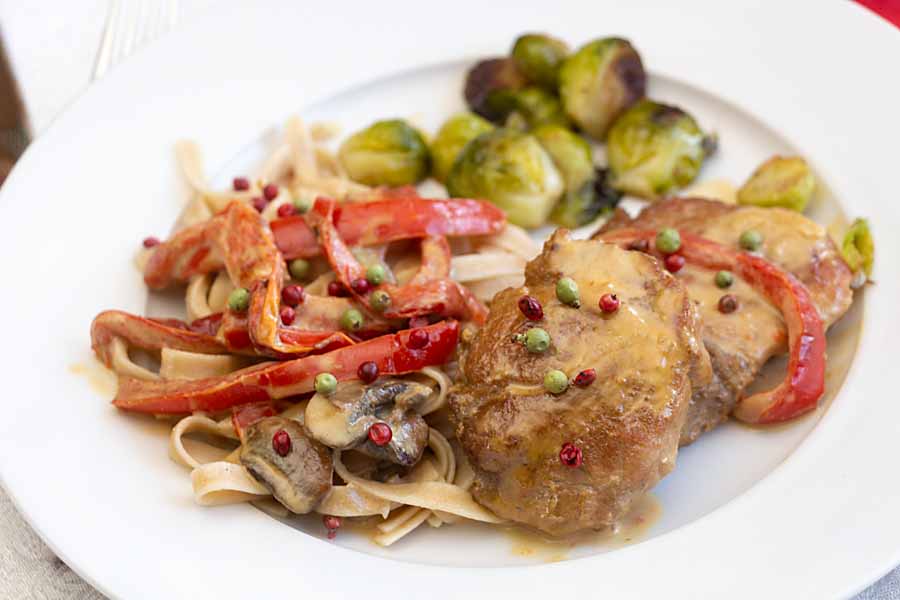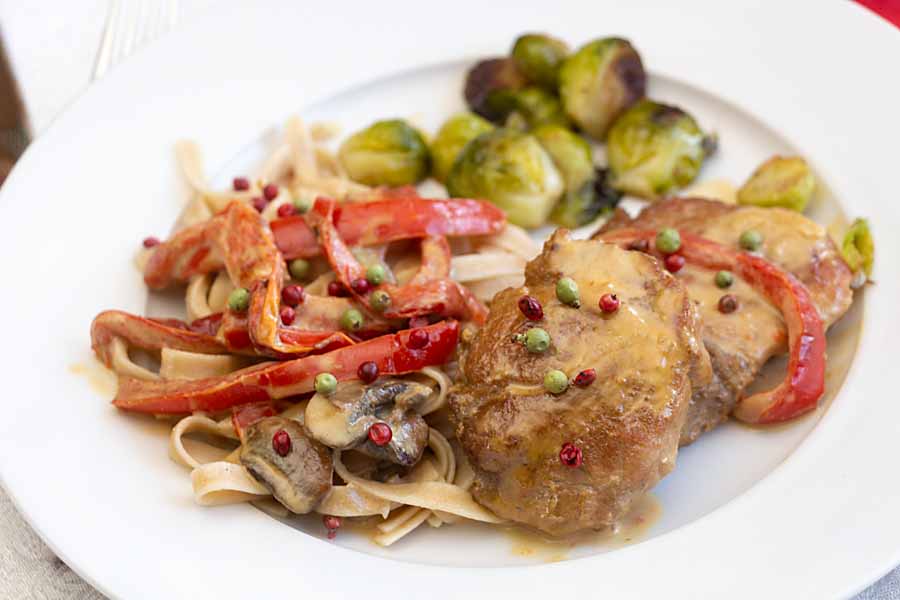 Pork in Brandy Cream Sauce
2020-02-11 10:18:33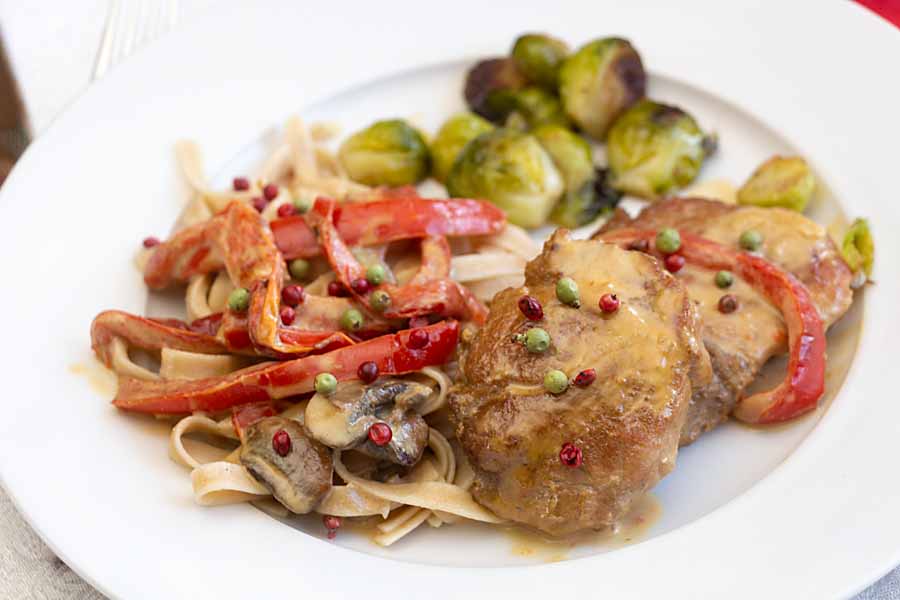 Serves 4
Pork in Brandy Cream Sauce pairs tender meat with ripe peppers, mushrooms, brandy and cream then garnishes it all with pink and green peppercorns. 
Nutrition Facts
Amount Per Serving
* Percent Daily Values are based on a 2,000 calorie diet. Your Daily Values may be higher or lower depending on your calorie needs.
Ingredients
• 3-4 Tablespoons of oil, divided (I used saved bacon fat, but you can use butter or another oil)
• 1 ½ - 2 lbs sliced pork tenderloin medallions or 5-6 porks chops, deboned
• ½ cup beef stock
• 1 cup brandy
• 2 tbsp dijon mustard
• ¾ cup heavy cream
• 5 large white mushrooms, sliced
• 1 ripe bell pepper, sliced
• 1 garlic clove, minced
• Salt, pepper
• Green and red peppercorns
Instructions
In a large skillet heat 3 Tablespoons of oil. Salt the pork slices on both sides, then sear on medium high turning to brown second side when golden. Remove pork to a plate.
In the same skillet add additional oil if needed. Sauté the pepper and mushrooms until soft and turning golden.
Add the garlic and sauté for a minute.
Whisk in the beef stock and mustard and let it bubble for a minute. Add the brandy and the pork and bring to a simmer.
Simmer for 10 minutes.
Add the cream, salt and pepper and let it boil for another 10 minutes.
Plate the pork and sprinkle with peppercorns. Serve extra sauce over pasta, rice or mashed potatoes (if not doing keto).
Art of Natural Living https://artofnaturalliving.com/