Homemade Rose Bath Salts for Valentine's Day
Homemade Rose Bath Salts are easy to make, soothing and perfect for celebrating Valentine's Day, Galentine's Day or just a rejuvenating winter soak.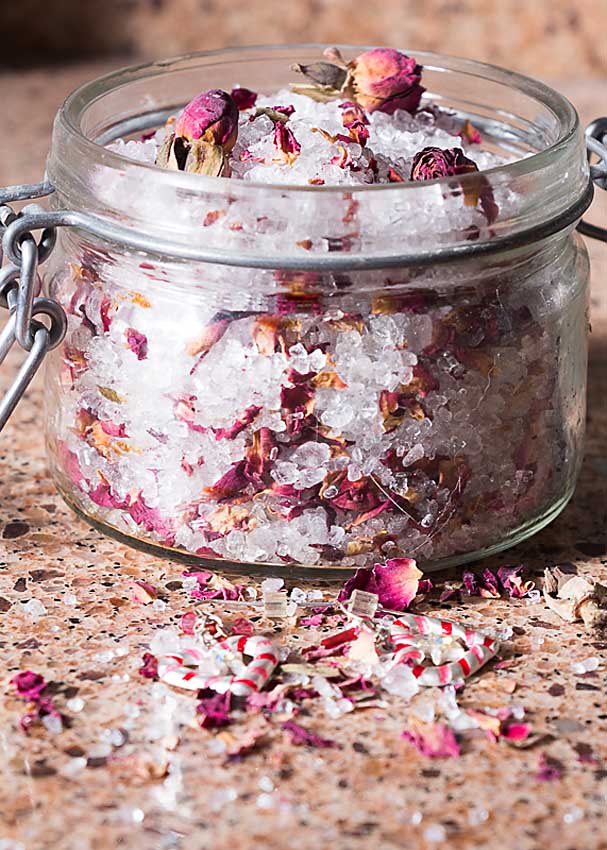 Whew—is it spring yet?  Pretty sure not—we got nearly a dozen inches of snow yesterday!  Of course, it all arrived when my husband was gone on a business trip.  Yup, my daughter and I spent two hours shoveling to create just enough space to get one car out, then collapsed.  
Clearly, it was time for a reward.   
Fresh out of bath salts, I decided to create my own recipe for a nice soak.  I had most of the ingredients on hand–food grade dried rose petals for general experimentation, dead sea salts from an order error and I keep a store of essential oils on hand (I use them to scent fragrance free liquid soap).  So with Epsom Salts from the grocery store, I could easily make homemade rose bath salts perfect for Valentine's day!   
If you are new to using essential oils, you should know that is that they are very concentrated and not meant to be used undiluted (see this article for more).  Even diluted they can irritate if you have a sensitivity, so a patch test can be a good precaution, especially if you have sensitive skin. 
Now adding this to a full bath might sound like you are diluting, but since water and oil don't mix it is possible to hit a concentrated patch of essential oil floating on the top.  So my "recipe" has you mix with some additional oil—which I wanted to include anyway for a more moisturizing bath. 
Besides the bath, I wanted to get in an anti-inflammatory beverage, so I added a homemade tart cherry soda to my routine. According to Men's Journal, "researchers also found that tart cherries have the 'highest anti-inflammatory content of any food,' more than other antioxidant-rich foods like blueberries and pomegranates."  
I mixed 2 Tablespoons tart cherry concentrate, 5 drops liquid stevia and 12 ounces of fizzy lemon water for something even more refreshing than a big red wine.  Admittedly, at 9 PM, I might have gone with the wine.
I'm feeling surprisingly un-sore today, so perhaps it all helped. The Homemade Rose Bath Salts definitely improved my mood!

Homemade Rose Bath Salts
Ingredients
1 Tablespoon mild liquid "carrier" oil (like jojoba, refined sunflower—see note)
20 drops Rose essential oil
1 cup dead sea salt (can sub any sea salt or kosher salt)
½ cup Epsom salt
¼ cup dried organic Rose buds & petals
Instructions
Mix liquid oil and essential oil. Add salt and mix well to combine. Mix in rose petals.
Store in an air-tight container.
Use ½ - 1 cup per bath
Notes
Select a "carrier" oil that is liquid and doesn't have a lot of scent. Jojoba or a refined sunflower oil would be good choices, but I happened to have an old refined walnut oil that I used.

Feel free to swap scents. Since I keep lavender for cooking, my next batch will probably use that.