NYC in Winter (with a Hotel Room Charcuterie Board)
NYC is beautiful and interesting any time of the year. Here is a guide to winter activities, cold weather tips and a hotel room charcuterie board.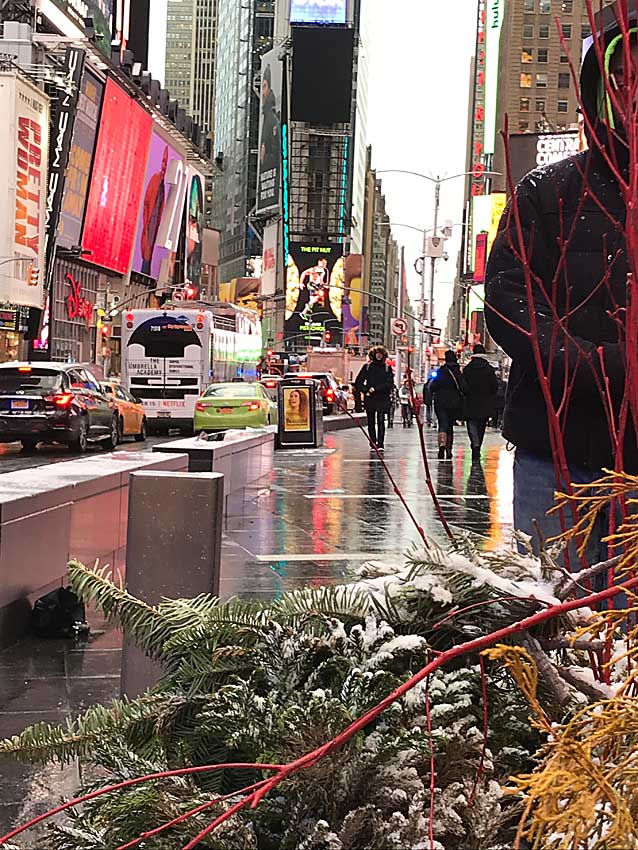 Travel is wonderful. Any time of the year. In winter, there is the classic beach vacation; in warm weather, active trips like camping or hiking.
Or not. Who says you have to follow convention?
Last month I had the good fortune to visit New York City in winter. I knew I loved it in summer with its walkable streets and bustling activities! But the downside of summer is that you miss an important part of the arts scene—ballet, opera, etc.
So I finally got in a late January mini-vacation, five days right before my classes got into full swing. And I loved it—even when the polar vortex hit! Here are some tips I wanted to share!
Pack for variable weather
Our weather ranged from 50F down to 3F over 5 days. Almost as bad as Wisconsin.
I had decided to bring a "nicer" (short wool) coat for the Opera, so I didn't pack the big fluffy down coat that it is my Midwest mainstay. The winter cloth coat was perfect on the warmer days, but a real stretch when the polar vortex hit. Fortunately, I had packed some carryon-friendly long underwear which helped make up the difference and I stayed comfortable.
The bigger issue—I didn't bring a hat or scarf. In the end my husband lent me a thick headband and pulled up his hood, but next time, warm headwear! Bottom line is be prepared with layers and don't forget a hat. And if you are really not ready, go shopping when you get there!
Hibernation Dining
Checking out street food or wandering around for interesting food ideas is a whole lot less fun in winter. So we used the internet to find nearby establishments (Deal of the day was a $14 lunch including wine or beer at Lillies Victorian Establishment ) and learned to eat in creatively!
I love a nice New York French Pastry breakfast and we took to hitting La Maison du Macaron en route to or from Eataly. Besides the beautiful pastries, it felt great to relax and warm up with a nice coffee or hot cider.
But the hands-down winner was in-room dining, especially the hotel room charcuterie boards that we sourced from Eataly. Our charcuterie boards were made up of creamy cheeses, savory cured meats, crusty bread, flavorful spreads, and fruit—stop me before I drool (see below for some guidelines). We kept a supply of wine and beer and decided that reheated lasagna from the Food Emporium across the street was delicious.
Ground Transportation
I love the NYC subway system and buy a week pass for unlimited travel anytime I'm there longer than three days. But if it's convenient in summer, it's a godsend in winter, when normally walkable distances can feel brutal. And remember that even if you are only in town for a few days, the week subway pass may pay off if you are using it more.
We pick up our pass at the airport and even use public transportation (Q70 bus, then subway) to get from LaGuardia to Manhattan. At 45-60 minutes the trip is not much longer than an Uber ride and "free" with the weekly pass.
Fine Art Nights
As I alluded, the emphasis of this trip was the fine arts and, of course, nothing disappointed. Tickets were available all of the shows "day of" during our Sunday through Thursday stay.
We attended performances of the NYC Ballet (just me), Metropolitan Opera and New York Philharmonic, enjoyed everything and decided that the opera was the highlight of the entire trip. The opera house is gorgeous, and the experience managed to be both beautifully elegant and totally comfortable at the same time!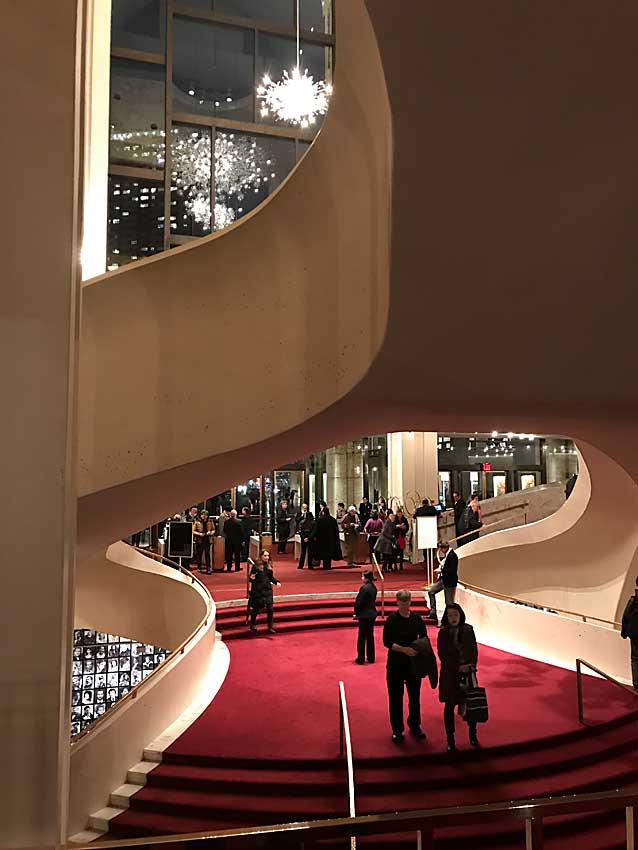 To avoid a cold trip out to pick up tickets, we used a lot of will-call (phoning if it was unclear how to do this on the website). And happily, we discovered that you can get directly from Lincoln Center to the subway without braving the elements. My only other comment is that for next trip we are considering opera glasses.
Museum Days
On a cold day, what is more entertaining than "staying in" at a museum–and NYC abounds with options. Some of the "biggies" are the Metropolitan Art Museum, MoMA and the American Museum of Natural History. But the list is (almost) endless.
You can spend anywhere from a few hours to multiple days for a larger venue like the natural history museum. Browse an online guide and pick whatever suits your fancy!
Other Activities
Remember that there may be some warmer days when anything goes. Catch the ferry to the Statue of Liberty, stroll Central Park or jump on a hop on/hop off bus tour for a quick overview of the city. While I was at the Sunday afternoon ballet, my husband opted to do the Central Park visit that he missed due to work on an earlier trip. At 50 F, it was a perfect afternoon.
Monday's are "dark" (closed) for many live performances, but if you are into film, remember that you can see just about anything that's out in NYC. We popped into a best foreign film nominee that I wasn't sure I'd be able to find in Milwaukee for a perfect Monday night outing.
With our focus on Fine Arts in the evening, it was great to have some Broadway matinees available. In the summer, I'll wait in line for rush tickets, but rather than spend part of the morning on a cold street, I used the warm TKTS booth in Lincoln Center which has discounted same day or next day matinee tickets available.
Winter Air Travel
When it comes time to leave, watch weather cancelations & be reachable by your airline. With the weather super cold in much of the country that week, it felt like half of the nation's flights were being canceled. So, make sure that your airline has your contact information!
Also be aware that, when bad weather is predicted, your airline may allow you to change your flight voluntarily—even before the storm hits. We learned this (too late) the year my daughter's flight home from a college visit was canceled and she had to wait two days for the next available flight! Had we been aware of the voluntary change policy then, she could have gotten out the night before. See your airline for details.
In Conclusion
Finally, remember that there is no way to see all of NYC in a single (or even a number of) visits. We like to pick an emphasis for a trip (like "Fine Arts" this time) and establish criteria (e.g. number of plays to see) for marking the trip a success.
Then after a fun and not-too-insane trip, we simply resolve to return. Any time of the year.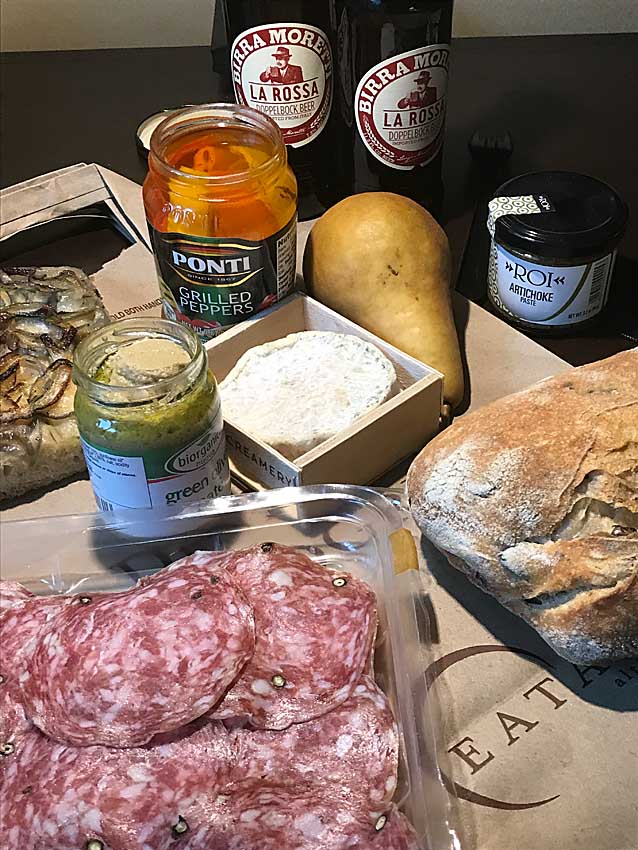 Hotel Room Charcuterie Board
2019-02-24 17:53:14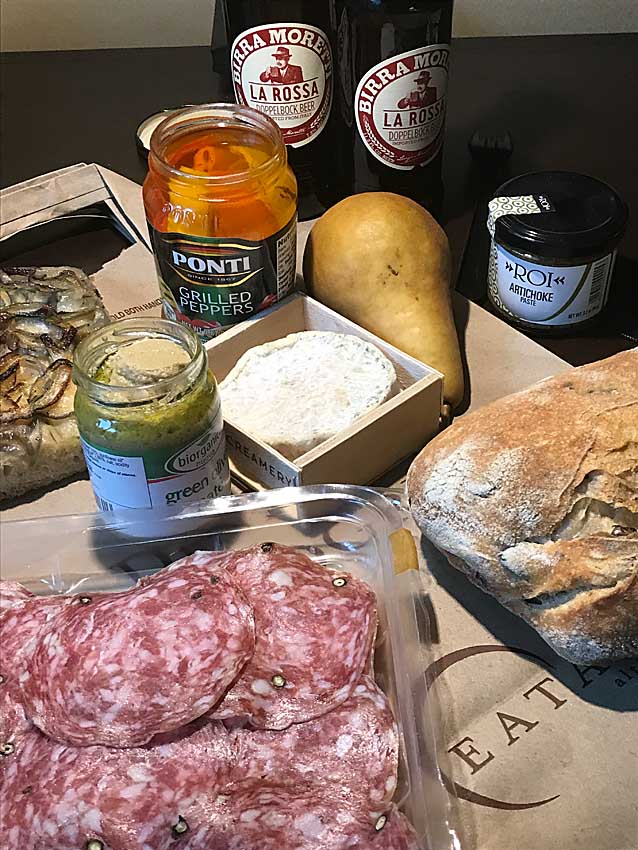 Serves 2
NYC is beautiful and interesting any time of the year.  Here is a guide to winter activities, cold weather tips and a hotel room charcuterie board.
Nutrition Facts
Amount Per Serving
* Percent Daily Values are based on a 2,000 calorie diet. Your Daily Values may be higher or lower depending on your calorie needs.
Ingredients
8 ounces cheese (2 varieties, 1 soft, 1 hard)
4-8 ounces of charcuterie, 2 varieties
2-4 pieces of fruit, sliced (or a large handful of dried fruit)
1-2 small jars of a spread (olive pate, artichoke tapenade, jam, etc)
1-2 jars of specialty food accents (marinated red pepper, canned dolma, etc)
Artisan bread or crackers
Instructions
Assemble and serve!
Notes
These amounts are for a dinner board. Cut in half as an appetizer.
If you are serving more than two, increase the quantities and offer more variety (e.g. a mold-ripened soft goat cheese, an aged hard cheese and a blue).
Art of Natural Living https://artofnaturalliving.com/