Key Lime Meringue Pie Tartlets
Key Lime Meringue Pie is a special treat that is deceptively easy to make and perfect Pi Day or any time. I even serve it for Thanksgiving!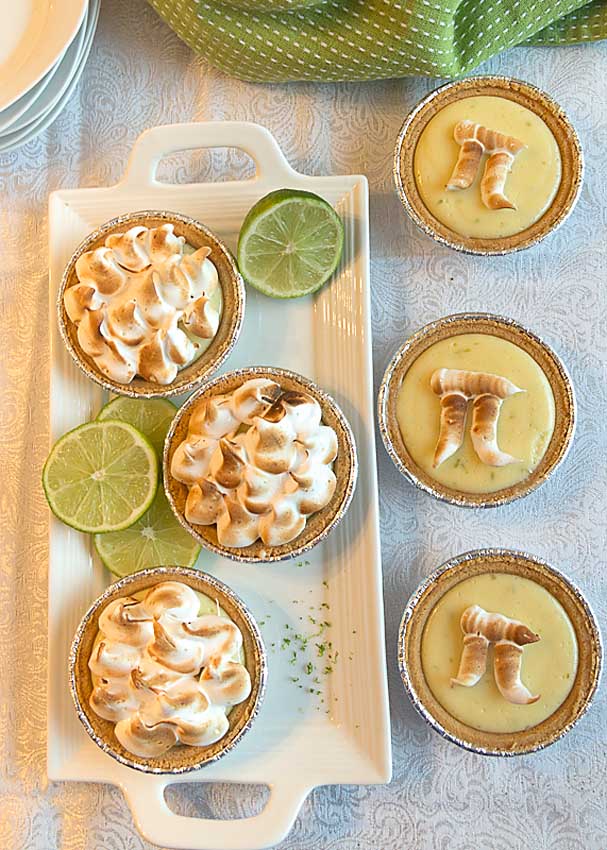 Hooray, it's Pi Day! I am always excited because pie is one of my favorite desserts!
Growing up, pie sometimes seemed intimidating. Kind of formal. And scary to make. Then my mother passed on her recipe for Betty Crocker French Apple Pie. Pretty soon my family was putting orders for Thanksgiving dessert and I was baking it for charity auctions.
Okay, now I loved making pie; what else could I make?!
Of all the wonderful pies I've made since, the biggest surprise was Key Lime Pie. You squeeze lime juice, mix with a couple other ingredients and bake (briefly) in a graham cracker crust. So simple, it can even fall into the 5-ingredient recipe category! Today I'm taking this to the next level—plus decorating for Pi Day–with Key Lime Meringue Pie Tartlets.
I decided to try topping my key lime pie with meringue after playing around with Baked Alaska. I had so much fun, topping ice cream and cake with meringue, then using my brand-new torch, that I wanted some new ideas.
For those new to meringue, it is much easier than you would think. It comes in three different versions—French, Italian and Swiss, which vary based on when/how they are cooked. I use a Swiss Meringue here because it is very stable for piping. In addition, it gets cooked to 160°F which means no one needs to worry about consuming raw egg!
To make the meringue you heat and whisk egg whites (leftover from making the pie) with sugar, vanilla and cream of tartar. I just place my mixer bowl over a saucepan with a little water in it. When the mixture reaches 160°F (or when the sugar dissolves if you aren't worried about the food safety), you beat it right in the bowl it was heated in until light and fluffy, like soft marshmallow. Then you spoon or pipe onto the pie and brown with a torch.
Now that I've tried this version, I don't know which I like better—key lime meringue pie or plain, but the topping sure gives it a wow factor. Today I made this recipe as tartlets, in order to get in a Pi Day decorated version. But the recipe also works perfectly as an 8-inch pie.
Easy Peasy and versatile. Happy Pi Day!
Key Lime Meringue Pie
2019-03-14 11:45:46
Serves 9
Key Lime Meringue Pie is a special treat that is deceptively easy to make and perfect Pi Day or any time.  I even serve it Thanksgiving!
Nutrition Facts
Amount Per Serving
* Percent Daily Values are based on a 2,000 calorie diet. Your Daily Values may be higher or lower depending on your calorie needs.
Ingredients
1 8-inch graham cracker crust or 9 ¼-cup capacity graham cracker tartlet crusts or ramekins (see note)
Filling
1 (14-ounce) can sweetened condensed milk
4 large egg yolks
1/2 c fresh lime juice (from key limes or regular limes)
2 t fine lime zest (no white)
Meringue
4 egg whites
½ t cream of tartar (optional)
2/3 cup sugar
1/2 t vanilla
Make filling and bake pie
Whisk together condensed milk, egg yolks, juice (add half at a time) and zest until well combined.
Pour filling into crust(s) and bake at 350 F for 15 minutes for full pie, 10 minutes for tartlets. Cool pie completely on rack (filling will set as it cools), then chill (see note).
You can stop here and serve a regular key lime pie. Otherwise...
Top with meringue
In a medium-sized, heatproof mixing bowl, whisk together the egg whites, sugar, vanilla and cream of tartar (optional).
Place the bowl over a small pan with simmering water, making sure the water doesn't touch the bowl.
Whisk the mixture at least until the sugar has fully dissolved. If you want to pasteurize the meringue, keep whisking until the mixture reaches a temperature of 160°F. Take off the heat.
Using a hand held or a stand mixer, beat the warm mixture until the meringue holds a medium peak and has cooled to room temperature.
Fill a piping bag, then pipe on top of a pie or tartlets.
Brown with torch, then serve or refrigerate until needed.
Notes
I used Keebler mini-graham crusts.
You can cool pie in freezer for about 10 minutes before topping with meringue if you are in a hurry
A microplane is the best tool for zesting.
Art of Natural Living https://artofnaturalliving.com/