Honey Matcha Creme Brulee
Honey Matcha Crème Brulee updates the classic crunchy sugar topped custard with honey and antioxidant-rich matcha powder. Easy even without a torch!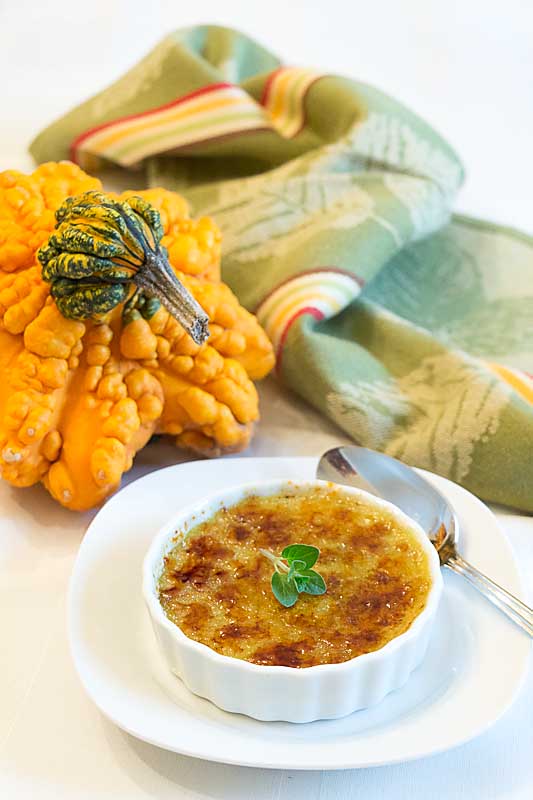 Life has been seriously stressful lately. No time for details now (except to say it involves my elderly mother), but today I really needed something seriously good to eat. A treat even. And given the stress in my life, if my "treat" could deliver a few antioxidants, all the better. And of course it couldn't be difficult to make.
And that's how I decided to make Honey Matcha Crème Brulee–which I'd been planning for ages. Crème Brulee sounds hard, but really it isn't. In fact you don't even need a torch (no-torch directions here) though I finally, finally bought one after saying I was going to for… years!
What are the biggest tricks in making Honey Matcha crème brulee? The only real challenge in my mind is not sloshing the baking water into the custard. The custard bakes in a water bath to keep it smooth and I pour in the baking water after my tray of custard is in the oven so I don't need to move it. Then, when it's done, I use a slotted pancake turner to remove the dishes. Done. And done.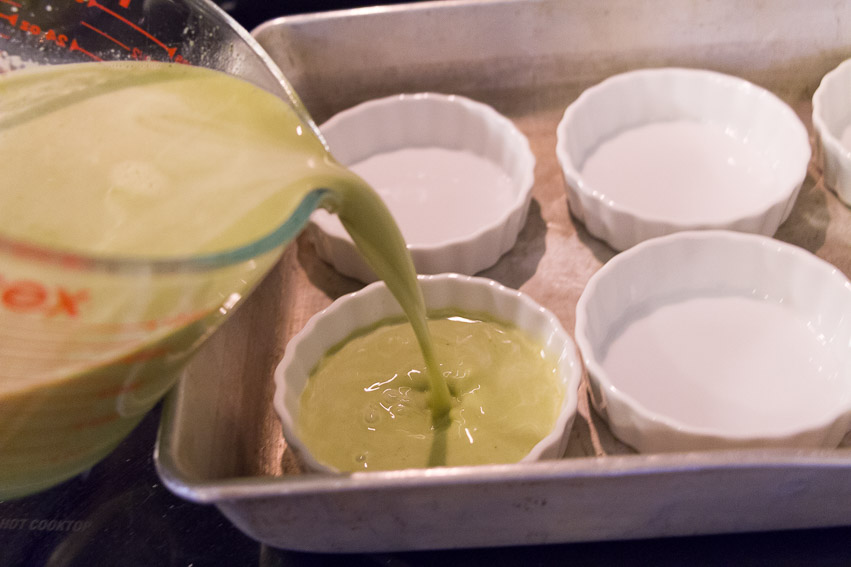 Matcha (green tea powder) has a lot of health benefit—see here for more detail. In fact, it's better for you than the lauded green tea. If I can get something that delivers some healthiness and some happiness at the same time, I am sooo there.
With Christmas just around the corner (noooo!) I thought that this would be a beautiful holiday dessert. But really, doesn't green go with everything? So I dressed it up for fall and spring as well.
Enjoy!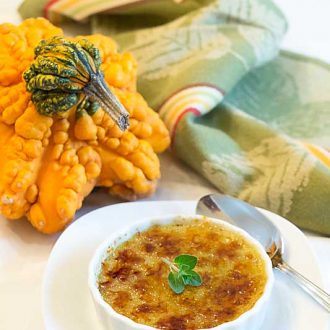 Honey Matcha Creme Brulee
Honey Matcha Crème Brulee updates the classic crunchy sugar topped custard with honey and antioxidant-rich matcha powder. Easy even without a torch!
Ingredients
4

egg yolks

freeze the whites to use later

1 1/2

cups

whipping cream

1/2

cup

skim milk

1/3

cup

honey

1/2

teaspoon

vanilla extract

1

Tablespoon

matcha powder

6

teaspoons

Sugar

demara, brown or a combination for topping
Instructions
Preheat oven to 300 F.

In small saucepan, slightly beat egg yolks with wire whisk. Add cream, milk, honey and matcha and whisk until everything is blended. Heat until honey is dissolved, and mixture is warm. Strain into a pouring vessel (I use a 4 cup Pyrex measuring pitcher).

Place 6 ramekins into 9 x 13 pan and set in hot oven. Carefully pour the custard mixture into the ramekins. Pour very hot water into pan (I take hot tap water then microwave it for another couple minutes), being careful not to splash water into ramekins, until water covers about two-thirds of the height of the ramekins.

Bake 25 to 40 minutes until the center of the custard is set but jiggly (it's okay if sides are jiggly too as long as the center is set).

Carefully transfer ramekins individually to cooling rack—I found that lifting with a hamburger turner worked best. Refrigerate until chilled, approximately 2 hours.

Sprinkle about 1 teaspoons of sugar over each chilled custard. Brown with a torch or place under pre-heated broiler to brown. Watch like a hawk to avoid burning (or fire).

Refrigerate until rechilled. This will be quick for a torched surface or about 1-2 hours for a broiled topping.
Nutrition
Calories:
329
kcal
Carbohydrates:
23
g
Protein:
6
g
Fat:
25
g
Saturated Fat:
15
g
Polyunsaturated Fat:
1
g
Monounsaturated Fat:
7
g
Cholesterol:
197
mg
Sodium:
31
mg
Potassium:
114
mg
Fiber:
0.04
g
Sugar:
22
g
Vitamin A:
1214
IU
Vitamin C:
0.5
mg
Calcium:
83
mg
Iron:
1
mg
I am not a health professional and nutrition data is calculated programatically. Accuracy may vary with product selection, calculator accuracy, etc. Consult a professional for the best information.