Mexican Hot Chocolate Madeleines
Flavored with chocolate, cinnamon & a little cayenne (or just chocolate if you prefer) Mexican Hot Chocolate Madeleines are an easy cookie/cake dessert!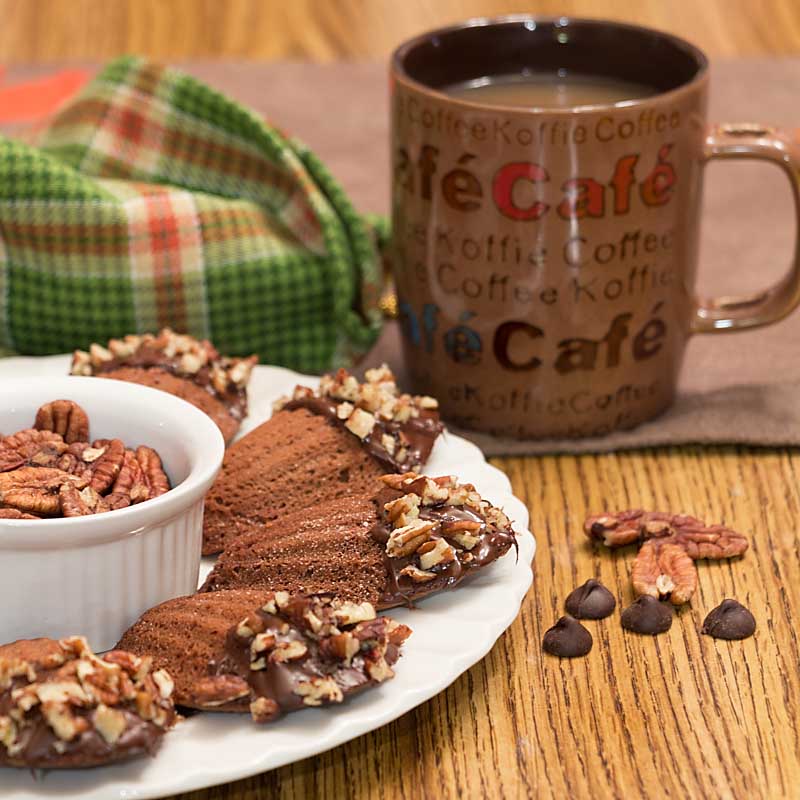 Count me officially obsessed. With madeleines. These scallop-shaped mini treats are half-cookie/half-cake, with a soft inside and slight crunch outside. Mmm!
Madeleines are super versatile and very easy to make. Now that I know how easy they are I regularly change up the flavorings (orange zest out, lavender in) for a whole new taste sensation.
Even better, they are diet friendly. These Mexican Hot Chocolate Madeleines, dolled up with melted chocolate and chopped nuts still come in under 200 calories for two.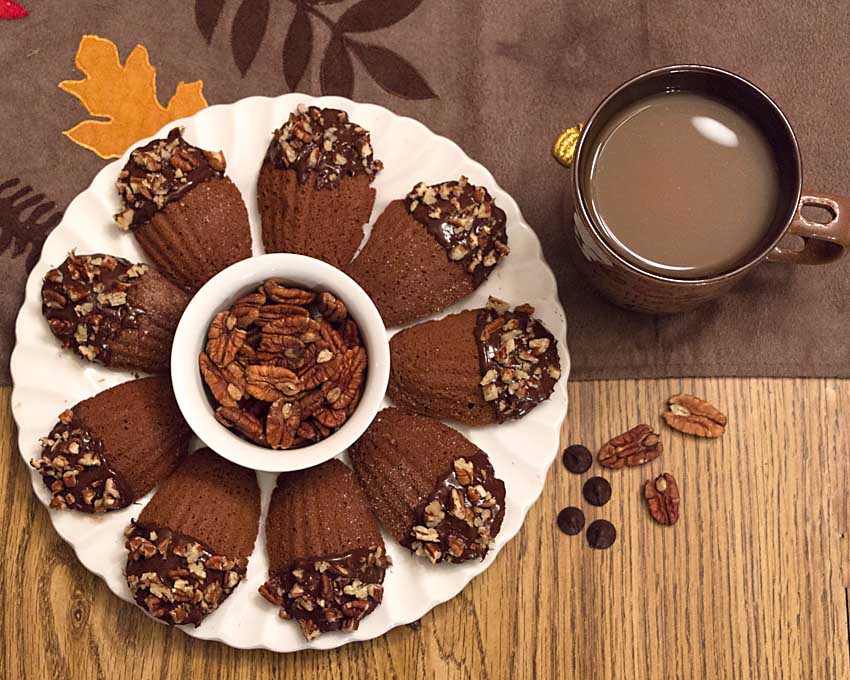 Now one thing I do a little differently from most recipes is size my recipes to fit a standard 12-madeleine pan (if you are feeding a crowd, just double the recipe). This means a single 10 minute bake and no huge tray of cookies lying there saying "eat me, eat me."
Not that I'd ever eat an entire batch of cookies….
There is, alas, one downside to madeleines and that is you need to use a special pan. I delayed buying mine for years but am soooo glad I finally did, since I've used it TONS.
With the weather getting cooler, this recipe was inspired by a Mexican Hot Chocolate my daughter and I shared at an outdoor fall festival. Not surprisingly, the flavor converted perfectly to a cookie.
If you prefer a plain chocolate, just leave out the cinnamon and cayenne (my husband voted for this, then my daughter called him "boring"). As I said, it's very versatile. In fact now my oldest (my tea lover) is asking for Matcha Madeleines – and she'll probably get her wish.
In training for holiday cookie season now, right? 🙂
Mexican Hot Chocolate Madeleines
2018-11-08 15:27:36
Flavored with chocolate, cinnamon & a little cayenne (or just chocolate if you prefer) Mexican Hot Chocolate Madeleines are an easy cookie/cake dessert!
Nutrition Facts
Amount Per Serving
* Percent Daily Values are based on a 2,000 calorie diet. Your Daily Values may be higher or lower depending on your calorie needs.
Ingredients
• 1 large egg
• 1/4 cup granulated sugar
• 1 teaspoon vanilla extract
• 11/2 T cocoa powder
• 1/2 cup sifted all-purpose flour or pastry flour (see note)
• 1/4 teaspoon baking powder
• 1/8 teaspoon cayenne pepper (omit if making plain chocolate madeleines)
• ½ teaspoon cinnamon (omit if making plain chocolate madeleines)
• Pinch of salt
• 4 Tablespoon butter (plus another 1/2 Tablespoon for the pan)
• 3 tablespoons of chocolate chips for decorating (optional)
• 1 Tablespoon crushed pecans for decorating (optional)
Instructions
Using a handheld or stand mixer with a whisk attachment, beat the egg and sugar together on high for 8 minutes (actually time this) until sugar has incorporated into the egg and there is a lot of air beaten in. The mixture will turn pale and thicker as it beats. When complete, beat in the extract until incorporated.
In a separate bowl, whisk the flour, baking powder, cocoa powder, cinnamon, cayenne and salt together. Using a spatula or wooden spoon, gently fold half of the flour mixture into egg mixture. When that is mostly combined, add and fold in the remaining flour. Be gentle to avoid deflating the egg mixture.
Heat or microwave the 4 Tablespoons of butter until melted but not hot. Stir about 1/4 cup of the batter into the melted butter and mix until well combined (this will deflate). Pour the butter mixture into the remaining batter and stir carefully until combined.
Cover the batter and chill in the refrigerator for 30-60 minutes (when in a hurry I have successfully placed in the freezer for 8 minutes) Longer is not better in this case because the butter may solidify, and the madeleines will get less fluffy.
Preheat the oven to 350°F.
Melt the remaining half Tablespoon butter. Using a pastry brush, lightly brush the pan with melted butter (even if you have a non-stick pan). This will help create a crisper, "browned butter" exterior.
Remove the batter from the refrigerator. Taking care not to deflate it, spoon a rounded Tablespoon of batter into the center of each scalloped well. It should fill all 12 wells and will spread as it cooks.
Bake for 10-12 minutes. The madeleines are done when the tops spring back after lightly pressed with your finger. Invert the pan above a wire rack and shake to release (your madeleines will stick if placed on a plate to cool).
If decorating, melt chocolate chips, then spread with a knife on one end of the madeleine. Sprinkle with chopped nuts. (Powdered sugar is another decorating option).
Notes
You should fluff or sift and spoon the flour into the measuring cup then level. Too much flour can make a dry, dense madeleine.
Madeleines are best the first day (but mine never last longer 🙂 )
Art of Natural Living https://artofnaturalliving.com/