This mushroom soup is a remake of one I made on Christmas Eve, based on a recipe from Jamie Oliver. Of course, with the lovely flowers popping up revisiting Christmas does feel odd!
I'd like to say I decided to make it again because I loved it so much. But in truth, I made it again since it disappeared before I could really taste it.
Because I often do a multi-course dinner for a good sized group, I am used to eating my own courses slightly late or out of sequence. In the case of the soup, there was a veritable charge back to the kitchen for seconds, so I decided to skip it entirely. I always eat too much at those dinners.
Every time I think of mushrooms, I remember back to my high school biology days. At that time, things like phytochemicals were not well known and people thought of food in terms of protein, fat and carbs (with a few vitamins thrown in). When the subject of fungi came up, my biology teacher announced that they had very little nutritional value—unless there happened to be a bug trapped in the gills, in which case you would get a bit of protein.
Today we know that they are a source of B vitamins, selenium, potassium, copper, iron, and phosphorus. And "in addition to providing basic nutrition, they help prevent chronic disease due to the presence of antioxidants and beneficial dietary fibers such as chitin and beta-glucans" (source Medical News Today).
The soup calls for "mixed" mushrooms, and the first time I did a combination of shitake and baby portabella. This time I used straight baby portabellas and my husband said he liked that even better. Since I bought those all pre-sliced, it really streamlined preparation. Of course now I'm dying to compare the two…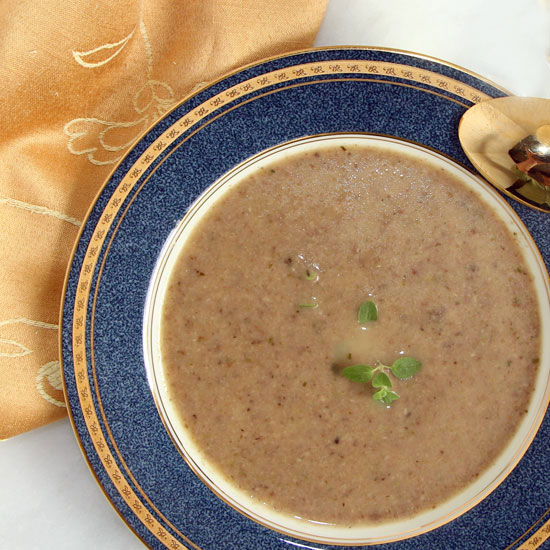 Mushroom Soup
2015-04-21 13:02:56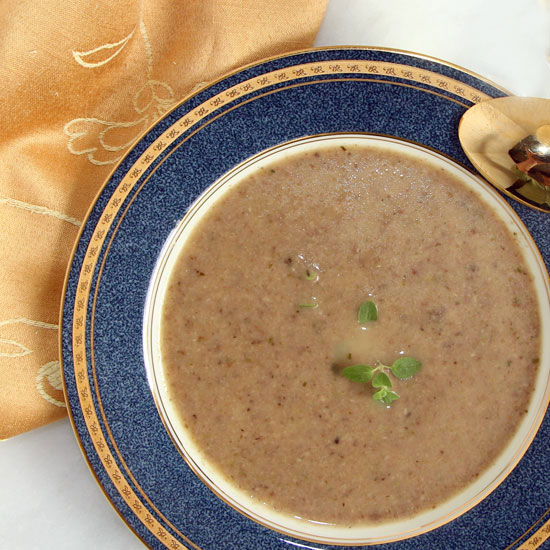 Creamy and satisfying, yet low calorie, this mushroom soup works as both a health food and a comfort food.
Nutrition Facts
Amount Per Serving
* Percent Daily Values are based on a 2,000 calorie diet. Your Daily Values may be higher or lower depending on your calorie needs.
Ingredients
• 1 1/4 lb mixed mushrooms
• 1 T olive oil
• 1/2 c chopped leeks (1 lg leek), shallots or onions
• 1/2 c chopped celery (about 2 stalks)
• 2 cloves garlic, minced
• a few sprigs of fresh flat-leaf parsley (stems and leaves), finely chopped
• 1 t dried thyme
• 5 cups chicken stock (or vegetable stock)
• 1 t Worcestershire sauce
• sea salt to taste
• freshly ground black pepper to taste
• 1/3 c cream (dairy or non-dairy)
Instructions
Slice the mushrooms finely. Heat a large saucepan over a medium heat and pour in a splash of olive oil. Add the onion, celery, garlic, parsley, thyme and mushrooms. Place a lid on top and sweat gently until softened.
Pour the stock into the pan and bring to the boil. Turn the heat down and simmer for 15 minutes.
Remove about 1/4 cup of mushrooms and set aside, then whiz with a hand-held blender until smooth.
Pour in the cream and add back the reserved mushrooms, then bring just back to the boil. Turn off the heat and season with salt and pepper,
Art of Natural Living https://artofnaturalliving.com/