Star Studded Strawberry Rhubarb Pie
Spring is the season for rhubarb. The plants send out their rosy shoots in backyards everywhere, then strawberries, their BFF, begin to flood the market (at sale prices even). The rest is history. While most years I combine the two in a crisp, this year I decided to try a strawberry rhubarb pie.
The inspiration for this came from the blog La Table de Nana, which featured a (seriously gorgeous) pie topped with stars—perfect for the upcoming Memorial Day holiday. Hers had a filling of strawberries and apples but when I went out to visit my CSA and came back with rhubarb, I decided to change up the filling.
This pie is thickened with tapioca, something I have long been a fan of for berry pies. I discovered it right after graduating from college, mixing sweetened frozen raspberries with tapioca, and baking in a ready made crust. A perfect treat for a 23 year old in a first apartment.
Although more from scratch, this strawberry rhubarb pie wasn't a whole lot harder. I used a package of prepared crusts (the kind formed into rounds, rolled up and frozen) to streamline preparation and the only challenge was the edging. My mother always made the zig-zag-y pinched crust edges, but I realized those don't work if you have longer fingernails, so the edge of my pie is unabashedly plain. Future research project!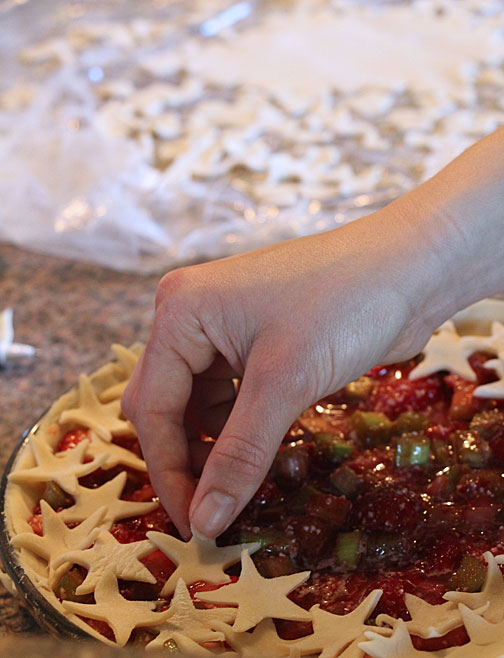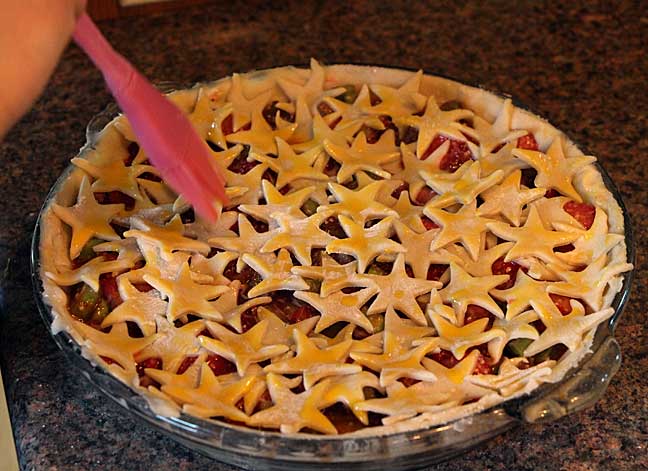 The star top was made from the about half of the second crust, with cutouts done with a cookie cutter and positioned by my youngest (who I think is an even better hand model than my husband). The pie was then brushed with egg wash and topped with sugar crystals. There were extra stars that she dusted with cinnamon and sugar and baked. "We can't waste them, Mom," she counseled.
The pie was a big success (as were the pie crust "cookies") at our house. I am a serious lover of fruit pies, but it's a sentiment not always shared by the family. This pie was clearly an exception—my oldest had two pieces for breakfast and one as an afternoon snack!
Happy Memorial Day!
Star Studded Strawberry Rhubarb Pie
2015-05-18 18:39:18
Serves 8
All dressed up with stars, this Strawberry Rhubarb Pie is perfect for Memorial Day or 4th of July, or an star-worthy occasion.
Nutrition Facts
Amount Per Serving
* Percent Daily Values are based on a 2,000 calorie diet. Your Daily Values may be higher or lower depending on your calorie needs.
Ingredients
1 1/2 pie crusts
16 oz strawberries, sliced (3 1/2 cups)
12 oz rhubarb, chopped (2 1/2 cups)
3/4 cup sugar
1/4 cup granulated tapioca (e.g. minute tapioca)
1 Tablespoon lemon juice
optional egg wash made from an egg yolk beaten with 1 teaspoon water & crystal sugar for decorating
Instructions
Preheat oven to 400°F. In a large bowl, combine the rhubarb, strawberries, sugar, tapioca, and lemon juice. Let sit for 10 minutes.
Line the bottom of a pie dish with one round of pie crust. Fill pie crust with strawberry rhubarb mixture.
Using about half of the second pie crust, cut stars using a small star cookie cutter. Place the stars decoratively over the top of the filling, leaving some openings for steam to escape. Using a pastry brush, brush a thin layer of egg wash over the top of the pie and sprinkle with sugar crystals.
Place pie on a baking sheet in the middle rack of a 400°F oven. Bake for 20 minutes at 400°F, then reduce heat to 350°F, and bake an additional 40-50 minutes longer.. The pie is done when the crust is golden and the filling is thick and bubbly. Remove from oven and cool.
This can be served warm or cold, but will be firmer (less runny) if allowed to cool before serving.
Art of Natural Living https://artofnaturalliving.com/