Ramp and Wild Mushroom Compound Butter
If you haven't tried Compound Butter, a mixture of quality butter and additions like herbs and truffles, you are missing out on something delightful. Brimming with flavorful add-ons, compound butters can bring bold or nuanced flavors to a dish, creating something special for a modest cost. No budget for truffles? Try a nice compound butter instead.
I can still remember my first taste of a compound butter. My husband and I were attending an American Cheese Society gala, full of robust cheeses and fine specialty foods. Lured in to a booth by a compound butter mixed with truffles, we thought we were in heaven.
Shortly after I decided to try my hand at my own. After all, I make a mean homemade butter that deserves to rise to its full potential 😉
My first attempt blended shallots and commercial truffle oil and was delicious (recipe later, I promise). But for spring I like to call out the spirit of the land and mix in wild ramps and mushrooms. Woodsy and vernal, I imagine Persephone rising from the depths of the earth.
The ramps come from my sister's cabin "up north" and the morels were collected… wait, no one divulges where they find their morels. This year, however, scoring only about a pint of morels and unwilling to fork out the $25/quart retail price, I added in some dried shitakes. Still delicious.
Compound butter can top bread, or vegetables or pasta, but my favorite use is to dot a good steak or chop. This will certainly grace some of our local, grass fed lamb chops, served with spring asparagus, for a dinner full of terroir.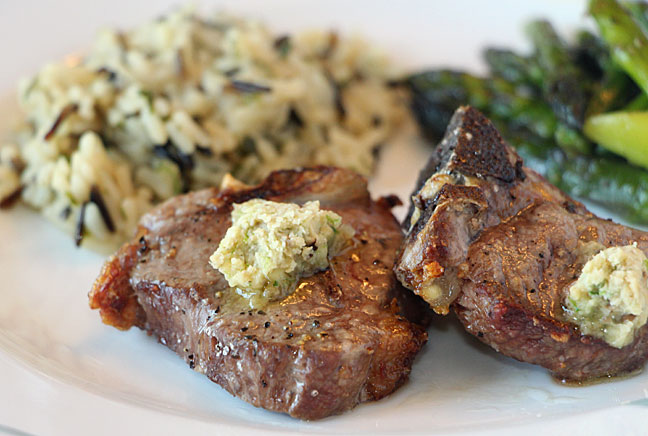 Happy spring!
Ramp and Wild Mushroom Compound Butter
2015-05-26 14:21:42
Serves 64
Compound Butter, a mixture of quality butter with tasty additions like herbs and truffles, is an easy yet sophisticated way to add great flavor to a dish.
Nutrition Facts
Amount Per Serving
* Percent Daily Values are based on a 2,000 calorie diet. Your Daily Values may be higher or lower depending on your calorie needs.
Ingredients
1 lb unsalted butter (you can use salted butter and reduce the added salt)
1 pint morels
5 shitakes (fresh or dried and rehydrated)
5 ramps (root and leave portions)
1 teaspoon sea salt, or to taste (reduce if using salted butter)
Instructions
Clean mushrooms and ramps well, then chop coarsely. Saute in about ½ cup of butter until tender. Transfer to blender and pulse until pieces are minced--finer mincing will yield a creamier butter. Let cool to room temperature
Combine with remaining butter and salt to taste.
Place on waxed paper and roll into a log. Or place a heaping spoonful into the wells of mini-muffin cups. Freeze if wanted for longer term usage.
Notes
If you are using a commercial butter, try to use a higher end butter like Kerry Gold, or Vermont Creamery.
Art of Natural Living https://artofnaturalliving.com/