Roasted Tomato Red Pepper Soup

Shhh, fall is coming.
In some ways, the transition to fall is subtle. An orange leaf here, a cool night there. In other ways, it may be sudden. Bam—the peppers (or orange squash) are here!
This week's CSA box was graced with ripe peppers and tomatoes. So it was time to revive my Roasted Tomato Red Pepper Soup!
There used to be a delicious boxed organic Roasted Tomato Red Pepper Soup that my family really enjoyed. And it was a great way to get two (2!) veggies into picky kids–until it disappeared without a trace. So I decided to take matters into my own hands and a couple of trials later, we had a homemade version.
Besides liking to eat this soup, I love that it can eliminate a deluge, err, bounty of tomatoes and peppers in one fell swoop. And if that isn't enough, it can be made completely without store bought ingredients–other than salt and an herb or two. No cans of anything!
Both the tomatoes and peppers are roasted for this soup which does a few things. First, it concentrates flavor, giving you a richer soup that doesn't need much additional to punch it up. Second, it dehydrates the tomatoes so cooking down isn't required. Finally, it slightly chars the tomato and pepper peels, so they pop right off–making preparation super easy!
Now some people feel that a tomato soup needs a little cream. If you are one of these, go ahead and add some dairy or non-dairy to this. But it really does stand on its own.
The final benefit of this Roasted Tomato Red Pepper Soup is that it freezes well. So go ahead and preserve some of summer's goodness. Sometime in the deep dark reaches of winter (shhh, winter will follow) you'll be glad.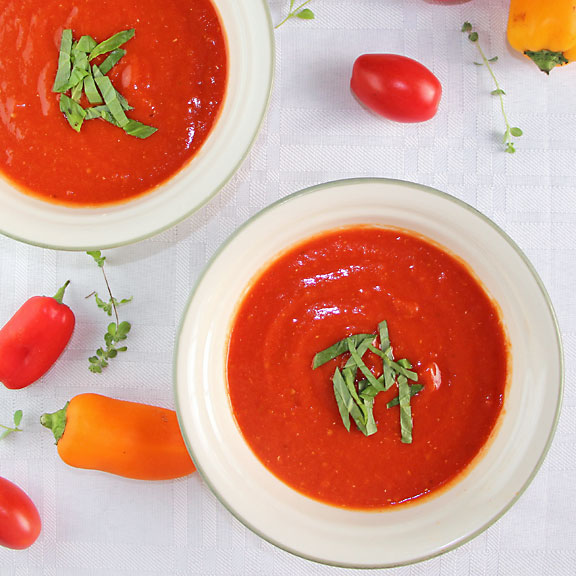 Roasted Tomato Red Pepper Soup
2016-08-27 19:17:38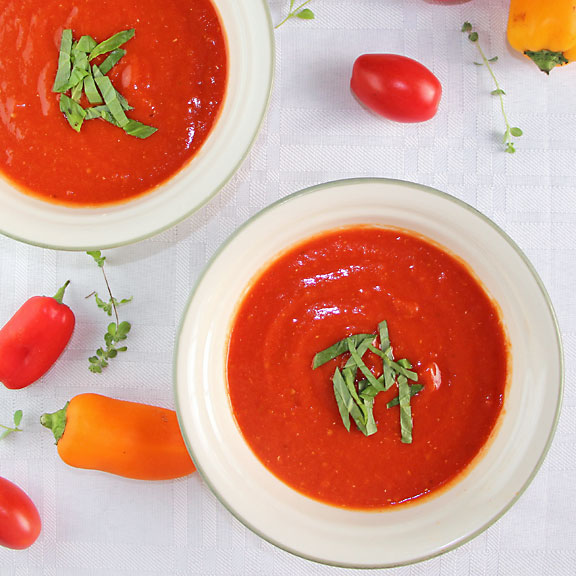 Serves 4
Just roast & blend to make this delicious and seasonal (5 ingredient) Roasted Tomato Red Pepper Soup. Two veggies and great flavor for under 100 calories!
Nutrition Facts
Amount Per Serving
* Percent Daily Values are based on a 2,000 calorie diet. Your Daily Values may be higher or lower depending on your calorie needs.
Ingredients
1-2 quarts of tomatoes
1 large or 2 small red bell peppers
1 bulb garlic
1/2 Tablespoon oregano
1/2 Tablespoon dried minced onion
Sea salt
Instructions
Spray a jelly roll pan with a non-stick oil spray.
Cut open red pepper and lay flat on pan skin side up.
Take one (whole) bulb of garlic, slice off about 1/3 inch of the stem. Place on jelly roll pan, cut side down.
Fill up the rest of the jelly roll pan with tomatoes. Cut them in half for romas or quarters for large slicing tomatoes (I have even used beefsteak) and place on pan, skin side up. Roast at 400 until skins start to blacken, approximately 30-45 minutes.
Remove the pan from the oven and let cool. Remove and discard the tomato and pepper skins but reserve any juices left in the pan. Squeeze the garlic cloves out of their skins and discard the garlic skins.
Blend the vegetable and garlic pulp in a blender with dried minced onion, oregano and sea salt to taste.
Add juices from pan and/or water as needed to thin (usually I use all of the pan juices). Add cream if you must 😉
Serve warm.
Art of Natural Living https://artofnaturalliving.com/