Roasted Vegetable Salad with Macadamia Nut Vinaigrette
Fall can be beautiful. Brilliant leaves, colorful pumpkins, fire-lit nights. But after four days straight of rain, my fall is downright dreary. So I am making a lunch that brings out some warmth–a roasted vegetable salad with macadamia nut oil dressing.
The initial inspiration for this came from Alysha of She's on the Run who made a roasted vegetable salad for a blogger getaway. The recipe itself was prompted by Emile Noel, a maker of high end, organic, fair trade oils who sent me a bottle of Macadamia Nut Oil in celebration of non-GMO month. What perfect timing!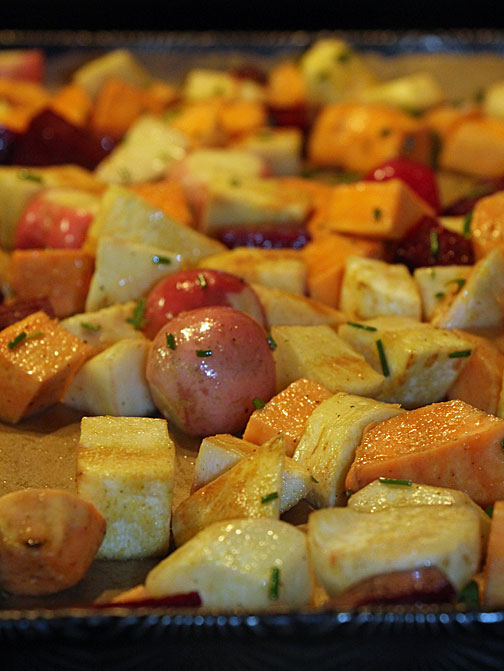 If you' never ventured beyond extra virgin olive oil, you should know that there is a world full of unique and flavorful oils awaiting your dining pleasure. Walnut oil, hazelnut oil, and pumpkin seed oil are just a few of the other "exotic" oils that Emile Noel produces. Need your own fine oil pick-me-up? See the giveaway at the end of this post!
Established in France in 1920 as a family-run mill, Emile Noel grew into a successful artisanal oil producer that now makes over 20 organic virgin vegetable oils. Their oils are Organic, Fair Trade, and non-GMO, representing the best of nature and sustainability.
Sources I consulted say you can tell a really good macadamia nut oil by the nutty flavor–and this oil clearly tastes of macadamia nuts. Utterly delicious, I went beyond salad and sprinkled some over scrambled eggs with spinach (amazing!). Tonight I'll be drizzling it over soup…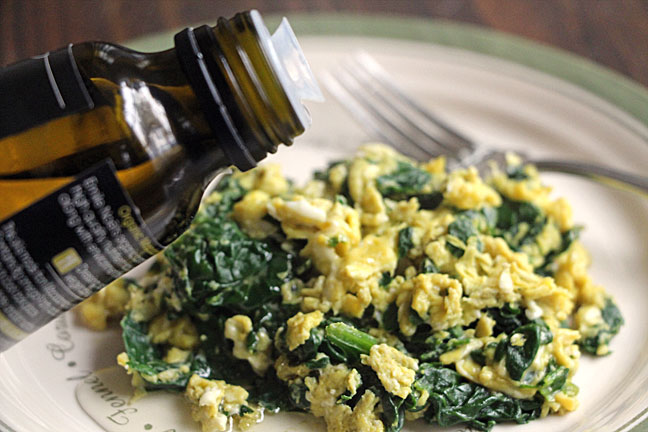 Besides providing great flavor, macadamia nut oil packs a substantial health punch. According to Superhuman Coach, macadamia nut oil is rich in heart healthy monounsaturated and polyunsaturated fatty acids while low in saturated fatty acids. Macadamia nut oil has balanced omega-3 to omega-6 fatty acids–at a perfect 1-to-1 ratio (while unfortunately our diets are more like 15-1 weighted toward pro-inflammatory omega-6). Macadamia nut oil is also rich in antioxidants like squalene and tocotrienols.
And now for the giveaway. This giveaway for a sample bottle of oil, is sponsored by Emile Noel and open to US residents. It closes at midnight CST Oct 26, 2014. The winner will need to provide a first and second choice oil from the following list: Sesame, Sunflower, Mild Olive, Toasted Sesame, Pumpkin Seed, Walnut, Sweet Almond, Robust Olive, Hazelnut, Macadamia Nut. To enter, leave a comment letting me know your favorite oil. For a second entry, follow Art of Natural Living on twitter (@iwilkerson) and leave a second comment (or let me know if you are already a twitter follower). The winner will be picked randomly, contacted by email and have 24 hours to get back to me with confirming information or a new winner will be chosen.
Ready for some salad?
Roasted Vegetable Salad with Macadamia Nut Vinaigrette
2014-10-18 10:51:12
Serves 4
Roasted vegetable salad with goat cheese brings together great fall flavors. Add a simple Macadamia Nut vinaigrette for a nutty flavor boost.
Nutrition Facts
Amount Per Serving
* Percent Daily Values are based on a 2,000 calorie diet. Your Daily Values may be higher or lower depending on your calorie needs.
Salad
4 cups root vegetables cut in 3/4 inch pieces (see note)
1 T macadamia nut oil (or other oil)
1/2 t salt
dash pepper
6 cups lettuce
4 ounces of goat cheese (I used a 3.5 oz crotin) - optional
Dressing
3 T macadamia nut oil
1 1/2 T red wine vinegar
1 t chopped shallots
1/4 t salt
dash pepper
Instructions
Combine 1 T oil, salt & pepper in a large mixing bowl. Add chopped vegetables and toss to coat
Place on large flat pan lined with parchment or foil and bake at 425F for about 45 minutes until turning golden brown and tender.
While vegetables are cooking, prepare salad dressing by mixing ingredients in shaker or with a small whisk.
Divide lettuce among 4 plates. Top with dressing, then add cooked vegetables and crumbled goat cheese.
Notes
Note: I used a combination of parsnips, sweet potatoes, radishes, beets and turnips for my vegetables, but the selection is entirely up to you.
Art of Natural Living https://artofnaturalliving.com/

I received one or more of the products mentioned above for free using Tomoson.com. Regardless, I only recommend products or services I use personally and believe will be good for my readers.