Summer Skin Care and a Giveaway
What's more fun than celebrating summer. Jump start your summer skin care routine with a natural summer skin care package from Dessert Essence!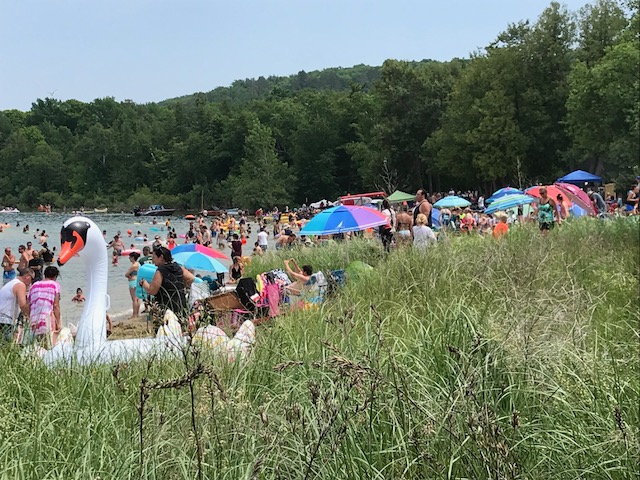 Summer is glorious! Sunny days, warm nights, long walks in the beautiful countryside… It's even a time when my skin is (usually) deliriously happy. Misty mornings, no drying artificial heat, and a fresh, healthy diet. What's not to love!
Um, well… Drying beaches, chlorinated pools, a touch of sunburn. Whoops!
You see, this year I signed up for a local master swim program when my daughter came back with the news that it was also open to less advanced swimmers. They already had one not-good-enough swimmer attending, so I wouldn't stand out. Sign me up!
And mostly I love it. Yes, I seriously hate jumping into an outdoor pool at 5 AM when the temps are 50-something, but there is one bigger issue.
I finally realized that the strange, dry, winter-like skin I am experiencing this summer is probably due to mornings in chlorine-land.
So it's time for a new summer skin care routine–here's what I am doing!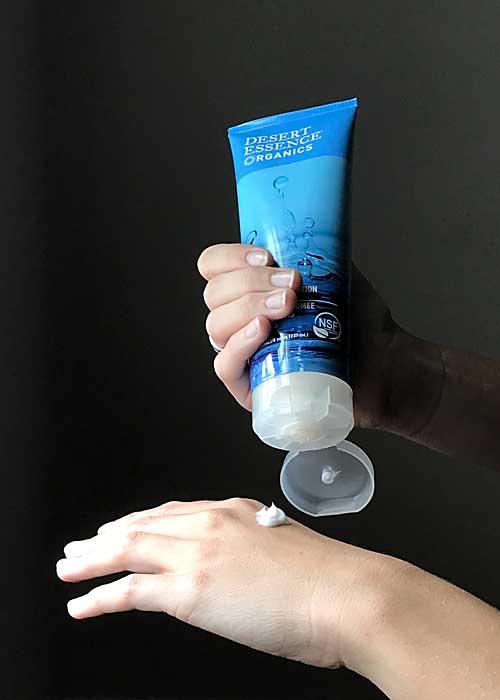 Summer Skin Care Solutions
Moisturize. Apply a quality oil like jojoba to clean damp skin to hold in moisture, and use a natural moisturizer any time I need an extra "dose"
Avoid fragrances and harsh chemicals. Select natural products (see last bullet below), use gloves for washing dishes or other chemical exposures, and wash off after contact with chlorine or other irritating chemicals.
Use an exfoliant with a moisturizer. Give new skin cells some help. Consider a weekly or twice-weekly natural exfoliant (sugar or salt based, avoid those plastic microbeads) with moisturizing oils built-in.
Apply Sunscreen. Come on, we all know we need to do it…
Try sunless tanner If you can't pass up the golden sun glow, consider a sunless tanner instead. When my ashen legs get me down, I try products like the natural tanner from Brittanie's Thyme (who sent me a sample, thanks)!
Don't Forget your hair. If your skin is dry, check out your hair as well. A natural shampoo can help, and this summer I added a conditioner to my usual routine. And for a great chlorine protection routine, try wetting your hair, then applying conditioner before a swim!
Finally, Select Natural products. Check out the Environmental Working Group's (EWG) Skin Deep Database for more information and product ratings.
And be sure to check out Desert Essence for a beautiful collection of natural products, like the summer skin care collection below. I love that the company (see previous review) has quality products and also a strong sense of social responsibility. In fact, they are a supporter of Plan International USA's Because I Am a Girl Initiative, which improves the lives of girls through educational opportunities and resources. They were a favorite of mine when I ran an online natural bodycare store and still are today!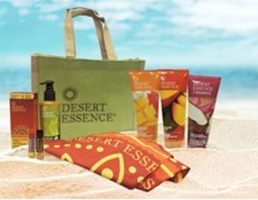 And thanks to Desert Essence for sponsoring this giveaway, for a jute bag and mandala with the following products:
An approximately $65 retail value, it is open to US mailing addresses and expires at midnight CDT on July 29. To enter, leave a comment below telling me how you are celebrating summer. For a second entry, sign up for Art of Natural Living emails (below my picture, it's a double opt-in so you'll need to accept by email) and leave me a second comment, letting me know you subscribed (or that you already subscribe). The winner will be picked randomly, contacted by email and have 24 hours to get back to me or a new winner will be chosen.
Get your summer skin care routine going!