Lavender Vanilla Madeleines   
Lavender Vanilla Madeleines are tiny, scallop-shaped dessert cakes that are almost cookie-like—small, light and portable with a slight crunch. Take some to go or serve with tea or as a light dessert.
Did you ever find a sweater that you love—then buy it in two more colors? Well I'm kinda' like that with dessert! Except in different flavors!
Yes, I made my first (no torch) crème brulee as a classic vanilla dessert. But pretty soon I'd made it in Irish coffee, Maple Pumpkin, and Lavender flavors. Angel food cake too!
And now it's time to experiment with Madeleines. It's lavender vanilla madeleines today!
If you aren't familiar with madeleines, they are tiny dessert cakes that are almost cookie-like in their size, texture and accessibility—just grab a couple and munch. Or serve with a nice cup of tea or as a light dessert.
What I really like about these lavender vanilla madeleines (and any madeleine that isn't glazed) is that don't break the calorie bank. How often can you get a dessert that feels special for under 200 calories? Just remember that a generous sprinkling of powdered sugar is a better lo-cal option since a glaze will up the calorie count more.
Now, as I said when I made my orange madeleines, the one down side to madeleines is that they need a special pan. But I've heard of some success using a mini-muffin pan—just brush the cups with butter (like the madeleine pan) instead of using paper liners to try to duplicate the exterior crunch.
But ultimately, with these lavender vanilla madeleines added to my madeleine list (and more ideas for the future), I am really happy I bought the pan.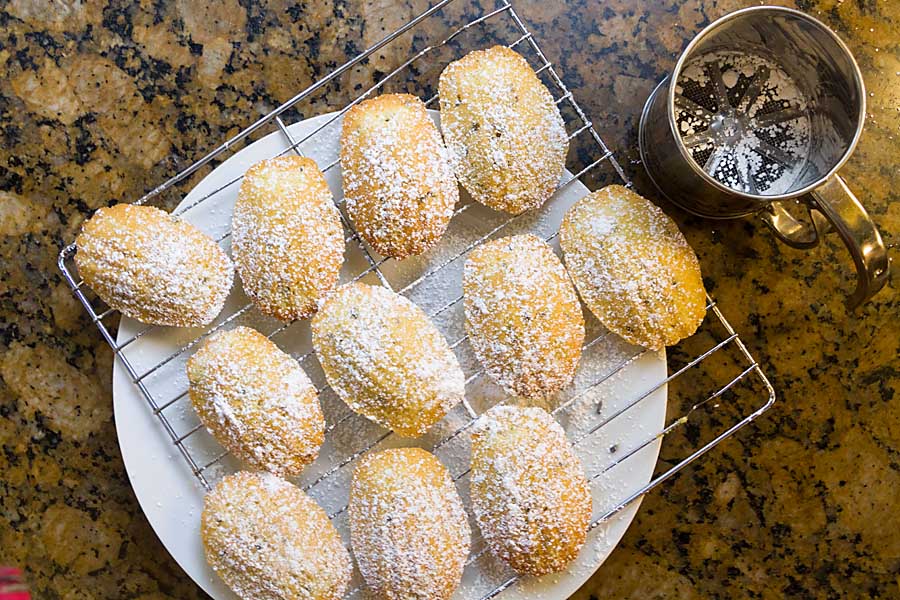 Lavender Vanilla Madeleines
2018-06-29 09:02:52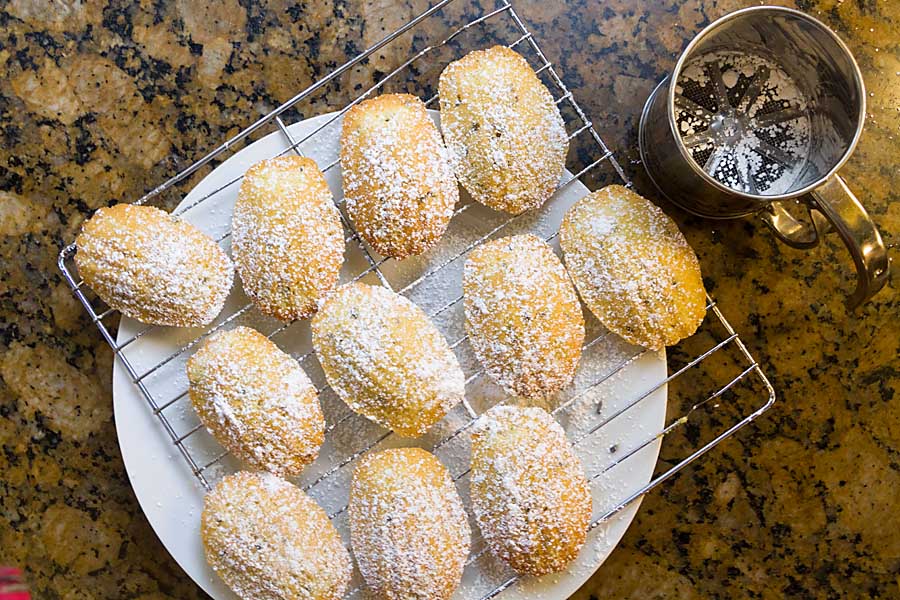 Serves 6
Lavender Vanilla Madeleines are tiny, scallop-shaped dessert cakes that are almost cookie-like—small, light and portable with a slight crunch.  Take some to go or serve with tea or as a light dessert. 
Nutrition Facts
Amount Per Serving
* Percent Daily Values are based on a 2,000 calorie diet. Your Daily Values may be higher or lower depending on your calorie needs.
Ingredients
• 1 large egg
• 1/4 cup granulated sugar
• 2 teaspoons culinary lavender
• 1 teaspoon vanilla
• 1/2 cup sifted all-purpose flour or pastry flour
• 1/4 teaspoon baking powder
• Pinch of salt
• 4 Tablespoons butter (plus another 1 Tablespoon for the pan)
• optional: powdered sugar for sprinkling on top
Instructions
The day before (or a few hours in a pinch), mix lavender and sugar. Place in a sealed container so that the lavender can flavor the sugar.
Using a handheld or stand mixer with a whisk attachment, beat the egg and sugar/lavender mixture together on high for 8 minutes. The mixture will turn pale and thicken as it beats. After 8 minutes, beat in the vanilla until incorporated.
In a separate bowl, whisk the flour, baking powder, and salt together. Using a spatula or wooden spoon, gently fold half of the flour mixture into egg mixture. When that is mostly combined, add and fold in the remaining flour. Be gentle to avoid deflating the egg mixture.
Heat or microwave the 4 Tablespoons of butter until melted but not hot. Stir about 1/4 cup of the batter into the melted butter and mix until well combined (this will deflate). Pour the butter mixture into the remaining batter and stir carefully until combined, deflating as little as possible.
Cover the batter and chill in the refrigerator for 30-60 minutes. Longer is not better because the butter may solidify, and the madeleines will get less fluffy.
Melt the remaining Tablespoon butter. Using a pastry brush, lightly brush the pan with melted butter (even if you have a non-stick pan). This will help create a crisper, "browned butter" exterior.
Remove the batter from the refrigerator. Taking care not to deflate it, spoon a rounded Tablespoon of batter into the center of each scalloped well. There should be enough for all 12 wells and it will spread as it cooks.
Bake for 10-12 minutes at 350 F, turning the pan halfway through if your oven heats unevenly. The madeleines are done when the tops spring back after lightly pressed with your finger and the edges are turning golden. Invert the pan onto the counter. Transfer the warm madeleines to a wire rack to lightly cool (your madeleines will stick if placed on a plate to cool).
Sprinkle with powdered sugar, if desired. Eat the same day if possible.
Notes
This make 12 madeleines, with 2 per serving.
Total time includes chilling time, but not an overnight infusing of the lavender into the sugar
Adapted from Sally's Baking Addiction
Art of Natural Living https://artofnaturalliving.com/