How to Plant Rice & Brown Rice Horchata
Thanks to a band of hardy food pioneers and scientists, rice is being grown locally in Wisconsin. Watch the planting process and share in a nice brown rice horchata, courtesy of last year's harvest.
Last fall, when I began a mission to eat locally for a year, I made a list of things that would take some searching to find grown in Wisconsin; one of these was rice.
Fortunately, I soon met Marquette University professor Michael Schlappi, who is researching — and field testing — rice varieties, and analyzing the the business viability of growing it here (complete story here).
He provided me with enough rice to get me through the winter (hooray!), and this spring invited me to watch the planting. It was a beautiful sight and I wanted to share it with you — along with a great recipe for brown rice horchata that I made from last year's harvest! (Just scroll to the bottom, if you're too thirsty to wait 🙂 ).
Planting Rice
I was first struck by the serenity of the area…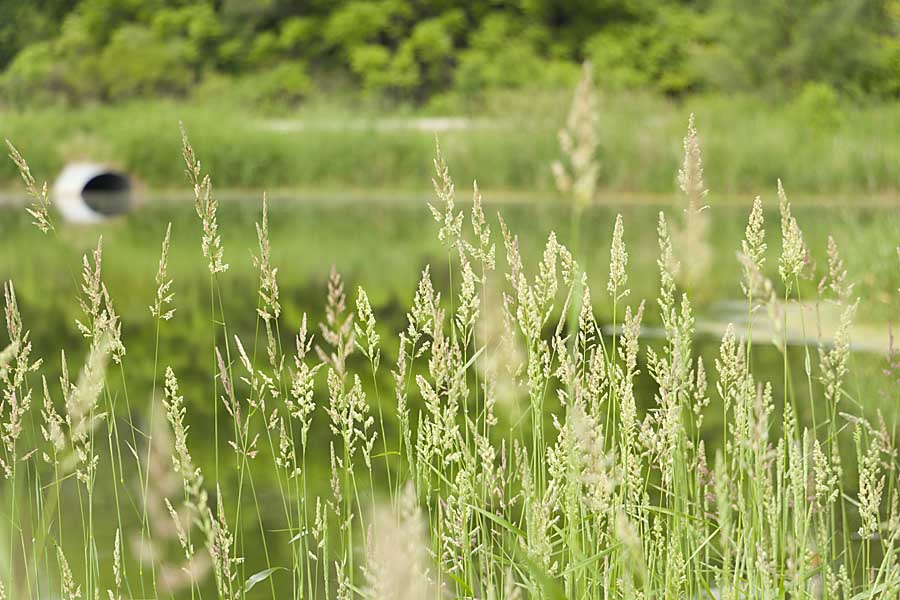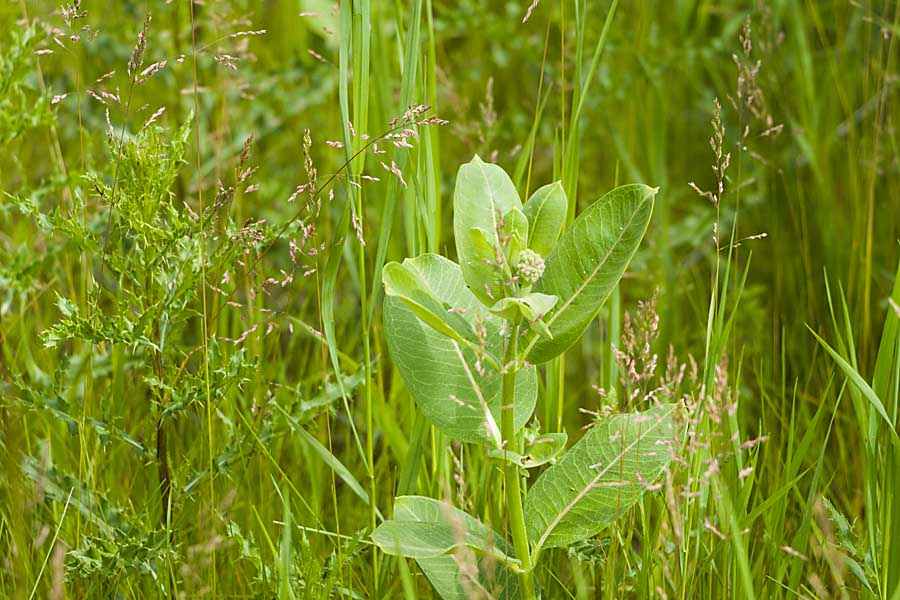 Planting is done in the beautiful Mequon Nature Preserve, which has loaned land for growing rice by way of Fondy Farm.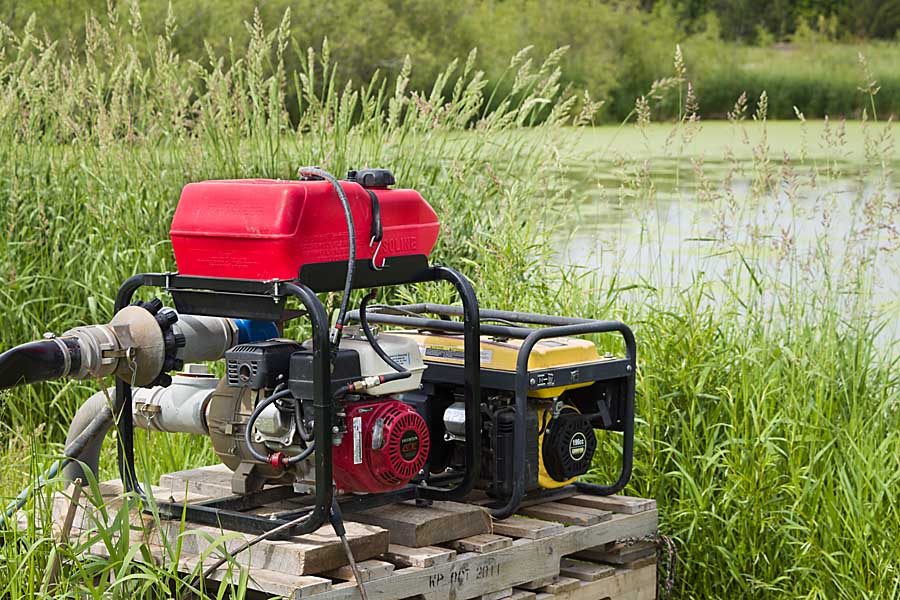 Critical to the success of the project are irrigation ponds which date back to the land's past, as part of the Stauss Farm U-Pick Berry Operation.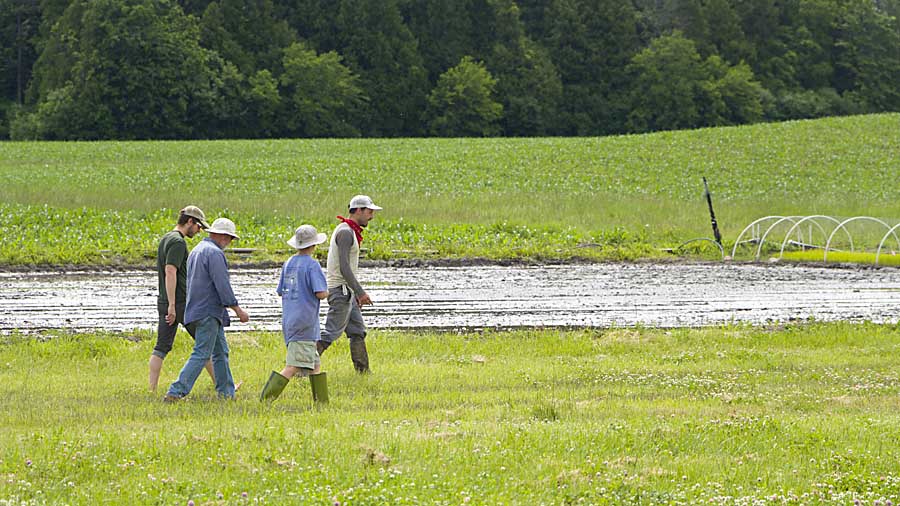 Here, some of the volunteers gather to begin transplanting seedlings.
The seeds for the bulk of this planting came from last year's harvest. Three varieties are being tested, including one that is more drought tolerant. Rice was started seven weeks prior at Marquette, where they could achieve the higher temperatures needed for germination. In last year's trial, they learned that trying to start outdoors in the cool Wisconsin spring was not a good idea.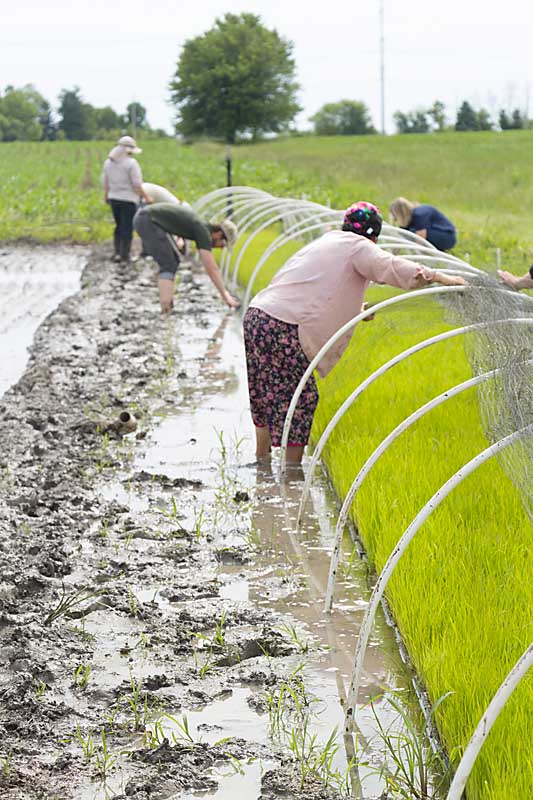 After germination, it was brought to the field in flats to grow outdoors. Local birds soon discovered the bounty, so hoops and netting were added to protect the young seedlings.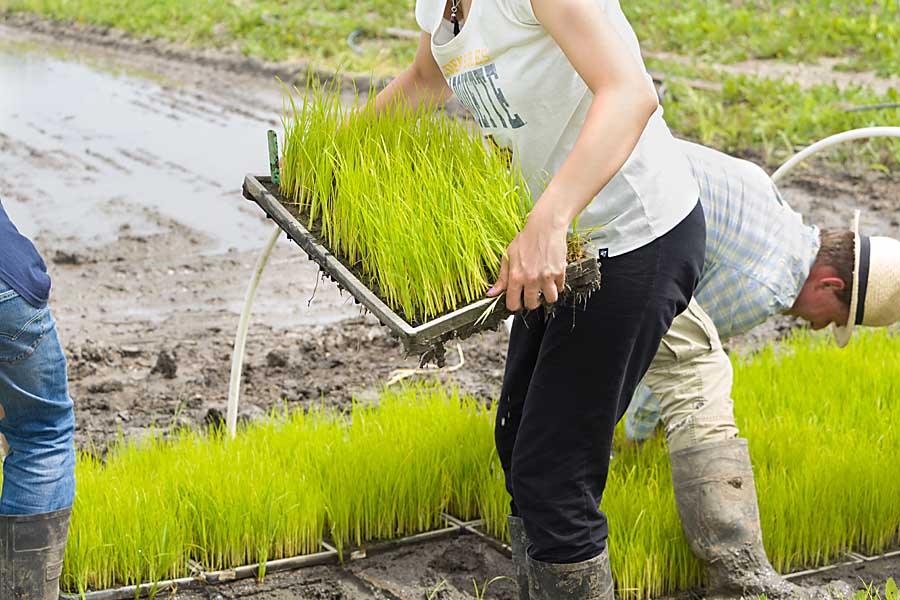 Now a good size, the rice is ready to transplant to the fields. Another lesson from last year was to transplant larger seedlings.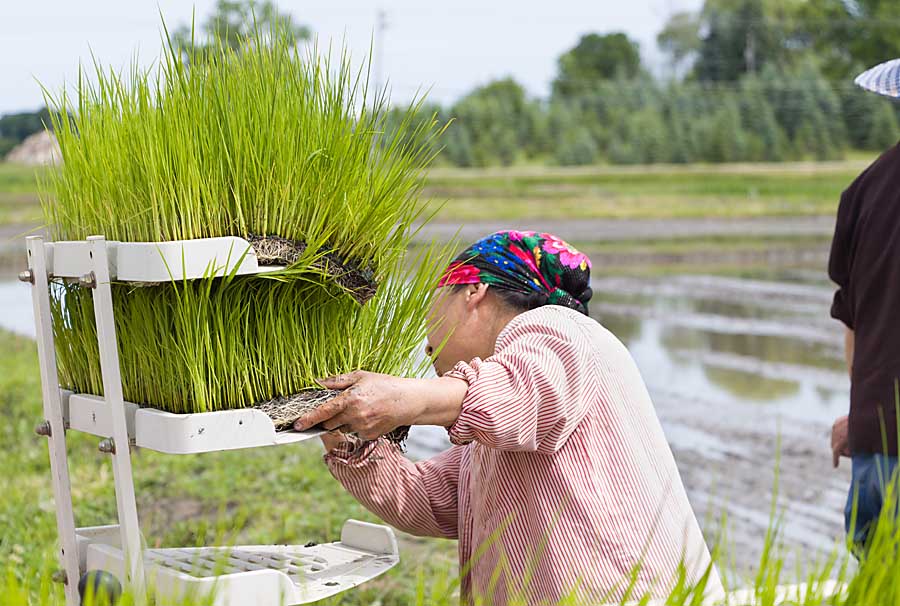 Some of the rice will be planted by hand and some by machine, like this one from Japan. It arrived after last years planting was finished so this is its "maiden voyage."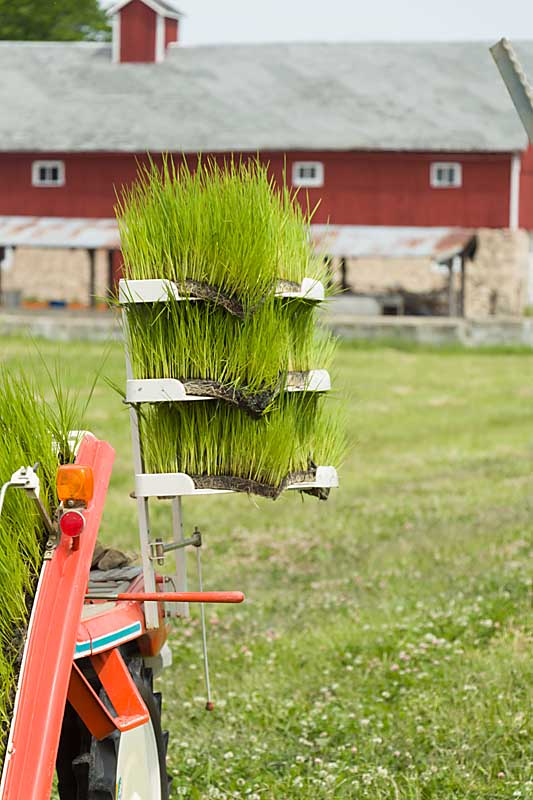 The planter has "storage" for extra seedlings so you don't need to go back for more trays as often.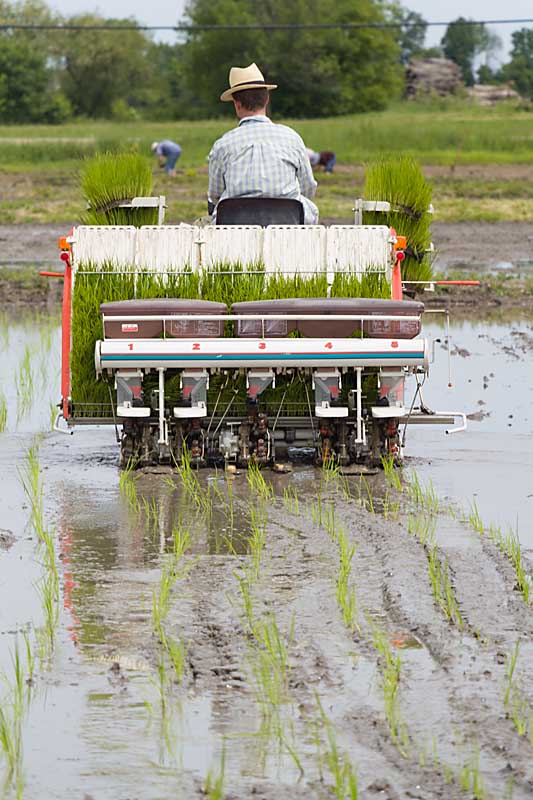 After some trial & error, the planter is humming along.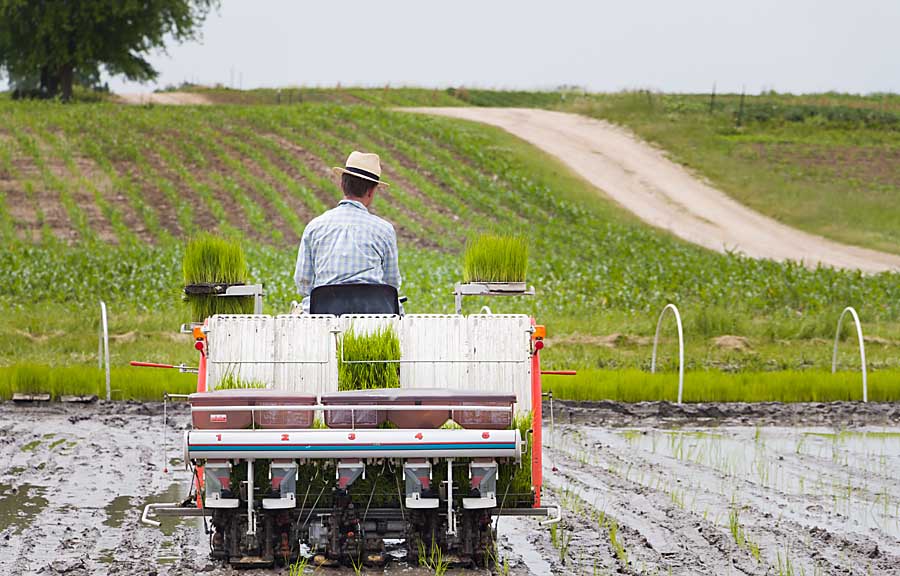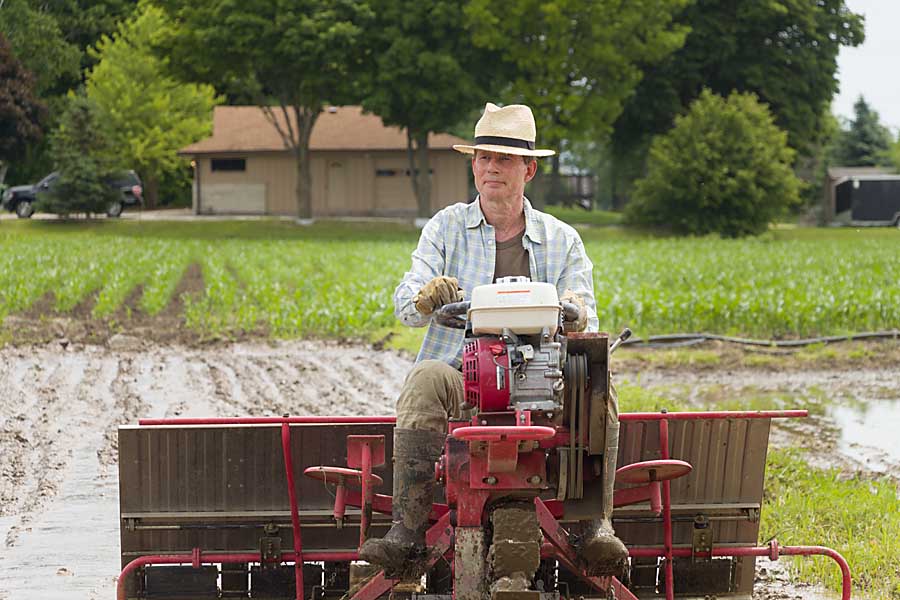 And Dr Schlappi looks like a pleased professor/farmer!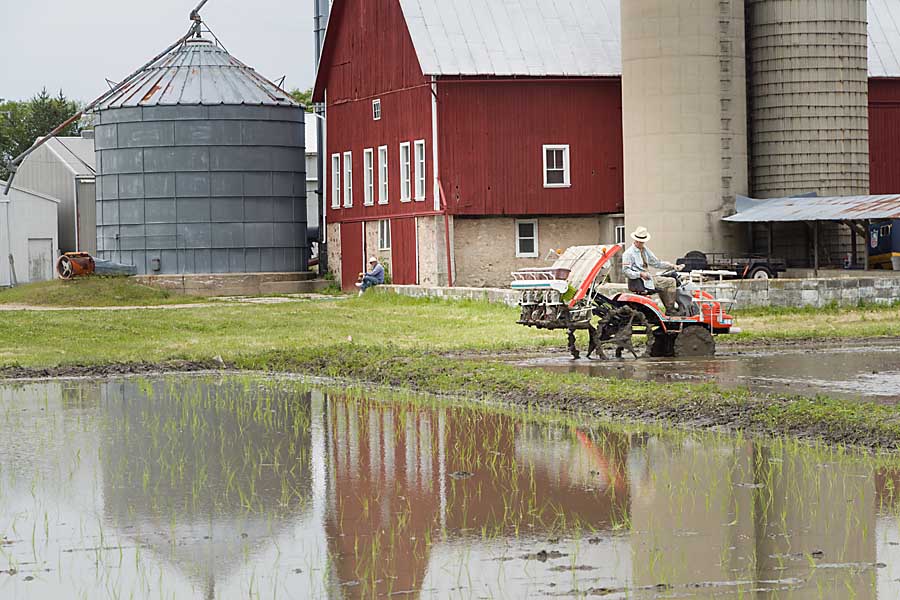 And on to a second field.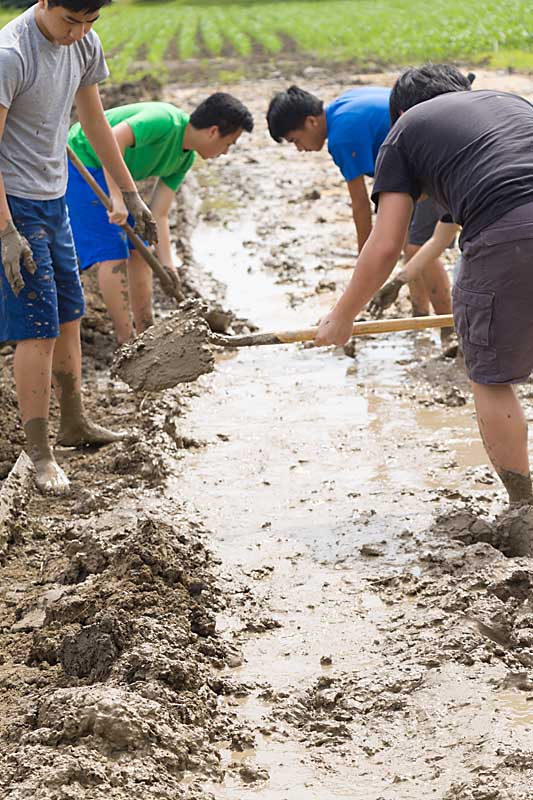 Meanwhile, the hand planting has begun. The planting beds and the berms that keep the water contained are inspected and adjusted.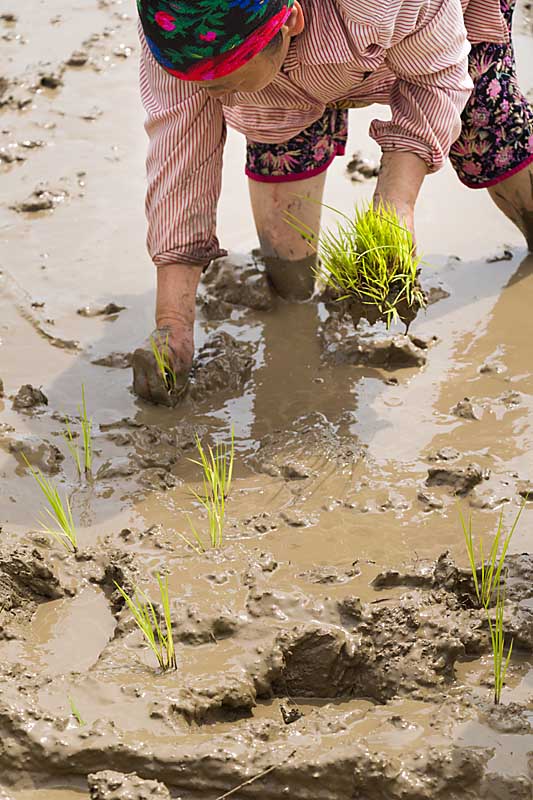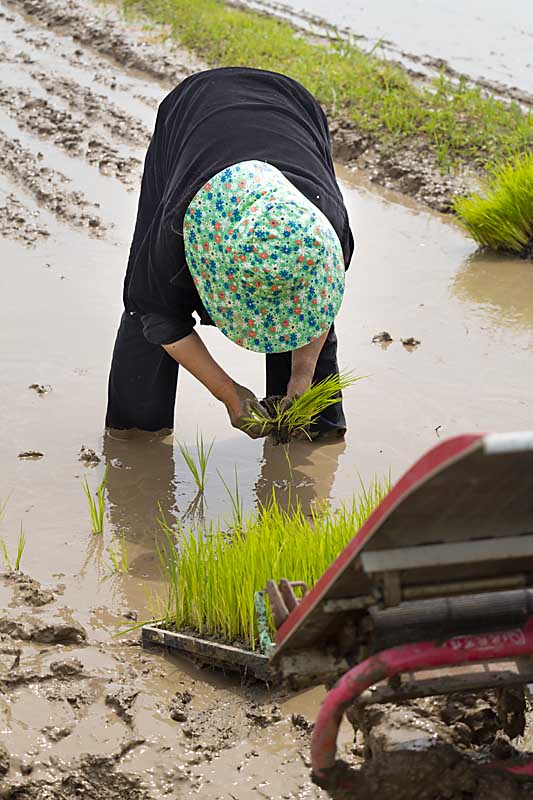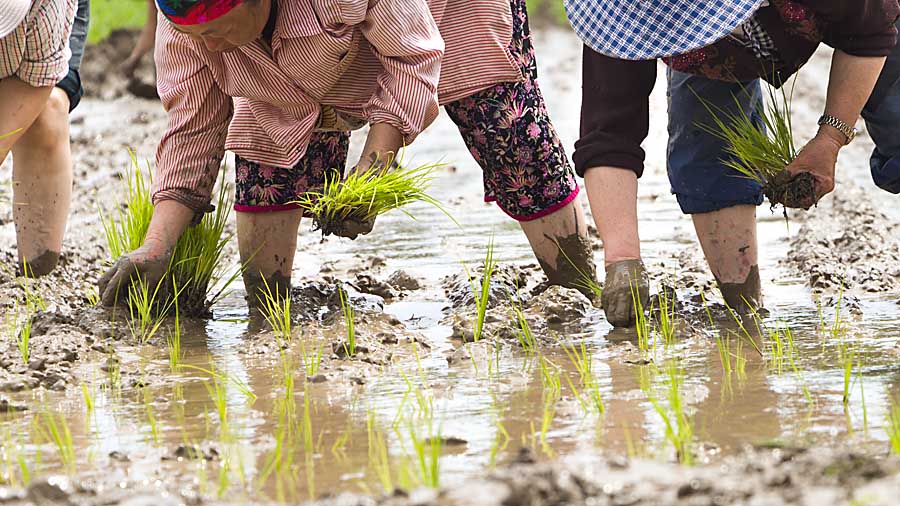 Ankle deep in mud, rice is planted by hand.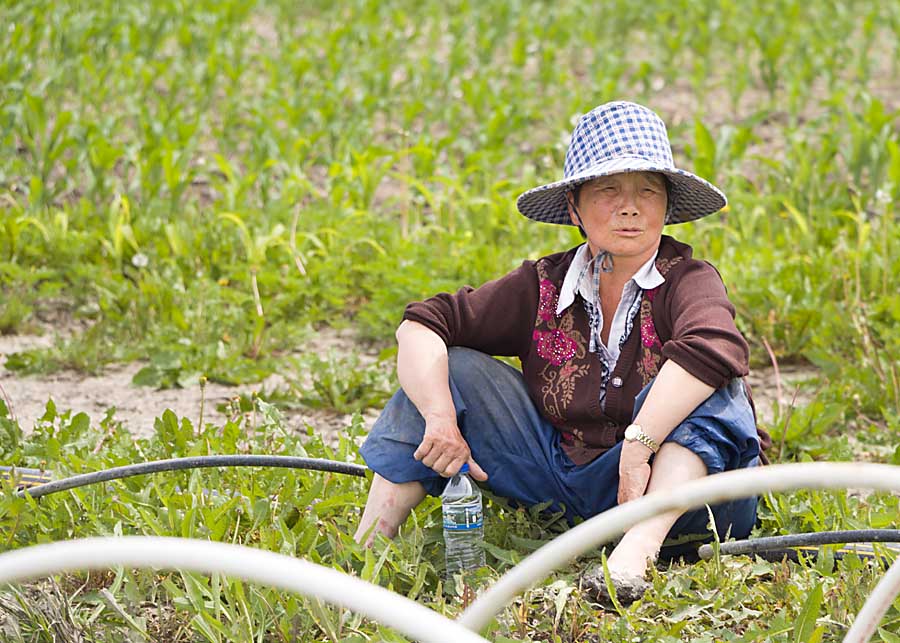 It's a hotter day, so hydration is critical.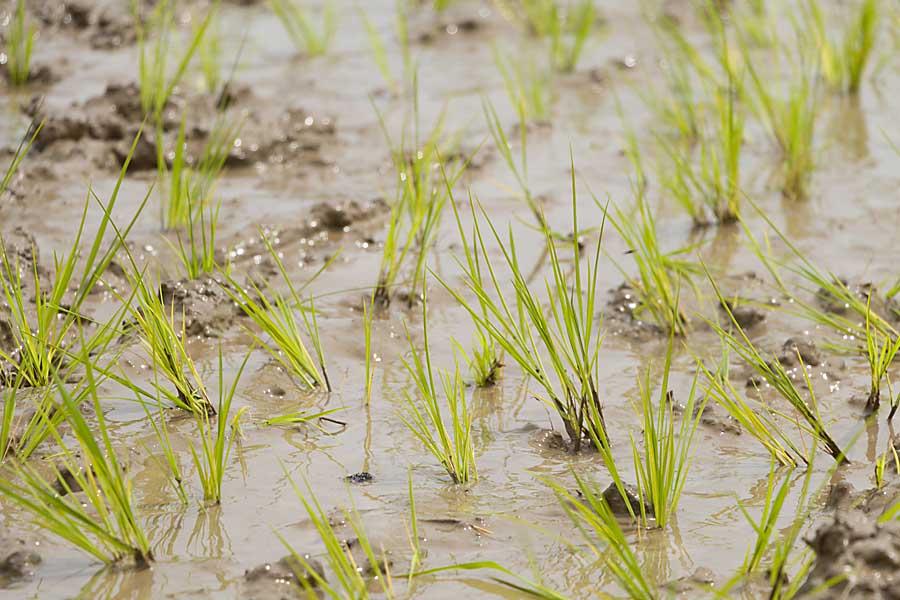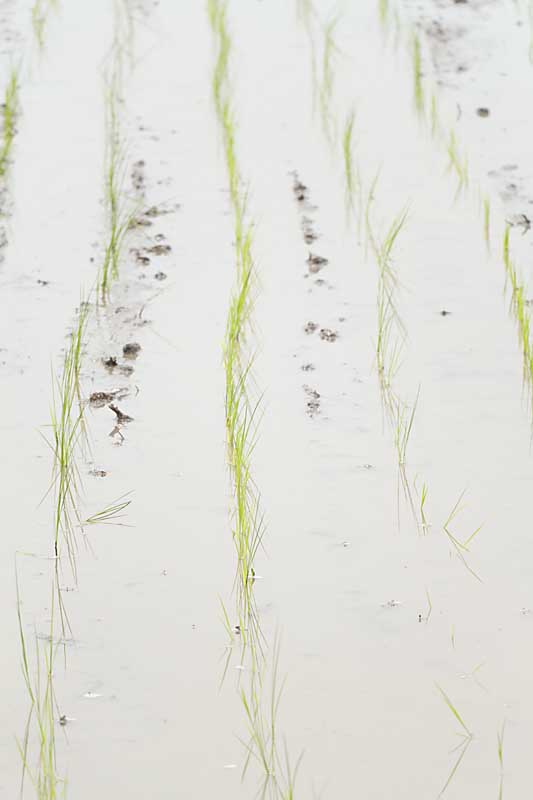 The difference between the hand planted (top) and machine planted fields is interesting, and each is beautiful in its own way.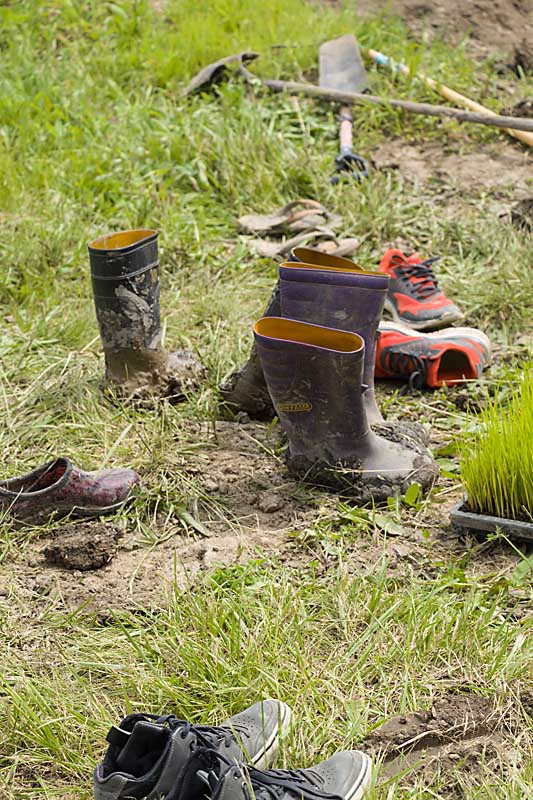 And we are on our way to a second year of field testing! A personal thank-you from this locavore who is looking forward to another beautiful harvest and a future for rice in Wisconsin!
Enjoying Brown Rice Horchata!
So how about a nice brown rice horchata to celebrate? Thanks to Thao of In Good Flavor for the inspiration!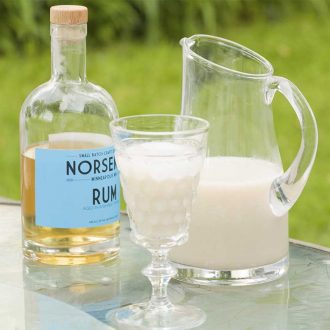 Brown Rice Horchata
Horchata is a tasty milk beverage made with rice, seeds or nuts, then sweetened & flavored with cinnamon. Delicious plain or with a shot of rum!
Ingredients
1

cup

brown rice

4

cups

water

1

1 1/2 stick if small cinnamon, broken into chunks

1

cup

skim milk

or other milk, or non-dairy milk or your choice

1

tsp.

vanilla extract

1/3 to 1/2

maple syrup

to taste, may substitute sugar

optional rum or rumchata for serving
Instructions
Place rice, cinnamon stick chunks, and 2 cups water in a blender or food processor. Blend until rice and cinnamon are broken into coarse granules, about the size of coffee grounds. Transfer to a large lidded container, then stir in the remaining water. Refrigerate for at least 3 hours or overnight for best results.

After soaking, drain the rice through a fine mesh strainer lined with 3 to 4 layers of cheesecloth. Remove some rice granules from strainer if the liquid has a hard time draining. Discard solids. Place rice milk in a pitcher. Add milk of choice, vanilla, and maple syrup (or sugar). Stir until well mixed. Serve over ice. A dash of rum or rumchata is a delicious add-in.
I am not a health professional and nutrition data is calculated programatically. Accuracy may vary with product selection, calculator accuracy, etc. Consult a professional for the best information.