Fall into Winter: Russian Mushroom and Potato Soup
It seems like just yesterday when I announced I wasn't ready for fall. And now fall is preparing to move on–a burst of color and host of pumpkin recipes later. Thanks goodness for warming, fall-into-winter recipes like this Russian Mushroom and Potato Soup.
I recently attended the harvest party that my CSA throws every year. It's beautiful to walk along the spent rows, and carve up creative pumpkins, but the real star is the food. Always a great spot to pick up a new recipe starring local farm ingredients (see All Recipes for original).
My CSAs always provide an abundant supply of thick savory leeks. I had a French Spinach Potato Leek soup that used to be a favorite staple, but after decades, er, years of eating this, life was calling out for change.
The mushrooms in the new recipe make an important flavor contribution, and this took me by surprise. Midway through making the soup, before adding the mushrooms, I took a taste and was disappointed. It lacked distinction and, in fact, reminded me a lot of the soup I was trying to replace. But once I added the mushrooms and completed the thickening it was all there.
The soup is not difficult and the only touchy point might be thickening it. Yes, on occasion I have been know to ignore a soup and wind up with a gummy layer of flour on the bottom of the pan (shhh). But if you regularly whisk the soup while thickening, it should come together perfectly.
Yes I might like a few more weeks of balmy afternoons and crimson trees, but in the end I love all the seasons.
Eat soup; be happy.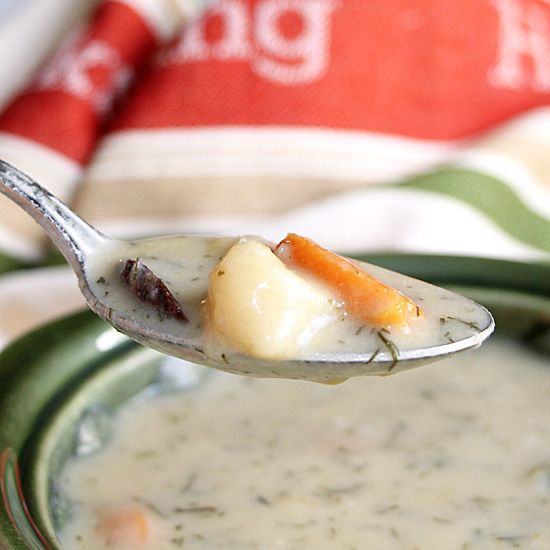 Russian Mushroom and Potato Soup
2015-10-25 15:30:34
Serves 10
A delicious soup that will take your from fall into winter, this Russian Mushroom and Potato Soup is full of mushrooms, potatoes, carrots and leeks all flavored with dill.
Nutrition Facts
Amount Per Serving
* Percent Daily Values are based on a 2,000 calorie diet. Your Daily Values may be higher or lower depending on your calorie needs.
Ingredients
• 4 tablespoons butter or margarine, divided
• 2 large leeks, chopped
• 2 large carrots, sliced
• 6 cups chicken broth (or vegetable broth)
• 4 teaspoons dried dill weed
• 1/8 teaspoon ground black pepper
• 1 bay leaf
• 1 pound potatoes, peeled and diced
• 1 pound fresh mushrooms, sliced
• 1 cup half-and-half (dairy or non-dairy)
• 1/4 cup all-purpose flour
• 1 teaspoons salt (optional)
Instructions
Melt 2 tablespoons butter or margarine in a large saucepan over medium heat. Mix in leeks and carrots, and cook 5 minutes. Add in broth, dill, pepper, bay leaf and potatoes. Cover, and cook 20 minutes, or until potatoes are tender but firm. Remove and discard the bay leaf.
Melt the remaining butter in a skillet over medium heat, and saute the mushrooms 5 minutes, until lightly browned. Stir into the soup.
In a small bowl, mix the half-and-half and flour until smooth. Stir into the soup then simmer, whisking regularly until thickened, about 10 minutes. Taste and add salt if needed.
Art of Natural Living https://artofnaturalliving.com/